If you think Disney World is all rides for little kids, think again. There are plenty of attractions geared specifically toward big kids, teenagers, and those of us who are trying our hardest to never grow up (a.k.a. Disney World rides for adults).
Disney World Rides for Adults, Teens, and Big Kids
These 13 attractions that span Walt Disney World's four Orlando theme parks are among the most thrilling and exciting Disney rides ever created, and most have height requirements that rule out younger kids and toddlers. Don't worry, they'll get their turn eventually. For now, it's the big kids' time to play. (And there are plenty of amusement parks for kids in and around the U.S. that cater to little kids and toddlers, too.) On trips to Walt Disney World, here are the thrills that adults and older kids shouldn't miss.
ULTIMATE GUIDE: Everything You Need to Know about Disney Genie and Genie+
Best Magic Kingdom Rides for Adults, Big Kids, and Teens
Big Thunder Mountain Railroad
With a top speed of 35 miles per hour, Big Thunder Mountain Railroad (40″ minimum height) lands squarely in the middle of Magic Kingdom's three mountains when it comes to speed. The "Wildest Ride in the Wilderness" takes passengers on a high-speed race through an abandoned gold mine. The dark tunnels and bumpy train cars are well-suited for older kids and adults who want to mix in a few thrills with the kiddie rides.
PLAN YOUR TRIP: When Is the Best Time to Visit Disney World and Disneyland?
Space Mountain
Magic Kingdom's famous Space Mountain (44″ minimum height) only reaches 28 miles per hour, but there's something about this indoor coaster's practically-pitch-black setting that makes it feel at least twice that. It's impossible to anticipate the drops, twists, and turns in Space Mountain's out-and-out, star-dotted darkness, making this one of the most exciting Disney World rides for adults and older kids alike.
WHERE TO STAY: 13 Best Disney World Hotels for Every Age Group and Interest
Pro tip: Space Mountain has two tracks, Alpha and Omega, and the ride is a bit different depending on which track you choose. Try them both and see which one you like best!
TRON Lightcycle/Run
Based on the TRON film series and a similar attraction at Shanghai Disneyland, TRON Light Cycle / Run (48″ minimum height) is one of the fastest rides at Disney World (topping out around 60 miles per hour). It puts you inside a unique motorcycle-like ride vehicle called a Light Cycle and zips you both indoors and out along the Grid, passing through eight "Energy Gates" before concluding.
WATER WORLDS: The Best Water Parks in Orlando for Every Age Group
The indoor-outdoor roller coaster is a quick ride, but the experience is quite different based on whether you take the ride during the day or after dark. Our recommendation? Make a point of going once during the day and again at night for the full experience.
Best EPCOT Rides for Adults, Big Kids, and Teens
Guardians of the Galaxy: Cosmic Rewind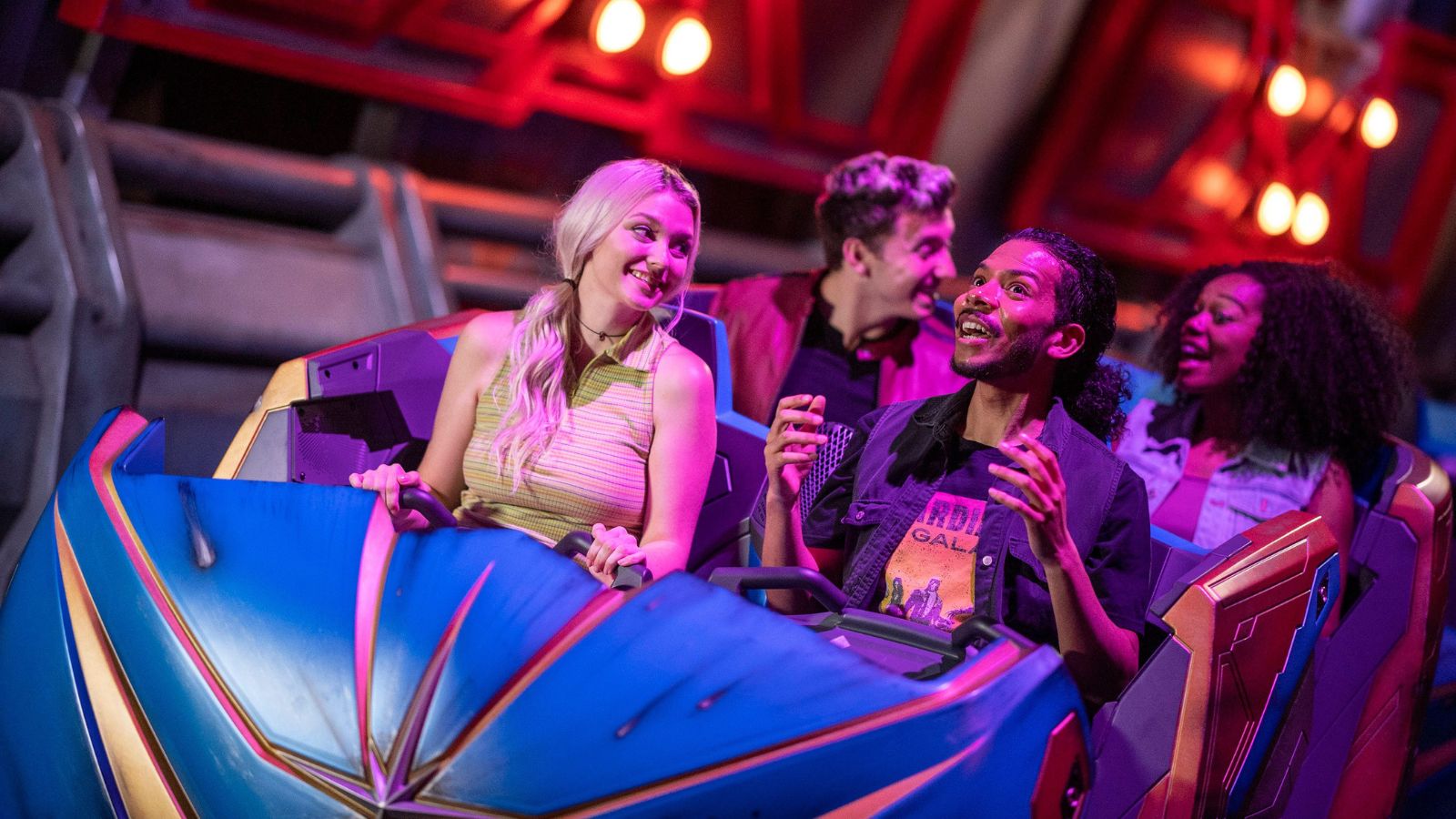 Guardians of the Galaxy: Cosmic Rewind (42″ minimum height) was announced in 2019 as part of a major EPCOT transformation. Finally launched in 2022, Cosmic Rewind takes riders on an adventure with Peter Quill and the rest of the Guardians crew. With vehicles that rotate 360 degrees, this spectacular "storytelling" coaster features the first reverse launch for a roller coaster at Walt Disney World. It's also one of the largest fully enclosed coasters in the world.
Mission: SPACE
Motion simulator Mission: SPACE (40″ minimum height) does not even leave the ground, yet it's still one of the most intense Disney World rides at EPCOT. During the ride, you experience g-forces that mimic a real rocket liftoff and the weightlessness astronauts encounter in outer space. If this is all making your palms sweat, choose the gentler "Green Mission" over the more intense "Orange Mission."
Test Track
While you wait for your turn to ride EPCOT's Test Track (40″ minimum height), you get to design the (virtual) car you want to take out for a spin—and then you get to be the test dummy! Once you're all strapped in, this EPCOT ride takes your concept car through a series of obstacles to test how it handles rough terrain, bad weather, banked curves, and more.
TRAVEL WITH TEENS: 10 All-Inclusive Family Resorts Even Teenagers Will Love
Near the end of the ride, you get to open up the throttle and feel the wind in your hair as you top out at 65 miles per hour on a heart-pounding speed test.
Soarin' Around the World
The Soarin' Around the World ride at EPCOT (40″ minimum height) is the only way to see Earth's most impressive monuments and natural wonders in one day. In fact, you glide past the Great Wall of China, the Eiffel Tower, the Taj Mahal, and other famous landmarks in just about five minutes.
BRING THE WHOLE FAMILY: How to Plan a Multigenerational Disney World Vacation That Makes Everyone Happy
The 80-foot tall, 180-degree IMAX screen, suspended theater seating (yes, your feet are dangling in the air), and scents that coordinate with what you see on the screen, make this immersive motion simulator feel almost real.
Best Animal Kingdom Rides for Adults, Big Kids, and Teens
Expedition Everest
Featuring the tallest drop of any coaster at Disney World, Expedition Everest (44″ minimum height) should be the first stop for thrill seekers visiting Disney's Animal Kingdom theme park. It's the only Disney World ride to switch tracks and reverse direction, too.
BIG FAMILIES: 11 Best Disney World Hotels for Families of 5 or More
The dark tunnels and shadowy figure of the Yeti stalking you around every corner may be too scary for young kids, but will be plenty entertaining for adults, teens, and big kids without such wild imaginations.
Kilimanjaro Safaris
While young kids will certainly have fun bouncing around on this rugged Disney safari ride, Kilimanjaro Safaris (no height requirement) is even more fun for teens and adults. Firstly, your height advantage and longer attention span pretty much guarantee you'll spot more of the attraction's 34 species than younger riders, especially if you ride at night.
EXTRAS INCLUDED: 19 Cheap Theme Park Hotels That Come with Magical Perks
Avatar Flight of Passage
The Avatar Flight of Passage ride (44″ minimum height) is located inside the ethereal land Pandora – The World of Avatar in Disney's Animal Kingdom. It helps to be familiar with the Avatar movie universe, but it isn't necessary to enjoy this 3D simulated flight on the back of a banshee. It's one of the smoothest and most realistic motion simulators you'll ever ride.
WHAT TO KNOW: The Complete Guide to Disney Vacation Club (DVC)
Best Hollywood Studios Rides for Adults, Big Kids, and Teens
Rock 'n' Roller Coaster
Hollywood Studios' Rock 'n' Roller Coaster Starring Aerosmith (48″ minimum height) might just be Disney World's most thrilling roller coaster. It's the resort's only launched coaster (for now) and the fastest with a top speed of 57 miles per hour. If everyone in your group is on board with hitting up the single rider line, you can get on and off the ride so fast you might be tempted to get back in line and ride again.
OUT OF THIS WORLD: Ultimate Guide to Disney's Star Wars Hotel
Twilight Zone Tower of Terror
Unlike Magic Kingdom's Haunted Mansion, there are no friendly singing ghosts on Hollywood Studios' Twilight Zone Tower of Terror (40″ minimum height). The decrepit hotel setting and backstory of hotel guests who disappeared into another dimension give this drop tower attraction a much more menacing feel that's better suited for older riders.
PACK LIKE A PRO: What to Pack for Disney World (and What to Leave at Home)
Star Wars: Rise of the Resistance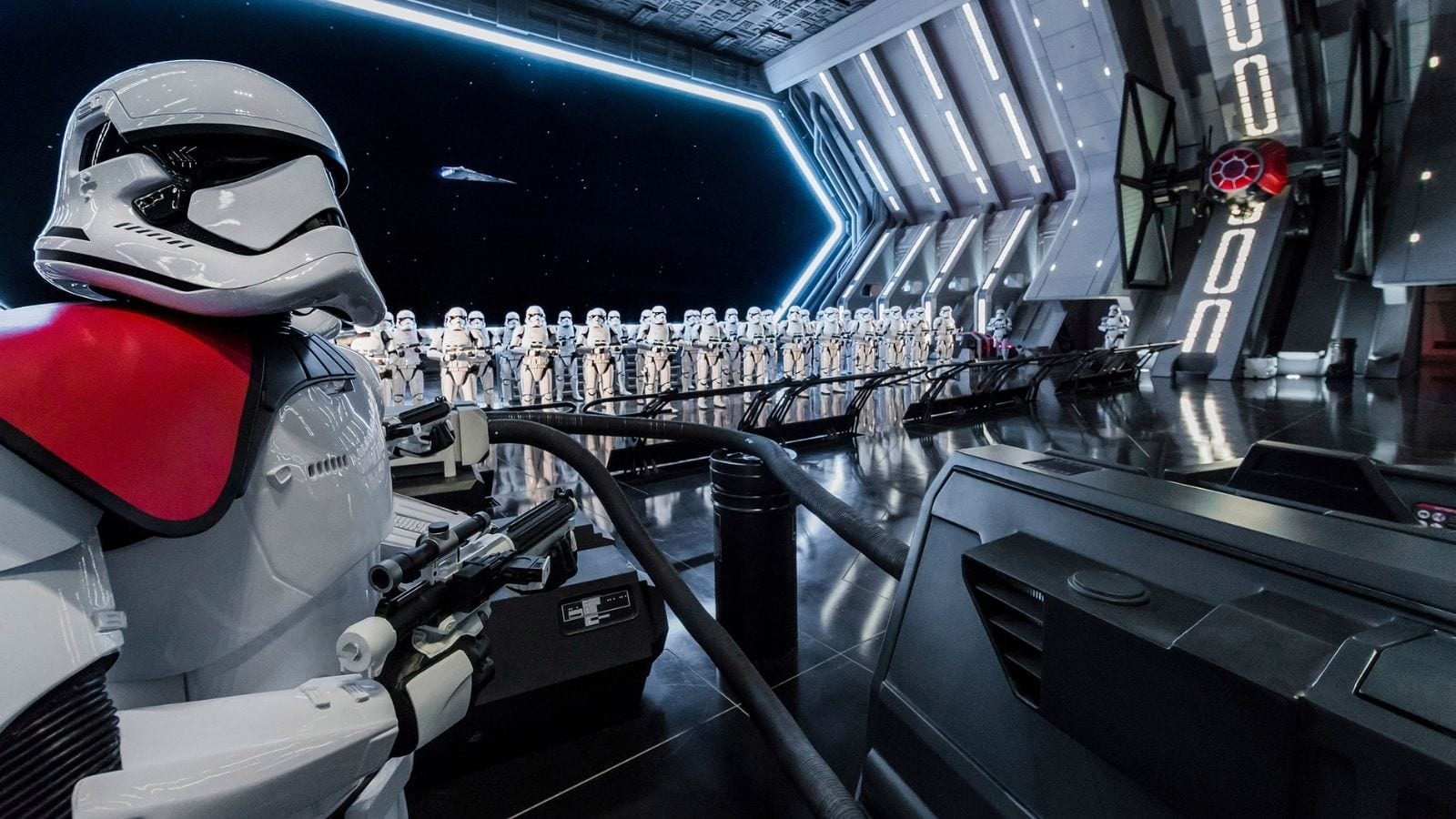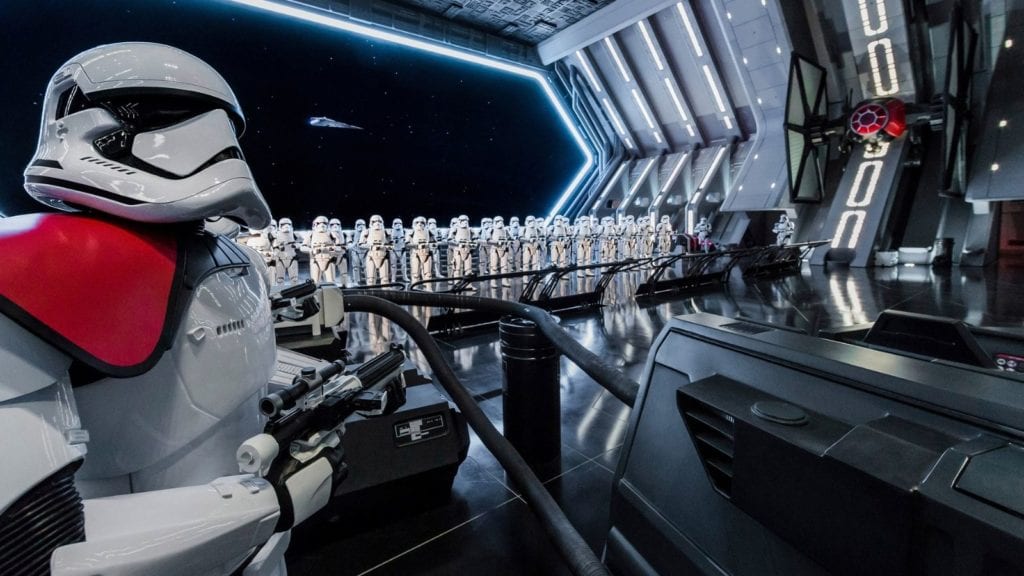 This Disney World ride is full of surprises we don't want to spoil, but if your group is well-versed in the Skywalker Saga, Star Wars: Rise of the Resistance (40″ minimum height) is a must-do at Disney's Hollywood Studios in Orlando.
GALAXY'S EDGE: Ultimate Guide to Star Wars Land at Disney's Hollywood Studios in Orlando
Riders board a droid-driven transport and join the Resistance in a battle against Kylo Ren and the First Order. Along the way, you'll encounter many familiar characters from the films—even a few you may not be so happy to see because they are definitely out to get you!
More from FamilyVacationist: