Approaching the entrance to TRON Lightcycle/Run, Disney's newest attraction at Magic Kingdom in Orlando, feels a bit like stepping into the future: There's a bright white canopy, clean lines, fluorescent shades of blue and orange, and a Daft Punk-esque soundtrack. That may not be the exact soundscape Walt Disney had in mind when he first dreamed up Tomorrowland, but there's no question in my mind that TRON Lightcycle/Run harkens back to Walt's original vision for the future.
This new addition to Disney World officially opens to the public on April 4, but I was able to get an advance preview with other media members earlier this week. TRON Lightcycle/Run was inspired by a similar ride at Shanghai Disneyland, where TRON Lightcycle Power Run opened in 2016. The version at Magic Kingdom is more or less an exact replica of what you'll find in Shanghai, albeit with a few adjustments to accommodate the Walt Disney World Railroad, which passes underneath the structure.
ULTIMATE GUIDE: Everything You Need to Know about Disney Genie and Genie+
How to Reserve Your Spot on TRON Lightcycle/Run
As the newest headline attraction at Disney's Orlando theme parks, TRON Lightcycle/Run will use the Virtual Queue system when it first opens to the public. Just like Star Wars: Rise of the Resistance and Guardians of the Galaxy: Cosmic Rewind, the Virtual Queue will open at select times of the day: 
7:00 a.m. for all guests with Magic Kingdom Park Pass Reservations (can be located anywhere)
1:00 p.m. (must be scanned in and physically located in Magic Kingdom to join)
6:00 p.m. (for Deluxe Resort Guests only on designated evenings when Magic Kingdom has Extended Evening Theme Park Hours)
In addition to entering the Virtual Queue, guests may choose to purchase an Individual Lightning Lane for TRON Lightcycle/Run. If you're staying on Disney World property, you may purchase an Individual Lightning Lane starting at 7:00 a.m. All other guests may make a purchase once the park opens. Once your Virtual Queue Boarding Group is called or your Individual Lightning Lane time rolls around, it's time to enter the Grid!
What to Expect Before Riding TRON Lightcycle/Run
As you approach the attraction, you'll get a pretty good preview of what's to come. From watching Light Cycles (the motorcycles featured in TRON) zoom past overhead to having the opportunity to sit in one of the test vehicles yourself, you will become acquainted with the ride vehicles and its speed and intensity before riding.
Soon after you step inside, it's time to be "digitized" in order to enter the Grid. This point in the queue is an incredible Imagineering "wow" moment that I won't spoil here, but I will say this: Try to stand as close to the front of the pre-show room as possible to get the best view. Once you're digitized, you will continue to make your way through the indoor portion of the queue until you reach the lockers.
BRING THE WHOLE FAMILY: How to Plan a Multigenerational Disney World Vacation That Makes Everyone Happy
Unlike other Disney World rides, TRON Lightcycle/Run utilizes a locker system. For the first time at Disney, guests must store their bags in lockers prior to riding. (This is already familiar to those who frequent Universal's theme parks, but if Disney is your bread and butter, you're probably used to bringing your belongings on board with you, even on Disney's more adult-oriented extreme rides.) Each TRON Lightcycle/Run vehicle does have a small compartment where you can safely stow your phone or other items in your pockets, but bags of any size must go into a locker.
The locker system is both smooth and intuitive, with each locker being double-sided so guests retrieving their items at the end of the experience are not in the way of guests storing their items, and vice versa. Lockers are easily opened with your MagicBand or park ticket.
Riding Along the Grid on Light Cycles
Perhaps the most unusual feature of TRON Lightcycle/Run, and what sets it apart from other roller coasters in Disney World, is its ride vehicle. You speed through the Grid on Light Cycles, which are motorcycle-like vehicles that will be familiar if you've seen the TRON films. (Don't worry, familiarity with the movies is not required to enjoy the ride.)
These bike-style seats are somewhat similar to the seats for Avatar Flight of Passage in Disney's Animal Kingdom. But unlike Flight of Passage, where you board from the back of the seat, with TRON you will step over the seat just like you're hopping on a bike. As I mentioned above, there are test seats available to try out in the queue area, and guests who do not feel comfortable or require any additional assistance can ride in modified bench-style seats, currently found on two of the six Light Cycle trains. (The minimum height to ride TRON Lightcycle/Run is 48 inches.)
BIG FAMILIES: 11 Best Disney World Hotels for Families of 5 or More
The Light Cycles are a "really important part" of the storytelling of this attraction, says Ben Van Beusekom, Senior Artisan Specialist at Walt Disney Imagineering. Describing it as your transport onto the Grid, Van Beusekom tells FamilyVacationist that the vehicle is "the biggest part of TRON" and calls it "the most integral part of our storytelling."
Once you're seated, you'll pull a set of handlebars towards you, which lowers the back of the seat onto you as well as activates the restraints found behind your calves. While the calf restrains are locked into place, the back of the seat is adjustable as you ride, so if you want to sit up taller, you can. The Light Cycle may be uncomfortable for some, so if you have any worries or concerns, I highly suggest you try the test seat in the queue area.
The TRON Lightcycle/Run Experience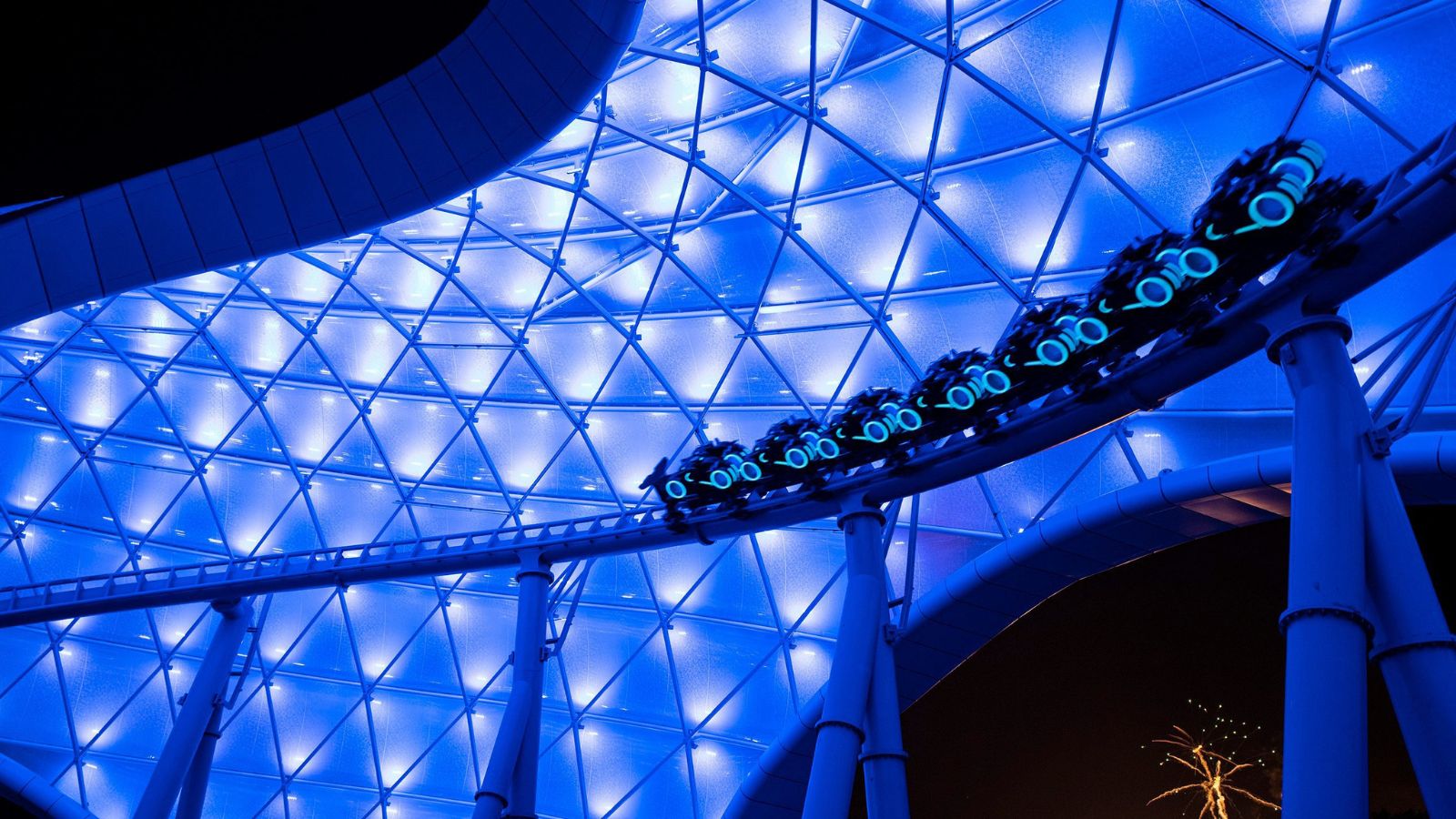 Topping at just under 60 miles per hour, TRON Lightcycle/Run is one of the zippier rides in Disney World, in the same echelon as other top-thrills Disney World attractions like Test Track and Guardians of the Galaxy: Cosmic Rewind. And for Magic Kingdom, it's as fast as you can get. The beginning of the ride is quite intense as you launch into the outdoor portion of the Grid. There's more ride to be had indoors, with your Light Cycles passing through eight "Energy Gates" before the adventure concludes.
WHAT TO KNOW: The Complete Guide to Disney Vacation Club (DVC)
The ride is shorter than Guardians of the Galaxy: Cosmic Rewind, but not so short that it falls into the category of a "blink and you'll miss it." In fact, if it were any longer you might find yourself with a sore neck. In terms of length, it clocks in at around the same time as Rock N Roller Coaster in Disney's Hollywood Studios.
If you've been on Cosmic Rewind at EPCOT and found it to be a bit too intense, then you may find that TRON hits that sweet spot. Without the backwards launch or rotating vehicles, your sense of equilibrium will stay more or less intact. Some riders may find the position at which you sit on the bike to be a little funky at first, and considering how fast the ride is, you may reach the unloading station before you find the time to adjust to the seat. It's definitely the most intense ride at Magic Kingdom, but no more intense than other Disney World coasters like Cosmic Rewind and Expedition Everest.
Daytime vs. Night Rides on TRON Lightcycle/Run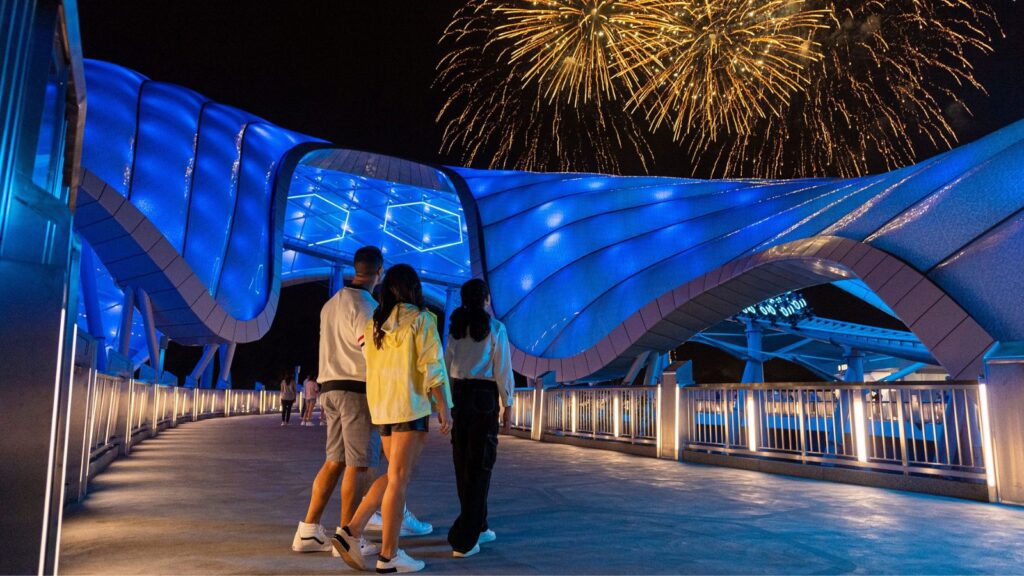 I was able to experience the ride both in the daytime and at night. The ride is fun during the day but even better after dark. Speeding along the Grid after the sun goes down is a must.
Experiencing TRON Lightcycle/Run after dark is also a favorite of Walt Disney Imagineering Assistant Project Manager Kerry Milligan. While chatting with FamilyVacationist, Milligan shared that "being here at night and seeing the lights and colors on the canopy and how that also plays off the lights and colors on Space Mountain at night too" is a highlight, noting that the ride is "really a different experience during the day and at night."
OUT OF THIS WORLD: Ultimate Guide to Disney's Star Wars Hotel
The uniqueness in how the ride transforms from day to night gives you an opportunity to have two totally different experiences, if you can swing it. And it's worth noting that you can ride via Virtual Queue and Individual Lightning Lane in the same day.
Disney World's roller coasters may not be the fastest or have the largest drops in Orlando, but that doesn't mean they don't pack a punch. TRON Lightcycle/Run is intense, make no mistake about it! But its intensity—and what I think will ultimately make it a hit—ties back to what Disney does best: storytelling. While the literal plot of the ride is not spelled out in the same way as, say, Cosmic Rewind, the canopy, music, ambiance, and the Light Cycles culminate in an unmistakably unique experience.
More from FamilyVacationist: