One of the best parts of family cruises with Disney Cruise Line is spending a day at Castaway Cay, Disney's private island in the Bahamas. Now Disney is pulling back the curtain on its second private port-of-call experience, Lighthouse Point on the island of Eleuthera. Lighthouse Point will act as a sort of sister destination in the Bahamas to the fan-favorite Castaway Cay.
Thanks to a news release from Disney today, we now know that Lighthouse Point will welcome its first guests in the summer of 2024. Disney has also unveiled additional details and some jaw-dropping concept art for its new private island destination. Here's what we know about Lighthouse Point as of today.
ULTIMATE GUIDE: Everything You Need to Know about Disney's Cruise Ships Before You Book a Disney Cruise Vacation
Disney highlighted three distinct beaches that guests can relax along during a visit to Lighthouse Point. The first family-friendly beach will be located on the east side of the island, close to the heart of the action. This beach will have easy access to market-style dining along with other recreational activities the entire family can enjoy together.
WATER WORLDS: 50 Best Cruise Ship Water Parks and Private Islands for Kids
If you want a little less hustle and bustle away from the main thoroughfare, there'll be a second family-friendly beach along the southwestern shore of the island. This is where you'll find 20 family cabanas to rent, as well as four additional cabanas that can accommodate larger groups. The latter will come equipped with massage services, allowing you to truly indulge in Disney's new private island experience at Lighthouse Point.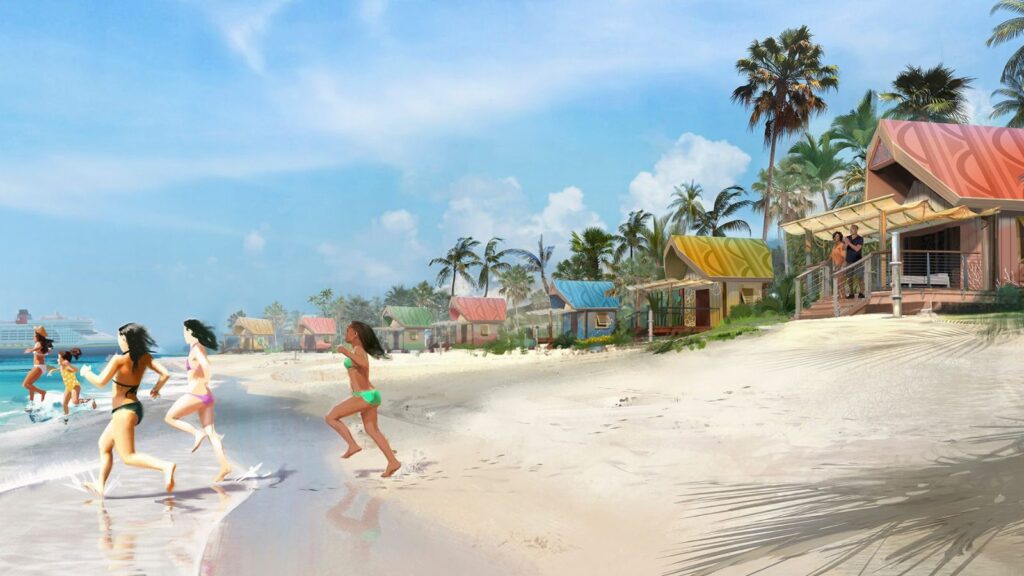 Like Castaway Cay, Lighthouse Point will also have an adults-only beach. Found on the north side of the island, the adult beach will have its own dedicated dining area as well as six private cabanas, available by reservation. While the adults are kicking back on their own private beach, the kids can enjoy their free time as well at a special kids' club under the supervision of Disney Cruise Line counselors.
MAGIC AT SEA: What It's Like to Sail on the Disney Cruise Line's Newest Ship, Disney Wish
Don't worry if lounging by the beach isn't exactly your cup of tea. Disney previewed plenty of activities around Lighthouse Point that will keep you moving all day long, including:
A Bahamian art and culture pavilion where you can learn about the traditions of The Bahamas through local artisans.
A family water play area, complete with slides, fountains, and even a dedicated play space specifically designed for vacationing with toddlers.
Volleyball courts, ball pits, watercraft and bicycle rentals, and hiking and biking trails around the island.
And for those looking to venture beyond Lighthouse Point, Port Adventures around the island of Eleuthera will also be available in partnership with local tour operators.
Additional details regarding which Disney cruise ships will visit Lighthouse Point, as well as information on inaugural itineraries and the island's dining, entertainment, and retail opportunities, have yet to be announced.
More from FamilyVacationist: