Fresh off the heels of the debut of the Disney Wish, Disney Cruise Line this week announced the name of its forthcoming sixth ship, Disney Treasure. Scheduled to launch in 2024, the Treasure aims to infuse every voyage with a theme of adventure. "At the heart of every adventure, there's a treasure, and we can't wait for you to create memories aboard this spectacular ship," says Josh D'Amaro, Chairman of Disney Parks, Experiences, and Products.
FAMILY CRUISES: Kids Sail Free: 5 Cruise Lines That Let Kids Cruise Free
Introducing the Disney Treasure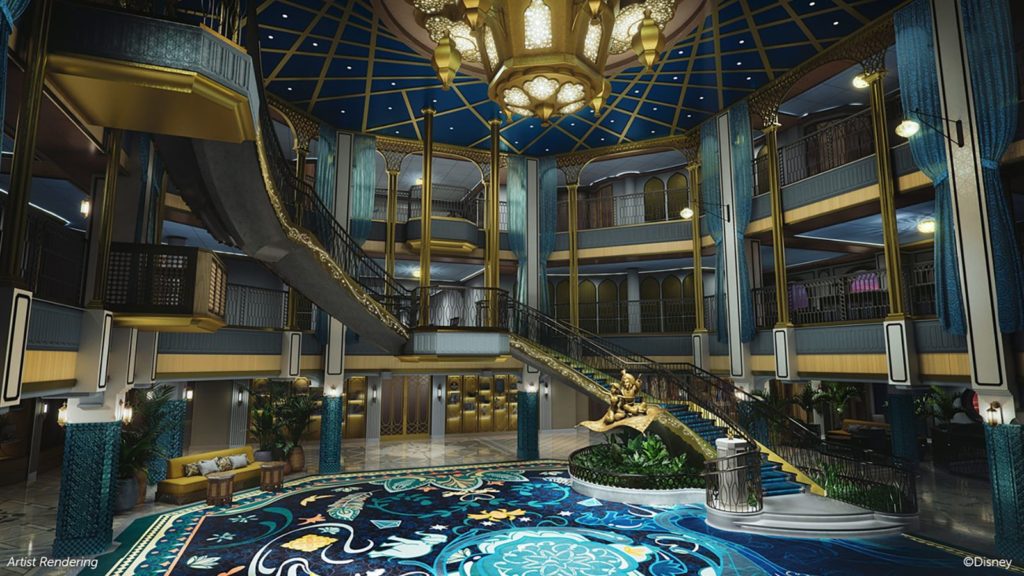 The heart of any cruise ship is the atrium, and the Disney Treasure's atrium will draw on influences from Asia and Africa to evoke a gilded palace. Underneath a Moorish-style chandelier, families will be greeted by the Disney characters Jasmine and Aladdin (in statue form) riding upon a Magic Carpet in the grand hall.
KEEP KIDS HAPPY: 7 Best Cruise Lines for Families (and Their Most Kid-Friendly Ships)
Disney Wonder Is on the Move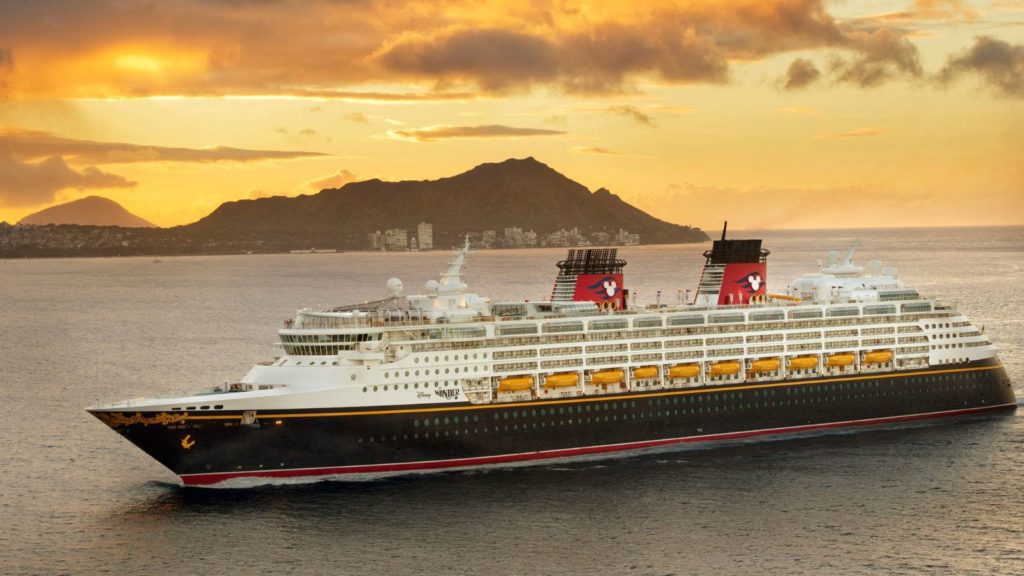 At this year's D23 Expo, D'Amaro also announced that Disney Cruise Line will be headed to Australia and New Zealand for the first time in 2023. The Disney Wonder will be repositioned in October 2023 to embark on two- to six-night cruises departing from one of four ports: Sydney, Melbourne, and Brisbane, Australia; and Auckland, New Zealand, through February 2024.
CLOSE UP: Inside the Disney Wish's Exclusive New Star Wars Areas for Kids and Adults
The Wonder's repositioning sailings will travel from Honolulu to Sydney (and back) calling on the South Pacific islands of American Samoa, Fiji, and New Caledonia. Guests can begin to book these cruises on October 6, 2022.
A New Exclusive Port in the Bahamas
Finally, D'Amaro presented an update on Disney Cruise Line's second exclusive Bahamas destination, Lighthouse Point, located on the island of Eleuthera. (Disney's first exclusive Bahamas destination is their private island of Castaway Cay.) Walt Disney Imagineers continue to consult with Bahamian artists and advisors in order to design a cruise port that authentically captures the natural beauty and culture of the Bahamas.
SET SAIL: 7 Best Cruise Lines for Couples (and Their Most Romantic Voyages)
Disney Cruise Line released new artist renderings that showed a vibrant beach retreat filled with Bahamian colors and artistry. Disney is also designing a family recreation center, water playground, dining, shopping, and a cultural pavilion at Lighthouse Point.
In an effort to develop the land in a sustainable fashion, DCL has committed to leaving more than 80 percent of the property undeveloped, as well as supplying 90 percent of its electrical power from solar energy. Disney Cruise Line will utilize sustainable building practices throughout as well as donate more than 190 acres of land to the government.
More from FamilyVacationist: