Due to my wife's multiple sclerosis (MS), our family has exercised extreme caution during the pandemic. Dana and I have been itching to travel again, but over the past few years she has also experienced a decrease in mobility as well as an increase in fatigue, pain, and discomfort. (She travels with a manual wheelchair and wheeled walker.) Cruising is one of the most accessible ways to travel for those with disabilities, however, and with Disney Cruise Line launching its newest ship this summer, we viewed it as a perfect opportunity to return to travel.
We were invited to preview the Disney Wish with an eye towards mobility accommodations as well as other accessibility aspects before its official debut on July 14. And while it's certainly never a given that a new travel offering or destination will be fully accessible, we were pleased to discover Disney Cruise Line worked hard to increase accessibility on the Disney Wish. Here's what we learned through our first-hand experiences onboard.
DINING DELIGHTS: These Are the Can't-Miss Restaurants and Lounges on the Disney Wish
Arriving and Boarding the Disney Wish
On the morning of our cruise, we took a Disney Cruise Line motor coach from one of the Disney hotels in Orlando to Port Canaveral. The bus was equipped with a wheelchair lift that raised my wife into the back of the coach where she transferred out of her wheelchair into a seat. Our driver secured the wheelchair with straps onto the coach.
FIRST LOOK: On Disney's Newest Cruise Ship, Every Day Is 'Star Wars Day at Sea'
Once we arrived at the Port, we waited for everyone to exit the bus, and the driver lowered my wife in her wheelchair on the lift. A crew member met us and escorted us to the security check-in. My wife remained in her wheelchair and received a pat down while I passed our items through the metal detector. Up an elevator to the terminal, through a Mouse Ear shaped tunnel, over a walkway, and we were on the ship where a crew member announced our family's arrival as Belle welcomed us from a balcony. Easy-peasy, couldn't have been simpler.
"All of the bus drivers throughout the whole trip were fantastic," says Dana. "Very thoughtful and friendly."
Accessible Staterooms on the Disney Wish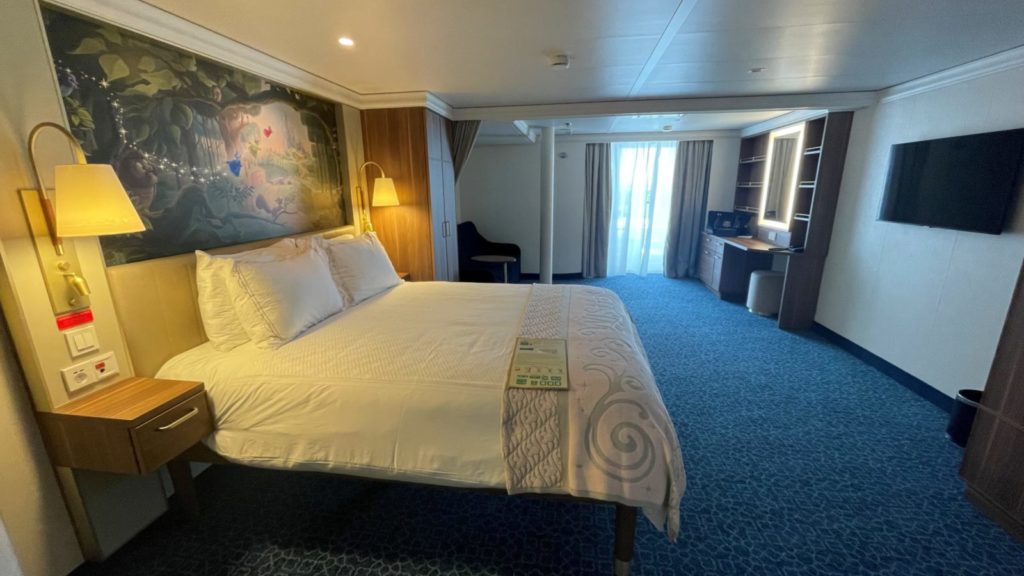 Because had some difficulty with our hotel room at Disney World—we'd reserved an accessible room but were given a standard room, which was difficult to navigate—we approached our Disney Wish stateroom with trepidation. Our concerns diminished as we reached our cabin door and noticed the lowered keycard lock. With a swipe of the key, the door opened auto-magically to reveal the most expansive stateroom we've ever seen on a Disney cruise ship.
CRUISE DEALS: Which Cruise Lines Let Kids Sail Free?
Our stateroom, number 8604, was categorized as a deluxe family oceanview stateroom with verandah. Typically these staterooms open into a narrow hall with closets on one side and the bathroom on the other, and they are definitely not wide enough for a wheelchair.
But in this accessible stateroom on the Disney Wish, not only was the doorway plenty wide for the wheelchair, but the closet and entrance were relocated as well, thus opening up the entire entranceway to our room. We could easily park the wheelchair inside the room next to the door when not in use (without needing to fold). This allowed my wife to use the walker with wheels inside the room just as she does at home.
The accessible stateroom on the Disney Wish was roomy and expanded throughout, allowing plenty of room to navigate around the space with the wheelchair or walker. There was space below the queen-size bed to tuck suitcases and shoes as well, keeping walkways clear. And there was a subtle ramp leading to the veranda, eliminating any threshold to the outdoor space. The bathroom did not have a threshold either.
TO INFINITY AND BEYOND: Disney Cruise Line Will Launch Pixar Day at Sea Starting in 2023
The bathroom in our accessible stateroom was bigger and better than the one we have at home. Disney Cruise Line staterooms typically utilize a split bathroom model. Split bathrooms are side-by-side, each having a separate door, with one having a toilet and sink and the second having a tub/shower combo and sink. While split bathrooms are great for families, allowing multiple people to get ready at the same time, the smaller spaces do not allow for mobility devices and can be harder to negotiate.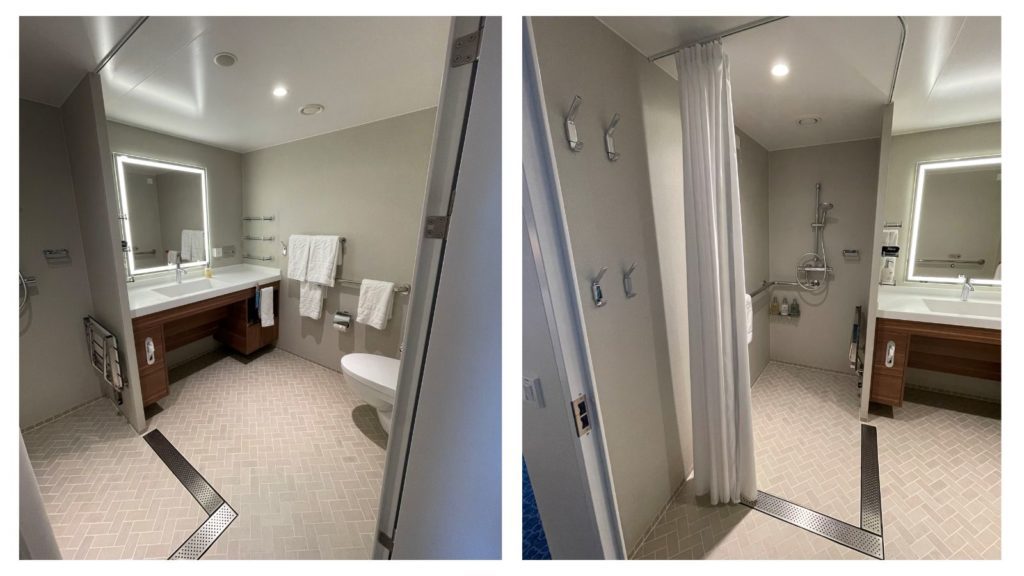 In this case, however, there was one large open and accessible bathroom with grab bars around the toilet and shower. It included a roll-in shower with hand-held shower head and built-in fold-down seat. Drains positioned around the shower successfully prevented the entire bathroom floor from flooding—an issue with some open roll-in showers, but not in the accessible bathrooms on the Disney Wish.
SAIL AWAY: 7 Best Couples Cruises and Most Romantic Voyages
To exit the room, we used a pushbutton to open the heavy metal stateroom door. This allowed Dana to easily open the door to go out in her wheelchair. The door automatically closed and locked behind us.
Our accessible stateroom on the Disney Wish was well thought-out for those needing mobility accommodations, and truly allowed my wife (and both of us) to have a relaxing, comfortable retreat. She enjoyed resting in the stateroom without feeling cramped and had easy access to everything she needed. We loved sitting together on the verandah, enjoying the ocean breeze, and watching the water and scenery pass by.
The Disney Wish also offers accessible rooms for those with auditory impairments. Earlier Disney ships offer communication kits with alarm clock, bed shaker notification, doorbell and phone alerts, a smoke detector with a strobe light, and a stateroom TTY. The auditory accessible rooms on the Disney Wish offer these features built-in, and guests no longer need to make arrangement for communication kits ahead of time.
Accessibility in Public Spaces on the Disney Wish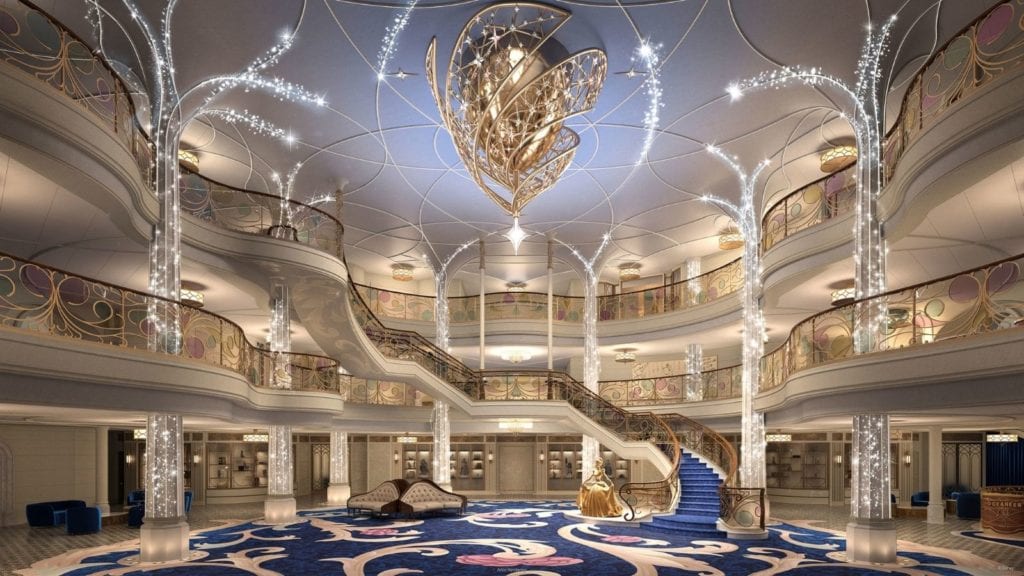 We had no trouble negotiating any of the public spaces on the Disney Wish. The Grand Hall atrium on Deck 3 is wide, open, and roomy. This area could get crowded with families, but on this voyage we had plenty of room to maneuver. Similarly, public hallways, decks with restaurants, theaters, pools, and other venues were wide, smooth, and fully accessible.
In general, the Disney Wish's public areas had wide pathways, many touch panels to open doors, and accessible bathrooms with lowered sinks. On the outside upper decks we even saw chairlifts to get from Deck 13's adults-only quiet cove area to the sundeck on Deck 14 and other outdoor stairways.
Dining Accessibility on the Disney Wish
All restaurants on the Disney Wish are fully accessible for wheelchairs. One particular Disney Cruise Line innovation is that your wait staff accompanies you every night to each different dining venue, getting to know your preferences over the course of the cruise. In our case, this meant that after the first night, when our servers learned my wife would be staying in her wheelchair during the meal, a chair had already been removed for her before we arrived at the table.
In addition, our assigned table was always close to the entrance so we did not have to travel far through a crowded and bustling restaurant to be seated.
For the ship's main quick-service dining location, Marceline Market, hosts offered to carry a tray for my wife's food or have food or drinks brought directly to our table. Similarly, on the pool deck, staff at Mickey and Friends Festival of Food crew members were available to transport food directly to our table.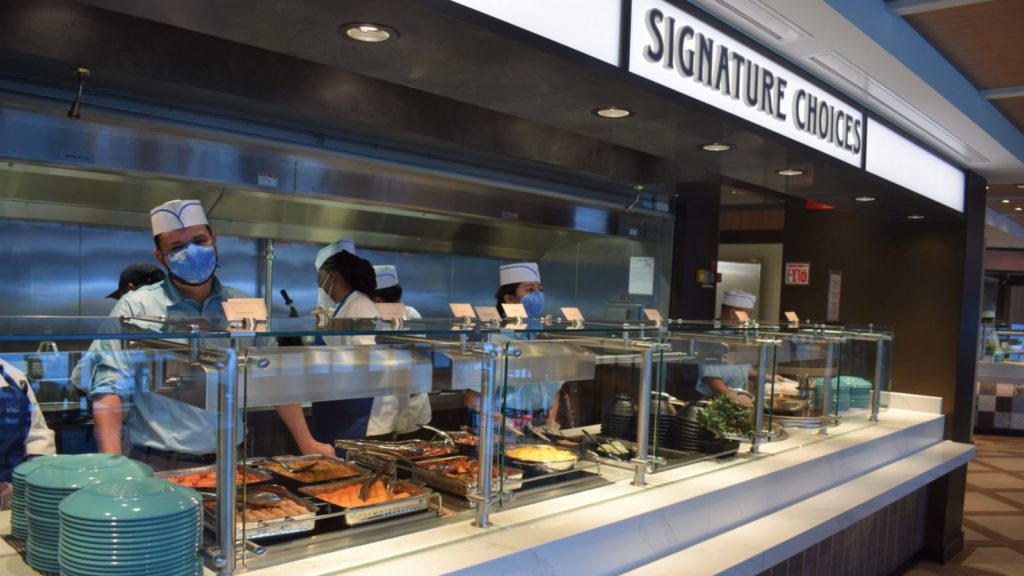 Disney Cruise Line offers complimentary room service 24 hours a day for everyone on all ships. While this is not an accessibility accommodation per se, having a continental breakfast delivered right to the room without having to get into a wheelchair and go up to Marceline Market is a huge help. For those needing auditory or speech accommodations, room service can also be requested via text messaging.
Pool Deck Accessibility on the Disney Wish
The upper decks on the Disney Wish are a hub of activity with multiple small pools, slides, bars, stages for shows and parties, a splash zone, the FunnelVision screen, and the AquaMouse attraction. A big part of any cruise is lounging poolside with frozen drink in hand and taking a dip to cool off, and on the Wish the pool decks are fully accessible for wheelchairs.
JUST FOR KIDS: Check Out These Dazzling Kid Spaces Aboard the Disney Wish
Lifts are available to enter the pools with prearrangement from guest services. A chairlift is also available to raise wheelchairs to the loading platform of the AquaMouse water coaster. Riders will then need to transfer from the wheelchair to the AquaMouse raft vehicle (and back) and it is a very low seat on the ground.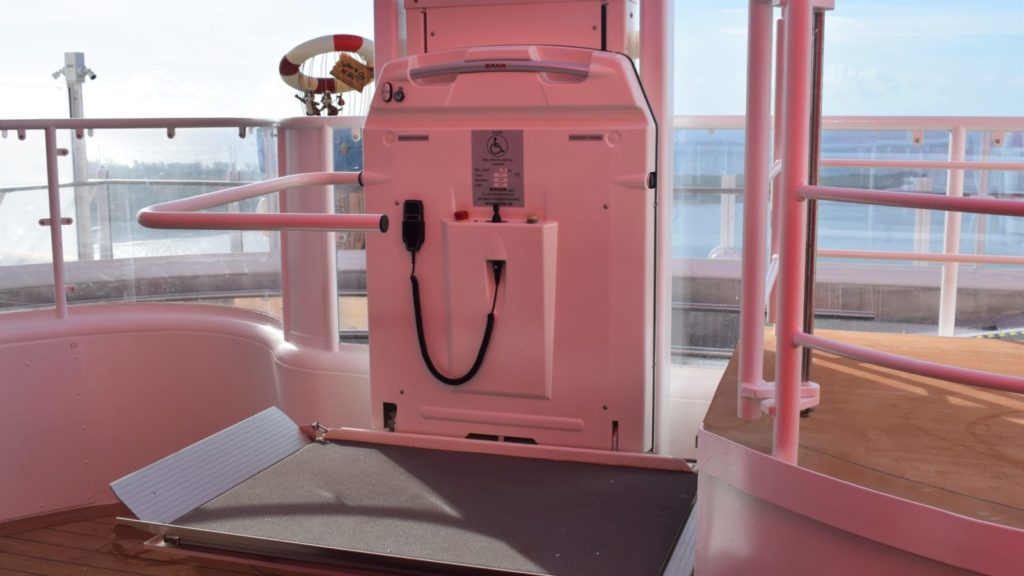 As with all Disney ships, the pool deck is also used for entertainment and shows with a sail-away party, pirate firework party, and other activities. There are designated on-deck viewing areas for those in wheelchairs on the Disney Wish. Crew members on the ship can direct you to those areas prior to the on-deck shows or activities.
Accessible Seating for Performances on the Disney Wish
One of the best parts of any Disney cruise are the theater productions staged inside the Walt Disney Theatre. Our family loves the rhythm of dinner in one of the fine restaurants followed by a live show. The Walt Disney Theatre is a lush, elegant venue that spans three decks, and they did not forget about accessible seating on the Disney Wish.
SNEAK PEEK: Disney Cruise Line Unveils 'Disney Uncharted Adventure' Interactive Game
Head to the main doors of the theater and a crew member will escort you to the accessible entrance and seating. Following the show, someone will also come to assist you to the exit. This was incredibly helpful, and we never had to worry about securing a spot for my wife and whoever was with us. Wheelchair seating is also available in the two movie theaters on board, the Wonderland and Never Land Cinemas. Just ask a crew member at the theater entrance if you have any trouble locating a seat.
American Sign Language (ASL) interpreters are available for live performances, provided they are arranged by guest services ahead of the cruise. Assistive listening devices are also available. In addition, movies in the cinemas are available with audio description.
Accessibility on Castaway Cay, Disney's Private Island
During its inaugural season, the Disney Wish will sail three- and four-night itineraries to the Bahamas with a stop at Disney's private island, Castaway Cay. The Disney Wish docks directly at the island and guests depart down the gangplank. A tram circulates from the entrance plaza to various destinations on the island, and wheelchairs can board the tram directly. 
Castaway Cay has paved pathways throughout, making it easy to use a wheelchair. Sand wheelchairs are available for the beach on a first-come, first-served basis. There are accessible restroom facilities located throughout the island. For those wanting privacy, an accessible cabana is available for rent.
Accessibility Missteps on the Disney Wish
All and all, we were very happy with the level of accessibility on the Disney Wish, but, like everything, it was not without its challenges. For example, all elevators do not go to all floors. Every elevator goes up to Deck 11, which is convenient for getting to the Marceline Market buffet. However, only some of them go to Decks 12, 13, and 14. We wanted to check out the Quiet Cove adult space on Deck 13. If an elevator stops at 11, it's simply not possible for someone in a wheelchair to climb to the upper decks above it. Therefore, we had to wait for the proper elevator to come.
"Another misstep was the accessible sink outside of Marceline Market," Dana told me. "There was not enough room under the sink for the wheelchair and my knees. I also encountered this problem in another public bathroom."
The larger misstep is the layout of the outdoor promenade deck, typically located on Deck 4. The earlier Disney cruise ships have a walking/jogging track that encircles Deck 4. This has always been one of our favorite spots onboard a Disney ship, and our family would often stroll the promenade between dinner and the evening show. When we went out on Deck 4 of the Disney Wish, we found just a short, straight section that terminated with a wall in one direction and stairs in the other. Walking up a set of stairs is a barrier for those using a wheelchair, though we did enjoy what we could and took in the evening sun before it set.
Final Thoughts Regarding Accessibility on the Disney Wish
My wife and I were pleased with the level of accessibility on the Disney Wish. After two and a half years without travel, we needed a break. This cruise allowed us to briefly step away from the routine and spend quality time together. We had fun, relaxed conversations over dinner. We laughed during the live theater performances. We soaked in the sun on the promenade and veranda of our stateroom.
As Dana sums it up, "Even the short cruise was totally worth it. The service and accommodations onboard were fabulous." To me, that's the only recommendation that matters.
More from FamilyVacationist: