One of the best things about family cruises with Disney is the incredible range of dining options (and environments) found throughout Disney's cruise ships. But with the launch of Disney's newest and most impressive ship, Disney Cruise Line is elevating family-friendly dining at sea to a whole new level.
Debuting July 14, the Disney Wish features three rotational dining options themed around fan-favorite characters and experiences, plus an impressive variety of quick service spots around the ship. And let's not forget about the stunning bars and adult lounges, including—for the first time ever at sea—a fully immersive Star Wars cocktail bar that goes adults-only after dark.
FIRST LOOK: On Disney's Newest Cruise Ship, Every Day Is 'Star Wars Day at Sea'
Here are the best places to eat on the Disney Wish, including which food and drinks you absolutely must try onboard.
Rotational Dining on the Disney Wish
Arendelle: A Frozen Dining Adventure
For families who can't get enough of Frozen, Arendelle: A Frozen Dining Adventure will be an instant favorite. Here, the story picks up right after the events of Frozen 2, and every guest is invited to celebrate the engagement of Anna and Kristoff with a smorgasbord of yummy options. The dining room is a "theater-in-the-round" experience with the Frozen characters, including Elsa, Olaf, and Oaken all coming to the stage to sing songs from both Frozen films. Impressive special effects and a full-size Olaf puppet help make the dining experience equally as much a show as a dinner.
The menu here leans into the Norwegian inspiration of the movie, with dishes that are spiced with juniper and plenty of cold-smoked fish to go around. (Don't worry, parents—the kids menu features plenty of old standbys for picky eaters.)
CRUISE DEALS: Which Cruise Lines Let Kids Sail Free?
One of the best appetizers you'll find in any of the three rotational dining rooms is Elsa's Royal Baked Scallops. This dish has three perfectly cooked scallops that are swimming in a flavorful broth in the bottom of a small crock, then the crock is topped with buttery puff pastry and baked until the pastry is golden brown. The dish is brought to your table while the pastry is still domed from the steam inside. If you don't try anything else at this restaurant, this is a must-get.
Pro tip: Every table has a view of the stage, but not every table has direct access to the characters as they walk around between courses. If your kids are big Frozen fans, be sure to warn them they may not be able to talk to Anna, Elsa, or Kristoff, so no one leaves the restaurant disappointed.
Worlds of Marvel
Marvel fans, assemble! The Worlds of Marvel dining room brings the Marvel Cinematic Universe to life in an interactive (and often hilarious) adventure featuring some of the Avengers' brightest stars (and one of their fiercest adversaries). As the story goes, Ant-Man and The Wasp are on the Disney Wish for a technology demonstration when things go a little awry. As part of the experience, diners will be able to help the duo by using "quantum core" devices located at each table while dining on dishes inspired by locations throughout the Marvel films.
TO INFINITY AND BEYOND: Disney Cruise Line Will Launch Pixar Day at Sea Starting in 2023
The food here is creative and fun, and there's definitely something for everyone. With anything Marvel there needs to be shawarma, and it makes an appearance with the lamb shawarma salad. The salad starts with a base of iceberg, endive, and romaine lettuce, and is topped with lamb, tomatoes, pickled red cabbage, and roasted chickpeas. There's also a refreshing cucumber and lemon yogurt dressing.
For dessert, the Wakanda flourless chocolate beetroot cake is a must. Even though it's on the no-sugar-added menu, you would never know it doesn't have sugar. The cake is dense and almost brownie-like and has a fantastic dark chocolate flavor.
Pro tip: Every seat is a good seat at Worlds of Marvel. Have your camera ready for the finale, which goes from on-screen to live action. Your waiter should be able to tell you when that perfect Instagram-worthy moment is getting ready to happen.
1923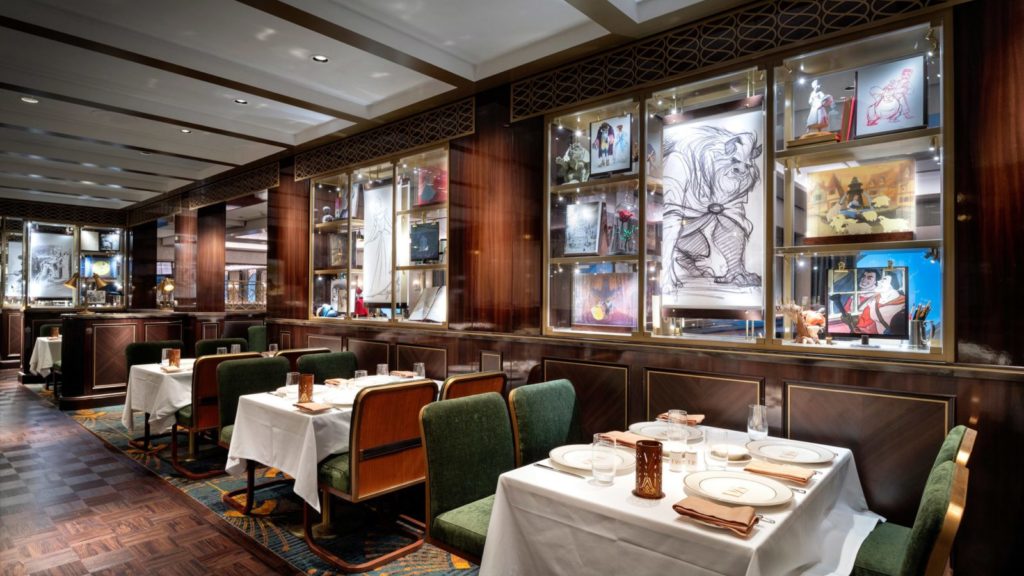 The best menu of the three main restaurants is at 1923, where California-inspired dishes are served in an elegant atmosphere. The restaurant is themed after the early days of Disney animation with drawings, models, and storyboards of different Disney animated movies on display around the dining rooms. Yes, rooms—there are two large dining rooms in 1923, one named after Walt Disney and another after his brother Roy Disney.
SAIL AWAY: 7 Best Couples Cruises and Most Romantic Voyages
The food at 1923 is spectacular and rivals the Wish's adults-only Palo Steakhouse. Dishes include a delightful seared tuna served with sesame brittle, oyster mushrooms, and pickled lotus root as an appetizer, and a succulent rack of lamb that's crusted in rosemary and served with a cheesy stack of potato gratin as an entree.
Pro tip: This restaurant is perfect for a date night. If you're traveling with kids and want to dine here without children for an evening, they can eat dinner in the kid's club. Just be sure to check with the counselor for a menu for your child.
Quick Service and Buffets on Disney Wish: Top Picks
Marceline Market
The main buffet on the Disney Wish is Marceline Market, named after Walt Disney's birthplace. The buffet is a big step up from Cabanas on the other four Disney cruise ships, which is saying a lot because Cabanas is already pretty great. The restaurant is open as a quick-service spot for breakfast and lunch and a table service location for dinner.
JUST FOR KIDS: Check Out These Dazzling Kid Spaces Aboard the Disney Wish
Breakfast is the typical affair with eggs, bacon, Mickey waffles, and such, but lunch truly shines. The Asian-inspired section of the restaurant has a nice selection ranging from curries to beef and broccoli. The dumplings and egg rolls are also fantastic. If you're looking for something to take with you to a pool or into one of the onboard movie theaters, consider the charcuterie board which has cheese, meat, and breadsticks.
Pro tip: Check the Marceline Market digital board before walking into the restaurant. It will let you know when breakfast switches over to lunch and when lunch ends for the day. These times may change throughout the cruise so check the space often.
Mickey and Friends Festival of Foods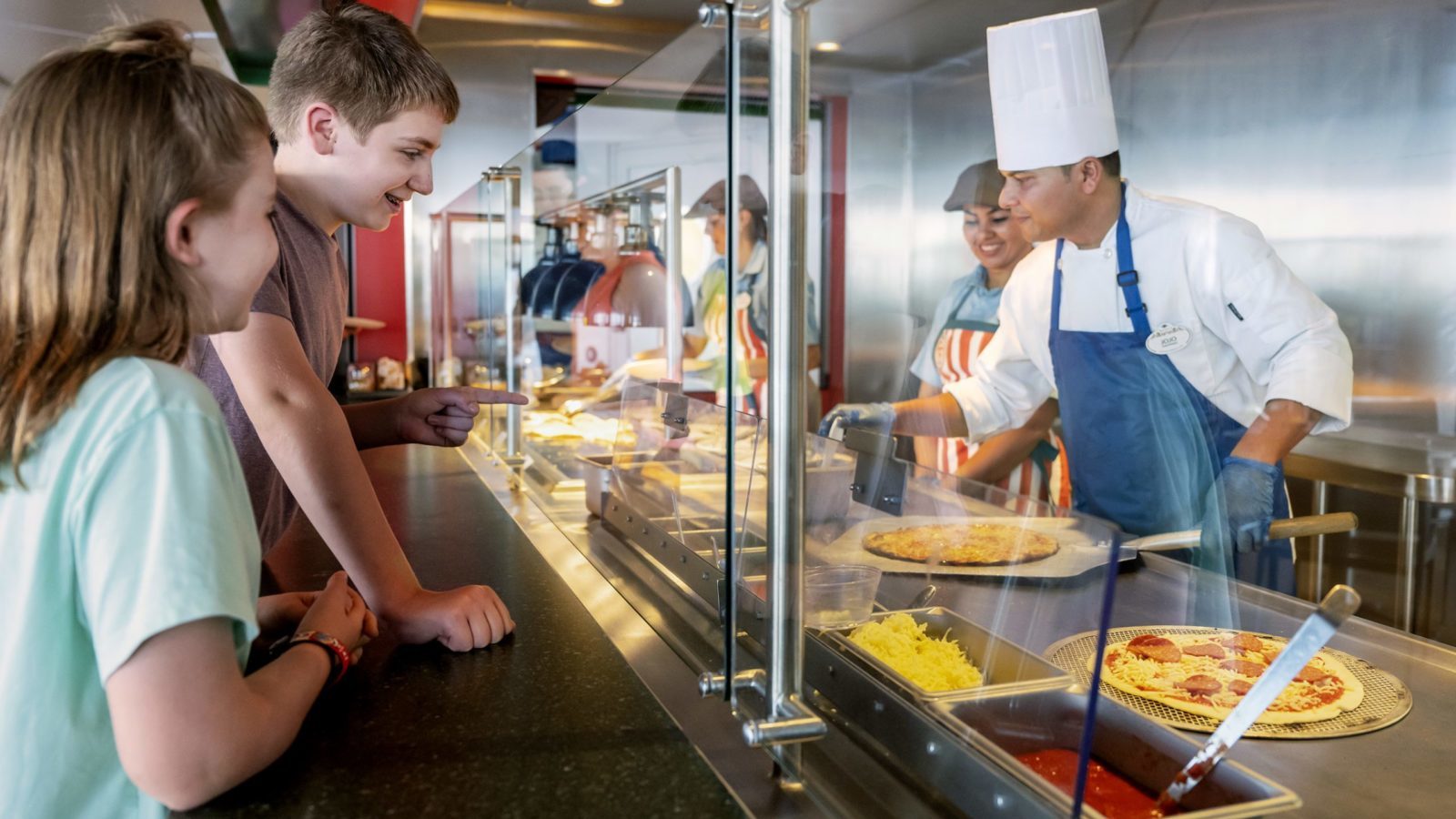 Outside on the Disney Wish's pool deck is the all-new Mickey and Friends Festival of Foods. If the aesthetic of the area looks familiar, that's because it's in the same style as Mickey and Minnie's Runaway Railway at Disney's Hollywood Studios. The area is comprised of five different food stalls, each one representing one of the Fab Five characters: Mickey, Minnie, Daisy, Donald, and Goofy.
FIRST LOOK: Disney Cruise Line Unveils 'Disney Uncharted Adventure' Interactive Game
The options here are plentiful, ranging from BBQ to tacos and even ice cream. Donald's Cantina is a hot spot to grab a bite with build-your-own tacos, burritos, and bowls. All the fixings for a yummy Mexican feast are available, including more than a dozen different sauces. Another great spot is Mickey's Smokestack BBQ, which dishes out savory BBQ feasts. The brisket is sliced to order and the cornbread is a must-try for southern BBQ fans.
Pro tip: Mickey and Friends Festival of Foods is open most of the day, and Sweet Minnie's Ice cream is open late at night for those who want their fill of soft serve. (Which, let's face it, is most of us.)
Lounges on the Disney Wish: Top Picks
Star Wars: Hyperspace Lounge
One of the most talked-about spaces on the Disney Wish is the new Star Wars: Hyperspace Lounge, which is themed after a cocktail bar on a luxury space cruiser and reminiscent of Disney's Star Wars hotel in Orlando. The atmosphere is uniquely Star Wars, with plenty of things to look at—volcanic crystals from Mustafar, mysterious glass tubes of bubbling liquids, that kind of things—though the centerpiece is a high-definition viewscreen showing different space environments from across the Star Wars galaxy. The lounge jumps to hyperspace to visit a new location every seven minutes.
GALAXY QUEST: Ultimate Guide to Galaxy's Edge, Disney's Star Wars Land in Orlando
The bar menu is filled with both cocktails and non-alcoholic options. For those who love bourbon, the Freetown Reserve is a must. The drink is made with infused Woodford Reserve Double Oaked Bourbon and is served with an embossed blue ice cube that makes the drink turn a deep sparkly teal as it melts.
Pro tip: The Hyperspace Lounge is family-friendly during the day, but adults-only at night. Reservations are also highly recommended and can be made once you're onboard the Disney Wish.
Nightingale's
Just off the ship's Grand Hall on Deck 3 is the Cinderella-inspired piano bar Nightingale's. The cocktail list here is one of the more creative on the ship, with drinks that are all inspired by bubbles, which is the main feature in the song "Oh, Sing Sweet Nightingale" from the movie.
BRING THE WHOLE FAMILY: How to Plan a Multigenerational Disney World Vacation That Makes Everyone Happy
In the "Ice Bubbles" portion of the menu, each cocktail comes with a hollow spherical ice cube that's filled with some of the cocktail. That's where the interactive element of the drinks come in because you're given a small hammer to break the ice open and mix it in with the other ingredients. The chocolate frozen bubble cocktail is a sweet mix of Bailey's Salted Caramel, Absolut Vanilla, and chocolate—the perfect after-dinner drink.
Pro tip: Visit at night for live piano music, which often includes Disney songs from the movies and parks.
More from FamilyVacationist: