Stepping on board any Disney Cruise Line ship is a dream vacation for everyone in the family, but for kids there's something special about having a floating wonderland with areas built just for them. The kids spaces on each of the Disney ships are often themed after different movie enterprises like Disney Princesses, Star Wars and Marvel. As Disney gets ready to launch its newest ship, the Disney Wish in 2022, the cruise line has revealed more about its kids spaces, and let's just say when it's time for the kids club open house where anyone can wander through we want to be first in line.
Disney Wish Kids Clubs
When it's time to go to the kids clubs on the Disney Wish, there's always the traditional check-in at the front of the club, but there's also a way more fun way on a slide that goes from the Grand Hall right into the heart of the Oceaneer Club, the space dedicated to kids 3 to 12 years old. Adults looking to do something after sending their kids down the slide into the club should check out Star Wars: Hyperspace Lounge, which is on the same deck (3) as the slide entrance.
FIRST LOOK: Disney's Newest Cruise Ship Will Set Sail in 2022
Disney's Oceaneer Club
Once kids splash down into the Oceaneer Club for the first time, parents might have a hard time getting them to come out to dinner or do anything else on the ship. This part of the kids programming on the Disney Wish is where kids can channel their inner Marvel Super Hero or Disney Princess, or learn about what it takes to be a Disney Imagineer.
HOW TO: Plan and Book Your First Cruise Vacation
Marvel Super Hero Academy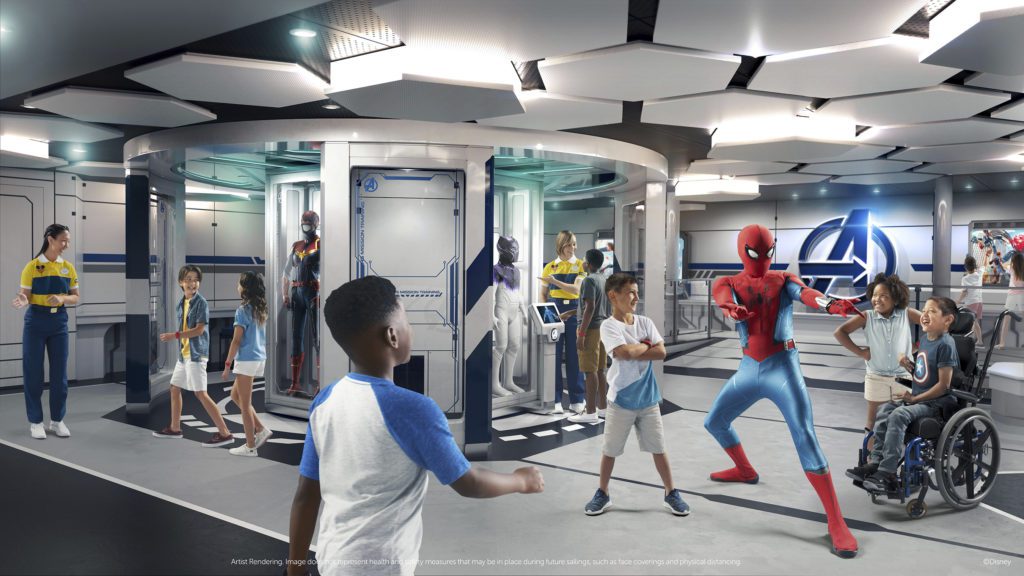 If your kids can't get enough of Ant-Man, Iron Man or Captain Marvel they'll likely be spending most of their time at the Marvel Super Hero Academy. This is the onboard, high-tech headquarters for the Avengers. Kids can train with the likes of Spider-Man, Black Panther and Ant-Man and the Wasp as they get ready to take on Ultron in the Worlds of Marvel dining experience. Kids can also create their own super suit and watch it come to life with nanotech on a mannequin. And when its time to kick some villain booty, kids can test their skills with Avengers: Mission Training, a gesture-based technology game where they can virtually battle bad guys.
EXCLUSIVE FIRST LOOK: Disney Cruise Line Unveils 'Disney Uncharted Adventure' Interactive Game
Fairytale Hall
Kids who are looking for a bit more glitz, glam, and all things Disney Princess should take part in the activities in Fairytale Hall. Here, there are a trio of activity rooms where kids will be joined by the likes of Rapunzel, Bell, and Anna and Elsa to participate in a plethora of hands-on activities.
FUN FOR ALL: 9 Skip-Gen Vacations That Promise Fun for Both Kids and Grandparents
Inside Rapunzel's Art Studio, kids can work on arts and crafts inspired by the story of Tangled. Belle's Library is where kids can read and act along to classic stories. Be sure to watch for the enchanted painting above the fireplace, which will transform and come alive as the story goes on. Inside Anna and Elsa's Sommerhus, kids can play gesture-based games hosted by Olaf. One such game that kids will be lining up to play is a snowball fight with the lovable trolls.
Walt Disney Imagineering Lab
If your kids have ever asked you how the thrilling attractions and immersive experiences at the Disney parks are created, the Walt Disney Imagineering Lab onboard the Disney Wish is the place to send them. Here, kids can learn exactly what it takes to be a Disney Imagineer and uncover some of the secrets of the trade.
SEAFARING FAMILY FUN: 7 Best Cruise Lines for Families (and Their Most Kid-Friendly Ships)
While inside the WDI Lab, kids can design their own roller coasters based on popular coasters at the park like Big Thunder Mountain Railroad, Space Mountain, or Matterhorn Bobsleds. After they've made their coaster track and theme, they can climb into a capsule and virtually ride what they created. While at the Walt Disney Imagineering Lab, kids should be on the lookout for a special guest Sorcerer Mickey, the ambassador of Walt Disney Imagineering, who just might come for a peek at what the kids are creating.
Edge
Older kids ages 11 to 14 have a dedicated space of their own called Edge. The area is inspired by a New York City loft, with a faux-grass picnic area and Instagram-worthy art displays. Edge will be on Deck 5. To get into the tween club, kids will need to search for the piece of art that combines modern art with Disney characters, like Minnie as the 'Girl with the Pearl Earring,' or Donald as Salvador Dali.
Vibe
Teens ages 14 to 17 can enjoy Vibe, a club just for them. The Parisian-artist-loft inspired space is decorated with neon signs and pop art. The club will also have floor-to-ceiling windows the overlook the sparkling blue ocean.
Adults Open House
After all of the fun your kids are having, parents are going to want to check out the kids spaces for themselves. During set times, Disney Cruise Line allows adults (even if you don't have kids traveling with you) to explore the Oceaneer Club and try out some of the games and interactive elements. The times for the kids club open house will be on the Disney Cruise Line app where the days events and schedule is located. You can also just pop down to the club and ask one of the Cast Members. This is your chance to fight super villains, design your own roller coaster, and throw snowballs at trolls.
The Disney Wish sets sail on its maiden voyage from Port Canaveral, Florida, on June 9, 2022. Bookings are now open.
More from FamilyVacationist:
This article about the Disney Wish Kids Club was originally posted in September 2021. It has been updated to reflect the most current information.