Charlie and Grandpa Joe sentimentalized the travel trend we now refer to as skip-gen travel when they landed a golden ticket to Willy Wonka's chocolate paradise. The idea of grandkids traveling with their grandparents—leaving the parents at home, thus skipping a generation—has since evolved from gallivanting amid fudge fountains and everlasting gobstoppers into one of the most popular family vacation ideas.
Skip-gen trips require careful planning, as they need to appeal to both the grandparents and children. Grandparents on a multigenerational vacation yearn for disconnected, low-key fun with their grandchildren, while kids have more of an appetite for playing and exploring their environments. If you choose the right family travel destination and plan appropriately, both travelers' desires will commingle seamlessly, leading to wonderful memories (and more date nights for parents).
So, where do you begin? There's growing interest in places closer to home that aren't densely populated or over-touristed, such as small cities and towns, and national parks. Parents are keen on trips that emphasize the outdoors and have an educational component—attributes that will inspire and reset kids.
MAKE THE MOST OF IT: A Grandparent's Guide to Safe Travel with Grandkids
Skip-Gen Destinations for Grandparents and Grandkids
These standout skip-gen destinations and accommodations across the United States offer plenty to get the whole gang excited. The nine best vacation ideas for grandparents and their grandchildren guarantee everyone, regardless of age, will have a blast (with no room for "Grandpa Joe" complaints).
1. Moab, Utah
Five National Parks call Utah home, making the state an ideal choice for active grandparents and grandkids looking to experience some of the U.S.'s most jaw-dropping scenery. What we love about Moab is its central location, which serves as a stepping stone for family-friendly activities and not one, but two National Parks: Arches National Park and Canyonlands (Island in the Sky district).
WOW-SEEKING: 11 U.S. Tourist Attractions That Live Up to the Hype
An absolute must-do is rafting the nearby Colorado River. Unless travelers are experienced in whitewater, it's better to stick to the Fisher Towers stretch, a more beginner-level run with Class II to III rapids that still affords breathtaking scenery. Dinosaur lovers will get a kick out of seeing tracks on the Mill Canyon trail and petroglyphs along scenic Potash Road. Moab Giants, an open-air dinosaur theme park, and the Moab Museum also are sure to inspire budding paleontologists.
Where to Stay: Moab Springs Ranch
Towering red rocks and cottonwood trees create a shady hamlet for families visiting Moab. What began as the area's largest ranch homestead is now Moab Springs Ranch, a stylish resort for outdoor enthusiasts, with townhouses and bungalows providing roomy, family-friendly digs. Regardless of which accommodations you choose, you'll have access to all the resort's amenities, including an outdoor pool and hot tub, direct trail access, vineyards, and a private park featuring peaceful wading pools, a campfire circle, hammocks, picnic tables, and lounge chairs.
Moab's nearby parks and attractions will keep grandparents and grandkids busy throughout the day, but spending time exploring the ranch shouldn't be missed. Backing to the Slickrock Mesa, Moab Springs Ranch prides itself on being the town's oldest continuous settlement. It was here that the Spanish Trail, which connected Santa Fe to California, passed through in the early 1800s. Well-preserved original stone cabins offer a glimpse of the property's colorful past, while local tales and rumors of hauntings make for just-right-spooky campfire stories.
2. Palm Beach, Florida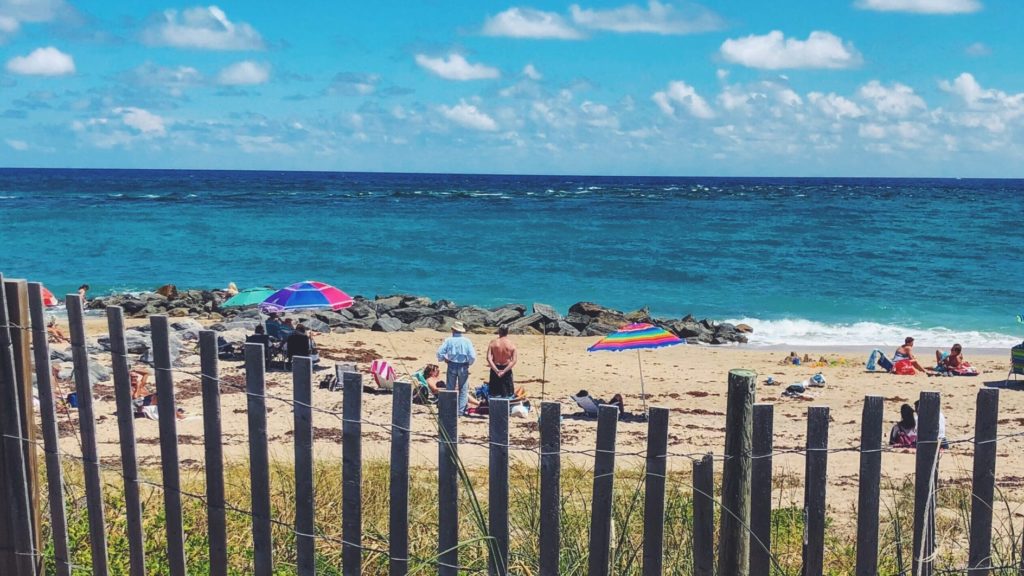 You don't have to jet across the Atlantic to get lost in Mediterranean-inspired alleyways, sip cappuccino in a bougainvillea-lined courtyard, or savor ocean views that could easily transport you to Sicily. As "America's First Resort Destination," Palm Beach is perfect for those who want to feel worlds away while enjoying some beach time, pampering, and low-key adventure. Downtown and its famed Worth Avenue are rich in history, easily walkable (or bikeable), and surrounded by opportunities to explore nature above or below the water.
MORE SUNSHINE STATE: 7 Florida Attractions That Are Just As Much Fun As Disney and Universal
A particular draw for skipgen grandparents and grandkids is that despite the island's allure for many celebrities and proximity to major cities like Miami and Fort Lauderdale, it remains far from congested. Just over the bridge, West Palm Beach—also lacking the crowds of its South Florida neighbors—offers even more options for fun, dining, and entertainment.
Highlights throughout the area include internationally acclaimed snorkeling and scuba-diving sites; Lion Country Safari, Florida's only drive-through safari and walk-through amusement park; and vast, untarnished beaches, including one of the world's most densely nested by sea turtles.
Where to Stay: Eau Palm Beach Resort and Spa
For those with a little room to splurge, Eau Palm Beach Resort and Spa affords five-star luxury with a fresh, youthful spirit underpinned by whimsically designed guest rooms and suites, a central resort-style pool, and a tricked-out kids' club with arguably the most extensive programming of any property on this list.
Children will love Paint to Life, an experience that enables them to paint sea creatures and that transports them to an interactive, virtual aquarium; a beam projection game system; an innovative photo booth; and other fun features thoughtfully developed to minimize screen time and keep them engaged. While youngsters are occupied at the club, adults can indulge in their own "Eau moments" at the award-winning spa, 18-and-over Tranquility Pool, or private oceanfront cabanas.
Other activities, such as an escape game experience, are available for grandparents and their grandkids to enjoy together. Meanwhile, paddleboards, surfboards (offered with lessons), snorkeling equipment, and beach cruisers are available for rent. The resort—tucked away on a private beach a bit further south on the island – also partners with nearby Loggerhead Marinelife Center to provide educational workshops among other fun offerings that support its sea turtle rehabilitation efforts.
3. Black Hills and Badlands, South Dakota
Seeing Mount Rushmore in person is enough of a reason for grandparents to take their grandkids to South Dakota's Black Hills and Badlands. Beyond the iconic national memorial, though, this sliver of America's Heartland is chock-full of fun and educational experiences that spotlight a wide range of school subjects: biology, astronomy, geology, history, and of course, recess. Make sure not to rush your time at Mount Rushmore, however. For the best experience, join a free ranger program to learn more about the history, then tack on a visit to Rushmore Tramway Adventures park, which features an obstacle course, alpine slide, scenic chairlift, zipline, and more.
PARKITECTURE PERKS: 12 Most Iconic National Parks Lodges in the U.S.
The rest of your itinerary should include a visit to Custer State Park, one of the country's most budget-friendly family vacation destinations, where you can drive amongst herds of bison and enjoy magnificent scenery; visit a national park for the Night Sky Viewing at Badlands National Park, offered by park rangers every night during the summer; tour a cave, such as Wind Cave and Jewel Cave; ride on the steam-powered 1880 Train; and make a splash in Evans Plunge, an indoor water park with a pool fed by natural hot springs.
Where to Stay: Under Canvas Mount Rushmore
There's something about camping that brings out the kid in all of us. For grandparents whose idea of the perfect trip with their grandkids involves roasting s'mores over the campfire, looking for shooting stars in the night sky, and falling asleep to the sounds of nature, I point you toward glamping at Under Canvas Mount Rushmore. The resort allows guests to enjoy all the joys of camping but with comforts like plush beds, private bathrooms, private decks, and wood-burning stoves with complimentary firewood.
Refreshing breezes carrying the smell of ponderosa pines and common juniper roll through the tents, which offer unbeatable views of Mount Rushmore day and night. Larger tents are available for families, sleeping anywhere between four and six, while onsite dining and communal activities make way for quality time with family and the chance to make new friends. Among the experiences on offer are live acoustic music, movie nights, painting, yoga, guided hikes, scavenger hunts, and games ranging from trivia to bingo.
4. Helen, Georgia
Bavarian-style architecture, restaurants serving up schnitzel and spaetzle, and a woodworking store selling handmade toys—but no, it's not a village in southern Germany. Nestled in the Blue Ridge Mountains, less than two hours north of Atlanta, the town of Helen, Georgia, flaunts an Alpine design that was part of an economic revival in the late 1960s. As kitschy as it might sound, Helen still provides a taste of the real Deutschland, with several authentic restaurants and import shops, as well as nods to the culture through traditional German festivals.
RIDE THE RAILS: 8 Family Train Trips in the World's Most Beautiful Places
Wanderlust and charm aside, grandparents will appreciate the town's easy walkability; tranquil scenery overlooking the Chattahoochee River, with rolling vineyards on the outskirts; and proximity to light adventures, such as Anna Ruby Falls park. Kiddos will be drawn to activities such as touring a candy factory while tasting sweet treats along the way; wandering through a German mini-model train exhibit; and riding on the Georgia Mountain Coaster.
Where to Stay: Bear Creek Lodge and Cabins
Treehouses aren't only for backyards. At Bear Creek Lodge and Cabins, families can rest up while "floating" atop oak and maple leaves for the ultimate Alpine experience. The Treehouse Cabin immerses groups of up to five in the Blue Ridge Mountain wilderness, with a spacious wraparound porch (rocking chairs included), a full kitchen, two full bathrooms, a private hot tub, an indoor gas fireplace, and more.
Throughout the rest of the nine-acre grounds, families have access to tubing and fishing on the Chattahoochee River as well as recreational areas with cornhole, horseshoes, hammock chairs, fire pits, riverside grills, and bikes. One of the best parts: Bear Creek Lodge and Cabins is only a five-minute walk to downtown Helen.
5. Go on a Cruise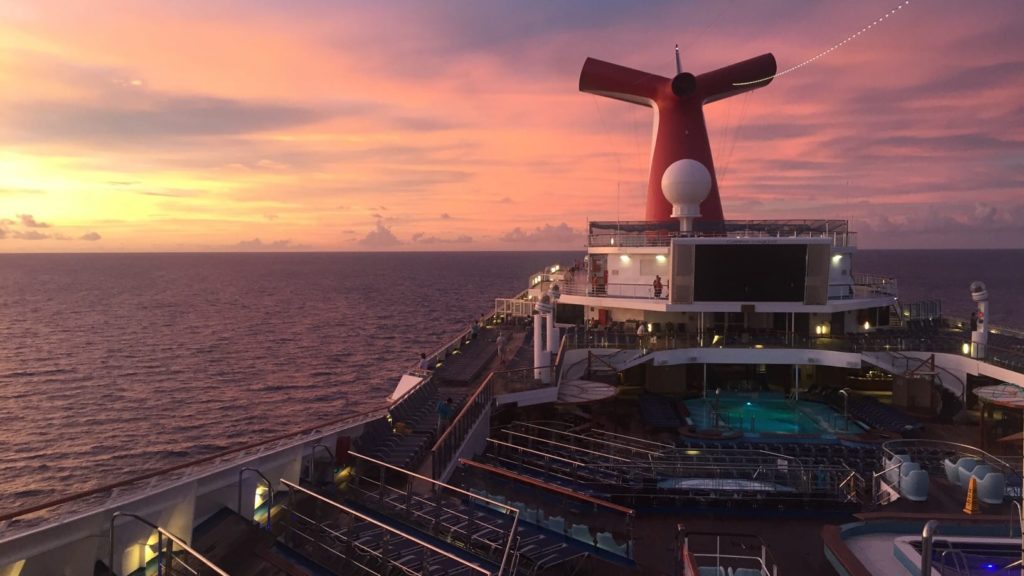 Cruising has long been a top vacation choice for families, thanks to an array of entertainment, dining, recreational activities, and destinations that keeps everyone in the group happily engaged—or comfortably tied to their sun lounger. More family-friendly lines such as Disney Cruise Line, Royal Caribbean International, Carnival Cruise Line, Norwegian Cruise Line, Princess Cruises, and MSC Cruises cater to kids with trendy, dedicated clubs and big-name partnerships that keep the programming fresh.
SEA DREAMS: Kids Sail Free: 6 Cruise Lines Letting Kids Cruise Free This Year
With cruises resuming under government approval and some of the tourism industry's most stringent safety measures, grandparents and their grandkids can hit the high seas assuredly once they determine what ship and itinerary is the best fit. Cruise-planning sites like Cruise Critic can help you narrow down your search with tips and advice, but your best bet is to work with a travel agent, who will spare you the information overload and use their expertise to find your family's perfect match.
6. Boston, Massachusetts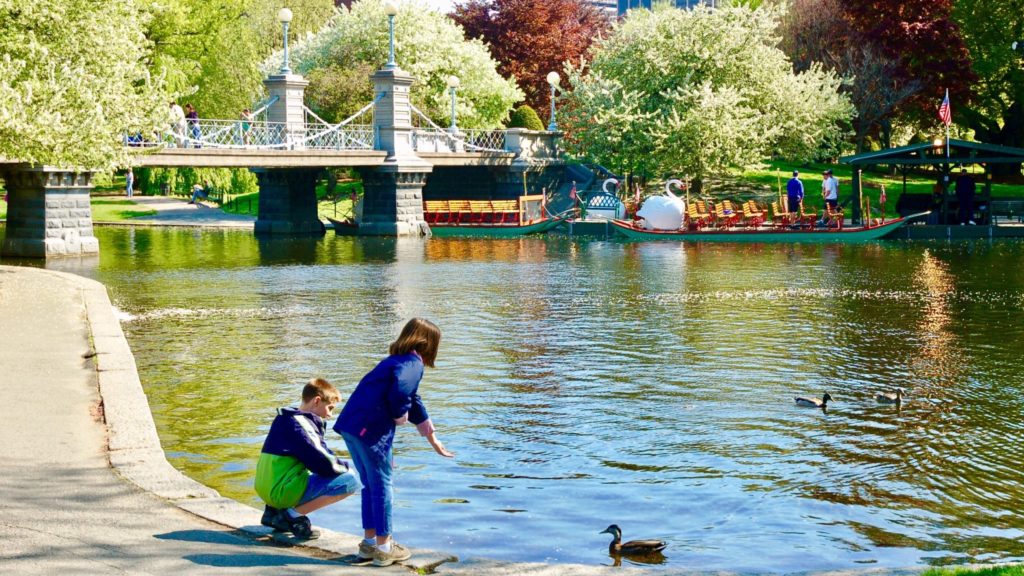 A capital city with a small-town feel, Boston, Massachusetts, offers more than enough to entertain grandparents and their grandchildren—with a handful of bucket-list experiences to boot. Skip gen travelers can catch a baseball game at Fenway Park, Major League Baseball's oldest park; time travel back to America's beginnings along the Freedom Trail; get up close and personal with penguins at the New England Aquarium; and chow down on local delicacies like clam chowder, lobster rolls and cannolis.
LAKE VACATION: 10 Best New England Lakes for Summer Fun
Boston's intimate downtown makes it easy to get around by foot, although its intuitive metro and ferry systems also make sightseeing a breeze. The city's central location also makes it hard not to want to tack another town (or state) onto your visit. Public transportation can take you to nearby sites such as Salem and Cape Ann, but you might want to consider renting a car to venture even further. Sought-after areas like Portsmouth, New Hampshire; Kittery, Maine; and Cape Cod are all within an hour to an hour and a half from the city, making Boston a prime base for New England road trips.
Where to Stay: Omni Parker House
Why look for a hotel close to the Freedom Trail, when you can stay in one directly on it? The circa-1855 Omni Parker House is in the center of it all and embraces Boston's Revolutionary history like no other, but without sacrificing modern conveniences. Parker's Restaurant, the hotel's hallmark dining venue, offers a literal taste of history as the birthplace of the Boston Cream Pie.
Where the Omni Parker House truly shines as a top skip-gen hotel is its attention to detail when it comes to serving kids and families. Through the Omni Kids Crew program, youngsters receive a backpack filled with binoculars, an activity book, card games, and other fun items upon arrival. Milk and cookies also are delivered to the room on the first night.
Myriad accommodations cater to larger groups with expansive rooms and suites, including the Freedom Trail Family Suite, which is an experience all in itself. Grandparents can enjoy their own space in a private bedroom, while a nook with bunk beds inspires little minds with fun decor, Colonial-style costumes for playing dress-up, a Boston map-style mural, and a chalkboard wall for drawing.
7. Mackinac Island, Michigan
Step foot onto Mackinac Island, and you'll immediately feel like you're in another decade, where horses, bicycles and walking are the only means of transportation. Automobiles were banned from the island in the late 1800s, which has helped preserve its historic charm and natural beauty. Most present-day visitors arrive by boat (ferry), which is all part of the experience.
MEMORIES IN THE MAKING: 17 Kid-Friendly Resorts in the U.S. That Cater to Families
Mackinac Island shines as a place to pique kids' curiosities and appreciation for all things old-fashioned, while taking grandparents back to simpler times. Both will enjoy taking in the town by horse-drawn carriage (some companies even let you drive your own buggy) or on horseback while touring a piece of Revolutionary War history at Fort Mackinac, which houses a dedicated Kids' Quarter.
No trip is complete without a visit to the Grand Hotel, however. Grandparents may recognize this landmark from the classic romance film, Somewhere in Time. A nominal entrance fee gets you onto the property, where you can wander the interior and grounds, grab ice cream at the onsite parlor, and kick back on the longest porch in the world. Other skip gen travel island highlights include the awe-inspiring Arch Rock, two butterfly museums, and the 3D Maze of Mirrors.
Where to Stay: Mission Point Resort
What sets Mission Point Resort apart from other family-friendly properties on the island are its bucolic, wide-open grounds situated on Lake Huron. Like something out of a storybook, Mission Point Resort and its 18 acres treat visitors to five restaurants, larger-than-average guestrooms, an outdoor pool with hot tubs, 18-hole putting course featuring glow-in-the-dark golf at night, a kids club, lakeside spa and salon, movie theater, onsite tours, and more.
The kids' club programming offers a mix of indoor and outdoor activities including as arts and crafts, reading and game time, swimming, kite flying, and field trips to local attractions. If the resort's plethora of activities doesn't keep families tied to the property, they can enjoy a scenic, roughly half-mile walk to downtown, or opt to take a horse-drawn taxi to any of the area attractions.
8. Grand County, Colorado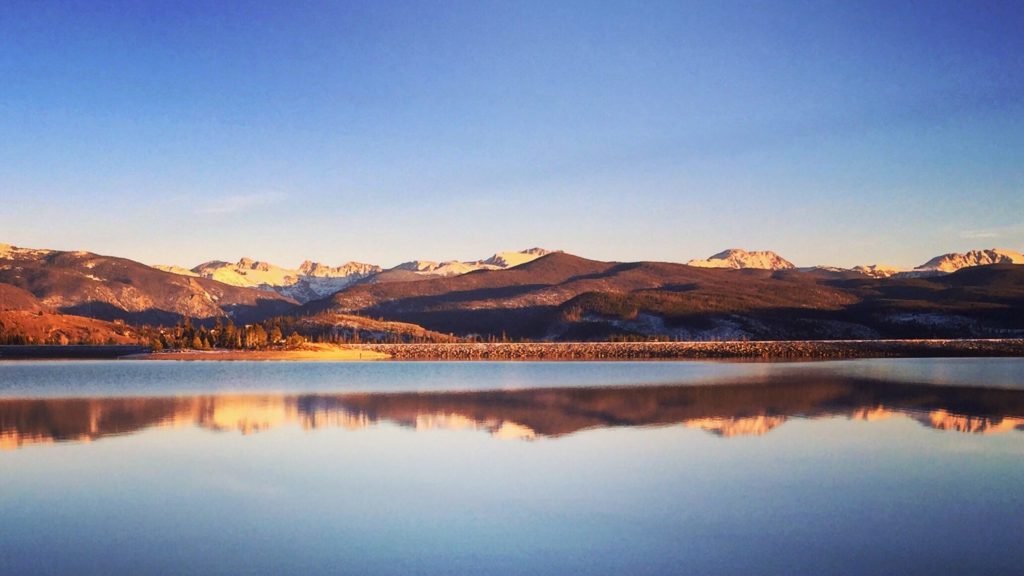 "There's something for everyone" might sound like a vague statement, but when it comes to skip-gen travel, we can't think of a better way to describe Colorado's Grand County. From easy walking trails and a mountaintop beach to hot springs reminiscent of Iceland's Blue Lagoon, this slice of rugged paradise beckons grandparents and their grandchildren to disconnect, recharge, and make memories that will be shared for years to come.
ALPINE ADVENTURES: 10 Family-Friendly Mountain Resorts in the U.S.
Once you reach Grand County, less than a two-hour road trip from Denver, you'll have everything the area has to offer at your fingertips—in every season. Grand Lake, Colorado's largest natural body of water, is a popular retreat in the warmer months, not only for visitors, but also for moose. Trails and rivers abound with activities for every level, including slow-paced eddies on the Upper Colorado River that allow travelers to pause and soak up what some say are the best views in the state (fun fact: The Colorado River begins in Grand County).
For snow lovers on skip gen vacations, it's hard to beat Grand County's slopes for skiing, snowboarding, and tubing. Need to soothe your muscles after a day of adventuring? Check out Hot Sulfur Springs for a true Colorado natural spa experience.
Where to Stay: C Lazy U Ranch
Hearing the term dude ranch might conjure up memories of the 1991 comedy flick City Slickers, but the experience at C Lazy U Ranch is far from a laborious cattle-driving mission. Since 1919, the luxury guest ranch has brought families together through its deeply rooted traditions, rustic charm, and high-class service. Visitors get a taste of ranch life plus all-inclusive offerings, pampering amenities, and acres of wooded forest, wildflower meadows, and spectacular mountain scenery waiting to be explored.
Flyfishing, horseback riding, archery, trap shooting, bee hive tours, and yes, cattle-pushing clinics, are only a few of the many unique experiences families on skip gen vacations can relish. Each season welcomes its own special activities, but every night ends with gourmet dinners, cozy campfire conversations, and what just might be your best-ever night's sleep in one of the elegant, recently renovated cabins.
For parents' added peace of mind, ranch counselors oversee all parts of the ranch as well as tours, lessons, and field trips. When kids are off hiking, rafting, or harnessing a new skill, grandparents can take advantage of the ranch's award-winning spa, where treatments are offered in lavish tents along the banks of a tranquil creek.
9. Coronado Island, California
Postcard-perfect views of the San Diego skyline and Pacific Ocean surround visitors to Coronado Island, whose easy accessibility is one of the biggest draws for grandparents vacationing with their grandkids. Once skip-gen families arrive, that list of reasons to love the island will likely grow to include clean beaches, beautifully manicured streets peppered with historic buildings, a charming downtown, and unique experiences—gondola ride, anyone?
VACATION VIBES: 22 Best Family Vacation Spots in the U.S.
The best way to start your journey is with an island tour, either by foot or Segway, or aboard a trolley from San Diego. On these tours is where grandparents and kids can discover hidden gems they want to revisit, while collecting fun facts about the island, such as its enchanting Wizard of Oz history.
Additionally, families can embark on a one-of-a-kind sightseeing tour like a Venice-inspired gondola cruise through the canals of the Coronado Cays (up to six passengers are allowed per sailing). Golf carts and bikes also can be rented to explore the town, made safe by the island-wide, 25-mile-per-hour speed limit.
Where to Stay: Hotel del Coronado
Even though its bold red turrets are the most defining feature, Hotel del Coronado was the inspiration for Wizard of Oz author L. Frank Baum's Emerald City. Look a little closer, and you'll see the similarities in its fairytale-like building shapes and setting. This fun fact is one of many you'll discover at the San Diego area's legendary property, one of the best beach resorts in the U.S. and host royalty, celebrities, U.S. presidents, and discerning guests since 1888.
You'll have to shell out a pretty penny to stay in one of its "neighborhoods," but the chance for grandparents to bond with their grandkids amid two centuries of beachfront traditions is priceless. A favorite among the hotel's long-adored experiences are daily beach bonfires, complete with s'mores and sunset views. The beach sets the stage for most other activities available to families on skip gen vacations, including organized games, watersports with lessons, and lunch at the tiki hut-style Beach and Taco shack, although the pool and its splurge-worthy cabanas are never too far away, either.
Kids ages 5 to 12 also can get a pass to the DelVenture activity center, where daytime and nighttime adventures run the gamut from virtual rock wall climbs to paint parties and slime labs. For grandparents, a fun bucket-list opportunity—sailing lessons—awaits at Glorietta Bay Marina, across the street from the resort.
More from FamilyVacationist: