Long known as the "Gateway to the West," St. Louis is usually associated with its famous Arch or maybe Budweiser beer (both accurate). But for families, there's so much more to St. Louis than a tour of the King of Beer (though children are welcome are some tours). That's because many of the best things to do in St. Louis with kids also happen to be fun for adults. It's win-win.
Fun Things to Do in St. Louis with Kids
St. Louis is a river city, hugging the shoreline of the Mississippi. And in recent years, the city has undergone a makeover of sorts, with updates that include a major renovation of the Gateway Arch National Park plus a new aquarium and other attractions at Union Station. These days, the city is a perfect long weekend destination for families with children of all ages. Here are eight fun things to do with kids in St. Louis.
IDEAL ITINERARIES: 12 Midwest Family Vacations Packed with Fun
1. Gateway Arch National Park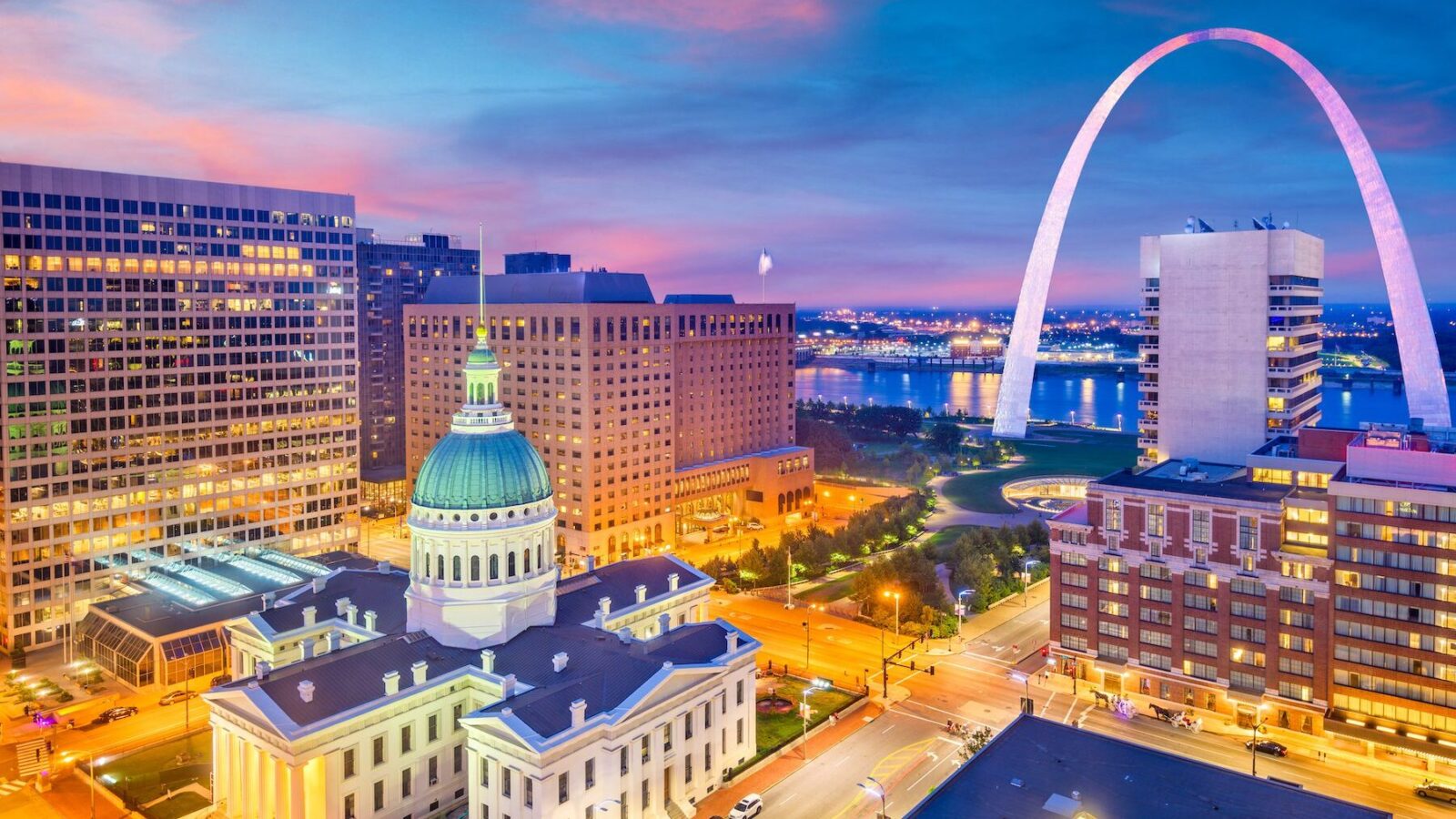 While the Arch is the major attraction at Gateway Arch National Park, you'll want to start a visit with a stop at The Museum at the Gateway Arch. Offering a look at St. Louis' history from its First People to development as a river town, the museum includes interactive exhibits that shine a light on the city, which was originally founded at nearby historic Laclede's Landing.
HIT THE ROAD: 6 Scenic Midwest Road Trips for Outdoorsy Families 
An Arch experience starts with a short ride to the to the top in four-person egg-shaped pods. From the top, 630 feet above the ground, visitors peer through the slots of the Arch for views of St. Louis and the Illinois side of the Mississippi River stretching for about 30 miles. Visitors generaly have 15 to 20 minutes to enjoy the views. The Arch isn't accessible for people in wheelchairs, as visitors need to walk at least 96 steps at the pods and the observation floor.

The Old Courthouse, site of the famous Dred Scott decision, which legalized slavery before the Civil War, is also considered part of the Gateway Arch National Park. A paved path takes visitors from the Arch to the Old Courthouse.
2. St. Louis Union Station
More than 100,000 people made their way through St. Louis' Union Station during the heyday of rail travel. And though the last train passed through this station in the 1970s, the station's limestone exterior and Romanesque design has remained a part of the cityscape. Since its rail hub days, Union Station has tried on identities ranging from shopping center to entertainment complex, but nothing thrived here until someone reimagined the space as a giant aquarium plus a ropes course, mini golf course, and home to a Ferris wheel. Today, Union Station is once again a major attraction in the city.
With more than 13,000 animals, the St. Louis Aquarium anchors the revitalized Union Station. The aquarium's exhibits include marine life from around the world, including zebra sharks and river otters. For some rail-themed fun, grab a seat aboard a train exhibit and take a virtual tour of the area, traveling below the Mississippi River as you view scenes from the train's windows.
FALL FUN: 6 Family-Friendly Fall Foliage Destinations in the Midwest 
When you're ready for thrills, navigate 30 obstacles over three stories as you traverse the Rope Course. With wooden bridges, tightropes and other challenges, the course takes climbers above Union Station's lobby. After conquering the ropes course, enjoy a victory lap on the SkyRail zipline as you soar 50 feet above the lobby.

Enjoy a special view of St. Louis with a ride on the St. Louis Wheel, a Ferris wheel with 42 four-passenger-enclosed gondolas. The 15-minute experience takes riders 200 feet high, and features unique views of St. Louis.
Visitors to Union Station can also enjoy 18 holes of Mini Golf, as well as maneuver through Mirror Maze's hallway of mirrors, with interactive exhibits reflecting on the 1904 St. Louis World's Fair.
3. St. Louis Zoo
Considered one of the best zoos in the world, the St. Louis Zoo is home to about 16,000 animals—plan to spend an entire day here—including African painted dogs, Amur tigers, red pandas, and a variety of primates and bears, including polar bears.
UNDERWATER WONDERS: 11 Best U.S. Aquariums to Visit with Kids
Check out the sea lion exhibit, where you may find these marine mammals resting atop the underwater tunnel; and the penguins, which waddle and play just a few feet from you in an open-air environment. The zoo also features unique attractions like the Conservation Carousel (ADA compliant), Zooline Railroad, 4D Theater, and Stingrays at Caribbean Cove.
While the St. Louis Zoo offers free admission, there is paid parking and some of the exhibits do require a fee.
4. Magic House
Located inside a Victorian-era mansion, Magic House is a children's museum that offers learning experiences while children play with interactive exhibits. From fun with science at the STEAM exhibit to exploring the world of nature, the beloved Magic House in Kirkwood features more than 20 permanent and special exhibits for families to explore.
5. Missouri Botanical Garden
The oldest botanical gardens still active in the United States, the Missouri Botanical Gardens have called St. Louis home since 1859. A respite in the busy city, the botanical gardens features several outdoor gardens—picture Japanese and Chinese gardens as well as a Victorian garden—surrounded by lovely Victorian era buildings. While you're there, don't miss a stroll through the Rose Garden with its variety of colorful roses.
PACK WELL: 11 Stylish and Durable Luggage Brands for Everyone in the Family
Indoor attractions at the Missouri Botanical Garden include the Climatron, which is a geologic dome used to house more than 2,800 plants and trees in a tropical forest. The Botanical Gardens also hosts special exhibits, such as Chihuly blown-glass art and Chinese lanterns.
6. Grant's Farm
A gift to future President Ulysses S. Grant and his wife Julia, Grant's Farm mixes history and nature. While the Grants' log cabin is located at the farm, the family only lived there for a short period. Now owned by the Busch family, public trolley tours are offered of the family's mansion.
AGRITOURISM: 5 Family Farm Stays Where You Can Reconnect with Nature (and Each Other) 

But, the main attractions at the popular Grant's Farm may be the wildlife. While the famous Clydesdale horses are kept on site in historic stables, visitors are urged to reserve a spot on an open-air vehicle that includes a drive through Deer Park wildlife reserve, where they can see animals such as bison, black buck antelope, zebras, and longhorn cattle up-close. Be sure to grab an ice cream cone full of pellets to feed animals by hand.
7. City Museum
Exploring City Museum is like finding a giant playground for kids of all ages. The well-reviewed City Museum has fun for both adults and children, with structures that range from a treehouse and caves on the first floor to a slide that covers several floors. An aquarium features giant replicas of sharks and other marine life along with fish from around the world.
MIDWEST MEMORIES: Mackinac Island with Kids: What to Do and Where to Stay on Michigan's Idyllic Car-Free Island
Explore three stories of curiosities that feature everything from a giant pencil to classic architecture. Outdoor attractions include a rooftop slide, Ferris wheel, and a school bus that extends over the edge of the building.
8. Riverboat Cruise
Enjoy a one-hour Riverboat Cruise on the Mississippi River, passing some of the city's historical landmarks such as Laclede's Landing and the Gateway Arch, as well as taking on views of downtown St. Louis. Riverboat cruises include a daily tour, dinner cruise, brunch cruise, and specialty tours, such as a jazz cruise. Note that it's a good idea to book this popular attraction in advance, since tickets sell out quickly.
ON THE WATER: Everything You Need to Know about River Cruises in the U.S. 
Where to Stay
Missouri-based Drury Hotels offer a family-friendly experience at a comfortable price. Opening its first hotel in 1973, the chain now has more than 150 hotels in 26 states. Of course, the area has a variety of hotel options in all areas and price ranges.
More from FamilyVacationist: