With a rainbow assortment of undersea creatures, the best aquariums in the U.S. combine dazzling sea life with a subtle educational message. Many the best U.S. aquariums also offer immersive encounters with underwater creatures, allowing visitors to touch stingrays or swim with sharks. And they're committed to highlighting the fragile balance of our waterways, too, driving home the message that the health of our planet is interconnected with the health of the seas.
Best Aquariums in the U.S.
From coast to coast (and many places in between), the best aquariums in the United States offer plenty of fun while also fostering a deeper appreciation of marine organisms and aquatic environments. Even better, many are located in or around some of the most popular family vacation spots in the country—so they're easy to incorporate into your family vacation ideas when planning your next trip.
SEAS THE DAY: 20 Best Places to Go with Kids This Year
1. Monterey Bay Aquarium
Monterey, California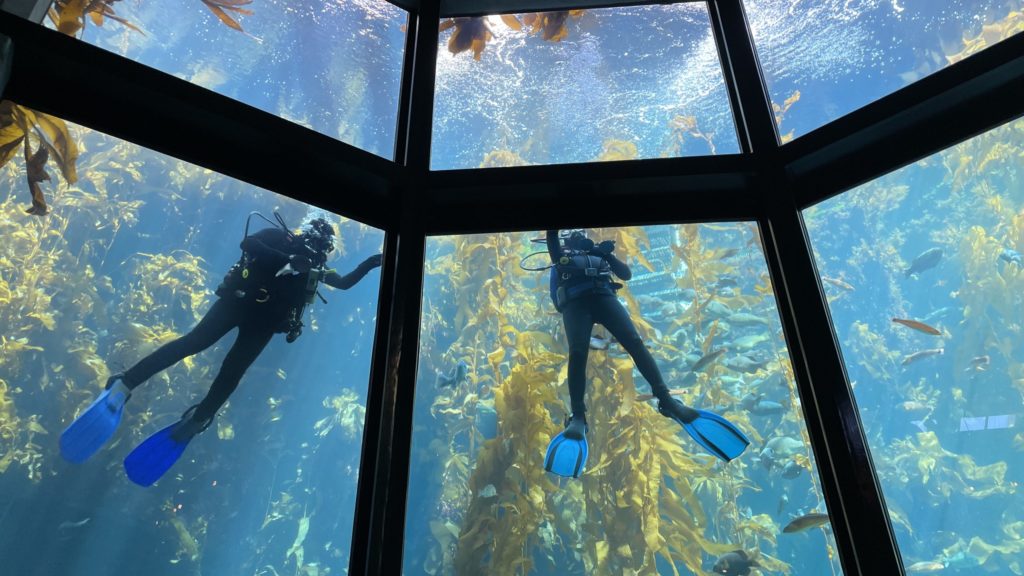 One of the best things to do in Monterey with kids, the Monterey Bay Aquarium wins over families with plenty of interactive opportunities that range from trying on marine animal costumes to more complex activities such as creating tide pools. At this visitor favorite, a dedication to research is coupled with a sincere conservation mission.
FAMILY FUN: Ultimate Guide to the Best Monterey Beaches for Families
The Kelp Forest—the largest living kelp forest outside of the wild—is a majestic three-story beauty that transports you to the chilly waters of Monterey Bay. The innovative Open Sea exhibit blends environmental art installations with live hammerhead sharks, schools of Pacific sardines, and the elusive ocean sunfish. And the aquarium's Into the Deep exhibit takes a dive to the bottom of the seafloor, where transparent jellies dance, brittle stars live atop sponges, and Japanese spider crabs crawl.
2. Johnny Morris' Wonders of Wildlife National Museum and Aquarium
Springfield, Missouri
The Johnny Morris' Wonders of Wildlife National Museum and Aquarium takes guests on an engrossing sensory journey, with sounds, scents, and temperatures throughout its different aquatic environments.
NO HIDDEN FEES: 12 Best All-Inclusive Family Resorts in the World
Detailed exhibits showcase fish and amphibians living in both freshwater and saltwater habitats. For an accurate snapshot of the Ozark ecosystem, popular Swamp at Night demonstrates how crucial the under-appreciated swamp actually is. Acting as a sponge, swamps prevent flooding, purify water and serve as critical breeding grounds for many species. And its rustic treehouse with a bridge swinging high above is a kid-favorite.
3. Clearwater Marine Aquarium
Clearwater, Florida
Far from a typical aquarium, Clearwater Marine Aquarium is a working marine hospital that rehabilitates rescued animals—nursing them through sickness and injury—with the definitive goal of releasing them back into their natural habitat. Animals who cannot be viably released remain, so these are the dolphins, sea turtles, and pelicans you'll encounter.
FAMILY FUN: 17 Kid-Friendly Hotels and Resorts in the U.S. That Cater to Families
Already one the most popular Florida aquariums, Clearwater Marine Aquarium gained additional fame thanks to Winter, the illustrious resident dolphin without a tail who starred in the popular Dolphin Tale movie series. Winter passed away in 2021 but her legacy continues. And there's a lot to do and see at this aquarium, too, like taking part in an interactive animal care experience and learning how the team nurtures sea creatures back to health. You may even have the opportunity to feed and care for the animals.
4. Newport Aquarium
Newport, Kentucky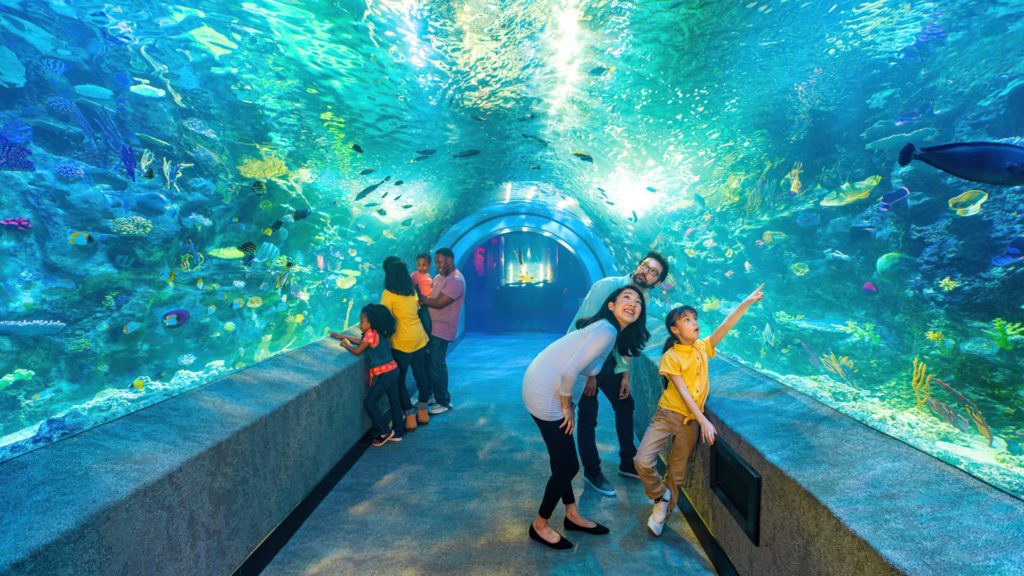 Kentucky's Newport Aquarium is just across the Ohio River from downtown Cincinnati, and it's popular with families on both sides of the state line. Thousands of aquatic creatures reside here, including rare white alligators and a parade of playful African penguins.
BRING THE WHOLE GANG: 13 Best All-Inclusive Resorts for Families of 5 or More
Brave visitors sashay across Shark Bridge, a rope bridge dramatically dangling just inches above a shark-filled tank. The Shipwreck: Realm of the Eels is a sunken ship that has transformed into an accidental reef that supports a thriving community of sea life. You can walk through the Coral Reef Tunnel and be surrounded by schools of fish enjoying the reef's ideal living conditions.
5. Shedd Aquarium
Chicago, Illinois
Venerable Shedd Aquarium is situated in a landmark Beaux-Arts building in the heart of Chicago. The crowd-pleasing At Home on the Great Lakes exhibit showcases the importance of protecting local natural resources.
MEMORIES FOR MILES: 12 Midwest Family Vacations That Are Packed with Fun
Curious kids will enjoy array of hands-on activities at this highly rated aquarium. They can feel the rough skin of a sea star, the leathery feel of bottom-dwelling lake sturgeons, or the sensation of a friendly stingray flapping against their fingers at Stingray Touch, a seasonal exhibit. There's even something for the preschool set, who can dress-up like penguins and explore Arctic waters in a kid-size submarine at Polar Play Zone.
6. New England Aquarium
Boston, Massachusetts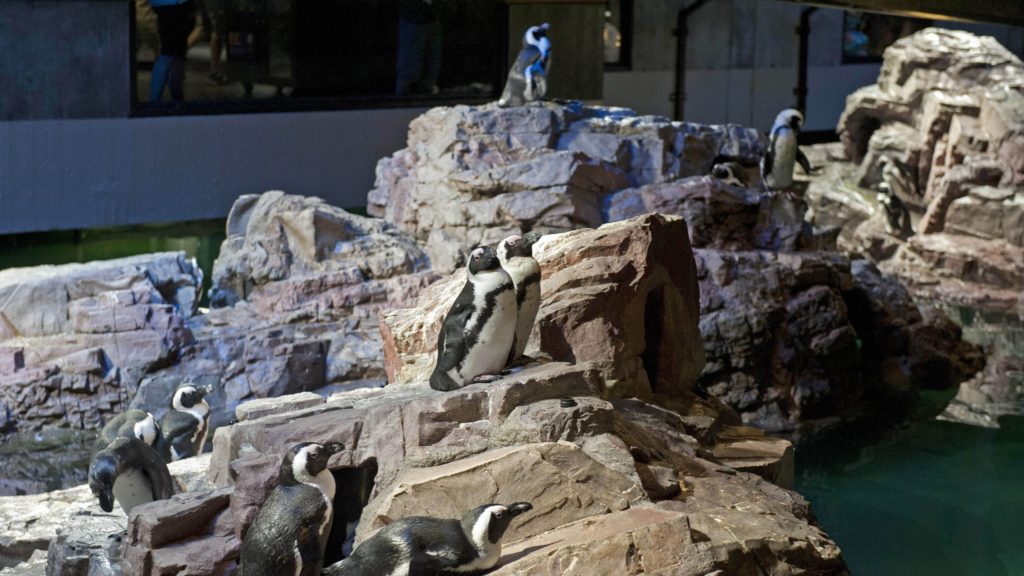 Located right on the coast in Boston, the New England Aquarium's crown jewel is the Giant Ocean Tank, a four-story tank containing 200,000 gallons of water pumped in from Boston Harbor. The star of this tank is Myrtle, a green sea turtle who has lived here since 1970 and shares the habitat with moray eels, barracuda, and hundreds of colorful fish.
RELAXING GETAWAYS: 10 Best New England Lakes for Summer Fun
Dozens of windows and scores of viewing bays at different heights make it easy for even small-fry visitors to get a great view. And the Indo-Pacific Coral Reef is a stunner that illuminates the vital role reefs play in ocean health.
7. Georgia Aquarium
Atlanta, Georgia
With tens of thousands of resident animal species thriving in over 10 million gallons of water, the Georgia Aquarium is the largest in the Western hemisphere, and a great place to see whale sharks, beluga whales and manta rays frolic.
WATER WORLDS: 5 Best Splash Pad Water Parks for Kids in the U.S.
For a look at regional fauna, head to Southern Company River Scout, a freshwater gallery where an architecturally innovative overhead river allows you to view fish, snapping turtles, and otters—from the bottom up. The aquarium's 4-D theater gives viewers a glimpse of what it's like to live underwater.
8. Mystic Aquarium
Mystic, Connecticut
Up-close animal encounters with penguins and harbor seals make it easy to see why animal-loving families are hooked on the Mystic Aquarium. Mystic's respected rescue program has been rehabilitating sick and injured animals for nearly 50 years, and a look inside the clinic gives you an idea of each stage of the healing process.
SUN AND SAND: 10 Best All-Inclusive Beach Resorts in the World
If you love beluga whales, check out The Arctic Coast exhibit, which allows visitors a close-up view of these beloved creatures as they swim with steady grace. For an unforgettable hands-on experience, don't miss Sharks Touch Habitat, where you can touch non-threatening species of sharks as they glide past.
9. National Aquarium
Baltimore, Maryland
The National Aquarium is a must-see for families craving fun and a broader understanding of the ocean's delicate balance. At the mesmerizing Jellies Invasion, you can watch nine species of these brainless invertebrates engage in movements that look like a choreographed ballet.
NATION'S CAPITAL: Kid-Friendly D.C.: The National Mall and Beyond
With touch pools galore, the Living Seashore is the place to get acquainted with mid-Atlantic sea life. Touch a skate's sleek fin and feel the rigid shell of a horseshoe crab. Educational interpreters and multi-media discovery walls are perks.
10. Mississippi Aquarium
Gulfport, Mississippi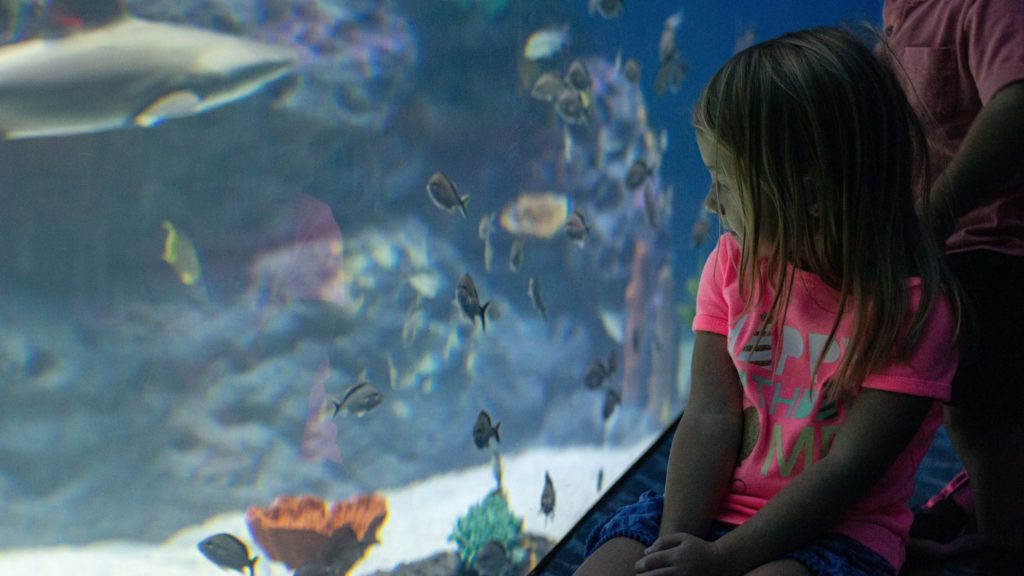 Opened in August 2020, the Mississippi Aquarium sits on 5.8 acres with both indoor and outdoor exhibits connected by landscaped walkways framed by plantings representing all seven physiographic regions of Mississippi. Species that live here cover water, land, and air, and include alligators, river otters, birds, dolphins, and stingrays.
DREAM TRIP: 11 Caribbean Vacations That Have Something for Everyone in the Family
A robust schedule of daily programs includes narrated dolphin training sessions, biologist-led otter chats, and croc talks that lean into crocodile conservation. There's also the chance to stretch and strengthen surrounded by sea life during the periodic Fin & Zen yoga classes.
11. Aquarium of the Pacific
Long Beach, California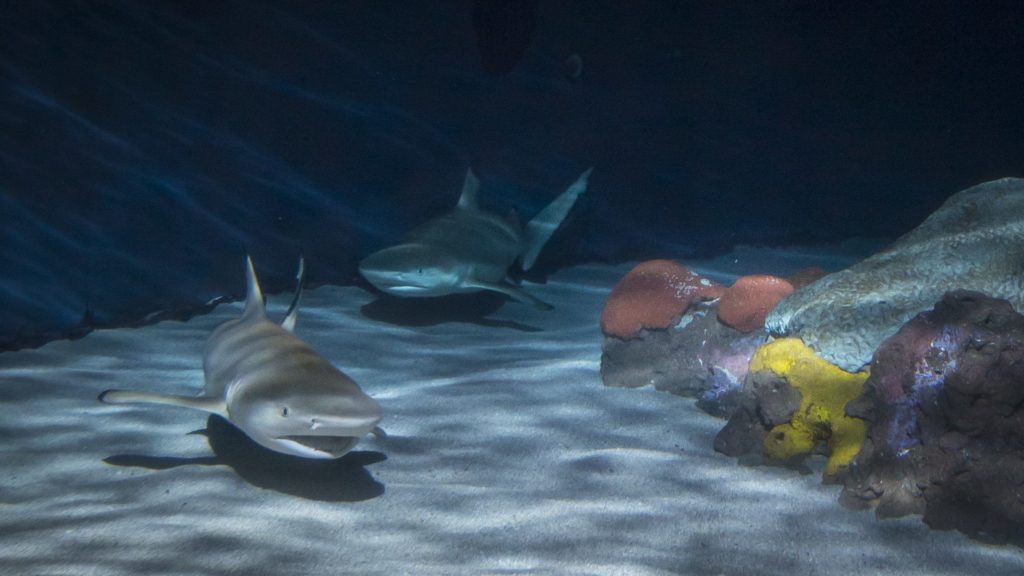 California-focused exhibits take center stage at Aquarium of the Pacific. For a local look at Pacific life, check out the aquarium's Honda Blue Cavern featuring ocean inhabitants found off Catalina Island. Watch sharks and sea dragons at play in large tanks before heading to a worthy nonaquatic experience: Lorikeet Forest, a walk-in aviary that allows you to feed nectar to lorikeets as they land on you like you're a human bird perch.
WHALE-WATCHING WONDERS: The Magic of Dana Point: Whales, Water, and SoCal Spirit
And for an inside look at the organizational skills it takes to successfully care for the thousands of creatures that call this aquarium home, join an informative behind-the-scenes tour.
More from FamilyVacationist: