Grumpy and hot: a combination that can quickly turn even the best family vacation spots in the U.S. into the site of a full family spiral. Adults can shake off the feeling simply by finding a cafe to sip a cool drink and relax. But as parents of small children know, a leisurely break with kids at a café is not always leisurely. So, what's the reviving equivalent of a café, but geared to kids? Splash pads and sprayground water parks.
The Best Free Public Splash Pads in U.S.
I first discovered the necessity of splashpads for traveling families while on a summer family vacation in Seattle with my two- and five-year-olds. As the temperature spiked mid-afternoon, our nice day turned suddenly tense. Everyone was tired, hot, and totally over sightseeing. Luckily, there was a splash pad nearby. It turned out to be a very effective cure for a grumpy family on a hot day.
These five U.S. cities stand out for their interactive and kid-friendly water features and parks that include favorites like splash pads, water playgrounds, splash fountains, and spray pools.
LEADERS OF THE PACK: 11 Best Great Wolf Lodge Locations in the U.S. and Canada
1. The International Fountain at the Seattle Center – Seattle, Washington
With plenty of shady benches for parents and napping siblings, the International Fountain at the Seattle Center offers a great place for kids of all ages to cool off. The space-age fountain sends water shooting from 274 nozzles, and the fountain basin can be reached from the low concrete sidewall that surrounds the fountain (ramps make it both stroller and wheelchair-friendly).
WATER WORLDS: 14 Best Indoor Water Park Resorts for Families in the U.S.
Combine this splash pad water park with a trip to the Seattle Children's Museum, Chihuly Garden and Glass, or The Space Needle for a full day out with something for everyone.
Nearby Kid-Friendly Hotel: Hyatt House Seattle/Downtown
2. Canal Park and The Yards Park – Washington, D.C.
One of my most vivid childhood memories is from a family vacation to Washington, D.C. It was a hot afternoon, we'd been sightseeing all day, and I was hot, sweaty, and sticky from a red popsicle my parents had bought me to cool off. The popsicle was good, but at that moment, a splashpad would have been better. Happily, that's now an option for traveling families: the redeveloped Capitol Riverfront is home to two splashpads.
SPRING IS COMING: 10 Best Spring Break Destinations for Families
The first is at Canal Park, a three-acre park that opened in 2012 as a model of sustainable design for outdoor space. Each of the park's three blocks features something different. The Middle Block features A/C power to recharge your devices and water scrims for your feet, while the Southern Block has a popular summertime Dancing Fountain that encourages kids to play, and a restaurant for refueling.
Nearby, The Yards Park is set along the Anacostia riverfront. The park is home to a variety of water features, including The Dancing Fountain and water scrims at the entrance. Inside the park, The Canal Basin and Waterwall offer visitors the opportunity to splash, wade, and cool off in the fresh water while paying homage to historic canal that once ran from the Anacostia River to the U.S. Capitol Building.
Nearby Kid-Friendly Hotel: Homewood Suites by Hilton Washington, D.C. Capitol-Navy Yard
3. The American Museum of Natural History – New York, New York
No picture of New York in the summer would be complete without children playing in the spray of water from fire hydrants. But New York has come a long way in creating kid-friendly water play spaces, and The American Museum of Natural History knows what its audience wants. This water play area is on a one-acre terrace adjacent to the museum's Rose Center for Earth and Space, and does not require museum admission to access the splash pad.
BEYOND THE BIG APPLE: 13 New York Family Vacations They'll Never Forget
Here, four jets cascade water into the air, which then pools at the foot of the garden. With shady benches and picnic tables for lounging families, this is worth a visit if you're on the Upper West Side.
Nearby Kid-Friendly Hotel: The Lucerne Hotel
4. Spraygrounds at Historic Fourth Ward Park – Atlanta, Georgia
The Historic Fourth Ward Park in Atlanta was created to tackle the problem of flooding from storm water. Rather than install costly underground piping, the community came together to turn several parking lots into a 17-acre park providing much-needed green space, plus a manmade lake to collect storm water.
COASTAL TRIPS: The Best East Coast Family Vacations for Any Time of Year
The park is part of BeltLine, a developing 22-mile corridor of parks, trails, and transit encircling downtown. The Park has two kids splash pads, known as "spraygrounds," along with a play area with unusual equipment, including bowl swings and climbing walls.
Nearby Kid-Friendly Hotel: Loews Atlanta Hotel
5. Millennium Park, Navy Pier, Mary Bartelme Park – Chicago, Illinois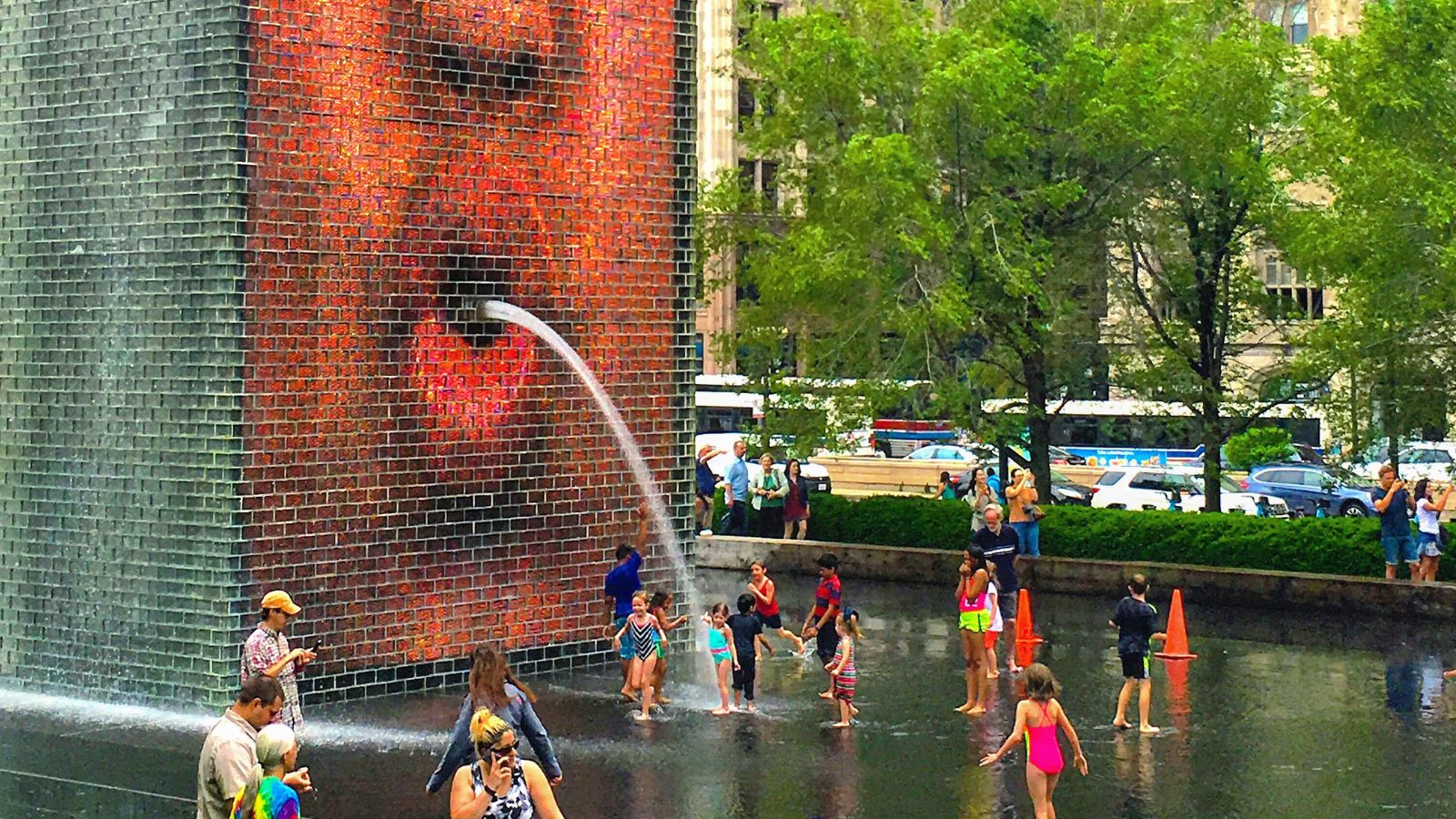 Residents of Chicago know that kids' splash pads are an important part of dealing with hot and humid summers. You can find splash pads in just about every neighborhood, and at some of the top tourist destinations, including Millennium Park and the Navy Pier.
WET AND WILD: Ultimate Guide to the Disney Water Parks in Orlando
If you love innovative landscape design, check out Mary Bartelme Park in the West Loop. The park features three distinct areas including a fountain plaza the emits a fine mist to cool off families, and an ADA accessible children's play area that allows for inventive, non-linear play without traditional play equipment.
Nearby Kid-Friendly Hotel: Radisson Blu Aqua Hotel
What to Pack for Splash Pads on Vacation
Make the visit to a splash pad, spray pool, water playground, or outdoor water park even more seamless with the right clothes:
Quick-Dry Clothing: Quick-dry shorts help you go from sightseeing to splash pad and back again without the need to change. Columbia offers great options for kids that won't make you look like you're out for a day at the beach.
Splash-Pad Ready Footwear: Non-skid, quick-drying kids sneakers and shoes also help; Native shoes are a perennial favorite, and waterproof tevas are making a comeback too.
More from FamilyVacationist: