Think of a New York family vacation and the Big Apple is usually the first thing that comes to mind. But there's more to New York vacations than the bright lights of Broadway and hustle of Times Square. The Empire State is a vast and geographically diverse place that stretches from the beaches of Long Island to the thundering cascades of Niagara Falls.
2024's Best New York Vacations for Families
Whether you're the kind of family who wants to scale mountain peaks in the Adirondacks or explore a path through history along the Erie Canal, New York is big enough to capture the hearts of everyone in your crew no matter your interests. From west to east, here are the top New York family vacation destinations outside of New York City.
FIND A DEAL: 12 Best Hotel Booking Sites for Cheap Prices in 2024
Western New York Vacations
1. Chautauqua, New York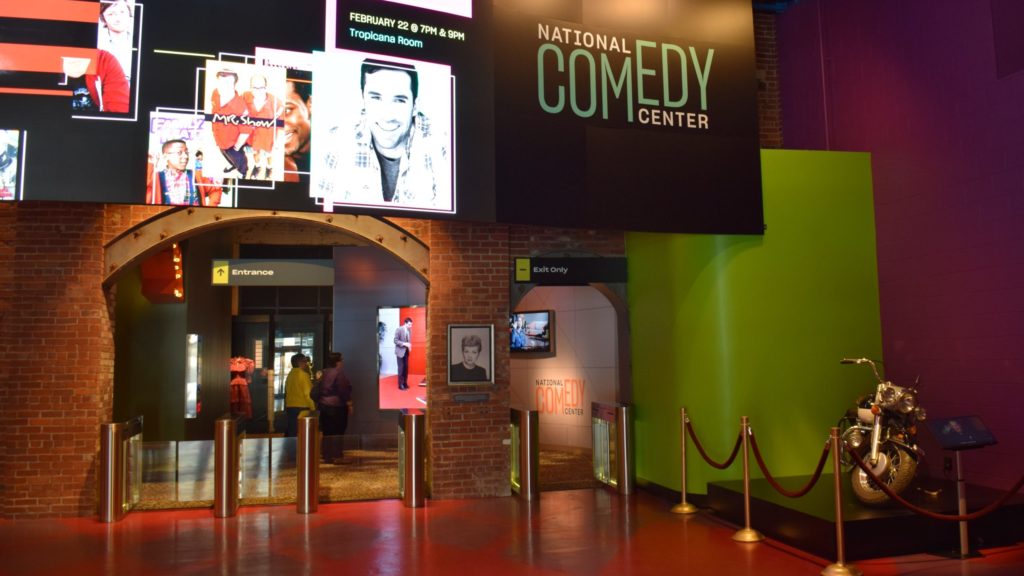 Chautauqua County in Western New York is well-known for the Chautauqua Institution, a nonprofit 750-acre camp dating back to the late 1800s that hosts week-long summer educational programs in art, music, dance, theater, writing, politics, science, and more. Families can stay in a neighborhood of Victorian cottages and walk down to the beach while listening to the Westminster Chimes of the Bell Tower.
DREAM AHEAD: 10 Best New England Lakes for Summer Fun in 2024
Just down the road from the venerable Chautauqua Institution is the National Comedy Center in Jamestown. This state-of-the-art museum opened in 2018 to celebrate the art of comedy, and it's perfect for kids and families. The Center developed out of legendary comedienne Lucille Ball's (a Jamestown native) vision for her hometown to become the destination for the celebration of comedy.
The center contains props, scripts, artifacts, and a hologram theater that presents comedy performances. However, the National Comedy Center is not a hall-of-fame or walk-through of famous and familiar artifacts, it's one of the most high-tech museum experiences out there right now. Upon entering, every guest receives a wristband equipped with a chip that responds to your own comedy preference and style, perfectly customizing each experience for maximum laughs.
Where to Stay on Chautauqua Lake
The Chautauqua Harbor Hotel is a spectacular place to spread out and relax on the shore of Chautauqua Lake, only two-and-a-half miles from the National Comedy Center. The hotel features a variety of large guest rooms and suites, two restaurants, and an all-season outdoor entertainment space with an expansive patio, fire pits, and lakeside bar.
2. Buffalo, New York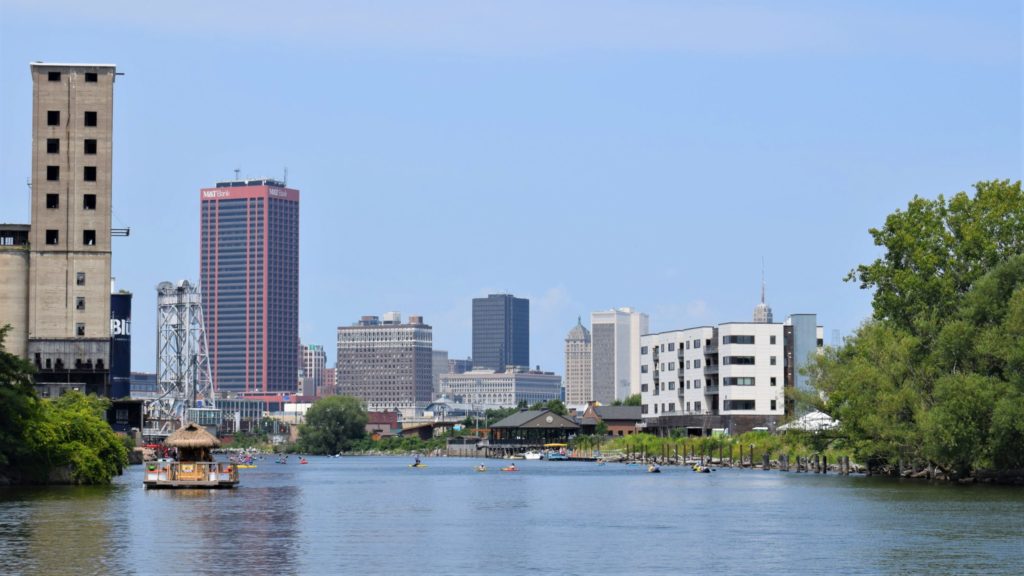 The second largest city in New York state, Buffalo and has a booming waterfront worth a visit. The revitalized Canalside and Outer Harbor area entices families with a boardwalk, beach, playground, carousel, and more. Across the street is the Explore and More Children's Museum with plenty of interactive exhibits such as a treehouse climbing structure and milkable cow. The Naval & Military Park offers tours of three World War II-era ships including a submarine.
SEASONAL FUN: A New Yorker's Guide to Watching the Macy's Thanksgiving Day Parade in Person
Buffalo RiverWorks is a family-friendly waterfront restaurant and entertainment complex. In addition to restaurants, RiverWorks has zip lining, a ropes course, kayaking, and paddle boards. There are also rinks for roller skating and roller derby in the summer that morph into ice skating, hockey, and curling venues in the wintertime.
Get out on the water with a Buffalo River History Tour. The 90-minute narrated tour teaches visitors about the importance of the Buffalo Harbor, Erie Canal, and what was once the largest grain port in the world (you can still smell the Cheerios).
Where to Stay in Buffalo
The Buffalo Marriott at LECOM Harborcenter is right in the heart of Canalside, and is within easy walking distance to all the family-friendly attractions in the area.
3. Niagara Falls, New York (American Side)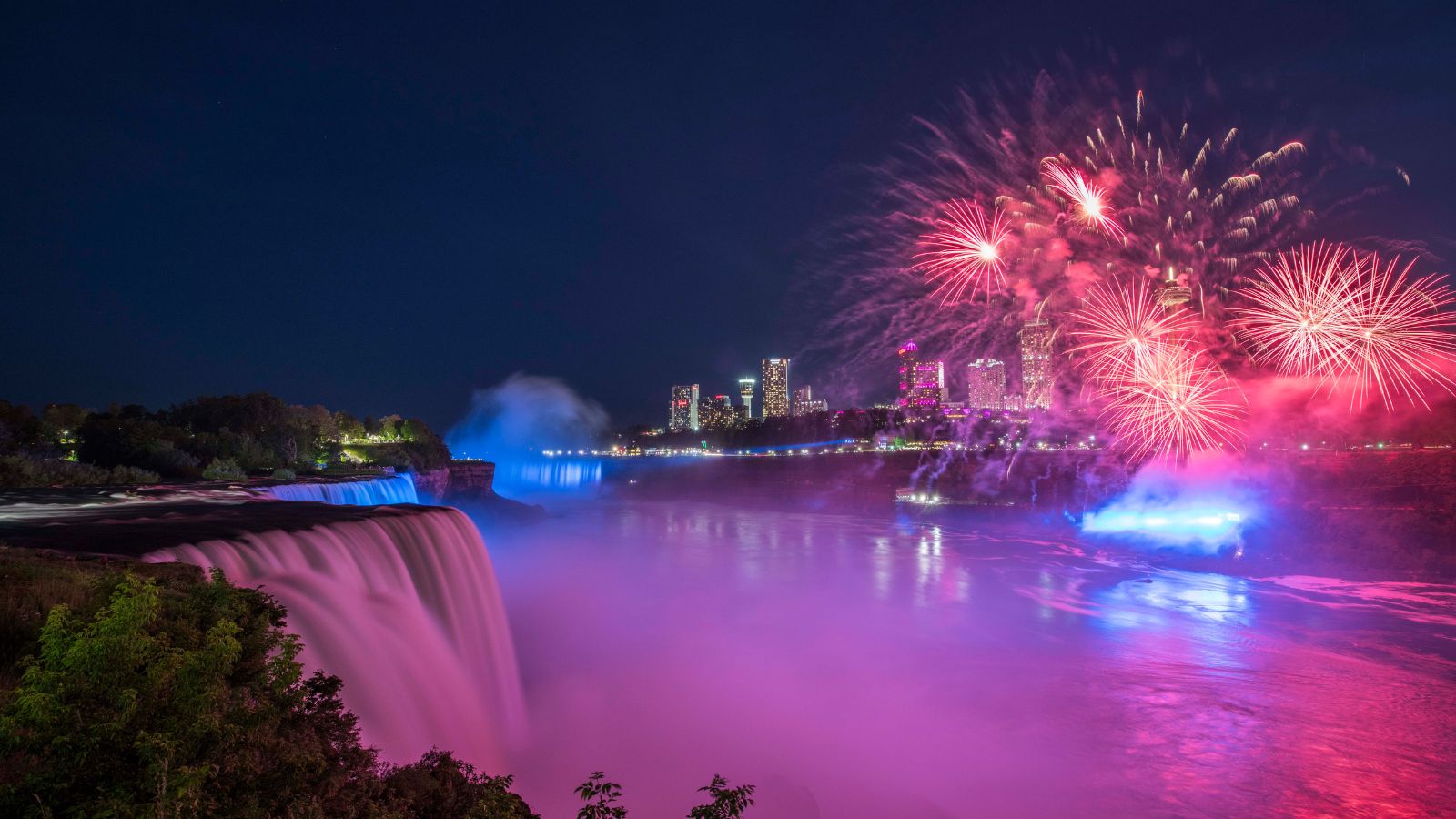 Niagara Falls straddles the U.S.-Canada border, and while there are plenty of reasons to visit both sides, New York's offerings can easily keep a family busy for days. Established in 1885, Niagara Falls State Park holds the title as the oldest state park in the country. It's open 365 days a year, 24 hours a day, and give families the chance to get up close to experience the visceral and emotional power of Niagara Falls.
MAKE MEMORIES: 25 Best Family Vacation Spots in the U.S. for 2024
Attractions in Niagara Falls State Park include the free Observation Tower with spectacular views of the falls. Here, families can descend the elevator to an attraction almost as famous as the falls themselves—the Maid of the Mist boat tour, in operation since 1846. Cave of the Winds is another top attraction within the state park. This hike along wooden walkways and staircases leads to a Hurricane Deck buffeted by tropical-storm-force winds and water. The park also has hop-on, hop-off trolleys to explore Terrapin Point, Three Sisters Island, gardens, walking paths, and more.
Other attractions outside the state park include Whirlpool Jet Boat Tours, Aquarium of Niagara, Old Fort Niagara, and Niagara Power Vista.
Where to Stay in Niagara Falls, New York
The Sheraton Niagara Falls is adjacent to the Old Falls Street, USA entertainment district, and is walking distance to Niagara Falls State Park. The hotel includes the kid-friendly Rainforest Cafe, and the Reef Beach Club has a large indoor pool complete with coral reef aquarium.
Finger Lakes Vacations
4. Rochester, New York
Rochester is the gateway to New York's Finger Lakes region and is brimming with family fun. The Strong National Museum of Play houses the world's largest collection of toys, dolls, and games, and has multiple, hands-on, interactive exhibits, and place spaces. This premiere children's museum is also home to the National Toy Hall of Fame and World Video Game Hall of Fame, which is sure to inspire tons of nostalgic memories for parents while the kids play.
MOUNTAIN MAGIC: 11 Best Family Ski Resorts in the U.S. for 2024
In addition to The Strong, families can step back in time at Genesee Country Village and Museum, the largest living history museum in New York State; take a ride on the Sam Patch canal boat down the Erie Canal; or explore the great outdoors at parks including Ontario Beach Park on the south shore of Lake Ontario.
Where to Stay in Rochester
In Rochester, The Strathallan is a DoubleTree by Hilton property close to the Neighborhood of the Arts, Rochester Museum and Science Center, and George Eastman Museum. Parents will love the restaurant and lounge, and kids will love the cookies at check-in and the rooftop view.
5. Seneca Lake, New York
The Finger Lakes are 11 deep, narrow, glacier-carved lakes in the middle of New York State. This region is known for wineries, colleges and universities, and plenty of family-friendly attractions and outdoor adventures. Seneca Lake is one of the largest Finger Lakes and reaches depths over 600 feet.
EXPLORE THE BIG APPLE: 10 Best Family Hotels in New York City for 2024
At the southern end is the town of Watkins Glen, known for its road race Grand Prix that dates back to 1948. While the road race is no longer held, the Watkins Glen International speedway still hosts a number of events throughout the year. The best attraction in the area, though, is Watkins Glen State Park, where nearly 20 waterfalls cascade along a compact two-mile stretch of gorge. Not far from Watkins Glen is Corning and its Museum of Glass. The Corning Museum of Glass has hot glass blowing demonstrations (and opportunities for kids to make their own glass) each day.
Where to Stay on Seneca Lake
Situated at the southern end of Seneca Lake, the Watkins Glen Harbor Hotel provides easy access to the lake, town, and state park. The waterfront hotel has an outdoor patio with fire pits, and it's adjacent to the marina and Captain Bill's Seneca Lake Boat Tours.
Central New York Vacations
6. Cooperstown, New York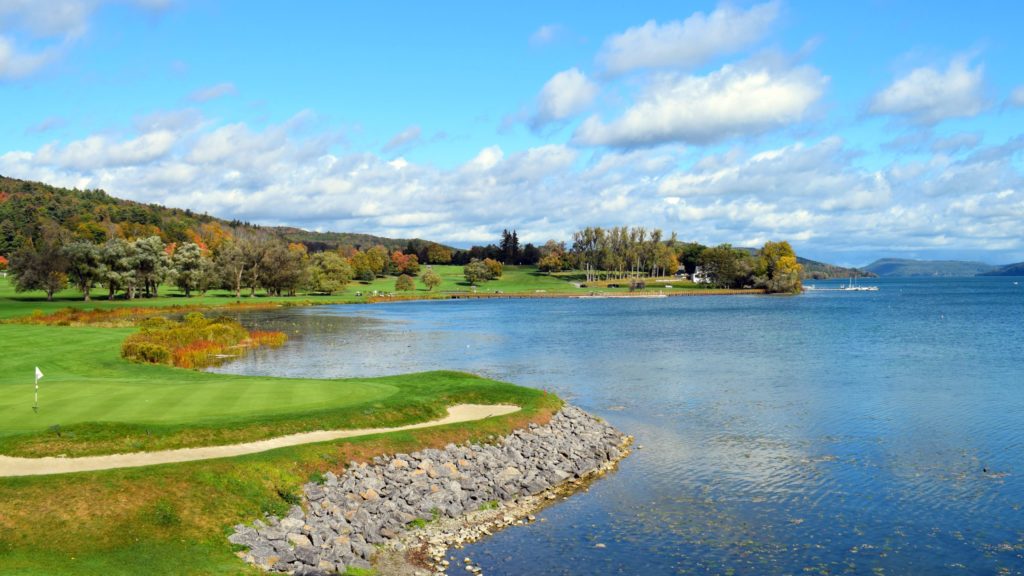 Located on the southern shore of Otsego Lake, Cooperstown packs a lot into its compact historic village. The town was founded a few years after the American Revolution by William Cooper, father of James Fenimore Cooper, famed author of Last of the Mohicans. Of course, the number one attraction in Cooperstown is the National Baseball Hall of Fame and Museum, which definitely worth a visit, even if you aren't a huge fan of the game.
GRAB A BITE: 10 Family-Friendly Restaurants in New York City Close to All the Tourist Attractions
The Farmer's Museum is a small living history museum on land once owned by James Fenimore Cooper. There are also plenty of outdoor activities in, on, and around the lake. Glimmerglass State Park has a beach, hiking trails, Hyde Hall Mansion, and a covered bridge that's the oldest in New York.
Where to Stay in Cooperstown
Welcoming guests since 1909, the historic Otesaga Resort Hotel has a little something for everyone. The grand, lakeside hotel overlooks the "Glimmerglass" waters made famous by James Fenimore Cooper. The hotel is complete with a large rocking-chair-covered porch perfect for quiet contemplation. Golf fans will appreciate the Leatherstocking Golf Course, designed in 1909 and considered to be one of the most challenging and scenic courses in the east.
Adirondacks Vacations
7. Lake Placid, New York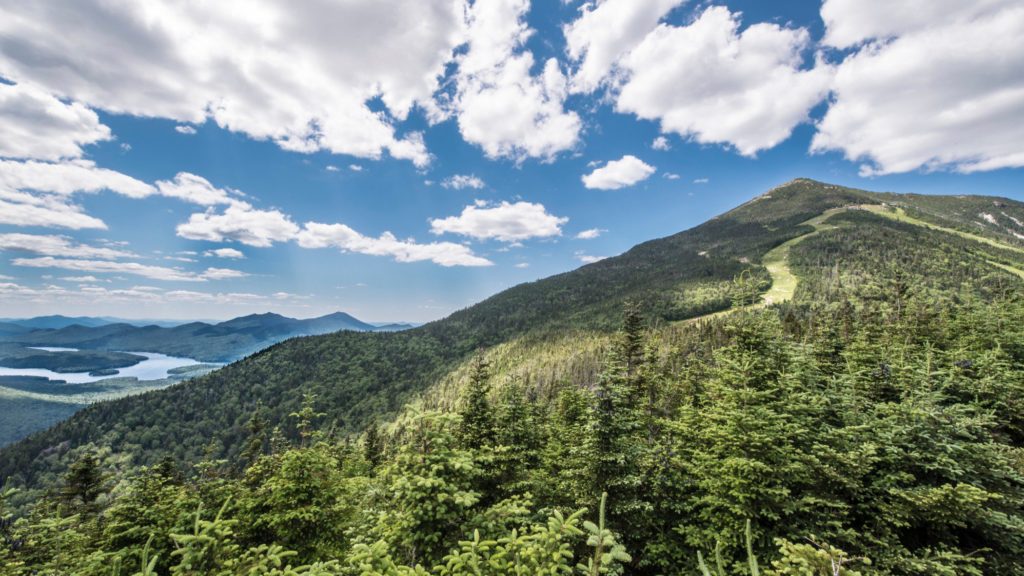 Forever wild, the six million protected acres of New York's Adirondacks region are a delightful mix of mountain peaks, pristine lakes, hiking trails, and plenty of space for outdoor recreation. Home to the 1932 and 1980 Olympic Winter Games, Lake Placid is an ideal home base for exploring the region. Here, you can take a Skyride, stand on the deck of the ski jumps, ride the Cloudsplitter Gondola to a mountain summit, and gaze out serenely from a lookout over the Adirondack High Peaks.
COASTAL GETAWAYS: 10 Best East Coast Vacations for Families in 2024
About 40 minutes west of Lake Placid in Tupper Lake is The Wild Center, a great way to introduce the family to the animals and natural history of this vast region. The Wild Center's Wild Walk allows you to travel across the treetops 40 feet above the ground on a quarter-mile trek over bridges and platforms, up a four-story twig tree house, and onto a human-sized spider's web suspended 24 feet above ground.
Where to Stay in Lake Placid
The lakeside Mirror Lake Inn anchors one end of Lake Placid's Olympic Village, and has a great location just one block from Lake Placid's Main Street shops, close to the Olympic skating, sliding, and skiing facilities. The hotel also offers a complimentary shuttle to Whiteface Mountain Ski Resort. Its Lake House sits across the street from the main inn building right on the shore of Mirror Lake and has a two-room suite that's ideal for families.
Catskills Vacations
8. Hunter, New York
Looking for a Dirty Dancing camp or a Marvelous Mrs. Maisel vacation? Then head to the Catskills. This mountain region just two hours north of New York City is home to some of the best family resorts in the northeast and has welcomed family vacationers for generations. The town of Hunter has great outdoor adventures, include hiking to Kaaterskill Falls.
CLOSE TO HOME: 21 Best All-Inclusive Resorts in the U.S. for Families in 2024
Other activities near Hunter include learning to fly fish at the Catskill Fly Fishing Center or taking in a concert at the Bethel Woods Center for the Arts. Bethel Woods is the site of 1969's iconic Woodstock festival. Bethel Woods continues to host live music concerts and has a museum about Woodstock and the 60s. Fall is the time for an open-air train ride to check out the foliage on the Catskill Mountain Railroad, about 30 miles from Hunter.
Where to Stay in the Catskills
For nearly a century, families have made the pilgrimage to the all-inclusive Sunny Hill Resort and Golf Course. Sunny Hill Resort lies on 600 acres of prime Catskill Mountain farmland. Three meals a day of hearty comfort food are included, as well as plenty of activities like swimming, golf, fishing, kayaking, paddleboating, evening entertainment, and a 5.5-mile Viking Obstacle Course that's not for the faint of heart.
Upstate New York Vacations
9. Thousand Islands, New York
New York's Thousand Islands harkens back to an era when the rich and elite of New York City's high society would escape to a wilderness playground. These early 20th century barons constructed grand castles on individual islands, each attempting to outdo the others. Boldt Castle on Heart Island is one of the many mansions of Millionaires Row, and is only accessible by water.
TRAVEL WITH TEENS: 10 Best Family Vacations with Teenagers in 2024
Take advantage of the many cruises, boat tours, and water taxis to explore the waterways and islands of Thousand Islands. There are also more than a dozen state parks in the region, including Wellesley Island State Park (home to the largest campground in the state) and Sackets Harbor Battlefield State Historic Site (the Lake Ontario command center during the War of 1812).
Where to Stay in Thousand Islands
The 1000 Islands Harbor Hotel is an upscale AAA Four Diamond Hotel overlooking the St. Lawrence River in Clayton, and is a fantastic place to escape and relax on the water. Rooms come in many different configurations and styles, and there are multiple dining options on the property.
10. Saratoga Springs, New York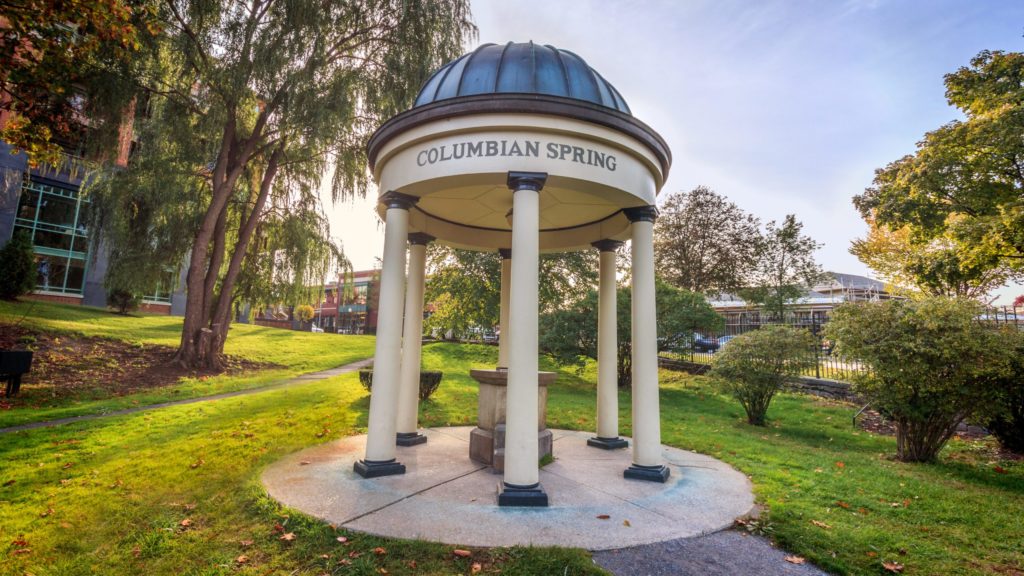 Saratoga Springs is a region rich in history that dates back to the Revolutionary War's Battle of Saratoga. Families can see where the battles (there were two) were fought at the National Historic Site and visit the 150-foot-tall Saratoga Monument. Saratoga Springs became known as a health and spa destination due to its flowing mineral springs, and there are plenty of places in town to experience the healing waters, including Congress Park and Saratoga Spa State Park.
PACK YOUR PASSPORT: 12 Best All-Inclusive Family Resorts in the World for 2024
The Saratoga Race Course is not only one of the oldest horse racing tracks in America (it opened in 1864), it's also the oldest sporting venue in the country. Horse races still take place each summer from July through Labor Day. The city is also known for its vibrant, thriving arts community anchored by the Saratoga Performing Arts Center and the National Museum of Dance and Hall of Fame.
Where to Stay in Saratoga Springs
Immerse the family in history at the Inn at Saratoga. This B&B dates back to 1843 and is the oldest lodging house in Saratoga Springs. Rooms are decorated with Victorian fashions, four-poster beds, and antiques. The inn is located on Broadway just a block and a half from Congress Park. Staying here is perfect for getting into the mid-1800s spirit before you visit the historic race track or mineral springs.
Hudson Valley Vacations
11. Goshen, New York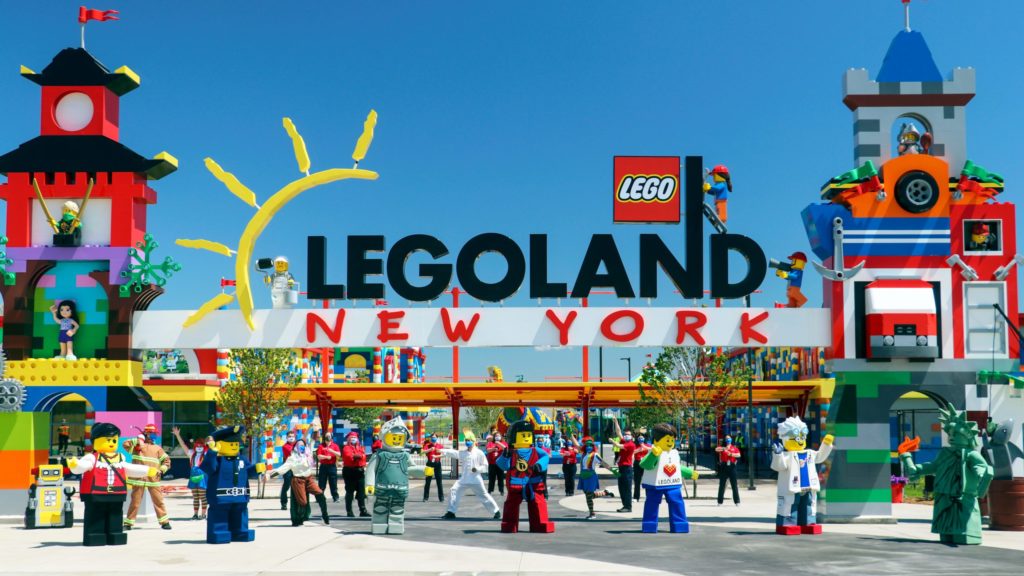 The first major amusement park for kids to open in the northeast in more than 40 years, LEGOLAND New York (located 60 miles northwest of New York City in Goshen), is the largest ever built with more than 50 different rides and attractions spread out over 150 acres, making it the ultimate destination for a New York family vacation.
HOLIDAY TRADITIONS: 10 Kid-Friendly Things to Do in New York City During the Holidays
In addition to the Dragon roller coaster, Imagination Celebration, NINJAGO: The Ride, LEGO Driving School, and more, families will find the LEGO Factory Adventure Ride. This first-ever ride uses on-ride tracking technology to identify guests attributes and transform them into LEGO Minifigures during The LEGO Factory Adventure. It wouldn't be a LEGO park without plenty of models, and LEGOLAND New York has 15,000 models across the grounds, including will a Miniland panorama of LEGO-built landmarks from across New York state and the country.
Where to Stay in Goshen
If you're bringing the family to LEGOAND New York, go all in with a stay at the LEGOLAND New York Hotel. The official resort hotel has Pirate, Kingdom, LEGO Friends, and LEGO NINJAGO-themed guest rooms with separate kids sleeping areas. There's also daily entertainment, LEGO character visits, a treasure hunt with LEGO prizes, and a massive castle play structure in the lobby.
12. Sleepy Hollow, New York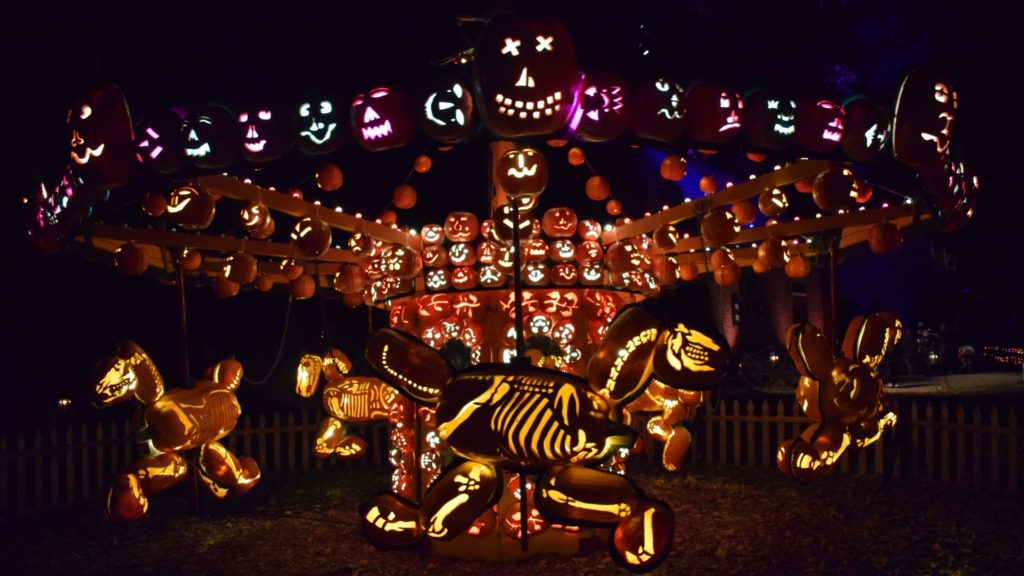 Yes, the town that immortalized in Washington Irving's The Legend of Sleepy Hollow really exists and it's even a popular Halloween vacation destination. The village of Sleepy Hollow sits on the banks of Hudson River just 25 miles north of New York City. Of course, fall is the ideal time to visit Sleepy Hollow, and families flock to the Hudson Valley to soak in its spooky atmosphere.
FAMILY FUN: 19 Best Family Resorts and Hotels in the U.S. for 2024
Sleepy Hollow's top attraction is The Great Jack O'Lantern Blaze, with thousands of hand carved pumpkins arranged into jaw-dropping displays such as life-size dinosaurs, a macabre carousel, and the Headless Horseman himself. In addition to Blaze, there are plenty of historic sites to explore such as Washington Irving's Sunnyside homestead (which often hosts activities on the 19th-Century estate), Rockefeller's Kykuit estate, and the Colonial Era Philipsburg Manor that dates back to 1750.
The historic village of Sleepy Hollow also has parks along the river, a lighthouse, and great pubs and taverns. Be sure to try the family-friendly Bridge View Tavern on your New York family vacation to Sleepy Hollow.
Where to Stay in Sleepy Hollow
The Sleepy Hollow Hotel in Tarrytown is a big lodge-style hotel set on 11 acres conveniently located just off the Governor Mario M. Cuomo Bridge. There's plenty of space for kids to stretch their legs on the grounds or splash in the indoor pool. Patio rooms have walkout access to the grounds.
Long Island Vacations
13. Montauk, New York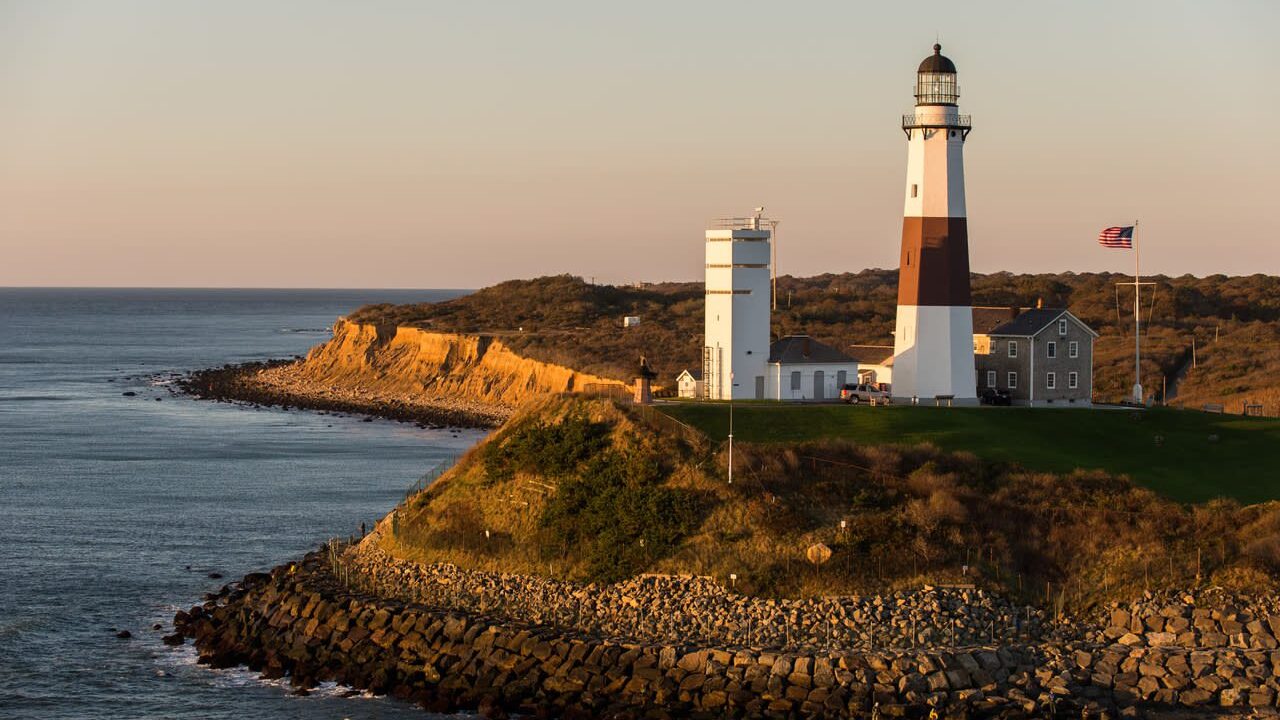 Long Island's South Fork is a historic resort area known for its highly rated beaches and sights. Head all the way out to "The End" to see the Montauk Point Lighthouse, a National Historic Landmark authorized by President George Washington in 1792.
WATER WORLDS: 13 Best Indoor Water Park Resorts in the U.S. for 2024
Coopers Beach is consistently rated as one of the country's best beaches, and families can get a glimpse of New York's surf culture here. The Long Island Aquarium has a huge coral reef display and plenty of hands-on exhibits and shows. Other family-friendly Long Island attractions include Adventureland amusement park, Splish Splash Water Park, and The Adventure Park aerial ropes course.
Where to Stay in Montauk
Gurney's Montauk Resort and Seawater Spa is located directly on the beach and has a 2,000 foot private stretch of sand. In addition to standard hotel rooms, Gurney's has beachfront cottages for families to stretch out on their New York family vacation. Gurney's is the only year-round resort in Montauk and has some of the best views in the area.
More from FamilyVacationist: