From burgers in Harlem to Dominican food in Washington Heights, the Big Apple is culinary catnip for food lovers and picky eaters alike. And whether your family is adventurous or finicky, the best family-friendly restaurants in NYC offer up tasty treats to fit any budget.
Best Restaurants in New York City for Families
As both a New York resident and an experienced family traveler, I'm constantly on the lookout for family-friendly restaurants in New York City. Having a plan for where you're going to eat is key to keeping kids happy on vacation. Knowing where those restaurants are in relation to the city's top tourist attractions is big, too. Kids can't get hangry when good food is just a short walk away. So whether your pockets are deep or you're on a tight vacation budget, here's where to eat with kids in New York City.
WHERE TO STAY: 10 Best Family Hotels in New York City
1. Lindens (SoHo)
2 Renwick Street, New York, NY 10013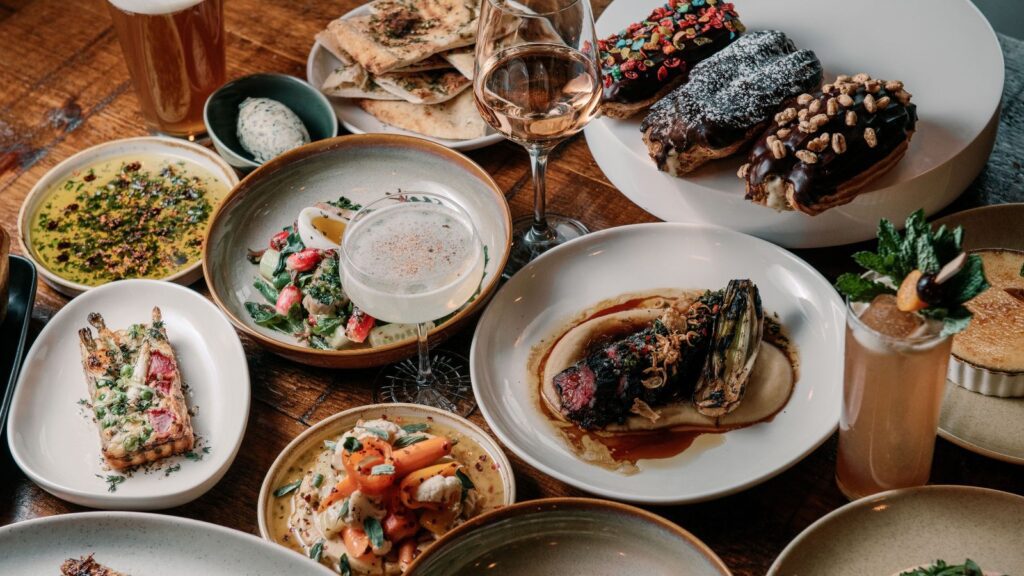 Parents who refuse to give up chic atmosphere just because they're dining with kids will hit the jackpot at Lindens. The décor is cool enough for hipsters yet comfortable enough for those who still wear diapers. High chairs and space for a stroller mesh with industrial-style ceilings and a centerpiece bar serving craft cocktails.
HOLIDAY MAGIC: 10 Kid-Friendly Things to Do in New York City During the Holidays
The menu is modern American with numerous vegetarian options. Kids should enjoy house-made sodas, Parker house rolls as fluffy as feathers, and pasta tossed with fresh tomato sauce. The uncomplicated main dishes, such as roast chicken and striped bass, are delish.
Price point: Moderate to expensive.
What's nearby: Walk to the New York City Fire Museum and the Museum of Ice Cream.
2. L'Antica Pizzeria da Michele (West Village)
81 Greenwich Ave, New York, NY 10014
Kids and pizza go together like milk and cookies, and L'Antica Pizzeria da Michele is the West Village outpost of the famous pizzeria of the same name in Naples, Italy. You'd need to cross the Atlantic to eat more authentic pizza.
BEYOND THE BIG APPLE: 13 Best Family Vacations in New York State
Kids will get a kick out of watching the pizzaiolo toss the dough before adding the toppings and cooking it in the blistering oven. Prepare your bambini to be made a fuss over by the friendly Italian owners and staff.
Price point: Moderate.
What's nearby: The cobblestone streets of the West Village are some of NYC's most scenic. It's a 10-minute walk to the High Line, an elevated rail line that has been transformed into a linear public park.
3. Teranga (Midtown East)
601 Lexington Ave, New York, NY 10022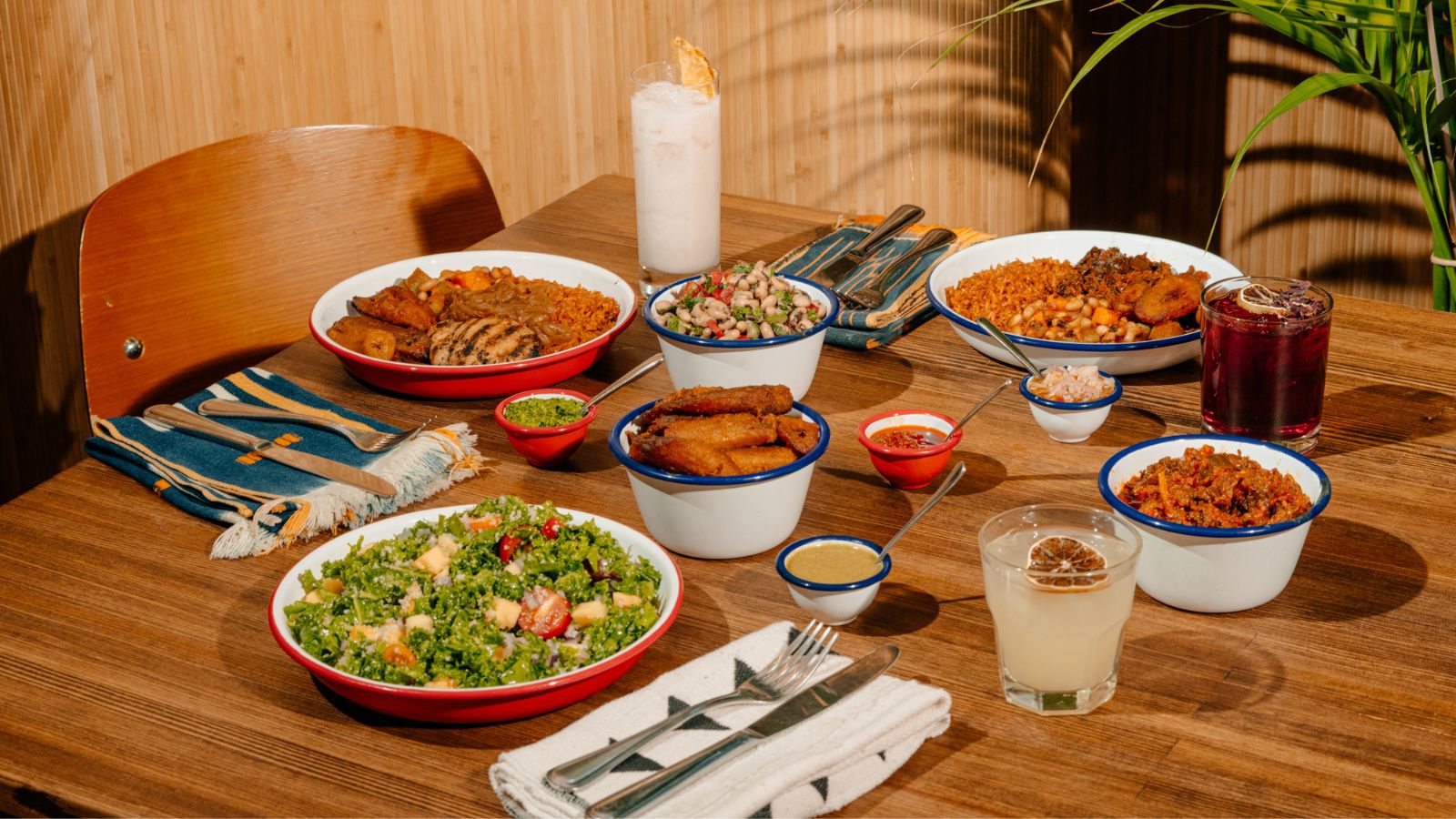 Inspired by West African home cooking, Teranga highlights nutrient-dense crops that have been cultivated in Africa for centuries. Co-founder and Executive Chef Pierre Thiam's creations include kid-friendly bowls with a base of the ancient grain fonio topped with simple grilled chicken or salmon. The restaurant's fresh hibiscus juice is thirst-quenching.
DINING DELIGHTS: 7 All-Inclusive Resorts with the Best Food
Teranga is located inside The Hugh, a food hall with more than a dozen concepts under one roof, with something to satisfy even the most discerning little eater. There's also a branch of Teranga in Harlem, open on weekends only.
Price point: Inexpensive to moderate.
What's nearby: From the Hugh, it's just a 10-minute walk to NYC's Museum of Modern Art.
4. Harlem Shake (Harlem)
100 W. 124th Street, New York, NY 10027
Soda shops and diners have been a part of Harlem's culinary landscape for generations, and Harlem Shake's modern take on those old classics easily makes it one of the most fun restaurants in New York City for families. The soda shop setting is a cool backdrop on its own, but the restaurant's burgers (made with a custom blend of Pat La Frieda beef) pair to perfection with its thick milkshakes.
CULINARY VACATIONS: 12 Foodie Hotels That Will Delight Your Taste Buds
The straightforward children's menu features mini burgers, grilled cheese, and chicken tenders. A collection of vintage Jet Magazine covers and headshots of illustrious patrons are nice finishing touches on the atmosphere.
Price point: Inexpensive.
What's nearby: The historic Apollo Theater is a five-minute walk. Time your meal with the Apollo's Amateur Night and you may witness tomorrow's next big star taking the stage.
5. Gordon Ramsay Fish and Chips (Times Square)
1500 Broadway, Suite 105, New York, NY 10036
A budget-friendly restaurant from a Michelin-starred chef in the heart of Times Square? Say hello to Gordon Ramsay Fish and Chips, a fast-casual eatery that will transport you to the English seaside. The star of the show is fried cod served with French fries. It joins kid-favorites like chicken tenders, shakes, and fresh lemonade. The helpful staff lets families know about the off-the-menu kid's meal, offering a choice of fried fish, shrimp, or chicken, served with chips, dipping sauce, and a drink for a special price.
Price point: Inexpensive.
What's nearby: In the heart of the Theater District, Gordon Ramsay Fish and Chips is one of the best family-friendly restaurants in NYC for a quick meal before or after a Broadway show.
6. Peachy Keen (Theater District)
325 W 44th Street, New York, NY 10036
With a color palette heavy on the bright orange and hot pink, Soul Train footage playing on multiple screens, and a disco soundtrack, the vibe at Peachy Keen is a groovy 1970s immersion. Comfort food like fried chicken and pork chops with peach glaze is the rule here, while scrumptious milkshakes and soft serve ice cream with sprinkles complete the nostalgic experience.
Price point: Moderate.
What's nearby: Proximity to Broadway theaters makes Peachy Keen an excellent choice before or after a show. It's also just a 15-minute walk to the Circle Line Sightseeing Cruise dock, a breathtaking way to view NYC from the water.
7. Queens Night Market (Flushing Meadows Corona Park)
Grand Central Parkway and Van Wyck Expressway, Queens, NY 11354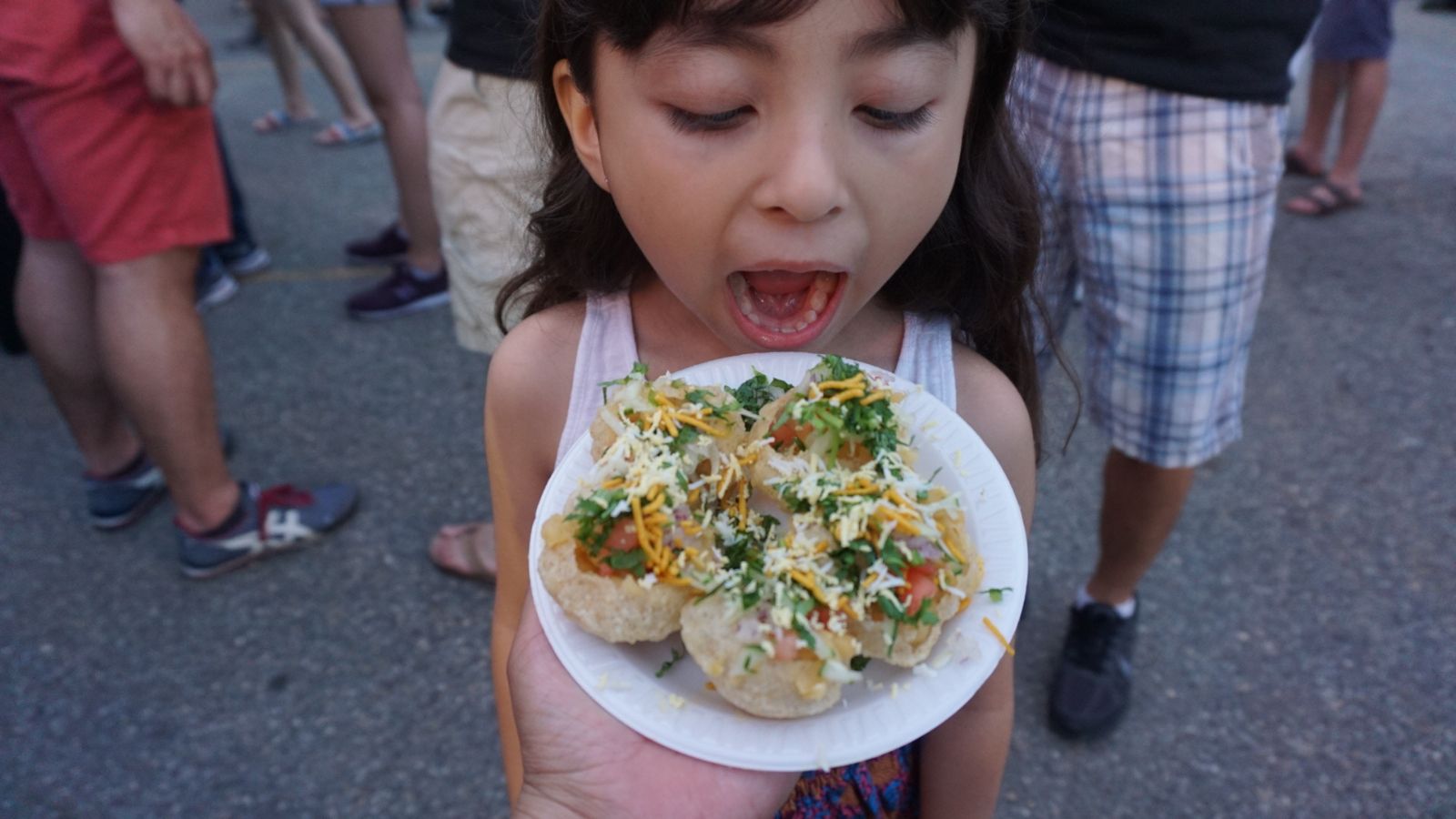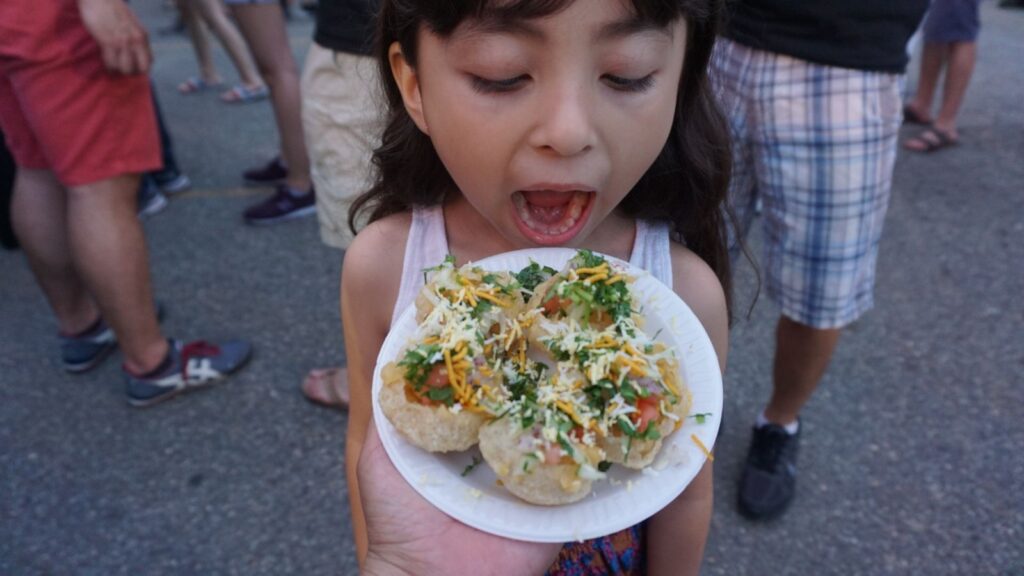 For foodie families, visiting NYC without tasting the eclectic offerings in the borough of Queens would be a culinary crime. Modeled after the open-air night markets of Asia, the seasonal Queens Night Market is held every Saturday (April to October) starting at a bedtime-friendly 5:00 p.m. Showcasing the ethnic and cultural diversity of the borough, it's home to mouth-watering morsels from some 100 stalls selling Haitian, Bangladeshi, Burmese, Jamaican, and other international cuisines. Live entertainment is the cherry on top.
Price point: Inexpensive.
What's nearby: The New York Hall of Science, an immersive hands-on science museum, is right there.
8. Tavern on the Green (Upper West Side)
67th Street and Central Park West, New York, NY 10023
Located right on the fringes of Central Park, Tavern on the Green is an urban oasis that looks as if it were lifted from a fairytale. Immersed in greenery, it's the perfect family-friendly restaurant in New York City for a celebration.
KNOW BEFORE YOU GO: A Parent's Guide to Traveling with Food Allergies: How to Plan, Pack, and Enjoy Your Vacation
It's not cheap, though the children's menu is fairly priced and packed with kid faves like sliders and mac and cheese. Many come here for the setting alone, but food is surprisingly good, leaning towards classics such as organic salmon and plump ravioli. Leave room for the decadent desserts. With stellar service, prepare the kids to be spoiled like little royals.
Price point: Expensive.
What's nearby: Lincoln Center is a five-minute walk. Central Park's carousel and ice-skating rink are each a 10-minute walk.
9. Jalao NYC (Washington Heights)
2420 Amsterdam Avenue, New York, NY 10033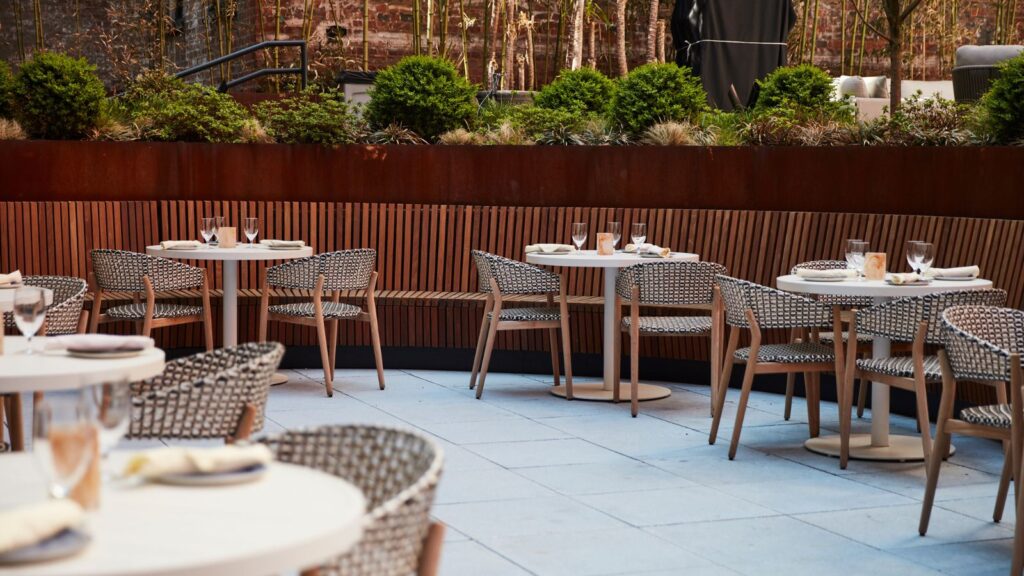 Brightly colored murals, carnival masks, and floral prints give Jalao NYC the air of a tropical oasis. This family-friendly NYC restaurant celebrates the Dominican kitchen, a cuisine that's a hodgepodge of African, Spanish, and Taíno influences. The food is flavorful but not necessarily spicy. Little ones should enjoy guacamole served with house-made plantain chips, golden croquettes, and juicy roast chicken. More sophisticated palates shouldn't miss the mofongo and ceviche marinated in passion fruit juice. Live music and dancing in the courtyard up the festivity factor.
Price point: Moderate.
What's nearby: From Jalao NYC it's a 20-minute walk to The Cloisters, with its glorious gardens and collection of Medieval tapestries featuring unicorns.
10. Isle of Us (Upper East Side)
1481 3rd Avenue, New York, NY 10028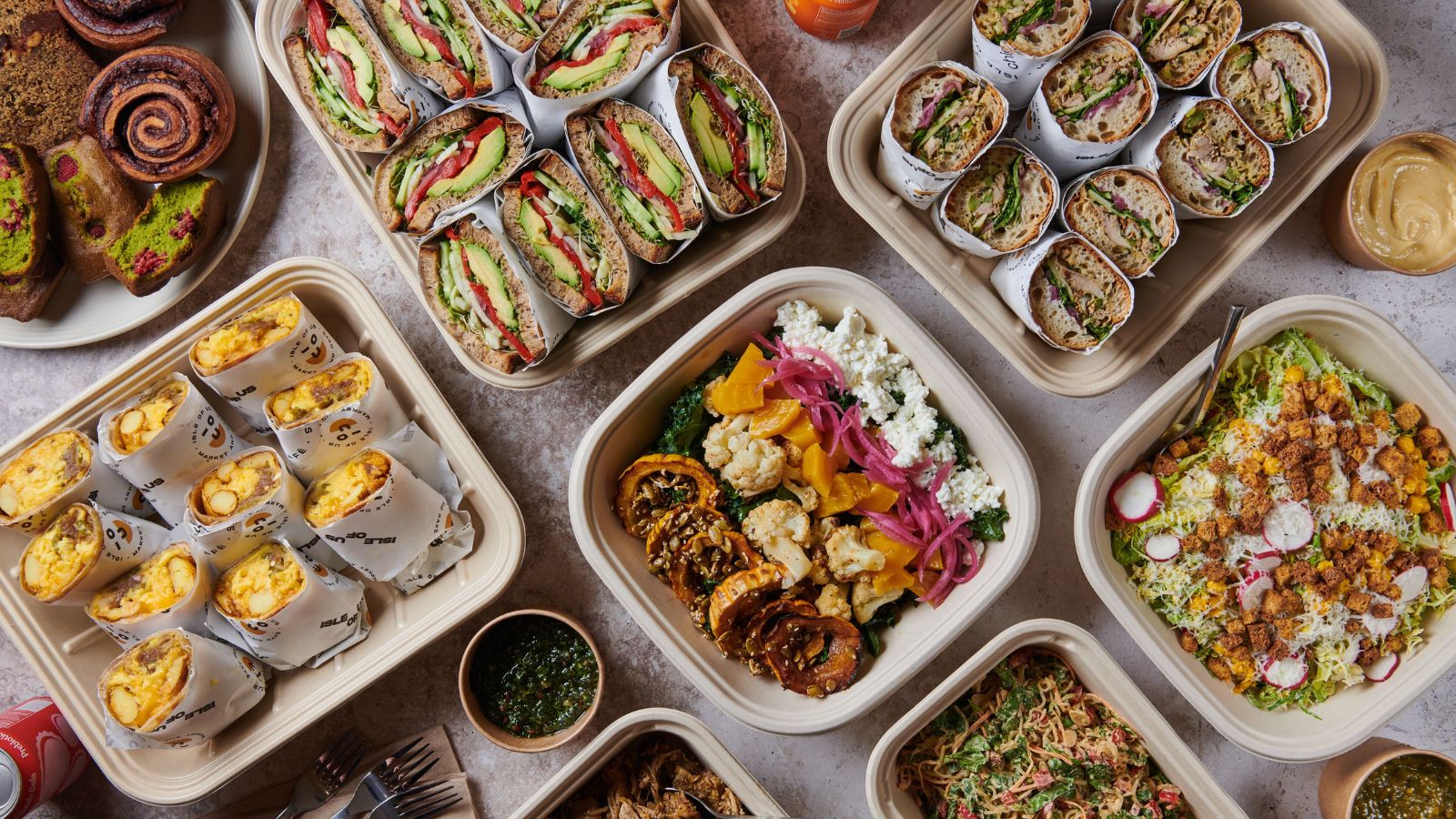 The Upper East Side is a residential neighborhood where you'll find Isle of Us, a café and marketplace that caters to local families. Chef Matt Aita makes made-to-order and prepared foods from quality ingredients, with everything from healthy wraps, salads, sandwiches, and bowls joining hard-to-resist cakes and cookies. Kids should enjoy the "Greens, Eggs, and Jam Sandwich" and flavorful turkey meatballs. If the weather cooperates, select grab-and-go items and head to Central Park for a picnic.
Price point: Inexpensive to moderate.
What's nearby: It's a 10-minute walk to the Metropolitan Museum of Art's fabulous Egyptian art collection and Central Park.
More from FamilyVacationist: