Perched on an island hill on beautiful Lake George, The Sagamore Resort in Bolton Landing, New York, earns its reputation as an elegant retreat for New Englanders and an activity-filled gathering place for families. Travel a little more than three hours from New York City by car and feel transported not only to natural beauty, but also, in some ways, back in time.
The Sagamore's historic hotel status equates with all of the charm that expression conjures, though visitors are also treated to modern amenities including a rec room for kids, fitness center, salon and spa, and indoor pool. With a wide variety of room types—from romantic and cozy king rooms for couples to family suites and "pods" (collection of adjoining rooms)—a stay at the Sagamore offers families of all kinds elegant comfort and plenty of fun.
FAMILY FUN: 10 Best Family Resorts in the Northeast
Things to Know about The Sagamore 
Daily Activities in Summer: Opportunities to stay busy on-property abound at The Sagamore Resort year-round, but especially in summer. Given the "Daily Activities" list, the large pools, lakefront relaxation spots, and great snacking options, there is really no need to even leave the hotel to have a full vacation. Start your day with a guided fitness walk that leaves from the lobby.

Sneak in a quick jump in the lake or one of the pools before taking advantage of an informative history talk. Choose from three different launch times for a boat ride on The Morgan, the hotel's wooden boat, which gives an informative (and cheerful) guided ride through three different parts of the 32-mile lake. Close out your day by relaxing with a round of golf—just a 4-minute free shuttle ride away—court time for tennis, a stroll on the Nature Trail, or even a croquet match on the front lawn. Ice cream is free on the lawn everyday at 3:30, and before bedtime, you can treat the family to free s'mores by the fire pit at 8 pm.

Of course, the hotel's concierge will provide you with information of the seemingly infinite options around the hotel including renting motor or pontoon boats, kayaks, or stand-up paddleboards; local hiking, fishing, wine tasting, and white water rafting; plus water skiing and horseback riding lessons.
NEW YORK STATE OF MIND: 13 New York Family Vacations Beyond the Big Apple
Daily Activities in Winter: The Sagamore keeps guests cozy and busy with a magical winter wonderland experience. For those keen to venture outside, there's nearby access to tubing and skiing. Let the hotel be your home base for the Lake George Winter Carnival or be at the center of it all during the hotel's now-famed Glacier Ice Bar & Lounge experience. Carved out of 18,000 pounds of ice, guests can enjoy drinks made through an ice luge and sit on sheepskin atop barstools made of ice.

Indoors, take advantage of the 10,000-square-foot Rec Center, home to a climbing wall, indoor basketball court, mini-golf course, ping pong tables, and indoor wiffle ball. Of course, you can also simply curl up by the fire in one of the lobby's comfortable sitting areas.
Fitness Center and Salon/Spa: The Sagamore's indoor fitness center is a great option for those who want to get in a traditional workout. Surrounded by full-wall windows on two sides, workout machines face the lake. The Fitness Center is home to treadmills, ellipticals, bikes, and even a Peleton bike.

There are weight machines, free weights, TRX systems and a good-sized wooden floor for stretching and cool down. After a workout, visitors ages 16 and up can take advantage of one of the many spa treatment options, including hydrotherapy, massage, and salon offerings.
Bolton Landing: The Sagamore has an ideal location just under a mile from charming downtown Bolton Landing, which bustles with adorable shops, plentiful dining opportunities, and parks. The Sagamore runs a shuttle to town throughout the day and evening, though it's also a quick and mostly flat walk across the bridge to town.

Take advantage of the antique shops, jam-packed hardware store, Indian TePee Gift Shop (ready for a new name!), Bear's Cup coffee shop, and of course, Mrs. Whizzy Fizz Popp's Candy Store. Even the most reluctant shoppers will get a kick out of this adorable town. In summer, visitors can enjoy concerts in the park overlooking the lake, and there's a sandy beach in town as well. 
ON THE WATER: 7 Best U.S. Islands for Family Vacations 
Dining: Visitors will find multiple options for a quick bite, poolside lunch, and casual or formal dining at The Sagamore. With eight dining options, there is no need to leave "campus" during your stay. While some restaurants with a similar location to The Pavilion skimp on food quality or quantity knowing guests will come for the view of the lake, this restaurant does not disappoint.

From delightful cocktails and appetizers to exceptional main dishes and desserts, diners get the best of both worlds. Similarly, the views from Caldwell's Bar and the Italian restaurant La Bella Vita are also lovely, and the food is outstanding. For lunch or snacks, visitors can enjoy delicious options from the LakeHouse and Splash Pool Bar delivered right to your lounge chair.
What Families Need to Know about The Sagamore Resort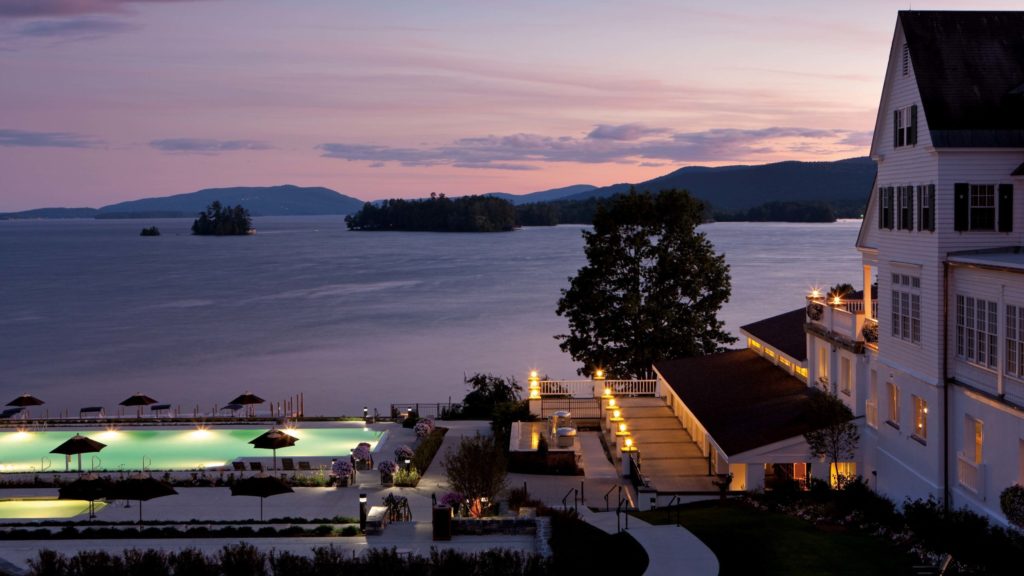 The Sagamore is an ideal retreat for families. With scheduled activities and its own island, The Sagamore offers plenty for children and teens to do, and around the property, kids can be seen coming and going around on their own. Whether at the Rec Room with a sibling, or dining al fresco with the whole family, children can find plenty of fun. From a full day in the pool (winter or summer) to free s'mores or ice cream, children of all ages will feel satisfied and entertained at this lakeside resort.
TRAVEL MUSTS: 7 Iconic U.S. Attractions Kids Should See Before They Grow Up
There are lodging options to suit both small nuclear families and with multigenerational groups. Even your furry family member (under 30 pounds) will delight in a gift bag and room to explore. From four-bedroom condos to 2000+square foot homes, large groups can settle in nicely for a family reunion or shared stay with friends. Hotel and lodge rooms and suites will also accommodate smaller groups or families.
Lake George is an active motor-boat-allowed lake. The Sagamore has two roped-off swim areas in the lake, one carefully watched by a lifeguard during daylight hours, and one that is about four feet deep for floating in inner tubes (provided free of charge) or just cooling down. Lake swimming feels clean and refreshing, but visitors should know that this is a lake where boating has priority over open-lake swimming. Check in with the concierge for opportunities to drive your own boat, get a tour, or go tubing or waterskiing.
The Sagamore Reviews
The Sagamore rates a solid 4/5 on Trip Advisor and 8.1/10 on trivago.com. Reviewers comment positively on the grounds, The Pavilion Restaurant, and the opportunities to "pod" rooms in the Lodges. Visitors also appreciate the location and setting in all seasons and the variety and amount of activity options. Anyone traveling to The Sagamore should note that it's a historic hotel, and while rooms include modern amenities such as Nespresso machines and a fridge, decor varies from room to room in a way that reflects the charm and character of the place.
Important Details about The Sagamore
Location
The Sagamore sits on its own island about 10 miles up the west side of Lake George in Bolton Landing, New York. Nestled among the Adirondack Mountains, this resort is easily accessible as more or less a straight shot up the New York State Thruway from New York City (approximately 3 hours and 40 minute by car).

Domestic flights to Albany, New York, will get visitors within an hour's drive to the resort. Bolton Landing is also just two hours drive from Burlington, Vermont, an hour and a half from Lake Placid, New York, and under three hours from Montreal, Canada. Visitors will likely want a car to visit the surrounding region, though it is possible to get to Bolton Landing via train (Amtrak Adirondack), then bus or simply by bus, though these options include much longer travel times.
The Property
Spread out across Green Island, the famous wooden hotel structure is perched above and facing south on Lake George. The island's east side includes the "Lodge" room options and a short Nature Trail, and the property conference center and tennis courts sit in the middle of it all. Given this layout, the hotel maximizes views for travelers' rooms.
COASTAL CLASSICS: 11 Charming Seaside Towns in Maine, Massachusetts, More 
The resort's Donald Ross designed golf course and steakhouse are just two miles up the road (off the island), and regular shuttles will get guests there as needed. The indoor heated pool and fitness center face the lake and are enclosed by large windows and clear-paneled doors, and the main outdoor heated pool (hours for the outdoor pool change seasonally) and its surrounding sitting area are tiered down through the front lawn. There's also a hot tub that's open year-round. Though guests need stairs and a little bit of energy to get up from the lake to the hotel, it's a short stroll, and manageable for able-bodied folks.
Rooms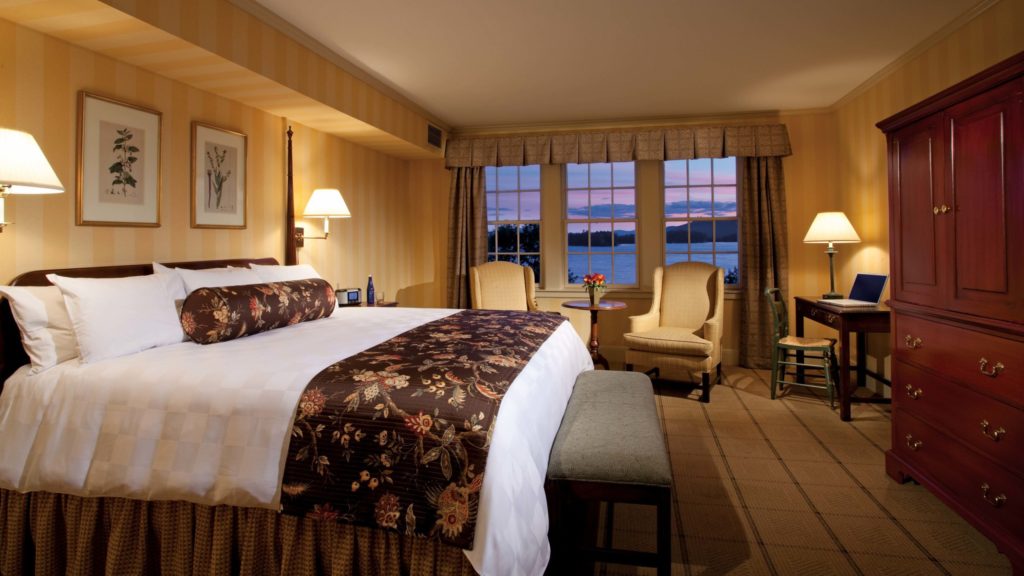 The main hotel offers both queen and king rooms as well as one-bedroom suites with a living room and pull out sofa; though guests can request adjoining rooms in the main hotel, they are not guaranteed. The Lodge buildings along the east side of the property also offer queen and king rooms and suites; they also offer the possibility of creating room "pods" to link families that include a semi-private entry, kitchenette, living room, and furnished patios with lake views.
AT THE WATER'S EDGE: 16 Best Lake Resorts and Hotels in the U.S.
Hermitage suites provide multi-level accommodations with more robust kitchen facilities (cooktop and dishwasher), though given the stairs, these are not recommended for families with young children or elderly travelers. Lodges also include two- and four-bedroom condominiums, the larger of which include a laundry room and multiple decks. Lastly, the First House and The Castle are completely furnished homes on the resort property.
Activities
There are a wide variety of activities on and off property in all seasons. Children will especially appreciate the options in the Rec Center. What isn't already scheduled and/or organized by the hotel is readily accessible with the help of the Concierge or your own phone call or two. From skiing to water skiing, and sledding to white water rafting, active guests will have plenty of choice to get their adrenaline fix. For those just coming to relax, gorgeous places to rest and read are found across the property—lakeside or fireside, and almost always with a view.
Dining
Visitors are never far from a wide choice of dining offerings, from the lakeside snack shop to the elegant restaurant, La Bella Vita. Food and drink can be delivered to guests poolside and in-room, and menus vary. In winter, the Glacier Ice Bar & Lounge is not to be missed. If you are looking to eat off property, Bolton Landing also has several excellent options, both formal and casual.
Spa
Both spa and salon, The Sagamore's Luxe Lake George Spa has offerings to suit relaxation and beauty needs; from massage to manicures, guests have a wide variety of options. Please note that it's a good idea to book your spa and/or salon appointment when you book your stay, as the spa requests reservations two weeks in advance.
More from FamilyVacationist: