After months of hunkering down under snow and ice, summer and early fall in New England feel like a collective sigh. Families flock to the northeast's lake towns and coastal villages for quintessential New England vacations that go all-in on the regional charm. Think clapboard houses, rows of bright blue hydrangeas, and lobster shacks covered in colorful buoys.
On New England family vacations, there's plenty of room for long, lazy beach days, hiking up cliffs along protected seashores, and savoring those short-but-sweet months before temperatures plunge once more.
The Best Coastal New England Vacations and Seaside Villages
When you think of New England vacations, you're probably thinking of one of these adorable coastal towns. While each has their special touch, every one offers gorgeous water views, rows of clapboard Colonials and bungalow-style Capes, and no shortage of walk-up ice cream windows and seafood shacks for hungry travelers. Don't miss these seaside villages and coastal towns on your next New England family getaway.
AT THE WATER'S EDGE: 16 Best Lake Resorts in the U.S. for Families
1. Bar Harbor, Maine
Home to Acadia National Park, tiny Bar Harbor is the perfect starting point for any family getaway to Maine. With family-friendly and accessible trails like the Ocean Path (where you can gaze into the depths of the mighty Thunder Hole) and the 45 miles of scenic carriage roads to bike, there's something for everyone.
FALL FUN: 10 Best New England Fall Foliage Vacations for Families
Stop at Jordan Pond House for high tea and popovers before taking a hike up the Bubbles, an easy 800-foot peak. Or take a drive up Cadillac Mountain for the first glimpse of sunrise anywhere on the east coast—permits required from mid-May to mid-October—or for the more intrepid among you, hike up in time for breakfast.
Where to Stay in Bar Harbor
Maine's Down East region has no shortage of lovely inns and B&Bs. To make the most out of your New England vacation at Acadia National Park, stay at one of the three available campgrounds, which all have running water, bathrooms, and RV hookups: Blackwoods, Seawall, and Schoodic Woods. If you're more the indoorsy sort, the Harborside Hotel, Spa, and Marina downtown is a perfect place for families to get some shut-eye.
2. Camden, Maine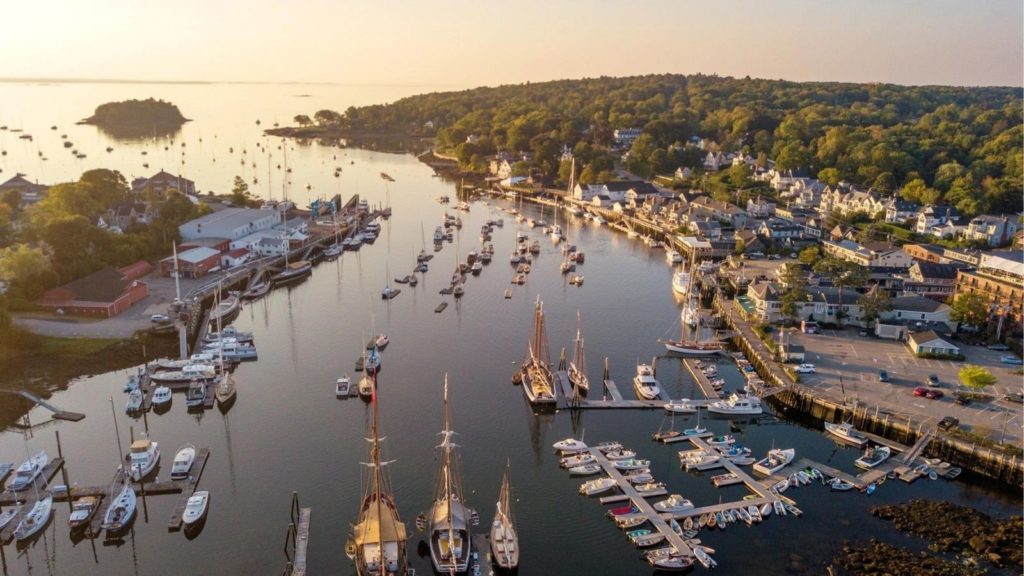 Midcoast Maine is one of the prettiest spots for a New England vacation. And at just an hour and a half from Portland, the lovely seaport town of Camden makes for a great day trip destination. Camden Hills State Park, home to 780-foot Mt. Battie, is the place to start. The short-but-scenic hike gives you a great look at Penobscot Bay, one of the best sailing spots along the coast. Don't miss lunch at the award-winning Long Grain restaurant and top it off with River Duck's ice cream for dessert.
GO WEST: 8 Best Hotels on the Beach in California
Where to Stay in Camden
If you decide to stay a while, get cozy at the Captain Swift Inn, a historic B&B with plenty of charm. It's just a four-minute walk to Camden's restaurants and harbor. For the kind of classic waterfront views you associate with postcard-perfect New England vacations, try the luxurious Grand Harbor Inn.
3. Kennebunkport, Maine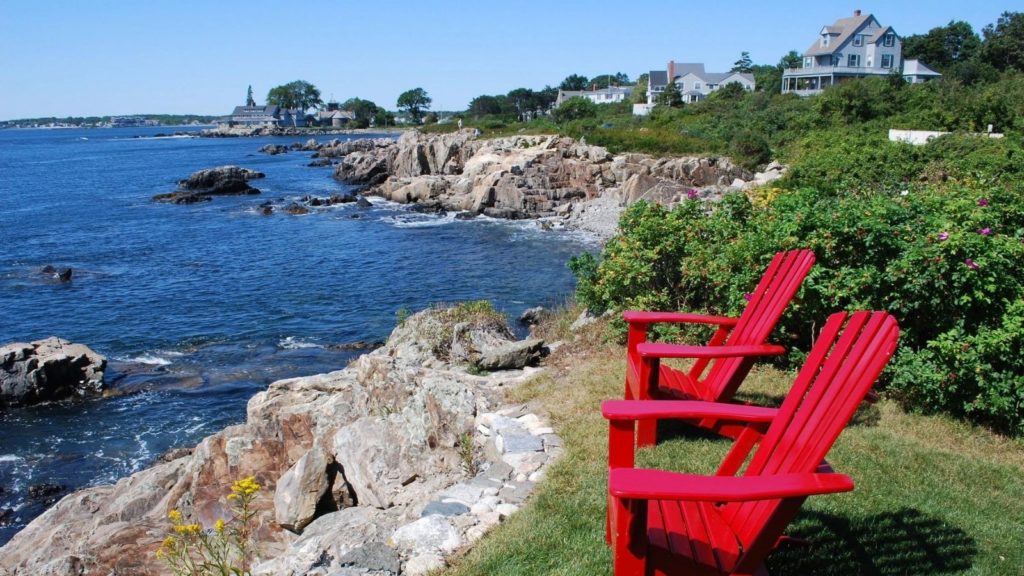 Kennebunkport is a classic Maine beach destination for a reason (and not just because you can spot the Bush family at Walker Point). Families and four-legged friends can spend the entire day hanging out at Gooch's Beach or Goose Rock Beach. If you're tired of beach time, explore the quirky Seashore Trolley Museum, which showcases the history of buses, trains, and automobiles from around the United States. Don't forget to order ahead for beach-ready lunches from the popular Clam Shack, a Kennebunkport institution.
MAKE MEMORIES: 50 Family Vacation Ideas for the Best Trip Ever
From Kennebunkport, head up the rest of southern Maine's charming Route 1. Spend a day at Old Orchard Beach or in nearby Ogunquit (it's one of the best family beach vacations in the entire country) for more great views, charming antique shops, and delicious lobster rolls.
Where to Stay in Kennebunkport
For a waterfront view and a classic Maine sensibility, stay at the Yachtsman Hotel and Marina Club or the Cottages at Cabot Cove, walking distance to all of the action downtown but quiet enough for a restful and relaxing evening after a day at the beach.
4. Rye, New Hampshire
New Hampshire only has 18 miles of Atlantic shoreline, but the Granite State sure makes it count. For families looking for a beach option only an hour away from Boston, Rye is a great choice. With a collection of oceanfront state parks with playgrounds and picnic tables—Wallis Sands, Odiorne Point, and Rye Harbor—you have plenty to choose from. At Odiorne Point, stop in at the Seacoast Science Center to learn about the marine ecosystem, from whales to guided tide pooling excursions and an indoor touch tank.
AFFORDABLE TRIPS: 11 Cheap Family Vacations That Are Super Fun
Where to Stay in Rye
Opt for a house rental right by the water in a place like Rye, or stay in nearby Portsmouth to do it all. For a real splurge, stay at the Wentworth-by-the-Sea in New Castle.
5. Portsmouth, New Hampshire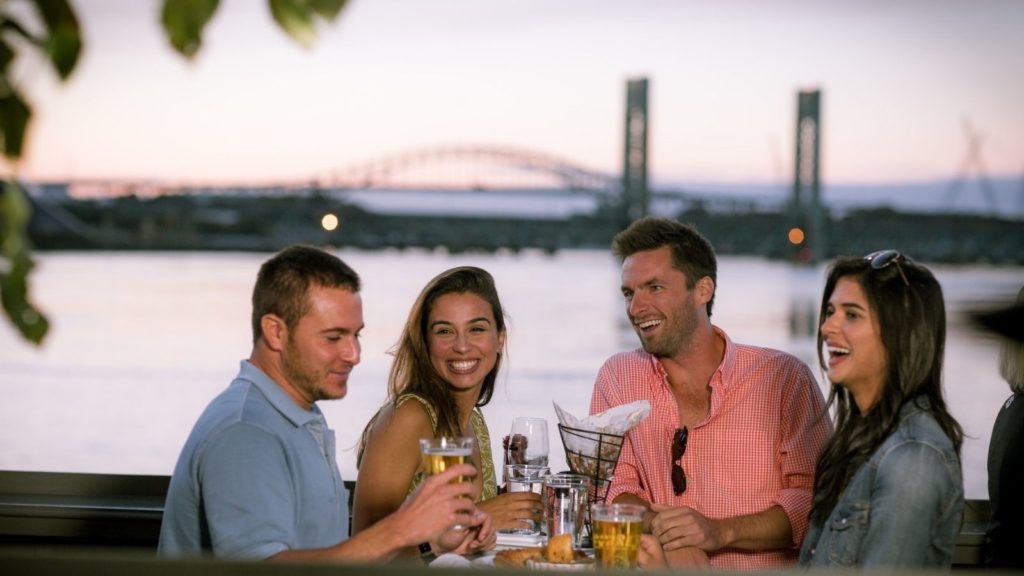 Historic Portsmouth is the perfect New England vacation gateway to explore New Hampshire's seacoast. The port town offers plenty of delicious eats along Market Street and Congress Street that overlook the harbor. Step back in time with a tour of the Strawbery Banke Museum, the site of the first Portsmouth settlement; or the U.S.S. Albacore, a decommissioned naval submarine. Most weekends, you'll find live music or entertainment oceanside at Prescott Park.
WHAT TO PACK: 25 Beach Essentials You Need for Every Sun-Soaked Vacation
Where to Stay in Portsmouth
For a great family-friendly hotel right in the center of town, try the Hilton Garden Inn Downtown, just steps away from Market Square. For a more historic New England getaway experience, stay at The Sailmaker's House, a lovingly restored 1800s home.
6. Newburyport, Massachusetts
Use Newburyport as your home base to explore Massachusetts' historic North Shore. With a more relaxed feel than nearby Rockport or Salem, you'll find live music down on the waterfront, cute cobblestone streets, a walkable downtown, and great food. The North Shore is known for its roast beef sandwiches (with ocean views, no less!), and you'll find some of the best at Port City Sandwich Co. or Black Cow.
FAMILY TRIPS: 21 Best Family Vacation Spots in the U.S.
Where to Stay in Newburyport
Newburyport has several great B&B options for New England vacations, including the Essex Street Inn and the Compass Rose Inn, both paying homage to Newburyport's history as a prominent place for captains and merchants to settle before shipping out to sea during the colonial era.
7. Chatham, Massachusetts
Locals call Cape Cod "the Cape," and for quintessential New England vacations on the Cape, start with cute-as-a-button Chatham. Located in the "elbow" of the Cape, you'll find some of the best family-friendly beaches in the Northeast at Lighthouse Beach (home to the Chatham Light), Hardings Beach, and Ridgevale Beach. Take a break from the beach with walking trails at the Monomoy National Wildlife Refuge or learn about monsters of the deep at the AWSC Shark Center.
COOLER WEATHER: 7 Beach Towns That Are Just as Much Fun in the Fall
Where to Stay in Chatham
As one of the best beach resorts in the U.S., the iconic Chatham Bars Inn is worth a splurge on any New England getaway for its panoramic ocean views and beach access (stop for lunch even if you're not staying, as it's a landmark on its own). But if you'd prefer a cottage-style New England family vacation experience, try the pet-friendly Pleasant Bay Village Resort instead.
8. Newport, Rhode Island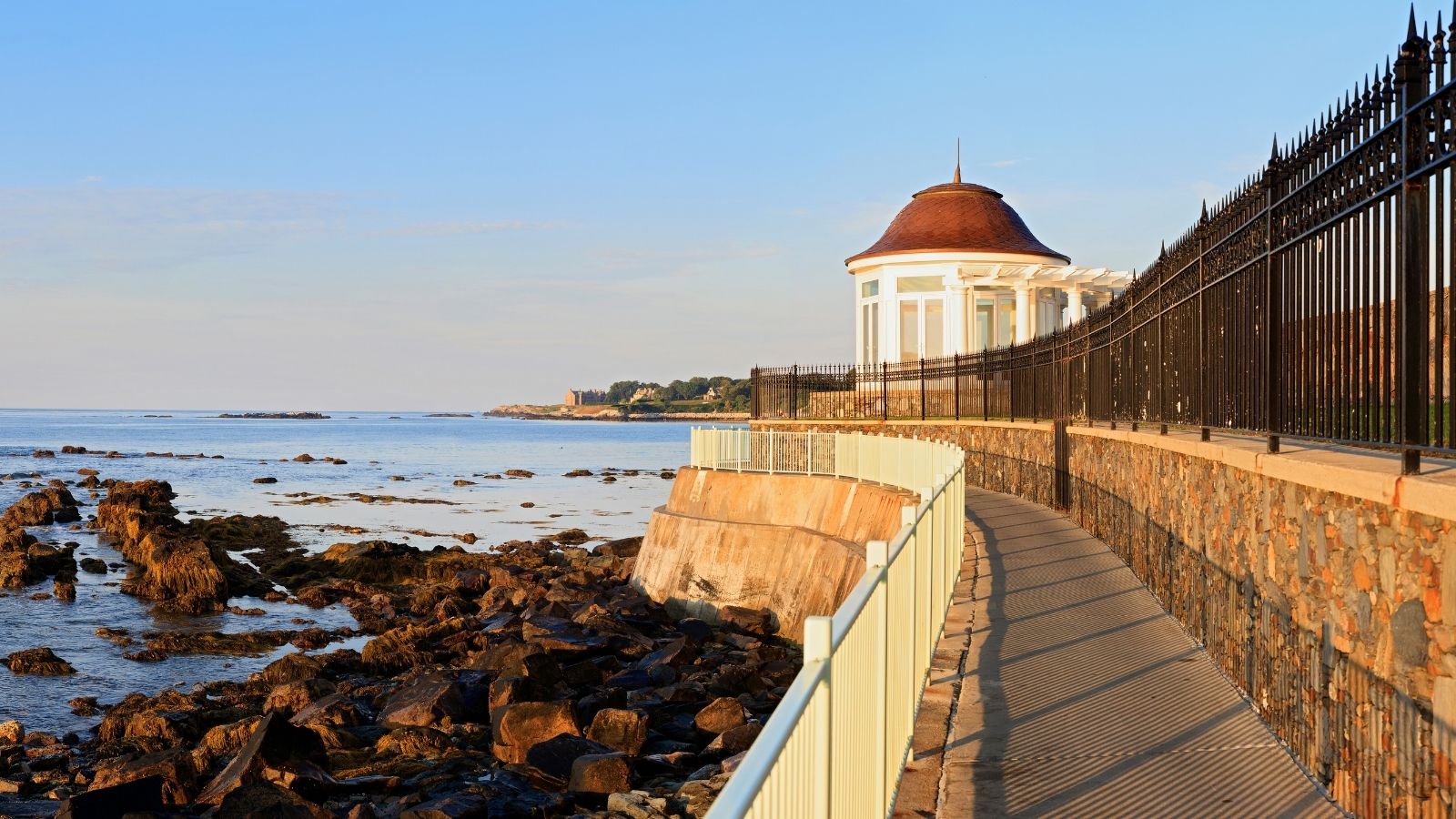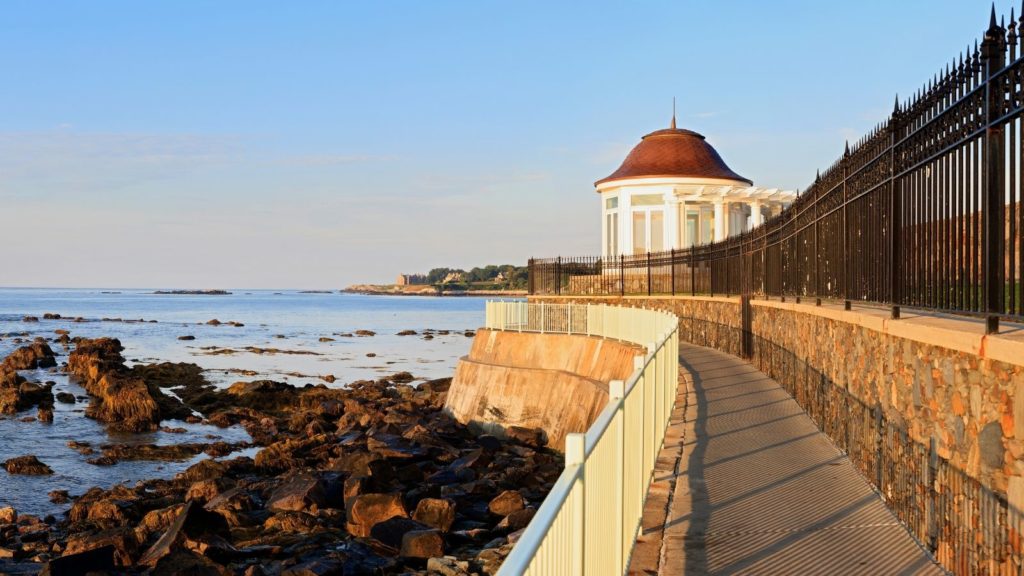 Step into the world of gilded mansions and Gatsby-style glamour in Newport, Rhode Island. But the town is much more than tours of the Breakers or the Elms. Go mansion-spotting by walking the scenic 3.5-mile Cliff Walk or drive into town for the International Tennis Hall of Fame. If you have budding music lovers in the family, don't miss the annual Jazz Festival or Folk Festival, which both take place every summer.
WATER WORLDS: 13 Thrilling Water Parks Where You Can Beat the Summer Heat
Where to Stay in Newport
Stay at your own stately home at one of Newport's historic inns, like the iconic Castle Hill Inn. For more townhouse-style living, go downtown at the Newport Bay Club and Hotel, walking distance to plenty of restaurants, museums, and shops.
9. Narragansett, Rhode Island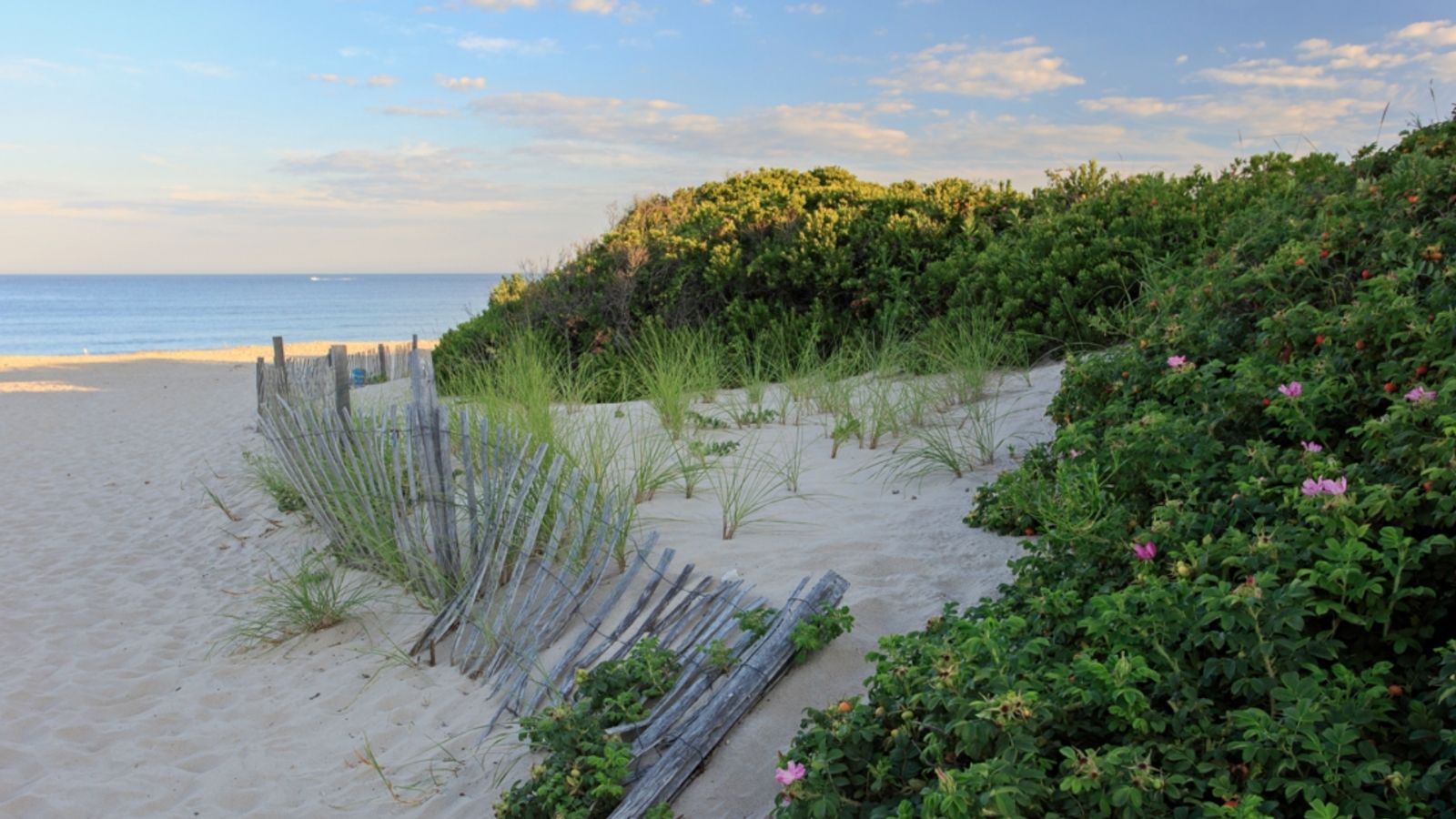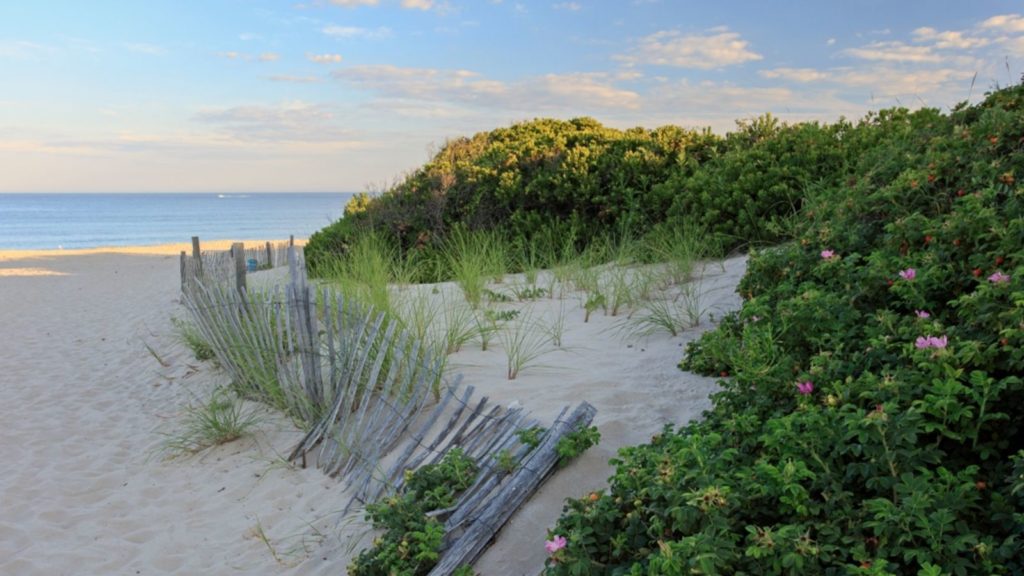 You can't beat Narragansett Beach for a relaxing day, but it's not the only option if you're headed to Narragansett. Walk along the cliffs to the Point Judith Lighthouse for some great views. Catch the ferry to Block Island, which runs several times an hour all summer, to explore the seven-mile long spit of land just off the coast for a day trip. For dinner, stop at one of the best clam shacks in New England, Monahan's Clam Shack by the Sea.
FURRY FRIENDS: 15 Pet-Friendly Hotels in New England Where Dogs Are Always Welcome
Where to Stay in Narragansett
Rent a clapboard house of your own for an easy and relaxed vacation in Narragansett, or stay overnight at Block Island, where you can get your own charming room at the Darius Inn or the Victorian Hotel Manisses.
10. Mystic, Connecticut
Situated between the Mystic River and the Atlantic, Mystic is home to the perfect mix of classic seaside activities like sailing and beach days alongside great learning opportunities for the family. Spend a day wandering around the sprawling Mystic Seaport Museum, which recreates a 19th century fishing village down to the apothecary and shipbuilding warehouse. Or say hi to sea lions, manta rays, and more at the Mystic Aquarium.
UNDER THE SEA: 11 Best Aquariums in the U.S. to Visit with Kids
Where to Stay in Mystic
Mystic has been a waystation since its founding in 1654, and today you'll find a wide selection of hotels at different price points, including the Hilton Mystic, Hyatt Place, and the historic House of 1833.
11. Madison, Connecticut
Hang out at Hammonasset Beach State Park or Meigs Point Nature Center in the classic beach town of Madison, Connecticut. Stroll the historic Madison Green district for a glimpse of colonial architecture (on the National Register of Historic Places). For the book lovers, grab your next great vacation binge read at RJ Julia Booksellers, one of the top independent bookstores (and the cutest!) in the country.
GO NORTH: Where to Beat the Heat: 5 Family-Friendly Summer Getaways in the Northeast
Where to Stay in Madison
Have a slice of beach all to yourself at the Madison Beach Hotel or go for a smaller, boutique option at the Homestead Bed and Breakfast, which gives you easy access to beaches, restaurants, and shopping downtown.
More from FamilyVacationist: