With three picture-perfect Caribbean locations, Beaches Resorts are made for families. From babies to teens, there's not just something for everyone, there's plenty for everyone. I recently spent time at Beaches Turks & Caicos, and scoped out these standout kid-friendly offerings that you'll find at some or all of Beaches' three family-focused Caribbean resorts (Turks & Caicos plus Negril and Ocho Rios, Jamaica).
SUN-SOAKED VACATION GEAR: 25 Beach Essentials
Beaches has a robust kids camp program staffed by early childhood educators that's divided by age from babies through teens. But that's not the only way Beaches caters to its younger guests. From little details like pint-sized tables at restaurants to big productions like nightly Sesame Street shows, tween club houses, and teen dance clubs, Beaches goes all on in kid delight. And when kids are happy on vacation, it gives their adults room to relax and have fun too. Since Beaches has an inclusion-focused program for kids (and adults) with autism, families with kids on the spectrum can have the same great vacation experiences as all other families. 
For Kids of Every Age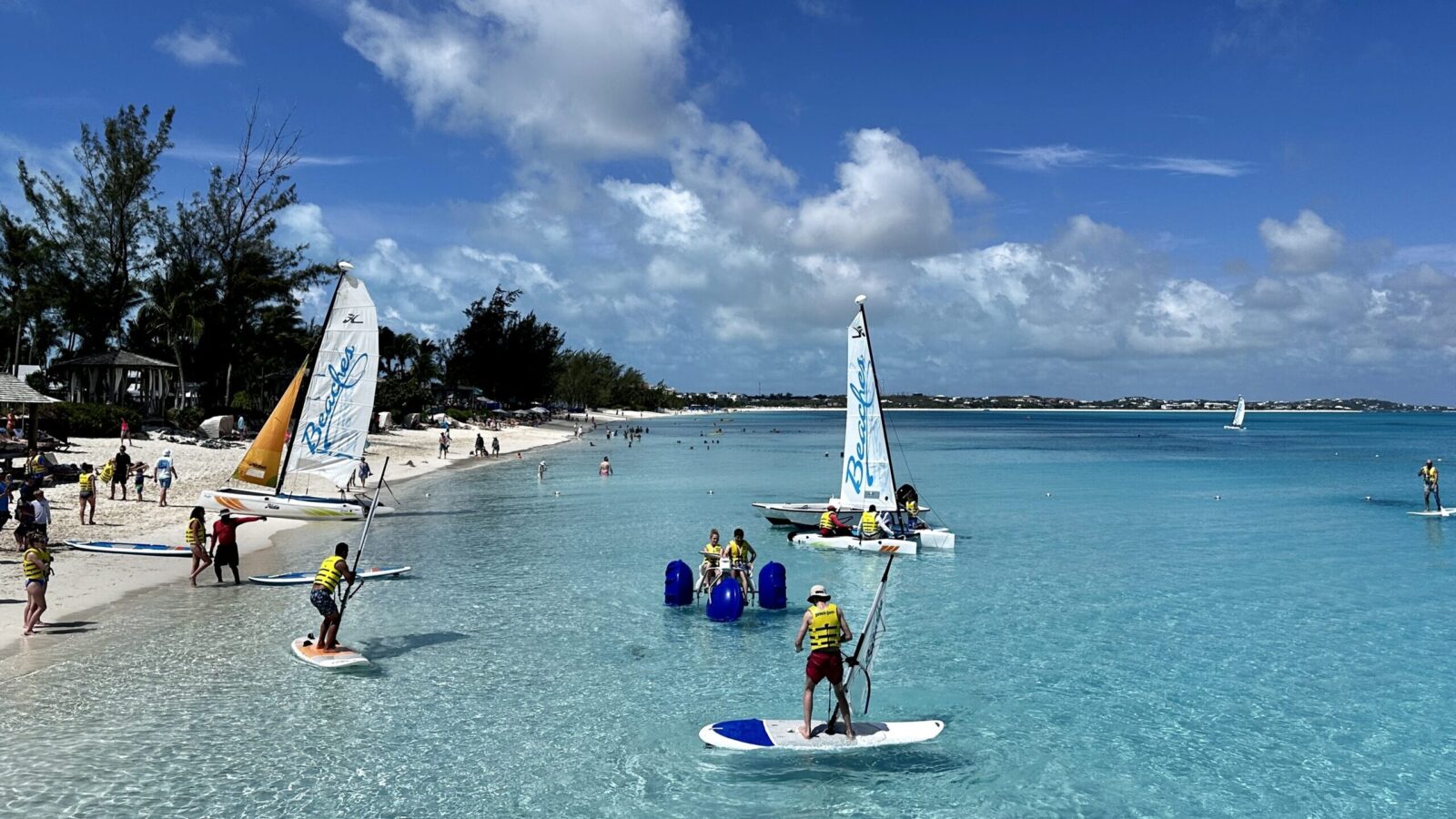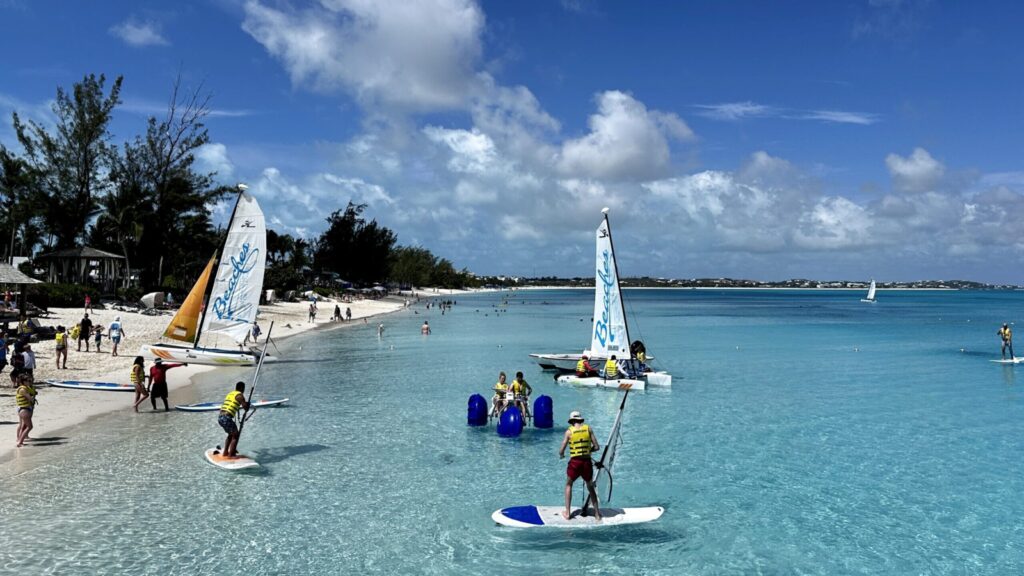 Pirates Island Water Park
Beaches goes big on its Pirates Island Water Park. Three multi-story waterslides (including both tunnel slides and open-top slides are great for older kids, teens, and adults. For younger kids, there are smaller slides plus the Splash Deck, a splash pad area where kids can cool off and play. There's a lazy river that flows past waterfalls and a shaded area, plus a surf simulator. 
SPLASH DOWN: 10 Best Caribbean Resorts with Water Parks
Dotted around the water park are a bunch of super-kid-friendly food options. There are food trucks selling incredibly good milkshakes (even if you're an adult, you're going to want to schedule a stop here; it's also super close to the French Pool) and a whole menu of riffs on mac and cheese.
Where: Beaches Ocho Rios, Beaches Negril, Beaches Turks & Caicos
Water Toys and Games
Beaches Resorts are well-stocked when it comes to water equipment. Depending on the resort, you'll find aquatrikes (as fun as they look), Hobie Cats, paddleboards, kayaks, laser bug boats (little sailboats designed for older kids and teens), and bodyboards. There are daily snorkeling and glass bottom boat tours, windsurfing, and some resorts offer water skiing and tubing.
There's also a whole Activity Hut where you can borrow sports equipment, board games, playing cards, and other great options for when kids and adults need an activity out of the sun.
Where: Offerings vary depending on resort, but all offer many of the listed options
Bobby Dee's
Bobby Dee's, the 50s-inspired diner and ice cream shop in a pirate ship–anchors the kid-centric water park section of Beaches Turks and Caicos. It opens at 11 and stays open all night, but my favorite time of day here is afternoon, when kids flock to the kids-only swim up bar featuring cool mocktails and in-water seating. Inside, there's an ice cream counter and kid-pleasing snacks ranging from burgers and hot dogs to chicken nuggets and PB & Js. The vibe is super-casual and kid friendly, and it's a great place to grab a quick and easy bite between activities.
Where: Beaches Turks & Caicos
For Younger Kids
Kid-Sized Tables at Restaurants
Warning: these kid-sized picnic tables sitting among the adult-sized tables at some of Beaches' restaurants have a red-hot cute factor. Also it's a genius move and here's why: Kids love having something just for them, and it gives them the chance to practice a little bit of independence and have their own experience that's not just sitting bored with their grownups while waiting for food.
POOL READY: 10 Sturdy Beach Bags with Style
And for adults, it's a blissful chance to see the kids happy and have a few minutes of grown-up time at a restaurant (remember that?). Even if the kids don't stay at their kid-sized table the whole time, it helps pass the time of waiting for food and gives everyone an out-of-the-ordinary experience.
Where: Beaches Ocho Rios, Beaches Negril, Beaches Turks & Caicos
Kid Menus at All Restaurants
Beaches makes sure its all-inclusive food offerings extend to all ages and palates. A number of restaurants at each Beaches Resort have kid menus with items and portions geared to younger kids. And it's not all burgers and nuggets (though you can find those too). For instance, at the super-charming Barefoot by the Sea, the kids menu includes a whole wheat tuna melt, a ham and cheese wrap, and penne pasta with chicken and broccoli. With menus like this, there's a solid chance your kids will actually eat a vegetable or two on vacation. Victory!
Where: Beaches Ocho Rios (a few), Beaches Negril (most), Beaches Turks & Caicos (most)
The Train
Only Beaches Turks & Caicos has a train, but it's worth noting because it's a HUGE hit with train-obsessed littles. The train runs most of the day between 9 and 5 and takes passengers through three of the four villages (Italian, French, and Caribbean). The small train (on tires, not tracks) is a slow, relaxed ride that transports families around the resort but really, is mostly there as a fun ride for little kids.
Where: Beaches Turks & Caicos
Sesame Street Shows and Parade
Nightly at 6:30 at the outdoor stage in the French Village, there's a kid-oriented Sesame Street show that will get kids dancing and laughing. The show is followed by an activity that changes daily (salsa dancing class, a celebrity quiz, movie trivia, etc.) that bridges the gap between the kids' show and a later nightly family show that's geared more to adults, think reggae music, cultural nights, and movie nights.
FUN TIMES: 11 All-Inclusive Resorts with Above-and-Beyond Kids Clubs
On Friday nights, the Beaches crew takes the show on the road with a festive and fun Sesame Parade and Sesame Street Party, followed by a participatory game of Family Feud. Since for many families, Friday night is the last night of their stay (many guests book Saturday to Saturday), this is a pretty amazing grand finale to vacation.
Where: Beaches Ocho Rios, Beaches Negril, Beaches Turks & Caicos
Sesame Street Tuck-in Service
For an added fee, you can give your little Sesame Street fans the experience of a lifetime: the chance to get a tuck in from a favorite character. Elmo, Zoe, Abby Cadabby, Cookie Monster, Grover, Super Grover, The Count, Rosita, Bert & Ernie are all available for an evening visit of relaxing stretches, a bedtime story, and a lullaby before bedtime. Beaches has other add-on packages including character breakfasts, birthday parties, and photo sessions with characters.
Where: Beaches Ocho Rios, Beaches Negril, Beaches Turks & Caicos
Playground
Sometimes kids just need to get their energy out on a playground. Which makes the addition of a full-size playground a nice bonus both for kids and for their adults. There are nice spots to sit nearby and enough equipment that kids can come back day after day without getting bored. Just note that the playgrounds get hot in the middle of the day so you're better off timing your visits for the cooler morning and evening hours.
Where: Beaches Negril, Beaches Turks & Caicos
For Tweens and Teens
SCUBA Programs
The clear, warm, aqua waters of Turks & Caicos is the perfect spot to learn underwater skills, and Beaches has an entire program to help kids, teens, and adults learn and improve SCUBA skills. Certified divers can dive every day (except departure day) as part of the all-inclusive offerings. And kids eight and up who are curious about SCUBA but not totally ready to commit can sign up for the PADI Bubblemaker Experience, which takes place in the pool next to the dive shop, and gets kids used to equipment, basic safety, and breathing underwater.
BYO GEAR: 10 Best Snorkel Sets for Kids
Beaches also offers the PADI Seal Team Program, which is a highly interactive SCUBA skills class built around spy-style "AquaMissions" that help kids learn skills like underwater photography and diving with flashlights. And older kids can join certification courses and dives that are also open to adults.
Where: Beaches Ocho Rios, Beaches Negril, Beaches Turks & Caicos
Kid Hangout Zone
Older kids on vacation often fall into an in-between zone–they're not as interested in hanging with adults but have outgrown the traditional kids-club offerings. Enter Beaches' Kids Zone, a cluster of gardens and buildings packed with tween and teen fun. There's a sprawling XBox Play Lounge with video games, a game room, and an open-air hang-out space with different games and places to chill. There's also a big covered porch and easy access to Bobby Dee's, the teen club, and the water park. This isn't some undersubscribed adult vision of what teens think is cool–when I was there it was full of kids having a great time.
Where: Beaches Ocho Rios, Beaches Negril, Beaches Turks & Caicos
Teen Cruise and Night Club
Beaches understands that by their teenage years, kids want things that feel a little more grown-up in ways that are safe and supervised. It totally nails the concept with offerings like its tween and teen party cruise and with its nightly entertainment. Teens can get a taste of nightlife with teen karaoke starting at about 8 pm and a nightly dance party at Club Liquid from 9 to 10 pm. 
Where: Beaches Ocho Rios, Beaches Negril, Beaches Turks & Caicos
More from FamilyVacationist: