One of the most appealing perks of all-inclusive family resorts is the wide range of amenities and activities available for every member of the family. For some it may be the pools and water slides, for others the dining and entertainment options. And for the younger travelers in the group, a fabulous kids club can turn a regular family vacation into a trip of a lifetime.
Best All-Inclusive Resorts with Kids Clubs
The best all-inclusive resorts with kids clubs don't just have unique spaces for babies, toddlers, little kids, tweens, and teenagers—they have kids club spaces and activities that truly go the extra mile. That might mean visits from favorite cartoon characters, cool ways to connect with nature, the latest in video game technology, or fun gatherings at the beach or pool.
When the kids are having tons of fun on vacation, everyone in the family wins. And at these all-inclusive resorts with kids clubs, the fun comes guaranteed.
FAMILY RESORTS: 9 Fun Hotels with Incredibly Cool Kids Clubs in the U.S.
1. Beaches Resorts (Multiple Locations)
Locations in Jamaica and Turks & Caicos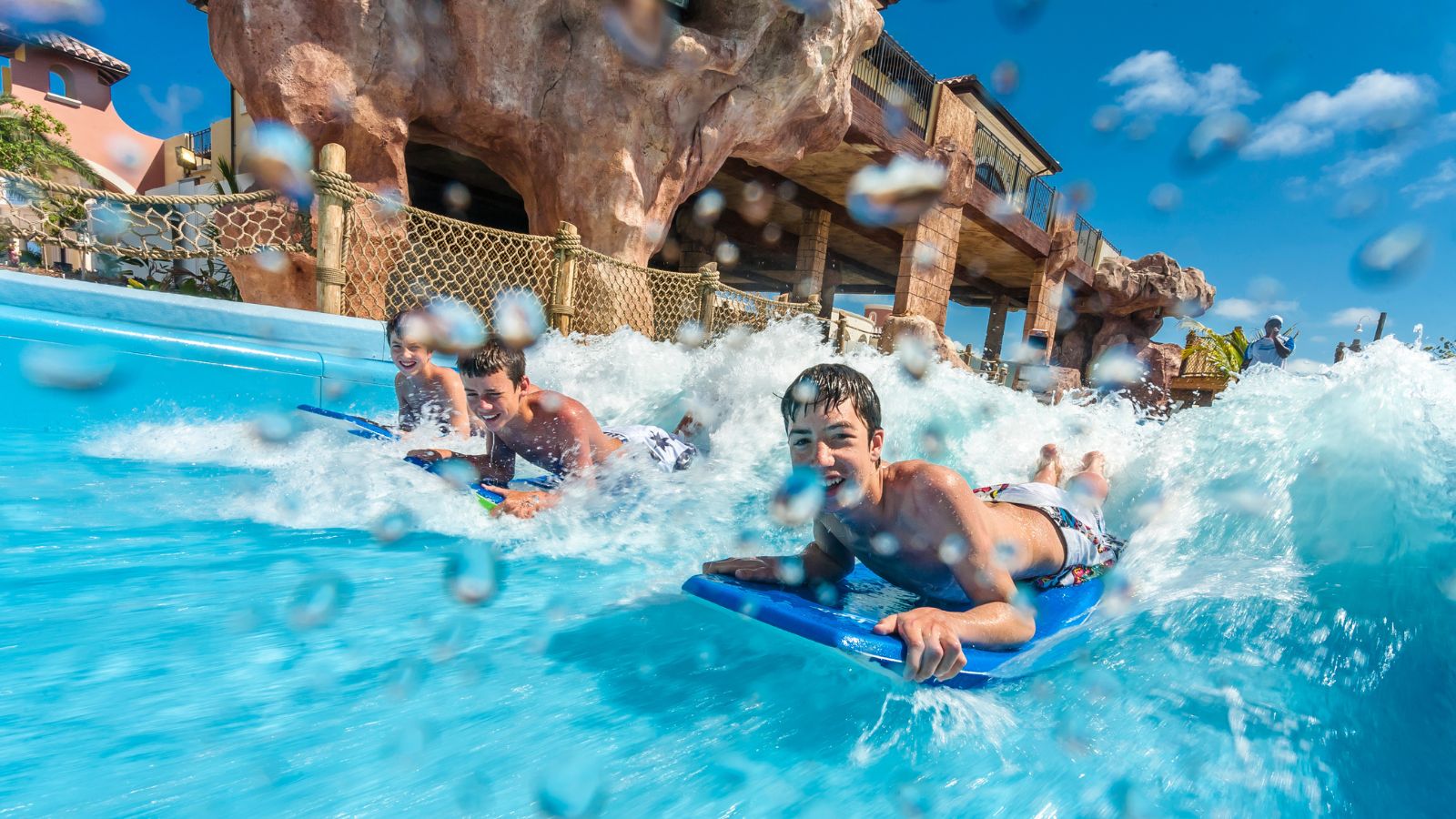 The family-friendly Beaches Resorts in Jamaica (Negril and Ocho Rios) and the Turks and Caicos (Providenciales) offer each a kids club program with different activities and amenities tailored to all ages. Run by professionally trained childcare experts and provided at no extra cost, Beaches's Kids Camp includes climate-controlled nurseries with nannies for infants and a toddler program (for ages three and four) where little ones can enjoy activities like shell collecting, face painting, and sandcastle building.
SAVE MONEY: Kids Stay Free at These 10 All-Inclusive Family Resorts
Additional programs for ages five to seven, eight to 10, tweens, and teens include everything from beach science and scavenger hunts to dive-in movies and karaoke. Much-loved Sesame Street characters visit and lead activities for younger kids, like story time and the "letter of the day" with Elmo.
Beaches Resorts has also completed the International Board of Credentialing and Continuing Education Standards training and Autism Certification program, and the Kids Camp offers specialized services for young travelers with autism and other special needs, like Dreampad calming pillows, sensory toys, and custom dining options.
2. Hilton Tulum Riviera Maya All-Inclusive Resort
Tulum, Mexico
Young guests at the beachside all-inclusive Hilton Tulum Riviera Maya in Tulum can head to the resort's stylishly decorated kids club each day for arts and crafts sessions, organized fun in the splash pool, board games, or some play time on the swings, monkey bars, and jungle gym. Teenagers have their own space where they'll find a movie theater and video games along with air hockey, ping pong, and billiards tables.
FIESTA TIME: 13 Best Mexico All-Inclusive Resorts for Families
It's all part of the resort's Family Zone, which also includes an area for parents with an adults-only pool and food and beverage options for both grownups and kids. The family can even book a room inside this kid zone for easy access to all the fun, and parents can take advantage of other resort amenities like a fitness center with a yoga studio and spin room while the kids are otherwise occupied.
3. Nickelodeon Hotels and Resorts Punta Cana
Punta Cana, Dominican Republic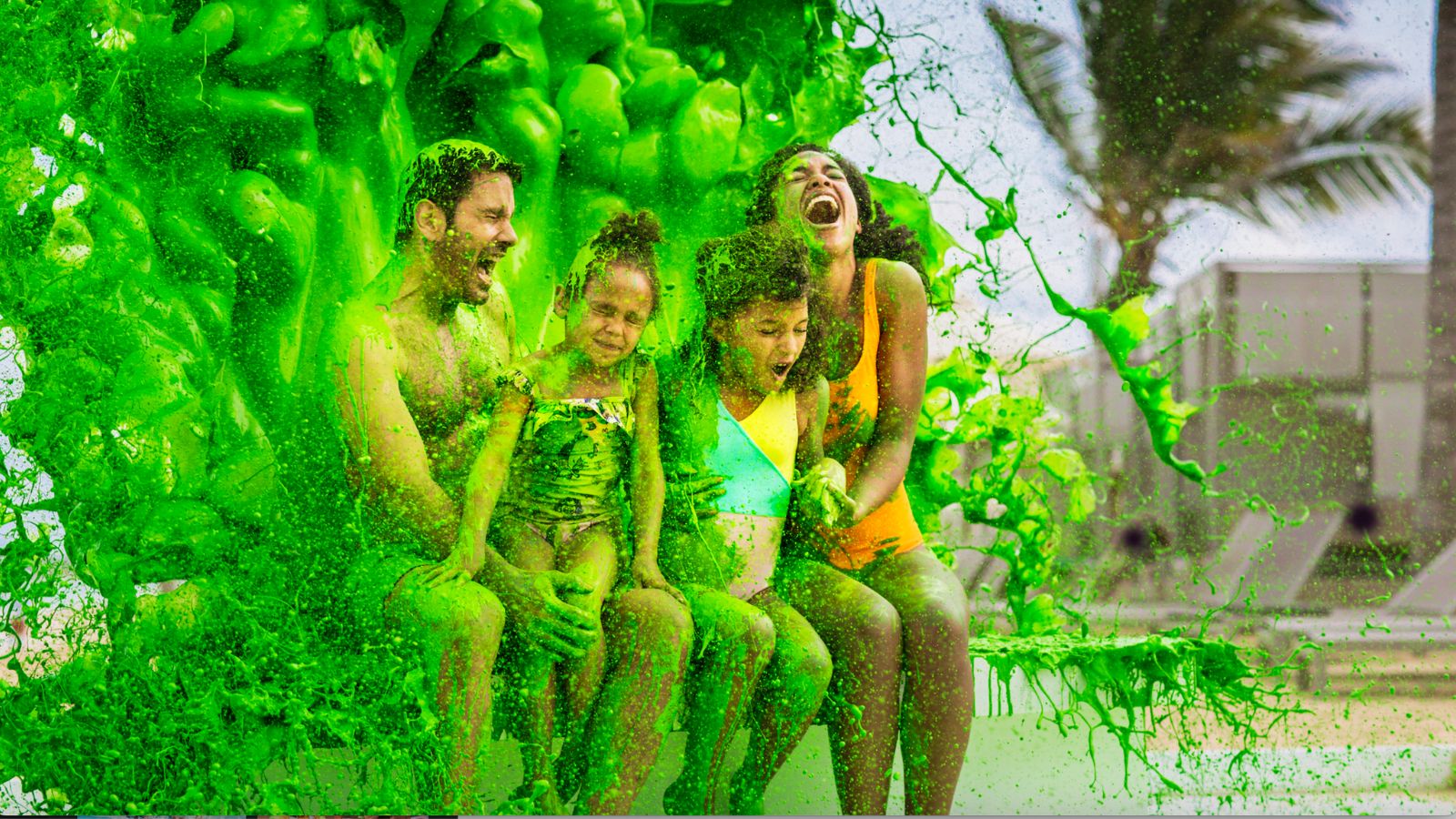 When an all-inclusive resort offers an exclusive pineapple-themed villa inspired by SpongeBob SquarePants's very own home, it should come as no surprise that it also has a spectacular kids club as well. At Nickelodeon Hotels and Resorts Punta Cana's playfully designed Club Nick, young guests can jump in a ball pit, play with other cartoon-loving kids on vacation, and take part in daily supervised activities and experiences designed for kids ages four to 12 included in your stay.
CLOSE TO HOME: 5 Best Puerto Rico All-Inclusive Resorts for Families
Surprise visits from favorite characters like Dora, members of the Paw Patrol crew, the Teenage Mutant Ninja Turtles, and SpongeBob himself add to the fun. The beachfront 460-suite all-inclusive resort in the Dominican Republic also has a water park with water slides and a lazy river, multiple dining options, and even "private sliming" opportunities for families.
A second Nickelodeon all-inclusive resort with an equally cool kids club, Nickelodeon Hotels and Resorts Riviera Maya, is located in Playa del Carmen along Mexico's Yucatan Peninsula about 30 minutes from Cancun (read our full review here).
4. Club Med Cancun Yucatan
Cancun, Mexico
The best all-inclusive resorts with kids clubs cater to all ages, not just the youngest members of the family, and that's certainly true at Club Med Cancun where kids club experiences are available for babies through teens. Families can opt to stay in the resort's Aguamarina section, which offers roomy family suites and a dedicated family pool with a kids bar and kiddie-sized pool chairs.
SOUTH OF THE BORDER: 12 Best Cancun Resorts for Families with Kids and Teens
Professionally trained staff care for children ages four months to 23 months in the Baby Club Med kids program, giving parents a little alone time. Petit Club Med offers a variety of experiences for two- and three-year-olds, including arts workshops, a pool and splash park, and treasure hunts. Snorkeling classes, cooking instruction, and trapeze lessons are just some examples of the fun four- to 10-year-olds can have (don't miss Med's famous Circus School!), while Club Med Passworld welcomes 11- to 17-year-olds for activities like archery, waterskiing, music mixing, and movie nights on the beach.
5. Hilton Vallarta Riviera All-Inclusive Resort
Puerto Vallarta, Mexico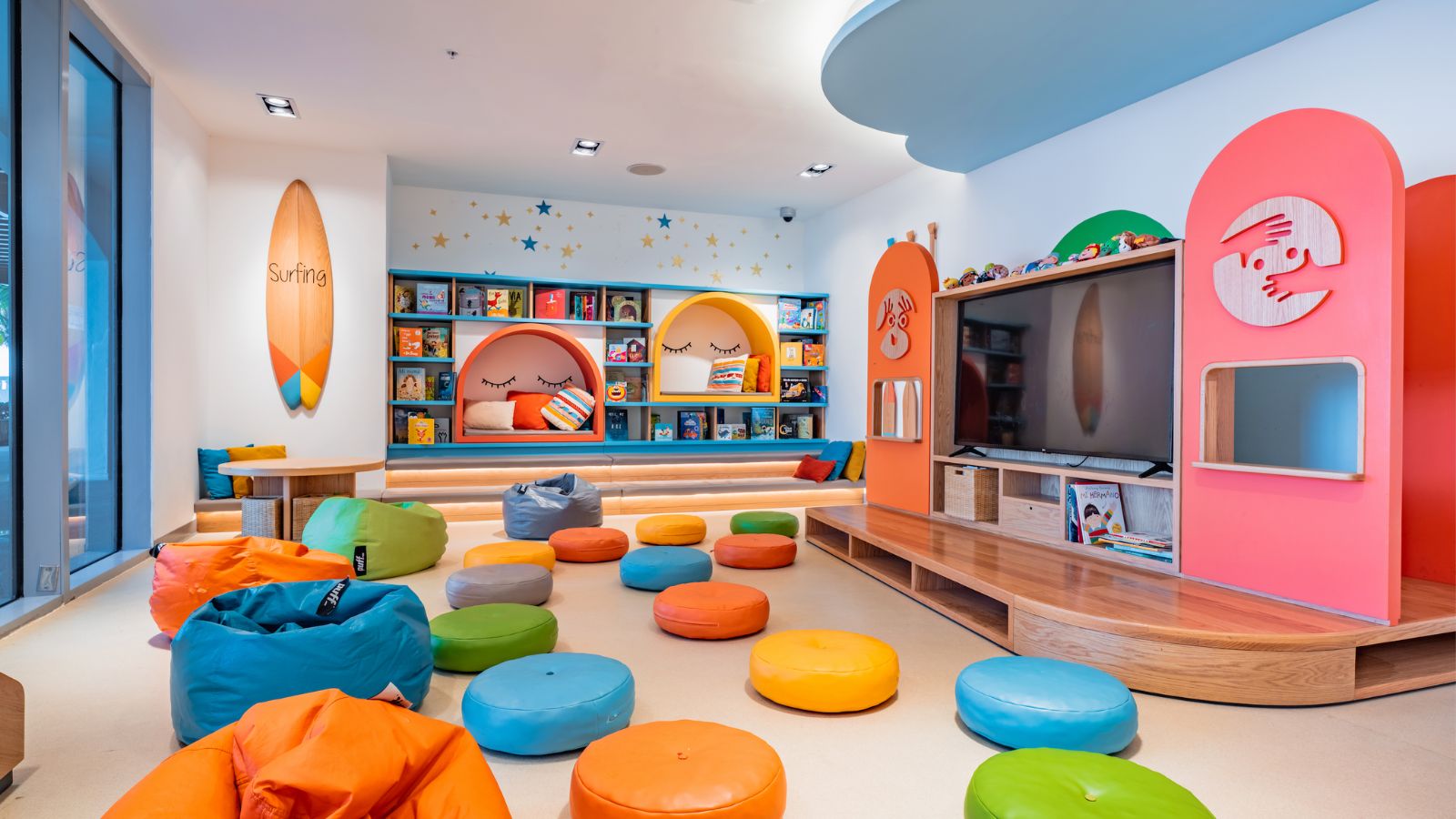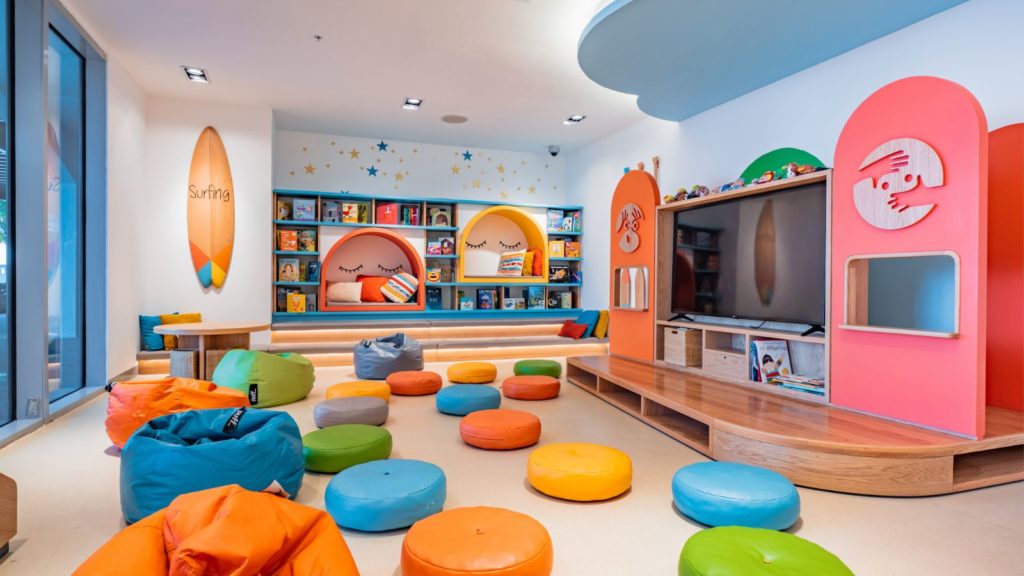 At the 444-room Hilton Vallarta Riviera all-inclusive resort on Mexico's Pacific Coast, there's an adults-only wing and a family-friendly side of the hotel to help all guests have the kind of vacation they desire. The colorful kids club space offers arts and crafts stations, a soft play area for babies and toddlers, and bean bags for reading or watching movies.
SUN AND SAND: 10 Caribbean Family Resorts That Belong on Your Bucket List
The activities program for ages four to 12 includes everything from scavenger hunts and dance classes to jewelry making and cooking classes. Teens have their own slate of activities too, including photography workshops, dance classes, beach and pool games, and movie nights. A Teens Zone serves as a just-for-them lounge area with pool, air hockey, ping pong, and foosball tables. There are also video gaming stations, TVs, and a DJ lab for creating remixes and playlists.
6. Mohonk Mountain House
New Paltz, New York
Surrounded by 40,000 acres of forest and situated on a glacial lake with views of the Catskill Mountains, the all-inclusive Mohonk Mountain House in New York's Hudson Valley is a picture-perfect setting any time of year. Its kids club makes the most of the resort's location and operates under the philosophy of "let kids be kids."
NO PASSPORT NEEDED: 19 Best All-Inclusive Resorts in the U.S. for Families
Activities include everything from scavenger hunts, boat rides, and hikes to fossil discoveries and tennis clinics. The whole family can also enjoy horseback riding; horse-drawn carriage rides; and hiking, mountain biking, snowshoeing, or cross-country skiing on the resort's 85 miles of trails.
7. Coconut Bay Beach Resort and Spa
Vieux Fort, St. Lucia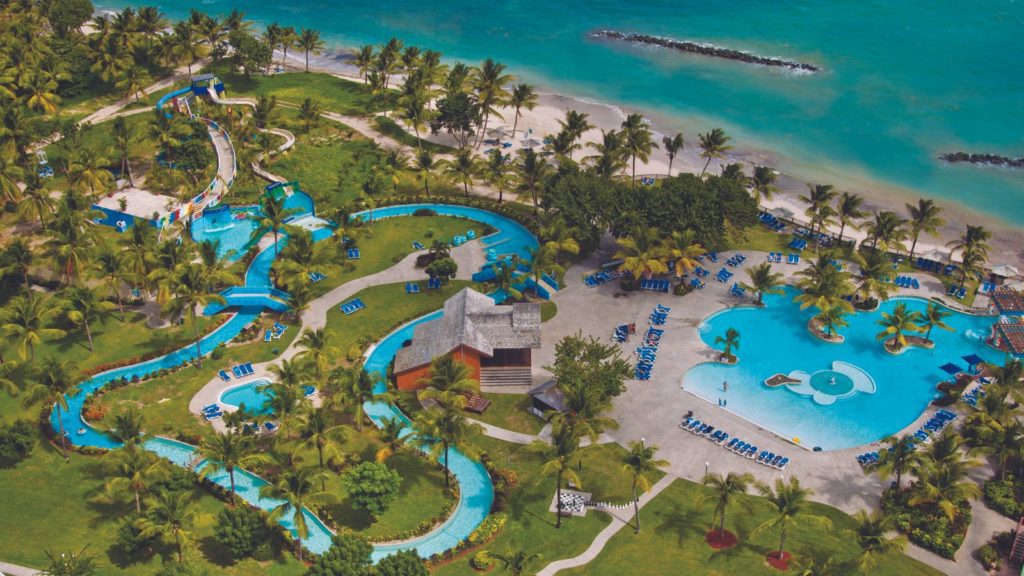 Located on Saint Lucia's south coast, Coconut Bay Beach Resort and Spa is divided between the adults-only Harmony wing and the family-friendly Splash wing, home to amenities like the island's largest water park, a paintball facility, and the CocoLand Kidz Klub. This kids club offers different levels of programming for ages three and under, ages four to seven, and ages eight to 12.
WATER WORLDS: 15 Best Orlando Hotels with Pools, Water Slides, and Water Parks
On the schedule? Daytime activities like nature walks, cooking lessons, and sandcastle building and weeknight evening programs for kids ages three and up like dinner and a movie and karaoke. Kids can also play on the club's pirate ship playground, mini rock wall, and mini zipline, plus meet the rescued goats, ducks, sheep, donkeys, and horses at the Coco Corral. A club space for teens includes an Xbox and two pool tables plus a schedule of daily activities offered during the summer, Christmas, and Easter, like a reggae beach party and bonfire.
8. Sonesta Maho Beach Resort Casino and Spa
Maho, St. Martin / Sint Maarten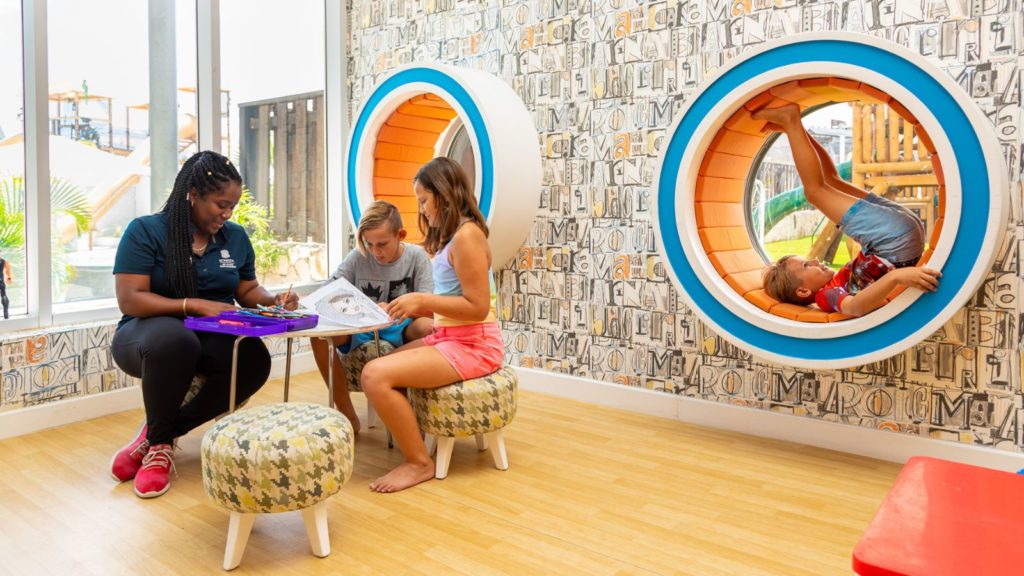 Designed just for guests ages three to 12, the Beach House Kids Club at the all-inclusive Sonesta Maho Beach Resort in Sint Maarten includes an attractive 1,000-square-foot indoor space for supervised activities and 2,500 square feet of outdoor play areas that includes a playground. The club sits adjacent to the resort's Aqua Park, a 1,400-square-foot pool with three animal-themed, kiddie-sized waterslides.
ALOHA VACATION: 6 Best Hawaii All-Inclusive Resorts for Families
While at the club, kids might encounter members of the Beach House Crew, like pop star Iggy Iguana, studious Penelope Pelican, and baby palm shoot Maarten Roots. These playful characters lead young travelers in singing, dancing, learning about the island's history and culture, and other fun activities. The resort also has a Teen Zone with video games, board games, pool, air hockey, and foosball tables.
9. Grand Velas (Multiple Locations)
Locations in Los Cabos, Playa del Carmen, and Nuevo Vallarta, Mexico
Kids of all ages can enjoy a vacation to remember at the three all-inclusive Grand Velas resorts in Mexico (one each in Los Cabos, Playa del Carmen, and Nuevo Vallarta). The kids club for children ages four to 12 offers arts and crafts activities, Spanish classes, games of all kinds, and other fun experiences. Even little ones get special treatment from the resorts' baby concierges, who can help with nanny services and forgotten items from your baby packing list (for an additional fee).
FUN HOTELS: 17 Best Family Resorts with Kid-Friendly Perks: Disney Parks, Lake Placid, Dollywood, and More
Guests ages 13 to 17 can head to the teen club to play some pool, ping-pong, foosball, and air hockey or just socialize with new friends. Video gaming booths feature Xbox and PlayStation consoles, HD screens, and seats with built-in speakers, while the mini disco is the place to be for dancing and karaoke. The kids can tell their parents about it all while the whole family gathers at the pool, beach, or dinner.
10. Bahia Principe Grand Tulum
Akumal, Mexico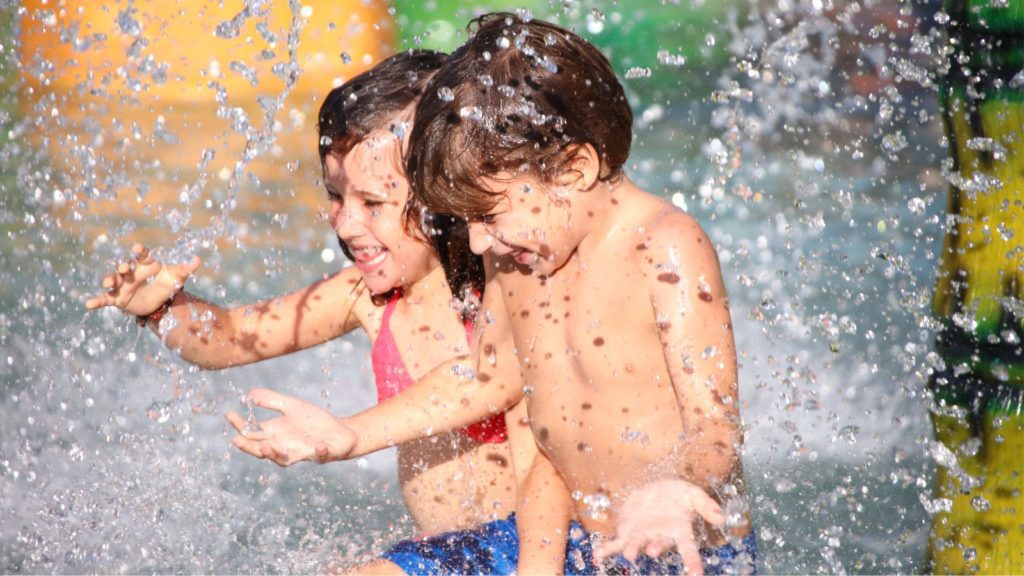 The 774-room Bahia Principe Grand Tulum all-inclusive resort underwent a major renovation in 2020 inspired by both its natural surroundings and the Mayan heritage of its Riviera Maya location. The resort's kids club (called Zamá after the original name of Tulum's walled city) offers a colorful space for games, reading, and outdoor play, as well as activities that teach kids about the Mayan culture.
TRAVEL WITH TEENS: 10 All-Inclusive Resorts Even Your Teenager Will Love
At the teenagers club, older kids can hang out and watch movies, play video games, and attend DJ-led dance parties. Resort suites offer plenty of room for the larger families, and the little ones will love the slides and water features at the children's water park (one of three pool areas at the resort).
11. Royalton Riviera Cancun and Royalton Punta Cana
Locations in Mexico and the Dominican Republic
At the all-inclusive Royalton Riviera Cancun in Puerto Morelos, Mexico, and Royalton Punta Cana in the Dominican Republic, children ages four to 12 can head to the Clubhouse Kids Club for some arts and crafts or game time, a little TV watching with new friends, or sliding and climbing at the outdoor playground.
MAKE MEMORIES: 7 Inspiring Ideas for Mother-Daughter Trips
They might also get a visit from Turbo the Turtle, a character at the resorts who teaches kids about ways to reduce their carbon footprint and take care of the environment around them. The supervised Hangout Teen Lounge offers a variety of activities and socializing opportunities for guests ages 13 to 17, from movies and video games to beach volleyball and dance lessons.
More from FamilyVacationist: