Mexico's Club Med Cancun offers a unique blend of French, Mexican, and international offerings. The resort borders a beautiful white sand Caribbean beach, and has a long stretch of rocky-but-easily-accessible waterfront as well. As is the Club Med way, a stay is packed with possibilities–to do everything or nothing at all–and is an ultra-family-friendly vacation. 
Things to Know about Club Med Cancun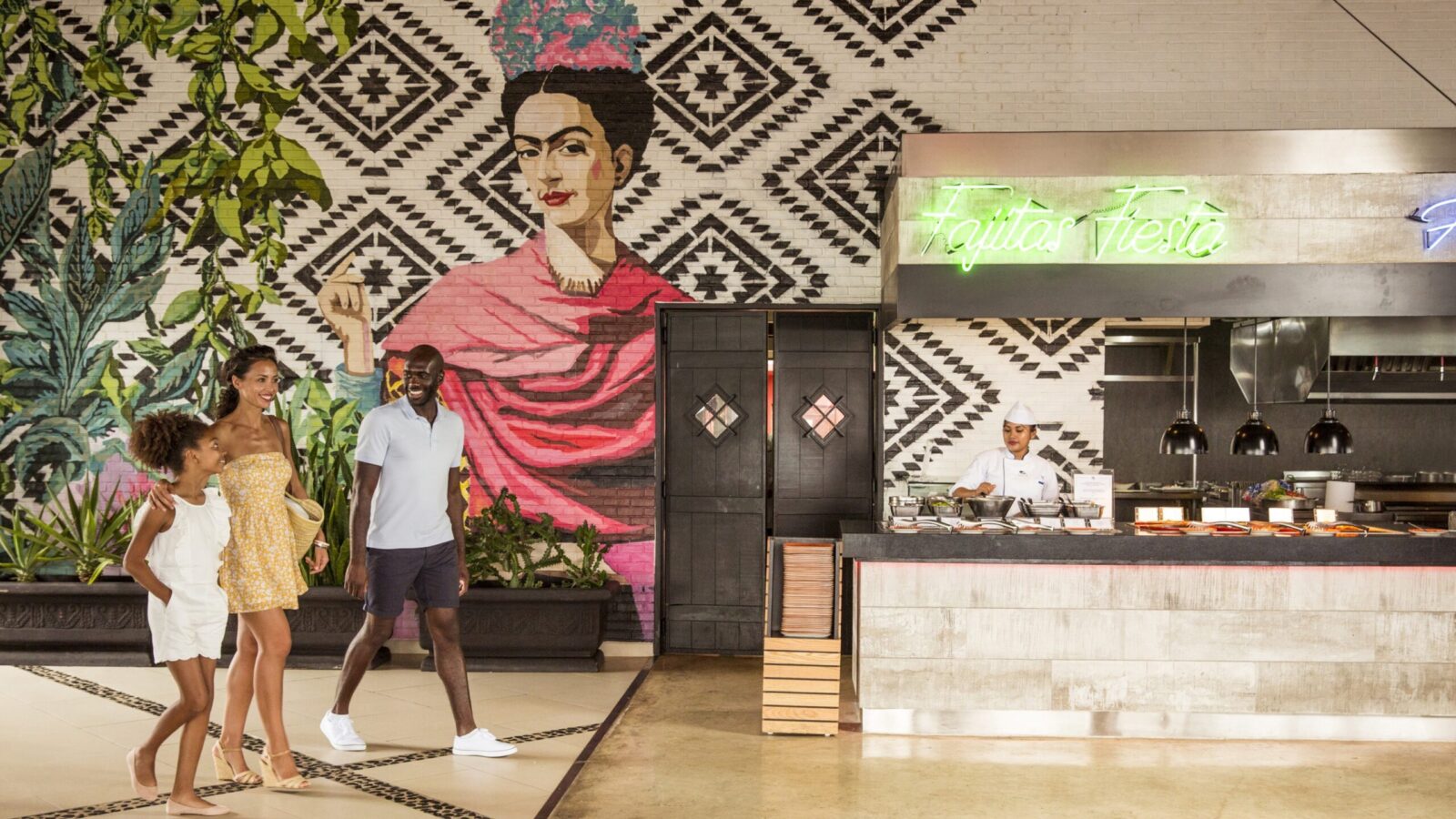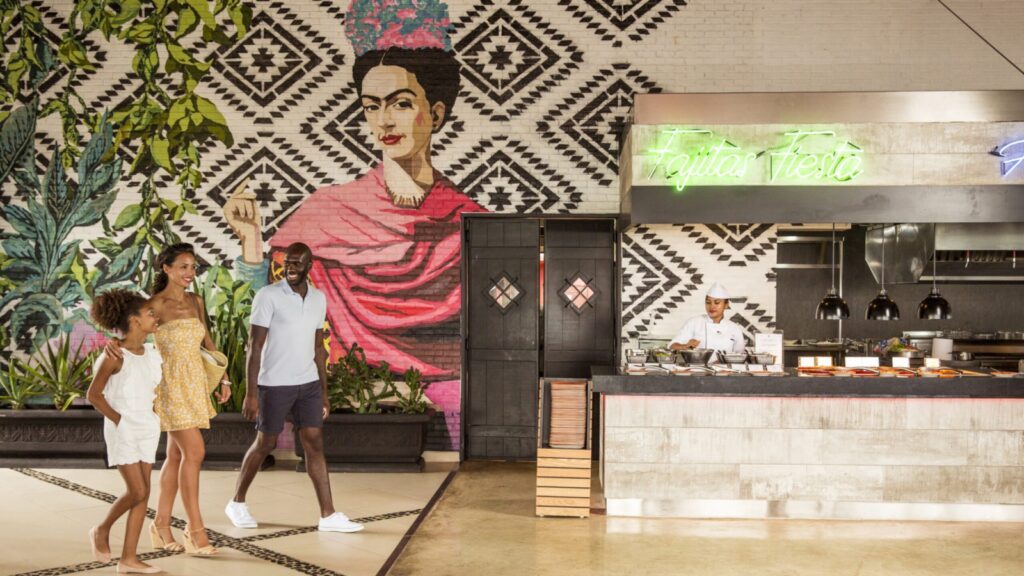 Club Med Cancun Yucatan has a beautiful location bordering the lagoon on one side and the Caribbean on the other.
The resort is very kid friendly and geared to families with kids of all ages, and offers exceptional services and activities geared to every generation.
Club Med Cancun is an all-inclusive resort with four restaurants/buffets/eateries plus five bars.
There are nonstop activities offered throughout the day, but there are also plenty of options for guests who want to just hang out by the pool or beach.
The hotel is about a 20-minute drive from the airport and about 30 minutes by car from downtown Cancun.
What Families Need to Know about Club Med Cancun
Club Med as a brand has a decades-long reputation for being ultra-family friendly. The scene at Club Med Cancun holds true to this, with age-appropriate activities for everyone from babies to teens. 
Club Med Cancun has kids clubs broken down by age groups, so Baby Club Med is for little ones four months through 23 months, Petit Club Med is for two and three year olds, Mini Club is for kids four to 10, and Club Med Teens is for children 11 to 17. Each of these programs offers a robust schedule of activities, and, as kids get older, they get an increasing amount of independence. So for instance, older kids in the Mini Club can get parental permission to check themselves in and out of the club, and teens can join activities as they want. 
VACATION PLANNING: 11 Best Family Vacations in Mexico
There are also plenty of offerings for kids who don't want to do kids club, or for those times when kids want to hang with parents. There are organized family activities (dubbed Amazing Family) three to four times each day, featuring things like bracelet making, pottery painting, mini-festivals, foam parties, and water polo. And many of the activities that are always on offer (snorkeling, pickleball, sailing, etc.) are family friendly as well.
Also of note, the pools have lifeguards for most of the day and scheduled activities in and around the pools offer even more fun for kids. And the beaches, especially the main beach, is wide, never too crowded (and beach cabanas are available for free on a first-come-first-served basis), with warm, aquamarine Caribbean water. There's also a playground and a mini-golf putting green near Taco Arte.
Accommodations (more on this below but here's what's of particular interest to families) in the Aguamarina section of the resort are made for families, and while it's a 8- to 10-minute walk to the main part of the resort, Aguamarina rooms have their own check-in lobby, family-friendly pool and pool bar (with all-day snacks and drinks), and are close to Taco Arte restaurant, bar, and beach, (the restaurant serves buffet breakfast and lunch and requires reservations for dinner). It's also close to the scuba diving center, the paddle center (where you go for sailing, stand-up-paddle boarding, and kayaking), and the tennis and pickleball courts.
FAMILY FUN: 13 Best All-Inclusive Mexico Resorts for Families
Club Med Cancun goes above and beyond to make sure that families with all ages have food that works for them. At the buffets, there's an entire section dedicated to baby and toddler food, and for older kids there's everything from kid classics like pasta and pizza to options for more adventurous eaters. At the dinner a la carte restaurants (Taco Arte and La Estancia), there are kids menus. And the poolside snack bars (La Creperie by the main pool and La Marina poolside at Aguamarina) have all sorts of grab-and-go delights for kids ranging from crepes to bagels and sandwiches to popcorn.
Club Med offers regular kids-stay-free deals for kids four and under and discounts for kids up to age 17. 
Club Med Cancun Reviews
Club Med Cancun receives consistently strong ratings. The resort is rated 4.5/5 on Tripadvisor based on about 15,000 reviews. Reviewers praise the robust kids programs, the good food, and the well-run resort overall.
Important Details about Club Med Cancun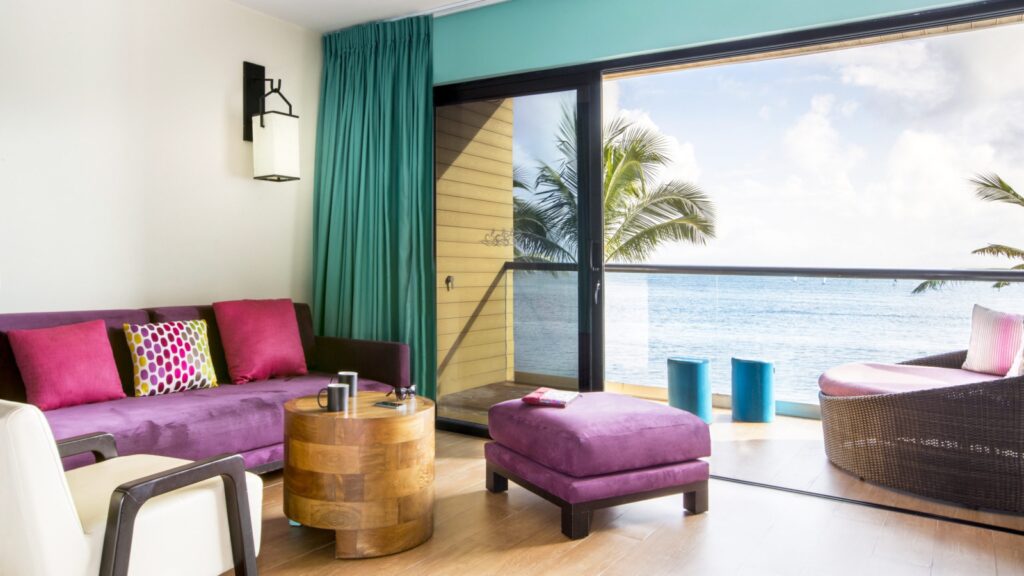 Location
Club Med Cancun was one of the first hotels in Cancun, so it sits on a particularly beautiful strip of land that borders the lagoon on one side (if you take any of the boat tours, they all depart through the lagoon) and a white-sand beach facing the Caribbean on the other. From the main beach, you can see the other hotels of the hotel zone in the distance. From the airport, it's about a 20-minute drive to the resort. And from the resort, it's about a 30-minute drive to the center of Cancun.
The Property
Club Med Cancun is set on a strip of land between the Caribbean and the lagoon, so it's relatively spread out. This makes the resort feel generally pretty uncrowded, and since buildings low-rise, the whole resort is lower density than what you'll find at many other Cancun resorts.
SAFETY TIPS: 5 Tips for Traveling to Mexico During Hurricane Season
The downside–if there is one–is that you'll either need to walk (it's less than a 10-minute walk at a leisurely pace between the Aguamarina section of the resort and the main resort, or about five minutes between Jade and the main part of the resort) or hop a shuttle (golf carts and vans) that's constantly circulating around the resort.
Rooms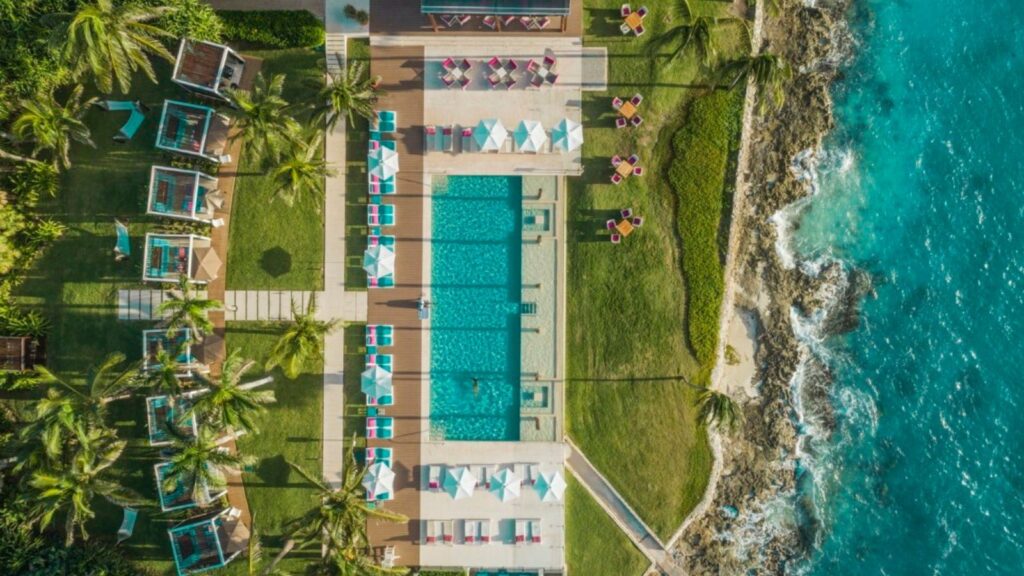 There are a lot of different room types at Club Med Cancun, and browsing the options online can be somewhat overwhelming. But here's the general breakdown of what's at the resort:
Aguamarina: This is the specifically family-friendly part of the resort. Because it's the newest area, it's located farthest from the main (original) part of the resort, but there's still plenty that's close (see details about proximity in the What Families Need to Know section, above). The appeal here, which makes the extra walking absolutely worth it, is the size and layouts of the rooms. Family rooms have two bedrooms, one with a king bed in the main space and another with twin beds. The superior version of family rooms have a shared bathroom, while the deluxe version of the layout has two separate bathrooms. In both layouts, ocean views and private balconies or patios are standard. On my visit, we stayed in a deluxe family room in Aguamarina and it was the most comfortable we've ever been as a family of four staying in a hotel room for a week. There was enough room for everyone (including two sometimes-working parents) and the stuff we amassed over the week (pool toys, towels, etc.)
Main Resort: Stretching from the border of Jade to the end of the resort near the trapeze, and making up the main part of the resort, are low-rise buildings with superior rooms. These are the most affordable rooms, and are the most like standard hotel rooms. Some are adjoining rooms (and you can book them in advance, which is nice since many hotels offer adjoining rooms on a first-come, first-served basis upon arrival). The benefit here is that you're closer to the action at the main part of the resort, an area that includes the main pool; La Hacienda, the main buffet; the a la carte dinner restaurant La Estancia; the big beach; and most of the classes and events throughout the day and evening. This area is also closest to the kids' club check-in area. But for most families, the layout simply isn't as good.
Jade: Jade is a resort within the resort, and offers a more exclusive experience. The Jade building has 37 deluxe rooms plus 18 suites, along with a private pool, bar with premium alcohols, and a small private beach (it's part of the Taco Arte Beach that's just separated by a fence). Geared more to couples, adult groups, and families with older kids (the quiet vibe at the pool here isn't going to be as fun for kids as the Aguamarina pool or the main pool), the Jade Exclusive Collection space is situated between the main resort area and Aguamarina, and is a short walk to both areas. Jade has its own check-in desk, a separate concierge (key for getting dinner reservations at the two a la carte restaurants), private transfers, breakfast service, daily champagne at 6 pm, and faster WiFi than is the free standard (definitely slower) throughout the resort.
Activities
Club Med in general goes big on activities, and Club Med Cancun is no exception. From dawn right into the wee hours, there are things to do for guests of every age. Using the app is the easiest way to keep track of all the activities, which trend sporty but really vary widely.
Included water sports include kayaking, stand-up paddle boarding, sailing, and snorkeling. There are both classes for beginners and the chance to just go on your own. There are tennis and pickleball courts, with tennis classes and tournaments for guests.
Fitness classes and wellness offerings throughout the day range from stretching and yoga to salsa and circuit training. Club Med's signature offering is trapeze, and there are set times for kids of different ages (kids can go with the kids club or just show up at the appointed time) and for adults as well. Amazing Family activities (detailed in the What Families Need to Know section above) happen around the resort, and in the evening there's a show specifically for kids.
TOP 5: Best Cities to Visit in Mexico When You Get Tired of the Beach
Each evening, there's a theme—black and white, Mexican colors, elegant, 45 and jeans (a Club Med shirt; years ago on the brand's 45th anniversary they made shirts that were such a hit that they adopted the number), and so on—and though it's optional to dress to the theme, it can add a bit of fun and anticipation to the packing process.
In addition to the kids' show, there's another show later that kids are welcome to watch but that's geared towards adults. Often the entertainment is tied to that evening's theme, and many of the shows are put on by the G.O.s (gracious organizers, that's Club-Med-speak for the people who work there), so you might, for instance, see your yoga teacher doing a dance number or the pool aerobics instructor performing aerial acrobatics. Nights end with an earlier dance party for teens and a later club for adults.
There are also regular barbecues, mini-festivals, sunset parties, and other events scattered around the resort. It can feel a little overwhelming, especially as a first timer, to keep up with everything, but it's also just nice to wander around and see what's happening. Surprise and delight often follow.
Dining
The all-inclusive Club Med Cancun has four restaurants/eateries plus five bars that serve both alcoholic and non-alcoholic options (including an expansive menu of mocktails).
At breakfast and lunch, your options are the buffets at either the main buffet restaurant La Hacienda or the open-air Taco Arte; or to grab an a-la-carte lunch snack from La Creperie (sandwiches, crepes, hot dogs, fries, etc.) at the main pool or La Marina (sandwiches, fruit, muffins etc.) at the Aguamarina pool. Many days, there's also a lunchtime barbecue under the shade sails between Las Velas pool bar and La Soluna Bar. Guests at Jade also have a private breakfast option.
At dinner, there are three main options: the buffet at La Hacienda or an a la carte meal at Taco Arte or La Estancia. Taco Arte and La Estancia both require reservations, which you can make in the app, and both book up quickly. Jade guests have the upper hand here since their concierge can secure reservations.
HEALTHY AND HAPPY: 10 Tips for Keeping Your Family Healthy on Vacation
The buffets have a whole section dedicated to baby and toddler foods, and the a la carte menus have separate kids' menus. It was amazing for kids to be able to choose exactly what they wanted when they wanted it, and simplified vacationing with kids by at least 50%.
I am someone who has always found buffets challenging for hygiene reasons. But since this was really the main option at Club Med Cancun, I needed to find my peace with it quickly. And while yes, I did see a man grab a chocolate panna cotta off the serving tray with his bare hands and eat it while walking, a sight I still haven't fully processed, I was also impressed with the quality of foods offered at each meal and relieved that there were lots of hand sanitizer machines available. La Hacienda has a nice and slightly hidden terrace as well, which I liked better than the dining rooms that are set around the main buffet area.
Pro Tip: For the price of a bottle of wine (or spirits), you can enjoy the lovely surroundings at the often-undersubscribed La Bodega, downstairs from the La Hacienda. La Bodega also has a (paid) meal option that must be booked in advance. But I loved just sitting at a comfortable seat in this peaceful bar next to the lagoon in the evening, and thought it was worth paying a little extra for the experience.
The Spa
You could walk by the spa a thousand times and not realize just how beautiful the space is beyond its front doors. Set adjacent to the fitness center, the Club Med Spa by L'Occitane is honestly a little hard to book (at least at the time of this review in Spring 2023) in advance, but that shouldn't let it deter you from scheduling a treatment once you arrive. The space—particularly the relaxation space downstairs and the temazcal sweat lodge upstairs—are perfectly serene. The treatment rooms are beautifully designed, and many include private balconies. And the range of treatments, from facials and massages to hammam bath experiences and temazcal ceremonies, reflects both traditional spa offerings and place-specific options.
Tips
If your flight leaves in the late afternoon or evening, you can check out but request day access. Your luggage will be stored and you can get a locker for your day-use items (there are lockers at the main resort tucked behind the ping pong tables and at Aguamarina along the side of the lobby). Then you can enjoy a relaxing day by the pool or beach, grab some lunch, and shower and change in time for your departure to the airport.
Stays are geared around Sunday arrivals and Saturday departures. This means that the biggest evening events are on Friday as a sort of finale to the week. It also means that there are the fewest activities offered on Sunday, since that's generally when people are arriving.
More from FamilyVacationist: