With postcard-perfect beaches, pre-Columbian archeological sites, and year-round sunny weather, there are so many reasons for families to vacation in Mexico—and an almost endless list of things to do on Mexico family vacations, too. Does your kid dream of becoming a marine biologist? Try a family snorkeling trip in Puerto Morelos or watch humpback and gray whales from a tour boat in Los Cabos. For future Indiana Joneses, there's Merida with its Mayan ruins. And for relaxing on the beach, well, the options are almost too many to count.
The Most Kid-Friendly Family Vacation Spots in Mexico
With its delicious cuisine, vibrant culture, and all-inclusive Mexico resorts, the best places to visit in Mexico deserve a spot on your family vacation ideas wish list. Here are the top destinations for Mexico family vacations with the kids.
NO HIDDEN FEES: 13 Best All-Inclusive Family Resorts in the World
1. Merida, Mexico
Best Family Vacation Spot in Mexico for Exploring Mayan Ruins
The Spanish colonial architecture in Merida is as colorful as a box of crayons, and the city's tree-lined Plaza Grande is its vibrant heart. Each Sunday, the sound of mariachi and marimba bands attract visitors to the Merida en Domingo festivities. Streets are closed to traffic during this cherished Sunday tradition of music, dance, and merriment.
ROMANTIC GETAWAYS: 10 Most Romantic Mexico Resorts for Couples
Located on the Yucatan Peninsula, Merida is close to one of the world's largest Mayan populations, and their legacy can be explored at the interactive El Gran Museo Del Mundo Maya. A rich collection of artifacts and high-tech multimedia exhibits help to weave the past into the present. The famed Mayan ruins of Chichen Itza and Uxmal are easily visited as day trips from Merida, along with many other lesser-known archeological sites of interest.
The Lucas de Gálvez Market is a joyfully chaotic ode to Mexican commerce. Vendors sell everything from precious crafts to dime store souvenirs. Street food was practically invented in Mexico and you'll find plenty of zesty options to nibble as well.
The weather in Merida can be steamy. Thankfully, deep sinkholes called cenotes dot the city's outskirts, presenting refreshing swimming options. For a seaside day trip, the beaches of Progreso are under an hour away.
Best Place for Families to Stay in Merida
Walking distance from Merida's top attractions, El Palacito Secreto is a luxury boutique hotel that welcomes all ages. A gorgeous pool, bountiful breakfast, and shady interior gardens make it a great choice for families.
2. Los Cabos, Mexico
Best Family Vacation Spot in Mexico for Marine Life Viewing
At the southernmost tip of Baja California, Los Cabos includes the cities of Cabo San Lucas and San Jose del Cabo, plus the tourist corridor that runs between the two. With a dramatic shoreline, sapphire-colored water, and cruise-fueled tourist infrastructure, it's no wonder this area is considered one of the best places to visit in Mexico for families.
VACATION IDEAS: 10 Best Caribbean Family Resorts with Kid-Friendly Perks
Cabo's beaches have remained relatively unspoiled, even as tourism has mushroomed. And while many beaches here are not suitable for swimming due to rough surf and strong undertow, families can head to popular Medano Beach, where the gentle water is safe and the soft sand feels great on bare feet.
Los Cabos is a migratory stop for Pacific whales, some who come to birth their calves in the warm water. Whale watching season usually peaks from late December until late March, drawing animal lovers from across the globe. Book a boat tour from one of numerous local companies and you're likely to see humpback and gray whales frolicking, plus schools of mothers and their adorable calves.
A glass-bottom water taxi is a great way to see a colorful assortment of marine animals any time of year. The scenery-studded journey presents magnificent views of the famous natural arch and Land's End.
Best Place for Families to Stay in Los Cabos
Villa La Valencia Beach Resort and Spa is an all-inclusive hotel with Los Cabos' longest lazy river, a kid's club with a fully trained staff, poolside restaurant, and spacious suites with up to four bedrooms. 
3. Puebla, Mexico
Best Family Vacation Spot in Mexico for Families with Teens or Tweens
An inland city 85 miles southeast of Mexico City, Puebla is home to numerous institutions of higher learning. It's one of the best cities in Mexico for families with teens or tweens because of the youthful infusion of energy that all those students bring.
TRAVEL WITH TEENS: 10 Best Vacation Ideas for Families with Teens
The Zócalo is Puebla's leafy public square. Here you can stroll, people-watch, and listen to an impromptu concert as you soak in local life. Ride La Estrella, a massive Ferris wheel, for sky-high views of the cityscape. Channel your inner Willy Wonka and head to Calle de los Dulces ("Street of Candies"), a bustling street lined with scores of sweet shops. Sample sugary delights like Puebla's famous sweet potato-based camotes and irresistible tortitas de Santa Clara, a delicate shortbread cookie topped with pumpkin-flavored icing.
Best Place for Families to Stay in Puebla
In the center of Puebla, Hotel Palacio San Leonardo is a restored historic structure with 21st century service. Guest rooms come with practical amenities for families like complimentary cribs and cable TV. An outdoor pool and onsite restaurant elevate the guest experience.
4. Puerto Vallarta, Mexico
Best Family Vacation Spot in Mexico for a Lively Beach Vacation
Popular Puerto Vallarta is a seaside resort surrounded by verdant hills. Its breezy beaches attract visitors from around the world, while its accepting attitude has helped to make it popular with the LGBTQ+ community, including LGBTQ+ family vacations.
DREAM TRIPS: 11 Caribbean Vacations That Have Something for Everyone in the Family
Kids especially love Puerta Vallarta's Aquaventuras Park, a giant water park with waterslides, a zip line, and pools. Between swims in Banderas Bay, take time to walk or cycle the waterfront promenade. It's lined with shops, restaurants, and contemporary sculptures big enough for kids to climb on.
Local is the catchword at Olas Altas Farmers' Market, held seasonally each Saturday at Lazaro Cardenas Park in the Romantic Zone. Everything sold is grown, baked, or made by vendors who live within 50 miles. Watch weavers and basket makers in action as you're serenaded by live musicians.
Best Place for Families to Stay in Puerto Vallarta
Situated on 10 oceanfront acres, Velas Vallarta is an all-inclusive resort with an in-house, all-female mariachi band and a sea turtle conservation program. At the kid's club, little ones can enjoy face painting and treasure hunts, freeing parents to relax by the water or at the spa.
5. Puerto Morelos, Mexico
Best Family Vacation Spot in Mexico for Family Snorkeling
Drive a few dozen miles south of touristy Cancun and you'll arrive at Puerto Morelos and the start of Mexico's Riviera Maya. This coastal strip is quickly developing but it retains enough of its low-key flavor to feel authentic. Puerto Morelos is a still-sleepy fishing village with a tilted lighthouse that locals joke is their version of the Leaning Tower of Pisa. Stroll the pier, shop for a hammock at the open-air market, and let the kids romp in the sunny playground.
BEACH DAYS: 10 Most Beautiful Caribbean Beaches (and Where to Stay Near Each)
The area's Mesoamerican Barrier Reef is the second largest reef in the world. There's excellent snorkeling very close to the shore, perfect for novices. At Croco Cun Zoo, you won't just view animals, you may touch, hold, and feed a variety of reptiles and mammals. An English-speaking guide accompanies you to help curate a personalized experience.
Best Place for Families to Stay in Puerto Morelos
A short walk or easy bike ride from the village, Grand Residences Riviera Cancun has multiple swimming pools, spacious suites with private terraces, and exceptional service. The multilingual staff at the kid's club teach youngsters Mayan games and piñata making. Delicious dining is the cherry on top.
6. Cancun, Mexico
Best Family Vacation Spot in Mexico for Having Everything at Your Fingertips
People who choose sun-drenched Cancun for their Mexico family vacations do so because because everything your family could want in a vacation spot is right there at your fingertips. It's also one of the most popular places to go in Mexico because it's easy to get to by plane. And with seemingly endless restaurants, shops, and resorts for every budget—not to mention a virtual guarantee you'll get sunshine—Cancun is a great place to kick back with the family.
FAMILY HOTELS: 12 Best Cancun Resorts for Families with Kids and Teens
Should you choose to stay in the Cancun hotel zone, you might be entirely satisfied with spending your whole vacation on the beach in front of your resort. But if you're feeling adventurous, it's worth it to make the short jaunt to Playa Chac Mool, known for its turquoise waters. And if your family loves to go snorkeling or SCUBA diving, head to MUSA (the Museo Subacuatico de Arte) to witness one of the largest underwater art attractions in the world.
When it's time to get out of the sun, visit the Cancun Mayan Museum to learn about the rich cultural history of this magical spot, then plan a visit to Chichen Itza to explore ancient ruins up close. And for another side trio, head to Isla Contoy national park (about 19 miles north of Cancun) to see more than 150 bird species, pristine beaches, and lush fauna.
Best Place for Families to Stay in Cancun
If what you're coming to Cancun for relaxation and the beach, look no further than Club Med Cancun for your hotel. Consistently rated as one of the best resorts in Mexico, it sits at the tip of the Riviera Maya. With three of its own white sand beaches and easy access to snorkeling at the world's second largest coral reef, everything you need for fun in the sun is right there.
7. San Miguel de Allende, Mexico
Best Family Vacation Spot in Mexico for Families Who Love Art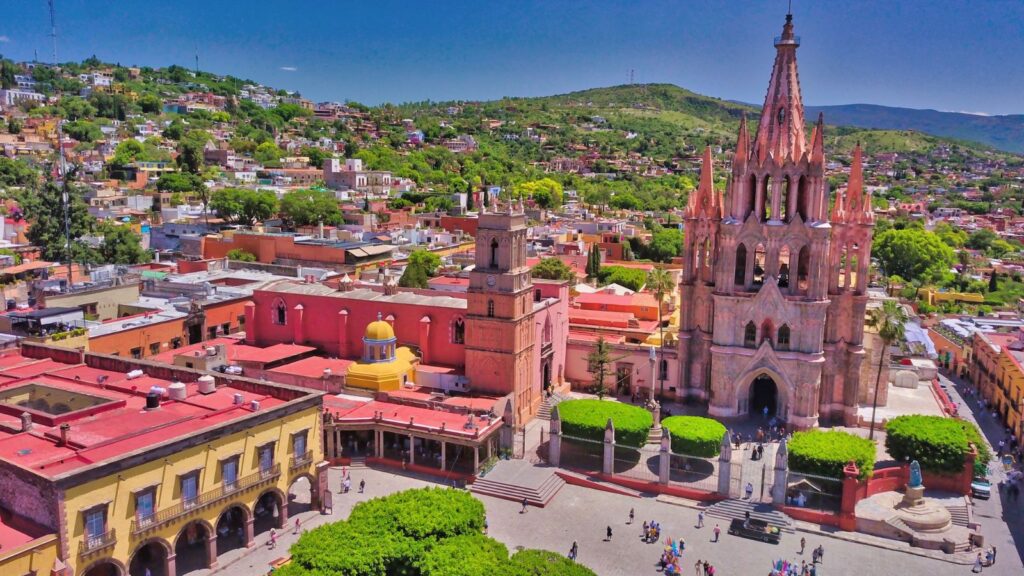 On the cool slopes of the Bajio mountains, San Miguel de Allende is a picturesque town often touted as one of the most beautiful small cities in the world. A haven for visual artists, expats, and students, this treasure of Mexican colonial architecture has been designated a UNESCO World Heritage Site.
LEAVE THE KIDS AT HOME: 11 Best Adults-Only All-Inclusive Caribbean Resorts for Couples
Young and old alike will enjoy strolling through the Fabrica La Aurora, a converted textile mill, to get a sense of the deep artistic commitment and skill of the San Miguel de Allende's residents. And the Tacos and Tequila Food Walking Tour is a fun way to discover other distinct structures, such as the gothic- and Moorish-inspired La Parroquia de San Miguel Arcángel church.
If you're keen to spend time outdoors on your Mexico family vacation, the El Charco del Ingenio Botanical Garden offers not just a wide variety of cacti and native plants but also outdoor concerts that draw visitors and community members alike. Take a break from the artisan markets by spending a few hours in the Parque Benito Juarez with a picnic or to enjoy the local flora.
Best Place for Families to Stay in San Miguel de Allende
Relax at the luxurious Rosewood San Miguel de Allende in the historic heart of the town, where the hand-carved furniture, wood beams, and hacienda style will appeal to your artistic sensibilities. Babysitting, a pool, and a kids club cater to your needs as a family.
8. Huatulco, Mexico
Best Family Vacation Spot in Mexico for a Quieter Beach Vacation
Less developed than other tourist areas in Mexico, Huatulco shines with pristine beaches and bays along the Pacific Coast of the culturally rich province of Oaxaca. The region has made a commitment to ecologically sound development, and Huatulco's infrastructure preserves the water quality of the area's nine natural bays—which means you can't go wrong with any beach.
A few of the best Mexico family vacation ideas here include swimming and snorkeling at Playa La Etrega, strolling the white sand beach at Tangolunda Bay, and venturing (slightly) further afield for the quiet beauty of Bahia de Cacaluta, one of the country's most spectacular beaches.
When you've tired of the beach but still want to experience the crystal clear waters of the Pacific, try a guided excursion to Cascadas Magicas de Copalitilla (a.k.a. the Copalitilla Magical Waterfalls) for an active and insightful family adventure in the mountains. Similarly, a guided tour or trip to Huatulco National Park will give you access to boat-in beaches, turtle nesting areas, and fabulous trails.
Best Places for Families to Stay in Huatulco
With 80 percent Huatulco's tourists coming from within Mexico, prices are lower than other Mexico vacation spots. This means there's a wide variety of price points for families. Some suggestions for where to stay include the highly rated but very affordable Hotel Arenas del Pacifico and Mision de los Arcos in Huatulco. Closer to the national park, Las Brisas Huatulco is ideally situated along Tangolunda Bay.
9. Santiago de Queretaro (Queretaro City), Mexico
Best Family Vacation Spot in Mexico for Culture and History Lovers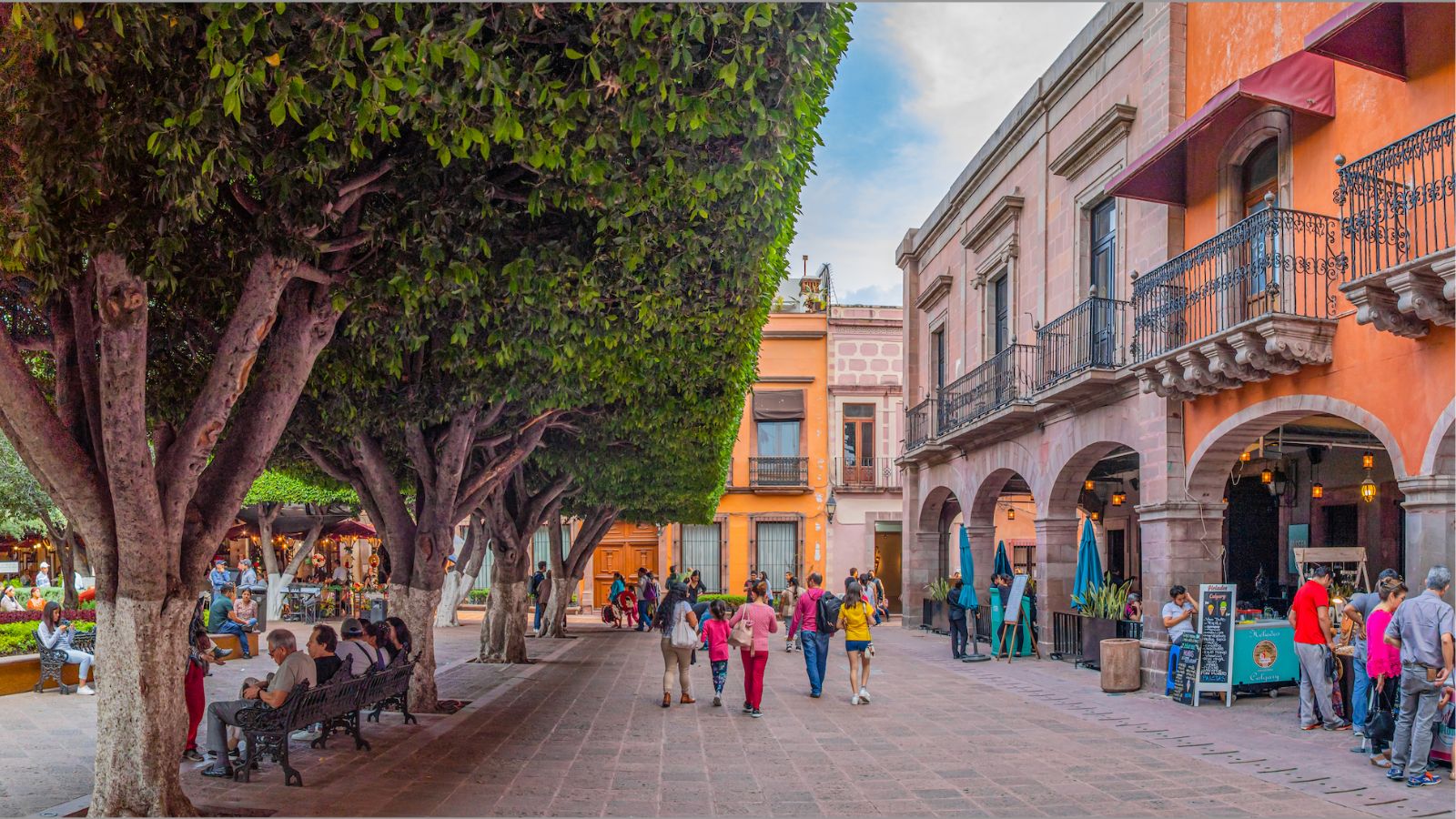 A colonial city in the heart of the highlands of Mexico, Queretaro City is the capital of its namesake state and one of the best vacation spots in Mexico for families. As one of Mexico's 35 UNESCO Heritage Sites, Queretaro City's historic center boasts 1,400 designated monuments (such as Neptune's Fountain), many of which you'll encounter as you stroll through the pedestrian-only area of the city on your Mexico family vacation. On hot afternoons, stop into one of the 20 museums, such as the Calendar Museum or the Art Museum, to take in Mexican culture and escape the heat.
Lace up your hiking shoes to explore one of the world's largest monoliths, Pena de Bernal. It's worth the full-day trip (best done with a guide) to Bernal to have the experience of walking the monolith. Another fun thing to do in the area is visiting and exploring the historic El Cerrito Pyramid, one of the largest pyramids in the region. A trip to the El Cerrito Archeological Zone is more than a trip back in time—it's also lesson in archaeology because the spot is still being excavated.
Best Place for Families to Stay in Santiago de Queretaro
Because it's a less touristy destination for non-Mexican travelers, prices in and around Queretaro are reasonable compared to other Mexico family vacations. With that in mind, why not take advantage of the spaciousness, beautiful courtyard with pool, Wi-Fi, and air conditioning of the Dona Urraca Hotel and Spa? With basic and junior suites to choose from and a central location in the city, you'll have enough space inside and easy access to sights and tastes of the city right outside of the hotel's doors.
10. Mazatlan, Mexico
Best Family Vacation Spot in Mexico for Witnessing the Crossroads of History and Beauty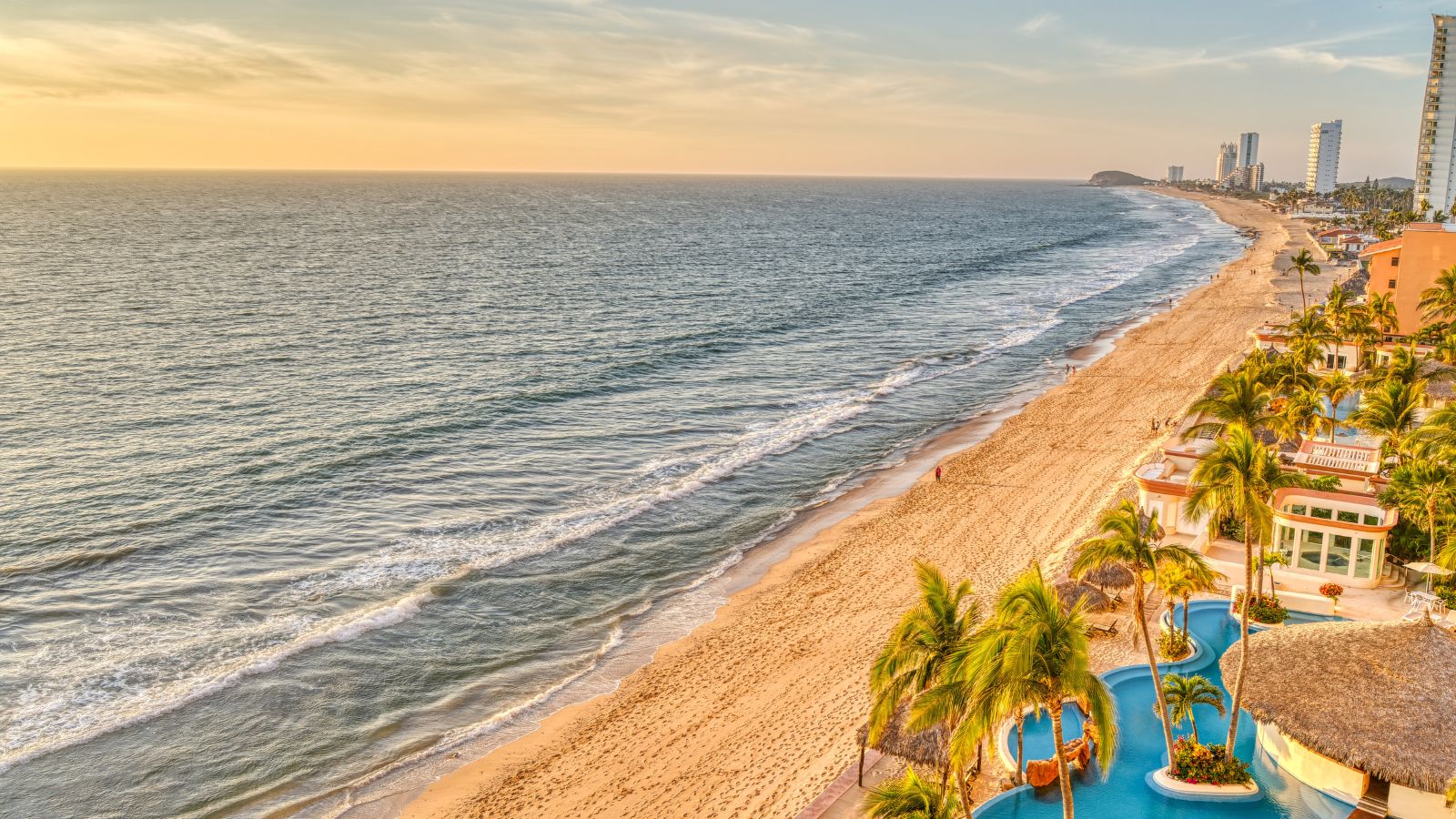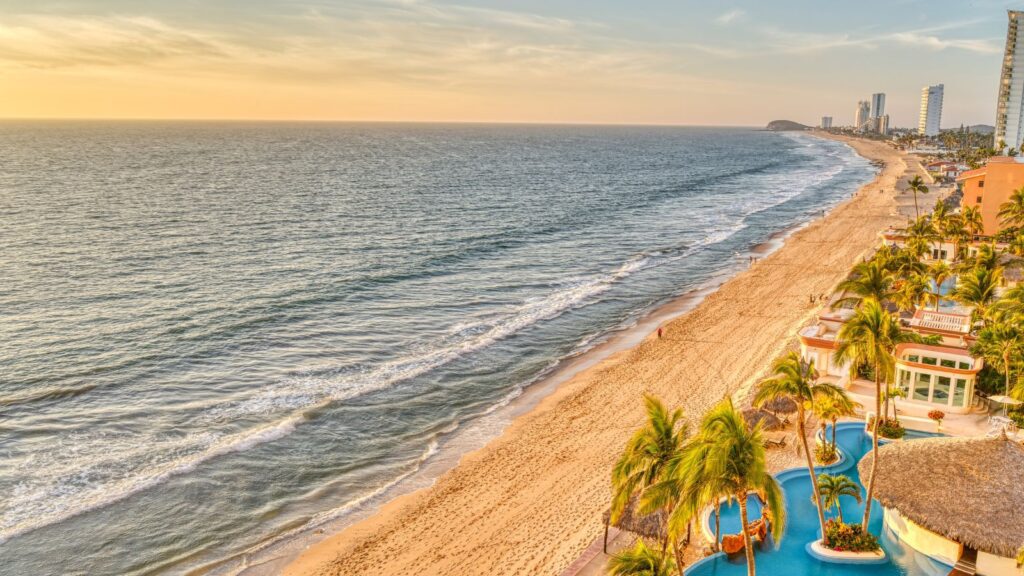 Across from the southern tip of the Baja Peninsula on Mexico's Pacific Coast, Mazatlan is a lively beach resort town with enchantingly rugged cliffs and a welcoming vibe. Mexico family vacations here offer a mix of sightseeing, beaches, and visits to the historic towns of the Sierra Madre countryside.
Walk the long Malecon de Mazatlan to see cliff divers perform for donations, then head to El Faro Mazatlan to discover the tallest natural lighthouse site in North America (the lighthouse is at the top of Mazatlan's highest hill, Cerro Creston). Take a stroll around Plaza Machado, the city's central plaza, and make time to visit the city's fine aquarium, Acuario Mazatlan.
WATER WORLDS: 10 Best Caribbean Resorts with Water Parks
If adventuring and beaches are more your speed, head to the quiet and undeveloped Playa Cerritos, which tends to be less crowded than nearby (and more lauded) Playa Brujas. For a more remote experience, venture into the Sierra Madre mountains and step back in time in the towns of Concordia and Copala.
A note about safety: In the heart of the tourist areas of Mazatlan, you'll be in one of the safest tourist areas of Mexico. Venturing into other districts and surrounding areas, however, you will want to use caution and travel in a guided group or with professional transport.
Best Place for Families to Stay in Mazatlan
You'll find affordable family accommodations at Costa de Oro Beach Hotel, which has in-room kitchenettes, a kids club, direct beach access, and a swimming pool.
11. Tulum, Mexico
Best Family Vacation Spot in Mexico for Doing it All in One Trip
Tulum has maintained its small town charm while slowly becoming a destination for artists, and nature, history, and beach lovers. Given its location and offerings, Tulum is an ideal family vacation destination in Mexico. Galleries and restaurants coexist with the Tulum Mayan Ruins easy access to the cenotes (a natural sinkhole often used as a swimming spot) of the Riviera Maya. The not-to-be-missed Sian Ka'an Biosphere Preserve is best explored with a guided kayak tour through the mangroves in this one of a kind park.
BYE-BYE BEACH: Top 5 Cities to Visit in Mexico When You Get Tired of the Beach
For the family that loves a thrill, many visitors to Tulum flock to any number of the region's Adventure Parks, notably Xcaret and Xel-Ha; though a full-day visit is an expense for a family, there is so much to do – from ziplines and rafting to beach coves and cultural shows – that you'll likely find it worth the cost. For a quieter experience, travel on your own or with a guide to Gran Cenote.
Best Place for Families to Stay in Tulum
The resorts of Playa del Carmen and Cancun do not exist in this small beach town, so if you are going to stay in Tulum, you'll find more easy going, rustic lodging and more casual service. With family-friendly suites and a great restaurant, Cabanas La Luna is a great option for family lodging in Tulum; for those who really want to settle in, La Luna also boasts a 4-bedroom, 3-bath villa with a full kitchen.
More from FamilyVacationist: