All-inclusive family resorts make vacations with kids easy. All you need to do is check in and unpack, because your activities, meals, and childcare needs are all taken care of. And at the best all-inclusive resorts for families, you get roomy accommodations and top-notch service in some pretty amazing family vacation spots around the world, too.
2024's Best All-Inclusive Family Resorts in the World
Some of the best all-inclusive beach resorts can be found on tropical islands like Aruba, Jamaica, Hawaii, Puerto Rico, and The Bahamas. But the options don't stop there. Beyond the beach, my picks for 2024's best all-inclusive family resorts include a dude ranch in North America, a rainforest resort in Costa Rica, and even one with front row seats to dine with giraffes. Whatever your interests or budget, you're sure to have one of the best family vacations ever at these family resorts.
CLOSE TO HOME: 21 Best All-Inclusive Resorts in the U.S. for Families in 2024
1. Beaches Turks and Caicos All-Inclusive Family Resort
Providenciales, Turks and Caicos
The largest of the Beaches Resorts chain's three all-inclusive family resorts in the Caribbean, Beaches Turks and Caicos occupies as whopping 12-mile stretch of the Caribbean's turquoise blue and ultra-swimmable Grace Bay. An all-inclusive family vacation at this Beaches location includes meals in any of 21 different restaurants and eateries, most drinks, free childcare at its extensive kids club, plus access to its 10 pools, 45,000-square-foot water park, game rooms, beach, and most water sports (including a snorkeling cruise).
SAVE MONEY: Kids Stay Free at These 10 All-Inclusive Family Resorts in 2024
You'll hear zero complaints of boredom with this all-inclusive family resort's lineup of activities, which include beach volleyball, kayaking, lawn games, sailing, SCUBA, snorkeling, stand-up paddle boarding, tennis, windsurfing, the Pirates Island Waterpark, and nightly entertainment like outdoor movie nights by the pool. You also have opportunities to give back to the community with Beaches' Island Impact volunteer program.
Beaches keeps this massive Turks and Caicos all-inclusive resort feeling cozy and friendly by dividing it into five distinctly themed "villages." In the heart of it all is the Mediterranean-feeling Italian Village, home to a giant pool with a swim-up bar at one end and a schedule of fun activities at the other. Near the water park and stage (where there's a schedule of daily evening entertainment, including Sesame-Street themed shows for younger kids), there's the chateau-inspired French Village. The Caribbean and Seaside Villages flank the resort on one side and offer easy access to the younger kids club, some of the fancier restaurants, and the beach, while Key West Village offers a quieter scene and some villas right on the beach for bigger groups and families.
More about Beaches Resorts:
2. Nickelodeon Hotels and Resorts Riviera Maya
Playa del Carmen, Mexico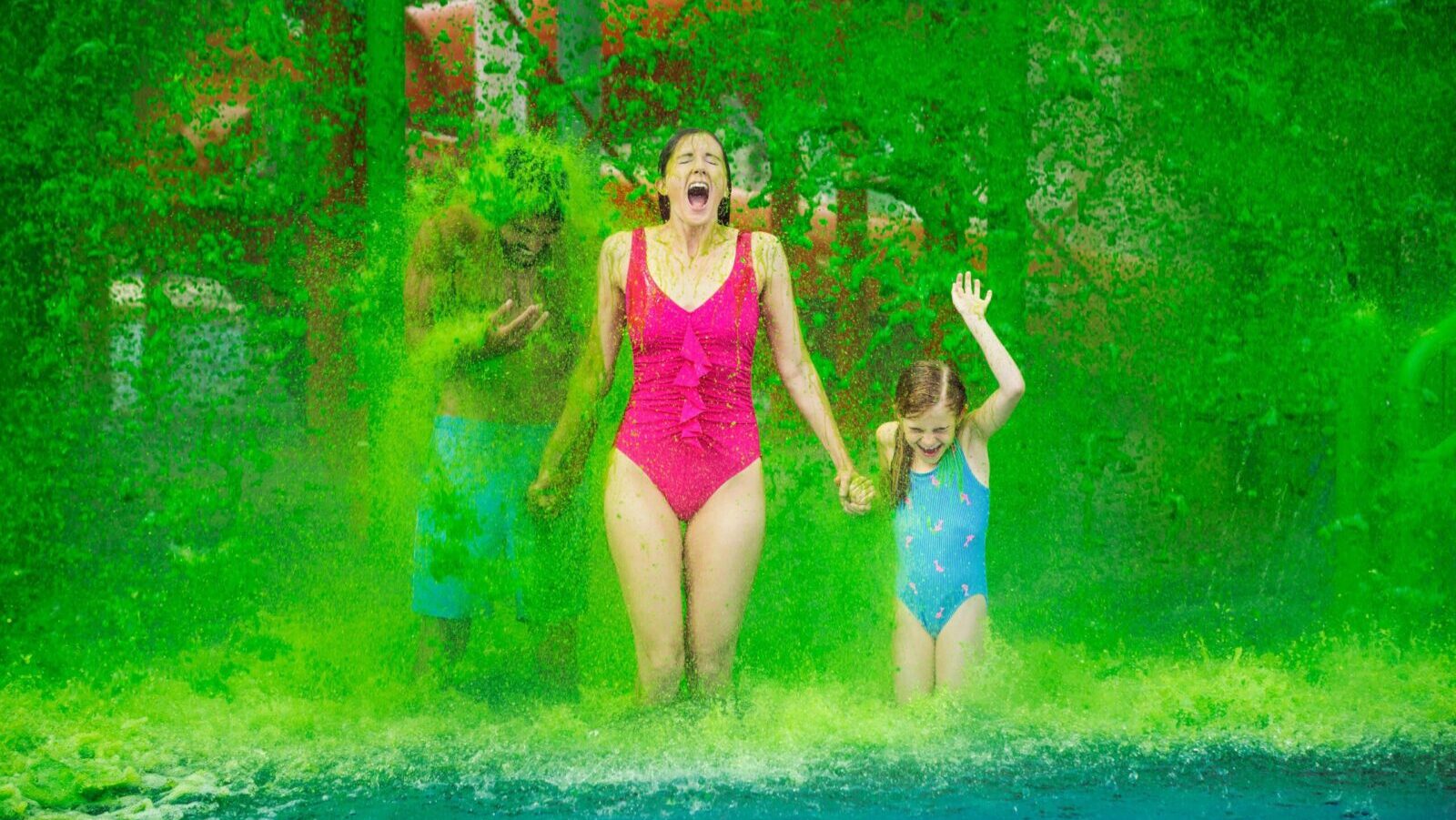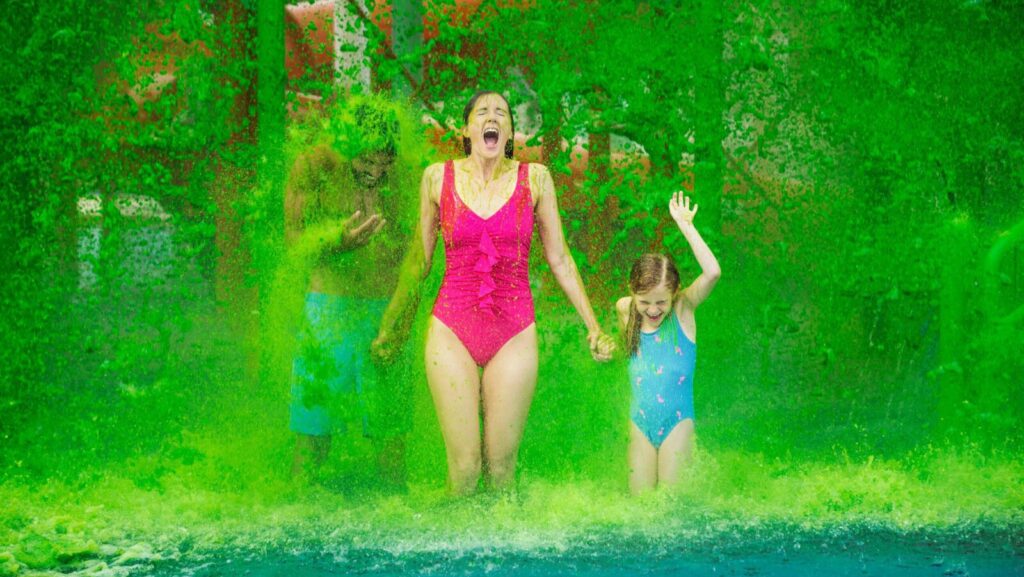 Located in Playa del Carmen about 30 minutes south of the Cancun airport, the incredibly kid-friendly Nickelodeon Hotels and Resort Riviera Maya isn't just one of the top Mexico all-inclusive resorts, it's one of the best in the entire world. Kids will get to meet some of their favorite characters around the resort. You might run into SpongeBob SquarePants, Dora the Explorer, the Teenage Mutant Ninja Turtles, or the pups of PAW Patrol. Parents, meanwhile, will appreciate the all-inclusive price tag that includes dining at six kid-friendly restaurants, premium beverages, and resort activities.
RESORT REVIEW: Nickelodeon Hotels and Resorts Riviera Maya: Everything You Need to Know
Every single room here is a spacious swim-up suite with ocean views, and the centerpiece of this Nickelodeon all-inclusive family resort is its six-acre Aqua Nick outdoor waterpark, one of the biggest water parks in Mexico. It has a mix of thrill rides like the slides at Soak Summit Tower, chill rides like the jungle-inspired lazy river, and of course (since this is a Nickelodeon resort) the chance to get slimed. There's also another Nickelodeon resort located in Punta Cana in the Dominican Republic with similar features.
3. Jean-Michel Cousteau Resort
Savusavu, Fiji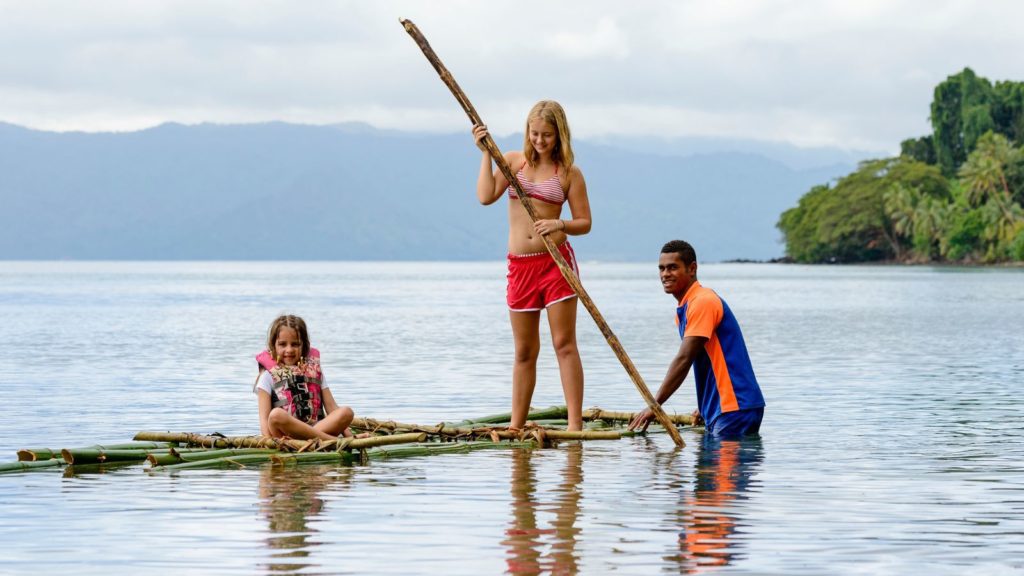 One of the best all-inclusive resorts for families with kids who love the water is Jean-Michel Cousteau Resort in Fiji. The kid-friendly property has everything you'd expect from an all-inclusive beach retreat—snorkeling, kayaking, surfing, and scuba diving, to name a few activities—but this eco resort also excels at making conservation education fun. Jean-Michel Cousteau Resort staffs a resident marine biologist, and its award-winning Bula Club for Kids offers complimentary nature programming. The resort's philosophy is to teach children about the region's unique ecosystem and impart lessons about how to protect and conserve the environment.
TRAVEL WITH TEENS: 10 Best Vacation Ideas for Families with Teenagers in 2024
That all sounds a little serious, and it is, but with a waterslide, zip line, trampoline, and more, it's also super fun. Kids are also incredibly well looked-after here: children five and younger have a dedicated nanny, while kids six to 12 are in groups of no more than five kids led by a "buddy" kids club coordinator. In the evening, families can take in a presentation together from the resident marine biologist. Over the course of the vacation, you will come to appreciate Fijian culture that dates back thousands of years.
The 17-acre resort's all-inclusive rates include all meals, non-alcoholic beverages, round-trip ground transportation to/from Savusavu Airport, Wi-Fi, Bula Club for Kids, and a wide range of activities and excursions. And at the end of each day on your stay, your family can head back to a luxurious two-bedroom private bure (the Fijian word for bungalow), put the kids to bed in their bedroom, and unwind on the hammock or chaise overlooking the ocean.
4. Mashpi Lodge
Quito, Ecuador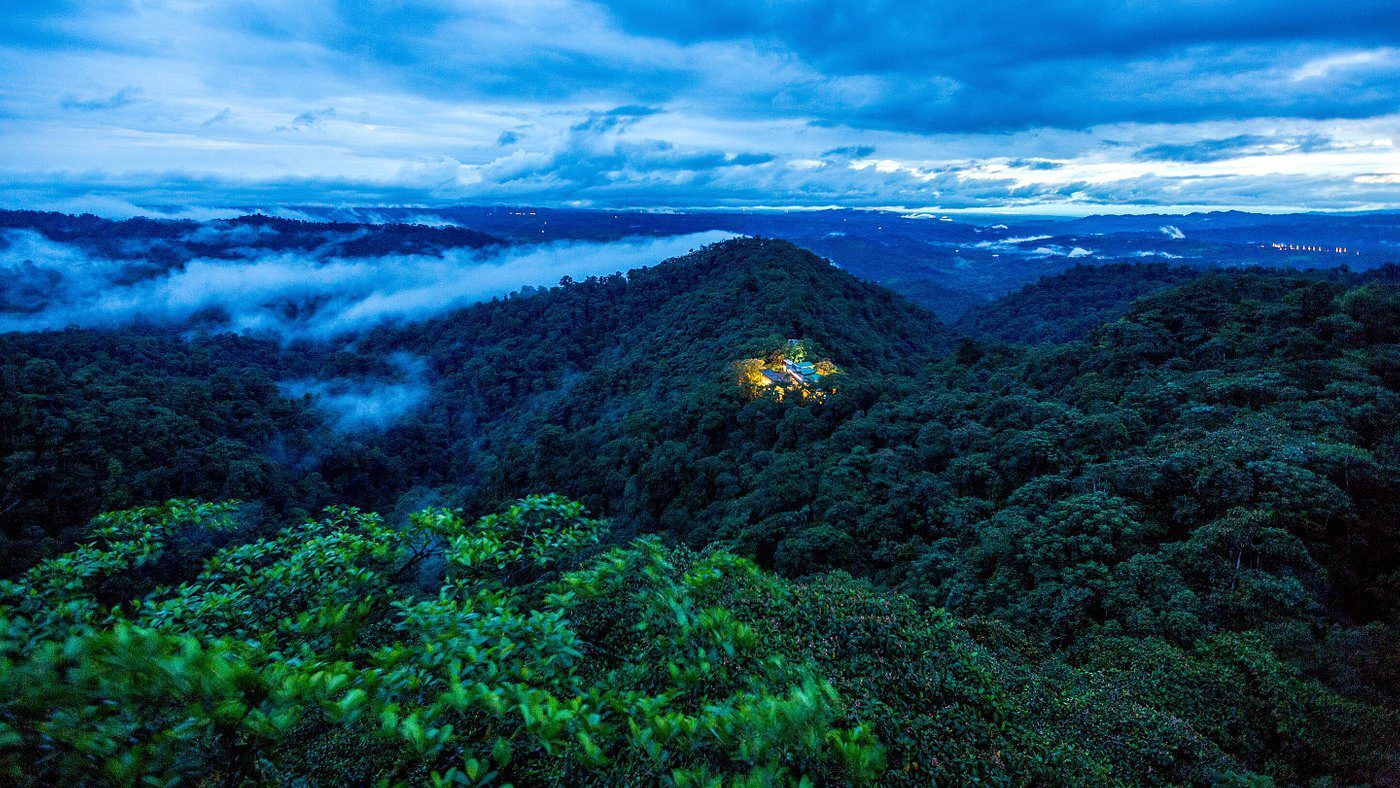 Immerse yourself in nature without giving up any modern comforts with a stay at Mashpi Lodge. Situated in a cloud forest reserve just outside of Quito, this Ecuadorian all-inclusive family resort will immerse the whole family in a natural setting that's home to all kinds of birds, animals, and plants, including some species found nowhere else in the world.
CLOSE TO HOME: 8 Best Puerto Rico All-Inclusive Resorts for Families in 2024
Stays here are considered "expedition experiences," with skilled guides who help you explore the amazing natural wonders nearby. After a full day of hiking, wildlife watching, and learning about the local ecosystem, you can relax in your sustainable and modernly designed room with floor-to-ceiling panoramic glass windows so you don't miss a minute of nature's show. Meals are just as impressive, with breakfast and lunch buffets and à la carte dinners that take place in a dramatic two-story dining room. Rare fruits, herbs, and spices are often spotlighted.
5. Giraffe Manor
Nairobi, Kenya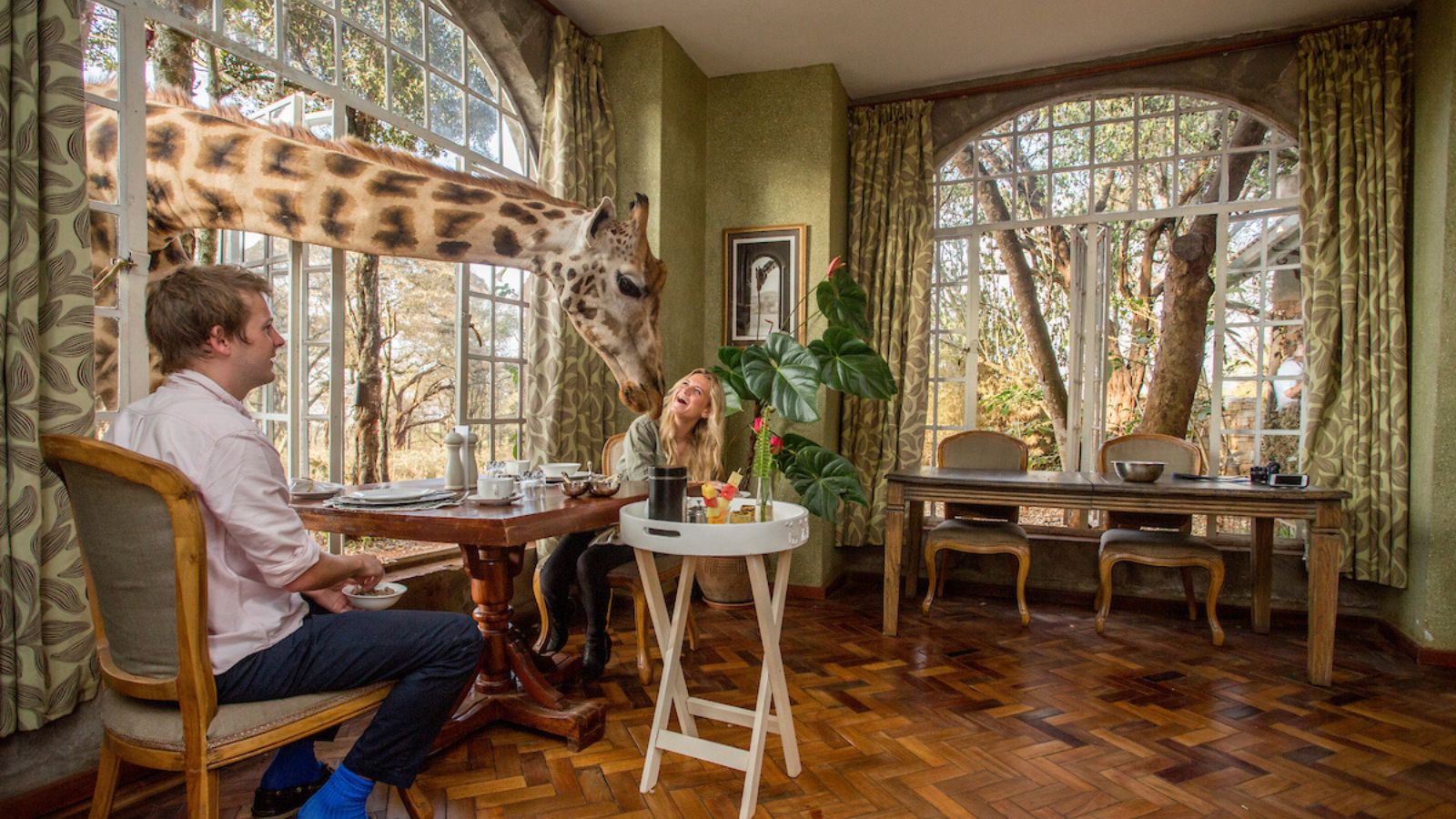 For an experience that's part-safari, part country-house, check out Giraffe Manor in Kenya. Styled after a 1930s Scottish hunting lodge, this family-friendly all-inclusive resort is nestled into 12 serene acres within a 140-acre forest of the Lang'ata district of Nairobi. The highlight is its resident herd of Rothschild's giraffes, known for sticking their long necks into the dining room windows for a snack.
MAKE MEMORIES: 50 Best Family Vacation Ideas for All Ages in 2024
The all-inclusive rates at Giraffe Manor include arrival and departure transfers, all meals, beverages (including house wine, beer, and spirits), WiFi, laundry, and entry to the African Fund for Endangered Wildlife Giraffe Center. After its famous breakfast with giraffes, you can hike around the grounds, visit (and sponsor) orphaned elephants at the Sheldrick Wildlife Trust, explore nearby Nairobi National Park in a private vehicle with a guide, relax at the full-service spa, or play classic family lawn games like croquet and boules.
6. Divi Aruba All Inclusive and Tamarijn Aruba All Inclusives
Oranjestad, Aruba
The southern Caribbean island nation of Aruba is known for its white sand beaches, crystal-clear water, and all-inclusive family resorts. Divi Aruba and its sister resort, Tamarijn Aruba, occupy a mile and a half of Aruba's beautiful Druif Beach, and guests staying at either property have full access to the facilities and services of both. The kid-friendly resorts' all-inclusive rates allow families to enjoy meals and snacks at any of 10 different dining locations, as well as unlimited drinks at eight bars between the two resorts.
KID-FRIENDLY: 19 Best Family Resorts and Hotels in the U.S. for 2024
Families can cool off and hop into four different freshwater pools. The Sea Turtles Club is free for children ages four to 12 and offers supervised activities, arts and crafts, entertainment, and even a 30-foot rock wall on the beach. Non-motorized water sports such as snorkeling, windsurfing, catamarans, and floats are included for all. Family-friendly animal adventures to a donkey sanctuary, butterfly garden, and ostrich farm can also be arranged. Bike tours to Boca Cataavlina beach and the 1910s California Lighthouse are all included as part of the all-inclusive package as well.
7. Club Med Quebec Charlevoix
Quebec, Canada
Unsurprisingly given its location, Club Med Quebec Charlevoix really shines in the winter. Spread out over more than 300 acres, the all-inclusive family resort offers unlimited ski-in/ski-out access with lift passes and group lessons included in your stay. Other chilly weather activities include ice skating, dog sledding, and a more-than-four-mile luge track to brave. The resort's kids' clubs for babies through teens also get in on all the wintry fun.
WARM VACATIONS: 7 Best All-Inclusive Resorts in Florida for Families in 2024
But there's lots to enjoy here at other times of the year too, from hiking scenic trails and circus lessons for the whole family to exploring Quebec City year-round. Large picture windows frame the views from the indoor pool, while delicious meals featuring local ingredients are always on the menu, along with plenty of kid-friendly favorites.
Book a room with a view of the St. Lawrence River, or opt for one of the suites in the resort's Exclusive Collection Space, which offer sweeping views and exclusive amenities and services like a lounge with a fireplace, a whirlpool on the terrace, and a concierge. Accommodations draw design inspiration from the American Indian and traditional Quebecois cultures as well as the natural landscape surrounding the resort.
8. Tyler Place Family Resort
Vermont, United States
Close to the Canadian border on the shores of Lake Champlain, Vermont's Tyler Place Family Resort has welcomed families since the 1930s. Rates at this classic destination for all-inclusive family vacations cover accommodations, meals, and most activities, and there are no extra fees for kids programs or activities (of which there are a lot). The lakefront resort offers programming for all ages, from babies to adults.
FAMILY HOTELS: 9 Fun Hotels for Kids with Incredibly Cool Kids Clubs in 2024
Kids' camp activities include bike rides, lake swimming, paddle boarding, and rock climbing. Groups are divided up by age so everyone is doing activities suited to their age. While the kids are having fun with new friends, adults get to have their own summer camp adventures with activities like yoga, tennis, pottery-making, gardening intensives, kayaking, and spa time (yes, there's a spa).
9. Tanque Verde Ranch
Arizona, United States
Dude ranches are among the best options for all-inclusive family vacations because there's something to appeal to virtually all travel tastes. In Tuscon, Tanque Verde Ranch offers plenty of activities for both kids and adults, and it's set in a stunning location adjacent to Saguaro National Park. Like all of the best dude ranches for families, the highlight here is horseback riding, but other family-favorite activities include mountain biking, guided hikes, fishing, archery, tennis, yoga, and nature and animal programs.
LUXURY CAMPING: 10 Family Glamping Resorts Where You Can Get Away from it All in 2024
Families will not go hungry with the all-inclusive cowboy fare that includes three hearty meals a day. There's also horseback and mountain bike rides as well as a "legends and lore walk" to breakfast each day. Cowboy cookouts twice a week boast live music and entertainment prior to dinner. The supervised kids' program offers a full day of age-appropriate activities for children ages four to 12, allowing adults to relax, ride, or check out the resort's full-service spa.
10. Barcelo Hydra Beach Resort
Thermisia, Greece
Located on the shores of the Aegean Sea, Greece's Barcelo Hydra Beach Resort isn't just one of the best all-inclusive resorts in the world, it's also something of a secret hideaway for U.S. families. In the evening, everyone in the family can head to the beachfront nightclub for live entertainment. Two-bedroom bungalows provide plenty of space for large families or splurge-worthy multigenerational family vacations.
WORTH THE HYPE: 10 European Tourist Attractions That Every Kid Should See
Rates include meals at four different onsite restaurants; multiple swimming pools; access to three different beaches; a children's center with activities including their own outdoor pool; water sports such as kayaking, canoeing, and snorkeling; outdoor recreation like tennis, soccer, and volleyball; and a fully equipped fitness center.
11. The Westin Reserva Conchal All Inclusive
Playa Conchal, Costa Rica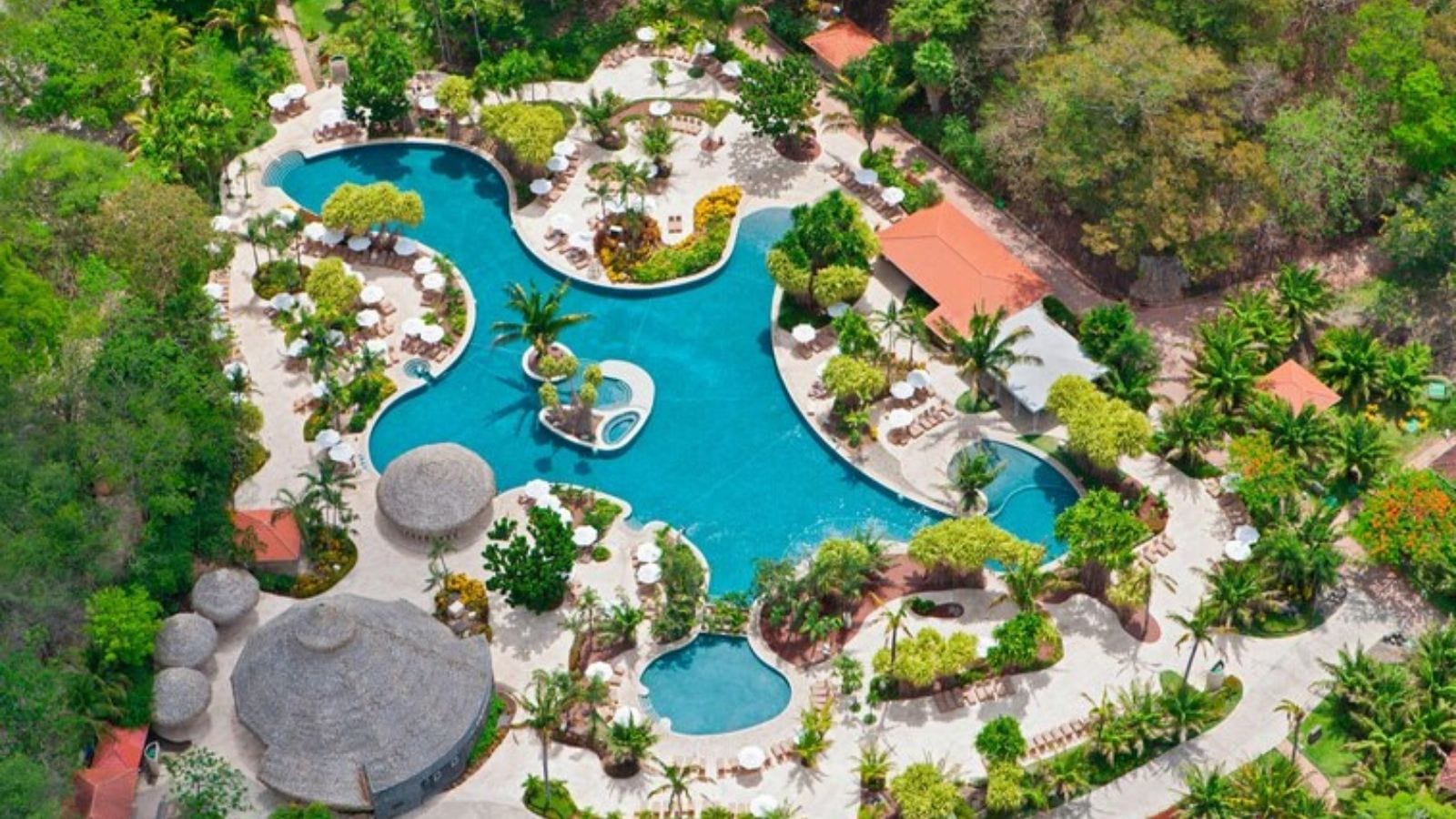 Costa Rica's national motto loosely translates to "enjoy life," so it's probably no surprise the Central American country has its fair share of all-inclusive family resorts. The Westin Reserva Conchal is an eco-friendly Costa Rica all-inclusive situated on 2,400 acres between the rainforest and the beach on Costa Rica's north Pacific Coast. Opt for one of the family suites that offer a welcome kids package, and kid-friendly amenities such as child-size bathrobes.
BUDGET-FRIENDLY: 11 Cheap Family Vacations That Are Super Fun in 2024
The resort's all-inclusive dining package includes a la carte or buffet breakfasts, as well as lunch, dinner, snacks, and beverages (both alcoholic and non-alcoholic) from any of the onsite bars and restaurants. The Westin Family Kids Club is also included in your room rate, as are multiple freshwater swimming pools, non-motorized water sports, tennis courts, table games, nightly entertainment, and Wi-Fi. Golf, spa treatments, motorized boats, diving, and fishing are available for an additional charge.
12. Pestana Porto Santo All Inclusive
Porto Santo Island, Portugal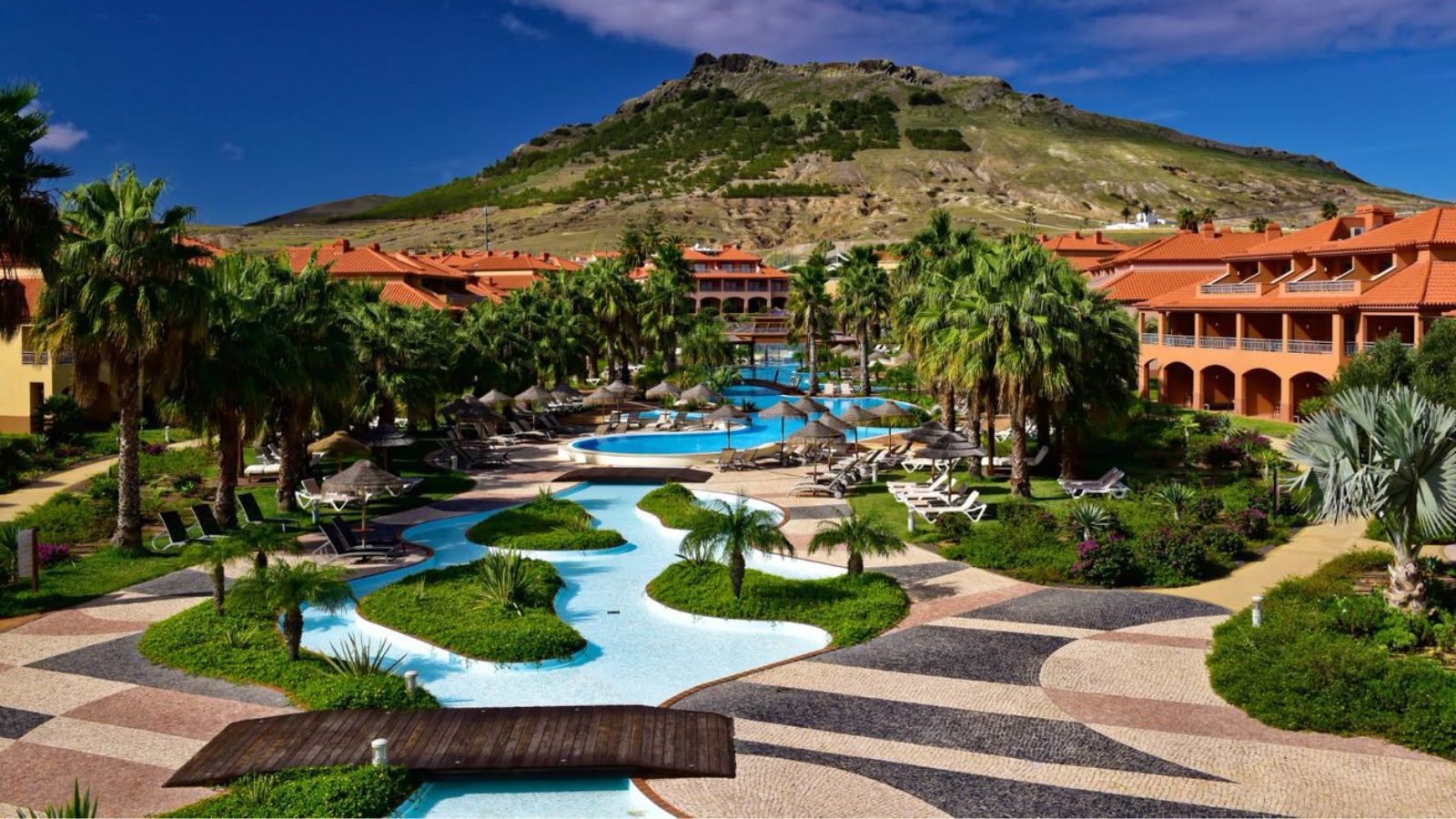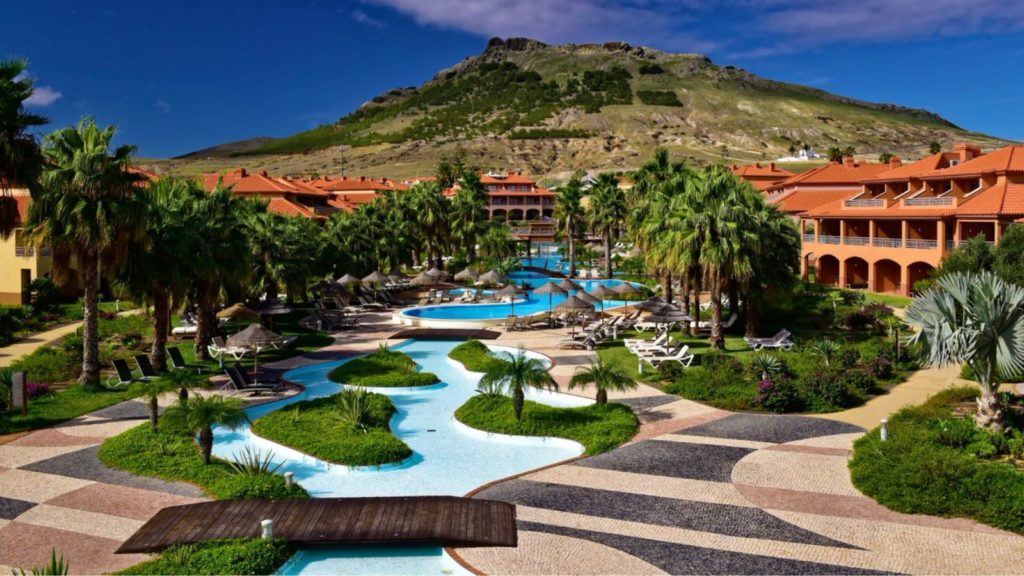 Portugal's Pestana Porto Santo All-Inclusive is a five-star beachfront resort located on the island of Porto Santo, a small quiet spot off the coast of Madeira that's known for its long beach, warm water, and plentiful dive sites. Families who want a splurge will enjoy the large Pool Villa that accommodates six people. Set right on the beach, it comes with its private pool as well.
LEAVE THE KIDS: 11 Best All-Inclusive Caribbean Resorts for Adults and Couples in 2024
The all-inclusive rate includes all meals at any of three restaurants, a swimming pool, kids' club, fitness center, and activities. During the day, families can enjoy water sports, hiking, biking, fishing, and jeep tours. Local excursions to museums, historic buildings, and Pico Castelo ("Castle Peak") can also be arranged.
13. Bocawina Rainforest Resort
Hopkins, Belize
Unique among all-inclusive family resorts, the Bocawina Rainforest Resort opened a few years ago inside the boundaries of Belize's Mayflower Bocawina National Park. The national park offers more 7,000 acres of tropical rainforest, waterfalls, and evidence of ancient Mayan culture. All-inclusive rates here encompass airport transfers, accommodations, three meals per day, snacks with local Creole and Mayan flavors, an all-access pass to the national park, and unlimited onsite guided and unguided activities.
PACK THE SUNSCREEN: 10 Best Florida Beach Resorts for Families in 2024
This all-inclusive resort is perfect for active families due to its included adventures such as ziplining, waterfall rappelling, horseback riding, birding, cave tubing, river paddling, jungle hiking, chocolate making, and visits to Mayan ruins. Family suites are available that accommodate up to five people with a queen and king size bed or two queens. In keeping with the spirit of the national park, this off-the-grid family resort is powered by solar and hydro.
Accommodations do not have A/C but are equipped with ceiling fans to keep you cool. Bocawina Mayflower National Park is part of the Belize Jaguar Corridor, a protected habitat for big wild cats and endemic species.
14. Emerald Maldives Resort and Spa
The Maldives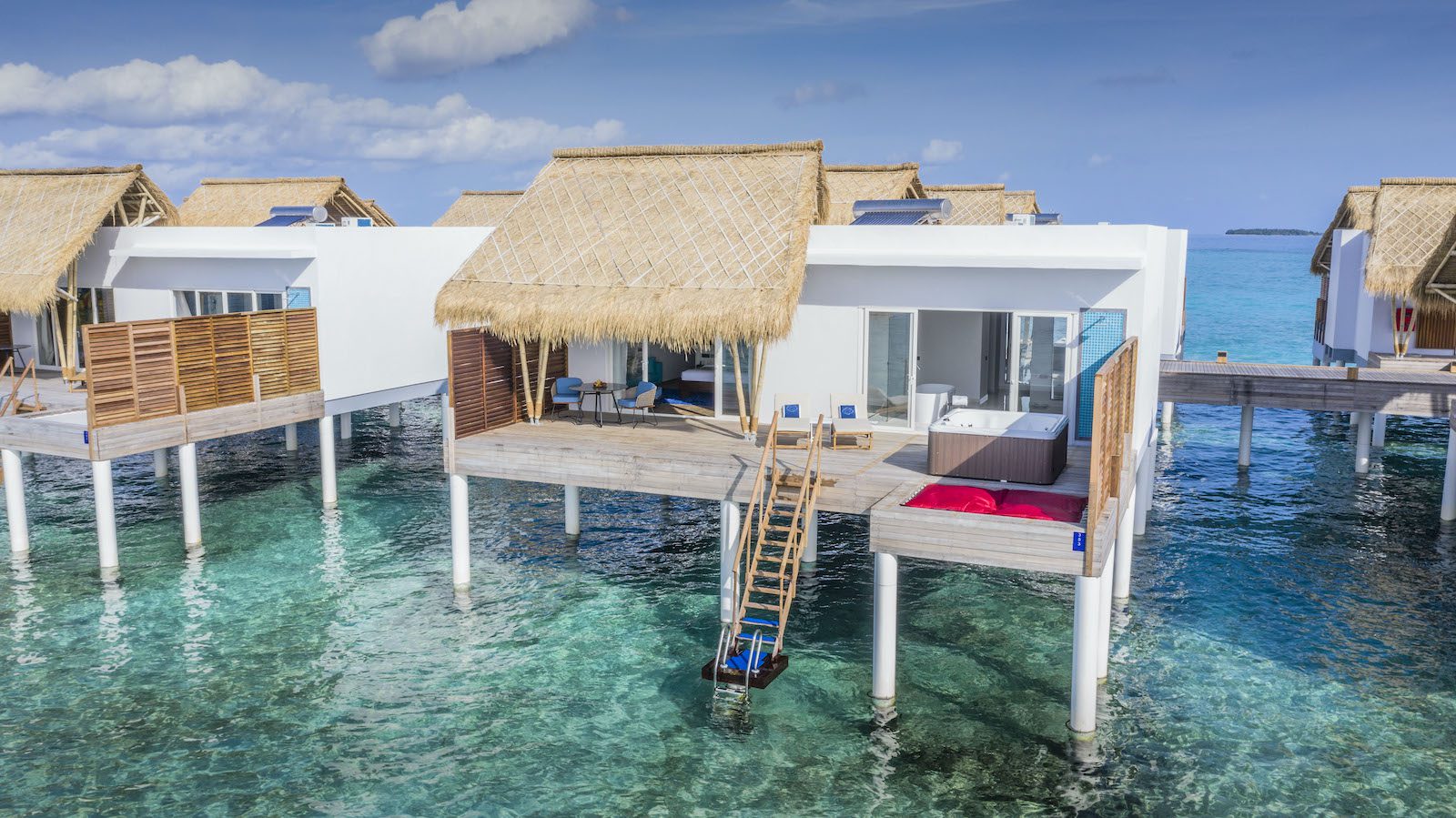 The Maldives archipelago is known for its overwater bungalow resorts perched above the turquoise Indian Ocean. You may be surprised, however, to learn that Emerald Maldives Resort and Spa is a five-star, deluxe resort that's also extremely welcoming to families. The family-friendly all-inclusive resort features elegant family beach villas with their own kids' bedrooms and baths, a luxurious adult bedroom and bath, private swimming pool, and either beach and garden access or an overwater deck with access to the ocean below.
DREAM VACATIONS: 15 Best Family Travel Adventures in 2024 Where Someone Else Does All the Work
All meals and drinks are included at four distinct restaurants, and plenty of activities such as snorkeling, kayaking, windsurfing, kitesurfing, and sailing are all complimentary as well. Like all of the best all-inclusive family resorts, Emerald Maldives Resort and Spa also has its own supervised kids' club that includes a pool and kid-friendly restaurant. Children ages three to 12 will enjoy activities with their peers while adults can enjoy a little vacation time on their own.
15. Pinetrees Lodge
Lord Howe Island, Australia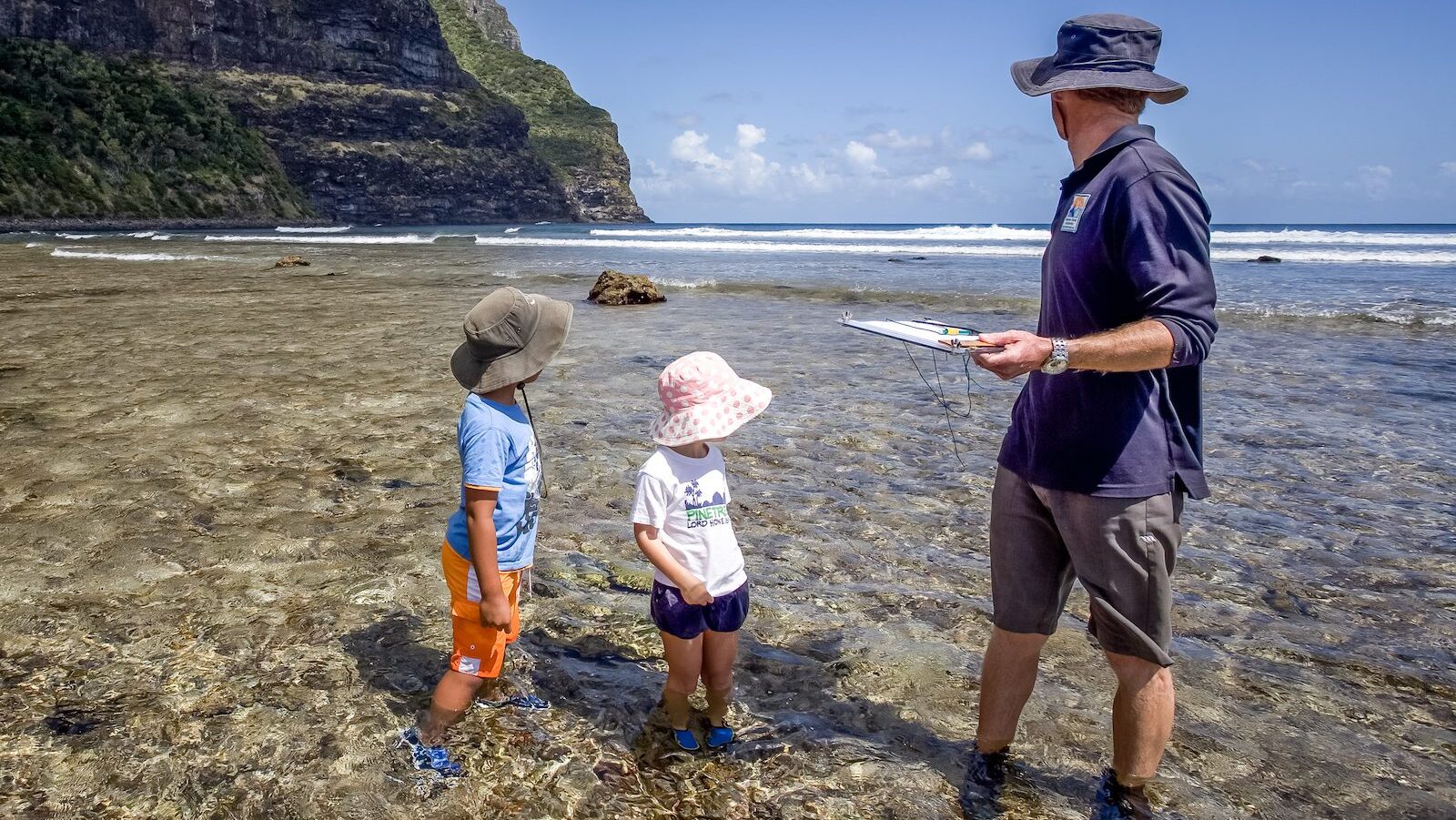 Looking for an all-inclusive family vacation that's also a true escape from everyday life? Plan a visit to Pinetrees Lodge in Australia. This luxe-meets-outdoorsy all-inclusive resort fronts a postcard-worthy lagoon on an island with a limit of 400 guests at a time. There's no Wi-Fi or TVs here, so there's nothing to keep you from enjoying the world outside. Bike, hike, swim, snorkel, surf, kayak—every day is a choose your own adventure, with another awe-inspiring view around the corner or beneath the waves.
PERFECT FOR LITTLE KIDS: 7 Best All-Inclusive Resorts for Toddlers in 2024
Amazing meals help fuel the whole family, with full breakfasts and lunch, afternoon tea, and four-course dinners served up for guests. Suites and cottages are great lodging options for families, with decks for enjoying the great outdoors. The resort has a number of strollers and portable cots available for the smallest guests, and the chefs can prepare purees and other food for infants.
More from FamilyVacationist: