An idyllic Caribbean family resort on the island of Providenciales, the gorgeous Beaches Turks and Caicos resort is situated right on the white sand beach of Grace Bay. It represents the best of what Beaches, a Sandals resort, has to offer. Guests of all ages will find both a wide variety of activities and relaxation opportunities and excellent food and dining options, making this Turks and Caicos all-inclusive resort a stand-out among Caribbean vacation spots.
BE PREPARED: 5 Tips for Traveling to Mexico and the Caribbean During Hurricane Season
Things to Know about Beaches Turks and Caicos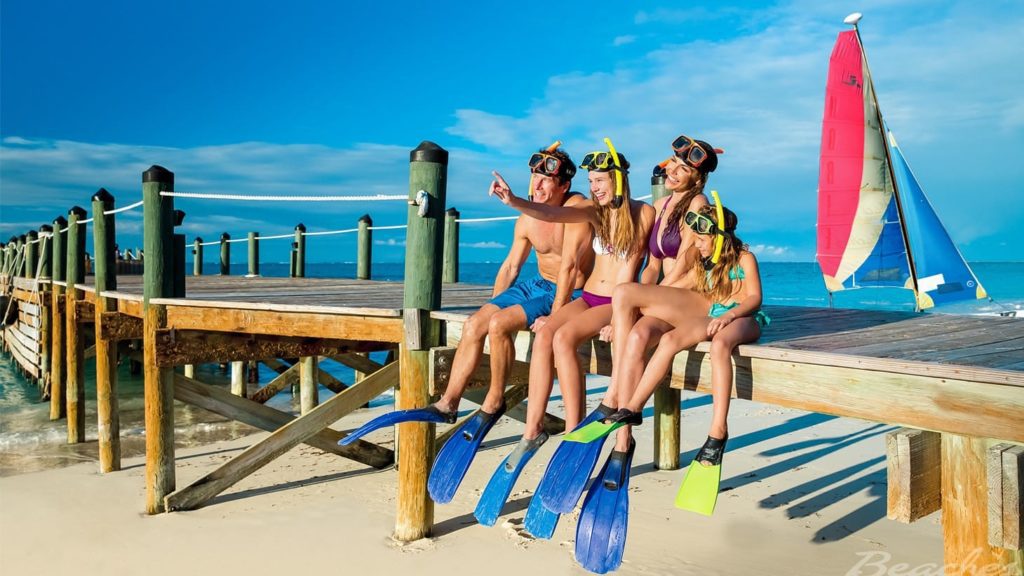 Beaches Turks and Caicos benefits from its prime location on award-winning Grace Bay. Expect fine white sand, gentle sloping entry, and accessible offshore snorkeling.
A coastal and marine protected area called Princess Alexandra National Park is just a 10-minute walk up the beach from the resort. There, visitors can swim above a teeming coral reef.
Beaches Turks and Caicos delivers the sort of high-quality culinary experience that one doesn't necessarily expect from an all-inclusive resort. The Caribbean and fish-forward restaurants in particular are excellent, with fresh, authentic, expertly prepared dishes.
Activity options focus heavily on water sports—stand-up paddle boarding (SUP), kayaking, sailing, snorkeling, SCUBA, swimming, and even "aquacise." There are plenty of other activities as well, particularly for kids, including bocce, trivia contests, beach volleyball, ping pong, an Xbox lounge, tennis, giant chess, corn hole, seemingly infinite board games from the activity hut, and, for a fee, spa treatments plus off-site tours and adventures.
A huge water park flanked by ice cream and mac-and-cheese trucks serves as a gathering spot for families. With numerous slides, a surf-training pool, and a lazy river, kids will be occupied all day. Pirates Cove Waterpark also sits amidst an open-air game room, teen and Xbox lounges, and diner with unfussy options that will please both kids and their grown-ups.
The staff at Beaches Turks and Caicos are both kind and detail-oriented; Sandals, the parent company of Beaches, has an extensive and supportive training program that allows staff to move around and up within the company, inviting loyalty among staff.
What Families Need to Know about Beaches Turks and Caicos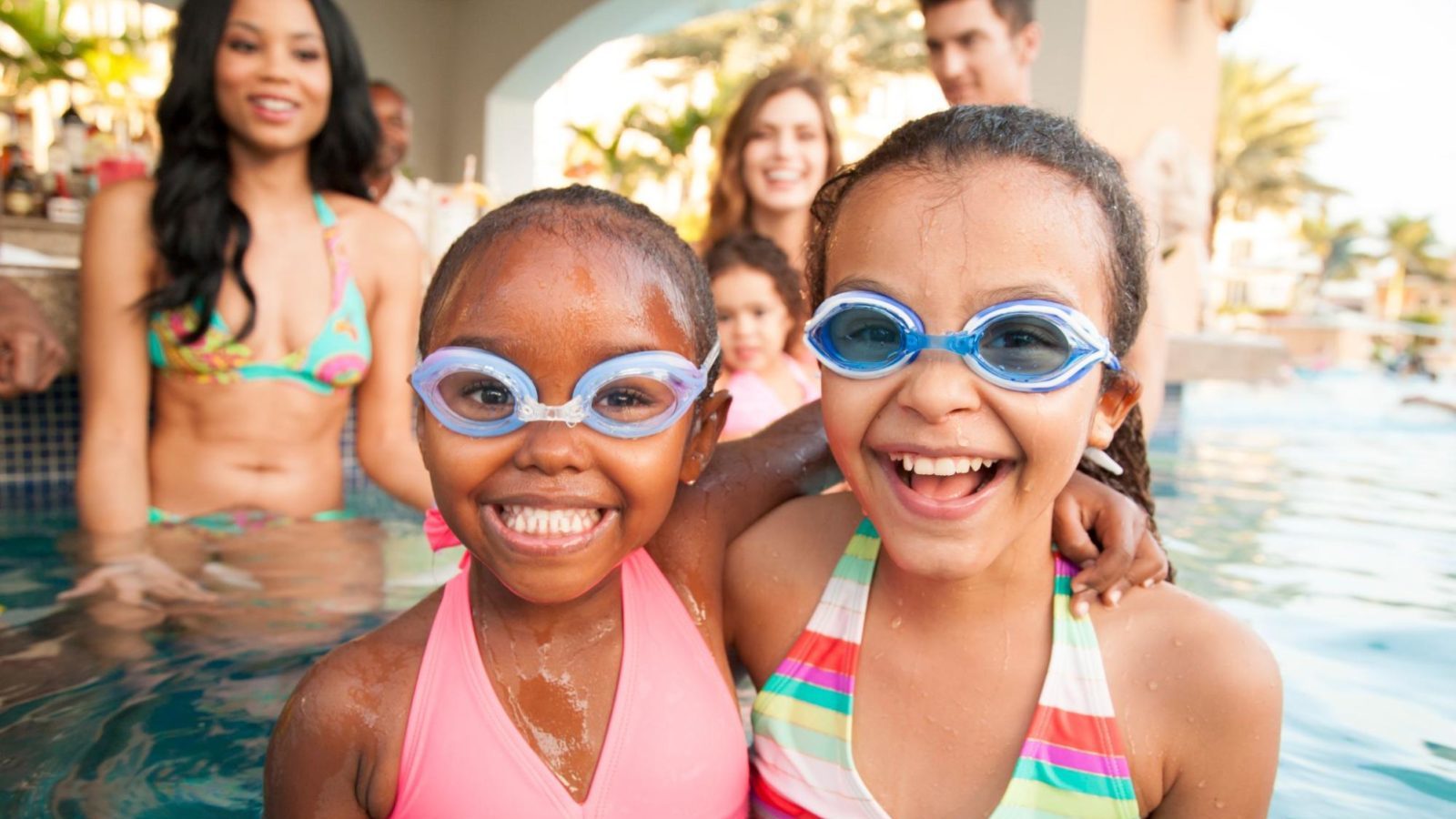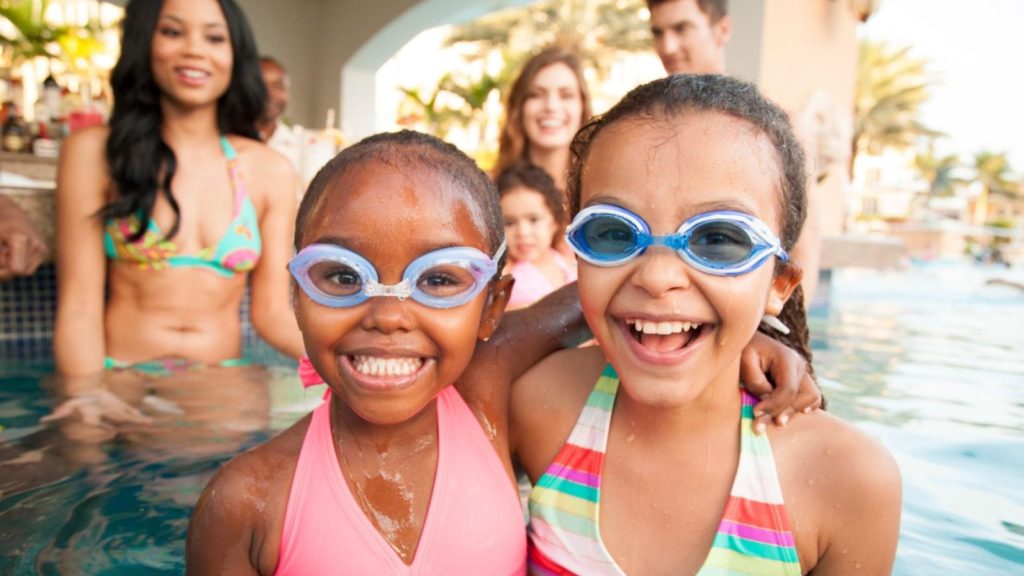 Beaches Turks and Caicos is vast, and a family could easily spend seven to 10 days there and not repeat a single activity or meal. Opportunities for families go well beyond the water park, games, and nightly evening entertainment. Children of all ages can be with their adults or be engaged and connected through the Beaches Kids Camp.
With programming for all ages (divided in developmentally appropriate groupings from infant to teen), families can feel confident their children will be well cared for at Kids Camp. And, if your family's travel is designed to be for "together time," but on occasion you'd like to try an adult-only restaurant (they are delicious and quiet!), there is a private child care option ($20/hour) from 8:00 a.m. to 9:00 p.m. daily.
FUN FOR ALL: 10 Autism-Friendly Vacation Spots for Families
Nannies and Kids Camp staff are trained in child development, safety, and nutrition; they are also Internationally board-certified Autism-trained. Families with children with Autism Spectrum Disorder can feel confident their children's needs will be met and understood when they are at Camp. Children with allergies and food sensitivities are also carefully monitored and attended to, with protocols in place at Camp for safe eating.
A decades-long relationship with Sesame Street is another great draw for little visitors. There are character breakfasts, puppet building with Bert and Ernie, Letter of the Day activities with Grover, and the regular Sesame Street stage show or parade. Guests can even set up an in-room bedtime story time with a Sesame Street character.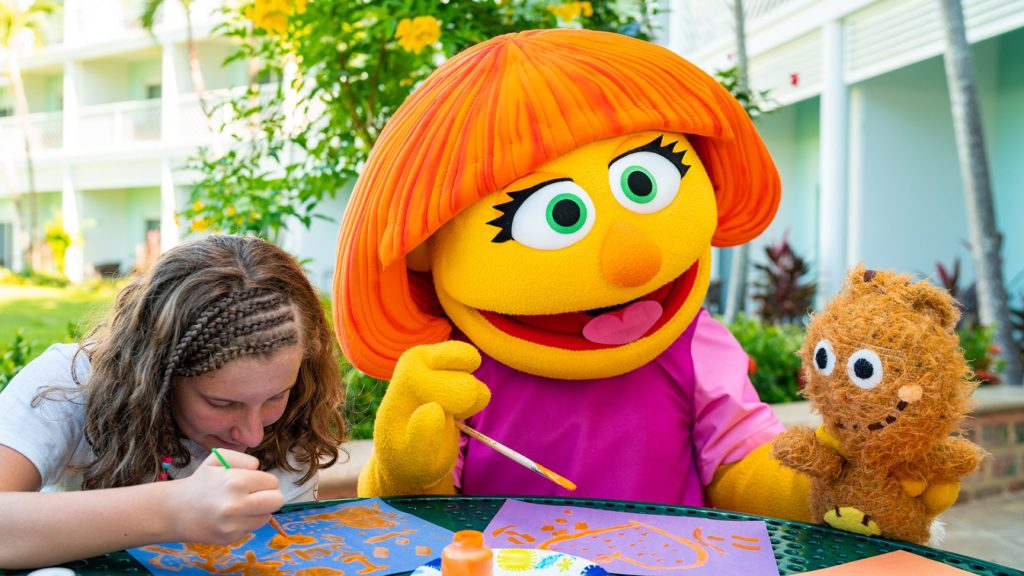 In addition to nightly activities for kids and adults—from stage shows to games—families can tuck in comfortably with the huge variety of lodging accommodations, including roomy king suites, four-bedroom villas with private pools or yards, and two-story condos that sleep seven (and come with butler service). Luxury rooms give guests full access to the resort. Concierge-level rooms have the added support of concierge service for reservations, and Butler-service rooms and condos provide personalized service for everything from meal reservations to accompaniment to pre-reserved pool- and beach-side cabanas.
FUN FOR ALL: 12 Best Beach Resorts in the U.S. for Families
If any member of your family has special needs (dietary, accessibility, or other), a resort-based Culinary Concierge is available to meet with any guest to chart a course across the 21 on-resort restaurants based on allergies or other dietary restrictions. All restaurants also offer vegan and gluten-free options. Because the resort is quite large, it's also easy to get golf cart transportation to where you are going simply by request. Though any guest needing wheelchair accessibility should consult the resort ahead of time to address specific needs, it's good to know that all of the pathways and sidewalks have wheelchair ramps.
While Beaches Turks and Caicos certainly is a family-focused resort, it caters to all sorts of travelers. Couples looking for peace and quiet can find solace both on the beach and in several spots around the resort, including several tucked-away pools and near the Seaside Village end of the property.
What Couples, Families, and Groups Should Know about Events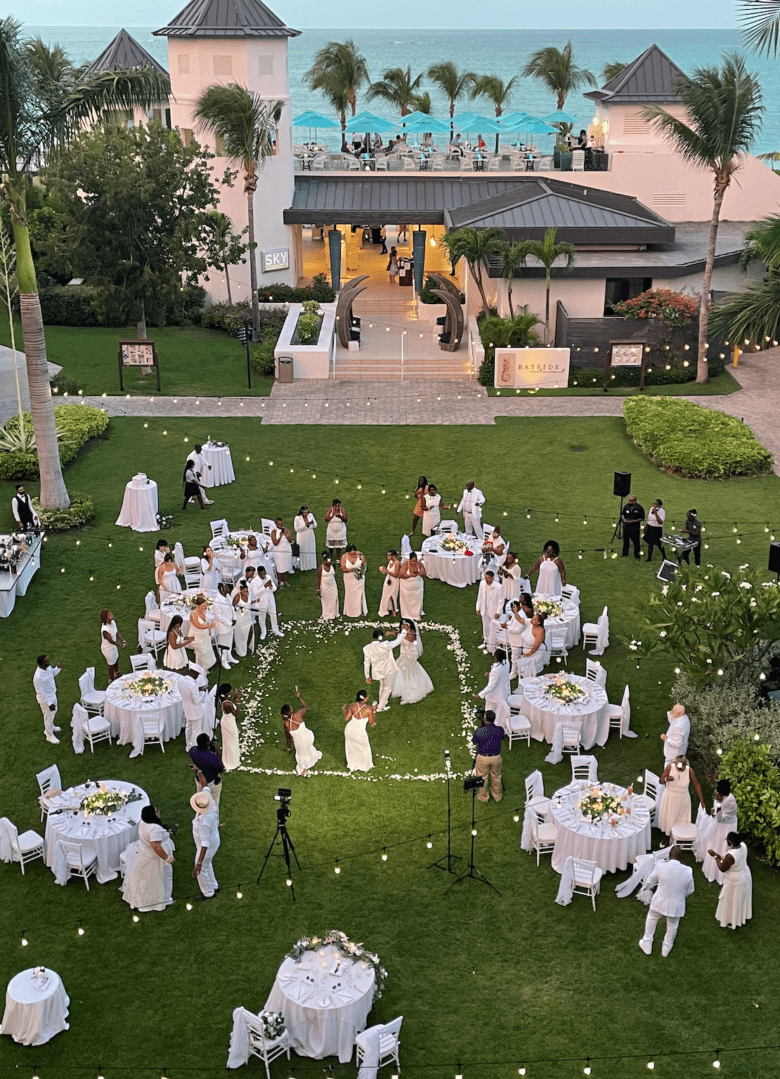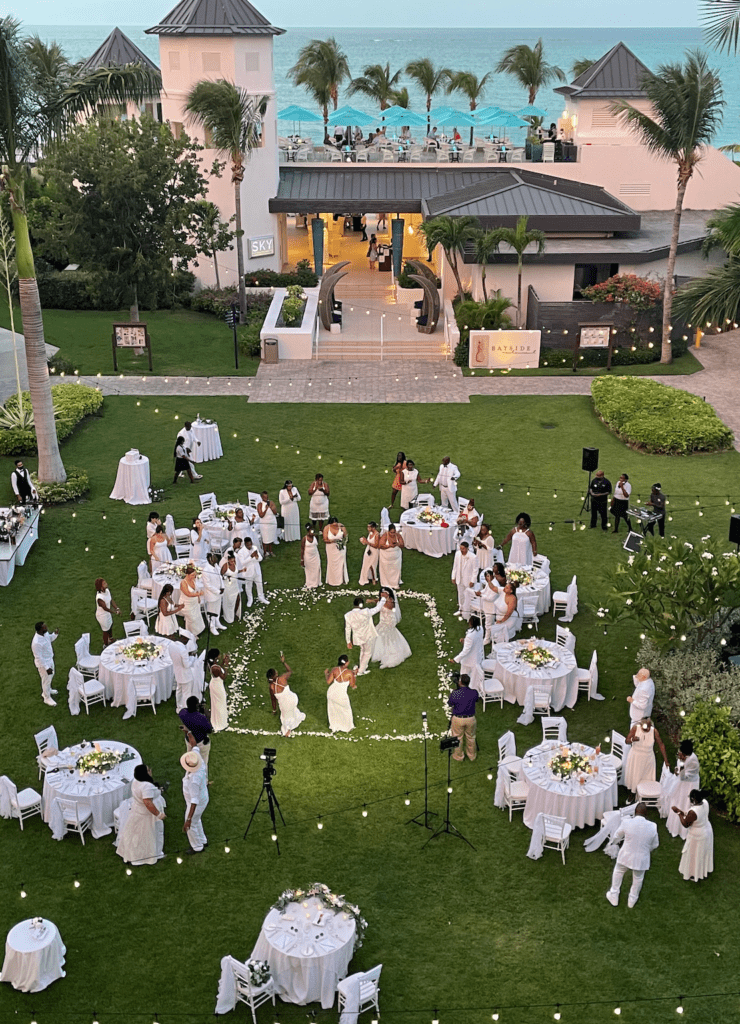 Beaches Turks and Caicos also hosts reunions, weddings, vow renewals, and other special events. For wedding and vow renewals, Beaches Turks and Caicos offers services including photography, videography, a trained (and warm!) officiant, hair/make-up, floral, special dinners/catering, DJ, and gazebos. Customize the event for any size group, from just the two of you to dozens of guests; beach, boardwalk, grass, covered beach-side patios, and poolside settings give lots of options for your customized event.
RELAX AND RECONNECT: 10 Best Adults-Only All-Inclusive Caribbean Resorts for Couples
Families gathering for a wedding, birthday, reunion, or other special event can also personalize their experience with dining, signage, and activities. Beach- or pool-side games can be set up and facilitated by Activities Staff so that your family can play and relax together with food and beverages, and cake/snacks/dining can be delivered to poolside cabanas draped in "Happy Birthday" or other banners. I even saw "Happy Birthday, Derrick" written in black stone on the bottom of a decorative fountain. More intimate sunset dinners can be set up for families and/or couples right on the beach, complete with tiki torches and the option of professional photography.
Beaches Turks and Caicos Reviews
Beaches Turks and Caicos receives 4.5 stars out of 5 based on 15,600+ reviews on Tripadvisor, and 7.6/10 on Kayak based on 40+ reviews. Booking.com user reviews average 7.6/10 based on 42 reviews. Many note the ideal location, good food, and friendly staff.
SUN AND SAND: The 10 Most Beautiful Caribbean Beaches (and Where to Stay Near Each)
Beaches Turks and Caicos Basics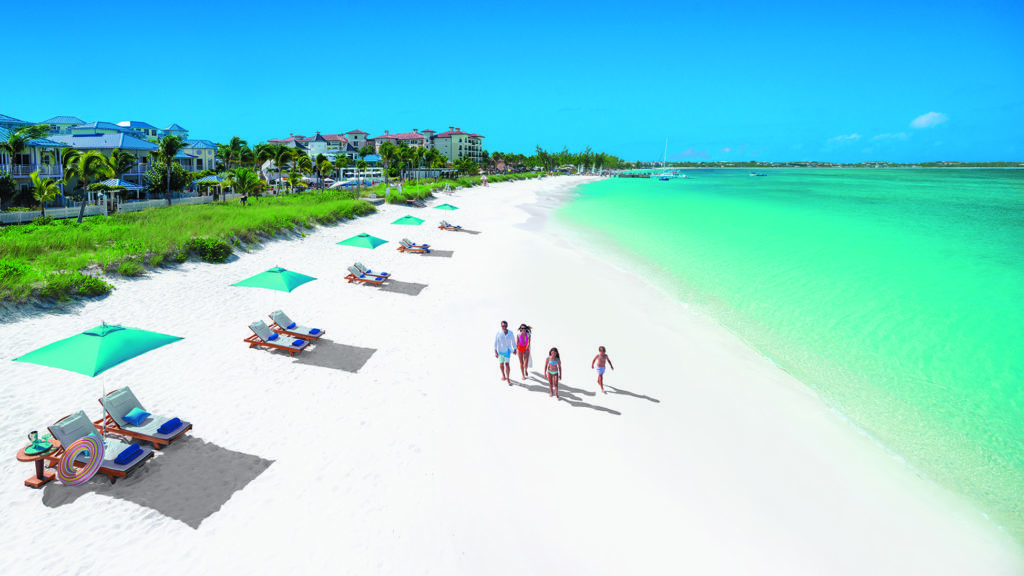 Location
Centrally located on Providenciales, Turks and Caicos's most populous island, Beaches sits on the shore of Grace Bay. This beachfront resort has easy access to snorkeling and SCUBA as well as sailing, kayaking, stand-up paddle boarding, and of course swimming. Five flights a day arrive from the following mainland U.S. cities: Miami, New York (Kennedy), Newark, Charlotte and Atlanta. Just 15 minutes by (free) shuttle, the resort offers easy access for travelers.
Property
Beaches Turks and Caicos boasts 21 restaurants across 5 "villages" each with its own theme and flair. Its 10 pools, a 45,000-square-foot water park, spa, and other amenities sit along a meandering beachside boardwalk and connected sidewalk pathways. Strolling the property, visitors will come across hammocks, life-size chess boards, grassy patches, cool-down showers, and tennis courts.
Rooms
Though the decor varies from village to village, each offers a range of accommodations designed to suit a range of budgets. Family rooms at Beaches Turks and Caicos are set up with either separate bedrooms, pull-out daybeds/couches and/or Murphy beds, and villas and condos are homes-away-from-home with full kitchens, dining rooms, and multiple bathrooms.
Activities
During the day, activities abound for guests of every age group. Among the most popular are the water sports, particularly SCUBA outings that are included in the resort price. Note that for safety reasons, boats do not go out when beach flags are red (indicating strong winds). In the evening, choose among options including salsa lessons and shows, karaoke and casino nights, quiz shows, and movie trivia. Day and night, guests can always find a quiet spot for a romantic walk, beachside read, or afternoon nap.
Dining
There are 21 restaurants at Beaches Turks and Caicos. If you want standard American fare, you'll find plenty of good options including pizza, southwestern, mac and cheese, and burger at restaurants around the property. And if you're keen on local fish and seafood with a taste of Caribbean flavor, you can find exceptional food at Sky Lounge (don't miss the scallops), Sapodilla's (order the lobster), and Schooners (try the sesame-crusted tuna).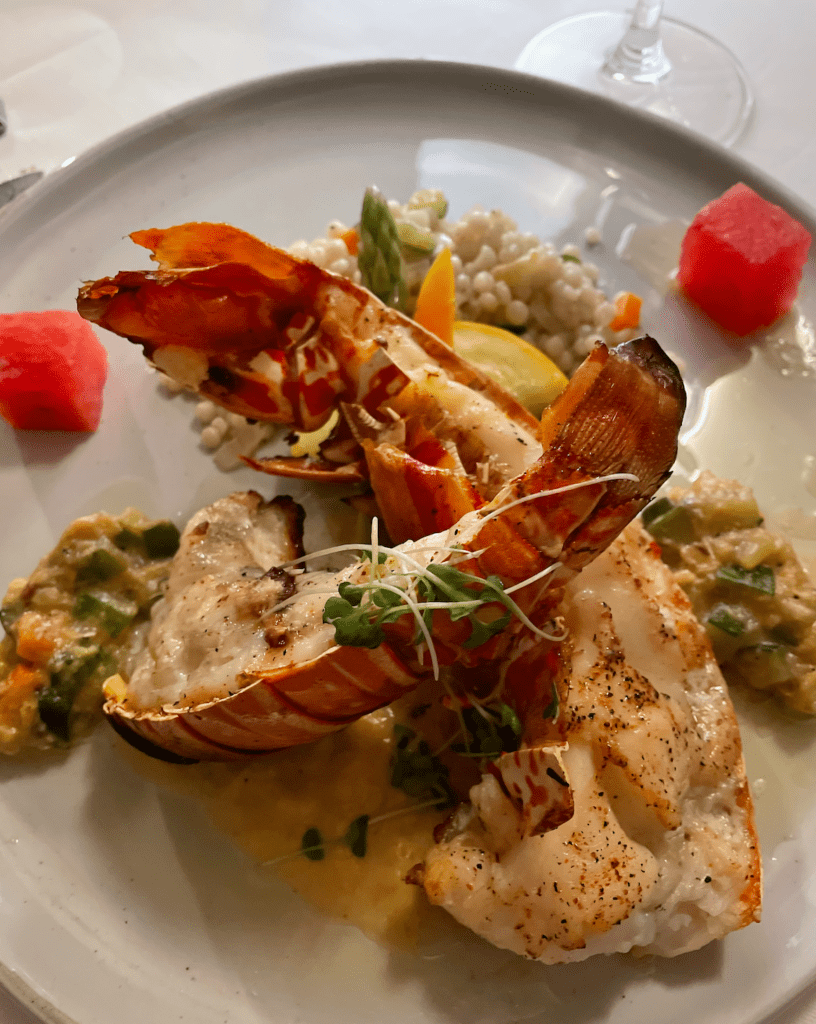 My favorite breakfast was the pulled pork eggs Benedict for breakfast at Bayside Restaurant. At Le Petit Chȃteau, one of the French managers told me the decor, smell, and soupe à l'oignon reminds him of his childhood at his grandmother's house in the French countryside—I felt like this was the highest praise.
Spa
Beaches Turks and Caicos' relaxing and well-appointed Red Lane Spa is a great escape from the bustle of the water park and Italian Pool. Options for both youngsters and adults include skin care, massage, and hair and beauty services. Spa appointments are not included in the resort pricing.
More from FamilyVacationist: