With its clear waters, sea turtle nesting grounds, and horseback riding on the beach, Texas' South Padre Island is the perfect family vacation spot. Many people don't realize this once-college spring break hub has become a relaxing tropical oasis with activities, adventures, and attractions ideal for all ages and interests. Located off the southern tip of Texas, this popular family beach vacation destination is home to friendly locals who are passionate about the place and full of advice about the best things to do on South Padre Island.
I recently spent time on South Padre Island checking out its most family-friendly sights, and love how many opportunities there are to get kids off screens and out into nature, playing at the beach, riding horses, seeing wildlife up close, and even maybe catching a liftoff into space. From sunrise to sunset, you'll never run out of things to do on South Padre Island thanks to its 34 miles of coastline, white sandy beaches, and small towns. Named Destination of the Year by the Texas Travel Awards in 2022 and 2023, South Padre Island offers resort-style amenities while honoring its small-town charm.
SUN, SAND, SURF: 25 Beach Essentials for Any Sun-Soaked Vacation
Fun Things to Do on South Padre Island
Grab your beach bags, walking shoes, and binoculars (there are many animals to see), and immerse yourself in a tropical paradise. Here are my favorite things to do on South Padre Island for families.
1. Adopt a Sea Turtle
This visitor-favorite rehabilitation center and turtle hospital is dedicated to preserving the lives of the endangered Kemps Ridley sea turtle. On the brink of extinction, the Kemps Ridley needs all the help it can get to ensure its survival. At Sea Turtle Inc., staff works to identify nests and transport them to a safe place to hatch, catch injured sea turtles out in the wild and nurse them back to health, and educate locals and visitors on the importance of being aware of your surroundings on the beaches.
BEST IN THE U.S.: 12 Most Family-Friendly Beach Resorts in the United States
While visiting, you can meet resident turtles like Cowgirl, who lost one of her arms in the wild, and choose to "adopt" them, allowing you to receive updates on her health plus a fun bag of goodies.
Stay Nearby: The Hilton Garden Inn South Padre Island is a short (15 minute) walk from Sea Turtle Inc. and is on the beach overlooking the Gulf of Mexico. Rooms have private balconies and the hotel has an oceanfront swimming pool.
2. Explore an Art Trail
South Padre Island is full of new and upcoming artists, all with unique passions and styles of art. The city itself takes pride in allowing its artists to flourish. Throughout the island, you'll find stunning art murals, art galleries, sandcastle tournaments, and more. The Sea Turtle Art Trail showcases painted sea turtle sculptures, all crafted by local artists. Take a picture in front of each turtle and present them to the Visitors Center to win a free SPI t-shirt!
Stay Nearby: The Sea Turtle Art Trail (and the Sandcastle Trail) runs the length of the island, so you'll have plenty of choices if you want to stay walking distance. The Best Western Beachside Inn is centrally located and gets top marks on Tripadvisor.
3. Go on a Dolphin Watching Cruise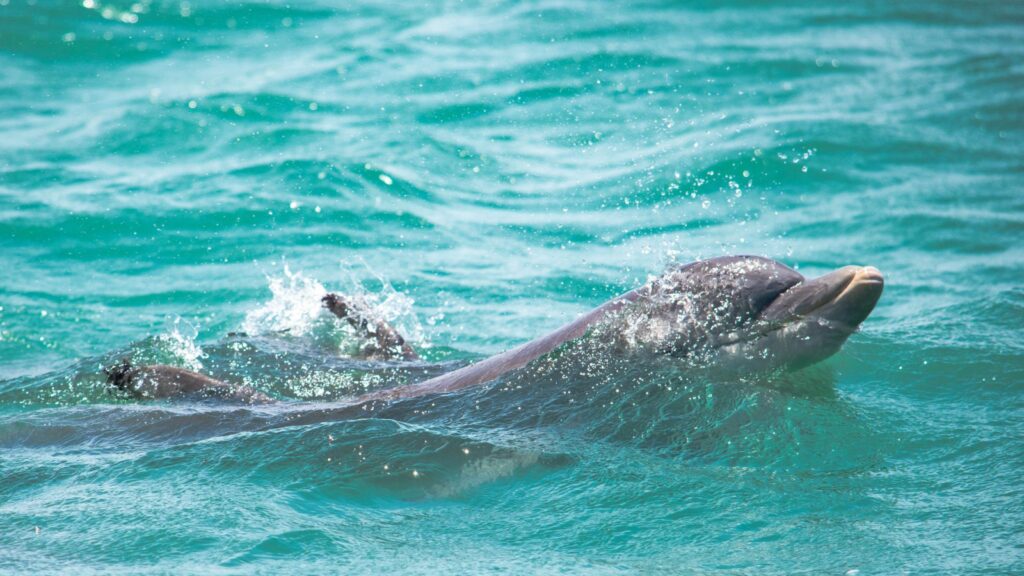 There's nothing quite like experiencing the joy of seeing animals out in the wild. With Breakaway Cruises, you can enjoy a one-and-a-half-hour tour of Laguna Madre while learning the island's history. While aboard, the crew will be dragging a net behind the boat to see what kind of sea creatures lurk in the waters below. If you're lucky, you might even get to see a jellyfish up close.
UNDERWATER WONDERS: 10 Best Snorkeling Sets for Kids
The well-reviewed cruise company also offers fishing, jet ski rentals, and snorkeling. Pro tip: After your cruise, stop by Mahi Nic for some fresh fish tacos or loaded fries.
Stay Nearby: There's not much in the way of hotels within walking distance of Breakaway Cruises' launch point, but it's a quick drive to the Margaritaville Beach Resort South Padre Island.
4. Meet an Alligator
South Padre Island Birding, Nature Center & Alligator Sanctuary houses over 50 rescued alligators, including Big Padre and Lady Laguna. Not only will you get the chance to see these alligators in person, but a knowledgeable guide at this visitor-favorite center will also provide you with an educational experience on the sanctuary's background and goals.
BIG IDEAS: 20 Best Places to Go with Kids This Year and Next
Visit in April or May to see thousands of bird species migrating from overseas, and taking a pit stop on the island.
Stay Nearby: The beachfront Courtyard by Marriott South Padre Island is a three-minute drive or a 10-minute walk to the center and sanctuary.
5. Sunset Horseback Riding on the Beach
The perfect way to wind down from a long day full of sunshine is by taking a stroll along the beach, and what better way to enjoy this than by riding horseback? Island Adventure Park provides a unique riding experience in a remote portion of the island, a luxury few get to experience. This popular and well-reviewed outfitter also has zip lines, a petting barn, mini golf, go karts, and more.
Stay Nearby: Any of the hotels on the north side of the island will be pretty close to South Padre Island Adventure Park. Well-reviewed options include Courtyard by Marriott South Padre Island and Hilton Garden Inn South Padre Island.
6. See SpaceX
Although you can see the SpaceX rocket launching site pretty much anywhere on the island, those willing to take the hour drive to the site itself will experience the unique pleasure of seeing rockets up close. Plan your vacation during one of the launches and camp out at Isla Blanca Park for a direct view of a rocket headed for space. Get there early as these rocket launches bring in big crowds.
Stay Nearby: The Holiday Inn Resort South Padre Island is about a 15-minute walk to Isla Blanca Park. Note that Isla Blanca Park is also an RV park, so if you're traveling with an RV, you can set up shop right there. It's also super close to the water park Beach Park Water Park at Isla Blanca.
More from FamilyVacationist: