Even for families who take frequent Caribbean vacations and are spoiled by the beautiful beaches and turquoise waters, it's hard not to be impressed with the tropical paradise that is the Turks and Caicos. Set foot on Grace Bay Beach in Providenciales and you'll see why it's considered one of the world's best beaches: The water sparkles like diamonds under the clear blue skies and the flora is awash in vibrant pinks and fuchsias. And many of the best Turks and Caicos all-inclusive family resorts are situated right on that 12-mile stretch of sand.
2024's Best Turks and Caicos All-Inclusive Family Resorts
Whether you want to chill and hit the reset button or you're looking for fun with kids of all ages, the islands of the Turks and Caicos are an ideal spot for a family escape. Make it easy on you and your family and go the all-inclusive route with these Turks and Caicos family resorts in 2024.
ONCE IN A LIFETIME: 10 Best Caribbean Family Resorts for 2024
1. Beaches Turks and Caicos
Providenciales, Turks and Caicos
If you ask around about the best Turks and Caicos all-inclusive resorts for families, you're likely to hear the same answer from everyone you talk to: Beaches. It's the most popular family-friendly resort in Turks and Caicos, hands down, with a ton of activities for the kids yet still catering just as well to grownups. Located Providenciales and situated right on the iconic Grace Bay, the wildly popular family resort has five different vibes to choose from: French Village, Italian Village, Key West Village, and Caribbean and Seaside Villages. Whichever one you stay at, you can play at all five.
More about Beaches Resorts:
Whether you have toddlers or tweens, you can't go wrong with the 45,000 square-foot Pirates Island Water Park, with its lazy rivers, water cannons, and whirlpools galore. And of course there's the aforementioned 12-mile beach, plus 10 swimming pools and 21 restaurants that incorporate the cuisines of India, Italy, France, the Caribbean, and other flavors from around the globe. 
At Beaches Turks and Caicos, your biggest question may well be, "Where are the kids?" Little ones have many entertainment options at this family beach resort, like the Xbox Play Lounge, Kids Camp, breakfast with Sesame Street characters, and water sports (choose from a vast selection including aquatrikes, tubing, paddle boarding, kayaking, snorkeling, windsurfing, and snuba). If your crew is more into the land than the sea, there's table tennis, soccer, shuffleboard, volleyball, basketball, a fitness center, and plenty of live shows to keep everyone entertained.
LEAVE THE KIDS AT HOME: 11 Best All-Inclusive Caribbean Resorts for Couples in 2024
And when you're ready for much needed couples time, call on one of this all-inclusive resort's certified nannies to keep an eye on the kids while you treat yourselves to a quiet meal or couples massage. It's up to you whether you want to be pampered on the beach or in one of the resort's secluded gardens. 
2. Ocean Club Resorts
Providenciales, Turks and Caicos
You get a two-fer at Ocean Club Resorts on Grace Bay by staying at either Ocean Club or Ocean Club West. Ocean Club is Caribbean-style with two pools, while Ocean Club West is all about the gardens (and has one tropical pool). There's a mile of gorgeous beach between them, but you can shuttle between the two all-inclusive family resorts at no cost. Families love the condo-style digs at both, and large families or multigenerational groups can take advantage of spacious three-bedroom suites for up to eight guests.
TEEN-FRIENDLY TRIPS: 10 All-Inclusive Family Resorts Even Teenagers Will Love in 2024
Whichever Ocean Club all-inclusive resort you choose, you can take advantage of standup paddle boards, tennis courts, kayaks, a fitness center, gas grills, bikes, and low-key entertainment options like books and DVDs. The family resort's concierge can also set you up with activities such as fishing, scuba diving, sailing, and other adventures.
There are children's menus at each of the restaurants and kid-friendly spots around all the pools. Raise the fun level with complimentary beach toys. The resorts' family perks include cribs, roll-a-way beds, baby monitors, strollers, and high chairs. And when kids check in, they get an interactive exploration game kit that helps them identify native indigenous plants and species found at Ocean Club and win prizes. 
3. Blue Haven Resort
Providenciales, Turks and Caicos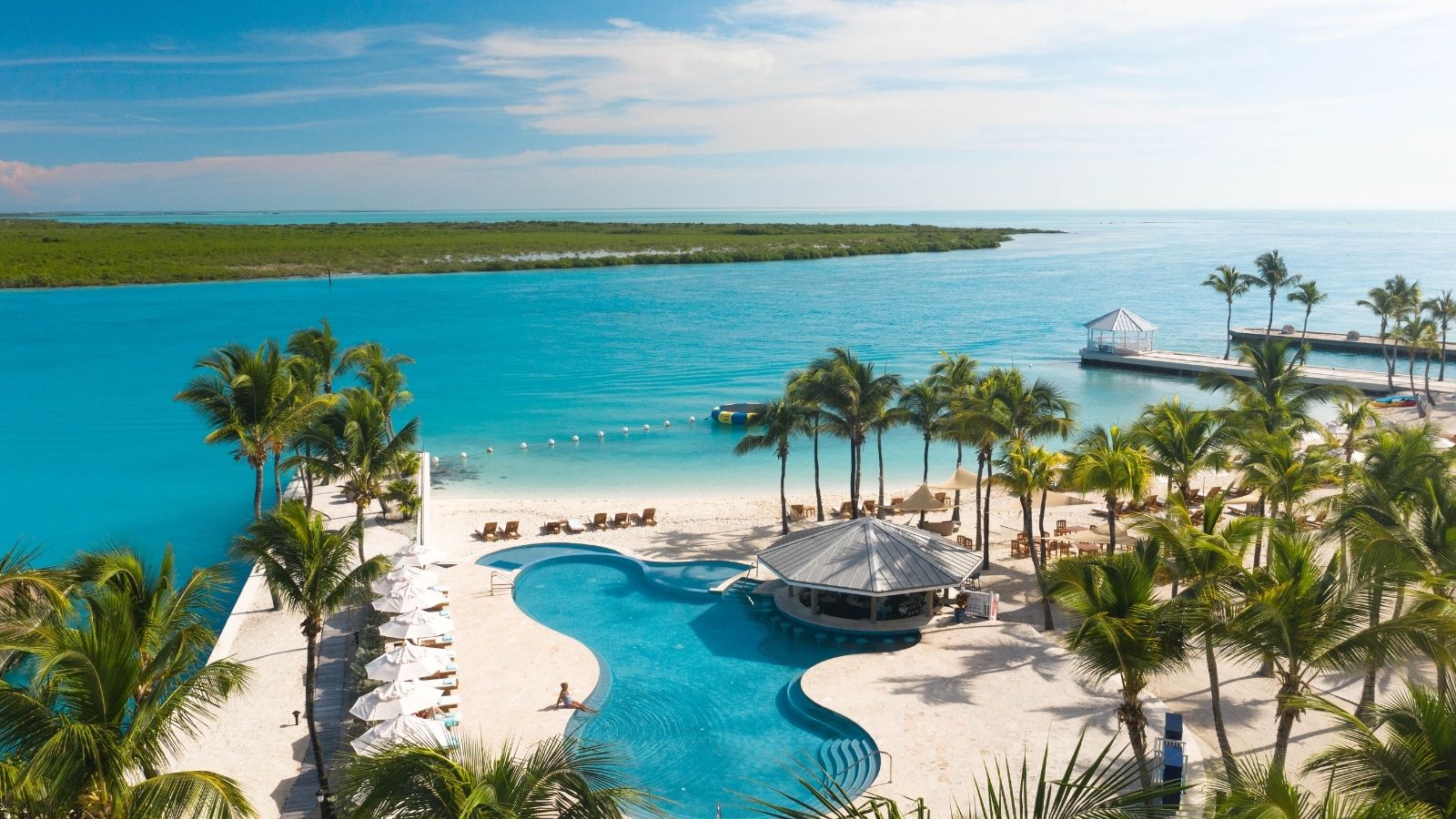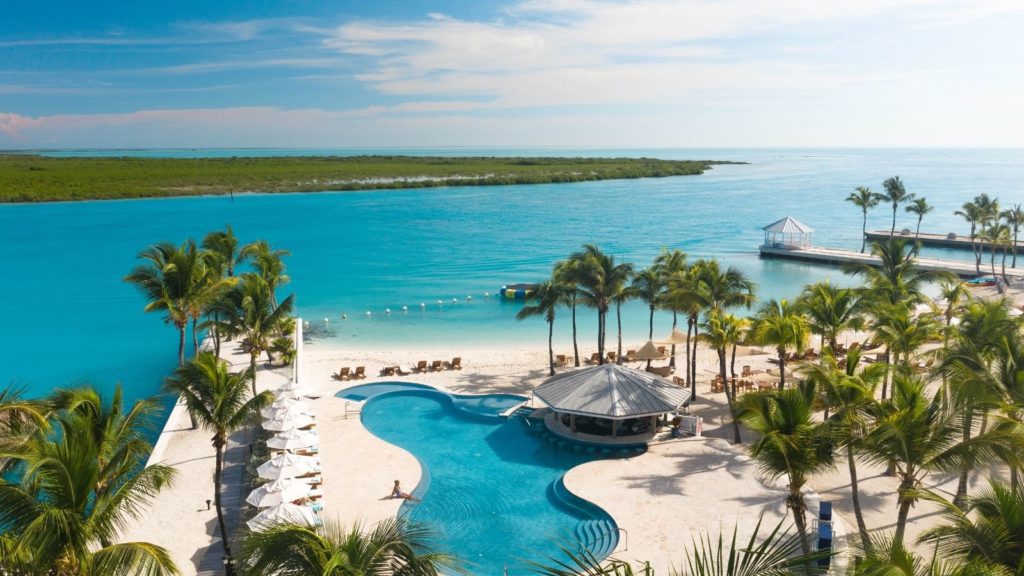 One of the most secluded Turks and Caicos all-inclusive family resorts, Blue Haven is a waterfront property that's an especially good fit for families looking for all-inclusive resorts where kids stay free. That's because at Blue Haven, kids 12 and under stay, eat, and play for free. And with just 45 studios, suites, and penthouses, you don't have to worry about mega crowds, either.
FAMILY TRIPS: 12 Best Cancun Resorts for Families with Kids and Teens in 2024
During the day, you can kayak, stand up paddle board, bike, play tennis, take off in a catamaran, or jump for joy on the water trampoline. Make your way to the swim up pool bar and take in the sea from the infinity pool overlooking the beach. Nighttime means gathering around fire pits and outdoor lounges. Dine at Fire and Ice, an indoor-outdoor restaurant with ocean views, where depending on the theme of the night you might find a Caribbean buffet on the beach, Tex-Mex, or a seafood feast. You can shuttle between Blue Haven and its sister property, Alexandra Resort, to enjoy both properties.
4. Alexandra Resort
Providenciales, Turks and Caicos
Kids stay free at Alexandra Resort just like they do at its sister property on Providenciales, Blue Haven. In addition to the water sports offered at Blue Haven, you can take lessons for sailing, kiteboarding, and sailing for an additional fee at either resort. Other extras include SUP Yoga, a guided sailing tour with snorkeling, and a guided mangrove tour.
BAHAMAS VACATIONS: 8 Best All-Inclusive Bahamas Resorts for Families in 2024
Golfers will love that 10 minutes away they can hit the links at the Royal Turks and Caicos Golf Club, one of the top championship courses in the Caribbean. Dining rocks at Alexandra Resort too. Options include Fish Deck, a beachside eatery specializing in seafood; Jerky's, a beach hut that serves up grilled jerk chicken and other island goodies; and Sole, where you eat al fresco on the beach.
5. The Sands at Grace Bay
Providenciales, Turks and Caicos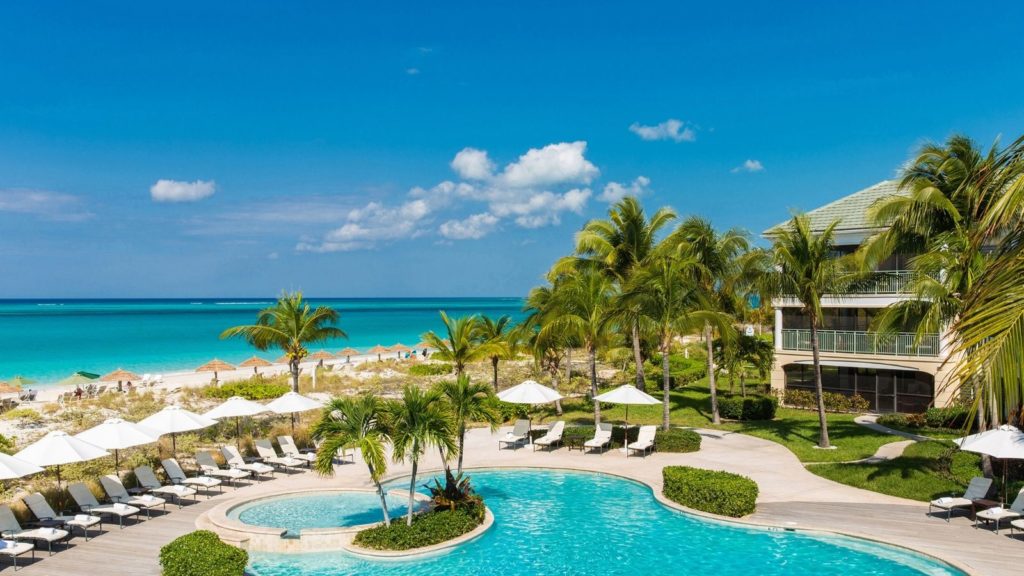 Perfect for families on vacation with toddlers, this Turks and Caicos all-inclusive (and all-suite) family resort will make you feel right at home with its full-sized kitchens, dining and living areas, washer and dryer, roll-away crib, high chairs, and pack-and-plays. Suites can be connected to give some much-needed breathing room for large and multigenerational families or groups too.
CLOSER TO HOME: 19 Most Kid-Friendly Family Resorts and Hotels in the U.S. for 2024
When it's time to play, The Sands at Grace Bay also has three swimming pools connected by canals and interspersed with hot tubs. Things to do includes kayaking, snorkeling, standup paddle boarding, board games, dominoes, Hobie Cats, bicycles, tennis, and basketball. Babysitting is available when you need a break.
For a special treat, mothers and daughters can enjoy the Mommy and Me Little Mermaid Package at the resort's Spa Tropique, which includes a spa manicure and pedicure for mom, a child's mermaid mani-pedi, and hair braiding or wrapping. If you want to be sure you leave with at least one standout photo, go for the Sands Portrait Special, a professional photo shoot of the family during the daytime or sunset. 
More from FamilyVacationist: