Asheville blends urban exploration and outdoor adventure, making it a standout vacation spot for families who love both. The Blue Ridge Mountains offer access to nature expeditions that range from mild to wild. And as a city, Asheville is eclectic and artsy, with a flourishing food and craft beer scene.
Why You Should Visit Asheville with Kids
Here are five reasons why you Asheville should make your list of family vacation ideas.
1. Exceptional Outdoor Adventures
Outdoor recreation is the name of the game in Asheville, which boasts some of the most picturesque and biodiverse terrain in the country. Families can hike, chase waterfalls, paddle, raft, swim, boat, canyoneer, zipline, and slide.
My family's favorite excursions on our recent trip included zipping some of the nation's longest and fastest zip lines and hiking into Catawba Falls, a 100-foot, multi-tiered waterfall in the Pisgah National Forest.
Navitat's Mountaintop Tour includes side-by-side zip lines so fast that it actually feels like time slows down as you glide up to 65 mph over the verdant forest. Navitat zip lines are suitable for first-timers as well as experienced thrill seekers between 70 and 250 pounds.
FOLIAGE FUN: How to Spend a Fall Weekend in Asheville (with or without Kids)
What's crazy-cool about the three-mile round-trip hike to Catawba Falls is that you can climb and play in the spectacular, cascading waterfall as well as several stops along the way.
My family also enjoyed floating down the French Broad River with tubes from French Broad Outfitters. Bring snacks and a cooler to make a leisurely afternoon of it. The company also rents bikes and kayaks.
Asheville has a natural water slide, called Sliding Rock, that you can coast down into a cool pool of water. If the idea of rappelling down a waterfall gets your adrenaline pumping, you can find canyoneering near the city. Whitewater rafting is another heart-pounding experience available in Asheville. For tamer trips, there are plenty of scenic hikes and drives along the Blue Ridge Parkway.
2. Distinctive Eateries and Hopping Breweries
Asheville is known as a food utopia with everything from fresh, local eats to upscale, culinary indulgences from renowned chefs. Vegan, gluten-free, sweet, spicy—you name it, Asheville is brimming with restaurants to answer every craving.
My family loved Asheville's Southern brunch offerings like buttery biscuits with thick, country gravy, crispy chicken and waffles, and savory shrimp and grits. Order yourself a satisfying meal at Sunny Point Café or Open Oven Brunch & Bakery. Both offer outdoor seating.
With more breweries per capita than anywhere else in the United States, is it surprising that my children's most requested Asheville stop was a brewery? Whistle Hop Brewing became my kids' favorite destination because its outdoor space includes soccer goals, mini golf, disc golf, and a tube slide. I can't say my husband was upset about sampling the local beers and listening to live music, either. Plus, a new love of disc golf was born for my brood at this family-friendly brewery in Asheville.
Kristy Tolley, author of 100 Things to Do in Asheville Before You Die, recommends requesting The Rhu's help in packing a delicious picnic to enjoy in the outdoors. Sandwiches, salads, cheeses, and baked goods can be customized for your group. Pimento cheese, please!
3. Eclectic Art and Alluring History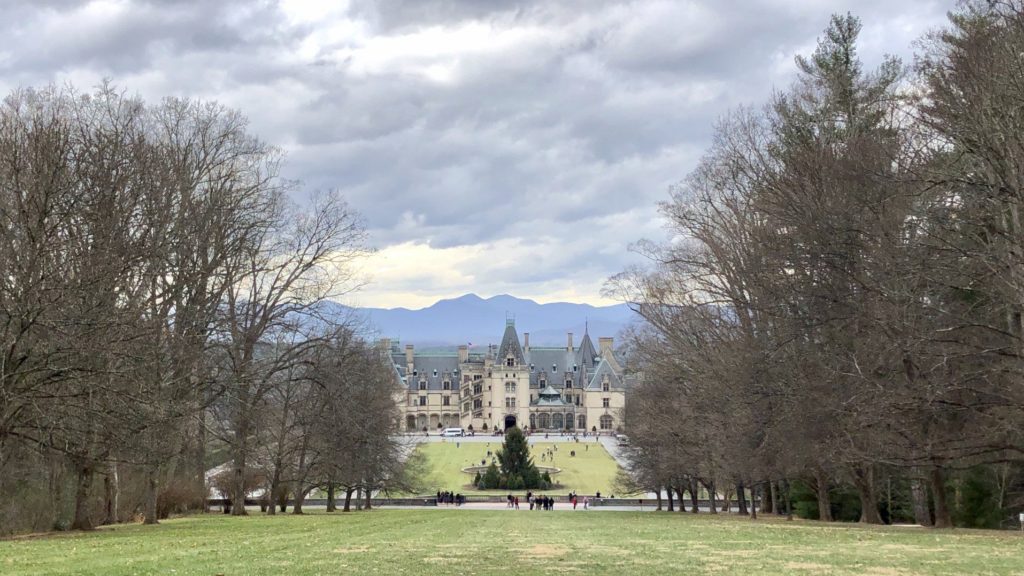 No trip to Asheville is complete without a visit to Biltmore. America's largest home was built over a century ago for the Vanderbilts and it still wows today with architectural marvels and expansive gardens. Choose from an adult audio tour or a kids version narrated by the Vanderbilt's Saint Bernard. You'll be guided through the lavish rooms, past the swimming pool, bowling alley, and once-bustling kitchen while hearing stories about the owners and guests, including why the basement is painted like Halloween.
SUN AND SAND: The Best North Carolina Beaches for Families
Take time to explore the lush gardens, visit the winery, shop Antler Hill Village and enjoy a meal. My kids loved the chocolates from the winery and playing at Pisgah Playground. There's also a farmyard and a Wildlife Discovery activity where you can meet feathered friends.
The River Arts District in Asheville is home to over 200 artists, and is certainly worth a visit. From April through October, you can get into the beat at the Friday Night Drum Circle in Pritchard Park where dozens of drummers, dancers, and people watchers gather for this Asheville tradition.
Tolley also recommends the LaZoom Kids' Comedy Tour, which is a comedy show geared toward children ages 5 through 12 that's performed on a big, purple bus. "They throw in a little Asheville history in between kid-focused comedy acts," says Tolley. "The tour guides are hilarious."
4. Edible Biodiversity
With 8 million acres of mountains and gorges, Asheville is incredibly biodiverse. More plant and fungi species can be found here than any other area of similar size in North America. Interested in wild food gathering and forest bathing? Take a foraging tour with No Taste Like Home.
Expert guides will escort you through natural areas and teach you what is edible and which plants are best avoided. You can even take three of your picks to a local restaurant to have a chef whip up a dish with your fresh finds.
ELEVATED ADVENTURE: 8 Mountain Resorts Perfect for Summer Fun
"Kids are natural-born foragers," says Tolley. "Let them loose in the woods and watch them go. A foraging tour is also a great way to encourage your children to love nature and the environment."
5. Cozy Accommodations
Asheville offers secluded cabins, campgrounds, modern hotels and cozy B&Bs. My family loved every minute of our stay at Angie's Mountain Overlook, a vacation rental through Greybeard Rentals. Not only did the home offer stunning views of the Blue Ridge Mountains from a bubbling outdoor hot tub, but also had kid-friendly features like a game room, basketball hoop, and bunk beds.
I'll never forget the kaleidoscope of colors surrounding the Blue Ridge Mountains from sunrise to sundown, the distant mountains a beautiful cornflower blue. Enveloped in pastel pinks and purples as the sun set, surrounded by an emerald canopy of trees, the view is nothing short of mesmerizing. But even more special is being surrounded by the ones you love on a memorable family vacation.
More from FamilyVacationist: