The week between Christmas and New Year's is a great time to travel with kids because you don't have to worry about anyone missing school.
I've found that certain cities across the U.S. are especially festive to visit over Christmas break and have even more activities and attractions than usual to bring families together.
Based on my own family travels, these are my picks for the best cities to visit for the holidays.
The holidays are my favorite time of year because of the beautiful decorations and the festive cheer of the season. It's also a great time to visit some of the country's top family vacation spots because of winter break from school. Each year, I try to coordinate with my extended family and meet up at a destination that's a midway point for everyone.
Festive Holiday Destinations That Go All-In for Christmas
I especially love visiting cities during the holidays because they're extra festive at this time of year. Plus, there's always a lot of special activities and attractions that bring our extended families together over Christmas vacation. And you can easily explore a city whether you book a hotel stay downtown or make reservations for a vacation rental farther out. Whatever your travel style, these are my the cities across the U.S. that go above and beyond to make winter break festive for everyone.
CELEBRATE THE SEASON: 29 Festive Family Resorts and Hotels for Christmas
1. New York, New York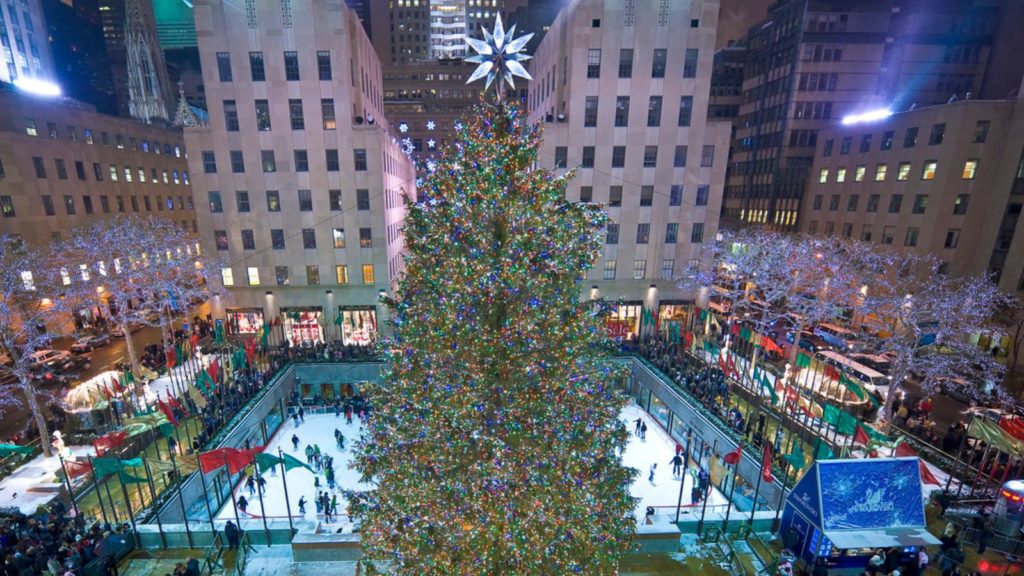 Is it a cliché to romanticize New York City for the holidays? Maybe. But growing up in New Jersey, one of my favorite memories was spending time in Manhattan during the Christmas season. The city buzzes with fun activities for children and adults alike.
The Rockefeller Center Christmas Tree is one of the most iconic sights during the holidays and a must-see when you visit the city. More than 50,000 colorful LED lights are strung on a Norway Spruce, typically measuring 75 feet or higher. You lace up your skates and take several spins around Rockefeller Center skating rink under the glow of the tree. It can get crowded, but my kids have always loved the experience. Afterwards, warm up with some hot chocolate and indulgent pastries at La Maison du Chocolat. The French patisserie is well-known for it chocolates, but the baked goods are truly not to be missed, either.
WHERE TO STAY: 10 Best Family Hotels in New York City
Bryant Park's Winter Village is one of my favorite spots to shop for holiday gifts. Each year starting in late October, artists showcase their handmade products in individual booths. They're open this holiday season from October 27, 2023, through January 2, 2024, and make a perfect spot for some holiday shopping or a post-Christmas gift for yourself.
Finding family-friendly restaurants in New York City is easier than you might think, too. One fun place to grab some dinner is Eataly, an Italian marketplace with restaurants, groceries, and quality gifts. I recommend a casual lunch at La Pizza and La Pasta, where (as its name implies) pizza and pasta are the stars. Stay at the Sofitel New York, which is conveniently located in Midtown and also offers complimentary breakfast for kids 12 years old and under.
2. Asheville, North Carolina
Asheville is perhaps best known for the Biltmore Estate, a historic museum representing Gilded Age architecture, and Christmas at the Biltmore is a spectacular experience for the entire family. I suggest booking accommodations there if you're able to. The property offers three types of lodging—hotel, inn, or cottages—and no matter which you choose, you'll be wowed by the magical experiences at the estate.
Decorated with more than 67 Christmas trees, 45,000 lights, and 1,000 feet of garland throughout the property, it's a sight to behold. The multi-course Christmas Eve and Christmas Day feasts are a sample of the things my family most looks forward to. We don our festive apparel and sit down to a traditional meal prepared by experts, without the daunting task of cleanup.
WINTER WONDERS: 10 European Christmas Markets Where You Can Celebrate the Season
Asheville also has a vibrant shopping scene that really comes alive this time of year. The storefronts and streets of this trendy city are lined with festive lights and decorations throughout the holidays, including the prime winter break period for families between Christmas and New Year's.
This year, The Omni Grove Park Inn is hosting the 31st annual National Gingerbread Competition, drawing contestants from across the United States to showcase their creations. The hotel will display them all from November 27, 2023, through January 2, 2024, giving you plenty of time to take in the delicious confections. (Fair warning: They smell delicious and you will leave feeling hungry.)
3. Lake Geneva, Wisconsin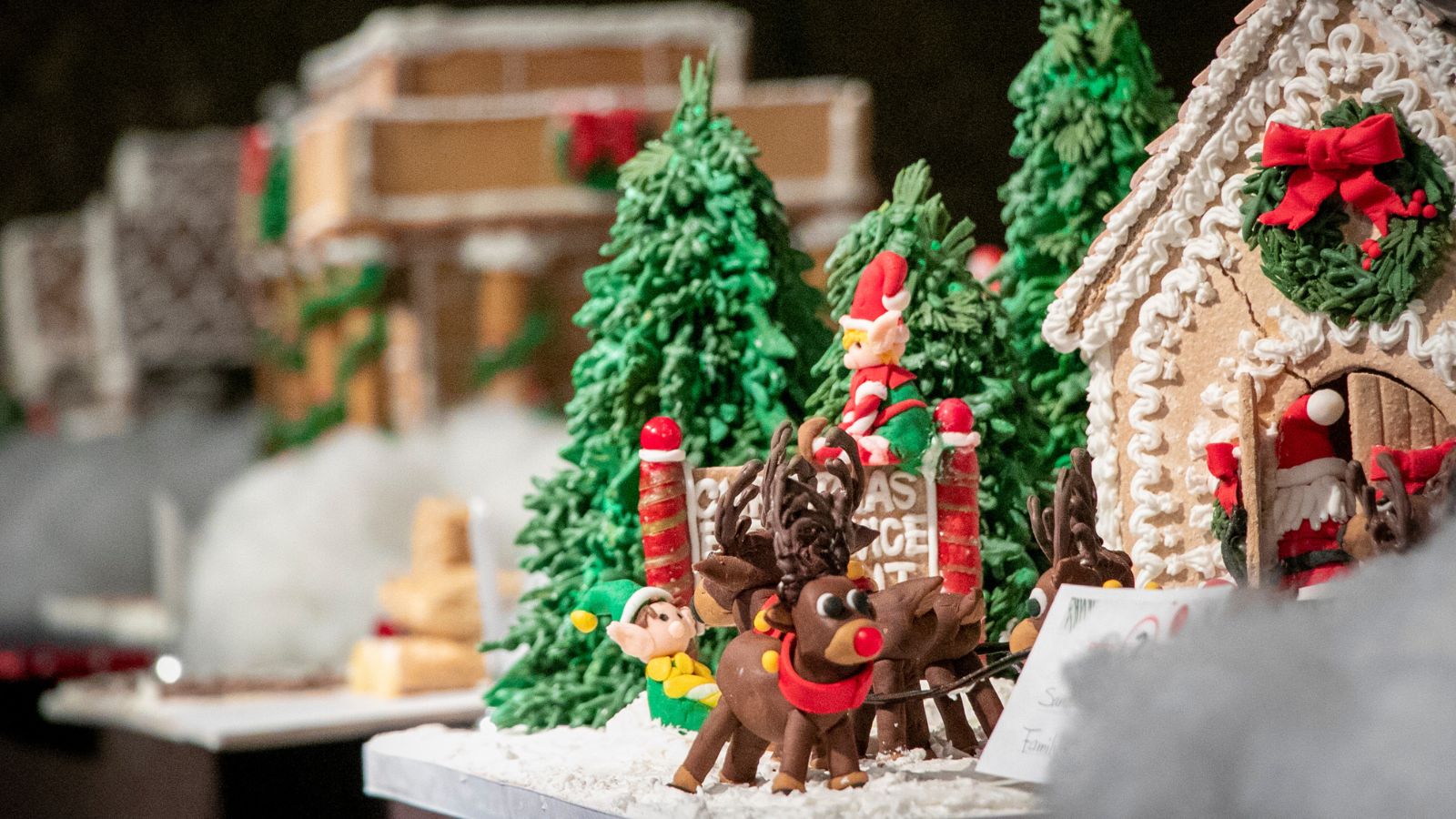 This Midwest town of Lake Geneva, about an hour outside of Chicago, pulls out all the stops during the Christmas season. The annual holiday tree lighting ceremony at Flatiron Park officially kicks off the festivities the day after Thanksgiving. Santa is on hand to spread holiday cheer, stores welcome shoppers with Black Friday deals, and you can grab some free refreshments as you meander and browse.
SEASON'S GREETINGS: 10 Magical Christmas Vacations for Families
The Grand Geneva Resort and Spa is my family's favorite hotel in the area because not only do kids stay free, but the resort is also transformed into a winter wonderland during the holidays. Decked out in more than two million lights that wow, the resort also holds a huge Gingerbread House Walk display created by area residents, both adults and children who vie for cash prizes for the best presentation.
The land-based Trolley Tour of Lights (running November 20 through December 30, 2023) is a memorable way to enjoy the outdoor light displays around the resort. And the delightful 40-minute Santa Cruise (November 24 through December 30, 2023) is an equally unforgettable way to tour the holiday lights right on Lake Geneva.
4. Teton Village, Wyoming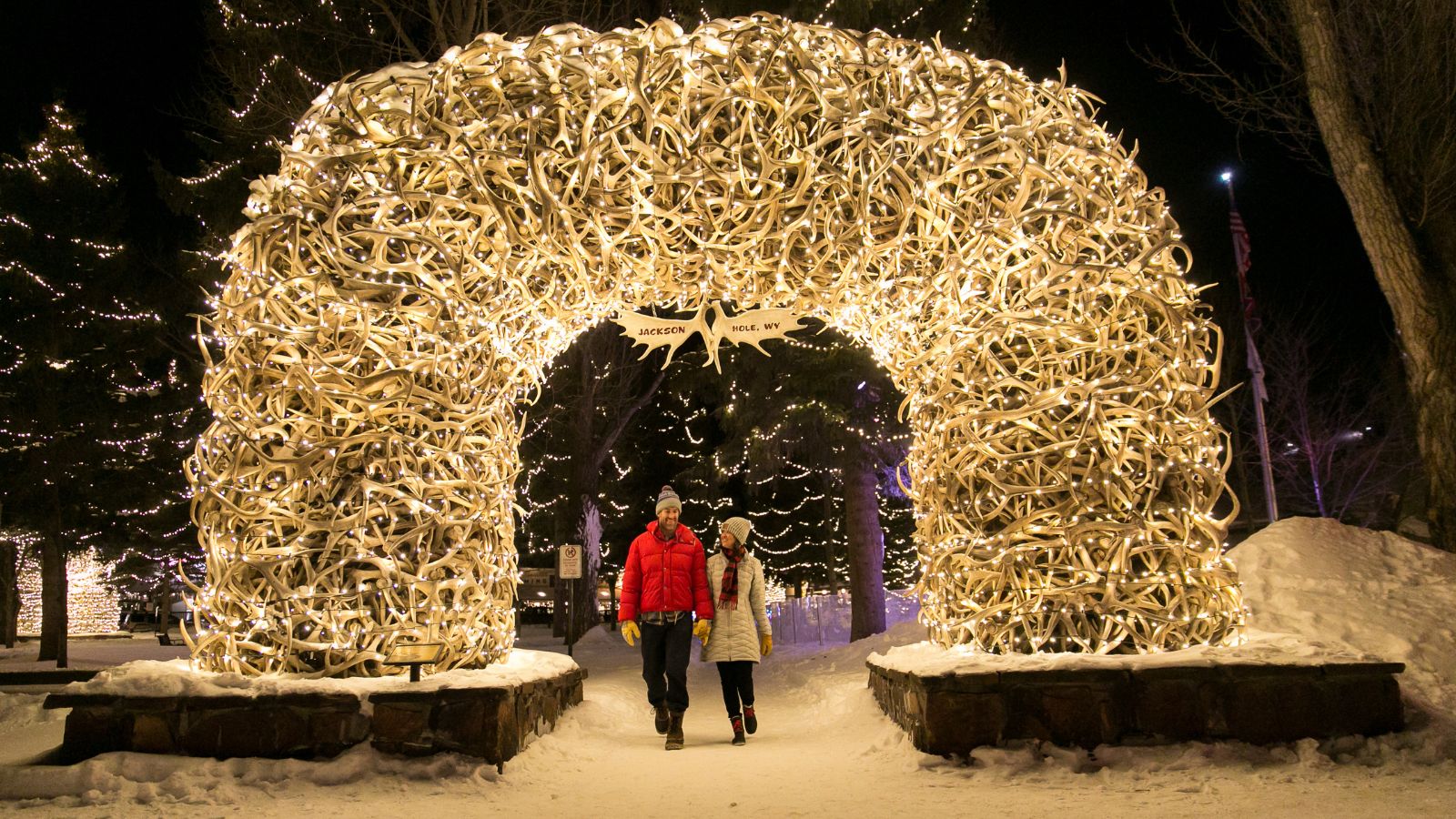 With snow-covered streets aglow with twinkling lights and plenty of winter activities to keep all members of your family busy, Teton Village is a magical place to visit during Christmastime. Climb aboard a horse-drawn sleigh as you ride through the National Elk Refuge, where you can spot many of these hearty animals as well as coyotes and eagles. Then lace up your skates and take a spin on the ice skating rink in the village before heading back to your hotel at the Teton Mountain Lodge and Spa, where you'll be greeted with live music in the lobby and if you're lucky, a Santa sighting.
ALL ABOARD: 10 Christmas Train Rides Guaranteed to Get You in the Holiday Spirit
The family-friendly lodge's two-bedroom suite offers up more than 1,000 square feet of space and features a private loft, fully equipped kitchen, and dining area. Large tubs make bath time convenient for parents traveling with little children. Grownups can enjoy the property's 22-person rooftop hot tub, state-of-the art fitness center, and book a treatment at SpaTerre. The hotel's complimentary concierge services help you plan activities for the day as well as facilitate transportation, ski rentals, lift tickets, and even grocery delivery.
5. Las Vegas, Nevada
Sure, Las Vegas is best known for its casinos and entertainment scene, but it should come as no surprise it's also a hot destination for the holidays. For one thing, almost everything's open every day throughout the holidays, including on both Thanksgiving and Christmas Day. This holiday season, the High Roller Observation Wheel located across from Caesars Palace will light the night with more than 2,000 colorful LED lights alongside festive music for the "Lights at The LINQ" show (nightly through December 28, 2023). Ride the wheel, which soars 550 feet above the ground, for expansive views of the city.
COLD-WEATHER FUN: 10 New England Winter Getaways for Families Who Don't Like to Ski
Book an unforgettable dining experience at The Garden Table, which will wow you and your kids. Set amidst the serene Conservatory Botanical Gardens, with towering plants and flowers, you'll dine inside a private gazebo as culinary experts bring out platters of sumptuous pastries, hearty sandwiches, and fun cocktails and mocktails with a holiday theme.
For a festive dinner, family-friendly Harvest serves seasonal fare that appeals to all ages. Small plates such as the pork belly lettuce wraps, salt and pepper shrimp, and their signature naan bread are great for sharing. Additional winners are the ribeye steak, roast half chicken, and roasted vegetables. Portions are large and make for great family-style dining. Book a tasting at the Ethel M Chocolates Factory in Henderson, less than 30 minutes from the Strip. The chocolate wonderland's front garden will be decorated with over half a million lights to wow guests this December. Tastings run from 30 to 45 minutes long, with children's pricing available.
Stay in one of the renovated StayWell rooms at the Bellagio Hotel and Casino, right in the center of the bustling Las Vegas Strip. There are five outdoor pools, a casino, more than 15 restaurant options, and a full service salon and spa.
6. Portland, Oregon
Eclectic Portland bursts with Yuletide cheer during the holiday season. Book a family-friendly suite at the The Nines Hotel, conveniently located in downtown Portland and adjacent to Pioneer Courthouse Square, where a towering Douglas Fir will be decorated with more than 9,500 lights from November 24, 2023 through mid-January of 2024.
TROPICAL GETAWAYS: 11 Caribbean Vacations That Have Something for Everyone in the Family
Depending on when you visit during the holiday season, you can enjoy the annual Portland Christmas Ship Parade, featuring a stream of about 60 festively decorated boats drifting along the Willamette and Columbia Rivers in a tradition that spans 15 days. If you visit before Christmas (November 24 through December 17, 2023) you can also hop aboard the Portland Holiday Express Train, which takes you on a 40-minute journey in a vintage 1912 steam locomotive with Santa making the rounds to greet passengers.
The City of Roses is home to a bevy of excellent restaurants, but be sure to check out the newly opened Janken, a blend of Asian fusion flavors under the direction of chef and co-owner Rodrigo Ochoa, who grew up in Medellín, Colombia. A towering cherry blossom tree sits at the center of the restaurant. The large menu accommodates all taste buds, even picky eaters. I highly recommend parents share the caviar platter if you're seafood fans. Many kids will love the sticky ribs and the chef's rendition of KFC.
7. Honolulu, Oahu
Honolulu is a popular Hawaii resort town that makes an excellent Christmas destination. Swap out sweaters and scarves for warm weather, some of the most beautiful beaches in the world, and excellent cuisine. Many family resorts and hotels in Hawaii go all out during the holiday season with decorations, festive food, and tons of events. So even if you get to skip the cold weather, you won't miss the Christmas cheer.
TROPICAL VACATIONS: 6 Best Hawaii All-Inclusive Resorts for Families
My family loves staying at The Laylow during the holidays. It's an immaculate property that sits in the heart of Waikiki with a pool, live entertainment, and daily activities for kids. Guest rooms and suites are spacious and perfect for families. The corner suite features a dining nook, a comfortable daybed, and seating area, along with two lanais. Restaurants such as Paia Fish Market and the famous Tex 808 BBQ have menus for kids, along with Thanksgiving and Christmas offerings.
Within walking distance are the many shops along Kuhio Avenue, where you'll find a blend of luxury stores and low-key casual apparel stores. One of my favorites is the locally owned Mahina store, which sells trendy clothing at affordable prices.
More from FamilyVacationist: