Gambling, fine dining, clubbing—many of Sin City's most famous specialties are definitely not family-friendly. But before you dismiss Las Vegas as a family vacation spot, take a closer look. Because against all odds, there are actually a ton of things to do in Las Vegas with kids.
From immersive superhero spaces to interactive children's museums, wildlife habitats to a construction vehicle playground, there's virtually endless variety when it comes to family vacation ideas and things to do in Las Vegas with kids.
The Best Things to Do in Las Vegas with Kids
Swap the sequins for a stroller and head to these hot spots for families in and around Las Vegas. It's one roll of the dice you won't regret.
1. Dig This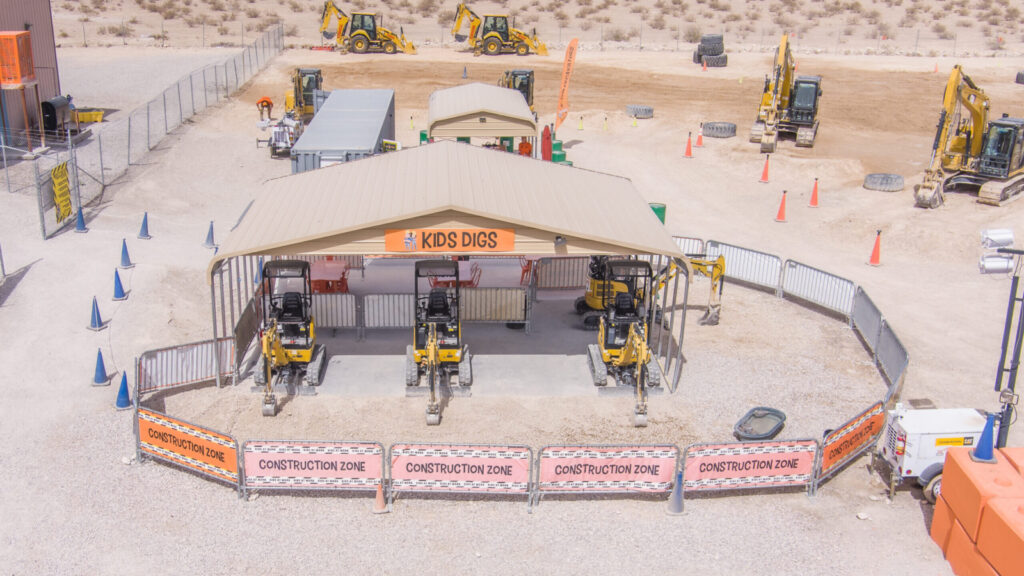 Does your kid make you read Goodnight Goodnight Construction Site three to six times a night? Have they trained you to yell "Dig truck!" every time you see construction equipment around town? Then you'd be a monster not to take them to the Dig This heavy equipment playground in Las Vegas.
GO WEST: 7 Kid-Friendly West Coast Vacations with Something for Everyone in the Family
Adult supervision is definitely required, but there are kid-sized thrills here too. Little kids can get hands on with one-ton excavators (One-Ton Caterpillar earth separating equipment, to be specific, because your kid probably knows the difference even if you don't). Kids two to five can operate the equipment with the help of an adult, and kids five and older (and who are at least 48" tall) can take them for a spin on their own.
Older kids can operate some of the bigger equipment. For instance, kids eight and up can try their hand at digging with a six-ton excavator, kids 12 and up can dig and push dirt around with 313FL and 315CL Excavators, and 16-and-ups can participate in the Wheel Loader experience, which includes an obstacle course.
The M Resort Spa Casino in Henderson is a four-minute drive from Dig This! The hotel has a desert-oasis vibe and one-, two-, and three-bedroom suites that are perfect for families.
2. High Roller Observation Wheel
The appeal of the High Roller is obvious: It's shiny, it moves, and it looks like a giant amusement park ride. But there's more to it than that. The slow ride on this 550-foot tall observation wheel (it takes 30 minutes to make the circuit) gives you and the kids time to settle into your 40-person glass pod and scan the city starting from eye level and soaring up above the Strip.
PLAN A TRIP: 20 Best Places to Go with Kids This Year
The views of Las Vegas and out to the desert are next level, and there's something else special about giving kids this bird's eye view: In crowded Vegas, kids spend a lot of time not being able to see much aside from other people's legs, so the chance for an unobstructed view is a big deal.
Bonus: The High Roller website has a downloadable educational sheet for families with a lesson plan that helps kids and their adults talk about architectural design, technology, geography, science, and more.
3. Fountains at the Bellagio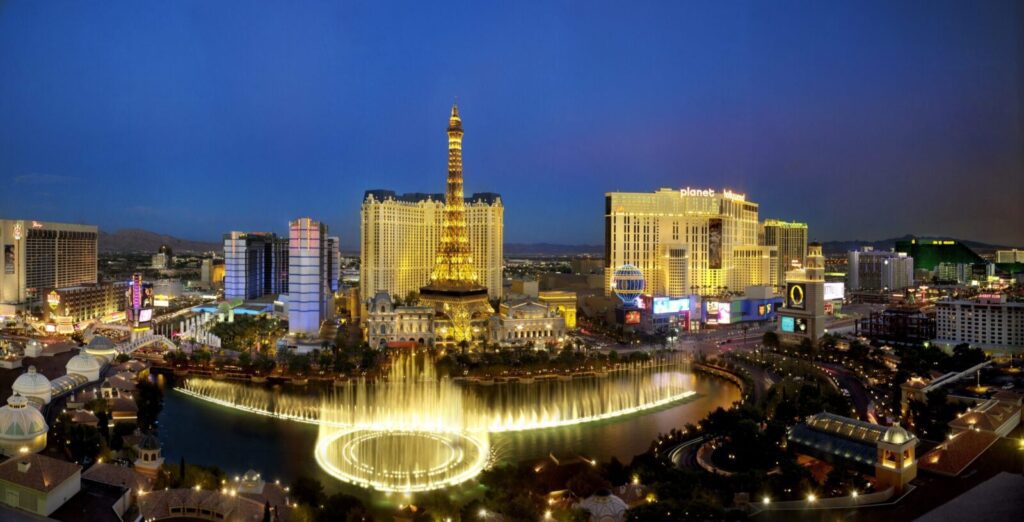 There are two fountains not to miss at the Bellagio. The first, of course, is the massive and famous fountain out front that puts on stellar free displays every 15 to 30 minutes, depending on the time of day. More than 1,000 individual fountains make up the iconic display, and water spouts nearly 500 feet in the air. The afternoon shows are fun and convenient for families (and are often less crowded), but if your kids are old enough to be out in the evening when the fountain is illuminated by lights, it's worth waiting until after sunset for the dialed-up wow factor.
THEME PARK FUN: 7 Best Indoor Amusement Parks in the U.S.
So that's the first fountain to check out at the Bellagio. The second and somewhat lesser known display is the world's largest chocolate fountain. Find it at the Bellagio Patisserie near the Conservatory (also totally worth a visit with kids—the 14,000-square foot botanical garden changes seasonally). But if you've just come from the show outside, adjust your expectations. This fountain is cool but it's more like a series of rivers of different colors of chocolate that cascade down from the ceiling than a gravity-defying display of dessert.
Which one is going to impress your kids more? Show them both and find out.
4. Springs Preserve
For kids (and adults) who need a nature reset in Vegas, the Springs Preserve is a solid bet. There's a lot going on here, including a year-round playground, a warm-weather splash pad, a train that weaves its way through the preserve's 110 acres of native habitats and archeological sites, and more than three miles of trails. There's also a recreated version of Las Vegas circa 1905, two museums, and a seasonal butterfly habitat.
ALL IN ONE: 19 Best All-Inclusive Resorts in the U.S.
The springs of the Springs Preserve were the original water source for the Native American Nuwuvi people, who have lived here for generations.
5. DISCOVERY Children's Museum
Kids rule at DISCOVERY Children's Museum. This interactive space is maximum fun for curious kids, with exhibition spaces dedicated to water play, art, science, and rotating exhibits on topics kids will love.
NOT TO MISS: 7 Iconic U.S. Attractions Kids Should See Before They Grow Up
There's a play super market, an area packed with costumes, and a play space geared to toddlers. The DISCOVERY Children's Museum is off the Strip, and is a great excuse to explore Las Vegas beyond its flashiest corridor.
6. Illuminarium Las Vegas
Flying to the moon is a quick hop at the Illuminarium Las Vegas, which offers immersive experiences built on projections, sounds, scents, and in-ground haptics (that let you leave a footprint on the moon or feel the shake of an elephant walking by).
RUGGED AND DURABLE: 11 Stylish Luggage Brands That Are Built to Last
You and the kids can stroll around the space or find a comfy seat and watch it go by. Shows include "Space," which takes you to the moon, up close to Saturn's rings, and elsewhere on a tour of the galaxy; and "Wild," a safari experience with plenty of kid-pleasing animals.
7. Marvel Avengers S.T.A.T.I.O.N.
Families that love Marvel's super heroes should head straight to Marvel Avengers S.T.A.T.I.O.N., stands for Scientific Training And Tactical Intelligence Operative Network. A bit of a stretch? Sure, but this is Vegas so we'll roll with it.
ROAD RULES: 11 Best Family Road Trip Routes in the United States
A ticket gets you access to all sorts of "artifacts, intelligence files, experiments and assessments" on characters like Captain America, Hulk, Thor, and Iron Man. You and the kids get to create case files on the characters, which sounds a little too administrative to be fun until you realize it's just an excuse to interact with stuff like Captain America's shield and Iron Man's MK 45 suit.
Marvel Avengers S.T.A.T.I.O.N. is at Treasure Island, which is also home to Mystère by Cirque du Soleil. Mystère is Vegas's original must-see Cirque du Soleil show and is rated as appropriate for people one to 99. It also has discounted tickets for kids under 12. Treasure Island has a wide variety of activities, restaurants, shopping, and pools onsite. It also offers adjoining rooms, a perk for families who need a little more space.
8. Shark Reef Aquarium at Mandalay Bay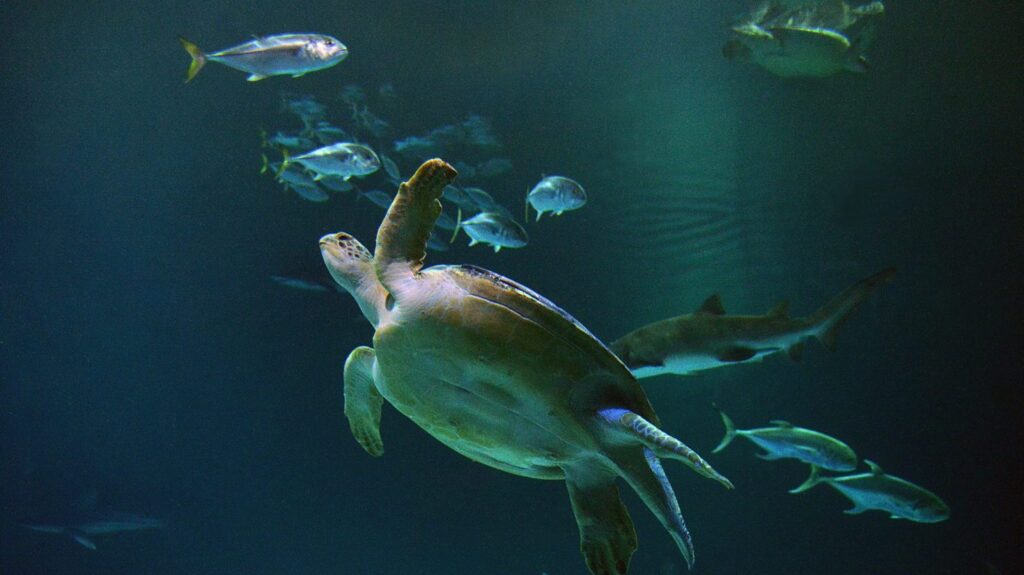 Not all animal experiences are created equal in Las Vegas, and among the better options for kids, adults, and animals is the Shark Reef Aquarium at Mandalay Bay. Recognized as one of the best aquariums in the U.S., it's home to more than 2,000 animals including sharks, sea turtles, rays, and piranhas. And it's Nevada's only facility accredited by the Association of Zoos and Aquariums.
WATER WORLDS: 8 Best Florida Aquariums to Visit with Kids
Aquarium exhibits include the shark reef tunnel, jellyfish exhibit, and touch pool. For added thrills, you can book a family-friendly shark or stingray feeding experience.
9. Las Vegas Natural History Museum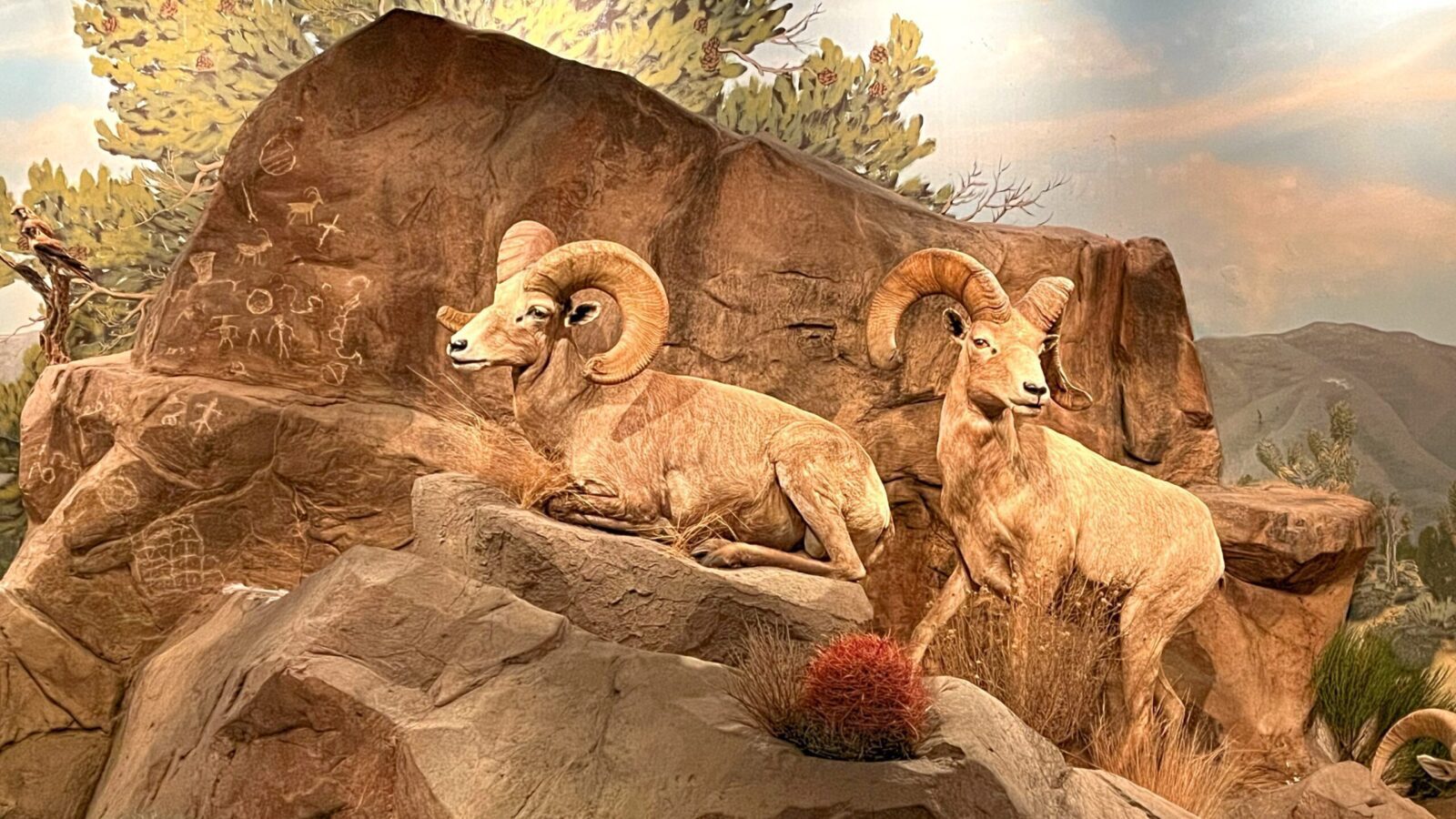 This low-key natural history museum spans history with everything from fossil dinosaur eggs and roaring T-rex replicas to a native wildlife gallery and a 3,000-gallon tank with sharks and stingrays. There's also a fluorescent minerals gallery that glows in the dark.
Located about 15 minutes from the Strip, the Natural History Museum sits next to Heritage Park, which has picnic tables and plenty of room for kids to run around. Museum admission is affordable compared to other cities' natural history museums and it's good for an hour or two, so it's well matched to the attention span of most kids.
More from FamilyVacationist: