You don't need to wait until the weather turns warm during spring break or summer vacation to enjoy a theme park vacation with your family. All across the country, indoor amusement parks offer high-speed thrills, dizzying spins, and scream-inducing drops to rival even the best Orlando theme parks, no matter the temperature outside.
2024's Top Indoor Amusement Parks in the United States
Perfect for rainy days, winter vacations, or kids who get cranky in the heat, an indoor amusement park can be the centerpiece of a weekend getaway or family road trip. From coast to coast, here are the best indoor amusement parks in the U.S. worth making part of your next family vacation.
FIND A DEAL: 19 Cheap Theme Park Hotels That Come with Magical Perks in 2024
1. Nickelodeon Universe at American Dream
East Rutherford, New Jersey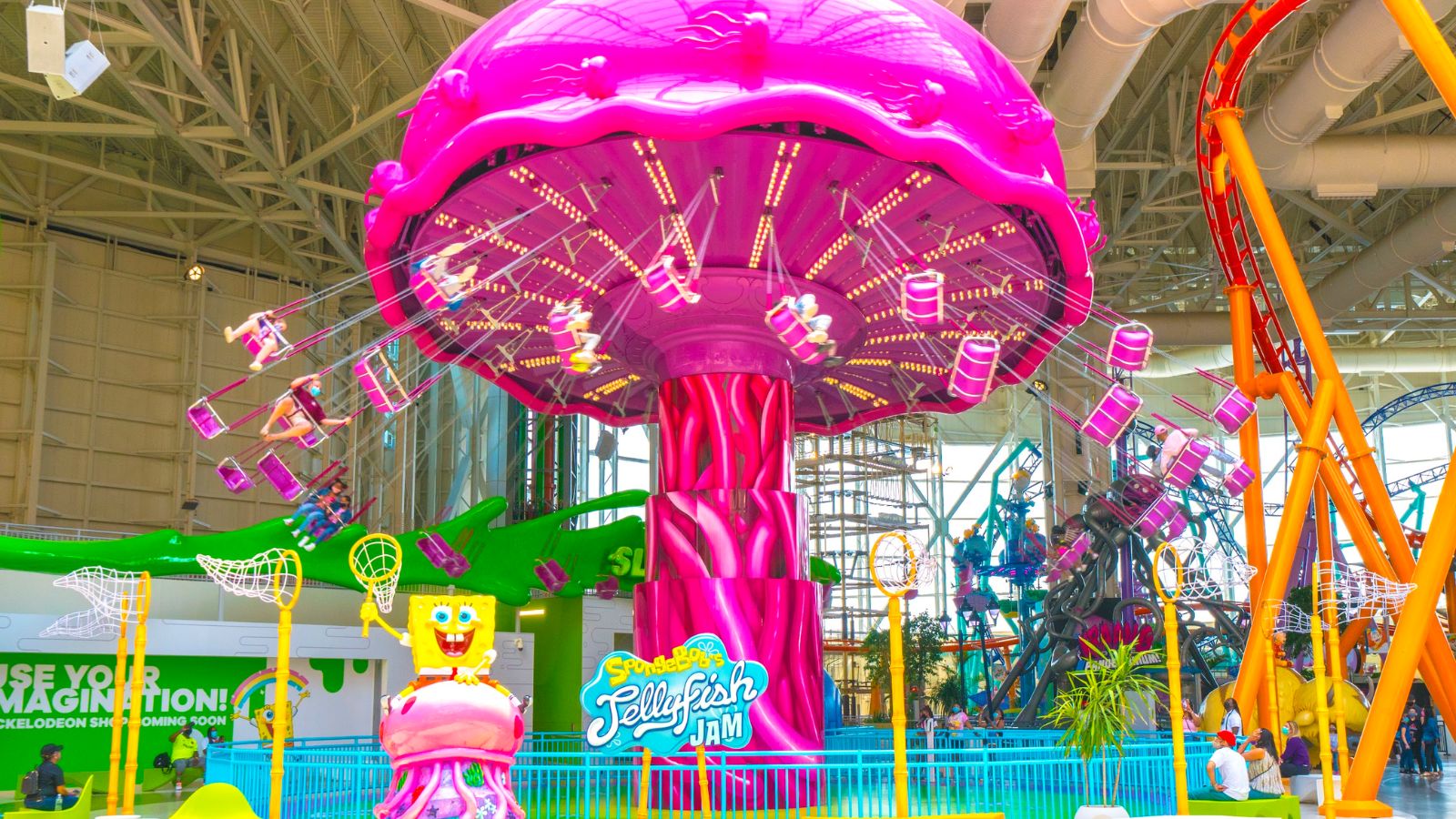 The self-proclaimed largest indoor theme park in the Western Hemisphere, Nickelodeon Universe at American Dream comes with all the bells and whistles you'd expect in an amusement park for kids. So what does that entail? Teen or tween thrill seekers can line up for experiences like the giant skateboard ride Timmy's Half Pipe Havoc and the Teenage Mutant Ninja Turtles-themed Shredder, the world's tallest and longest free-spinning roller coaster.
WATER WORLDS: 13 Best Outdoor Water Parks for Beating the Summer Heat in 2024
On a vacation with toddlers? Little ones can buckle up for a range of rides based on their favorite cartoons, like Dora's Sky Railway and a PAW Patrol-themed Ferris wheel. And the whole family can take a spin on the Nickelodeon Slime Streak roller coaster or SpongeBob's Jellyfish Jam swing ride. The American Dream shopping, dining, and entertainment complex is also home to DreamWorks Water Park, the largest indoor water park in North America and a slew of other fun activities, so you could really make a day or a whole weekend of it here.
2. Nickelodeon Universe at Mall of America
Bloomington, Minnesota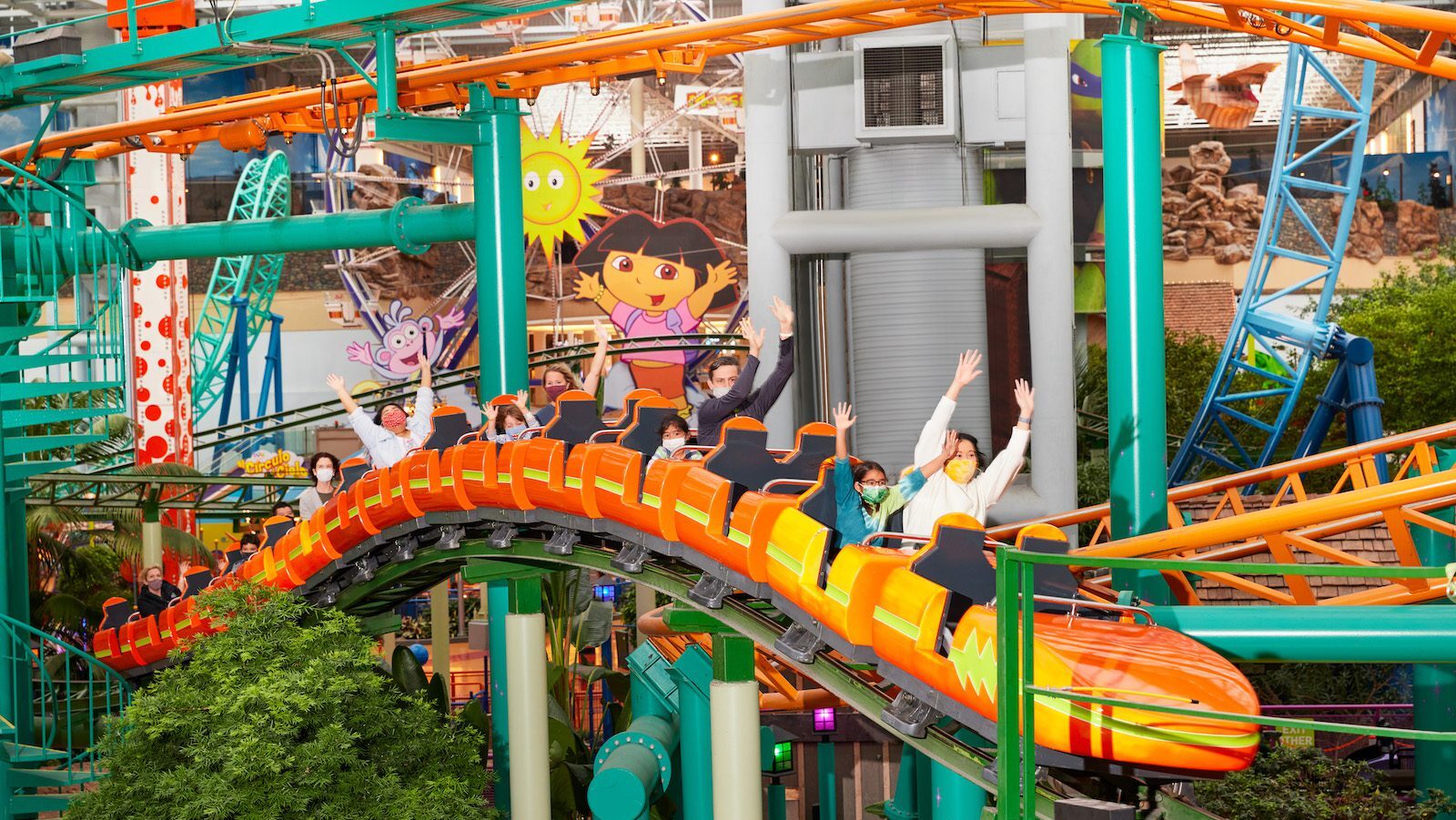 Located in the center of the legendary Mall of America, seven-acre Nickelodeon Universe offers 27 indoor amusement park rides and attractions inspired by the popular kids television network. Get your thrills on the looping SpongeBob SquarePants Rock Bottom Plunge or wacky Fairly Odd Coaster, or take a literal spin on Shredder's Mutant Masher. More easygoing rides for all ages include a log flume and Dora the Explorer-themed Ferris wheel, and little kids have lots of ride options geared toward their age and interests as well. Several new rides are planned for 2024, including Boots' Banana Swing and Fly with Appa.
NICK ALL NIGHT: Nickelodeon Hotels and Resorts Riviera Maya: Full Review and What to Know Before You Go
Both the Mall of America and Nickelodeon Universe earned the Certified Autism Center designation in 2019. Staff receive special training in areas like sensory awareness and communication, and Nickelodeon Universe offers a sensory guide and a designated quiet space for guests with sensory issues that features dimmable lights, soundproof walls, and interactive wall displays.
3. Tom Foolerys Adventure Park
Indoor Amusement Park Locations in Texas and Wisconsin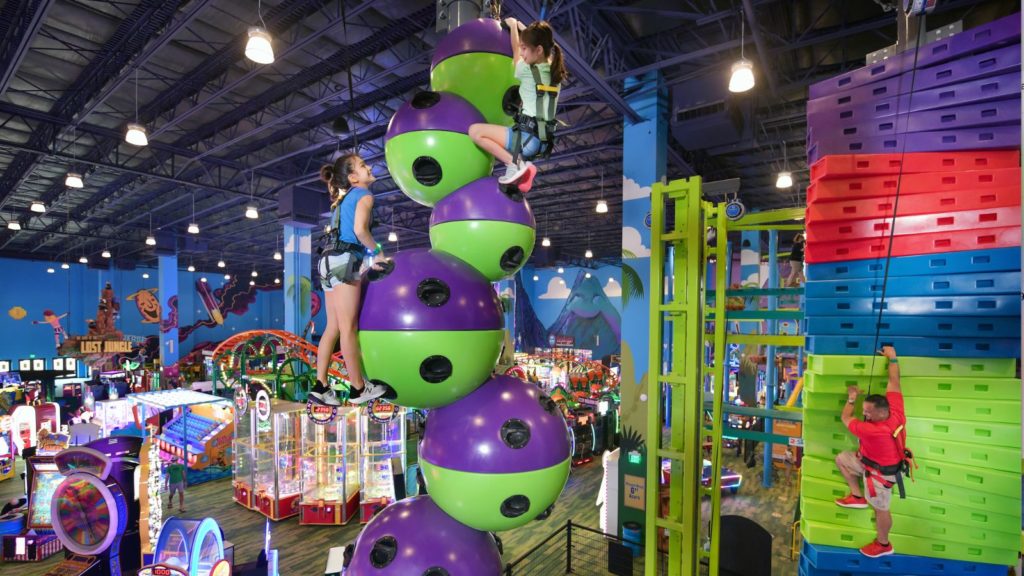 With indoor amusement park locations in Texas and Wisconsin, Tom Foolerys Adventure Park is a popular option for families from around the country. In Wisconsin, Kalahari Resorts and Conventions in the Wisconsin Dells features the state's largest indoor water park alongside a 100,000-square-foot Tom Foolerys outpost. This Midwest indoor theme park offers rides and attractions such as a six-story Ferris wheel, African-themed carousel, two-story elevated go-kart track, and the high-intensity G-Force One (with pendulum-style flips and twists). Lower-octane attractions include a ropes course, zip line, rock climbing walls, laser tag, and 24 lanes of bowling.
MAKE A SPLASH: 7 Best Orlando Water Parks for 2024
While the massive indoor water park at Kalahari Resorts Round Rock might be what initially draws guests to the Texas location, don't overlook its Tom Foolerys Adventure Park either. The 80,000-square-foot indoor theme park includes rides like Maximum Foolocity, which moves up, down, and all around; and the Scream'n Centipede indoor rollercoaster. Too intense for you? Try the Puppy Pulsar ride designed for little ones or the new XD Dark Ride 5-D Theater. More than 250 arcade games, a ropes course, climbing wall, laser tag, escape rooms, bowling, and mini golf provide other options for a fun-filled day.
4. The Adventuredome Indoor Theme Park at Circus Circus
Las Vegas, Nevada
You may not immediately think of Las Vegas as a kid-friendly family vacation spot, but there's a surprising number of family-friendly things to so there. Indoor amusement park The Adventuredome at Circus Circus offers plenty of thrills and excitement for the whole family, no poker chips required. This five-acre indoor theme park features 25 rides and attractions for all ages.
SET SAIL: 50 Best Cruise Ship Water Parks and Private Islands for Kids in 2024
Little kids can enjoy the circus-inspired carousel and the hot air balloon-themed Ferris wheel. Older kids can strap in for the world's only indoor double-loop, double-corkscrew rollercoaster, or flip and spin through the air on rides with names like Chaos and Inverter that tell you exactly what you're in for. The Adventuredome's NebulaZ thrill ride offers high-flying views of the whole site, while midway games, a laser maze, and arcade provide lower-impact fun. Extend your visit with a room at the Manor Motor Lodge, Casino Tower, or Skyrise Tower at Circus Circus Hotel and Casino.
5. iPlay America Indoor Amusement Park
Freehold, New Jersey
The nearly four-acre iPlay America gives families a Jersey Shore boardwalk-style indoor amusement park experience. Its Freedom Rider indoor roller coaster features not only the usual drops and high speeds but also cars that spin 360 degrees. The Reverse Time ride twists riders every which way, while the Skyscraper drop ride keeps everyone on their toes.
WHERE TO STAY: 19 Best Family Resorts and Hotels in the U.S. for 2024
Young visitors can take a spin on the mini Ferris wheel, carousel, and the just-their-size High Flyer ride. There's also a go-kart track, two-level laser tag, three-level play structure, and classic arcade and carnival games. Refuel with funnel cakes, fried Oreos, and other boardwalk-inspired eats or head to Broadway Sweets for a range of candy options.
6. Mt. Olympus Water and Theme Park Resort
Wisconsin Dells, Wisconsin
Open annually from mid-May through mid-September, the indoor theme park at Mt. Olympus Water and Theme Park is just one of the many action-packed amenities at this sprawling resort. Indoors, you can enjoy spinning teacups, bumper cars, a "crazy trolley" ride with lots of ups and downs, and a kid-sized biplane ride. There's also an arcade, indoor mini golf, and a life-sized soccer-meets-pool game.
MAGICAL VACATIONS: How to Plan Your First Disney World or Disneyland Vacation
And if that's not enough, this family resort in the self-proclaimed "water park capital of the world" also offers an indoor water park with the country's first rotating waterslide, called Medusa's Slidewheel. During the warmer months, you can play at resort's outdoor water park and theme park areas as well. There's a wave pool and a variety of water slides at the outdoor water park, and the outdoor amusement park area has multiple go-kart tracks, five rollercoasters of varying intensity, and other high-flying thrill rides. Summer 2024 will see the debut of the tallest water slide in the U.S. (145 feet tall), called The Rise of Icarus.
7. Houston Funplex Indoor Amusement Park
Houston, Texas
Got a kid who always complains about being bored? Take them to the Houston Funplex indoor amusement park, where there's more than 200 arcade games, activities, and attractions to keep them entertained. Start off with the rides, which range from spinning lady bugs and airplanes for the littles to bumper cars, a Ferris wheel, and the Funplex Tower ride for bigger kids.
LONE STAR STATE: 9 Best Family Resorts in Texas with Kid-Friendly Amenities in 2024
But wait, there's more! The whole family can battle each other on the dozens of arcade games, try for strikes at the 40-lane bowling alley, or race around the indoor go-kart track. Then lace up your skates at the Roller City USA roller rink (where Houston's own Beyoncé filmed a music video) and let the kids burn off some energy at the site's "Texas-sized" two-story indoor playground.
More from FamilyVacationist: