The vast area known as Northern California is full of magnificent natural beauty, plentiful off-the-beaten-path gems, and Golden Gate metropolitan charm—and together they make a perfect recipe for a romantic getaway. Whether you love the hustle and bustle of the city or to spend time surrounded by nature, the best weekend getaways in Northern California deliver relaxation, gorgeous scenery, and plenty of room to reconnect as a couple.
Weekend Getaways in Northern California for Couples
When it's time to get away from it all—work, family, and day-to-day responsibilities—and find time to kick back and recharge your batteries, these romantic weekend getaways in Northern California have everything you need.
GOLDEN STATE GETAWAYS: 7 Cheap California Vacation Ideas for the Whole Family
1. The Lodge at the Presidio
San Francisco, California
The Lodge at Presidio creates the perfect Northern California getaway, balancing the fun of the city and the quiet of Bay Area natural beauty. This former U.S. Army barracks maintains all of its historic charm while adding the elegance, luxury, and standards of sustainability that are trademark San Francisco.
Tapping into the beauty of the expansive Presidio (known for its beaches, hiking and biking trails, three Andy Goldsworthy pieces, Tunnel Tops recreation area, and the Presidio Golf Course), The Lodge at The Presidio offers couples the ease and access to all the park has to offer while being just a stone's throw from some of the Bay Area's most impressive attractions.
COASTAL FUN: 8 Romantic California Getaways for Couples
You can do a full day of sightseeing and then return to a home base that's an idyllic romantic retreat. The Lodge encourages couples to move at their own pace (whether that means city sightseeing or staying close to enjoy beauty and nature of the Presidio) with a complimentary continental breakfast and evening wine and cheese reception, front porch with rocking chairs, and outdoor patio with fire pit. The main living room also boasts a fireplace and board games.
Of course, if simply enjoying private time together on your romantic getaway is the ultimate goal, guest rooms include custom-made pillow top mattresses, 52-inch flatscreen TVs, and EO bath products.
2. Albion River Inn
Albion, California
The Albion River Inn is a beacon for couples looking to experience the Mendocino Coast from the comfort of a romantic lodge yet with options for hiking, boating, or biking. The coastline is not to be missed for partners looking to get away and relish in the expansiveness of the shores of Northern California. Dramatic cliffs, powerful rivers, and towering trees thrive while small towns pepper the coastline, and visitors to the Albion River Inn can experience the grandeur of local natural beauty while also having opportunities for delicious dining and nearby gallery-hopping.
TOGETHER TIME: 12 Best Vacation Spots in North America for Couples
Each of the Albion River Inn's 22 guest rooms and cottages are a good for a restful couples retreat. With spa and standard tub options, cozy bathrobes, organic local teas and coffees, complimentary breakfast and a split-bottle of local wine in every room, you'll never need to leave the comfort of your porch's Adirondack chair. And because the inn's guest rooms are designed for relaxation and romance, televisions are not provided.
The inn's restaurant is known locally as one of the best around, and views abound from every corner of the property.
3. Treebones Resort
Big Sur, California
Located almost squarely between Los Angeles and San Francisco, Big Sur is known for its incredible views, hiking trails, and off-the-grid luxe retreats. Even among the area's many romantic weekend getaway spots, Treebones stands out as an ideal spot for a Northern California couples getaway because of its fine dining options, remote location, magnificent views, and varied sleeping options.
With accommodations choices that range from flat campsites to elaborate domed yurts with indoor and outdoor fireplaces and even two twig nests (!), couples traveling on a range of budgets can have the opportunity to experience Treebones' magnificent glamping resort atmosphere. If you're interested in a splurge, book the autonomous tents which allow you to commune, alone, with the Pacific. These 600-square-foot tents feel like isolated luxury hotel rooms and include bamboo flooring, gas fireplaces, leather chairs and sofa, and en suite bath with walk-in shower. They're most spectacular in the morning light that slowly permeates the translucent tent fabric and the evening glow that dissipates into night.
BEACH COMBING: The Ultimate Guide to Monterey Beaches
Though the autonomous tents are certainly superior accommodations, all guests at Treebones Resort, even those simply bringing their own tents for the reserved campsites, have access to the complimentary breakfast, heated pool and hot tub, and extensive hiking trails around the property. Couples who want more rustic options can consider the twig nest or campsites, and yurts offer an ideal in-between option—they come standard with electricity, running water at the sink/vanity, well-appointed furnishings, and of course breathtaking views.
The quality of the food at both the Lodge and Wild Coast Sushi are two more reasons Treebones makes for an idyllic couples' trip. Bay Area locals will make the almost-four-hour trip just for the omakase sushi experience.
Plan to be disconnected at Treebones—there's no cellular service or Wi-Fi, and children under 13 are not allowed.
4. The Village at Northstar
Truckee, California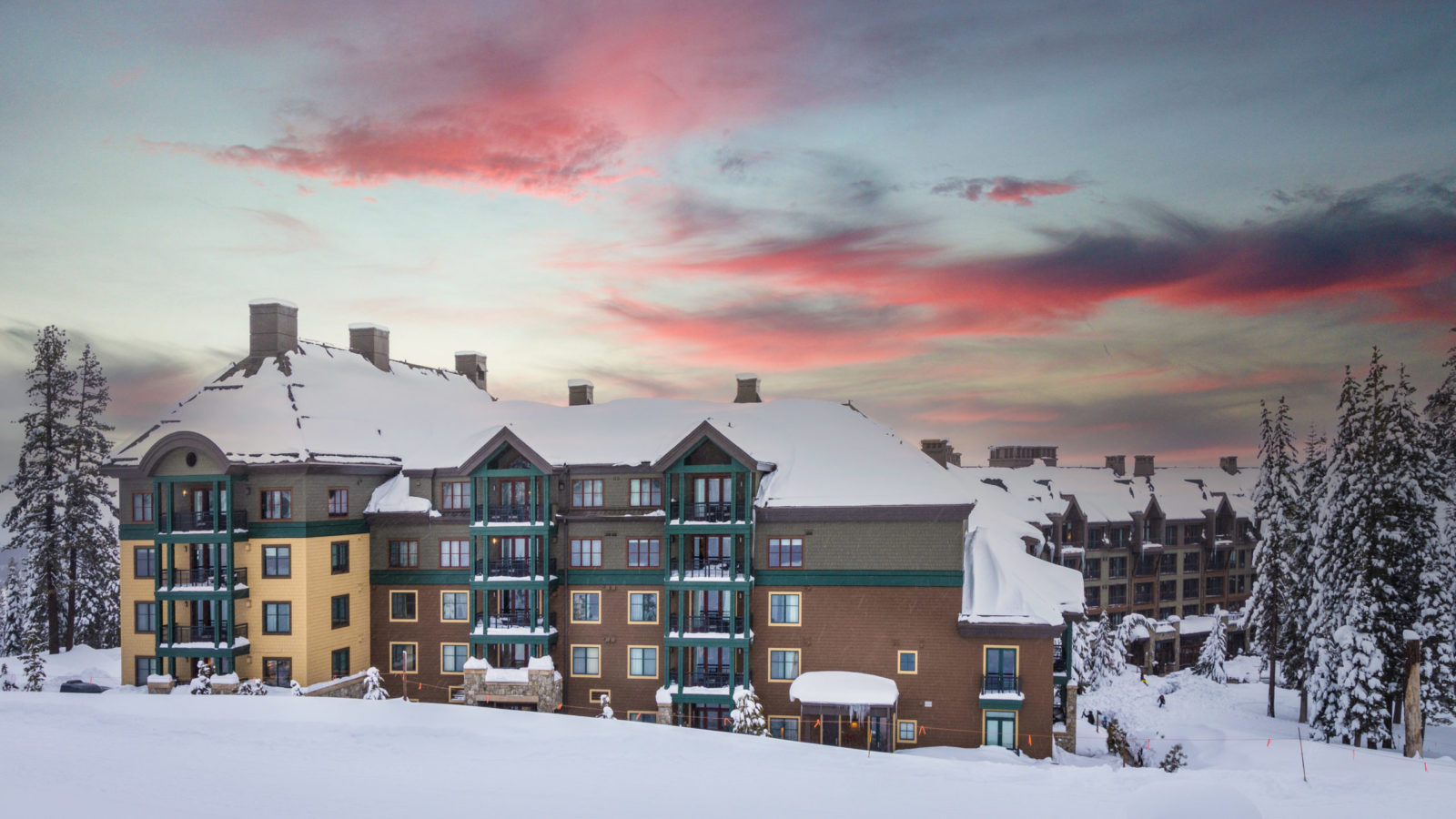 A ski resort as a romantic getaway any time of year? Absolutely. In winter, Northstar California Resort boasts some of the best runs around. Come spring, summer, and fall, its gorgeous alpine surrounds make it a lovely home base for exploring all that Lake Tahoe has to offer.
Both active couples and partners looking for some quiet R&R will love Northstar in winter. Spend snowy days alternating between snuggling in front of the fire and trying out the myriad winter sports on the property, including ice skating, snowboarding, sledding, skiing, snowshoeing, and fat tire snow biking. At the end of a snow-filled day, couples can enjoy the apres-ski scene at its finest with fire pits, specialty cocktails, live entertainment, and even a movie theater.
FROZEN FUN: 11 Family Ski Resorts in the U.S. That Are Perfect for Kids and Beginners
While it's quieter in summer, Northstar is also a great couples getaway when it's warm out, with plenty of hiking and biking options. Summer visitors can also enjoy a roller rink, gem panning, bungee trampolining, and mini-golf on site after a day at the lake or hiking.
From premium mid-mountain "Constellation Residencies" (private home rentals) to hotel rooms and condos right in-village, you can choose to stay in the thick of it all or removed from Northstar's central village. A shuttle runs throughout the property during the day and evening.
5. Constellation Creek
Sierraville, California
While Northstar is a kind of "have-it-all" resort with plenty to keep you busy, Constellation Creek lends itself to those looking for more of a low-key retreat. Located just outside Sierraville in the heart of the Sierra Nevada Mountains, Constellation Creek is a nature lover's ideal homebase. The gentle bubbling of the creek paired with the infinite night sky makes for a peaceful mountain getaway.
MADE FOR WALKING: 10 Comfortable Travel Shoes That Can Handle a Whole Day of Walking
There is no cell service or Wi-Fi in this Northern California weekend getaway destination, and the beautifully appointed cabins with record players, fireplaces, private decks, and grilling areas give each lodging option a sophisticated and cozy feel. Smeg fridges, Casper mattresses, and modern furnishings encourage couples to feel right at home and prepared for cocktails, dinner on the deck, or hours reading and resting.
Spend the day hiking, swimming, or fishing on-property, or venture off to ski, mountain bike, and explore the local towns. Either way, you will come home to a restful, romantic, and quiet home base with everything you need to snuggle in for the night.
6. Indian Springs Calistoga
Calistoga, California
While many couples naturally flock to the bustling centers of Napa or Sonoma for a Wine Country getaway, you may find that Indian Springs Calistoga is actually the ideal spot for experiencing the best of Napa County while also having the peace and quiet of an elegant spa-resort.
WELCOMING DESTINATIONS: 10 Best U.S. Vacation Spots for LGBTQ+ Families
Situated at the end of the adorable town of Calistoga with its boutique shops and delicious restaurants, Indian Springs feels like it is removed from it all though it is only a stone's throw from renowned wineries and Calistoga's famous mud baths. With quiet paths winding around the resort, heated hot springs on site (including an adult-only pool), and a romantic restaurant on property, there actually is no reason to leave. Accommodation options range from beautifully appointed hotel-like rooms to multi-bedroom homes and are spread tastefully around the property.
The hot spring-fed pools are the focal point of Indian Springs and are flanked by the spa, bocce and shuffleboard courts, and nearby hammock garden. Spend the day relaxing in your robe around the property, and then use one of the property-provided cruiser bikes to get back to your room or head into town.
More from FamilyVacationist: