All theme parks are welcoming family vacation spots for young kids, but some make better vacations for toddlers than others. We're talking rides without height requirements, young children's favorite movie and TV characters live and in person, and play areas where they can climb, slide, and run around.
Best Amusement Parks for Kids
These U.S. amusement parks for kids are fun for the whole family, but especially families with little ones who want kid-size thrills.
TRAVEL WITH TODDLERS: 7 Best All-Inclusive Resorts for Families with Toddlers
1. Magic Kingdom at Walt Disney World Resort
Orlando, Florida
At Walt Disney World's Magic Kingdom, younger kids can go under the sea with the Little Mermaid, dine with Cinderella, fly with Dumbo, and, of course, meet their pal Mickey Mouse. Magic Kingdom has more than 20 fun rides and attractions with no height requirement that families can ride together, including a few play areas where kids can run around if they've been pent up in the stroller (or had one too many Mickey ice cream bars).
SUN SAFE: 6 Pediatrician-Approved Sunscreens for Babies and Toddlers
Leave some time to explore Tom Sawyer Island, climb to the top of the Swiss Family Robinson Treehouse, and cool off at the Casey Jr. Splash 'N' Soak Station. If your kid has their heart set on a particular character dining experience, those reservations can be made online up to 60 days in advance. They go fast so you'll want to secure those as early as possible.
2. Animal Kingdom at Walt Disney World Resort
Orlando, Florida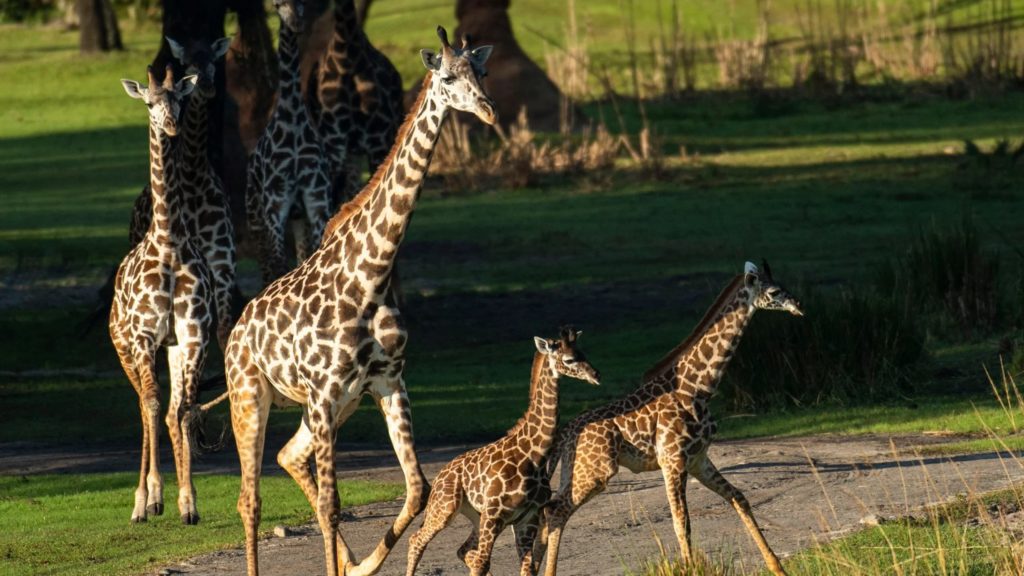 At Disney's Animal Kingdom, kids can learn about the world around them while observing hundreds of wild animals in their natural habitats. You can take a walk on the wild side at the Gorilla Falls Exploration Trail, Discovery Island Trails, and the Maharajah Jungle Trek or ride along on a guided tour of an African savanna on the Kilimanjaro Safaris (no height requirement).
ALL AGES: 10 Best Theme Parks in Orlando for Every Age Group and Interest
While you're there, take the Wildlife Express Train to Rafiki's Planet Watch where there's a petting zoo, animal education area, and a daily art lesson with a Disney animation expert. Kids can even become Wilderness Explorers, just like Russell from the movie Up! Stop by the Wilderness Explorer Headquarters inside the park's entrance and collect badges (and wilderness skills) as you explore the park.
3. LEGOLAND
Multiple Locations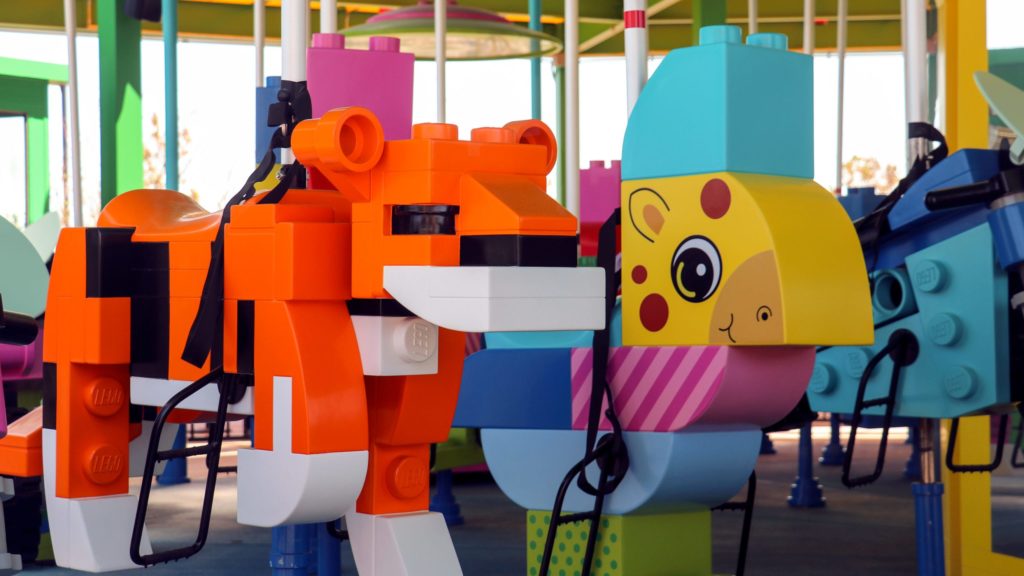 If kids can dream it, they can build it (and probably ride it) at LEGOLAND. And with locations in Florida, California, and New York, chances are you aren't too far from a LEGOLAND park.
FAMILY FUN: 15 Kid-Friendly Hotels and Resorts in the U.S. That Cater to Families
In addition to attractions themed to the LEGO Movie, LEGO City, LEGO Ninjago, and more, you can meet your favorite LEGO characters, build with LEGO bricks, and stay in a LEGO hotel (don't worry, it's not really made from LEGO). Toddlers and preschoolers will especially love the Duplo rides and play areas.
Bonus: Right next door to LEGOLAND Florida, the newly opened Peppa Pig Theme Park has a dozen toddler-friendly attractions and six rides, half of which do not have height restrictions.
4. Islands of Adventure at Universal Orlando Resort
Orlando, Florida
Of Universal's two parks, Islands of Adventure is your best bet with young children. In Seuss Landing, kids can enter the world of classic Dr. Seuss stories like "Cat in the Hat" and "One Fish, Two Fish, Red Fish, Blue Fish" and even find out what Who Hash tastes like at the Green Eggs and Ham Cafe.
DINO-SOAR: Is Universal Orlando's Jurassic World VelociCoaster Too Scary for Kids?
In the Jurassic Park section, there's a prehistoric playground just for kids and a very special ride that might just make people visiting without kids a little jealous. The Pteranodon Flyers is a sky-high suspended ride with some of the best views of the park, but adults are only allowed on with a child (36-inch minimum height).
5. SeaWorld
Multiple Locations
SeaWorld has locations in Orlando, San Antonio, and San Diego, and all three have kid-friendly rides, entertainment, and lots of opportunities to interact with aquatic animals. Each park has a unique Sesame Street area with rides, characters, and interactive play areas that young kids will love.
ORLANDO BONUS: 12 Best Things to Do in Orlando (Besides Theme Parks)
If you can drag them away, they can also see whales, dolphins, sharks, and tropical fish. Behind-the-scenes offerings vary from park to park, but you can make it a trip to remember by adding on a penguin encounter, dolphin swim, or sea lion tour.
6. Disneyland
Anaheim, California
There's no better place for kids to experience a world of fantasy (and parents, a sense of nostalgia) than Walt Disney's original park in Anaheim, California. Disneyland has many of the same lands and attractions as Walt Disney World's Magic Kingdom park, but there are a few things you can only find at Disneyland. Snow White's Enchanted Wish, Alice in Wonderland, Mr. Toad's Wild Ride, and a few other classic attractions can only be experienced at Disneyland.
ULTIMATE GUIDE: Everything You Need to Know about Disney Genie and Genie+
You can also tour the homes of Mickey, Minnie, and their friends in Mickey's Toontown and travel to a galaxy far, far away at Star Wars: Galaxy's Edge. Don't forget to leave time for a trip on the Disneyland Railroad—on top of a scenic ride around the park on an old-fashioned steam train, you'll encounter dioramas of the Grand Canyon and the primeval world of the dinosaurs (complete with "live" dinos).
7. Sesame Place
Langhorne, Pennsylvania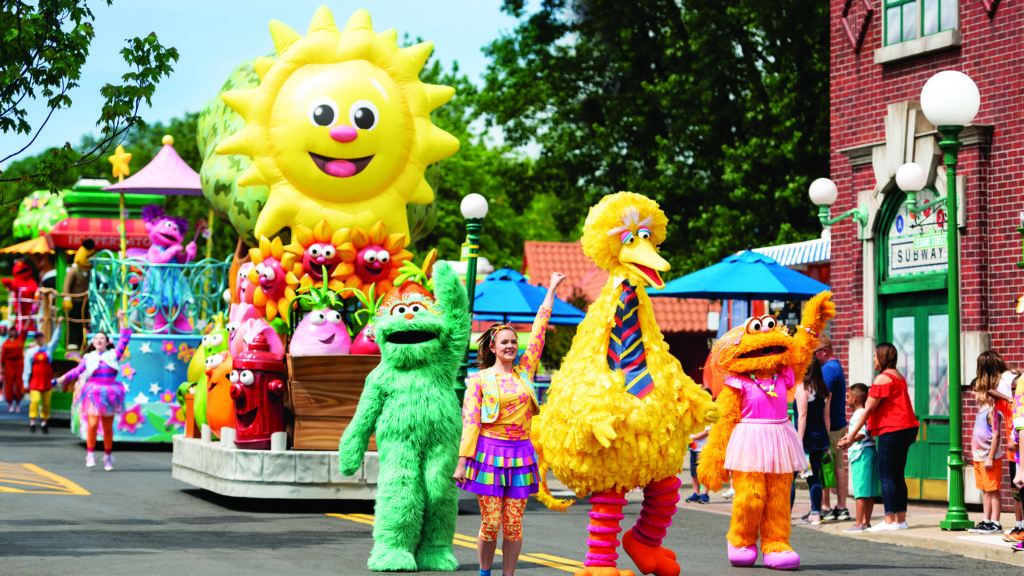 Sesame Place is one of the few U.S. theme parks geared exclusively toward families with young kids. The rides are more mild than wild and even the coasters are family-friendly. Oscar's Wacky Taxi coaster has the highest height requirement in the park and it still comes in at only a 40 inches minimum. Entrance to the onsite water park is included with your admission and both cabanas and changing rooms are available so you don't have to walk around in your wet swimsuit all day.
TODDLER COOL: 13 Best Sunglasses for Babies and Kids
Sesame Place is also the first theme park in the world to be designated as a Certified Autism Center. Team Members receive special training in servicing guests with special needs and there are quiet rooms and low sensory areas available around the park.
8. Children's Fairyland
Oakland, California
Oakland's Children's Fairyland opened in 1950, five whole years before Disneyland came on the scene, and it's said that Walt Disney's visit to Fairyland provided some inspiration for Disneyland. With nearly 60 different storybook sets, kid-friendly rides, and live animals hanging out among the storybook sets, this fairytale-themed park is perfectly sized for kids to crawl, climb, play, and explore. There are also daily story times and puppet shows that will entertain your children when they need a little break to recharge.
9. Holiday World
Santa Claus, Indiana
Aside from lands themed to kids' favorite holidays like Halloween, Christmas, and Thanksgiving, Holiday World has something that not many theme parks have—rides that adults aren't even allowed to get on. In the Christmas section of the park, there are a few merry-go-round type rides and a kid-friendly drop ride and in the Fourth of July section, the Tippecanoe boat ride is only for kids under 54 inches tall.
THEME PARK MAGIC: Ultimate Guide to the Harry Potter Theme Park Lands at Universal Studios
The Howler is a family-friendly coaster that kids and parents can ride together (though you may be a bit uncomfortable if you're over six feet tall) and if you howl, they'll usually let you ride twice. There's also midway games, play areas, and free soft drinks and sunscreen for all guests.
10. Story Land
Bartlett, New Hampshire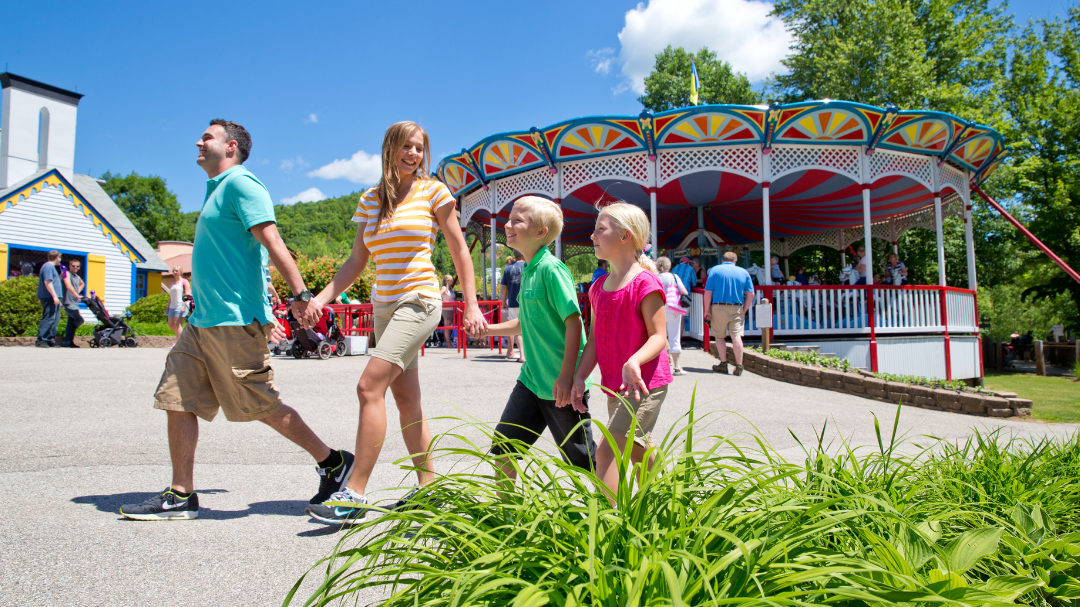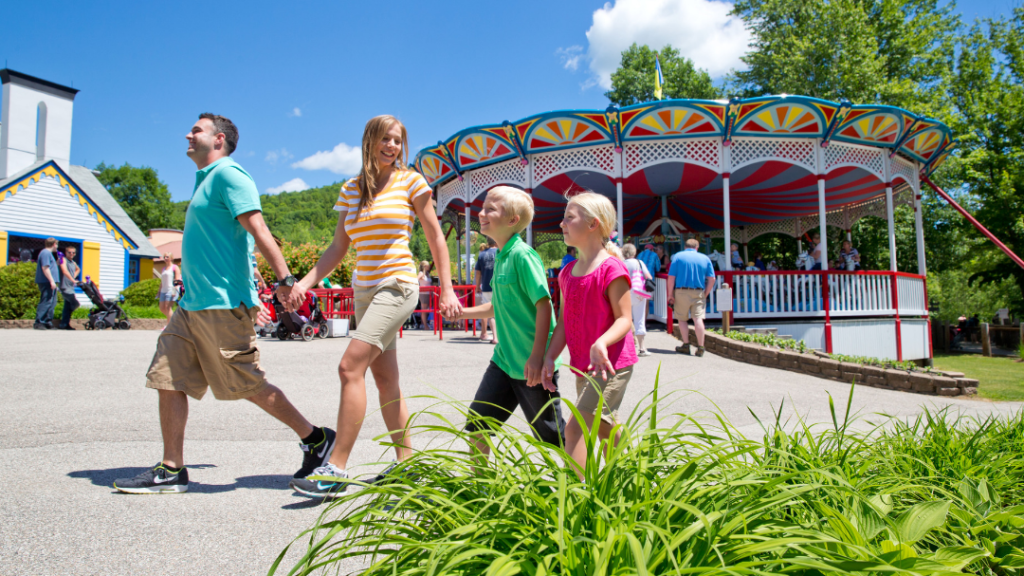 Story Land brings kids' favorite storybook characters to life with more than 30 family-friendly rides themed to classic tales like Cinderella and Alice in Wonderland, a petting zoo with "three little pigs" and "baa baa black sheep," and a Nursery Rhyme play area.
There's also daily live entertainment, including a magic show and royal red carpet show with fairytale princesses and an aquarium right next door. A separate ticket is needed for entry to the Living Shores Aquarium, but it is included if you purchase an annual pass.
11. Santa's Village
East Dundee, Illinois
Santa's Village is the perfect park for kids who want to celebrate the holiday season every day of the year. The park has lots of attractions with no height requirement, including a one-of-a-kind fire truck ride where kids can use a real hose to put out a fake fire.
ONE-OF-A-KIND: 17 Kid-Themed Hotel Rooms That Will Delight the Whole Family
Santa's Village bills itself as an "Azoosment Park" because scattered amongst the rides, you can visit animals on Tortoise Island, Parakeet's Paradise, and Old MacDonald's Barn. Admission to the Santa Springs water park is included with your ticket cost and, of course, you can meet Santa year round.
12. Gilroy Gardens Family Theme Park
Gilroy, California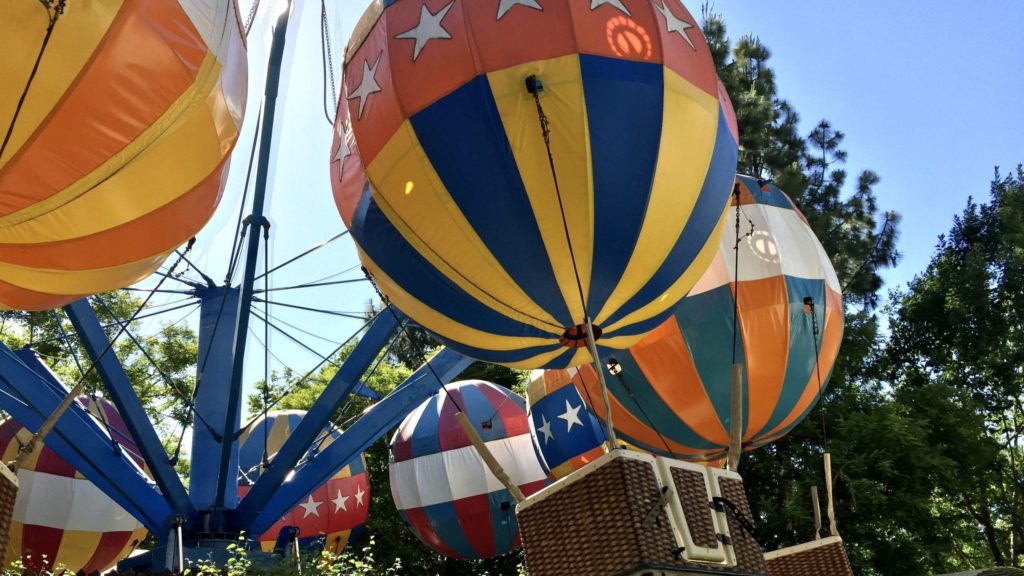 Gilroy Gardens is a cross between a theme park, a water park, and a botanical garden, and there are things in this Northern California theme park you won't find anywhere else. In addition to the whimsical, family-friendly rides, there are lush gardens and 25 "Circus Trees." With a bit of shaping from Axel Erlandson, the man who planted the trees in the early 1900s, these wonders of nature are sure to delight children of all ages. One of the splash area's slides even winds through a replica Circus Tree!
13. Knoebels Amusement Park
Elysburg, Pennsylvania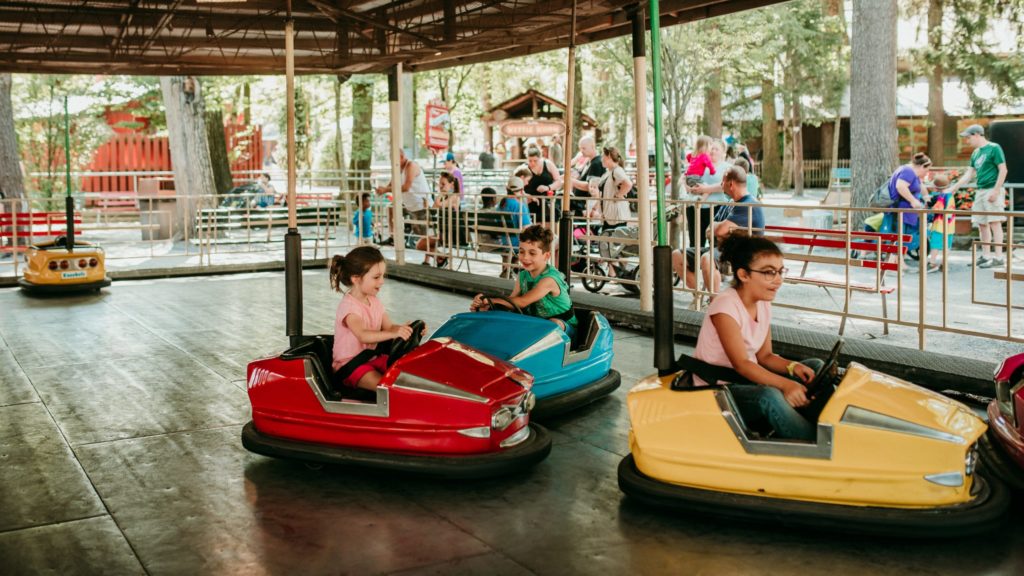 From coasters and log flumes to a miniature steam engine train and a 100-year-old carousel, Knoebels really does have something for everyone. Kids can even hop on kiddie versions of classic rides like bumper cars, a ferris wheel, and a Himalaya ride. What really makes Knoebels stand out, though, is that parking and admission are 100 percent free.
READY SET SAIL: How to Plan and Book Your First Cruise Vacation
You can get pay-per-ride ticket books or purchase a "Ride All Day Pass" that will get you on as many rides as you can squeeze in during your day. You don't always accomplish as much in a day as you think you will when you've got little ones in tow, and with this system you only pay for the rides you actually get a chance to experience.
14. Nickelodeon Universe
Multiple Locations
Nickelodeon Universe has locations in the Minneapolis Mall of America and the American Dream retail and entertainment complex in East Rutherford, New Jersey. Rides are themed to Nickelodeon shows and characters. Younger kids will love Nick Jr. attractions like Blue's Skidoo and the Paw Patrol Adventure Bay play area. Both locations also have mini golf and an aquarium, and American Dream is home to the largest indoor water park in North America.
HOTEL REVIEW: What to Know about Nickelodeon Hotels and Resorts Riviera Maya
Speaking of indoor, both Nickelodeon Universe parks are inside so you can play with your Nick Jr. pals year round, even when the temperatures dip. Theme parks sized for younger children offer so much more than thrill rides. The best amusement parks for small children delight with toddler-friendly offerings like train rides, interactions with favorite characters, water play areas, and kiddie rides.
More from FamilyVacationist: