Cruising is one of the very best family vacation ideas, but there are a lot of moving parts that can make it feel overwhelming to plan your first cruise. Among the questions you might find yourself asking as you're prepping for your first time on a cruise are:
With so many questions to answer, it's no wonder that planning your first cruise vacation can feel a bit overwhelming. But don't worry, it's not as hard as it may seem.
Here's how to plan for your first cruise vacation so that you have a great time from the very first day onboard, fully discover the ports of call you'll visit, and enjoy a cruise experience that will make you want to immediately book your second cruise. You might just learn how to find a hot tub you don't have to share, too.
CAPTAIN MICKEY: Everything You Need to Know about Disney's Cruise Ships Before You Book a Disney Cruise Vacation 
1. Choosing the Best Cruise Line for Your First Cruise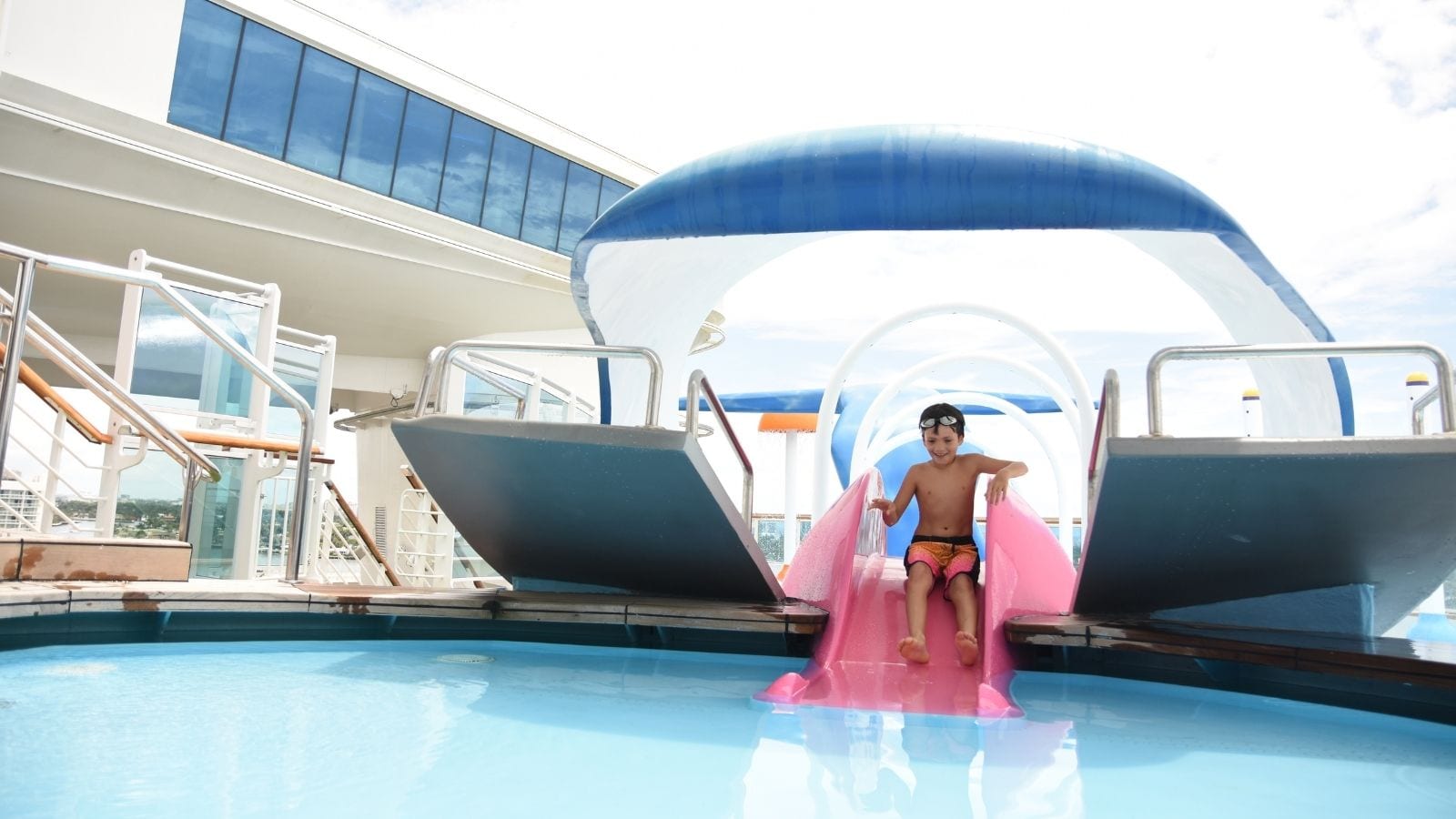 If you're planning your first cruise with kids, it's important to choose a cruise line that caters to families. The best cruise lines in that regard are Disney Cruise Line, Royal Caribbean, Norwegian, MSC, Celebrity Cruises, Carnival Cruises, and Princess. Many of these cruise lines are also a good choice for couples on their first cruise vacation, as is Viking Ocean Cruises, especially if you want a smaller and more intimate cruise for your first time.
FLY AWAY: 16 Best Flight Booking Sites for Cheap Airfares
2. Determining the Right Length for Your First Cruise
Do you start small with a three- to five-day jaunt in the Caribbean or leap headfirst into cruising with a weeklong (or longer) voyage? Travel costs may play a factor in your decision, but we recommend first thinking about how you vacation. Does it typically take you a day or two to relax and detox from work before you're truly in vacation mode? If so, consider a longer sailing.
DON'T OVERPAY: How to Save Money on a Carnival Cruise (with or without Kids)
But if you're the kind of person who can jump right into a vacation, you might do well to opt for a little toe dip into the cruising waters with a short cruise to see how everyone in your family enjoys the experience and handles life at sea.
3. Selecting the Best Ports of Call
Port-heavy cruises offer a variety of unique experiences on land but may have you feeling as though you didn't get the most out of your cruise ship, which is a destination in and of itself. Conversely, too many sea days might have you wandering the ship a little bit bored. Finding the right balance of sea day fun and port adventures is key to a successful first family cruise vacation.
WHAT TO PACK: 25 Beach Essentials You Need for Any Sun-Soaked Vacation
Check to see if your cruise line has a private island and if your cruise will stop there, because whether it's taking full advantage of the massive water slides and zip lines of Royal Caribbean's Perfect Day at Cococay, kicking back on Norwegian Cruise Line's Great Stirrup Cay, or collecting your medals while crossing the 5K finish line with your family at Disney's Castaway Cay (Disney has also announced a second private-island experience at Lighthouse Point on Eleuthera in The Bahamas, which debuts in summer of 2024), an exclusive island oasis is as close as most of us will come to living the life of the rich and famous.
Also, check the weather ahead of time for each port to better plan your outfits and activities for your first cruise.
4. Making the Most of Shore Excursions
At every port of call, you'll have a bevy of excursion choices that can be booked directly through your cruise line. The prices of these adventures, called shore excursions, are generally not cheap, but when you book through your ship you will have assurance that your cruise ship won't leave without you should a shuttle bus break down or some other emergency occur on land. (Don't worry, this is a fear of every first time cruiser.)
SEA DAYS: How the Disney Wish Raises the Bar for Family Entertainment on a Cruise Ship
Sometimes, the excursions are less expensive when booked before departure, so it's a good idea to research all of the options before embarkation day. Of course, if you plan to use cruising as a mode of transportation to see new places and explore on your own, you can search car rental booking sites for vehicles near the docks and have a DIY experience in that exotic new place, leaving plenty of time to return to port and get back on the ship before the all-aboard whistle.
If there's a port of call that doesn't quite pique your interest, stay onboard and have the ship, the buffet, and most importantly the pools and hot tubs practically to yourself while everyone else is off on dry land.
5. How to Choose the Best Cabin for Your Family
Choosing a cabin is a critical decision that may make or break your first cruise. If you plan to be zipping down water slides, watching movies under the stars, falling asleep on a deck chair with a good vacation read on your chest, and enrolling your children in the kids' camps, then an interior cabin (already the best value onboard most cruise ships) could be a great way to enjoy your first cruise on a budget.
CRUISE REVIEW: Pixar Day at Sea Transforms the Disney Fantasy into a Delightful Toy Box 
Cabins with windows cost a little more but do give you access to daylight and the first sight of your ports of call. Balconies are nice for enjoying that first cup of coffee as the sun comes up, or a glass of wine as the sun sets at sea. But the expense is ultimately a luxury for most families planning their first cruise vacation.
If you feel that you'll be impacted by the motion of the cruise ship, pick a midship cabin on a lower deck to help minimize motion sickness. (More on motion sickness later in this article.) Whether you're booking through a travel agent or directly with the cruise line, it's vital to choose your stateroom strategically.
6. What to Know about Onboard Activities
There's usually nothing to plan regarding onboard activities, but it's a good idea to read through descriptions of some of your first cruise's theatrical productions that will be staged during the sailing, the water slides available on the ship, and other goodies waiting for your kids onboard. This will amp your children up in the days and weeks leading up to the start of your first family cruise, making them even giddier to step onboard.
7. Kids' Clubs
You'll be able to preregister your children for the ship's kids' clubs before embarkation, but you may also do so onboard. Many family-friendly cruise lines (Disney, Royal Caribbean, and Carnival, among others) offer a variety of free and age-appropriate camps, clubs, and private areas of the ships for young cruisers.
BUCKET LIST: I Took a Luxury Cruise in Antarctica with my Teenage Son and This Is What it Was Like
So, whether you' a're cruising with an infant, toddler, grade school kiddo, tween, or teen, there will be exclusive activities for them and the chance to make new friends during your first cruise. The ship's kids programs will not only provide your child with awesome memories and friends to stay connected with once back at home, but will also allow you the time to unwind, relax on the pool deck, enjoy a fine meal, and maybe finish that book that's been collecting dust on your nightstand.
8. When to Arrive for Your First Cruise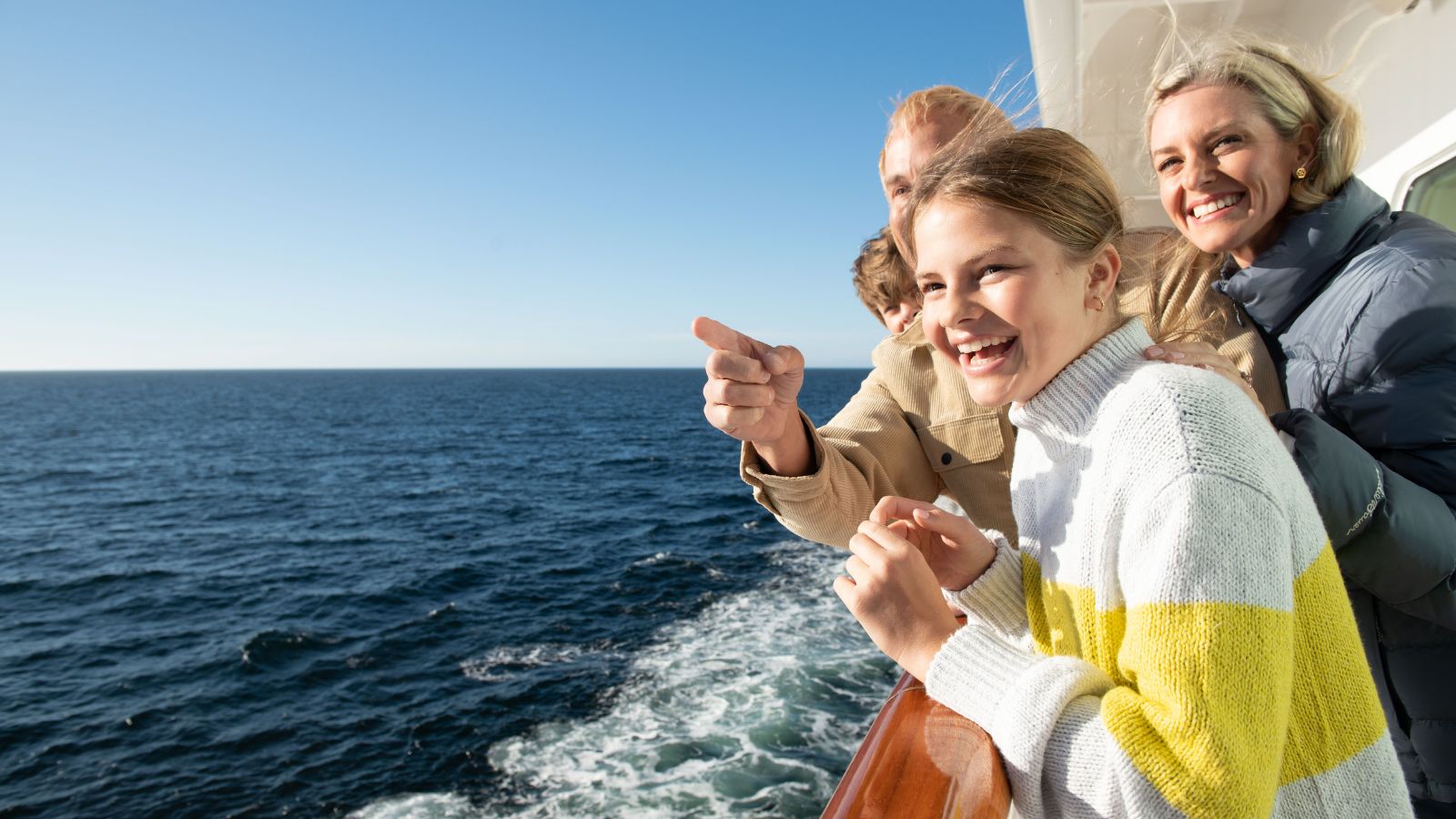 Because flights can be delayed or canceled outright, it's advisable to fly into your departure port city the day before your cruise departs. This will all but eliminate the stress of bad weather or other travel issues, and also give you the opportunity to explore the port city before your actual vacation begins. When you're booking a cruise, it's key to think about where you'll stay on land the night before you embark.
GRANDPARENTS WELCOME: Why a Holland America Heritage Cruise Is Perfect for a Multigenerational Family Vacation 
9. Packing for Embarkation Day
For the first day of your cruise, called embarkation day, you will want an easy-to-carry day bag or backpack with your family's bathing suits, flip flops and sandals (if you aren't already wearing them), sunscreen, sunglasses for babies and kids, and other essentials while you wait for your luggage to arrive in your stateroom (usually around the time you sail away, about three to four hours after getting into your cabin).
Having a change of clothes will allow your family to get right into the cruise fun while the ship is still filling up, meaning shorter lines for the water slides.
10. What to Pack (and Wear) for Your First Cruise
There are laundry rooms onboard most cruise ships, but do you want to spend your first cruise vacation with the washers and dryers or with your children? Either way, it's a good idea to pack light and include a variety of mix-and-match clothes for wearing more than once, understanding space in your cabin will be at a premium.
WHAT TO WEAR: 10 Most Comfortable Travel Clothes Brands for the Whole Family
Pay attention to the different dress codes in the evening, and find a bit of room in your luggage for the nice shoes, dress, or blazer with slacks should your first cruise have an elegant night or two. (For some, this still means black tie, but most male guests tend toward a simple button-down shirt and tie.)
11. Preventing and Managing Motion Sickness
Planning for the type of water your first cruise will encounter is key for managing motion sickness. The Caribbean is generally more gentle than open ocean water, making Bahamian cruises a better choice for first timers than, say, a cruise that cuts across a chunk of the Atlantic to call on Bermuda. This is because the motion of the ocean may have you spending more time than usual in bed.
ADULTS ONLY: What You Need to Know Before Setting Sail on Virgin Voyages's Adults-Only Cruises 
As you plan for your first cruise, you should guard against motion sickness by packing a bottle of All Day Less Drowsy Dramamine (my family's preferred variety), anti-nausea wristbands, or lavender oil. Maybe you'll never need a pill or a rub of oil behind your ears, but buying these items on land is cheaper than onboard, and stashing them in your luggage may be the best thing you'll pack should the motion of the ocean get too heavy for you or your kids.
12. Exercising on a Cruise Ship
Most cruise ships have gyms, some have outdoor running and walking tracks, and every single ship has lots of steps, so working off your over-indulgence at the all-you-can-eat-buffet and 24-hour soft-serve station is at least within the realm of possibility. Pack your exercise gear and running shoes if you want a fighting chance against the "cruise ship 10" that many people gain on their first cruise.
13. Staying Connected on Your First Cruise
Your cruise will offer internet access, but it's best to download your movies, music, and podcasts before you leave home to lessen the reliance on traditionally spotty (and definitely not cheap) cruise ship Wi-Fi.
GALAXY QUEST: On Disney's Newest Cruise Ship, Every Day Is 'Star Wars Day at Sea'
Regardless of whether you unplug or stay connected, don't forget your charging cables. Most ships today have apps you can download for your phone or tablet to help you keep track of onboard entertainment options and schedules, so even if you plan to go without internet, you may still want your devices charged.
14. Beverage Options
Cruising usually looks like a great value when compared to vacations by air and land, but that's because beverages aren't generally included in the base price. If you plan to have your fair share of adult beverages and your kiddos gulp down their sodas, iced tea/lemonade combos, and mango smoothies, look into your cruise's different beverage options, ranging from all-you-can-drink drink packages to pay-as-you-go. Pay attention also to what you're allowed to bring onboard (cases of bottled water and bottles of wine, for example) both during embarkation and at each port.
15. Specialty Dining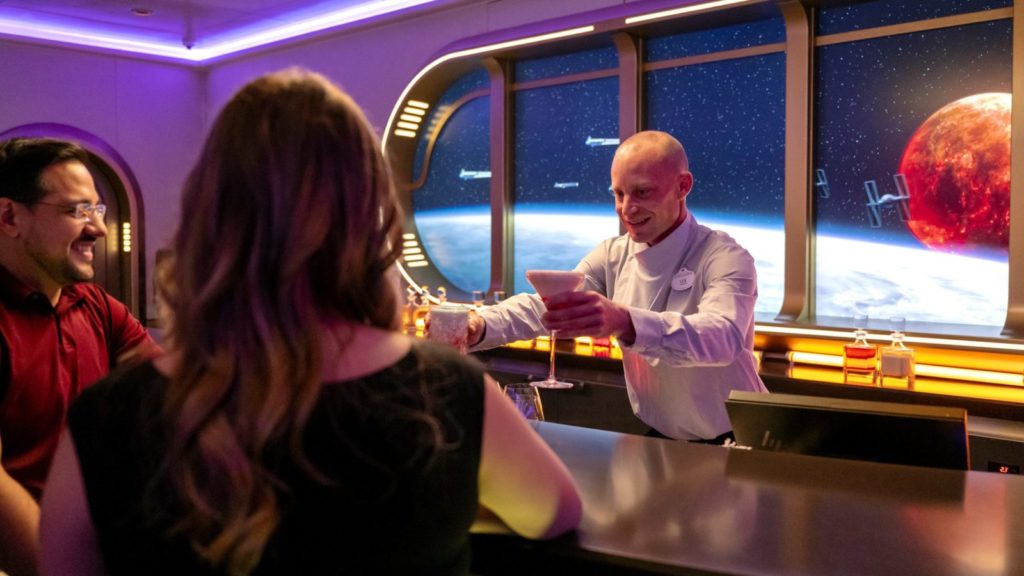 Many cruise ships today offer premium dining options at additional charges. Of course you can chow down at the pizzeria, burger joint, main dining room, and the famous cruise ship buffet morning, noon, and night—but if you want a more sophisticated sit-down dinner with a higher quality of food and service, look into the specialty restaurants onboard your first cruise and prebook to ensure you'll have a table waiting for the birthday, anniversary, or whichever special occasion you'd like to celebrate.
SHIP REVIEW: Royal Caribbean's Wonder of the Seas May Be the Most Kid-Friendly Cruise Ship in the World
16. Tipping on Your First Cruise
Bring $20 or so to tip your cabin steward for the twice daily cleaning and straightening of your stateroom, but also rest assured you'll very likely be pre-paying your gratuities for all the other onboard crew helping to make your first cruise amazing.
17. Bringing and Storing Your Identification
Even if it's not technically required, it's a good idea to travel with a valid passport for everyone in your family group. While a birth certificate may be sufficient, you want to have the freedom to drive up into the Yukon in Canada during an Alaskan cruise; and later, after you've properly fallen in love with cruising, to be able to pull the trigger on the international cruise departing from Barcelona or the repositioning cruise taking you from Florida to California (or vice versa) through the Panama Canal. 
WATER SPORTS: 10 Best Snorkel Sets and Snorkeling Gear for Kids
If you don't already have a passport, be sure to give yourself plenty of time to complete the process. You'll first need to collect various forms of identification, fill out forms, and get a passport photo (it's worth paying the $15 or so to get a passport photo done professionally since your application can be delayed if the photo isn't approved), then pay the fee and wait up to 11 weeks to receive your new passport. If you already have a passport, check to make sure it doesn't expire within six months of your travel dates—some countries won't allow you into the country if your passport is soon to expire.
When you're on a cruise, be wise about when and where you bring your passport or other identification. It's a lot safer locked in the safe in your room than it is tucked into your bag when you're out sightseeing.
18. Cash Considerations
Maybe you want to sit down for some blackjack or roulette in the cruise ship casino or have a bit of spending money for trinkets while in port. Whatever the case, it's never a bad idea to have some cash in your pocket. There's likely an ATM onboard in case you forget, but it's also likely that you'll pay a fee to withdraw money. So, be prepared with some greenbacks in your wallet or purse.
19. Booking Your Second Cruise
Once you've fallen in love with the rest and relaxation of your first family cruise vacation, you can save money on booking a second cruise while you're still onboard. Cruise lines typically offer better-than-usual incentives to get you to put a deposit down on your second cruise.
More from FamilyVacationist: