Perfect Day at CocoCay is Royal Caribbean's private island oasis in the Bahamas. Up to two ships can dock at the island's pier at a time, and it's staffed by 350 employees who reside full time on the island. There's a lot for families to see and do at CocoCay, including a freshwater lagoon for swimming, a waterpark with the tallest waterslide in North America, and plenty of options for shopping and dining.
Here's what is—and isn't—included when you visit Perfect Day at CocoCay on a family cruise with Royal Caribbean, plus which activities are best for kids and teens.
CRUISE DEALS: Which Cruise Lines Let Kids Cruise Free?
Arriving at Pefect Day at CocoCay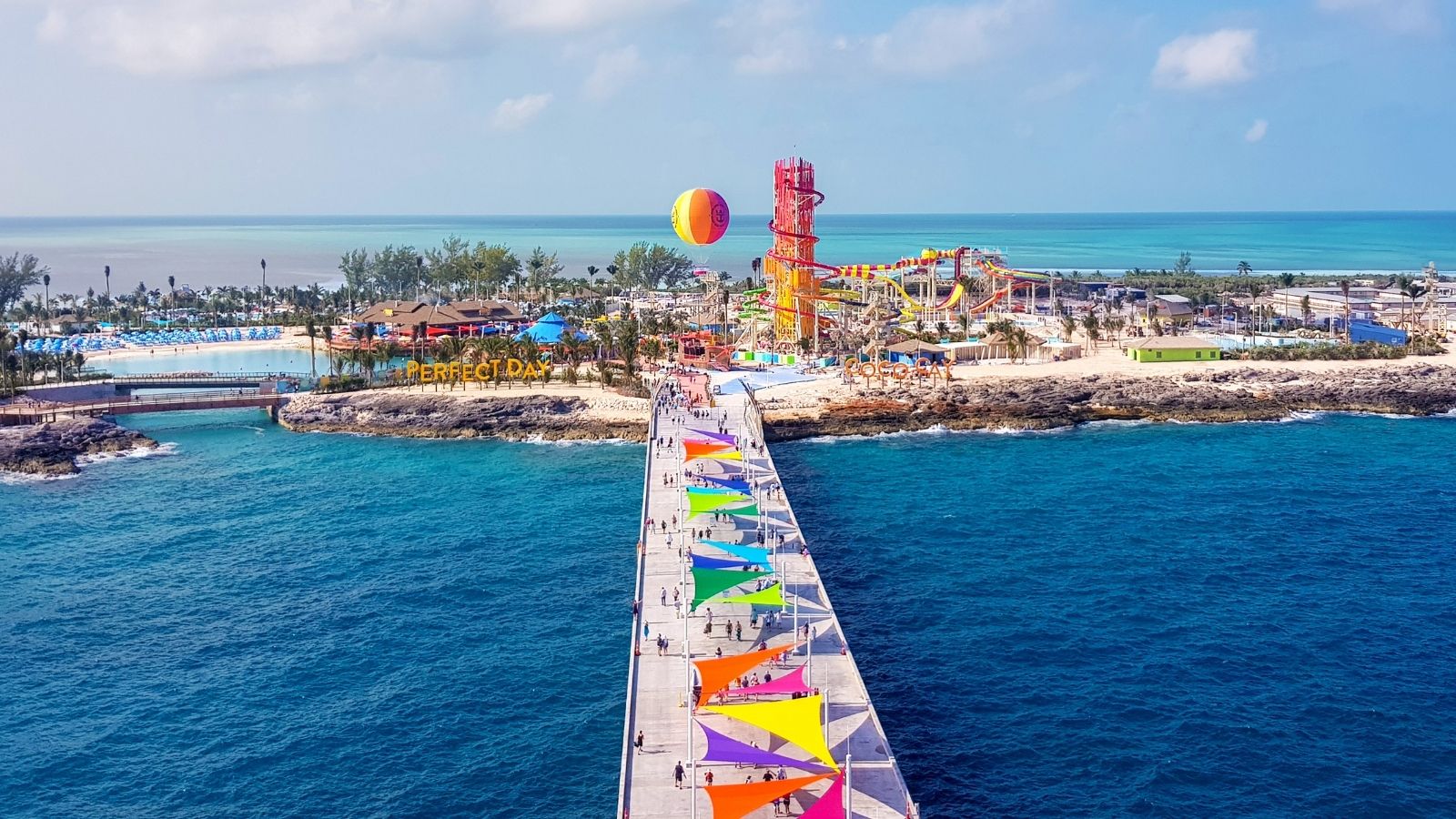 Once your cruise ship is ready for disembarkation at CocoCay, you'll hear an announcement from the cruise director that you can leave the ship. If you're scheduled to do an excursion during your visit to Perfect Day at CocoCay, you may be given a specific time to meet on the pier. Otherwise, you can exit the ship whenever you're ready.
Before you leave the ship, It's important to make sure you have your key card, cash (for tips or the market), sunscreen, beach towels, and other beach essentials. You'll also want to get towels from the towel kiosk on the ship's pool deck, though you can exchange wet towels for dry ones on the island. Rafts and snorkel gear are available to rent on the island.
FAMILY CRUISES: Wonder of the Seas Review: Royal Caribbean's Most Kid-Friendly Ship Yet
Once you're off the ship, you can catch the complimentary tram that runs from the pier to the CocoCay entrance. You can also choose to walk—it's only five minutes on foot—which will afford you some great photo opportunities along the way. As soon as you enter the arrivals plaza, you'll be greeted by Captain Jill's Galleon, a pirate ship splash zone with water cannons and small slides. This area is particularly great if you're vacationing with toddlers or elementary school age kids.
Tip: The first guests to leave the ship are greeted by a full Bahamian welcome parade. This is really fun, and you can watch the whole spectacle from the ship if you're not one of the lucky folks at the front of the line.
What's Included in Your Perfect Day at CocoCay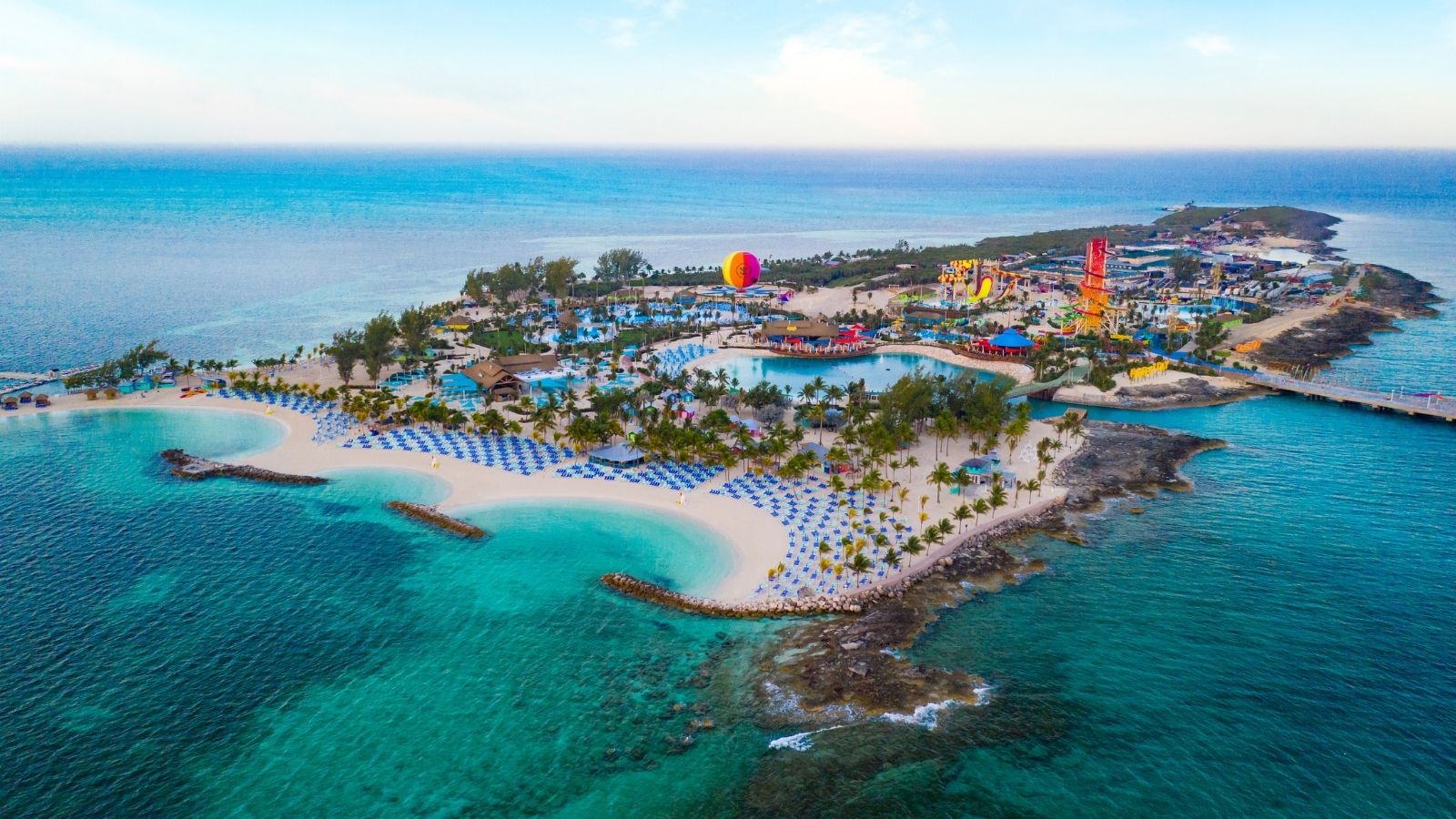 While some of the most popular activities cost extra at CocoCay, much of Royal Caribbean's private island is completely free for all guests, including most of the dining options. Drinks are also included if you've purchased a drink package for your cruise.
CocoCay is easily walkable for most ages and abilities, and once you get your bearings you can walk most places on the island within about three to five minutes. If you aren't able to walk or prefer to mix it up, there's a free island tram that stops at all of the major attractions.
SPLASH ZONE: 7 Best Cruise Ship Water Parks for Kids and Tweens
There are complimentary lounge chairs and umbrellas all throughout Perfect Day at CocoCay. It's smart to decide where you want to make your home base for the day and claim your spot early. If your family doesn't want to sit on the beach all day, Oasis Lagoon and Splashaway Bay are great places to hang your towels. If the beach is more your speed, head to Chill Island.
Tip: Lifejackets for kids are located throughout the entire island and are included in your visit to Perfect Day at CocoCay.
Splashaway Bay at Perfect Day at CocoCay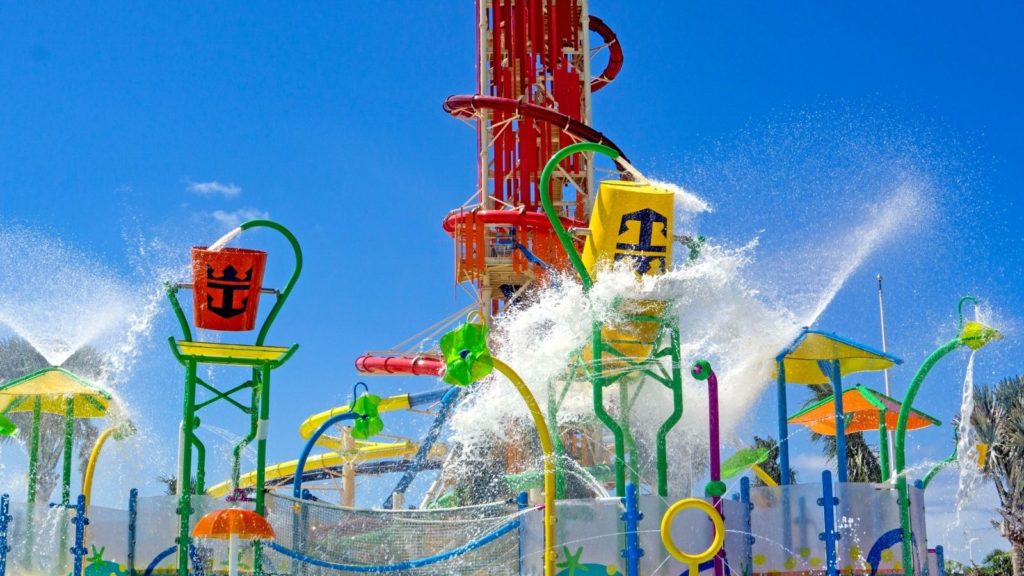 Admission to Splashaway Bay is included in your visit to Perfect Day at CocoCay. This Royal Caribbean splash park is a fun spot for little kids to play on water structures, go down age-appropriate water slides, and get dunked by the huge bucket. It's similar to the Splashaway Bay water parks onboard Royal Caribbean ships.
Oasis Lagoon at Perfect Day at CocoCay
Oasis Lagoon is the Caribbean's largest freshwater pool and has three different coves so there's plenty of places to paddle. Pool access is complimentary for guests at Perfect Day at CocoCay. Oasis Lagoon has zero-entry pool entrances, a swim-up bar, islands, and a bridge, and is all around a great place for the whole family.
If you're vacationing with teenagers, they may enjoy the DJ and party vibe by the swim up bar. And if you need a spot to relax while the kids swim, the quiet side of the lagoon has chairs that sit right in the gentle water.
TEEN-FRIENDLY TRIPS: 10 All-Inclusive Resorts Even Teenagers Will Love
Chill Island and South Beach at Perfect Day at CocoCay
At both Chill Island and South Beach, you'll find beachfront access with complimentary chairs and umbrellas. The biggest difference between the two beach areas is their location. South Beach is somewhat more removed from the rest of the island, while Chill Island is more centrally located near the other CocoCay attractions. Chill Island also has a large buffet nearby, while South Beach only offers a Snack Shack for refreshments.
Both beach areas are perfect for families who want the ultimate beach day in the Caribbean. Water temperatures remain in the 70s even during the winter vacation months.
What's Not Included at CocoCay
Some activities and areas at Perfect Day at CocoCay are only available for an extra charge. These generally sell out in advance, so be sure to book ahead of time if you're interested.
Private Cabanas and Daybeds at Perfect Day at CocoCay
If you want a more permanent place for the day than a public beach chair, you have the option of renting a cabana or daybed for an additional fee. These tend to sell out quickly and are in high demand, especially for families, so you may want to book yours ahead of time.
Cabanas range from simple beachside spots whose primary feature is privacy to more elaborate offerings that mimic the overwater bungalows of Bora Bora. But be aware that cabana rentals are not cheap—in some cases, extremely not cheap—and most families are able to stake out a spot for free on the island and still fully enjoy their day without the added expense.
TOGETHER TIME: 7 Best Cruise Lines for Couples (and Their Most Romantic Voyages)
Thrill Waterpark at Perfect Day at CocoCay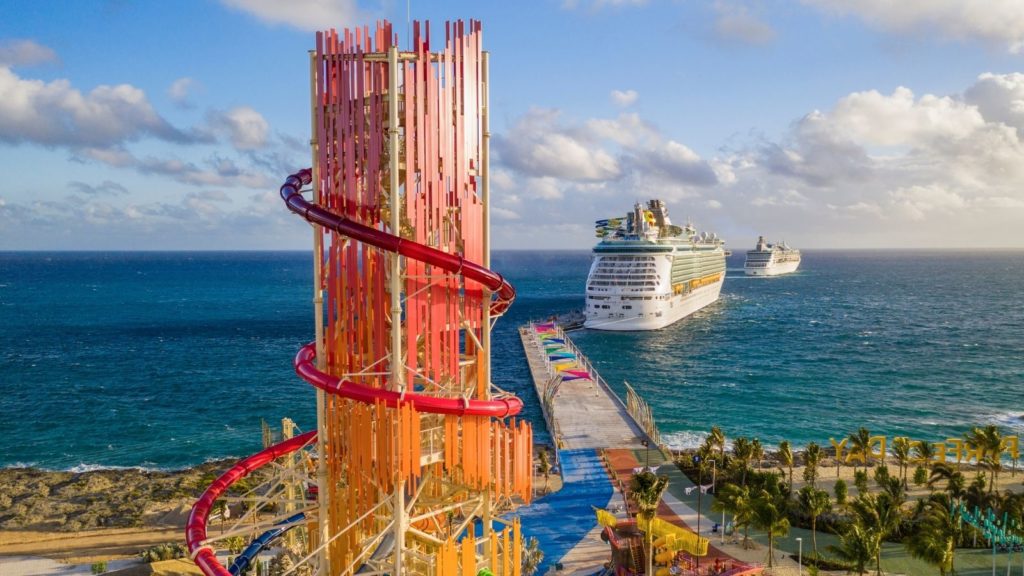 Thrill Waterpark is the place to be on Perfect Day at CocoCay if you or your kids love waterparks. Children under 14 must be accompanied by a paying adult, while kids under four are free. There are ample complimentary chairs and umbrellas inside the water park. Some of the most popular features of Thrill Waterpark are:
Daredevil's Tower, which has seven different slides, including the 135-foot Daredevil's Peak, the tallest waterslide in North America.
Splash Summit, with six smaller waterslides for the not-so-thrill-seeking members of your family.
Adventure Pool, home to an obstacle course, a rock wall, and rope swings.
The Caribbean's largest wave pool.
Up, Up And Away at Perfect Day at CocoCay
Board a giant helium balloon to soar up to 450 feet above land and sea with Up, Up and Away, which grants you the highest vantage point in The Bahamas. Kids ages three and under can ride for free with a paying adult.
TROPICAL BLISS: 8 Best Bahamas All-Inclusive Resorts for Families
Zip Line at Perfect Day at CocoCay
For an extra fee, you can crisscross CocoCay and soar high above the harbor on a 1,600-foot long zip line course. If you think you'll do both the zip line and Thrill Waterpark, you can bundle the two experiences to save money on both.
Coco Beach Club at Perfect Day at CocoCay
Admission to Coco Beach Club gives you access to an exclusive beach, a beachfront infinity edge pool with in-water loungers, a clubhouse, beach chairs and umbrellas, and complimentary dining at the Coco Beach Club restaurant, where you can dine on filet mignon and lobster.
Family Dining Options at CocoCay
There's no shortage of dining options on Royal Caribbean's private island, and with the exception of Coco Beach Club restaurant and Captain Jack's restaurant, it's all included in your stay.
Skipper's Grill
Located next to Splashaway Bay, Skipper's Grill serves burgers, tacos, salads, and a variety of grilled items along with gorgeous waterfront views. Dessert options here include double chocolate chip caramel brownies and soft serve ice cream. For an additional cost (or included in your drinks package), the self-serve beer station serves up cold ones to enjoy on CocoCay's hot days.
BEGINNER'S GUIDE: How to Plan and Book Your First Cruise Vacation
Snack Shack
There are three Snack Shack locations on CocoCay, two of which are accessible to all guests (one near Oasis Lagoon and one on South Beach) and a third which is located at Thrill Waterpark (which requires admission to the waterpark to access). Typical fare at Snack Shack locations includes hot dogs, hamburgers, salads, and appetizers such as mozzarella sticks.
Chill Grill
The largest dining venue on CocoCay, Chill Grill offers beachy vibes along with plenty of shady spots and picnic tables. The food options here range from jerk chicken sandwiches and burgers to build-it-yourself tacos and vegetarian delights. There's a full-service bar and self-serve beer station that are included if you've purchased a drinks package.
Captain Jack's
With waterfront views and live music playing all day long, Captain Jack's is one of the most popular dining spots for families on the island. The a la carte menu is popular with kids and the full bar is a hit with parents, but unlike most other dining options on CocoCay, Captain Jack's is not free.
Beer and Drinks on CocoCay
It's not just the restaurants that serve drinks at CocoCay. You can purchase alcoholic beverages (or use your drink package) at a number of other spots on the island.
Located at opposite ends of Chill Island, the Wacky Seagull and Wacky Seagull Junior bars serve up beer and cocktails to enjoy while you're lounging on the beach.
Like its name suggests, The Floating Bar is a floating tiki hut near South Beach that's within easy "wading distance" of the shore. Come here for ice cold mixed drinks like a piña colada or a Coco Loco, the signature drink of CocoCay.
The swim-up bar at Oasis Lagoon offers mixed drinks and a party vibe inside the largest freshwater pool in the Caribbean.
The Best Way to Spend Your Perfect Day at CoCoCay
There is no wrong way to spend a Perfect Day at CocoCay, but you will need to make some decisions around your top priorities. That's because it's virtually impossible to do it all in a single day. For the best time, pick your favorite activities rather than trying to do it all.
As a final note for families, be aware that not all Royal Caribbean cruises and ships stop at Perfect Day at CocoCay. If visiting this private island paradise is a priority for your family, double check the cruise itinerary before you book to make sure at stop at CocoCay is included.
More from FamilyVacationist: