Discovery Cove, the only one of Orlando's theme parks that's all inclusive, offers a unique spin on the typical experience offered by most amusement parks for kids. It's one of the best outdoor water parks in the U.S., but it's not just that, because it's also a theme park that offers up-close animal encounters, a shaded lazy river, freshly prepared meals, all-you-can-eat breakfast and lunch buffets, and a strict limit on the number of guests every day.
If your family is looking to enjoy a day where everything is taken care of and all you have to do is show up, Discovery Cove is the spot to be in Orlando.
WATER WORLDS: 15 Best Orlando Hotels with Pools, Water Slides, and On-site Water Parks
What Is Discovery Cove?
Discovery Cove is Orlando's only all-inclusive theme park. It's also one of the best water parks in Orlando. At Discovery Cove, you can encounter multiple species of animals, including tropical fish, exotic birds, stingrays, playful otters, and a variety of tropical birds. The park is filled with nature exploration trails, pristine beaches, and a grotto leading to a tropical rainforest and underwater cave.
With only a few exceptions, Discovery Cove is also all-inclusive: Everything from your freshly prepared meals to snorkel gear and beach towels are included for a paying adult or child. However, one of the main reasons many people go to Discovery Cove is for its dolphin swim experience, which is booked separately and gives you a few options for the encounter.
ORLANDO VACATIONS: 14 Best Things to Do in Orlando with Kids
Discovery Cove is a fantastic spot for families who love animals and want to get up close to some of the most beautiful creatures that live in water. The park limits the number of guests allowed to enter each day, which greatly reduces wait times and lines. The guest limit also allows each family to enjoy plenty of open space and feel like they have a part of the park all to themselves.
Discovery Cove is a Certified Autism Center, making it an autism-friendly vacation spot for families of all kinds with different needs.
Does Discovery Cove Offer All-Inclusive Vacation Packages?
If you're planning on visiting Discovery Cove you might want to consider one of the Discovery Cove all-inclusive vacation packages. The first option is a theme park-only package, where you get Discovery Cove tickets and can also get unlimited admission to SeaWorld Orlando and Aquatica Orlando for the duration of your vacation. The other package allows you to get Discovery Cove tickets and unlimited admission to SeaWorld Orlando, Aquatica Orlando, and Busch Gardens while on your Florida family vacation in Orlando.
SUNSHINE STATE: 7 Best Florida All-Inclusive Resorts for Families
If you're looking to add a hotel on to your package, you can do so with the Discovery Cove Hotel Package. With this package you can select from a signature dolphin swim experience or day resort package, a hotel including one night for free at one of the SeaWorld Orlando partner hotels, admission for your length of stay to SeaWorld and Aquatica, and reserved seating for shows during visits to SeaWorld Orlando.
What Can You Do at Discovery Cove?
Discovery Cove has an abundance of activities for families to enjoy together. Outside of the beaches and Wind Away river (a.k.a. lazy river) the park offers three animal experiences in the price of its all-inclusive admission. The first is Explorer's Aviary, where your family can interact with and feed hundreds of colorful birds.
The second is Freshwater Oasis, where your group can swim alongside Asian clawed otters, and get a glimpse of marmosets at Marmoset Island. The last of the included animal experiences is Grand Reef, where your family can snorkel together to see an abundance of tropical fish, stingrays, and reef sharks. Basic snorkel gear (mask, fins, towels, beach chairs) is provided. You may also bring your own snorkel gear if you prefer.
WATER WORLDS: 8 Best Florida Aquariums to Visit with Kids
There are a few add-on animal experiences that you can choose to add to your park day. The first is becoming a trainer for the day. This experience takes you behind the scenes at Discovery Cove to see how the park operates; it offers private time with the animals at the parks, and a more exclusive session with the dolphins at Dolphin Lagoon.
SeaVenture allows your family to don a modified scuba mask to walk along the bottom of the Grand Reef to encounter wildlife, learn more about the fish and rays that live in the reef, and experience a school of fish getting fed while they swim and swirl around you.
For even more thrills you can swim with sharks in their reef habitat. This experience also includes the expert guidance of a Discovery Cove expert aquarist.
Discovery Cove Dolphin Swim Experience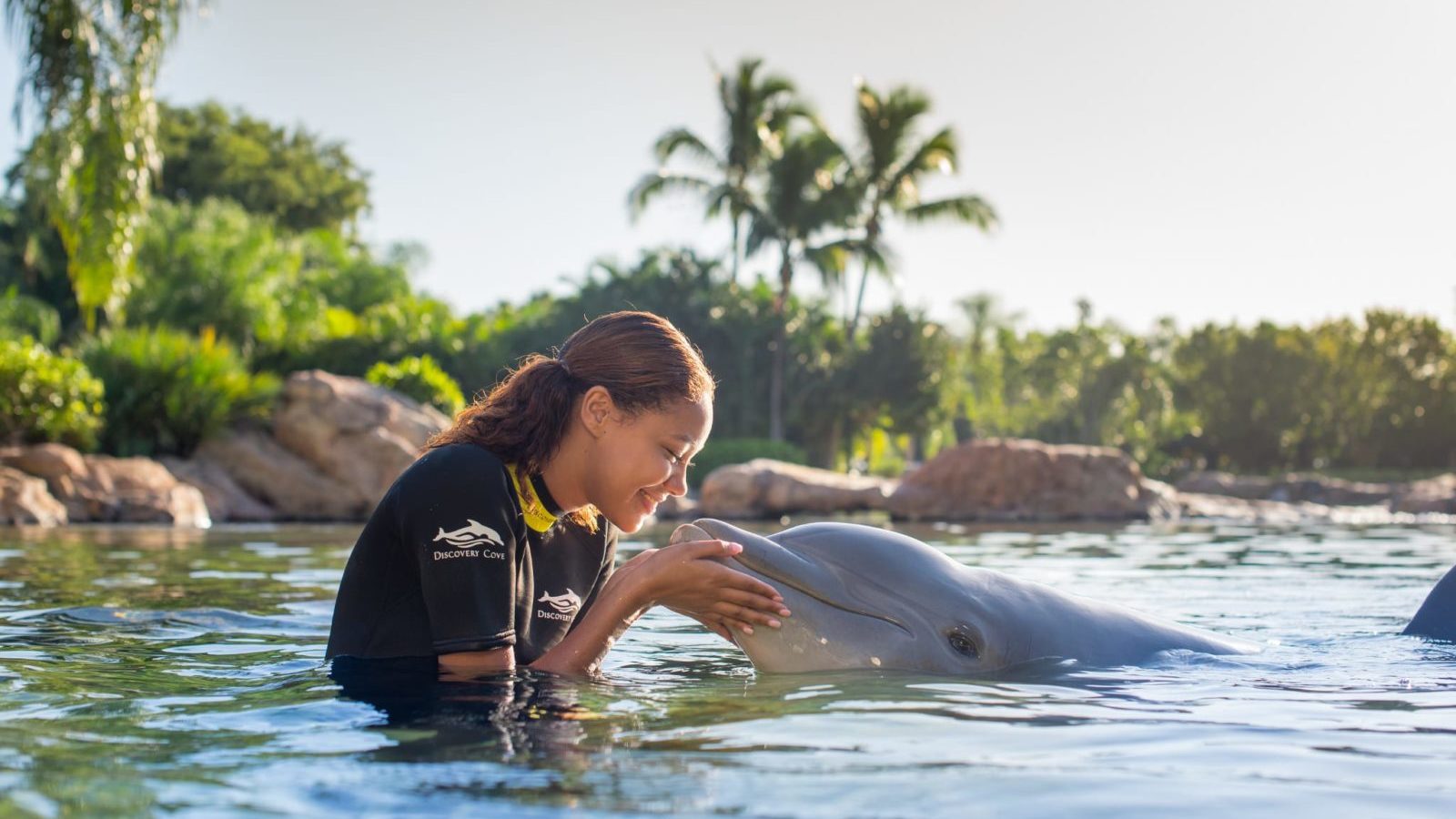 The main reason many people head to Discovery Cove is to take part in the dolphin experience. These dolphin encounters last about 30 minutes in the water and include a 10-minute land-based orientation and question and answer session. The encounters are an add-on that can be included in the price of your Discovery Cove ticket. Just be sure your ticket includes the wording "signature dolphin swim package." If you decide to upgrade your ticket to include the dolphin swim, that can be done over the phone after your initial purchase.
IT'S ALL INCLUDED: 19 Best All-Inclusive Resorts in the U.S. for Families
The dolphin experience takes place at Dolphin Lagoon, and the time of the swim experience is scheduled for each group before entering the park at the check-in station. You are going to want to arrive a few minutes early to check in and get your spot for the orientation. Once the quick lesson is done, your family will be in the water and swimming along with one of the ocean's most beloved creatures.
At the end of the dolphin experience, each person will be able to get a personal moment with the dolphin as they get a dorsal fin tow back to shore. The tow can happen in shallow or deeper water depending on what each person wants and how comfortable they are with deeper water.
Are Meals Included at Discovery Cove?
As part of your all-inclusive ticket into Discovery Cove, you're entitled to unlimited food and drink throughout the day. Breakfast is offered from 7:15 a.m. through 10:30 a.m. Lunch is offered from 11:15 a.m. through 3:30 p.m. There are multiple locations around the park to grab freshly prepared meals.
TRAVEL WITH TEENAGERS: 10 Best Vacation Ideas for Families with Teens
The main dining location is Laguna Grill, where you'll find the big buffet, but there are two other snack and refreshment areas around the park where you can find bags of chips, soft pretzels, and drinks. Alcohol is also offered as part of your all-inclusive day.
What's Included and What's Extra?
As an all-inclusive theme park, Discovery Cove pretty much takes care of everything that you might need for a water park day. The amusement park offers free parking as part of your ticket, free locker access, fresh towels, wetsuits and vests, outdoor and private showers, and private changing facilities. Guests cannot bring their own sunscreen into Discovery Cove, but the park does offer animal-safe sunscreen to all guests to use throughout the day.
FIND A HOTEL: 10 Best Hotel Booking Sites for Cheap Prices
Families who want their own private area to enjoy Discovery Cove can also opt to rent a cabana at the park. There are three levels of cabana rentals, but all come with a private terrace with lounge chairs, towel service, a mini-fridge with drinks, and a snack basket to enjoy throughout the day. Renting a cabana is a good idea for larger families who want a designated meeting spot, and also want to be able to enjoy more family time together without other guests around them.
More from FamilyVacationist: