The launch of Virgin Voyages in 2021 was a bit of a shock to the cruise industry. The adults-only cruise line take travelers to picturesque destinations around the world like the Caribbean, Europe, and the South Pacific on its "lady" ships (Scarlet Lady, Valiant Lady, Resilient Lady, and the forthcoming Brilliant Lady). Each of these beautiful cruise ships combines the luxury and design of a super yacht with a larger-than-life party atmosphere for an unforgettable cruise.
If you're new to the Virgin Voyages cruise concept and want to try out Richard Branson's iconic cruise line for the first time, I've got you covered. Here's everything I've learned about Virgin Voyages while enjoying its adults-only cruises.
NO HIDDEN COSTS: 7 Best All-Inclusive Cruise Lines in the World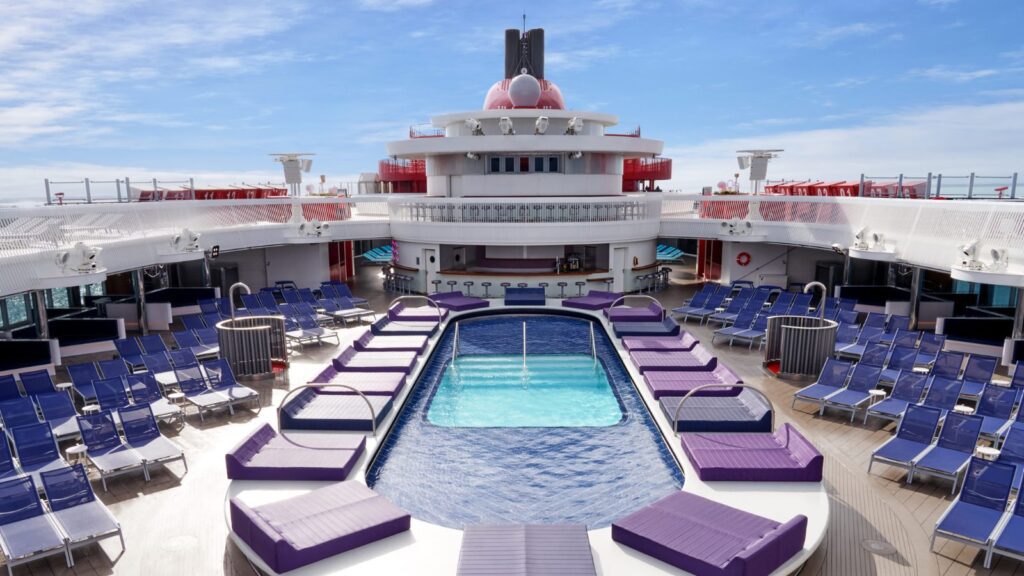 What's Included with a Virgin Voyages Cruise
Dining
One thing that makes Virgin Voyages stand out among its competitors like Royal Caribbean, Celebrity Cruises, or Princess Cruises is the fact that all dining is included in the cost of the sailing. There are no added-cost specialty restaurants on any of the ships, and there are also no designated dining times, which allows you to enjoy meals when you want rather than when the cruise line tells you to eat. All essential drinks like water, coffee, soda, and non-pressed juices are also included in the cost of a Virgin cruise.
ROMANCE AT SEA: 7 Best Cruise Lines for Couples and Their Most Romantic Voyages
Tips
Unlike most cruise lines, tips are also included in the overall cost of a Virgin Voyages cruise. There's no need to tip extra at a bar or restaurant, and you won't be surprised by extra gratuity being added to meals.
Wi-Fi
No matter where you're sailing, Wi-Fi is always included on a Virgin Voyages sailing. In my experience, the Wi-Fi connection is decent enough to check emails or post on social media, but not to stream your favorite TV shows or movies.
Activities and Entertainment
Most of the activities on Virgin Voyages are part of your cruise fare as well. This includes group workout classes, nightly entertainment, and plenty of themed parties, such as PJ parties and Virgin's much-talked-about "Scarlet Night" (a ship-wide celebration with live music, pop-up circus performances, and interactive games that culminates with a soaked-in-red pool and dance party).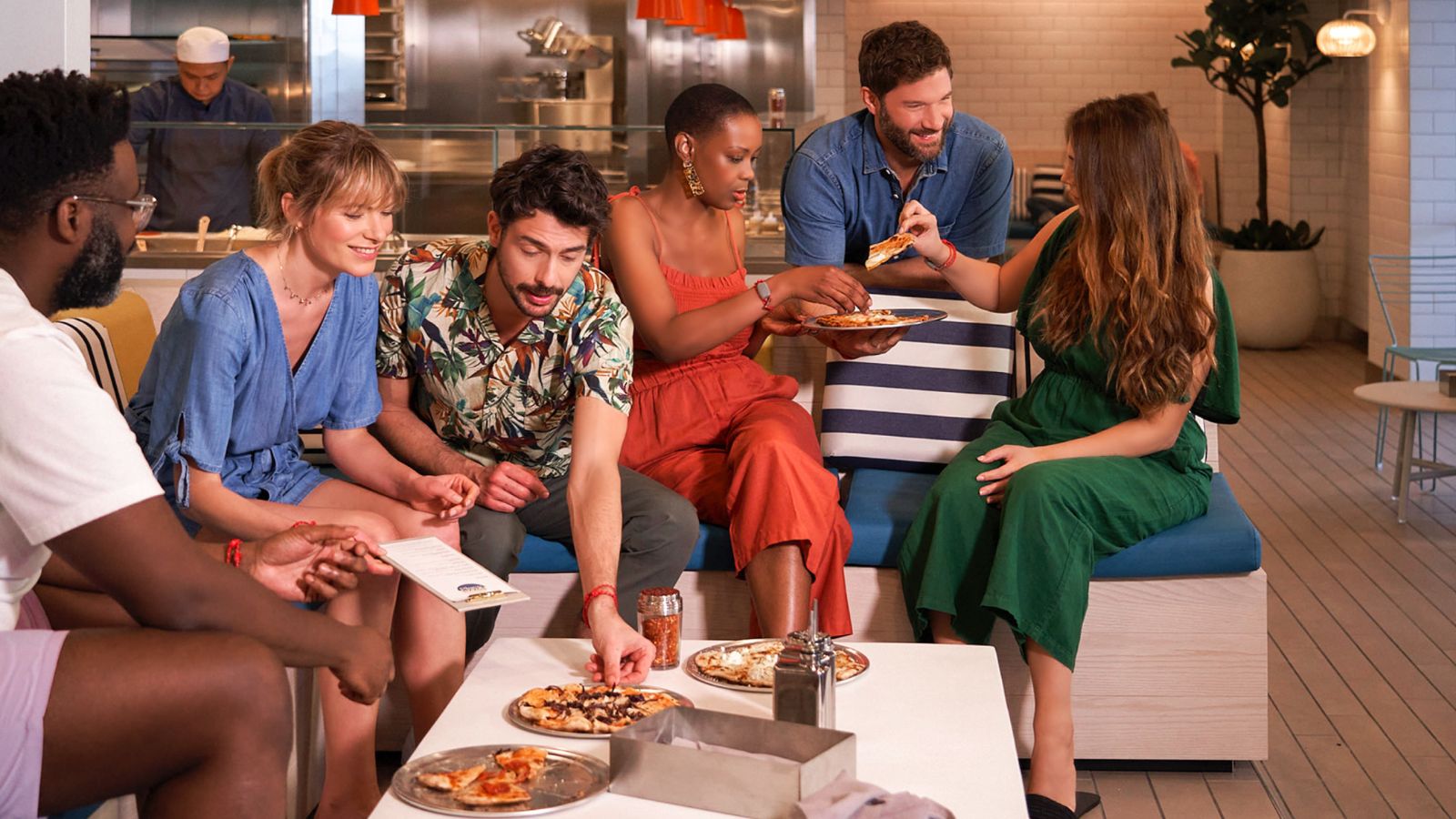 Benefits of Sailing with Virgin Voyages
Adults-Only Sailings
For many people, the biggest perk of sailing with Virgin Voyages is that every single sailing is adults-only (18 or older). While Virgin Voyages touts its youthful appeal, the guest mix ranges from groups of younger friends to older couples looking for a relaxing getaway. This makes Virgin Voyages a good option for couples, adult families, and adult friend groups looking to vacation together.
Wide Variety of Themed Spaces
No matter where you're situated on one of Virgin's cruise ships, the sheer variety of themed spaces allows you to enjoy a cruise vibe that's undeniably unique. A few of the best spots to just hang out onboard include the Sip Lounge, where champagne is always flowing with views of the ocean; the Aquatic Club, a fantastic outdoor space that includes the pool and day beds that are plenty big for two people; and The Athletic Club, where loungers and a net bed are available to enjoy.
KID-FREE GETAWAYS: 11 Best Adults-Only All-Inclusive Resorts in the Caribbean
Anyone staying in a Rockstar Suite also has exclusive access to Richard's Rooftop. This outdoor lounge space has hot tubs, day beds, and trampoline-style beds for guests to enjoy. Every day at Richard's Rooftop, you can also enjoy sunset hour, which is marked by free-flowing champagne and plenty of time to meet fellow cruisers or hang out with just your group.
Over-the-top Dining Experiences
I'm confident when I say that no matter what you're looking for in terms of culinary experiences, Virgin Voyages has it. The Pizza Place has some of the best pizzas at sea, and they can be boxed up for you to take to a deck chair to enjoy. A dinnertime favorite is Extra Virgin, the onboard Italian restaurant where all of the pasta is made by hand. And if you're looking for fantastic Korean food, Gunbae is a traditional Korean BBQ restaurant where you can dine on everything from bibimbap to Korean fried chicken.
CULINARY ADVENTURES: 15 Foodie Hotels That Will Delight Your Taste Buds
Of course, no cruise is complete without a lavish brunch, and there's no better place for that than at Razzle Dazzle. Even though the menu leans into plant-based dining, there are still some meat options. At brunch, you must try the coconut milk fairy toast, which is a sugary blast from the past that piles rainbow sprinkles onto thick-cut brioche bread.
Drawbacks of sailing with Virgin Voyages
Virgin Voyages App
Like all cruise lines, Virgin Voyages has an app that you can utilize onboard to make your vacation easier. But the truth is that Virgin's cruise app is very spotty and requires a lot of refreshing and hoping for the day's itinerary to load.
Because everything for guests is run through the app, from booking dining reservations for dinner (even though all of the restaurants are included) to checking your onboard account to seeing all of the activities for the day, the fact that it's not reliable can certainly be an inconvenience.
Room Design
When I sailed on Virgin Voyages, I stayed in a sea terrace cabin, which is a balcony room. The cabin slept two to four people and ranged in size from 185 to 225 square feet depending on the location and exact cabin classification. For two people, the 185-square-foot cabin was small and lacked storage space. In fact, my standard-size suitcase wouldn't roll under the bed like it does on most other cruise lines. The cabin did have a mini-refrigerator, a desk, and a small chair.
The cabin bathroom was small, but a major perk was the rainfall shower, which helped to elevate the room. Everything in the room is run by an iPad, from lighting to the TV, so be sure to grab that off of the desk before laying down for the night, otherwise you won't be able to turn the TV off when you're done watching it.
Outside on the balcony there' i's a set of chairs and a small cafe table, plus Virgin's iconic red hammocks.
Is a Virgin Voyages Cruise Right for You?
Virgin Voyages are really geared towards non-cruisers who want an elevated experience without all of the gimmicks of a traditional cruise. If you're willing to let go of any preconceived notions about what a cruise should be then you're more likely to enjoy it. If you're looking for a cruise that feels more traditional (think bingo, trivia, and late-night buffets), you may want to consider a different cruise line.
More from FamilyVacationist: