A pioneer in family vacation ideas at sea, Disney Cruise Line (DCL) is known for its family cruises that set sail to destinations around the world, including the Caribbean, Alaska, Europe, and Australia. With themed kids clubs and hangout spaces, Broadway-caliber productions, and one-of-a-kind dining experiences, all of the Disney cruise ships offer a fully immersive storytelling experience from ship to shore.
After cruising onboard all five Disney cruise line ships (Disney Magic, Disney Wonder, Disney Dream, Disney Fantasy, and Disney Wish), I've learned that each Disney cruise ship is unique and offers a different experience for families (and couples). So if you're thinking about setting sail on the high seas with Captain Mickey but haven't quite decided on which ship yet, I can help.
Use this in-depth guide to every Disney cruise ship to learn what's different (and what's the same) about Disney's cruise ships, including which one is the best choice for your family.
Editor's note: Disney's sixth ship, called Disney Treasure, will set sail in 2024; its seventh ship, Disney Adventure, will sail around Southeast Asia beginning in 2025.
UNBEATABLE DEALS: Kids Sail Free: 6 Cruise Lines Letting Kids Cruise Free This Year
1. Disney Magic
It may be ship that launched it all in 1998, but the Disney Magic doesn't feel old or outdated in any way. With a 2,713-passenger capacity, it's one of the smallest and most charming in Disney's fleet. In fact, if you're booking your first cruise vacation, this Disney ship's relatively small size works to its advantage because it's less likely to feel overwhelming to those who are new to cruising.
Staterooms on the Disney Magic
Disney Magic has 613 outside staterooms (229 with an ocean view and 384 with a verandah) and 262 inside staterooms. Each cabin has nautical decor, with deep blues, reds, and wood tones. Disney Magic's staterooms also feature Disney's signature bath-and-a-half (one with a toilet and sink and the other with a shower and sink).
Dining on the Disney Magic
Disney's rotational dining format on the Disney Magic has cruisers traveling through three different themed restaurants. As you move from restaurant to restaurant, your service staff moves with you so you get to know them (and vice versa) over the length of your Disney cruise vacation.
1) Animator's Palate
One of the most popular restaurants among the Disney cruise ships is Animator's Palate. This restaurant is part dinner and part show. Throughout your meal the dining room will change from black-and-white sketches of famous Disney characters to colorful animations. As you dine on California- and Asian-inspired dishes, the room will fill with color. Stick around until the end of the dinner service for a special surprise from a famous mouse.
2) Lumiere's
Exclusive to the Disney Magic, Lumiere's is located in the ship's atrium and has a subtle Beauty and the Beast theme. The menu leans more French-American, with dishes like escargot, duck confit, and roasted lamb. While there's no real "show" inside the dining room, be sure to get up and walk around. There's a large mural of Belle and the Beast near the back of the restaurant that's great for photos. You can also pop into the restaurant on sea days between meals if you want to take a look, or enjoy a peaceful and less crowded lunch here.
3) Rapunzel's Royal Table
A major highlight of rotational dining on the Disney Magic is Rapunzel's Royal Table. The Tangled-themed restaurant brings guests in to celebrate Rapunzel's birthday with characters from the movie. The dinner-and-a-show concept applies here, and if you're lucky you may even get to meet some of the ruffians from the Snuggly Duckling as they come to your table.
4) Casual Dining Options for Everyone
The main buffet on the Disney Magic is Cabanas, which serves breakfast and lunch. The dishes vary by day, but mainstays for kids include chicken strips, macaroni and cheese, and fries. The Disney Magic has three other quick-service options: Duck-In Diner, Pinocchio's Pizzeria, and Daisy's De-Lites. This is where you can find quick options like burgers, cold sandwiches, pre-made salads, and pizza.
5) Palo (Adults Only)
The only adult-exclusive restaurant on the Disney Magic is Palo, which serves an Italian-inspired brunch and dinner. Brunch is a more casual affair compared to dinner, though both meals are excellent. Dinner is served every night and brunch is available only on sea days. Advanced reservations for both meal services are required.
What to Do on the Disney Magic
There's so much to do on the Disney Magic that you'll never find yourself bored. Each night there's live music in the Atrium Lobby. The Walt Disney Theatre is where you can find live original productions like Tangled: The Musical. Over at the Buena Vista Theatre, you'll be able to catch a Disney movie, including films that are currently playing in theaters at home.
SPLASH ZONES: 50 Best Cruise Ship Water Parks and Private Islands for Kids
Kids will enjoy splashing around at the family pool or the AquaLab on the outside decks and playing with new friends at Disney's Oceaneer Club and Disney's Oceaneer Lab. Teens have a dedicated space just for them with Vibe teen club.
Adults looking for a place to get away have spaces built just for them, like After Hours, an adults-only area where there are three bars and lounges to enjoy. The spa and Rainforest Room are good places to relax. There's also a beautiful pool and coffee bar where you can just enjoy being on vacation.
Who Will Love the Disney Magic
Families looking for a smaller ship with fewer guests, or those who really love the movie Tangled are the perfect audience for a cruise on the Disney Magic.
2. Disney Wonder
Disney Magic's sister ship is the Disney Wonder, which sails to Alaska and Australia. Like the Disney Magic, this Disney Cruise Line ship fits just 2,713 passengers, so it feels intimate and exclusive compared to the larger cruise ships in Disney's fleet.
Staterooms on the Disney Wonder
Staterooms on the Disney Wonder have the same nautical flair as those on the Disney Magic. Families traveling with kids will find that there's plenty of space to unpack and store clothes and empty suitcases. When the day is done, everyone can climb into a cozy bed, whether it's a traditional bed, a couch that transforms into a bed, or a bunk that pulls down from the ceiling.
Dining on the Disney Wonder
Disney's signature rotational dining service continues on the Disney Wonder with three highly themed restaurants that you can experience throughout your sailing.
1) Animator's Palate
The Disney Wonder version of Animator's Palate is one of the highlights of any sailing. While the menu is similar to the same restaurant on the Disney Magic, the overall experience here is slightly elevated. On cruises that are seven nights or longer, guests will get to be part of the show. At the beginning of dinner, everyone is given a piece of paper and told to draw a self-portrait. At the end of dinner, your drawings are magically animated and dance across the screens of the restaurant.
2) Tiana's Place
Tiana from the Disney animated movie The Princess and the Frog has her own New Orleans-themed restaurant on the Disney Wonder called Tiana's Place. The restaurant serves creole and cajun cuisine while Princess Tiana and a live band known as the Crawfish Crooners keep guests entertained throughout their meal.
3) Triton's
Though it's named after the Little Mermaid's father, kids may find Triton's on the Disney Wonder less exciting than the other two main dining rooms because there's no show or interactive elements. The menu in Triton's is French-inspired, but for kids (or picky adults) there's always an old standby like chicken tenders. Triton's is also open for lunch service for those who wish to be waited on rather than stand in the buffet line.
4) Casual Dining Options for Everyone
The main buffet on the Disney Wonder is Cabanas, which hosts breakfast and lunch every day. For quick meals that are not buffet-style head to deck nine, where you can find Pete's Boiler Bites, Pinocchio's Pizzeria, and Daisy's De-Lites, which serves hot dogs, burgers, pizza, and deli-style sandwiches.
5) Palo (Adults Only)
The only adults-only restaurant on the Disney Wonder is Palo, an Italian-themed restaurant that overlooks the ocean. Palo is known for its decadent brunch and date-night-worthy dinner. Reservations are highly recommended and can be made before stepping aboard the Disney Wonder on the Disney Cruise Line Navigator App.
What to Do on the Disney Wonder
Families traveling together on the Disney Wonder can enjoy entertainment like trivia and games in the D Lounge, or step outside to play together in the family pool or the Wide World of Sports deck. After dinner, enjoy an original production inside the Walt Disney Theatre or a movie inside the Buena Vista Theatre.
Kids will find endless fun inside the two main kids clubs, the Oceaneer Club and Oceaneer Lab. Older tweens and teens have a club of their own to hang out at as well. Adults looking for some alone time without kids can explore the After Hours area, which has three lounges, each of which hosts games and dance parties well into the night.
Who Will Love the Disney Wonder
Those looking to explore Alaska will want to book a cruise on the Disney Wonder. And families who want a taste of Disney Cruise Line without being overwhelmed by the size of the ship will enjoy the Wonder too.
3. Disney Dream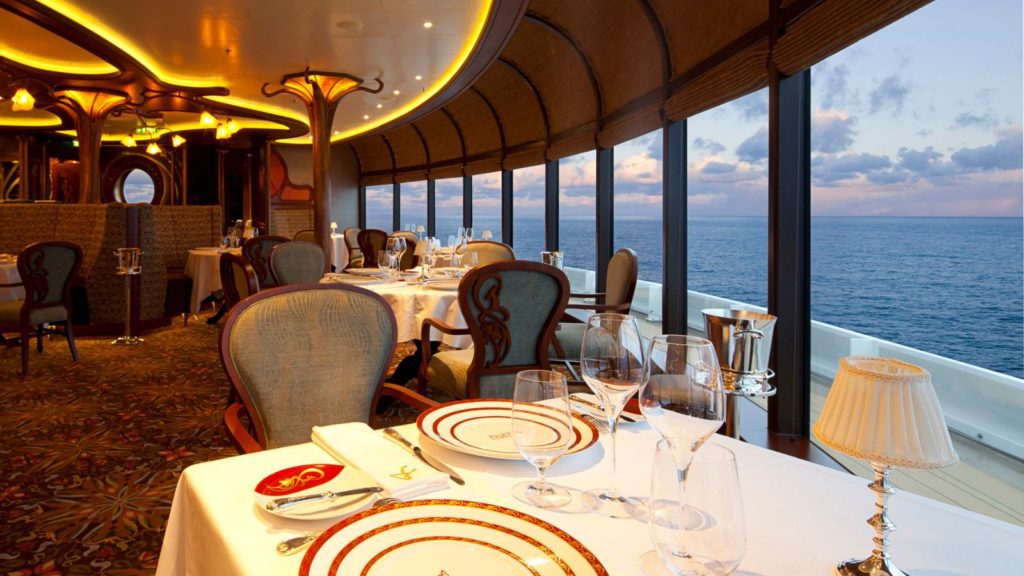 The third ship to join the DCL fleet was the Disney Dream in 2011. The Dream is a beautiful ship that can hold up to 4,000 passengers and will begin sailing the Mediterranean in 2023.
Staterooms on the Disney Dream
The staterooms on the Disney Dream are spacious and well thought out for families, with ample storage space and the same split bathroom concept that's featured on the other DCL ships. There are just over 900 verandah staterooms, along with 199 ocean-view staterooms, and just 150 inside staterooms.
Dining on the Disney Dream
Three beautiful main dining rooms, two adult-exclusive restaurants, and a plethora of casual dining options are waiting to be experienced on the Disney Dream. Like all Disney cruise ships, Disney Dream employs a rotational dining model for dinners.
1) Animator's Palate
While the same drawing theme as DCL's other Animator's Palate restaurants is evident on the Disney Dream, the show element is very different. On the first night dining in this version of the restaurant guests are greeted by Crush from the Pixar movie Finding Nemo as he teaches everyone how to speak like a turtle.
2) Enchanted Garden
Themed after the gardens of France, Enchanted Garden is an elegant restaurant that transforms from afternoon to evening in the course of the meal. At its center is a pretty fountain with a cute Mickey on top that adds to the charm of the space. Dishes here are contemporary American with items like tuna and avocado tower, roasted pork tenderloin, and chocolate torte.
3) Royal Palace
Step into the opulent Royal Palace, where French fare is served alongside portraits of classic Disney princesses. This main dining restaurant features dishes like escargot, cheese-topped French onion soup, and herb-crusted lamb. Royal Palace is open for lunch, with a menu that rotates daily so you can enjoy something other than Cabanas (one of the cruise ship's casual dining options) if desired.
4) Casual Dining Options for Everyone
Serving breakfast and lunch, Cabanas is the main buffet on the Disney Dream. Near the back of the buffet, guests will find an omelet station for breakfast and a carving station for lunch. Other quick service options can be found at Flo's Cafe, which is themed after the Cars franchise. Here there are three walk-up windows (Luigi's Pizza, Tow Mater's Grill, and Fillmore's Favorites), where guests can get a quick lunch of pizza, sandwiches, and salads. There's also a Monsters Inc.-inspired ice cream station on deck 11.
5) Remy (Adults Only)
Luxurious Remy is one of the two adults-only restaurants on the Disney Dream. The French restaurant is inspired by the Pixar movie Ratatouille, and you may even see a glass sculpture of Remy as you walk into the intimate dining space. The menu is divided into three parts, two different tasting menus, and one a la carte menu.
6) Palo (Adults Only)
The version of Palo on the Disney Dream is an Italian escape where adults can indulge in everything from parmesan chicken at lunch to perfectly cooked steaks at dinner. The restaurant boasts panoramic views of the ocean paired with impeccable service.
What to Do on the Disney Dream
This Disney cruise ship has many spaces for everyone in the family to enjoy. Together, families can see live shows in the Walt Disney Theatre or movies in the Buena Vista Theatre. The D Lounge is a great spot to play a round of trivia, and Goofy's Sports Deck is where you can find a mini-golf course. Thrill-seekers will enjoy the AquaDuck water coaster where part of the track hangs over the side of the ship.
Kids have their own spaces with the it's a small world nursery, Disney's Oceaneer Club, and Disney's Oceaneer Lab. Teens can hang out in Vibe and tweens will enjoy Edge.
Adults looking to get away from youngsters will want to go to the District, where five different lounges and bars are ready to welcome you with a drink and plenty of fun. Between Palo and Remy there's another lesser-known bar called Meridian where bartenders whip up everything from classic martinis to smoked old fashioneds.
Who Will Love the Disney Dream
Adults traveling together will enjoy the ample amount of space dedicated to those over 18 on the Disney Dream.
4. Disney Fantasy
The Disney Fantasy is the sister ship to the Disney Dream. While both Disney cruise line ships have a passenger capacity of 4,000 and many of the venues are the same, they have a completely different feel.
Staterooms on the Disney Fantasy
Of the Disney Fantasy's staterooms, 1,100 are considered outside staterooms with an ocean view or verandah and 150 are inside staterooms. The rooms have a classic nautical feel with a split bathroom and plenty of places to store clothes and other cruise necessities.
Dining on the Disney Fantasy
The Disney Fantasy has plenty of dining options to please everyone in your traveling party. Like the other ships in the DCL fleet, Disney Fantasy has rotational dining for dinners.
1) Enchanted Garden
Similar to the Disney Dream, Enchanted Garden on the Disney Fantasy is themed after a French garden with effects that make it seem like the sun is setting over the garden while you dine.
2) Animator's Palate
A fixture on four out of the five DCL cruise ships, Animator's Palate is one of the restaurants on Disney Fantasy as well. Here guests are able to animate their own characters and watch them come to life on the screens around the restaurant. No matter which version of the restaurant you experience on the different Disney cruise ships, the menu is basically the same, and a must-try dish is the truffle pasta appetizer.
3) Royal Court
Like Royal Palace on the Disney Dream, Royal Court serves a French-inspired menu in a castle-like setting. The restaurant features dishes like a rack of lamb, spinach soufflé, and a rich French onion soup. For a more relaxed afternoon, the restaurant is open for lunch where you can sit and enjoy a meal that's outside of the hustle and bustle of the casual dining experience at Cabanas.
4) Casual Dining Options for Everyone
Cabanas buffet welcomes everyone for a casual breakfast and lunch, while Flo's Cafe is ready to serve up burgers, pizza, and sandwiches at lunchtime. And don't forget the all-you-can-eat soft-serve ice cream from Eye Scream.
5) Remy (Adults Only)
On the Disney Fantasy, Remy is a small French restaurant where the food is just part of the experience. The dining team is there to ensure your adult-exclusive meal is perfect. From a welcome cocktail to a cheese course that's plated right in front of you, no detail is overlooked.
6) Palo (Adults Only)
The other adult-exclusive restaurant on the Disney Fantasy is Palo. The stunning dining room is modeled after the gondolas of Venice, though the menu at the restaurant features dishes from multiple regions of Italy.
What to Do on the Disney Fantasy
Like the other Disney cruise ships, the Disney Fantasy has a movie theater and a live production theater. Outside on the pool decks, families can enjoy the AquaDuck water coaster or AquaLab play area.
The kid's clubs are an exciting place that children won't want to leave, though adults can get in on the fun during open houses that take place throughout the sailing.
Adults looking for some entertainment just for them will want to venture into Europa, an adults-only district with five themed bars and lounges for guests over 18. And while there is an adult pool on deck 11, if you journey up to deck 13, you'll find another adults-only sundeck that is rarely busy.
Who Will Love the Disney Fantasy
Families with young children who love Pixar characters will want to book a Pixar Day at Sea sailing. Otherwise, multigenerational families will enjoy the ship and all that it has to offer for families to do together.
5. Disney Wish
The Disney Wish joined the fleet in 2022, marking a new chapter for DCL in which the overall Disney cruise ship design and layout is a big departure from the original four ships.
Staterooms on the Disney Wish
Staterooms on the Disney Wish are elevated compared to the four original Disney cruise line ships. Each room is themed after a Disney princess movie, like The Little Mermaid, Moana, or The Princess and the Frog. Cabins still have the split bathroom concept, though the shower and sink bathroom has a sliding glass door for the shower instead of a curtain.
There are 1,254 staterooms, of which 1,133 are outside staterooms and 121 are inside staterooms. The Disney Wish has a 4,000 passenger capacity.
Dining on the Disney Wish
Rotational dining on the Disney Wish brings three new restaurants to the DCL experience and takes the dinner-and-a-show model to new and fully immersive heights.
1) Arendelle: A Frozen Dining Adventure
The Frozen-themed main dining room, called Ardendelle: A Frozen Dining Adventure, is part dinner and part theater-in-the-round. The menu features dishes inspired by the cuisine of Norway, though the real star is the show itself, which follows Queen Anna and Kristoff's engagement party with plenty of dancing, singing, character interactions, and some spectacular special effects.
2) Worlds of Marvel
The Wish's Worlds of Marvel restaurant is an interactive dinner-and-a-show experience unlike anything on the other Disney cruise line ships. Here the menu is filled with dishes inspired by locations in the Marvel Cinematic Universe such as New York and Wakanda. Marvel super heroes Ant-Man and the Wasp (and a few surprise characters) appear on screens around the dining room throughout dinner as the storyline progresses. Be sure to stay until dessert so you don't miss the live in-person finale.
3) 1923
The more elegant of the three main dining rooms is 1923, which is divided into two smaller dining areas dedicated to Walt and Roy Disney, respectively. Both feature sketches, paintings, and models of animated Disney characters. With fresh California cuisine highlighted, you'll be able to enjoy everything from perfectly cooked steaks to fresh tuna.
4) Casual Dining Options for Everyone
Marceline Market replaces Cabanas as the breakfast and lunch "buffet option" on the Disney Wish, though it's more of a fast-casual restaurant than a buffet since you don't serve yourself. As you walk into Marceline Market you'll find various food stations where salads, customizable pasta, and of course kid-friendly options are all plated for you by Cast Members. Marceline Market is open for breakfast and lunch as a buffet and a table service restaurant at dinner.
Outside on the upper decks, you can enjoy Mickey & Friends Festival of Foods, which are all quick service options featuring BBQ, Mexican, pizza, burgers, and ice cream.
5) Enchante (Adults Only)
Enchante is one of two adults-only restaurant on the Disney Wish. The restaurant's menu was crafted by three-Michelin-starred Chef Arnaud Lallement, while the decor is inspired by Lumiere from Beauty and the Beast.
6) Palo Steakhouse (Adults Only)
Palo Steakhouse is a departure from the Palo restaurants on the first four DCL cruise ships. This adults-only restaurant is inspired by Cogsworth from Beauty and the Beast and features a delicious menu of steakhouse favorites and fan-favorite Palo dishes like the potato gnocchi.
What to Do on the Disney Wish
There's a lot to see and do onboard the Disney Wish, including activities that can't be found on any of the other Disney cruise ships. Families can enjoy a ride on the AquaMouse, the first "Disney attraction at sea" where guests ride on a raft and pass by scenes inspired by Mickey Mouse's adventures as they make their way around the ship on a water coaster.
For some inside fun, get everyone together to play Disney Uncharted Adventure, an interactive game played through the DCL app, where you have to go on missions with different Disney characters to save the wishing star.
Relax inside the Walt Disney Theatre, where you can see original performances like The Little Mermaid and Disney Seas the Adventure. There are also two movie theaters onboard where you can watch your favorite Disney movies.
Adults have plenty of spaces that are all their own after dark, like Star Wars: Hyperspace Lounge and Nightingale's, the latter of which is inspired by Cinderella. What's different about the adult spaces on the Disney Wish is that they are spread throughout the ship rather than clustered together in an adults-only district.
Who Will Love the Disney Wish
Those looking for an all-new Disney Cruise Line experience or those who have never sailed with Disney Cruise Line before will love the Disney Wish, but avid DCL fans may miss some familiar features of the other Disney cruise ships.
Frequently Asked Questions about Disney Cruise Ships
1) Does Disney Cruise Line offer any themed cruises?
Disney is all about storytelling, so it's only natural that DCL offers themed cruises and special days at sea. All of the Disney cruise ships have themed cruises, with dates and themes varying between the different ships. Disney's themed cruises and themed days at sea are Halloween on the High Seas, Very Merrytime, Marvel Day at Sea, and Pixar Day at Sea.
2) Does Disney Cruise Line have a private island?
Yes, Disney Cruise Line has a private island in the Bahamas called Castaway Cay. On most Disney cruises to the Bahamas and Caribbean, Disney's cruise ships will stop for a day at Castaway Cay. Here you can snorkel, swim, lounge on the beach, zip down water slides, sip cocktails, enjoy a BBQ, and even participate in a special 5K road race if you are so inclined.
In early 2023, Disney announced plans for opening of a second private island experience in the Caribbean. Lighthouse Point on Eleuthera in the Bahamas will open in time for summer 2024 cruises, and will be a sort of sister destination to Castaway Cay. The new private Disney port-of-call destination will include three beaches (two family beaches plus one adults-only beach), a water play area, a local crafts pavilion, watercraft and bicycle rentals, hiking and biking trails, and more.
3) What's included on a Disney cruise?
While DCL is not an all-inclusive cruise line, the base price of your Disney cruise covers almost everything: accommodations, meals, room service, non-alcoholic beverages, unlimited soft-serve ice cream, live productions, movies, pools and water slides, character meet-and-greets, and kids clubs.
So, what's not included on a Disney cruise? Airfare and airport transfers, specialty restaurants (generally the adult-only dining spots on Disney's cruise ships), gratuities, alcoholic and bottled beverages, shore excursions, spa treatments. Some snacks are also available for purchase, though most food is free.
4) Will DCL be adding even more new Disney cruise ships?
Disney Cruise Line is not done adding to its fleet! The Disney Treasure is scheduled to set sail in 2024. Disney is also planning a second private destination in the Bahamas. Called Lighthouse Point, it will be located on the island of Eleuthera.
More from FamilyVacationist: