It's a big story whenever Disney Cruise Line debuts a new ship, but I'll admit to (briefly) wondering if I'd lost my ability to be wowed by the occasion. Impressed, sure. Delighted, absolutely. But flat-out awestruck by a new Disney cruise ship? Well, wouldn't it be only natural if some been-there-done-that nonchalance seeped into my first impressions of the Disney Treasure after years of covering family cruises?
The answer, as it turns out, is a definitive no. Disney previewed the Disney Treasure for the media just before Labor Day, and I have to say this new ship totally blew me away. That's because while the Disney Treasure may be a sister ship to 2022's Disney Wish, there are so many unique new touches and unexpected inspirations that it feels—to borrow a phrase—like "a whole new world" for the cruise line.
DISNEY AT SEA: Everything You Need to Know about Disney's Cruise Ships Before You Book a Disney Cruise Vacation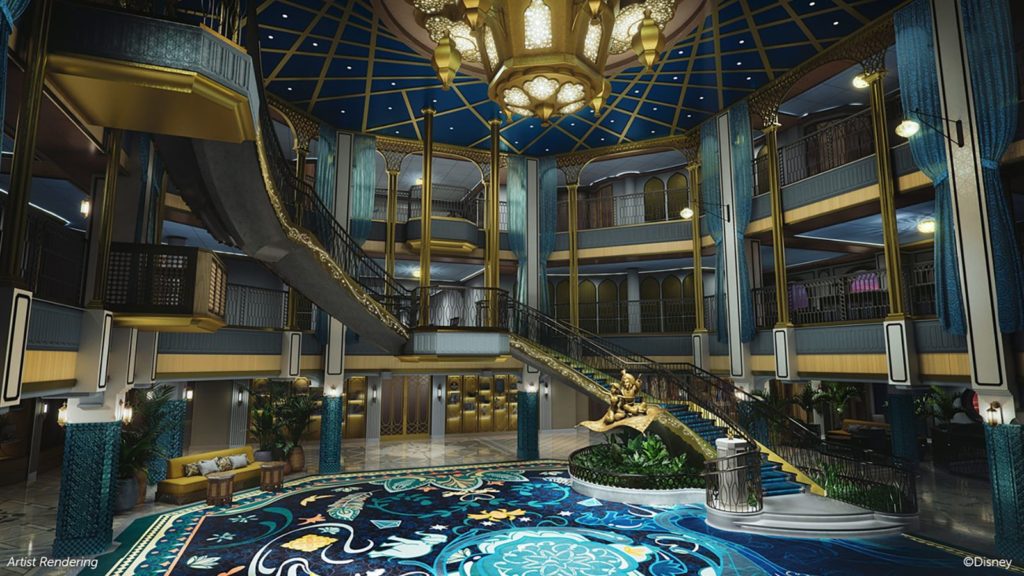 High Adventure on the High Seas
If the Disney Wish was all about enchantment at sea, Disney Treasure puts the focus squarely on the classic adventures of yesteryear. The cruise line dug deep into the Disney archives to include immersive new experiences harkening all the way back to 20,000 Leagues Under the Sea (both the 1954 film and the 1970s park attraction) as well as more recent favorites like Jungle Cruise, Aladdin, and The Lion King for a truly never-before-seen experience on the open seas. Pixar films like Coco, Up, and Zootopia will have a presence onboard, too. And of course it wouldn't be a Disney Cruise ship without Marvel and Star Wars experiences.
The Disney Treasure joins the Disney Magic, Disney Wonder, Disney Dream, Disney Fantasy, and Disney Wish to become the sixth ship in the DCL fleet. The Disney Treasure's maiden voyage will depart from Port Canaveral, Florida, on December 21, 2024, for a seven-night Eastern Caribbean cruise. Its inaugural season will focus on seven-night itineraries to both the Eastern Caribbean and Western Caribbean. Bookings will open to the cruise line's Castaway Club members on September 12, 2023, and to the general public beginning September 20.
Here's a look at what you can expect on the brand-new Disney Treasure when it takes to the seas in December 2024.
COMING SOON: Everything We Know (So Far) about Lighthouse Point, Disney Cruise Line's Next Private Island Destination
New and Returning Rotational Dining Venues
The Disney Treasure will continue the cruise line's tradition of rotational dining in which guests and wait staff move from restaurant to restaurant each evening for a new dining experience. With the Disney Treasure embarking exclusively on seven-night voyages in its inaugural season, that means guests will have the opportunity to dine at each restaurant twice. And Disney promises the experience will be different each time.
Plaza de Coco
New to the Disney Treasure, Plaza de Coco will be a theater-in-the-round dining experience themed around the Pixar film Coco, picking up where the story left off at the end of the movie to celebrate family memories and togetherness on a music-filled journey. The menu will feature a modern twist on traditional Mexican fare alongside a lineup of live theater-style entertainment.
Worlds of Marvel
A fan-favorite dining experience from the Disney Wish, Worlds of Marvel comes to the Disney Treasure with an entirely new storyline featuring Spider-Man and other Avengers. With two nights of dining at this Marvel-themed venue, guests can experience two entirely different shows inspired by the Marvel Cinematic Universe.
1923
Another carry-over from the Disney Wish, 1923 celebrates the legacy of Walt Disney Animation Studios with a design inspired by the golden era of Disney Animation and a popular Hollywood-themed menu that appeals to all ages.
Casual Dining
In addition to Plaza de Coco, Worlds of Marvel, and 1923, the Disney Treasure will feature multiple casual dining and quick-eat venues sprinkled across the ship. Jumbeaux's Sweets will be themed around Zootopia, while a pair of casual walk-up cafes just off the Grand Hall draw inspiration from Moana (Heihei Café) and Mulan (Jade Cricket Café). Marceline Market, a casual dining option that made its debut onboard the Disney Wish, will also serve up breakfast, lunch, and dinner options on the Disney Treasure.
Family Entertainment on the Disney Treasure
As with all Disney cruises, there will be Broadway-style theatrical adaptations onboard the Disney Treasure alongside interactive storytelling experiences and environments geared towards families.
Grand Hall
The centerpiece of the ship and the starting point for adventures will be the Aladdin-inspired Grand Hall, a central location where shows, character encounters, and musical performances will greet guests throughout the voyage. 
Sarabi
A multi-story space called Sarabi (named after the lioness matriarch from The Lion King) will be a hub for both family-friendly daytime activities and adult-exclusive entertainment in the evenings. Programming here will include Disney Cruise Line favorites such as "Match Your Mate," "Family Time Game Show," and "Villains Game Night."
Walt Disney Theatre
A staple onboard Disney's cruise ships, Walt Disney Theatre will host fan-favorite Broadway-style productions including Beauty and the Beast and Disney Seas the Adventure. A third, entirely new show was teased during the media preview as well, with details still firmly under wraps until a later date.
Disney's Oceaneer Club
As with the other Disney cruise ships, the Disney Treasure will have a kids club with interactive programming and dedicated spaces for every age group. The beloved Star Wars: Cargo Bay pioneered by the Disney Wish returns to Disney's Oceaneer Club on the Disney Treasure. Kids can also explore favorites such as Marvel Super Hero Academy, Walt Disney Imagineering Lab, and Fairytale Hall. Additional child and teen staples Edge, Vibe, and It's a Small World Nursery will also be included.
AquaMouse: Curse of the Golden Egg
The Disney Treasure will have seven pools staggered between tiered decks and lounge areas. There will also be a brand-new version of AquaMouse, Disney Cruise Line's water slide attraction. The AquaMouse attraction made exclusively for the Disney Treasure is called AquaMouse: Curse of the Golden Egg. It will once again plunge riders into the world of Mickey's animated shorts, but this time the theming is pure adventure with an all-new storyline that follows Mickey and Minnie into an Indiana Jones-style ancient temple.
Additional Family Areas
Two popular spaces from the Disney Wish, Hero Zone and the Wonderland and Never Land Cinemas, will also be part of the Disney Treasure. Hero Zone is a sports and recreation venue blending physical challenges with game show-style competitions; the Wonderland and Never Land Cinemas are screening rooms showing Disney and Pixar films.
Adult Entertainment and Dining on the Disney Treasure
Like the other ships in Disney's fleet, the Disney Treasure has a number of adults-only areas where guests can lounge, dine, relax, and mingle.
On the upper decks, Quiet Cove is set apart from the family pools and features a poolside bar, café, and infinity pool. Periscope Pub is a submarine-styled sports pub themed around 20,000 Leagues Under the Sea serving up craft brews and light bites. The pub's 19th century steampunk design utilizes polished metals and industrial touches, with a viewscreen window into the ocean depths calling to mind the adventures of Captain Nemo and the Nautilus. Centrally located Skipper Society is a playful outpost themed around Disney's Jungle Cruise attraction serving up themed cocktails, light snacks, and (presumably) some groanworthy puns.
UNBEATABLE DEALS: Kids Sail Free: 6 Cruise Lines Letting Kids Cruise Free This Year
Several popular DCL adult-exclusive restaurants will find homes on the Disney Treasure as well. Expect to find Italian specialties at Palo Steakhouse, luxurious dining at the Beauty and the Beast-inspired Enchanté by Chef Arnaud Lallement, and idyllic pre-dinner aperitifs or after-dinner cocktails at The Rose. Senses Spa and a reimagined Senses Fitness area promise state-of-the-art wellness facilities onboard. 
Staterooms on the Disney Treasure
With room for 4,000 passengers, the Disney Treasure joins the Disney Wish as the largest in the DCL fleet. Most staterooms will once again include Disney's split-bath concept, and many will offer the option of a connecting door to an adjoining stateroom for larger families.
Most of the Disney Treasure's 1,256 staterooms will also offer an ocean view, including 877 rooms with a verandah. Room décor will be themed to classic Disney and Pixar adventure stories, such Aladdin, Pocahontas, Up, and Encanto. The ship's upscale concierge and royal suites will enjoy theming from The Lion King, The Jungle Book, and Aladdin.
The most remarkable addition to the Disney Treasure's accommodations, however, is the EPCOT-themed Tomorrow Tower Suite. Bringing the energetic spirit of EPCOT to life through dynamic art, molten metal accents, and futuristic glass accents, the 2,000-square-foot Tomorrow Tower Suite sleeps eight and is situated high in the Disney Treasure's forward funnel. A humongous two-story window will offer sweeping views that might be the greatest Disney treasure of all!
More from FamilyVacationist: