Whether you're cruising out of Port Canaveral or visiting the theme parks in Orlando, exploring Florida's Space Coast is an inspiring Florida family vacation idea for all ages. Spanning 72 miles and located just 45 minutes east of Orlando, it's easy to explore the Space Coast during any Orlando vacation or as a pre- or post-cruise add-on.
On Florida's Space Coast, you'll find one of the best family beaches in Florida, natural phenomena like bioluminescence, and the Kennedy Space Center, a NASA rocket launch site brimming with entertaining exhibits. Here are the best things to do on the Space Coast when you're vacationing with kids.
SUN AND SAND: 12 Beach Resorts in the U.S. for Families
1. Kennedy Space Center
Meet a real astronaut, watch a rocket launch, or experience a simulated shuttle launch
The incredible Kennedy Space Center is one of NASA's field centers where rockets are launched into outer space. At its visitors center, you can wander amongst huge rockets in the Rocket Garden and see them up close. You can also take a tour bus past restricted working areas of Kennedy Space Center, including the Vehicle Assembly Building, where rockets are stacked vertically then rolled out onto the launch pad. Time your trip with the center's rocket launch schedule to witness the wonder of a rocket boosting off to the stars. (Be sure to book a viewing in advance.)
GALAXY QUEST: The Ultimate Guide to Star Wars: Galaxy's Edge at Disney's Hollywood Studios in Orlando
Because of its size and purpose, the Vehicle Assembly Building boasts the tallest doors in the world. Tour guides drop facts like that with passion and panache, such as how there are only two crawler-transporters in the world that take rockets and spacecraft to launch pads, and Kennedy Space Center is home to both of them. You can watch 3-D IMAX movies about America's space program, and lay back in the simulated Shuttle Launch Experience and feel your body shake and vibrate as you ascent into orbit. And what kid (or parent) wouldn't enjoy eating freeze dried astronaut ice cream and gliding down a large slide?
One of the most inspiring opportunities for visitors at Kennedy Space Center, though, is the opportunity to meet a real astronaut. Many astronauts drop by for autographs and talks, but if you don't want to leave an encounter to chance you can book a Fly with an Astronaut Experience, where a veteran NASA astronaut guides you around the Kennedy Space Center and shares stories of their experiences.
2. Cocoa Beach
Savor warm Sunshine, soft sand, and surfing at the closest beach to Orlando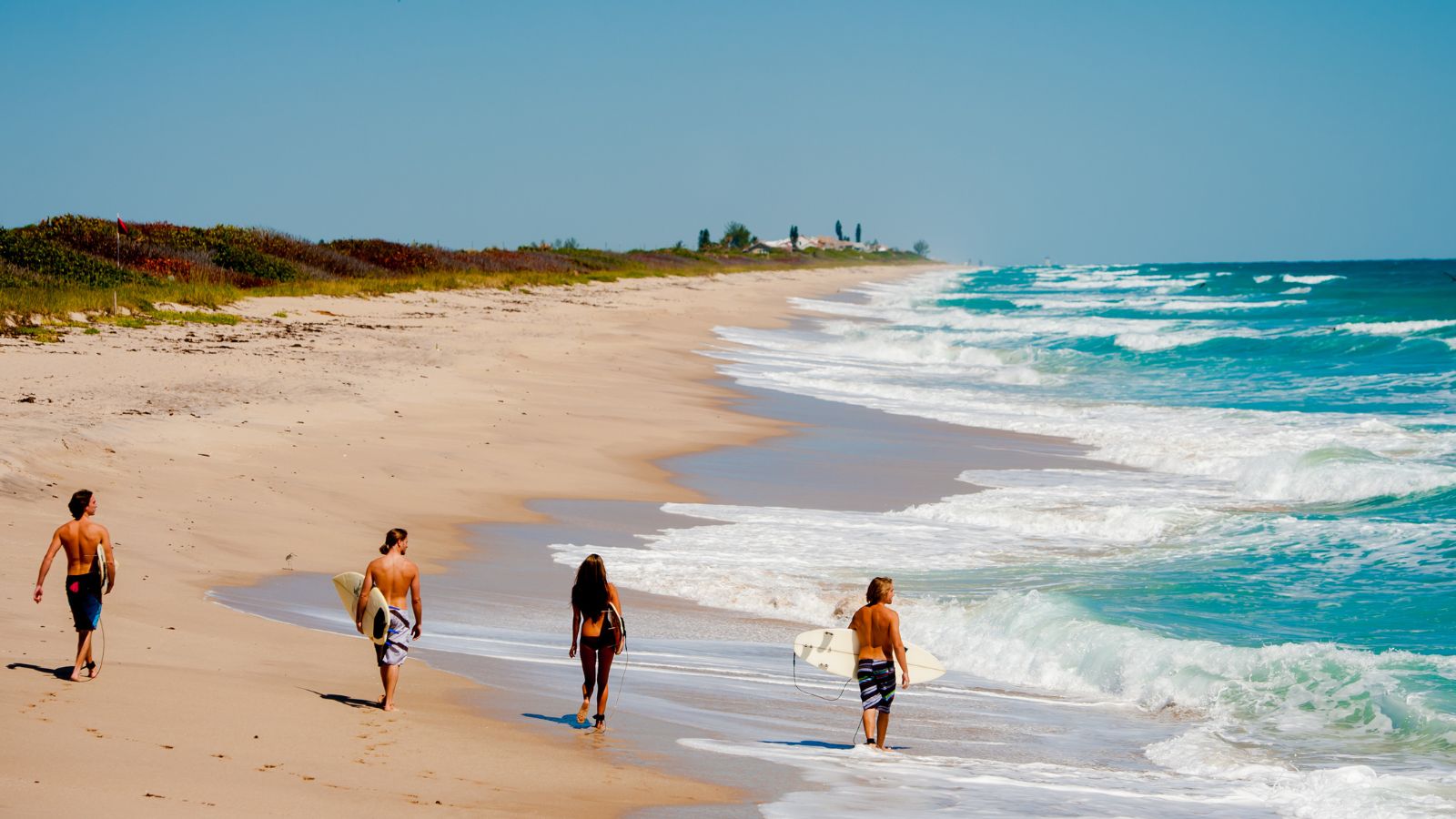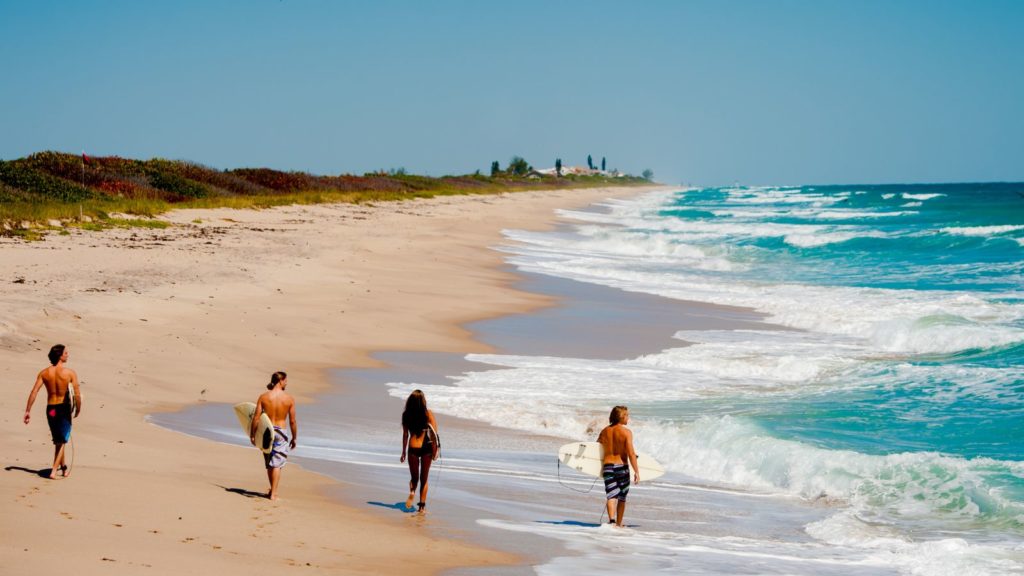 Known for its cocoa-colored sand and surf breaks, Cocoa Beach is the perfect place to catch some sun and surf the waves. Sand volleyball courts, chair rentals, family changing rooms, and some of the best surfing on the East Coast draw families to Cocoa Beach. Life is better with sandy toes and a sun-kissed nose.
LIFE'S A BEACH: 11 Best Family Beach Vacations in the U.S.
Stretching 800 feet over the Atlantic Ocean, the Westgate Cocoa Beach Pier is full of life with restaurants, bars, gift shops, and live music. Order lunch, feel the salty breeze, and watch surfers from Rikki Tiki Tavern, the thatched roof open-air establishment at the end of the pier.
3. Bioluminescent Phenomena
See the mystical underwater glow up close
The Space Coast is one of the few places in the world where you can experience bioluminescence up close. These underwater organisms glitter and glow blue-green as you paddle above them. Like watching fireflies flash underwater, this other-worldly experience is even more magical when you glimpse fish skittering past and dolphin pods swimming in the distance. Local outfitter Finn Expeditions offers a two-hour sunset bioluminescent tour that's great for families.
WILD AND WONDERFUL: These Florida State Parks Prove There's Way More to the Sunshine State Than Beaches and Theme Parks
Another fantastic option is Get Up and Go Kayaking, which offers clear kayaks to better experience the bioluminescence. "Seeing bioluminescence glide right under the clear kayak looks like you're traveling at warp speed through the galaxy," says owner Justin Buzzi. He adds that people are surprised by how bright the bio is in-person and just how dark it is inside the Merritt Island National Wildlife Refuge, where they tour.
"It's 140,000 acres of nothingness," says Buzzi. "You can actually see the Milky Way on clear, dark nights." You might also encounter wildlife like manatees, alligators, birds, and bobcats. It's definitely an awe-inspiring bucket list family vacation experience. Bioluminescence season starts in May and goes through the winter, when comb jellies glow. Peak season tends to be July and August, when the weather is hottest in Florida.
Additional Things to Do on the Space Coast with Kids
Other kid-friendly things to do on the Space Coast include Lighthouse Cove Mini Golf and Three Scoops Ice Cream. Best of luck deciding if you'd like to golf before or after the creamy goodness of your ice cream cones. The Dinosaur Store and Museum of Dinosaurs and Ancient Cultures is a fossil museum, gift shop, and adventure zone all in one building. If you need to stock up on beach supplies, Ron Jon Surf Shop has everything from bathing suits to towels, boogie boards, sunblock and more. The Cocoa Beach location is the largest surf shop in the world.
ROOM FOR ROMANCE: 10 Most Romantic Hotels in Florida for Couples Getaways
When your stomach starts rumbling, know that there are many options for fresh seafood in Cocoa Beach, but Florida's Fresh Grill has been continuously rated as one of the best. Order the Avocado Crab Tower, which is piled high with cucumber, mango, cilantro, and shrimp. Pizza tends to be a perennial kid-pleaser, too, and the food at Mangia & Bevi Pizzeria Napoletana is outstanding, especially since it's located in an otherwise unassuming strip mall. The airy wood-fired pizza crust is just what you would expect to eat in Napoli, where the proprietors are from. Enjoy a taste of Italy on the Space Coast!
Whenever you're planning to visit the Space Coast, be sure to check out the tourism bureau's events calendar for upcoming events and things to do on your vacation.
Where to Stay on the Space Coast
You'll find everything from dreamy Florida beach resorts to budget-friendly family hotels on the Space Coast. I recommend Hampton Inn and Suites Cape Canaveral Cruise Port, especially if you're pairing your Space Coast vacation with a family cruise. It's close to the port, features a large outdoor pool, and offers free hot breakfasts. The rooms are pet-friendly and Kennedy Space Center is just a half-hour away. 
More from FamilyVacationist: