When you think about Florida, you probably think of its beautiful family beaches and thrill-packed theme parks. And while the Sunshine State does have those two family vacation ideas in abundance, it's also home to some unique state parks where you can spot rare flora and fauna and explore the Florida landscape in some not-so-typical ways.
The Best Florida State Parks to Visit with Kids
With an impressive 175 sites to explore within the Florida State Parks system, you might be wondering where to start. Here are the most one-of-a-kind Florida state parks (and where to stay nearby) with unusual attractions and features that make them worthy travel adventures on any Florida family vacation.
SUN AND SAND: 10 Dreamy Florida Beach Resorts That Are Perfect for Families
1. Devil's Millhopper Geological State Park
Gainesville, Florida
Not far from the bustling University of Florida campus in Gainesville, Devil's Millhopper Geological State Park offers a completely different perspective of the area. You can head to the park's boardwalk and climb down 132 steps into a 120-foot-deep limestone sinkhole. Enjoy the soundtrack of rustling leaves and trickling waterfalls as you check out the more than 100 feet of exposed rock layers.
NO HIDDEN FEES: 7 Best Florida All-Inclusive Resorts for Families
Sinkholes occur when acidic groundwater dissolves limestone over a period of time and causes the roof of a cavity to eventually collapse. The sinkhole at this Florida state park has been attracting observers since the 1880s, and it's easy to see why—all the vegetation growing on the walls gives the sinkhole a rainforest feel, and the tall trees surrounding it make the park a great place to escape the Florida heat.
Where to Stay Near Devil's Millhopper Geological State Park
The upscale (and pet-friendly) Staybridge Suites Gainesville I-75 offers apartment-style suites with full kitchens and lots of family-friendly amenities, including a resort-style pool, fire pit, basketball court, and grill area. The well-reviewed hotel also provides a free hot breakfast each morning.
2. Kissimmee Prairie Preserve State Park
Okeechobee, Florida
A 54,000-acre preserve that's part of the Florida Everglades headwaters, Kissimmee Prairie Preserve is the largest remaining tract of Florida dry prairie. You can explore this Florida state park on foot, by bicycle, or on horseback via more than 100 miles of multi-use trails, or take a guided buggy tour for an elevated view of the prairie. Many rare, threatened, and endangered species call the site home, and birders might be able to add sightings of a grasshopper sparrow, crested caracara, swallow-tailed kite, or bald eagle to their life list.
SEA LIFE: 8 Best Florida Aquariums to Visit with Kids
In 2016, the International Dark Sky Association named Kissimmee Prairie Preserve Florida's first Dark Sky Park. Visitors who secure after-hours access to the preserve by booking a campsite or reserving an astronomy viewing pad could be rewarded with views of Jupiter, Saturn, or other planets; the International Space Station in orbit; or even a nighttime rocket launch from a site on Florida's Space Coast.
Where to Stay Near Kissimmee Prairie Preserve State Park
If family camping isn't your speed, check in at Hampton Inn Okeechobee. The pet-friendly hotel is located about 30 miles from Kissimmee Prairie Preserve and five miles from an entry point to Lake Okeechobee, the second-largest freshwater lake entirely within U.S. boundaries. The hotel offers guest rooms, suites, and amenities like a free daily hot breakfast, outdoor pool, and fitness center.
3. Highlands Hammock State Park
Sebring, Florida
Opened in August 1935, the 9,000-acre Highlands Hammock is one of Florida's first state parks and it's home to more rare and endemic species than any other state park in Florida. Bring your binoculars and camera in case you're lucky enough to spot a gopher tortoise, Florida panther, black bear, or cardinal air plant as you wander under the shady tree canopy.
FLORIDA VACATIONS: 7 Florida Attractions That Are Just as Much Fun as Disney and Universal
Nine trails travel throughout this Central Florida park, offering glimpses of towering oak trees, hardwood swamp, and creeks where you might spy alligators and wading birds. Stop by the Civilian Conservation Corps Museum to view exhibits telling the stories of the people who built this and seven other Florida parks during the Great Depression.
Where to Stay Near Highlands Hammock State Park
A reliable and pet-friendly hotel option overlooking Lake Jackson, Residence Inn Sebring offers extended-stay suites with full kitchens that are great for families. The hotel also has an outdoor pool, fitness center and full-service complimentary breakfast.
4. Silver Springs State Park
Silver Springs, Florida
Glass-bottomed boats have been gliding through the waters of Silver Springs since the 1870s, making it one of Florida's earliest must-visit tourist attractions. Today you can still peer beneath the surface of the Silver River during daily boat tours on the park's historic watercraft. Through the windows by your feet, you'll observe the river's head spring, Mammoth Spring, as well as several feeder springs and even some props from movies like Moonraker and Creature from the Black Lagoon, both of which were filmed at the site.
WATER WORLDS: 15 Best Orlando Hotels with Pools, Water Slides, and Water Parks
You can also rent a canoe, kayak, or stand-up paddle board to ply the waters at this Florida state park or explore its hiking and nature trails, where you could spot everything from armadillos and foxes to alligators and limpkins. Camping is also permitted at this state park.
Where to Stay Near Silver Springs State Park
The high-end Equestrian Hotel in horse-obsessed Ocala offers rooms done up in luxe, clubby style, some of which overlook the Grand Arena at the World Equestrian Center (the largest equestrian complex in the United States). A zero-entry pool, animal-inspired kids' splash pad, several dining options, and a 7,000-square-foot salon and spa provide lots of ways for guests to treat themselves during a stay.
5. Florida Caverns State Park
Marianna, Florida
Florida is known for its heat and humidity, but families who head underground at Florida Caverns to see the state's only cave developed for tours can enjoy cool 65-degree temperatures year-round. Offered on a first-come, first-served basis, the tours travel through a dozen cave rooms to take in geological formations like stalactites, stalagmites, and flowstones. You can also learn about the long history of this Florida state park and the land it occupies. You might even spot chisel marks made by Civilian Conservation Corps workers in the 1930s.
BEYOND THE BEACH: Why Sarasota Might Be the Perfect Florida Vacation Spot for Families
Located in Marianna near the Alabama border, Florida Caverns State Park is home to more than 600 plant species and wildlife like white-tailed deer, wild turkeys, and bobcats. Biking, hiking, and equestrian trails help you take in all the sights on the surface
Where to Stay Near Florida Caverns State Park
Rooms and suites at Fairfield Inn and Suites Marianna offer many of the comforts of home, including coffee makers, mini fridges, and microwaves. Guests can enjoy daily complimentary hot breakfast, cool off at the outdoor pool, or hit the exercise room for a workout.
6. Fort Zachary Taylor Historic State Park
Key West, Florida
Situated at the tip of Key West, Fort Zachary Taylor Historic State Park ranks as the southernmost state park in the continental United States. Tour guides, historic reenactors, and interpretative panels help families learn about the history of the fort that dates from the 1840s and houses the largest cache of Civil War armament in the world. It was one of only three fortresses in Florida to remain under federal control during the Civil War and stayed on active-duty status through 1947.
LEAVE THE KIDS AT HOME: 10 Most Romantic Hotels in Florida for Couples Getaways
It's also one of the best Florida state parks for birdwatchers and is home to a much-loved white sand beach where you can swim, snorkel, and paddle. Anglers can cast a line from the park's rock jetty.
Where to Stay Near Fort Zachary Taylor Historic State Park
The Southernmost Beach Resort near Key West's Historic Old Town features classic Florida Keys architecture, rooms done up in beach-inspired tones, and tropical landscaping. Amenities include three heated pools, two beaches, a tanning pier, spa, and fitness center.
7. Camp Helen State Park
Panama City Beach, Florida
This 180-acre Florida state park in Panama City Beach sits between the Gulf of Mexico and Lake Powell, the largest coastal dune lake in Florida. Coastal dune lakes can only be found in Australia, New Zealand, Madagascar, Oregon, and Florida, and at Camp Helen you can rent kayaks and paddle boards (or bring your own) to explore this rare natural occurrence.
COASTAL GETAWAYS: 10 Best East Coast Vacations for Families
While on the water or exploring the park on foot, you might spot wildlife ranging from river otters and dolphins to white-tailed deer and snowy plovers. A free walking tour guide offers information about the historic buildings on-site that were part of a former vacation resort.
Where to Stay Near Camp Helen State Park
Many of the 147 guest rooms at Beachside Resort Panama City Beach come with full-sized refrigerators and balconies or patios that look out onto the Gulf of Mexico. Rooms with kitchenettes are also available. The hotel sits on the beach and also offers a beachfront pool.
8. Paynes Prairie Preserve State Park
Micanopy, Florida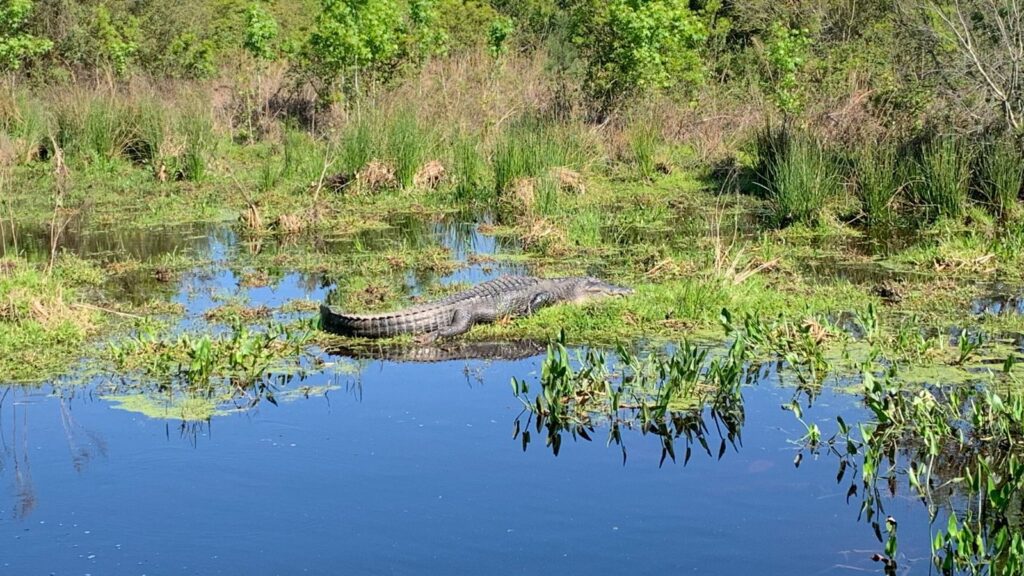 Just south of Gainesville in Micanopy, Paynes Prairie Preserve state park offers almost 23,000 acres to explore via more than 30 miles of hiking trails. The Bolen Bluff Trail or Cones Dike Trail are good options if you want to try to spot some of the park's wild-roaming American bison. Wild horses also call the park home, along with almost 300 species of birds and other wildlife.
SPLASH ZONES: 7 Best Orlando Water Parks for Every Age Group
A 50-foot-high observation tower near the visitors' center offers a bird's eye view of the open prairie (and maybe a chance to spy some of the park's unique animal residents). You can also canoe and fish on the 300-acre Lake Wauburg, where bass, bream, and speckled perch are often caught.
Where to Stay Near Paynes Prairie Preserve State Park
The all-suite Comfort Suites Gainesville Near University makes travel to Paynes Prairie Preserve State Park easy with in-room refrigerators and microwaves and a free hot breakfast offered daily. The pet-friendly property also features an electric vehicle charging station, heated outdoor pool, and 24-hour fitness center with Peloton bikes.
9. Fakahatchee Strand Preserve State Park
Copeland, Florida
If you dream of seeing creatures like the Florida panther, American crocodile, or Everglades mink, head to 80,000-acre Fakahatchee Strand Preserve, the largest state park in Florida. The park's linear swamp forest is known as "the Amazon of North America" and is home to animal and plant life rarely found elsewhere in the country. More than 40 native orchids and 14 native bromeliad species can be spotted here, along with animals like Florida black bears, Eastern indigo snakes, and diamondback terrapins.
ISLAND ESCAPE: 9 Kid-Friendly Things to Do in Amelia Island, Florida
Located in Copeland in eastern Collier County, this Florida state park is divided up into four main use areas that offer hiking and biking trails, a canoe launch, and a 2,500-foot-long boardwalk ideal for alligator spotting. Guided swamp walks are also offered for visitors who really want to dip their toes into the unique ecosystem.
Where to Stay Near Fakahatchee Strand Preserve State Park
In nearby Naples, Port of the Islands is a good home base for exploring Fakahatchee Strand Preserve State Park and the Gulf Coast Visitor Center entryway to Everglades National Park. The hotel offers cottage suites and studios with shared balcony access or screened porches. Amenities include a pool, picnic area with grills, full-service marina, and a "wilderness concierge" to help guests plan their adventures.
10. Big Shoals State Park
White Springs, Florida
Florida is generally pretty flat. But at this Florida state park that's about an hour from Jacksonville and Gainesville, you can enjoy the views from the limestone bluffs standing 80 feet above the Suwannee River. A kid-friendly mile long hike on the Big Shoals Trail will take you to the scenic overlook at Big Shoals State Park.
BUDGET-FRIENDLY: 8 Cheap Spring Break Ideas That Don't Skimp on the Fun
The Big Shoals rapids earn a Class III Whitewater classification when the water level on the Suwannee River is between 59 and 61 feet above mean sea level. (Only experienced canoers and kayakers should try their hand at them.) More than 28 miles of hiking, biking, and horseback riding trails wind through the state park, offering opportunities to observe pileated woodpeckers, wild turkeys, white-tailed deer, red-tailed hawks, and other birds and wildlife.
Where to Stay Near Big Shoals State Park
Pet-friendly Hampton Inn and Suites Lake City offers both standard guest rooms and suites with sofa beds, as well as amenities like a daily free hot breakfast, a fitness center, and outdoor pool. It's a good spot for exploring not only Big Shoals but also several other Florida state parks, including Olustee Battlefield Historic State Park (site of Florida's largest Civil War battle) and Madison Blue Spring State Park (home to a family-friendly swimming hole).
More from FamilyVacationist: