If your dream Florida vacation involves the sunshine warming your face as you stroll along a soft sandy beach, you might in fact be daydreaming about Amelia Island. With 13 miles of uncrowded beaches and 222 sunny days per year, on average, there's no shortage of sun and sand to go around. And there are plenty of things to do in Amelia Island beyond the beach too.
Best Things to do in Amelia Island with Kids
Located about 30 minutes from Jacksonville and just a three-hour family road trip from the Orlando theme parks, Amelia Island is convenient for both day trips and overnight getaways. Families flock to the island for water sports, boating activities, world-class golf courses, horseback riding, hang gliding, wildlife sightings, and other unique things to do in Florida. From sedate to extreme, here are the best things to do in Amelia Island with kids.
SUNSHINE STATE: 10 Dreamy Florida Beach Resorts That Are Perfect for Families
1. Horseback Riding on the Beach in Amelia Island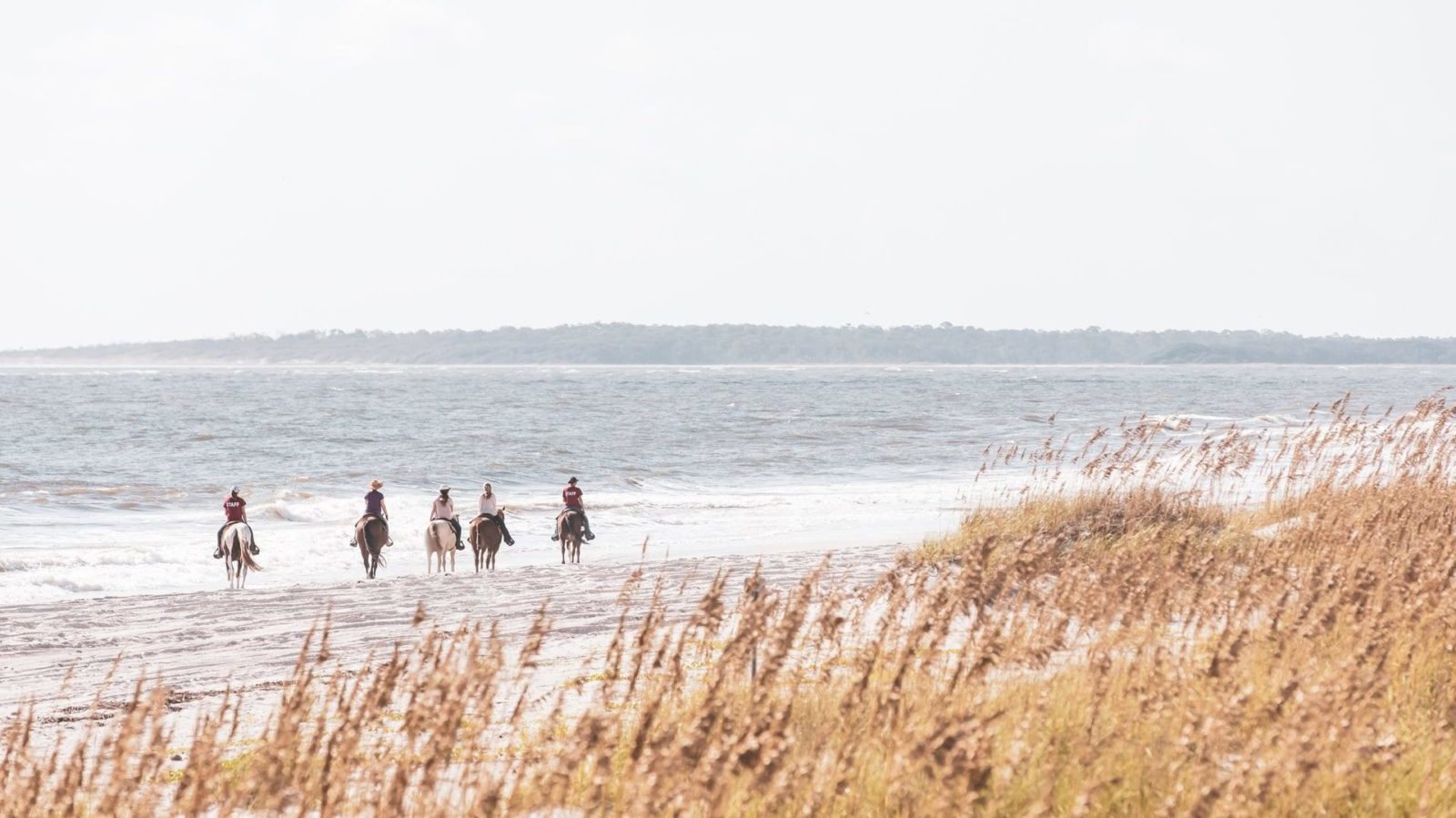 Horseback riding on a Florida beach is the kind of experience you'll never forget. My daughter and I enjoyed this peaceful activity on Amelia Island with Amelia Island Horseback Riding Adventures, and it was the highlight of our trip. The most popular horseback riding tour times are sunrise and sunset, when you can enjoy the stunning pink hues cascading across the ocean.
RIDING VACATIONS: 11 Best Dude Ranches for Families in the U.S. and Canada
2. Play a Round of Golf (or Mini Golf)
Tee up on a course designed by some of the golf's top architects. Amelia Island has 99 holes of golf spread across golf courses fit for everyone from beginners to experts, with landscapes of oak-lined fairways and ocean backdrops.
TAKE A SWING: 7 Incredible Golf Courses in the U.S. Worth Building a Whole Vacation Around
If mini golf with the kids is more your speed, try Heron's Cove Adventure Golf at the Omni Amelia Island Resort, which features fun nautical facts at each hole. The downtown Gregor MacGregor's Mini Links and Drinks is another kid-friendly option, and—bonus for vacationing parents—they also serve cocktails and snacks there.
3. Ride Bikes on Dry Land or Water
It's fun (and easy) to explore the Amelia Island area on two wheels. Rent a bike from one of the island's many rental outlets and then pedal along the beach or around the historic downtown. My family of four rented bikes from Amelia's Wheels. You can also rent Segways or four- to six-person golf carts from Amelia's Wheels.
EVERYTHING'S INCLUDED: 7 Best All-Inclusive Resorts in Florida for Families
For a unique experience, test your biking skills on water with a hydro bike rental from Amelia River Cycle. Anyone 56-inches or taller can pedal around the water on a bike while listening to their favorite tunes on the built-in Bluetooth speaker.
4. Swim in a Pool or at the Beach on Amelia Island
If playing in the sand and splashing in the water is a non-negotiable part of any family beach vacation, Amelia Island is the place to be. The natural beauty of this barrier island shines as the gentle waves of the Atlantic Ocean lap up against the 13 miles of not-too-crowded beaches. Seashells or shark teeth can be collected, or simply savor memories of the kids making sandcastles and playing in tide pools.
FLY AWAY: 17 Best Flight Booking Sites for Cheap Airfares
The Ritz-Carlton Amelia Island and Omni Amelia Island Resort are two of the most comfortable and luxurious places to stay on Amelia Island, and both beachfront properties feature stunning outdoor pools. Lounge by the heated pool while the kids swim or take a dip in the Jacuzzi. Private cabanas and outdoor restaurants bring even more creature comforts outdoors.
5. Cruise on an Electric Skateboard
Teens and tweens are sure to love cruising around on electric skateboards from Amelia Island Board Rentals. These motorized skateboards have big wheels for easier balance and even work on the beach. Amelia Island Board Rentals will bring rental boards to you, or you can join a tour of the historic downtown or American Beach.
BEACH VACATIONS: 5 Best Florida Beach Towns (Plus Where to Stay and Eat)
6. See Wildlife via Kayak or Cat Boat around Amelia Island
The opportunity for eco-adventures abound on and around this scenic barrier island, and they're among the best things to do on Amelia Island for families who enjoy getting into nature. If you like water sports then paddle through creeks, salt marshes, and rivers with Amelia Island Kayak Excursions on two- to five-hour tours. Kids under age 12 ride with an adult in a tandem kayak.
CLOSE TO NATURE: 12 Best National Park Lodges in the U.S.
Or, skim across the water on a catamaran tour with Backwater Cat Adventure to see dolphins frolic in the water and wild horses run free on Cumberland Island just up the coast in Georgia. Families with children ages five and up will enjoy zipping around on their own two-person boats, following a guide.
7. Skydive or Hang Glide
Adventurers 18 years and older can experience the ultimate adrenaline rush while tandem skydiving with Skydive Amelia Island. Another way to quell that craving for adventure is by hang gliding or soaring in the bright blue skies in a power trike with Florida Adventure Sports.
8. Dine Al Fresco on Amelia Island
With so many great dining opportunities, including kid-friendly fare at restaurants across the island, one of the best things to do in Amelia Island is eat! For families, Timoti's Seafood Shak is a favorite because of its pirate ship playground, picnic tables, and wild-caught seafood. Shrimp is an Amelia Island specialty, as it's the birthplace of American's modern shrimping industry. Celebrate local history with blackened, grilled, or fried shrimp at Timoti's. Or enjoy a poke bowl, taco, soup, salad, or sandwich.
WATER WORLDS: 8 Best Florida Aquariums to Visit with Kids
Savor the oceanfront ambiance of Coquina at the Ritz-Carlton, a spot where you can clink cocktails and enjoy Spanish-inspired dishes (calling to mind Amelia Island's history as a Spanish territory). Fire pits and swing chairs make it fun.
Another family favorite is Marche Burette Deli at the Omni Resort. This French-inspired market and deli is the perfect place to grab a casual breakfast, lunch, or dinner. A covered porch overlooking the lake offers sunshine or shade while you enjoy a French Dip or Curry Chicken Salad Wrap.
9. Take in Some Florida History
Amelia Island is known as the Isle of Eight Flags because it's the only place in the United States where eight different countries' flags have flown. Visit Fort Clinch to explore a Civil War fort and the 1,400-acre park where you can see gopher tortoises and fish. And Pippi Longstocking fans will be pleased to discover that the house featured in the movie is located on Amelia Island: The photo-ready green house sits just across from historic Fernandina Plaza Historic State Park.
More from FamilyVacationist: