Brimming with some of the best family vacation spots in the U.S., the East Coast is a great choice for family trips built around kid-friendly activities, outdoor attractions, and the natural splendor of mountains and coastline. Whether you're coming from near or far, the best East Coast vacations offer something for everyone in the family to love.
The Top East Coast Vacations for Families
For history buffs, baseball fans, and everyone in between, here are the top East Coast vacation spots you can enjoy any time of year.
HOTEL DEALS: 10 Best Hotel Booking Sites for Cheap Prices
1. The Adirondacks, New York
A region of towering mountains, old-growth forest, and pristine lakes just four hours from New York City or Boston, the Adirondacks is a four-season destination for families.
The summer months were built for fishing, swimming, biking, hiking, and paddling. In winter, snowshoeing, downhill skiing, and ice skating on frozen lakes (or on Olympic ice in Lake Placid) take center stage. Fall is a family favorite thanks to a spectacular display of crimson, amber, and orange leaves igniting the landscape. Spring brings beautiful blooms to meadows of wildflowers.
BEYOND THE BIG APPLE: 13 New York State Vacations Perfect for Families
Small towns like Lake Placid, Saranac Lake, and Bolton Landing dot the region and each sit on or near idyllic lakes. There's a yesteryear quality to these resort areas, with lakefront dining and old-fashioned mom-and-pop shops around every corner. In Tupper Lake, The Wild Center connects guests to the Adirondacks in a thoughtful way with multimedia exhibits and 31 acres of marked trails, plus a network of treetop bridges called the Wild Walk that's a hit with kids and parents alike.
If hiking appeals, try out one of the "46ers," the 46 highest peaks in the Adirondack range; locals aspire to all, and shops like Imagination Station in Lake Placid offer wall hangings on which hikers can highlight their peaks.
Where to Stay in the Adirondacks
For families, Saranac Waterfront Lodge in scenic Lake Saranac is ideal. Situated right on the water, this kid-friendly hotel is centrally located for activities like hiking (easy to moderate trails abound), biking (rentals are available on site), and water sports including fishing, kayaking, and chartered boat rides (boats depart from the hotel's private dock). Dine inside or al fresco at the lodge's in-house restaurant, The Boathouse, then take a s'mores pack outside to roast marshmallows at one of the many fire pits for guests.
For those looking for a little more action, the historic Sagamore Hotel on Lake George offers year-round activities on-site including and ice bar and s'mores in winter and ice cream hour and boat tours in summer.
2. Boston, Massachusetts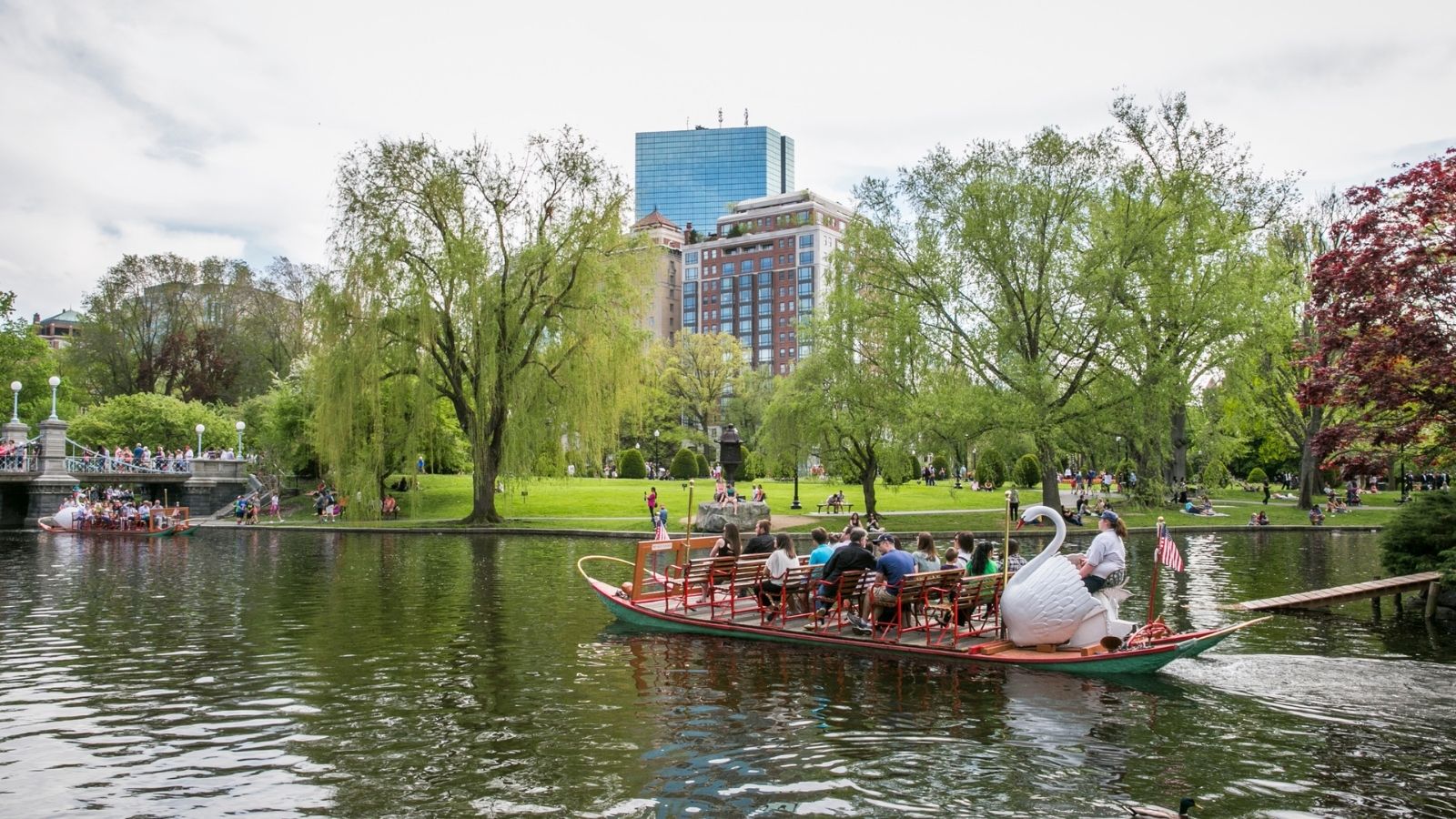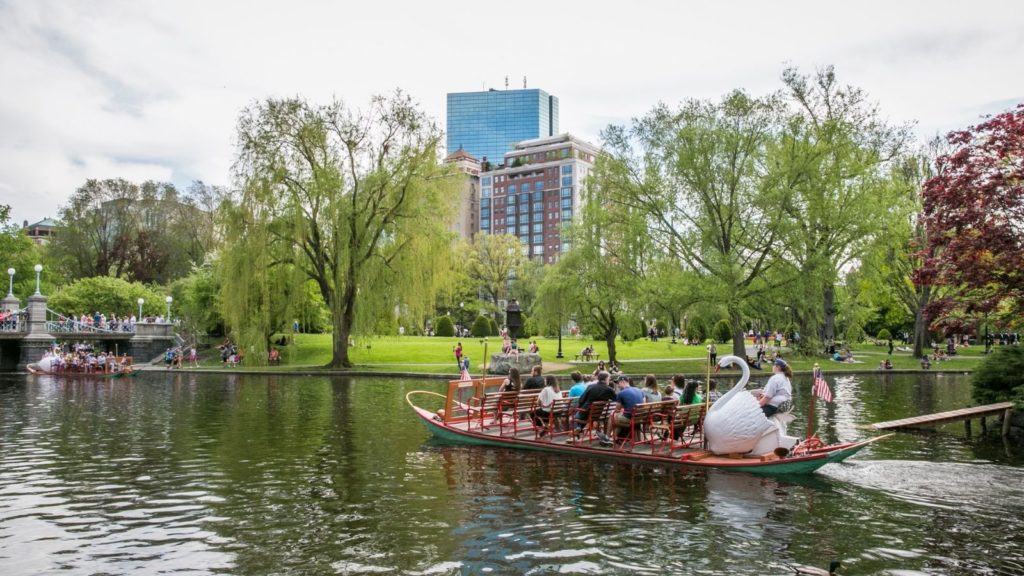 With historic attractions, interactive museums, and ample green space, Boston is catnip for any family seeking East Coast vacations with an urban feel. Compact and walkable, the city is easy to explore without a car, yet close enough to all corners of the region to serve as a launching point for other New England getaways, seaside villages, and fall foliage vacations.
SUN AND SAND: 20 Best Family Beaches in New England (and Where to Stay Near Each)
There are hundreds of interactive exhibits at the Museum of Science and more than 800 different sea species at the New England Aquarium. The Boston Children's Museum is a great place for hands-on discovery and play, and it has a history of celebrating diversity with exhibits like "Boston Black" and the new "You, Me, We," both with the goal to encourage dialogue around race and identity. A visit to the Boston Tea Party Ships and Museum is an interactive way to examine this seminal event, and the Freedom Trail is a walkable path through notable destinations in America's fight for independence.
For fresh-air fun, check out the Make Way for Ducklings sculpture or ride a swan boat at the Boston Public Garden (the ducks' favorite) in warmer weather. Or, go for a spin on the ice at the Frog Pond on Boston Common in winter.
Where to Stay in Boston
With sweeping views of Boston Harbor and personalized service, the swanky Boston Harbor Hotel is always a hit with families. For rock n' roll lovers or baseball fans, The Verb Hotel showcases authentic music memorabilia in every room and is just s stone's throw away from Fenway.
3. Colonial Williamsburg, Virginia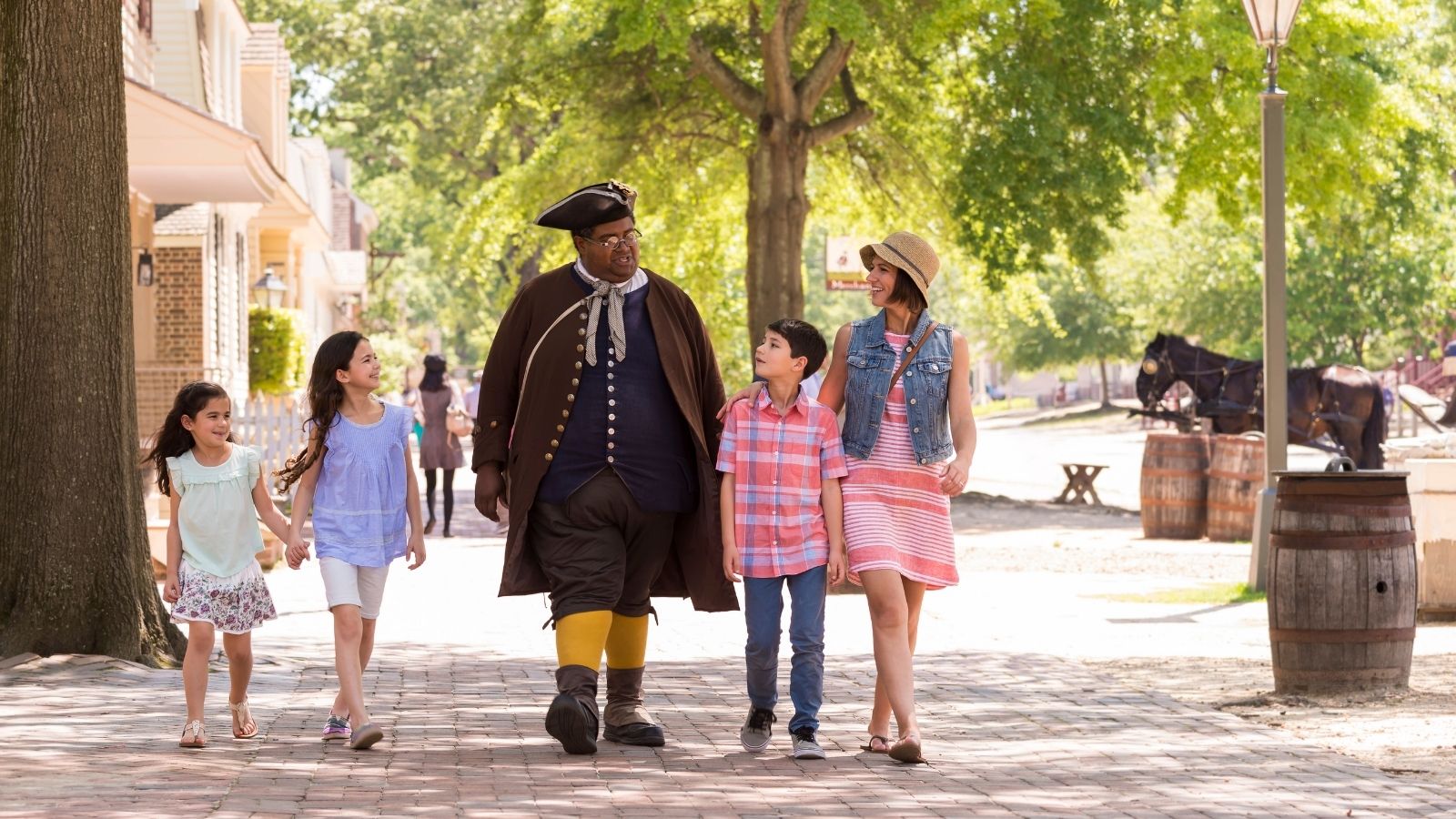 Unplug from the 21st century for a while with an East Coast family vacation to Colonial Williamsburg, the largest living history museum in the United States. Roam cobblestone streets filled with horse-drawn carriages while surrounded by well-preserved 18th century buildings that capture the spirit of the times.
EPIC TRIPS: 50 Family Vacation Ideas for the Best Trip Ever
Kids love meeting the authentically costumed re-enactors as they go about daily chores, demonstrating crafts such as bookbinding, blacksmithing, wig-making, open-hearth cooking and more. Questions are encouraged. For foodie families, historic taverns serve menus inspired by Colonial-era recipes. To more deeply understand the experience of all inhabitants of Williamsburg, families should be sure to check out the Slavery and Remembrance guide, created in partnership between The Colonial Williamsburg Foundation and UNESCO's Slave Route Project.
Where to Stay in Colonial Williamsburg
With a giant indoor waterpark and themed-rooms, Great Wolf Lodge Williamsburg isn't just a kid-pleaser, it's also one of the best Great Wolf Lodge locations in the country.
4. The Poconos, Pennsylvania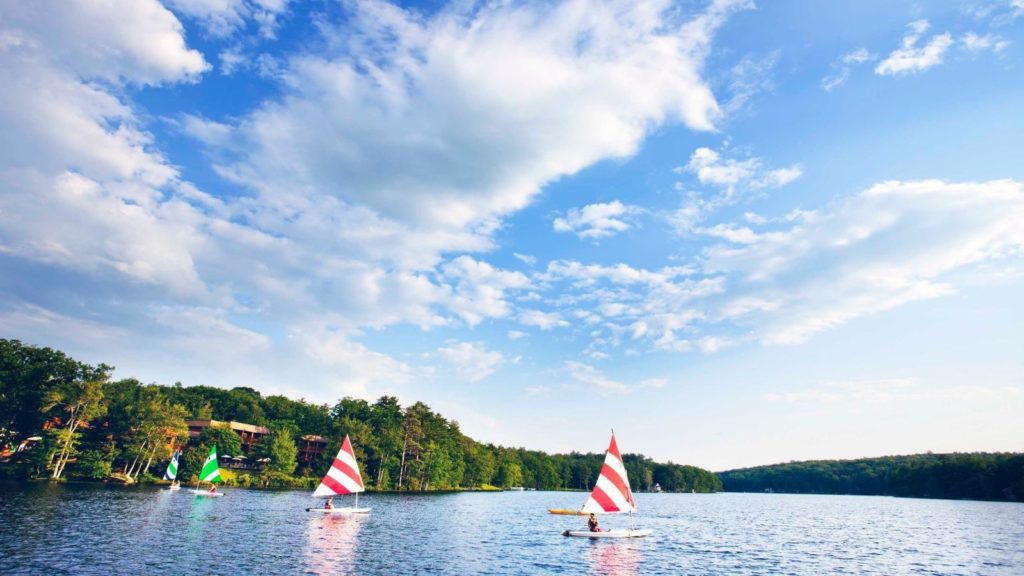 Situated in the northeast corner of Pennsylvania, the Poconos Mountain Region feels like a remote East Coast vacation spot, yet it's only a two-hour drive from both New York City and Philadelphia. Natural beauty and a wealth of outdoor activities have made these mountains a time-tested panacea for the hectic pace of urban life. Charming villages, freshwater lakes, and mighty mountains are all found here.
DRIVING DISTANCE: Where to Go for a Kid-Friendly Mid-Atlantic Fall Getaway
In summer, hiking, fishing, swimming, and boating are popular pastimes. In winter, there's downhill skiing at Camelback, Shawnee, and Jack Frost, as well as opportunities to snowshoe and ice-skate on frozen lakes. Spring brings high waters on the Delaware River for paddling a canoe or kayak.
Late in the year, fall vacation ideas abound when apple picking, pumpkin patches, and vibrant foliage weave a patchwork of color. And if the weather doesn't cooperate, there are numerous indoor water parks, such as Kalahari and Aquatopia.
Where to Stay in the Poconos
One of the best all-inclusive family resorts in the U.S., homespun Woodloch Resort has been owned and operated by the same family since 1958. With scores of activities for family members of all ages, the sparkling lake, swimming pools, ice skating, go-carts, and bedtime-friendly evening entertainment, will be a hit with all of your family members. Woodloch is an ideal multigenerational travel destination, as the variety of scheduled and unscheduled activities—including family games and evening entertainment—will bring everyone together.
5. Cooperstown, New York
While Cooperstown is best known as the home of the Baseball Hall of Fame, this all-American village on the shores of pretty Otsego Lake is so much more than just a shrine to America's favorite pastime.
KID-FRIENDLY HOTELS: 17 Best Family Resorts in the U.S.
With costumed guides demonstrating venerable traditions, Cooperstown's Farmers' Museum offers a window into rural 19th century life. Ramble about the cottages and watch a newspaper being printed or horseshoes being made. Top it off with a ride on the museum's Empire State Carousel (open April through October), with its 24 carved animals indigenous to New York State. The Fenimore Art Museum is another worthy stop. Built on the grounds of James Fenimore Cooper's former estate, the approach here is please-touch and family-focused.
Where to Stay in Cooperstown
Claim a rocking chair on the verandah and soak in the lake view and small-town scenery at The Otesaga Resort Hotel, a family-friendly hotel filled with history and charm.
6. Washington, D.C.
Of all the East Coast vacation spots, our nation's capital tops the bucket list places to go with kids. You'll find some of the most famous museums and monuments in the U.S. here, and many of them (like the Smithsonian museums) don't cost a dime to visit. Additionally, for just $1 (50 cents for kids and seniors), go from monument to museum to metro on the low-cost, ubiquitous DC Circulator—no need for a car in this great city. From watching the pandas romp at the National Zoo to listening to the rhythmic beat of drums at the Sunday Drum Circle at Meridian Hill Park (also called Malcolm X Park in honor of the famed activist), free options abound.
FAMILY FUN: Kid-Friendly D.C.: What to Do with Kids at the National Mall and Beyond
Don't skip the sparkling Hope Diamond at the National Museum of Natural History, Dorothy's ruby slippers at the National Museum of American History, and the life-size tipi at the National Museum of the American Indian. The absorbing collection at the National Museum of African American History and Culture is another must-see.
When the hunger pangs set in, iconic Ben's Chili Bowl offers hot dogs slathered in savory homemade chili sauce. Grab extra napkins and enjoy. Just a few Metro stops off the National Mall, families will delight in the food offerings at Eastern Market; with stalls for many kinds of foods, everyone will be happy.
Where to Stay in Washington, D.C.
Swimming in history, the Willard InterContinental Washington is the spot where Abraham Lincoln took up residence for 10 days prior to his inauguration, and Martin Luther King Jr. edited his "I Have a Dream" speech in the lobby. The Children's Library highlights various individuals and events that shaped the nation's history and played a role in the hotel's past. 
For a slightly less expensive option, consider the magnificent Kimpton Hotel Monaco. This former General Post Office is in and of itself a destination, with magnificent modern and period decor and grand spaces fit for the nation's visitors (and 18th century mail). As Harper's New Monthly Magazine said of it in December 1859, "We doubt there is a building in the world more chaste and architecturally perfect than the General Post Office."
7. Shenandoah Valley, Virginia
The scenic Shenandoah Valley has many family attractions. It's home to Shenandoah National Park, a natural wonderland with miles of hiking trails, wildlife, and stunning views along the 105-mile, two-lane Skyline Drive that's widely considered one of the best family road trip ideas in the entire country.
SLEEP WELL: 6 Luxurious Cave Hotels Where You Can Spend the Night Underground
For some serious subterranean fun, head down into one of the valley's numerous caverns filled with otherworldly stalagmites. Shenandoah Caverns is the only Virginia cavern with an elevator, allowing for an easy descent for families with travel strollers in tow. And dino-lovers will enjoy a stop at Dinosaur Land, a roadside attraction in White Post with 50 giant fiberglass dinosaur statues that the kids are encouraged to climb on. 
Where to Stay in the Shenandoah Valley
Situated on more 6,000 acres in the heart of the Shenandoah Valley, Massanutten Resort is a huge property featuring an indoor-outdoor waterpark, golf, skiing, dining, and much more. If you are keen to center your trip around the National Park, the Shenandoah River Cabins are an ideal spot for families; located at the park's west entrance, these well-appointed cabins have everything a family needs after a day of hitting the great outdoors.
8. Clearwater Beach, Florida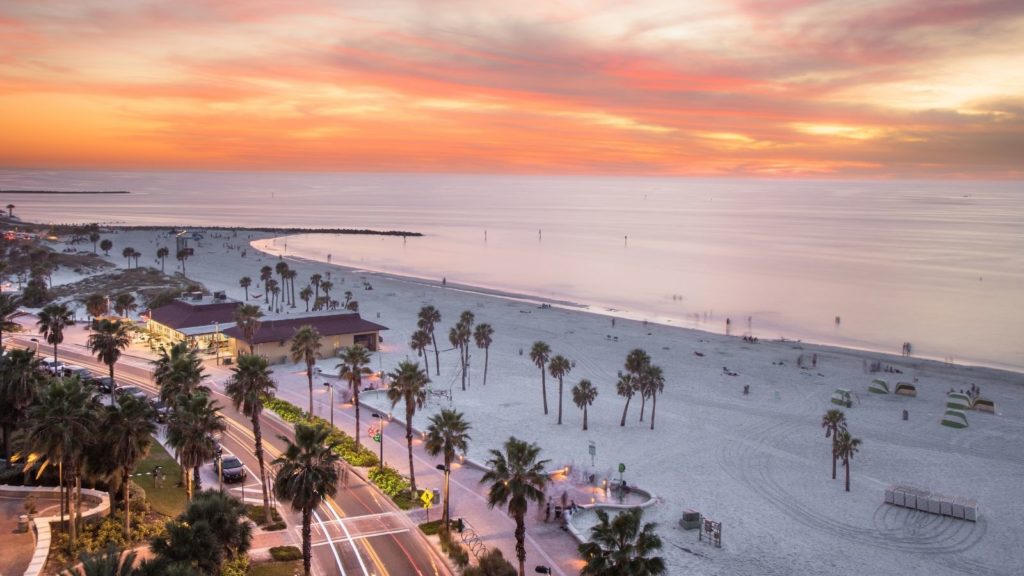 At Clearwater Beach, the sand is as soft as a cloud and the Gulf waters as deep a shade of blue as you'll find on any East Coast vacation. The old-fashioned pier and palm-lined Beach Walk Promenade beg for a breezy stroll too.
FLORIDA VACATIONS: Why Sarasota Might Be the Perfect Florida Vacation Spot for Families
After some quality beach time, shake off the sand and explore the community's other attractions. Clearwater Marine Aquarium is a working marine hospital that rehabilitates rescued animals from sickness or injury with the goal of releasing them back into their natural habitat as soon as they're ready. Animals who cannot be released remain for visitors to see and enjoy. The aquarium's most illustrious former resident is Winter, the dolphin without a tail who starred in the popular Dolphin Tale movie.
Active families should head to the Fred Marquis Pinellas Trail, a multi-use paved urban trail linking parks, coastal landscapes, and residential areas. The 37-mile trail spans St. Petersburg to Tarpon Springs and cuts right through Clearwater. It attracts bikers, skateboarders, joggers, and walkers of all ages.
Where to Stay in Clearwater Beach
One of the best Florida beach resorts and situated right on the water, Sandpearl Resort's rooms and suites put their location to good effect with sweeping views of the Gulf, Bay, and coast. Décor is attuned to the natural elements, so expect soothing earth tones. The gorgeous lagoon-style swimming pool is just right for a family plunge. 
9. Burlington, Vermont
With its cute pedestrian-only cobblestone shopping district, university town feel, and lake and mountain activities, Burlington has something for everyone. Bursting with both New England charm and breathtaking natural beauty, Burlington is an East Coast vacation destination worth a visit year-round.
HIT THE MOUNTAINS: 8 Family-Friendly Mountain Resorts in the U.S. for Summer Fun
The transit lovers in your family won't want to miss a trip to the Shelburne Museum just south of town to see the Steamship Ticonderoga. This National Historic Landmark is the last walking beam side-wheel passenger steamer in existence. While firmly on shore to see the ship, make your way back downtown to Church Street Marketplace where shoppers can stroll in a picturesque New England setting without concern for cars. Of course, reward yourselves with a visit to the original Ben & Jerry's; die-hard ice cream fans can also book a Factory Tour, about a 30-minute drive from Burlington.
Many come to Burlington for the varied outdoor activities; visitors can bike the former rail trail that is now the Burlington Greenway along the water, take a boat ride, or hit the slopes at any number of nearby ski resorts including Smugglers' Notch and Mad River Glen.
Where to Stay in Burlington
New England is synonymous with B&Bs, and the Made INN Vermont does not disappoint for families. At this dog-friendly hotel with artistic and whimsical decor, guests won't be disappointed with their friendly hosts and delicious food. With breakfast included, you'll be ready to start your day and can return home to warm hospitality.
10. Savannah, Georgia
This East Coast city is sometimes overlooked in favor of its beach-y counterparts, but families will not be disappointed with all Savannah has to offer. With its Gothic-Revival St. John the Baptist Church and antebellum architecture throughout the city, Savannah oozes Southern charm.
GO WEST: 7 Kid-Friendly West Coast Vacations for Families
Rail enthusiasts shouldn't miss the Georgia State Railroad Museum, which boasts historic rail cars set in the former Central of Georgia Railway Roundhouse. The Tybee Island Marine Science Center and Savannah's Children's Museum will keep little ones engaged in interactive learning and play. To understand Savannah and its complicated past, the whole family can take in the balanced presentation of the city's history at the Owens-Thomas House and Slave Quarters. Appreciate the majestic architecture and learn from deeply informed guides about the disparities in experience of the city's least and most powerful people.
Where to Stay in Savannah
With tons of family-friendly hotel options in Savannah, how do you choose? The Mansion on Forsyth Park will give you a quiet spot just off the park. Still walking distance from all of the hustle and bustle, the Mansion at Forsyth Park also boasts a pool and bicycles for family fun.
More from FamilyVacationist: