Most travelers think of Sun Valley, Idaho, as a ski and winter sports destination—after all, it is one of the best Nordic ski areas in the country, and the downhill can't be beat—but the valley truly shines in summer. With outdoor activities galore, several awesome places to stay, and delicious and varied food options, your family will have long days to play, relax, and connect.
SUMMER FUN: 16 Best Lake Resorts and Hotels in the U.S. for Families
Given its northern location, you'll love the long summer days in Sun Valley; also, relatively consistent daytime temperatures hovering in the high 70s during the day and snuggle-in temps (40s) in the evenings mean that your family can swim, hike, stargaze, stroll, bike, fish, and picnic without the extreme temps that are more common further south. If your family enjoys the outdoors, Sun Valley in summer is the place to be.
What's the difference between Sun Valley and Ketchum?
The two destinations are neighboring towns that share much of their city limits; Sun Valley is the original resort town while Ketchum is the historic mining town. Today, travelers will find Sun Valley Resort, the Pavillion performance venue, and golf, ski, and other resort activities in Sun Valley—there are also restaurants and shops, though fewer than you'll find in Ketchum.
Ketchum feels more like "town" with many shops, restaurants, and lodging options. In both spots, visitors are treated to free bus service in and around the key locations between and within the two towns, with four routes in summer and six in winter. In this story, I'll be referring to the destination as Sun Valley, but am suggesting activities in both towns.
Things to do in Sun Valley with Kids
Sun Valley in summer is itself a playground for the active family. With rivers and lakes, mountains and trails, if you're a family that likes to move, this is the place for you. If a few family members prefer some downtown fun, you've got plenty of options, including the Sun Valley Museum of Art, which has an Exhibition Activity Guide and youth programming. There's also a trail of places that made up the life and times of Ernest Hemingway.
Day 1
Energize your day with breakfast at the Konditorei at Sun Valley Resort. Then hit the ground running by renting bikes at Sturevants in Ketchum or Pete Lane's Mountain Sports in Sun Valley and head out on the region's Wood River Trail. This awesome, 20-mile paved route winds along the Big Wood River is both beautiful and practical, connecting Sun Valley and Ketchum as well as running close to town and the mountain base camps.
HOTEL HELP: 12 Best Hotel Booking Sites
For a gentle outing along the trail and a fun half-day outing, grab a sandwich from Johnny G's Sub Shack and head south along the trail to the Sawtooth Botanical Gardens. There, you'll find a sandy play area for the little kids; the whole family will enjoy making a wish on one of only two Tibetan Prayer Wheels blessed by the Dalai Lama in the United States. The Gardens are divided into five sections representing the five major biomes of south-central Idaho, and includes meditative spaces and art work. A giant lawn is ideal for picnicking. 
If you are serious bikers, mountain lift tickets are your key to getting up and down Bald Mountain (also known as Baldy), but novices might enjoy the beginner trail up and around the White Clouds 9-hole golf course. Wind down in the afternoon, with a dip in the swimming hole at Big Rock (also known as Church Rock) behind the Presbyterian Church of the Big Wood. You could also rent canoes, kayaks, and/or paddleboards at Sun Valley Lake. There are also plenty of places to swim further afield, but prepare to drive a bit into the mountains (totally worth it).
Day 2
On a Tuesday or Saturday, start your summer morning at the River Run Base Camp for a free morning yoga class at 9 a.m.—check in at 8:45 to register as space is limited. [For the more adventurous yogis, consider Yoga on the Mountain on Sundays.]
With your morning stretch and sun salutation out of the way, it's time to get adventuring. Lots of folks head to Sun Valley in summer for fly fishing; whether you are experienced or a novice, Sun Valley Outfitters is a great place to start. Kids ages six and up can learn the basics in a reasonably priced half day camp experience. In the meantime, you can either rent gear and head out on your own if you know what you're doing, or simply let SV Outfitters do the work for you and learn from one of their expert guides on a half or full-day excursion.
TRAVEL STYLE: 10 Comfortable (and Cool) Travel Clothes Brands
Head back to town in the afternoon to check out gear from some of the amazing homegrown local businesses started right here in Ketchum such as Wild Rye, Club Ride, and Chums. After dinner, catch a movie at the resort or check out an evening of outdoor entertainment at the Pavillion.
Day 3
Throughout the summer, and certainly on weekends, there are events of all kinds in and around Sun Valley. Check out Visit Sun Valley for the most-up-to date events, and if you are coming to town with little ones, definitely look for story time at the library and Boise State's Mobile Planetarium shows, among other kid-focused events.
You can always plan your own hikes among the majestic (and connected!) trails for miles and miles in any direction in and around Sun Valley, but if you are looking to make it easy, connect with Sun Valley Guides to organize a "just right" trip for your family; they'll do the organizing while you do the ooh-ing and ahh-ing at the incredible wildflowers (June-July), flowing creeks, and near and distant mountain peaks.
Though you'll need to stay up a little later in summer to enjoy, the Dark Sky Reserve designation that Ketchum received in 2017 offers incredible views of nighttime nature. As it gets dark, take a stroll up Knob Hill or head out to Sun Valley Lake to catch the Milky Way showing off. As long as you're prepared for the evening, the whole family will enjoy what Mother Nature has to offer by Idaho starlight.          
Where to Stay in Sun Valley with Kids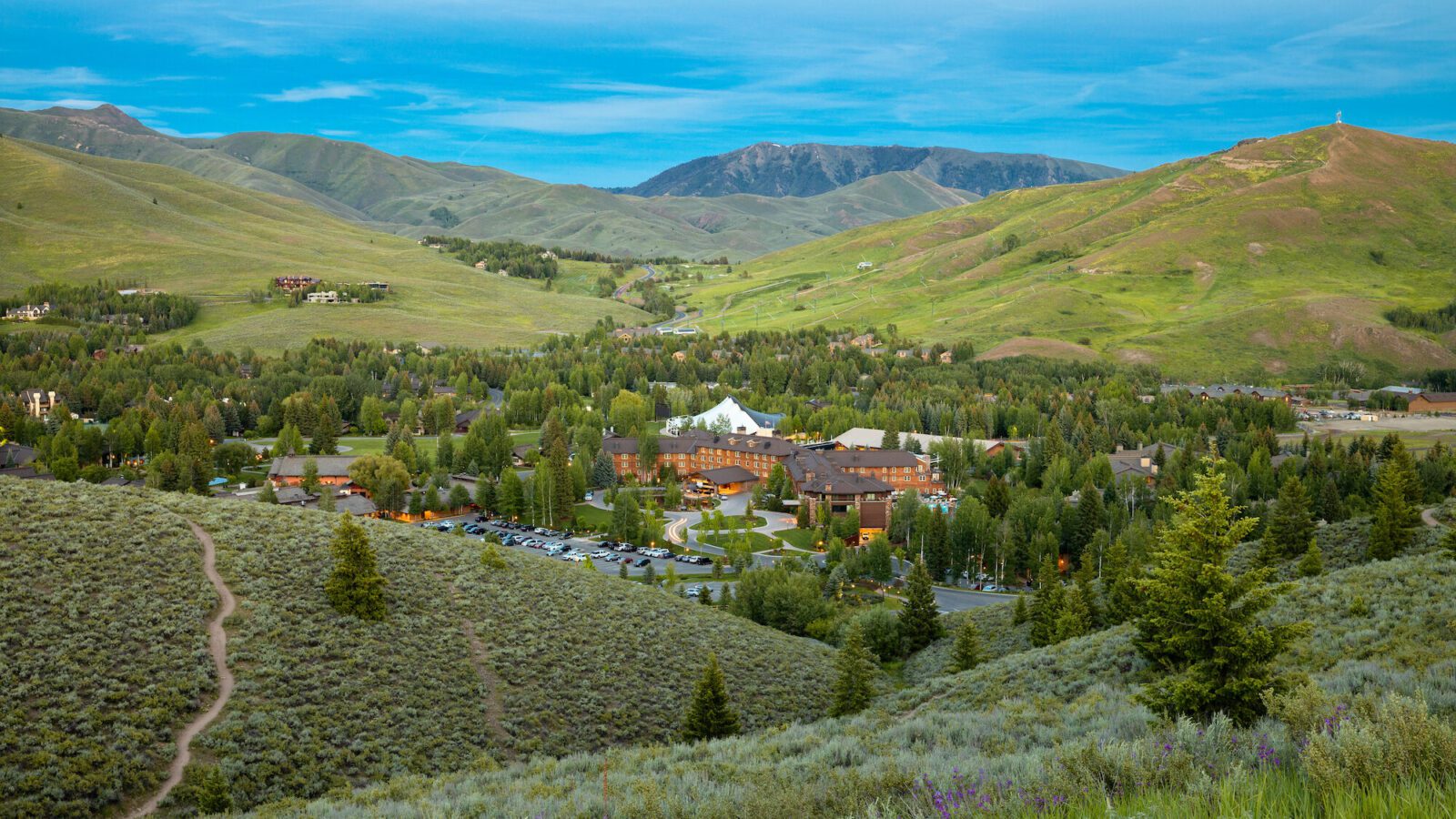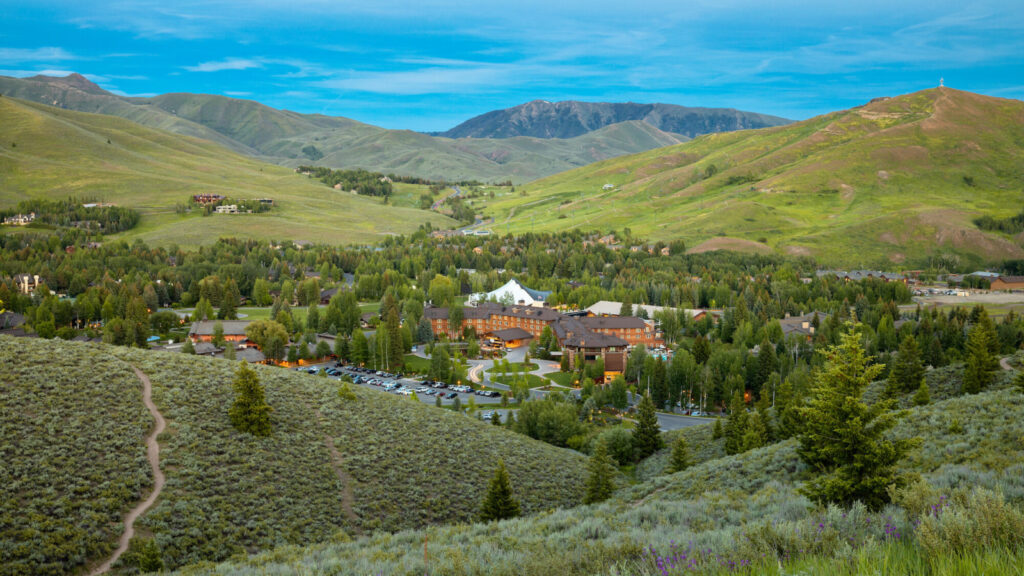 Sun Valley Resort is the go-to for many visitors, offering on-site activities such as golf, tennis, and swimming. There are several options to stay including lodge and inn rooms, cottages, condos, townhomes, and home rentals. All of the advantages of a resort exist at any of these lodging options, and you certainly could spend your whole visit on the property.
Limelight Ketchum is an amazing option for family travel; in addition to a wide variety of accommodation options, Limelight is a Ketchum destination even for locals. With an open, eat-in, lobby-bar area and one of only two real patio (complete with ping pong tables and fire pits) dining options in Ketchum, people gravitate to Limelight for its convivial atmosphere, great views of Baldy, and warm staff … not to mention its breakfast buffet for the ages. At Limelight, you're right in town, at the base of the mountain, and welcomed with the kindness that Ketchum locals are known for.
AAA members and those looking to spend a little less on lodging will appreciate the Best Western Plus Kentwood Lodge in Ketchum. Located directly across the street from Limelight, this Best Western has the same prime location but with a lower price tag.
Where to Eat in Sun Valley with Kids
Getting There and Getting Around
Most visitors come to Sun Valley by plane; with several direct flights a day to SUN (Friedman Memorial Airport in nearby Hailey) from key airports like Denver, Seattle, and Chicago, it's easy enough to find your way. Several hotels, such as Limelight and Sun Valley Lodge, run free airport shuttles for the 11-mile ride from Hailey.
If you're on an epic American road trip, you won't be disappointed by the beauty of the drive to Sun Valley from Boise (about 3.5 hours), Salt Lake City (4.5 hours), or Yellowstone National Park (4.5 hours).
Once here, if you are content with the plentiful in/around town offerings, no car is needed, as you can use shuttles, bikes, or your trusty feet (there are also car share services in town). If you are keen to explore further afield like Redfish Lake or Stanley, you can definitely reserve a car ahead of time from the airport.
Why take a family trip to Sun Valley?
Your arrival by plane to Hailey on a clear summer day is breathtaking; you'll see the valley surrounded by what look like tall hills but what are actually 9,000- to 12,000-foot peaks. Idaho boasts the highest number of 12,000-foot-plus peaks in the U.S., and from most vantage points in and around Sun Valley, you feel that. With an ideal combination of downtown comforts like The Warfield Distillery and Atkinson's Market and beautiful hiking and biking options just outside town like the trails at Greenhorn Gulch, Sun Valley is a must-visit for active families.
More from FamilyVacationist: