Outdoor ice rinks are a fun and festive way to celebrate the season with friends and families. They're perfect for dialing up the winter vibes and offer skating fun for all ages, plus the sort of extras that elevate ice skating from pure exercise to a properly fun day out. Think decadent hot chocolate served rinkside, bumper car action, and even ice skating at the beach.
The Best Outdoor Ice Rinks for Winter Fun in the U.S.
You don't have to be in a cold weather climate to find them, either. Advances in technology have allowed some of the best outdoor ice rinks in the U.S. to be constructed in destinations as warm and sunny as San Diego and Las Vegas. Reservations are often required, but tickets and skate rentals can usually be purchased ahead of time, leaving more time to get out on the ice. 
FLY AWAY: 17 Best Flight Booking Sites for Cheap Airfares
Whether you're looking for something close to home or want to add a trip around the rink to your winter vacation plans, here are the top outdoor ice skating rinks to consider this season. 
1. The Meritage Ice Rink
Napa, California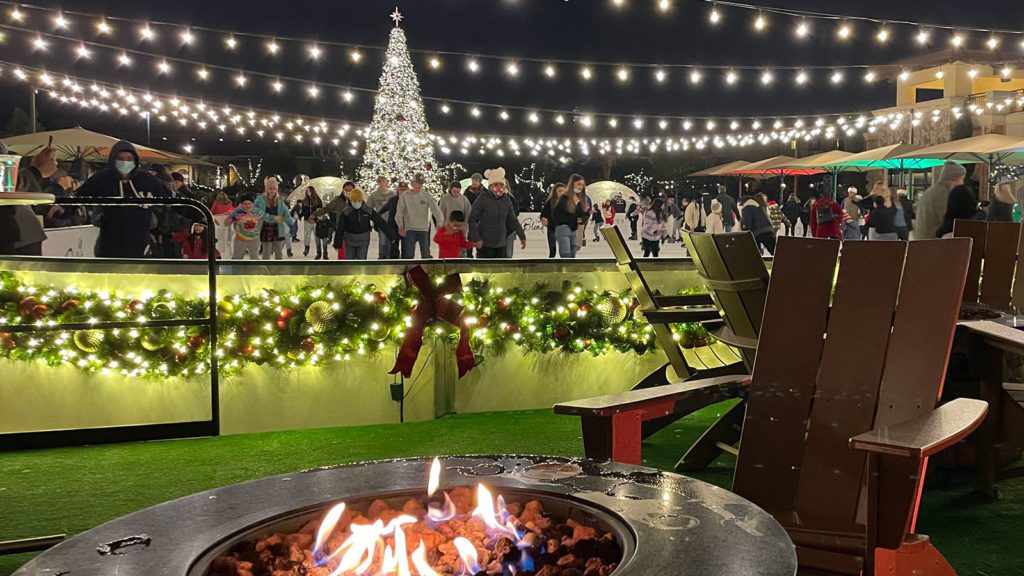 A session of skating at the Meritage Ice Rink (open this year from November 17, 2023, through January 7, 2024) at Napa Valley's Meritage Resort might just convince you that wine isn't the only drink Napa should be known for. Deliciously decadent hot chocolate from the lawn bar is the perfect way to kick back after skating to your heart's content.
NAP TIME: 9 Napa Valley Hotels That Welcome Kids
While the hot chocolate alone is enough to inspire you to lace up your skates, the outdoor ice rink also offers fun events each night of the week. Want to dial up the fun? Check out the rink's winter experiences available including a VIP Igloo experience and s'mores at a rinkside fire pit. 
2. McCormick Tribune Ice Rink 
Chicago, Illinois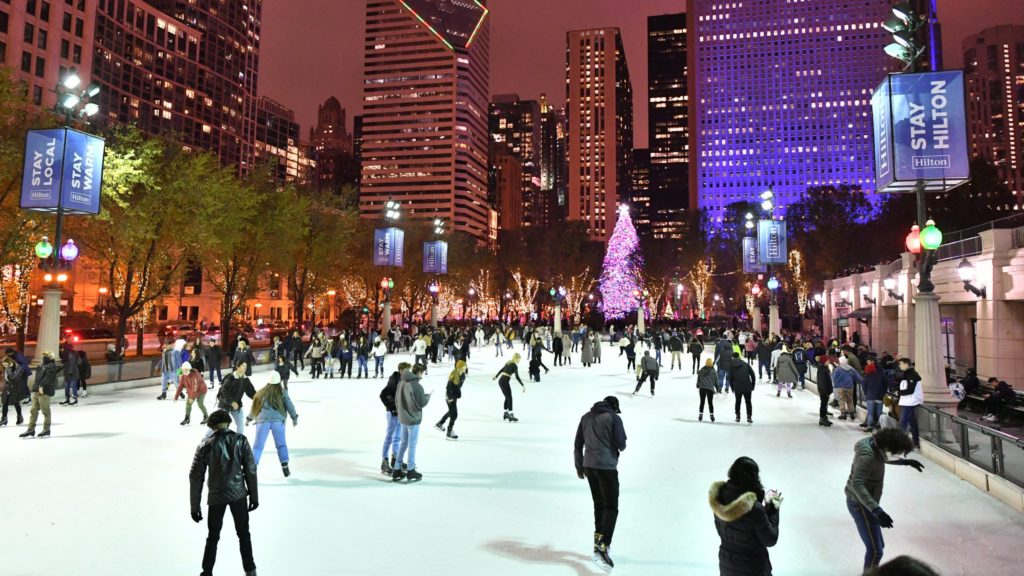 Operating every winter for more than two decades, Chicago's McCormick Tribune Ice Rink in Millennium Park (open this year from November 17, 2023, through March 3, 2024, weather permitting) doubles its fun with the reflection of the rink in the famed Cloud Gate (a.k.a. "The Bean") sculpture. Offering one of the best deals in town, skating is free if you bring your own skates (a reservation is still required). Or, for a nominal fee, you can rent skates.
SEASON'S GREETINGS: 10 Magical Christmas Vacations for Families
Every weekend, Chicago's Department of Cultural Affairs and Special Events (DCASE) hosts free skating lessons (reservations required) for beginner and intermediate ice skating and hockey skills. Skaters can warm up after skating with hot drinks and snacks from Momentum Coffee, located right next to the outdoor rink.
3. Skating by the Sea at The Hotel del Coronado
San Diego, California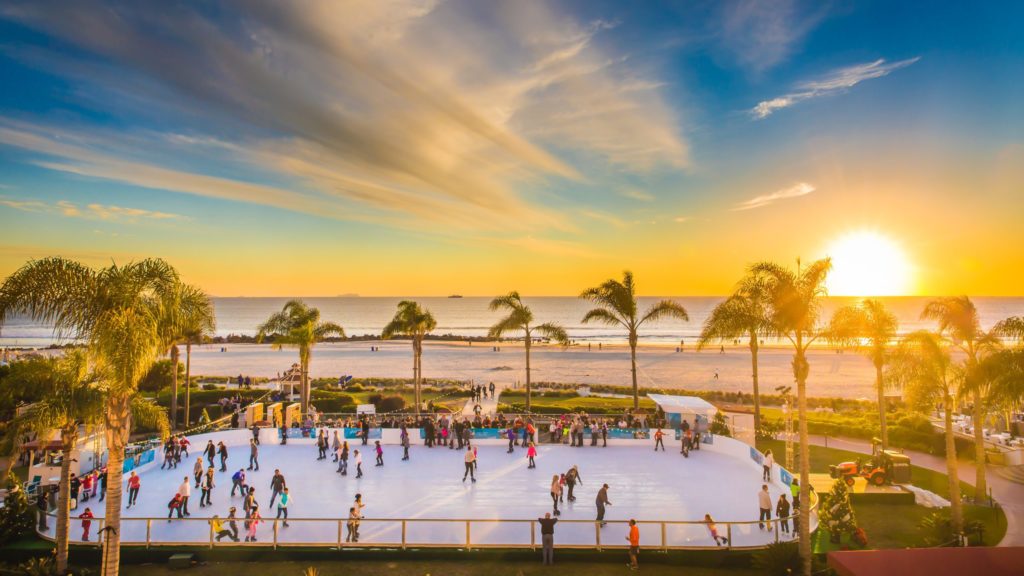 The Hotel del Coronado isn't just one of the country's most popular Christmas hotels for families. It's also home to the Skating by the Sea ice rink (open November 17, 2023, through January 7, 2024), which lets you experience the best of the beach and winter.
SAND AND SUN: 11 Best Family Beach Vacations in the U.S.
Head out for a festive day on the ice with a sandy beach backdrop complete with swaying palm trees. Upgrade the experience by booking a private rinkside lounge with a roaring fire pit and full food and drink service. Tickets sales for Hotel del Coronado's Skating By the Sea benefit Make-A-Wish San Diego. 
4. The Providence Rink
Providence, Rhode Island
There is truly something for everyone at The Providence Rink. In addition to ice skating, you can buckle up and take to the ice in bumper cars, which you can reserve for partial-rink use during select public skate periods or full-rink use during non-public skate time. The Providence Rink is the first outdoor rink to host these cars, which move in all directions and have a 360-degree turn radius. It will be open for the winter 2023 season in early December, weather permitting.
BIG EAST: 10 Best East Coast Vacation Spots for Any Time of Year 
Novice skaters can enlist the help of instructors with the Learn-to-Skate program. And for both little and big kids, there are skate aids in the form of penguins or snowmen. The outdoor ice rink also offers a season pass for individuals and families looking to make ice skating into the kind of fun that lasts all winter long. 
5. The Ice Rink at The Cosmopolitan Las Vegas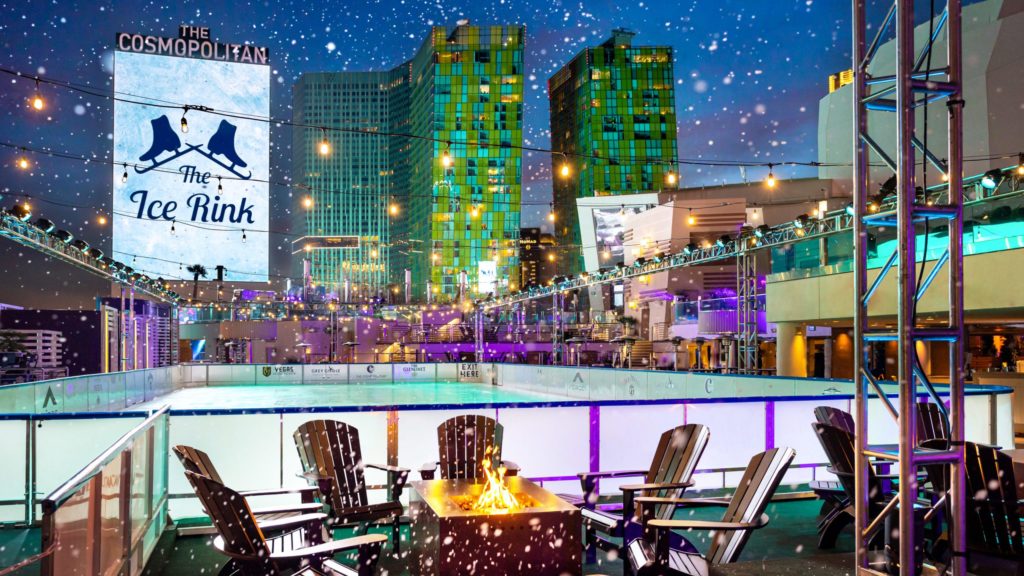 If a guaranteed gentle snowfall is what you need to create a magical skating experience, then the Ice Rink at Boulevard Pool (operating December 2 through December 25, 2023) in Las Vegas is the rink for you. The Cosmopolitan turns its pool into a veritable winter wonderland every year. Picture fire pits surrounding the ice rink and comfortable Adirondack chairs perfect for taking a break and enjoying the season.
BEST OF THE WEST: 7 Fun West Coast Vacations for Families
Evenings turn up the fun with themed nights, movies playing on an outdoor screen, and Throwback Thursdays with music from the 70s, 80s, and 90s. Bonus: Reservations grant you all-day access to the rink. 
6. Frog Pond on the Boston Common
Boston, Massachusetts
Boston Common is America's oldest public park, and ice skating at the frozen Frog Pond (open this year from November 20, 2023, through March 8, 2024) is a time-honored tradition for Bostonians and visitors to enjoy this charming open space. It's hard to imagine a more picturesque spot to twirl and glide for an afternoon or evening.
WINTER WONDERS: 10 European Christmas Markets Where You Can Celebrate the Season
And the outdoor rink's central location makes it easy to squeeze in a few laps around the sparkling ice as you take a break from Boston's many charms. Rentals, lessons, skate rentals, and daily public skates are available. Warm drinks like hot cocoa are serves rink-side to help you stay warm.
7. The Rink at Rockefeller Center
New York, New York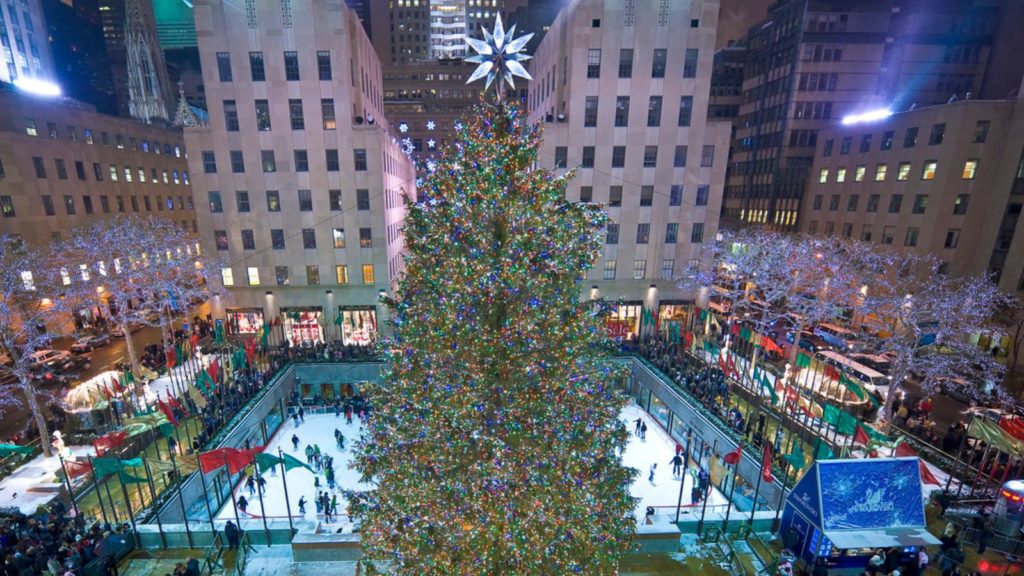 Sure, it's overcrowded and over-touristy, but there's still no better way to enjoy the winter holidays in New York City than gliding around the ice rink at Rockefeller Center. Skating under the lights of the glittering Rockefeller Center Christmas Tree is a holiday tradition. Lessons and après skate chalets are available.
More from FamilyVacationist: