European Christmas markets are straight out of a holiday movie. Twinkling lights, towering trees, and brightly colored ornaments dot little lanes where artisans sell their goods from peaked-roof stalls. With Christmas markets scattered all around Europe, no matter where you're traveling this holiday season, there's bound to be a nearby cobblestone street that's lined with vendors selling everything from mulled wine to handmade keepsakes.
Europe's Best Christmas Markets
These seasonal wonderlands are the best Christmas markets in Europe to explore this year. Most are open from mid-November through late December (and in a few cases, into early January). These outdoor markets are Christmas spirit central, so bundle up, grab a warm drink, and get ready to embrace the festive season.
ALL ABOARD: 10 Christmas Train Rides Sure to Get You in the Holiday Spirit
1. Budapest, Hungary
Advent Feast at the Basilica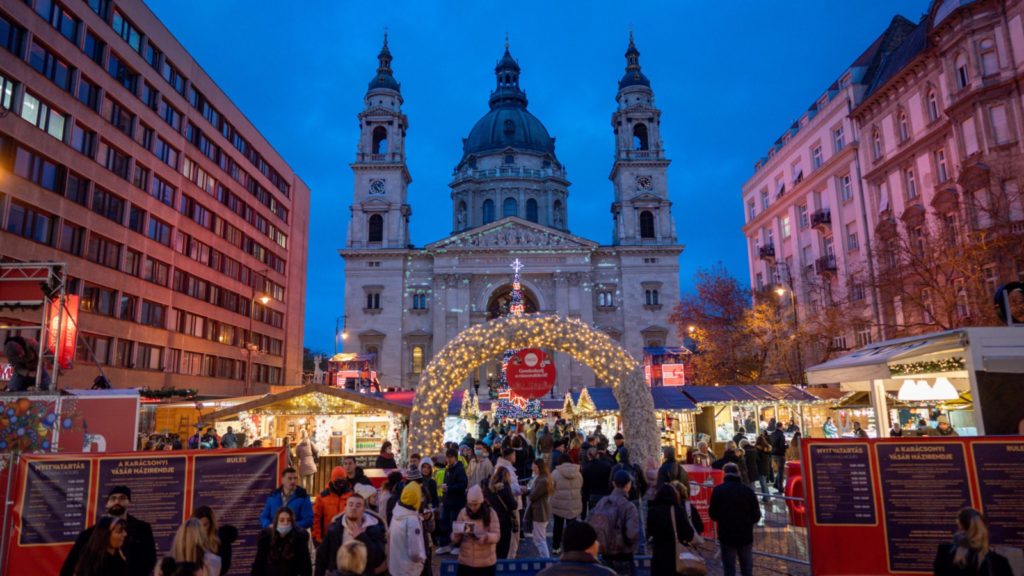 With more than 100 vendors lining its festive lanes each year, the Advent Feast at the Basilica Christmas market is an amazing destination for holiday trinkets and treasures to bring home with you. Along with the merry atmosphere, there's a light show that's projected on the facade of the Basilica, and an advent candle lighting ceremony each Sunday.
CLOSER TO HOME: 10 Kid-Friendly Things to Do in New York City During the Holidays
2. Basel, Switzerland
Basel Christmas Market
Basel, Switzerland ranks among Europe's most beautiful towns to visit during the holidays. Its Christmas market lights up Old Town, which is decked out in elaborate decorations and twinkling lights.
NO HIDDEN FEES: 17 Best All-Inclusive Family Resorts in the U.S.
Browse the vendor stalls then check out the towering Christmas tree, which has ornaments from well-known decorator Johann Wanner. Complete your perfect Christmas market trip with a glass of mulled wine sipped along the edge of the Rhine River—it's the perfect spot to take in the warm glow of the city from afar.
3. Metz, France
France's Metz shines with holiday spirit during its annual Christmas market. Stroll the lanes of peaked-roof "chalet" vendor stalls and feast your eyes on everything from cozy clothing to hand-made ornaments.
BELOVED FOR A REASON: 10 European Tourist Attractions Totally Worth Visiting
Savor the flavors from food sellers offering warm drinks, chestnuts, and sweet treats. And then enjoy the market's next-level offerings like a Ferris wheel ride in the Place d'Armes, a skate on the ice rink in the Place de la République, or a stroll after dark along the fairy-tale-inspired Sentier des Lanternes (lantern-lit path).
4. Craiova, Romania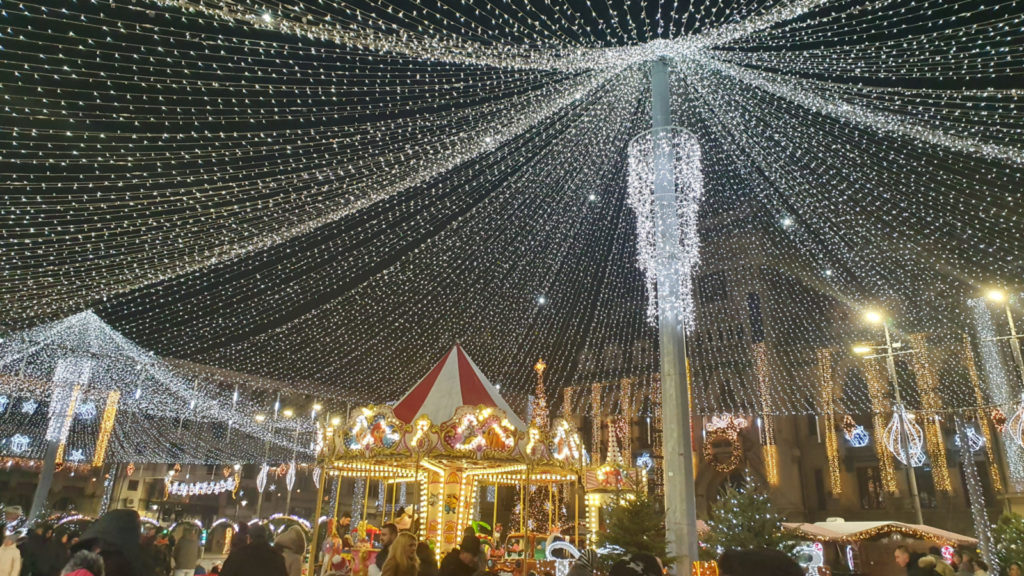 Woven into spots around the city, the Craiova Christmas Market has everything from concerts and food stands to an ice rink and creative workshops. To get from one part of the market to the other, simply follow the enchanting canopy of Christmas lights overhead.
NO PASSPORT NEEDED: 20 Best Family Vacation Spots in the U.S.
Between each section of the market you'll find elaborately decorated Christmas trees inspired by the surroundings. And don't miss the market's Christmas cottages with their hand-painted and carved fairytale characters.
5. Trier, Germany
For more than 40 years, the Christmas market in Trier, Germany, has been welcoming revelers with a warm drink and a festive atmosphere. Sip in the company of royalty—the market's Mulled Wine Queen hangs out between the Cathedral and the Main Market, celebrating the region's signature vintner hot mulled wine.
HOLIDAY TO REMEMBER: 10 Magical Christmas Vacation Ideas for Families
Shop for souvenirs and holiday decorations at the large market's 95 wooden chalet booths. Live musical performances and Christmas carol sing-alongs fill the air with holiday joy, and on select days Santa strolls the market handing out gifts to children.
6. Brussels, Belgium
Winter Wonders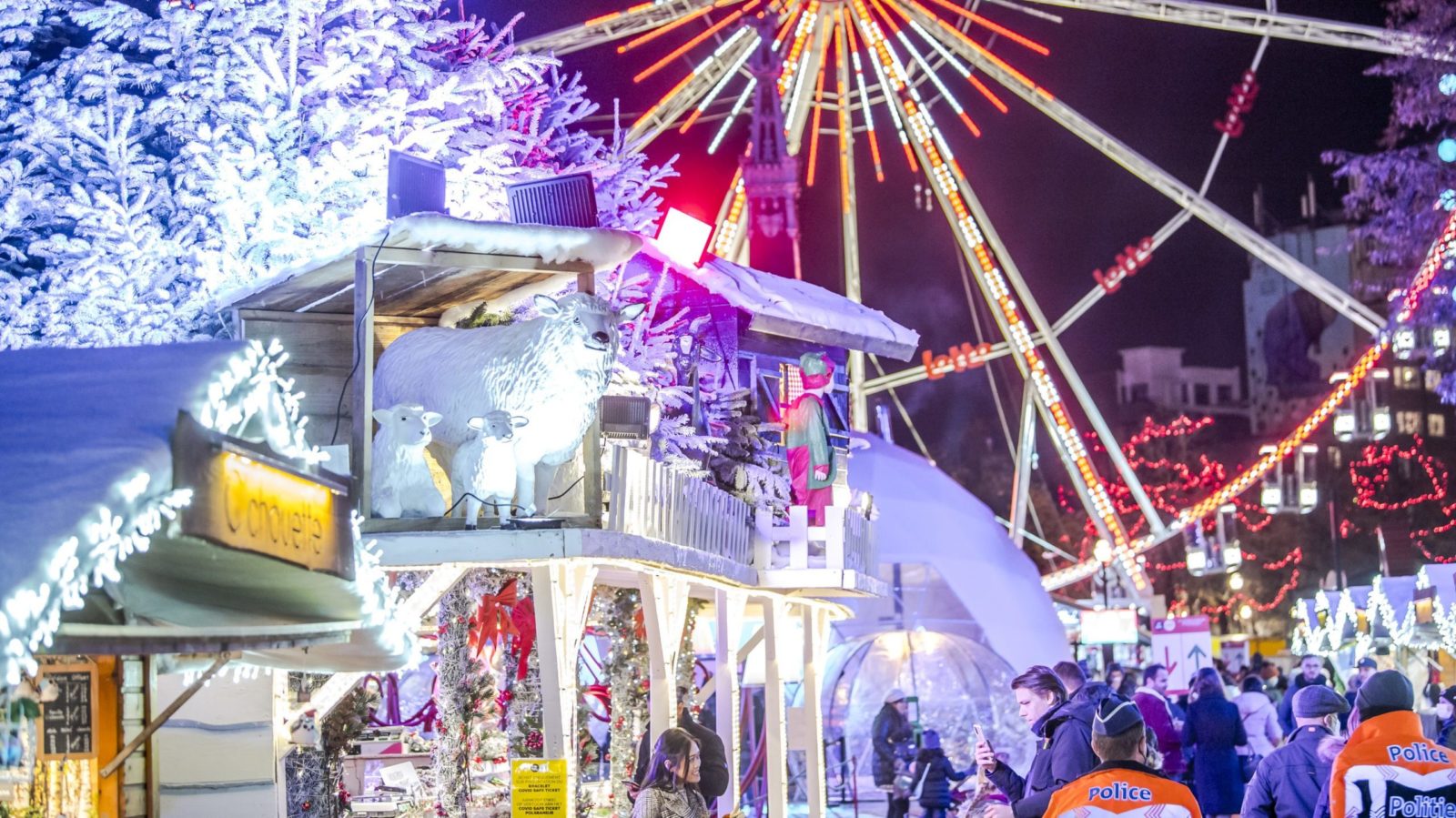 Brussels has more than its share of Christmas markets, but the best one is the wildly popular Winter Wonders, a market and winter fest that attracts over 2 million people every year. More than 200 chalet-style wooden stalls hold gift-ready treasures—for hand-made items made by craftspeople, keep an eye out for the little paw sign that reads "Quality Label."
WARM MEMORIES: 11 Best Winter Vacations for Families in the U.S.
Since this is Brussels, sweet waffles and savory frites are required snacking. Stop to admire the glittering Christmas tree, the life-sized nativity scene, and the sound and light show on the facades of St. Catherine's Church and the Viage. There's also an ice skating rink, a Ferris wheel, and a carousel.
7. Manchester, United Kingdom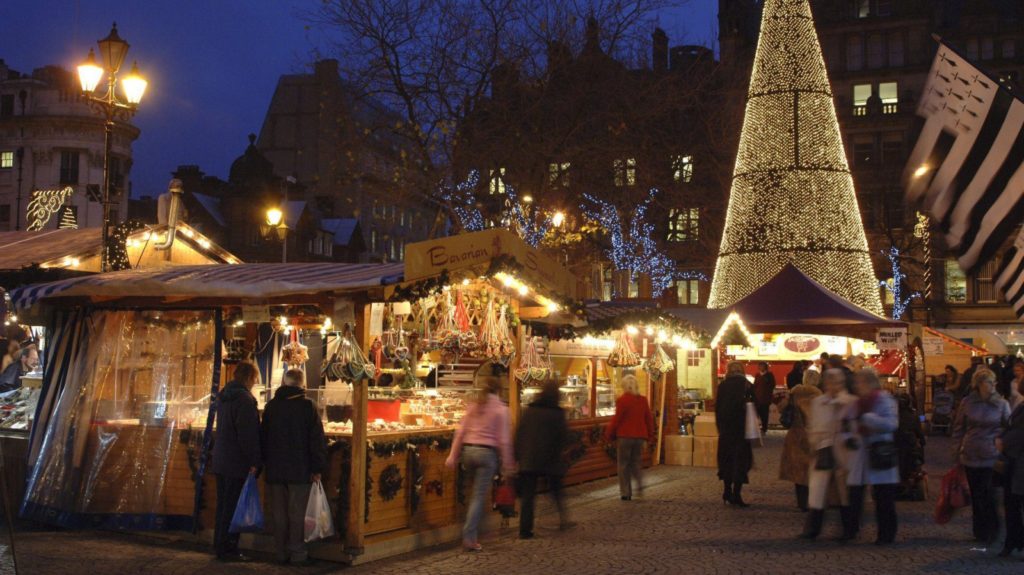 Manchester is home to the U.K.'s largest Christmas market, and trumpets the title the "U.K.'s Capital of Christmas." With over nine million visitors each year, the market continues to get bigger and better with each holiday season.
YEAR-ROUND DESTINATIONS: 6 Best Vacation Spots in Europe for Families
Browse the wares of over 300 vendors spread out across 10 beautifully festooned sites in the city. And keep an eye out for those Santa sightings as you shop stalls selling everything from tweed hats to spiced rum. The scent of gingerbread, sparkly lights, and winter tipples set the scene for some true holiday magic.
8. Leipzig, Germany
Join a centuries-long tradition with a visit to one of the oldest Christmas markets in Germany. The Leipzig Christmas market dates back to 1458, and each year fills the historic city center with more than 300 vendor stalls. Kids will enjoy seeing Santa Claus at his office hours and letting him know they've been good this year.
MAKE MEMORIES: 20 Best Places to Go with Kids This Year
For a fun take-home treasure from this winter wonderland, pick up the market's signature souvenir: mulled wine mugs and children's cups, which change each year for maximum collectability.
9. Paris, France
The Magic of Christmas: La Magie de Noël at Tuileries Garden
The City of Light truly comes alive during the holiday season at its Magic of Christmas market near the Louvre. The joy of this festival is that it's part market and part Christmas-themed carnival, so there's something for everyone. Around the carnival are over a dozen rides to delight the kids—and adults will enjoy the Champagne bar and roasted chestnuts.
HOW TO: Make the Most of Two Days in Paris with Kids
After you've shopped for gifts ranging from Christmas decorations to wooden toys, take a stroll along the Champs-Élysées, a five-minute walk away, to see the beautiful window displays and sparkly lights along the famous avenue.
10. Amsterdam, Netherlands
Het Amsterdamse Winterparadijs
Though it doesn't open until December 15, once the Het Amsterdamse Winterparadijs market starts, it goes all-out as a major holiday shopping and entertainment event. Throughout the market, you'll find a festive mix of live performances and beer tables.
WINTER FUN: 14 Best Indoor Water Park Resorts in the U.S.
When you're done with your shopping, try your hand at curling or skating on one of the market's indoor or outdoor rinks. As night falls, get the entire family together to roast marshmallows over an open fire.
Frequently Asked Questions about European Christmas Markets
When do Christmas markets start in Europe?
Each European Christmas market has its own timeline, but many start in early or mid-November. Most Christmas markets run through December, and a few remain open into January. If you're interested in visiting one of these holiday markets, aim to spend a few hours in the late afternoon into the evening. That way, you'll get the height of the action and be able to appreciate the glow of the lights as day turns to night.
Are European Christmas markets open this year?
All the markets on this list are operating this holiday season, as are many other Christmas markets around Europe. Keep in mind, though, that some of these markets went on hiatus during the pandemic, so there may be some growing pains as they scale back up to meet all the pent-up demand.
What are the best things to buy at Christmas markets?
This is a hard question to answer because there are so many things to buy at European Christmas markets. Standard favorites include ornaments (many of them handmade), local crafts, beautiful holiday decorations, and gifts like handmade stuffed animals, knitted gloves, and more.
And then there's the food: Christmas markets are chock full of delicious things to eat. Arrive hungry and taste your way through warming drinks like mulled wine and cider, and hot chocolate. Holiday Euro-classics like roasted chestnuts mingle with place-specific delights like Belgian waffles in Belgium and stollen in Germany. Most markets have a wide range of international foods as well, and there's always more to try.
What if I want to visit more than one Christmas market?
You should definitely do that. It's not unusual at all to meet travelers who are making a vacation out of visiting multiple Christmas markets in one country or even more than one country. There are even tour companies and river cruise companies that offer Christmas market tours that hit some of the favorites around Europe.
If you're planning a multi-stop European Christmas market tour on your own, do your research in advance (this list is a great place to start!) and make sure the markets are different enough that you'll be getting a unique experience at each.
More from FamilyVacationist: