Autumn in New England is a spectacular time to get outdoors and enjoy the colorful quilt of leaves that blanket the region. As temperatures drop and days get shorter, families on New England fall foliage vacations can expect weather tailor-made for fresh-air activities like hiking, apple picking, and old-fashioned hayrides. And the crisp fall nights are just right for warming up by a bonfire, toasting marshmallows, and gazing at the starry night sky.
Best New England Fall Foliage Vacations
Immerse in leafy landscapes in these beautiful New England towns perfect for your family's next fall foliage getaway.
FALL FUN: 8 New England Fall Getaways That Will Charm the Kids (and Parents, Too)
1. Gorham, New Hampshire
Snugly situated in the shadow of the rugged Presidential mountains, Gorham is one of the Granite State's most suggestive spots—and autumn in New England is a wonderful time to experience the town's kaleidoscope of changing leaves. A great way for active families to experience the fall foliage here is at the Great Glen Trails Outdoor Center, which offers outdoor explorations on foot or mountain bike. There are scores of well-marked hikes on wide carriage roads bordered by fluffy ferns, moss as soft as a pillow, and the final summer wildflowers, all blending with the rainbow of foliage.
MAKE MEMORIES: 50 Family Vacation Ideas for the Best Trip Ever
After a day in the fresh air, drive a few miles to the Red Fox Bar and Grille for a delectable dinner cooked over a woodfire grill. Reasonable prices and a kid's menu make it a perfect pick for New England fall foliage vacations.
Where to Stay in Gorham on a New England Fall Foliage Vacation
A contemporary boutique hotel adjacent to the Great Glen Trails Outdoor Center, The Glen House offers an indoor saltwater pool, outdoor fire pit, divine alpine vistas, and modern guest rooms that will please the entire family.
2. Kennebunkport, Maine
Lobster boats bob in the waves and beachcombers search for shells. In Kennebunkport, the slower pace of autumn in New England means folks have time to watch the tide roll in. Crowds thin here after Labor Day, leaving beaches with sand as soft as flour for savvy travelers to enjoy. The flat hiking trails at nearby Rachel Carson National Wildlife Refuge are a delight. The salt marshes and estuaries are a magnet for migratory birds, whose colorful plumage rivals the blaze of bold leaves.
AFFORDABLE TRIPS: 11 Cheap Family Vacations That Are Super Fun
Where to Stay in Kennebunkport in the Fall
Right across from postcard-perfect Goose Rocks Beach, The Tides Beach Club is a perfect spot to base your New England fall foliage vacation. The sunny yellow clapboard exterior is an excellent indicator of the warm welcome families will receive. Soak in the sights of the season from the cozy front porch, perhaps from the perch of an oversized padded rocking chair, or borrow a kayak and paddle to a secluded island. The Tides is open through the peak fall foliage season before shutting its doors for winter.
3. Amherst, Massachusetts
A college town with a laidback vibe, Amherst exudes autumnal charm in the heart of western Massachusetts. Rent bikes and pedal a portion of the car-free Norwottuck Rail Trail, gentle enough for novice cyclists. The terrain is checkered with fall colors and farm stands selling crisp apples, fresh doughnuts, and warm apple cider.
AMERICA THE BEAUTIFUL: 11 U.S. Tourist Attractions That Live Up to the Hype
Explore the maple-lined lawn of Amherst Common, or head to nearby Mount Pollux Conservation Area for easy hiking, kite flying, and glorious sunsets. Don't miss a visit to the Eric Carle Museum of Picture Book Art, founded by the beloved author of The Very Hungry Caterpillar. Fun and funky Northampton, home to Smith College and a bevy of restaurants and local shops, is just a few minutes away.
Where to Stay in Amherst for a Fall Foliage Getaway
The centrally located Inn on Boltwood's vibe is old-world, with a sizeable library and gardens that are especially lovely during autumn in New England.
4. Newport, Rhode Island
Famous for its Gilded Age mansions, Newport is the place to go for manicured gardens and a true bonanza of autumn color. Don't miss the 3.5-mile Cliff Walk, a coastal path weaving by mansions and shoreline, with a chorus of chirping birds as your soundtrack. Then head to Brenton Point State Park, located on the grounds of what was once a grand estate. Enjoy the native coastal vegetation and assorted small animals scurrying to prepare for winter. You'll build up an appetite after so much walking, and Newport's restaurant scene won't disappoint. The Reef serves delectable cuisine, including a special menu for kids, in a casual waterfront setting.
FAMILY FUN: 22 Best Family Vacation Spots in the U.S.
Where to Stay in Newport on a New England Fall Foliage Vacation
Situated alongside Miantonomi Park with room to roam, The Wayfinder Hotel is a boutique property with a casual surfer vibe that suits the many families who come for New England fall vacations.
5. Lenox, Massachusetts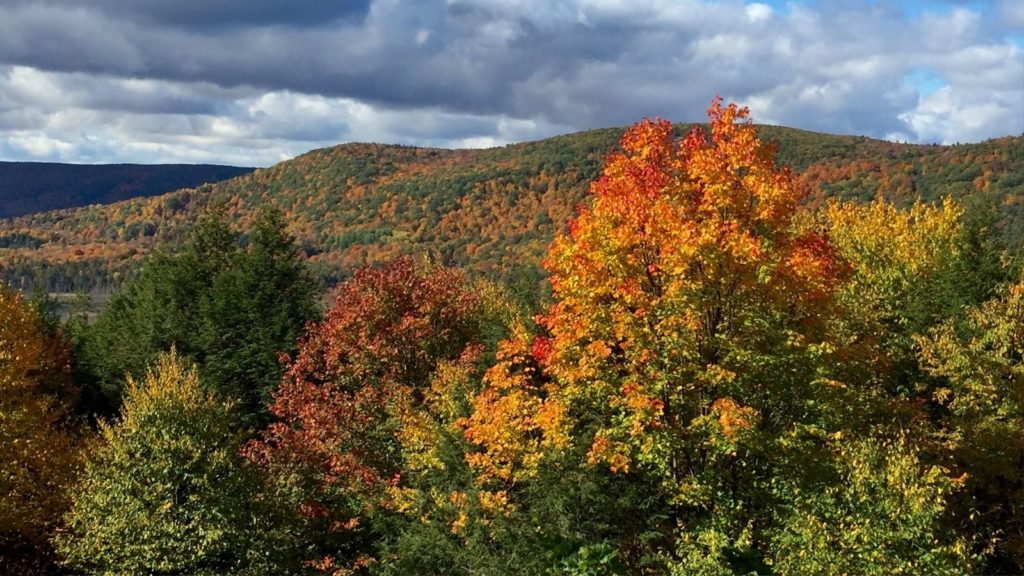 A mix of idyllic villages and pristine nature with a thriving art scene thrown in for good measure, The Berkshires region is dotted with lakes, mountains, and crimson and butterscotch leaves that tinge the autumn terrain. For families, the picturesque town of Lenox offers a wealth of outdoor possibilities during autumn in New England, including hiking Pleasant Valley Wildlife Sanctuary's miles of trails bordered by streams and a hummingbird garden. The universally accessible All Persons Trail at Broadmoor winds through a hemlock forest to a boardwalk, where hikers may commune with wildlife on Pike's Pond.
MOVIE MAGIC: 11 Best Outdoor Movie Screens for Your Backyard Movie Night
Where to Stay in Lenox This Fall
The owners of Hampton Terrace Inn are parents themselves, so families can expect a genuine welcome on any New England fall foliage vacation. The inn was once a Gilded Age mansion and amenities like soaking tubs and fireplaces are reminiscent of its past glory.
6. Stowe, Vermont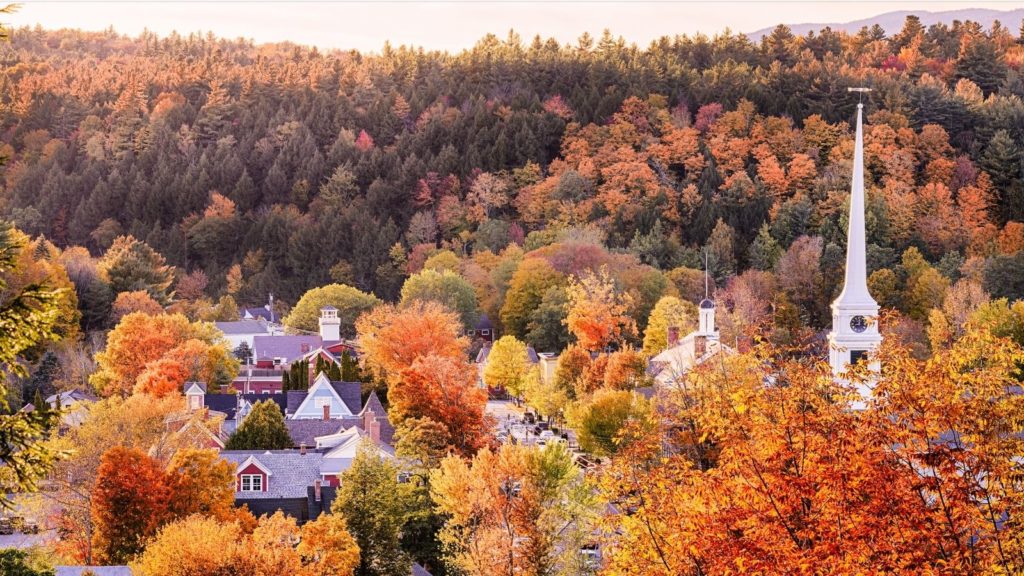 Residents of storybook-pretty Stowe are committed to maintaining the region's rural roots, and visitors reap the benefits with a wealth of still-wild landscapes. Ringed by Alpine scenery, Stowe's northern latitude offers a vivid palette of color during autumn in New England. Ride the gondola to the top of Mt. Mansfield, the state's tallest mountain, for a panoramic glimpse of fall splendor. Hear the crunch of fallen leaves underfoot as you cycle or walk the 5.3-mile Stowe Recreation Path.
FRESH MOUNTAIN AIR: 12 Best Mountain Towns to See Fall Foliage in the U.S.
Where to Stay in Stowe on a Fall Foliage Vacation
At the 50-acre Stoweflake Mountain Resort and Spa, the casually elegant vibe is unassuming and unpretentious. The indoor pool offers weatherproof fun and the heated outdoor pool is open year-round.
7. Litchfield, Connecticut
This swath of the Nutmeg State is known for its patchwork of mountain lakes, laurel-covered glades, and pine-scented woods—and Litchfield County's white clapboard houses and towering church steeples ooze quintessential New England charm. It's hard to beat hiking here in autumn, with the annual cascade of scarlet, gold, and pumpkin-colored leaves adding eye-candy.
BRING THE DOG: 10 Top Pet-Friendly Hotels and Resorts in the U.S.
The White Memorial Conservation Center is an environmental education center that welcomes families with a network of trails for hiking, biking, and horseback riding, plus boating, fishing, and robust children's programming perfect for New England fall foliage vacations.
Where to Stay in Litchfield in the Fall
Whimsically decorated private cottages are the highlight of a stay at the 113-acre Winvian Farm, which borders the woods and lakes of the Litchfield Hills in the town of Morris.
8. Hanover, New Hampshire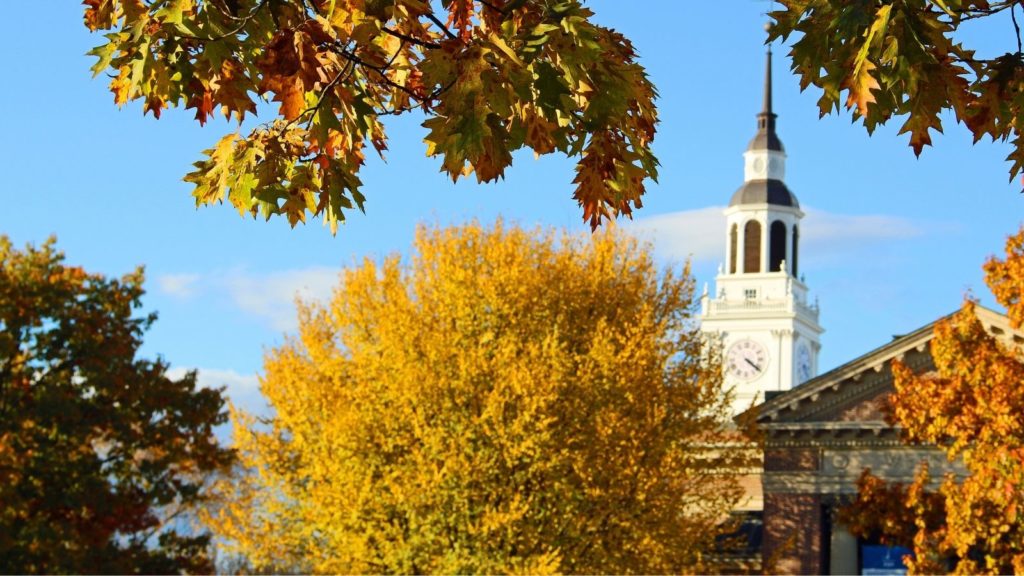 Located on the banks of the Connecticut River with the Appalachian Trail slicing through, Hanover presents autumnal recreational opportunities on both land and water. Hike to Velvet Rocks and you'll be surrounded by a cornucopia of fall foliage and moss-covered rocks that feel like plush velvet. Rent a kayak or canoe and paddle down the Connecticut River shaded by a generous canopy of seasonal vegetation. When you've built up an appetite for breakfast or lunch, visit Lou's, an old-school diner serving some of the Granite State's plumpest pies.
LEAVE THE KIDS: 12 Best Vacation Spots in North America for Couples This Year
Where to Stay in Hanover on a New England Fall Foliage Vacation
Hanover is home to Ivy League Dartmouth College, and guest rooms at the Hanover Inn include collegiate memorabilia and splashes of green, Dartmouth's school color.
9. Bar Harbor and Mount Desert Island, Maine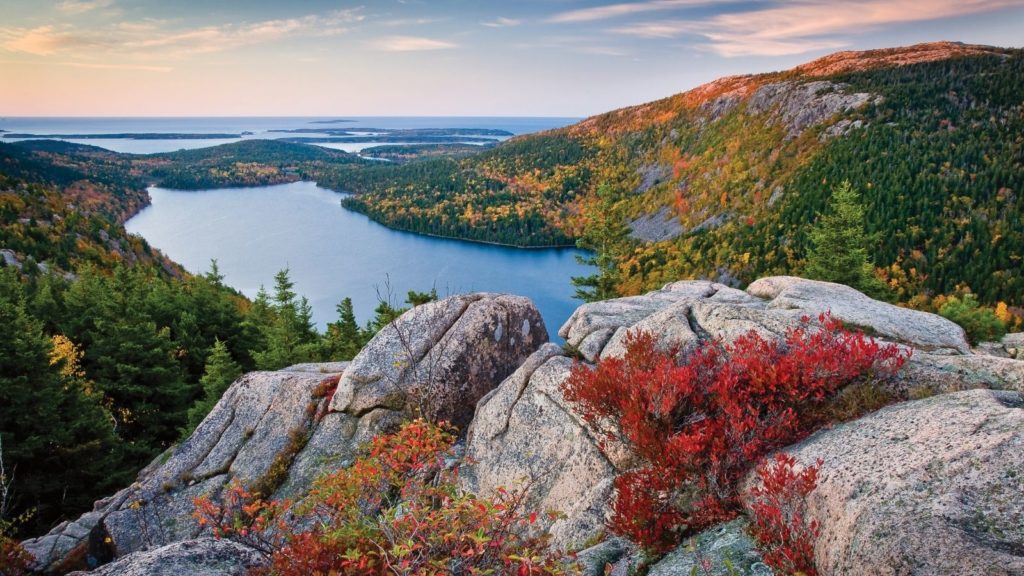 Autumn is an unbeatable time to visit Acadia National Park on Maine's Mount Desert Island. Hike the wide carriage roads carpeted with crushed stones as you meander past peaceful ponds and woodlands. The Atlantic Ocean is too cold for swimming in the fall, though experiencing the water on a nature cruise or lobster boat is good fun. Paddle a canoe in a freshwater lake and listen for the call of the loon. Wildlife is abundant and the brilliant red, amber, and orange leaves of fall in New England are stunning when reflected in the water. The pollution-free night skies present fabulous stargazing.
AMERICA'S BEST IDEA: 12 Breathtaking National Park Lodges Perfect for Families
Where to Stay in Bar Harbor on a Fall Vacation
In Bar Harbor, the Atlantic Oceanside Hotel enjoys an oceanfront location one-mile from Acadia National Park.
10. Hartford, Connecticut
Who says you have to leave the city to see brilliant New England fall colors? Hartford, the Connecticut state capital, is sprinkled with leafy public parks that are at their best in autumn. Bushnell Park is one of the oldest publicly funded parks in America. Elizabeth Park's formal gardens and walking loops burst with beautiful leaves. Upscale West Hartford has five reservoirs offering scenic trails and even fishing. For hands-on fun indoors, visit the Connecticut Science Center and the Children's Museum.
KID-FRIENDLY VACATIONS: 17 Best Family Resorts and Hotels in the U.S.
Where to Stay in Hartford on a Fall Foliage Vacation
A luxury hotel with contemporary furnishings and an eye-catching collection of modern art, Delamar West Hartford also has spacious guest rooms, excellent service, and a complimentary breakfast buffet. There's an onsite spa for parental pampering.
More from FamilyVacationist: