Does your family dream of visiting spooky places like the historic site of the Salem Witch Trials? Do you love all things creepy and crawly, or seek out nighttime ghost tours whenever you explore a new town—especially around Halloween? If you answered yes to any of those questions but aren't able to take the kids to this year's top Halloween vacation destinations, this list of Halloween books for kids is just what you need.
As the founder of Bookopolis.com, an online community where elementary and middle school kids share book reviews, I love helping families discover new books that match their interests and reading levels. The Halloween books for kids on this list are appropriate for grades three through eight (they also work well as family read-alouds) and are deliciously eerie for older siblings and adults, too.
The Best Halloween Books for Kids and Tweens
From the haunted streets of Salem to the spooky fictional towns of Blight Harbor, Howler's Hollow, and Willow Cove, you can still take a (virtual) vacation with the kids to some of the most chilling places imaginable. With a mix of horror, humor, adventure, and mystery, these Halloween books for kids will have you feeling like you're on a spine-tingling vacation even if you never leave home.
MAKE MEMORIES: 23 Best Family Vacation Spots in the U.S. for All Ages
The Bellwoods Game by Celia Krampien
Ever since Abigail Snook went missing in the woods of Fall Hollow on Halloween night in 1982, it's been a town tradition for sixth graders to play the "Bellwoods Game" on Halloween. Three kids are selected to go into the woods and race to ring the bell. Legend has it the first one to the bell is granted one wish, but if no one rings the bell in time then Abigail's ghost will haunt the town all year. Bailee and her classmates don't really believe the stories, but what if they're true?
KID-FRIENDLY: 17 Best Family Resorts and Hotels in the U.S.
Celia Krampien's The Bellwoods Game was a 2023 Junior Guild selection that Kirkus Reviews calls "evocative" and "beautifully creepy." It's recommended for readers in grades three through seven.
Where to buy: Amazon | Barnes & Noble | Bookshop.org
Long Lost by Jacqueline West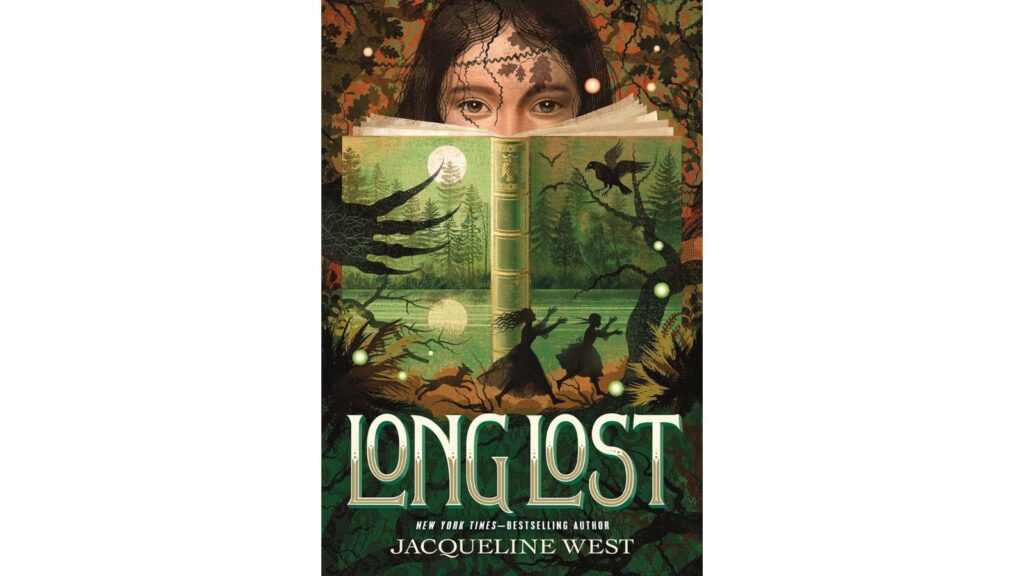 Two stories set in different time periods are woven together into this novel described as a "spooky sisterhood mystery" by School Library Journal in a starred review. Long Lost's story-within-the-story is based on a centuries-old mystery surrounding two sisters whose tale ends with a tragic disappearance. As modern day 11-year-old Fiona pieces together the truth behind the secret history of Pearl and Hazel, she finds parallels to her own life and relationship with her sister Arden after the pair are forced to move to a creepy new town to support Arden's figure skating career.
DISNEY GUIDE: Everything You Need to Know about Disney Genie and Genie+
This intense page-turner is great for readers who enjoy emotional drama and authentically drawn settings with their scary stories. "Grab a flashlight and stay up late with this one," says Kirkus Reviews of this spooky mystery that's perfect for readers in grades three through seven.
Where to buy: Amazon | Barnes & Noble | Bookshop.org
The Blight Harbor Series by Lora Senf
Twelve-year-old Evie Von Rathe lives in the seventh-most haunted town in America. She knows the abandoned slaughterhouse is off limits, but when her beloved aunt goes missing, Evie has to break the rules to find her. Her quest begins when she strikes a deal with the Clackity, a creepy creature who guards the slaughterhouse. The Clackity wants Evie to find the ghost of a local serial killer in exchange for her aunt's freedom. Eerie black-and-white drawings add to the spookiness of the text.
SAVE MONEY: 10 All-Inclusive Resorts Where Kids Stay Free
Recommended for readers in grades five through seven, The Clackity is "an atmospheric adventure that will appeal to readers of Neil Gaiman and middle grade horror," says Publishers Weekly. Bookopolis reviewer, Jadelyn (age 12) highly recommends it as well: "A horror thriller novel that is also a page-turner. A must read!" A sequel, titled The Nighthouse Keeper, will be published on October 17.
Where to buy: Amazon | Barnes & Noble | Bookshop.org
The Witches of Willow Cove Series by Josh Roberts
When 13-year-old best friends Abby Shepherd and Robby O'Reilly sneak into an abandoned mental hospital on Halloween night, Robby gets a clue to the mystery of his mother's disappearance and Abby discovers that she's a witch—as in the kind who can fly on a broomstick. While Abby tries to balance her newfound powers with middle school drama, Robby learns that his hometown of Willow Cove has secrets dating all the way back to the Salem Witch Trials. And something or someone from that long-forgotten past may have sinister plans for Abby, Robby, and all of their friends.
BIG FAMILIES: 13 Best All-Inclusive Resorts for Families of 5+
Weaving history and magic into an inventive mystery for grades five through nine set in modern day New England, The Witches of Willow Cove is an atmospheric and twisty-turny Halloween books for kids that Kirkus Reviews calls "a delightfully spooky page-turner" in their starred review. A Mighty Girl named it one of the Best Books of the Year, and Bookopolis reviewer Thandiwe (age 11) raves, "The emotion and the tension combined with the personality of the characters is what makes the story special." A sequel, called The Curse of Willow Cove, is planned for next year.
Where to buy: Amazon | Barnes & Noble | Bookshop.org
The Fright Watch Series by Lorien Lawrence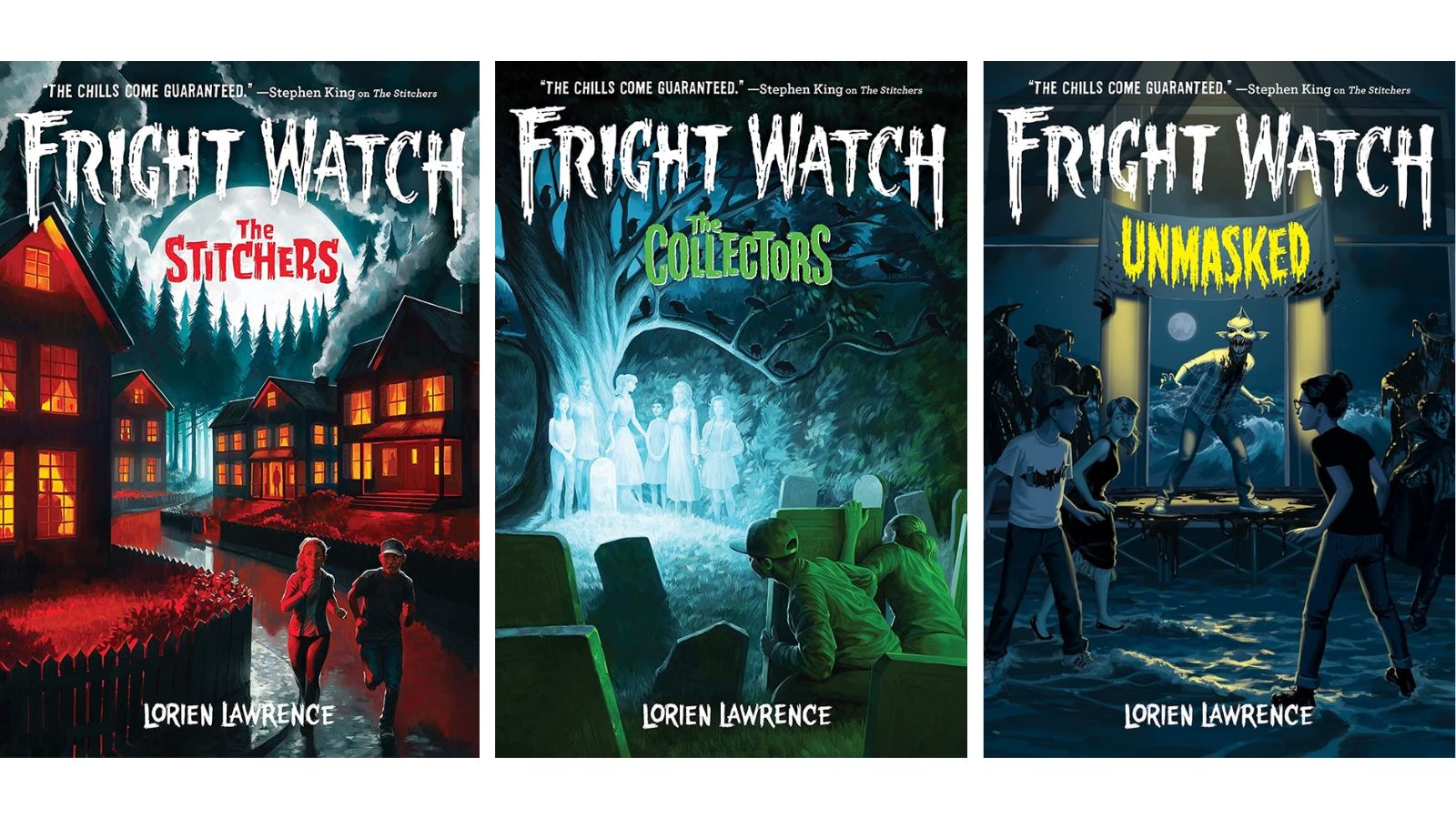 Creepiness abounds in The Stitchers by Lorien Lawrence as 13-year-old friends Quinn Parker and Mike Warren seek to unravel the mystery of "The Oldies," a group of neighbors who've lived on Goodie Lane forever yet never seem to get older. As the pair get closer to the terrifying truth, however, the Oldies may have plans of their own for these meddling kids.
SET SAIL: 12 Best Family Cruises and Ships in the World
The first in the Fright Watch trilogy that also includes The Collectors and Unmasked (which takes place on Halloween night), The Stitchers is a great choice for readers in grades five through nine who like a bit of humor and a good friendship story with their horror. Publisher's Weekly calls it "satisfyingly menacing" with "a healthy dose of heart." And when Stephen King tells young readers that "the chills come guaranteed," you know you're in for a truly spooky ride!
Where to buy: Amazon | Barnes & Noble | Bookshop.org
The Jumbies Trilogy by Tracy Baptiste
In this spooky fantasy based on a Haitian folk tale, 11-year-old Corinne La Mer is a brave and adventurous girl who's not scared of anything, including mythological demons called "jumbies" made up by adults to scare kids. When Corinne starts seeing creepy things around the island, though, she must call upon her courage and ancient magic to unravel a spine-tingling mystery.
CLOSE TO HOME: 8 Best Puerto Rico All-Inclusive Resorts for Families
Perfect for readers in grades four through seven, The Jumbies is "endlessly addictive and hypnotic" (Essence Magazine) and offers plenty of spooky twists and turns alongside reflections on racism, tolerance, and colonialization. Sequels Rise of the Jumbies and The Jumbie God's Revenge bring Corinne's story to a thrilling conclusion.
Where to buy: Amazon | Barnes & Noble | Bookshop.org
Ghost Girl by Ally Malinenko
Zee is a girl who loves anything scary and macabre like telling ghost stories, reading Frankenstein, and playing in cemeteries. But when creepy events start happening in real life, she teams up with two classmates—her nemesis, Nelly, and her best friend Elijah—to use her supernatural gifts to uncover the truth.
FIND A DEAL: 12 Best Hotel Booking Sites for Cheap Prices
Ally Malinenko's adventure-filled mystery is "rife with chilling moments and an affecting exploration of grief," says Publishers Weekly. Readers in grades three through seven will find themes of self-discovery, acceptance, and how to navigate difficult family relationships alongside Ghost Girl's spooky scares. Malinenko's follow-up novel, This Appearing House, is another beloved Halloween read for kids.
Where to buy: Amazon | Barnes & Noble | Bookshop.org
The Grounded for All Eternity Series by Darcy Marks
If you live in the suburbs of Hell, where do you go for fun on Halloween? That's the big question for 12-year-old Malachi and his friends who are seeking an adventure and end up slipping through a portal that lands them on Earth—in Salem, Massachusetts, to be precise. Unfortunately, an evil soul escapes with them!
BUDGET-FRIENDLY: 11 Cheap Family Vacations That Are Super Fun
Humor, chaos, and adventure ensue in this fun and feisty Halloween book for kids as Mal and his crew of fallen angels (along with new friends from Earth) work together to return to their own world and save Earth from an evil takeover. Kirkus Reviews calls Grounded for All Eternity "fast-paced and amusing." Shelf Awareness recommends it as "a thrill that lasts long past Halloween" for kids in grades three through seven. A sequel, called The Afterlife of the Party, continues the story.
Where to buy: Amazon | Barnes & Noble | Bookshop.org
The Howler's Hollow Series by Ash Van Otterloo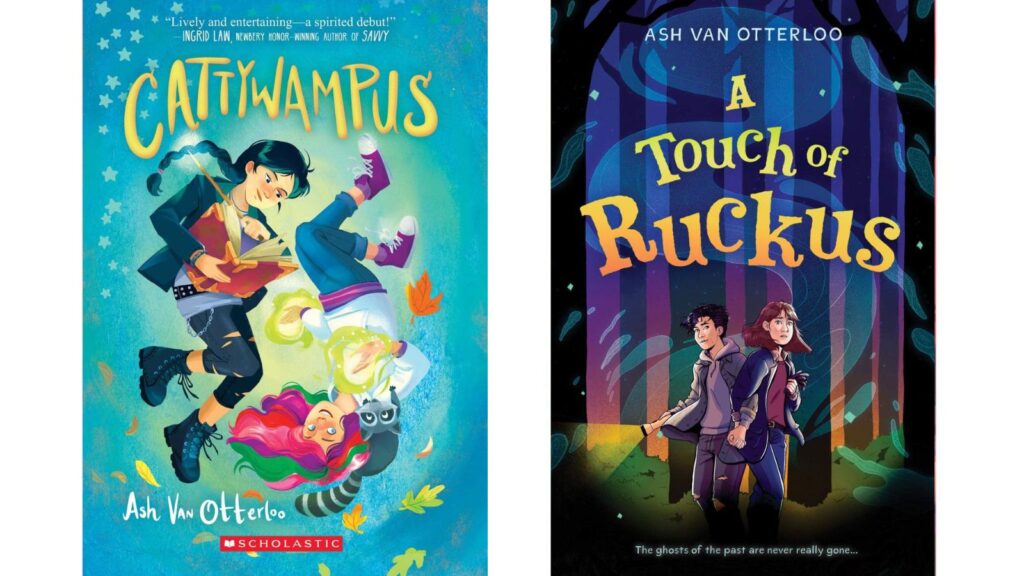 Is it possible for a spooky story about witches, hexes, and an army of zombies to actually be… pleasantly cozy? It is with Cattywampus by Ash Van Otterloo. It's the story of 12-year-old witches (and lifelong enemies) Delpha McGill and Katybird Hearn, who accidentally resurrect and unleash a graveyard full of their angry ancestors on the small Appalachian town of Howler's Hollow. To reverse the hex and set things right, Delpha and Katybird will need to work together as never before.
CRUISE DEALS: Kids Sail Free on These 6 Cruise Lines
"Deftly weaving elements of magic and nature with a story of adolescent change, debut author Van Otterloo conjures a timeless contemporary fantasy," says Publishers Weekly. It's a folksy and fun middle grade book that's perfect to curl up with as a Halloween read. Van Otterloo's follow-up novel, A Touch of Ruckus, is also set in the town of Howler's Hollow.
Where to buy: Amazon | Barnes & Noble | Bookshop.org
The Nightmare House by Sarah Allen
In Sarah Allen's chilling thriller, 11-year-old Penny Hope has been having nightmares for years about the Fear Maker, a creature who eats human souls and leaves people with hollow eyes. But now she sees the Fear Maker's victims walking around in the daytime. Will she be able to conquer her fears and anxieties and save others in her community?
TAKE FLIGHT: 17 Best Flight Booking Sites for Cheap Airfares
With a climactic sequence that takes place on Halloween, The Nightmare House is a perfect spooky season story for kids in grades four through six. Booklist's starred review calls it "a sophisticated choice for horror readers," while Bookopolis reviewer Paige (age 11), raves, "I loved watching Penny grow throughout the book. I would highly recommend this book to anyone and everyone!"
Where to buy: Amazon | Barnes & Noble | Bookshop.org
Scritch Scratch by Lindsay Currie
As someone who doesn't believe in the paranormal, seventh grader Claire Koster is completely embarrassed that her dad runs a ghost tour business in Chicago. But when she's forced to help him with his tour, she sees a sad-looking young boy on the bus who suddenly disappears—and then she starts hearing scratching noises and seeing things everywhere she goes. Can someone who doesn't believe in ghosts be haunted by one?
TOGETHER TIME: 11 Best Adults-Only All-Inclusive Resorts in the Caribbean
Combining themes of friendship with the haunted history of Chicago, Scritch Scratch is a perfect Halloween book for grades five through nine that R.L. Stine calls "a teeth-chattering, eyes bulging, shuddering-and-shaking, chills-at-the-back-of-your-neck ghost story. I loved it!" Bookopolis reviewer Laura (age 12) agrees: "Fall is a great time to read a haunted mystery! I recommend it if you enjoy an adventure with a scary twist."
Author Lindsay Currie is the author of several other great Halloween reads for kids, including It Found Us, What Lives in the Woods, The Girl in White, and The Peculiar Incident on Shady Street.
Where to buy: Amazon | Barnes & Noble | Bookshop.org
Hide and Seeker by Daka Hermon
A delightfully creepy twist on a beloved childhood game, Hide and Seeker by Daka Hermon is a "Stephen King-esque tale of horror" (Kirkus Reviews) for readers in grades three through seven. Justin is glad to have his friend Zee back after he went missing a year ago, but he can't shake the feeling that something isn't quite right with him. And when a game of hide and seek goes horribly wrong, Justin and his neighborhood crew are pulled into a nightmare world where all they can do is hide from the Seeker… or else.
OVER 50: 7 Best Travel Tour Companies for Seniors
In its starred review, Publishers Weekly praises Hermon's "spine-tingling prose that pulls no punches" and the book's "reassuring ending that leaves room for future installments." Her follow-up novel, Nightmare King, is a similarly spooky Halloween book for kids.
Where to buy: Amazon | Barnes & Noble | Bookshop.org
The Ghosts of Rancho Espanto by Adrianna Cuevas
When 12-year-old Cuban American Rafa Alvarez is caught attempting to steal his school cafeteria's slushie machine at the beginning of The Ghosts of Rancho Espanto by Adrianna Cuevas, he's sent all the way across the country to work on a New Mexico ranch as punishment. But once there, it quickly becomes apparent that something's not right at Rancho Espanto. For one thing, Rafa's work is being sabotaged by a man (or is it a ghost?) who may be more than he seems. Together with some new friends, Rafa must get to the bottom of this spooky mystery before things get really out of hand.
HOWL AT THE MOON: 11 Best Great Wolf Lodge Locations in the U.S. and Canada
"Cuevas crafts a whirlwind mystery populated by a compassionate community of lovable characters with effervescent personalities," writes Publishers Weekly. "An intriguing mystery with a satisfying emotional payoff," says Kirkus Reviews. Cuevas is the author of two other spooky middle grade books for kids, including The Total Eclipse of Nestor Lopez and Mari and the Curse of El Cocodrilo.
Where to buy: Amazon | Barnes & Noble | Bookshop.org
Ghosts: A Graphic Novel by Raina Telgemeier
Kid-favorite author and illustrator Raina Telgemeier's Ghosts is full of sweetness, sorrow, and family love. Catrina and her family move to Bahía de la Luna, a town with a better climate for her sister Maya's cystic fibrosis. Moving is often hard, but it's even harder when everyone says your new town is full of ghosts. While Maya is excited to meet new spirit friends, Cat is afraid. Suspense builds in the story as Halloween night approaches and the whole town turns into a "ghost" town.
MAGICAL READS: 33 Books Like Harry Potter to Binge on Your Next Vacation
Telgemeier's graphic novel is less creepy than some of the other Halloween books for kids on this list, but as Kirkus Reviews says in its starred review, the story's "unusual subject matter will keep readers emotionally engaged and unable to put down this compelling tale." It's a perfectly spooky but not-too-scary read for kids in grades three through seven.
Where to buy: Amazon | Barnes & Noble | Bookshop.org
The Nightbooks Series by J. A. White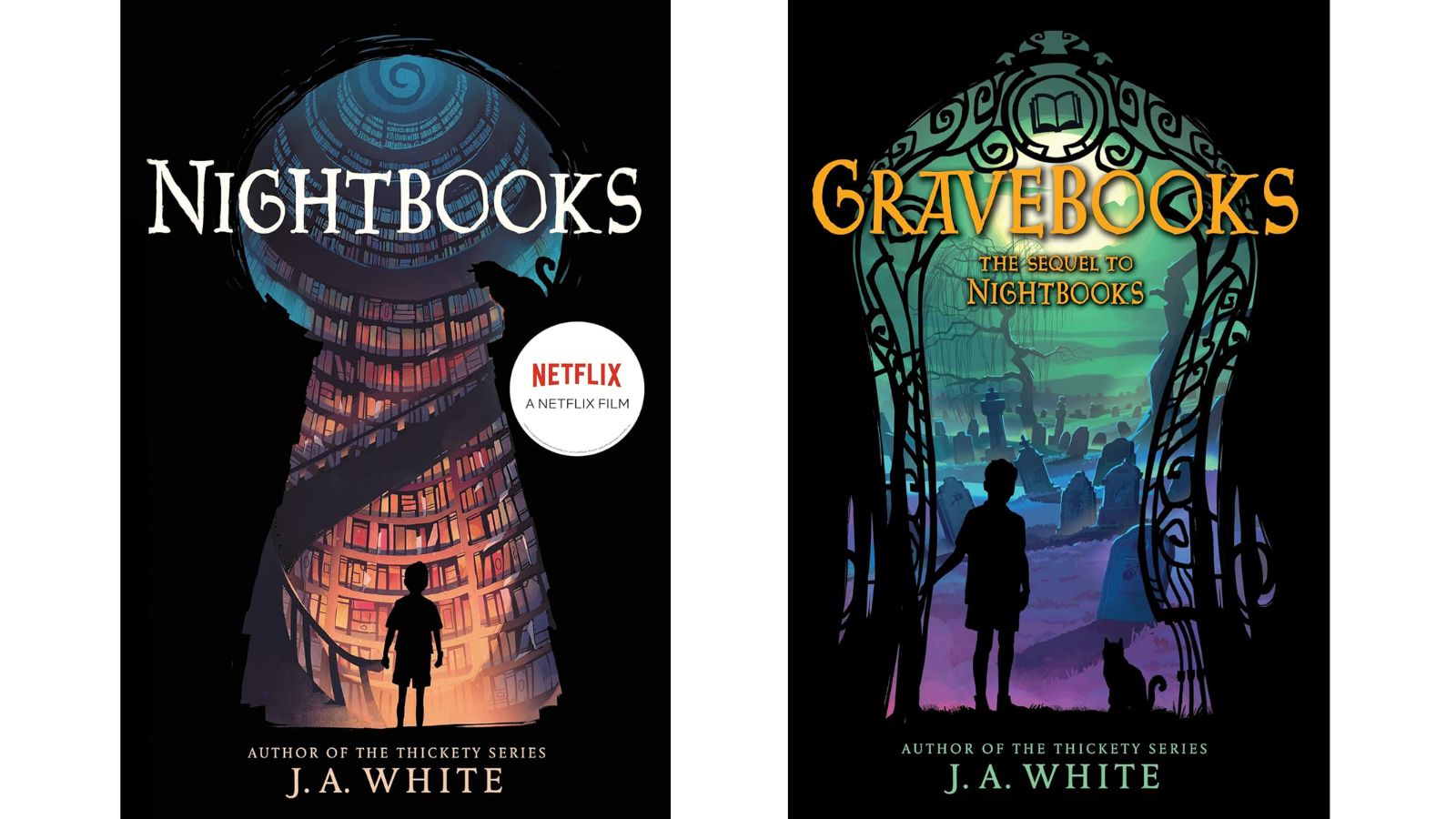 Alex Mosher has loved everything spooky and weird since watching Night of the Living Dead at age four. He even writes his own grim stories with dark endings in his "nightbooks" or journals he keeps after having bad dreams. When he's suddenly trapped by a powerful witch, Natacha, the only thing that keeps him alive is sharing his sinister tales with her. But what will happen when he runs out of stories?
TEEN-FRIENDLY TRIPS: 10 Best Vacation Ideas for Families with Teenagers
With emotional themes about belonging and identity, it's no surprise Nightbooks by J. A. White landed on multiple state award lists and was made into a Netflix movie. As the Wall Street Journal says, "In these Grimm-infused pages, Mr. White combines folklore, freakiness, and fortitude to celebrate the art and enthrallment of storytelling." Alex's story continues in a sequel called Gravebooks.
Where to buy: Amazon | Barnes & Noble | Bookshop.org
The Small Spaces Quartet by Katherine Arden
To deal with the pain of her mother's absence, sixth grader Ollie Adler turns to reading. She becomes obsessed with a ghost story about a sinister "smiling man" who can fulfill your deepest wish in exchange for a hefty price. While on a school field trip to a local farm around Halloween time, she discovers graves that match the names of the characters in the story. As the book's fictional world and her real world collide, Ollie and her friends find themselves on the run through a haunted farm filled with creepy scarecrows, uncertain of who to trust.
SUN AND SAND: 10 Best All-Inclusive Beach Resorts in the World
This goosebump-inducing tale earned a starred review from Kirkus Reviews and another from Booklist, which commends Small Spaces for having a "tantalizing pace and palpable suspense, all nicely grounded in realistic emotions." It's the first book in a quartet for kids in grades five and six that also includes the sequels Dead Voices, Dark Waters, and Empty Smiles.
Where to buy: Amazon | Barnes & Noble | Bookshop.org
Took: A Ghost Story by Mary Downing Hahn
It's okay to judge this book by its cover if you're intrigued by the super creepy doll on the front of Took: A Ghost Story by Mary Downing Hahn. In this bestselling novel, 13-year-old Daniel and his little sister Erika are forced to move to a small rural town due to their family's financial struggles. The kids at school tell Daniel the woods behind their new house are haunted by an evil witch who steals kids. Daniel doesn't believe it… until his sister goes missing.
EASY VACATIONS: 11 Guided Tour Companies That Offer Trips around the World
Bookopolis reviewer Raquel (age 11) says, "It is a one-of-a-kind plot and very spooky. I recommend this book 100 percent." School Library Journal agrees: "Horror fans and readers looking for a good scare will enjoy this creepy tale." Intended for readers in grades five through seven, Took is also available as a graphic novel.
Where to buy: Amazon | Barnes & Noble | Bookshop.org
More from FamilyVacationist: