Whether you're planning a family staycation or a special outdoor movie night with friends and neighbors, it's easier than you might think to turn your back yard into an outdoor movie theater. All you need is a movie projector (you can get a great one for under $200), an outdoor movie screen for a projected image, and lots of buttery popcorn to create a movie night experience everyone will enjoy.
Your options aren't limited to the backyard, either. The best outdoor projector screens are also great for camping, picnics, birthdays, and pool parties. And many of the top outdoor movie screens pack up and store easily, so they're a cinch to bring on vacation if you're staying at a rental property.
The Best Outdoor Movie Screens and Projector Screens
We've selected the following projector screens based on different price points for different budgets, plus easy setup options, screen sizes, and the most useful features for different outdoor theater scenarios. Want to make your own projector screen instead? We've also created step-by-step DIY instructions for building an easy do-it-yourself outdoor movie screen with a wood frame or PVC pipe frame.
1. VIVOHOME 14- to 24-Foot Inflatable Projector Screen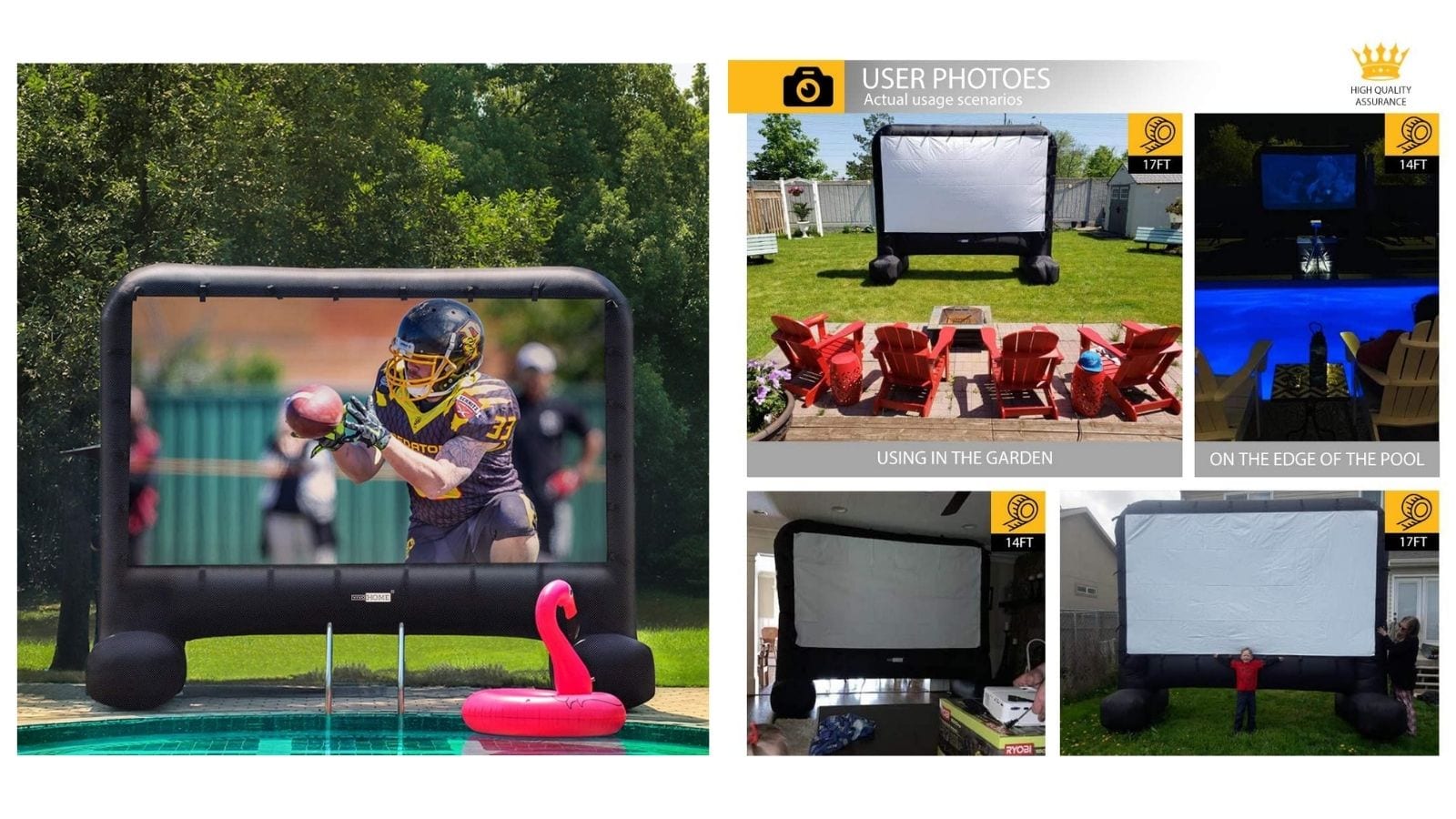 There's something about inflatable movie screens that scream fun, just like an inflatable bounce house or holiday decoration. And when it comes to inflatable projector screens, the VIVOHOME line of outdoor projector screens are some of the best available. Unlike other inflatable movie screens that sit low to the ground, the VIVOHOME screen is elevated off the ground so that even the littlest viewer will get a good view.
The slight elevation also makes them a great choice for an outdoor projector screen positioned near an in-ground swimming pool. This line of inflatable outdoor movie screens comes in different sizes ranging from 14 to 24 feet. It's easy for just one person to set up, inflates quickly, and has excellent picture quality.
2. Sewinfla 17- to 24-Foot Inflatable Movie Screen
If you want your backyard to feel like a drive-in movie theater, behold the Sewinfla inflatable outdoor movie screen. This projector screen is one of the larger outdoor movie screens on the market. It's available in 17-foot, 20-foot, 22-foot, and 24-foot inflatable projector screen display sizes. Just don't be surprised if the neighbors start watching from their patio, too. It's a great outdoor projector screen for movie nights out on the lawn and it's made from durable materials, though you may want to secure it with ropes and stakes to keep it from blowing around on a breezy night.
3. Gemmy Inflatable Projector Screen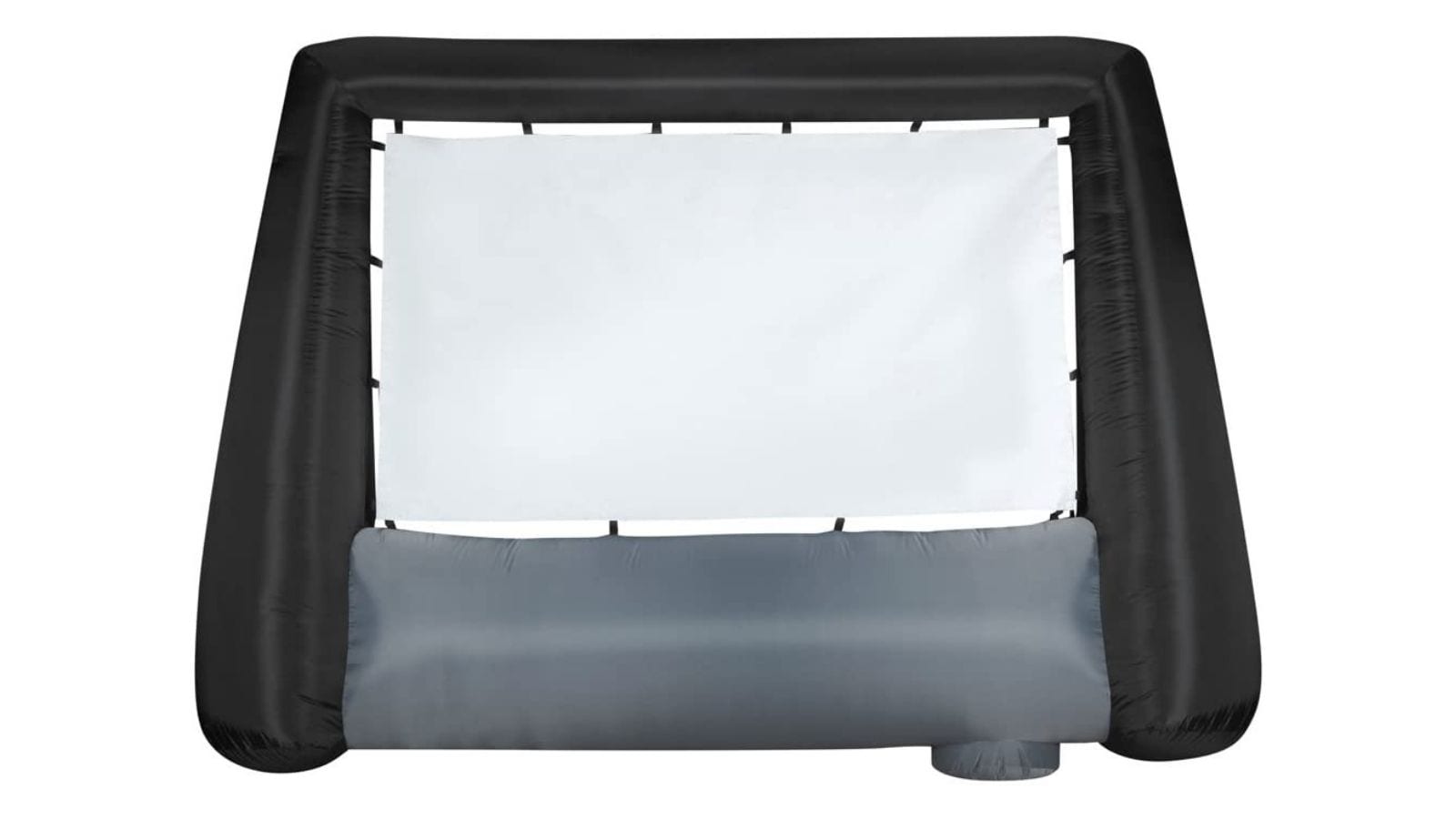 Big outdoor movie screens can get pricey, but Gemmy's inflatable outdoor projector screen is one of the most affordable around, and it's backed by more than 500 five-star ratings on Amazon. While the screen isn't as large as some of the more expensive models, even the smallest option offers enough outdoor movie screen display area to satisfy most people. And the nice thing with an inflatable movie screen this size is you can even inflate it in your living room or basement for an ultimate indoor movie night.
4. PropVue Projector Screen with Stand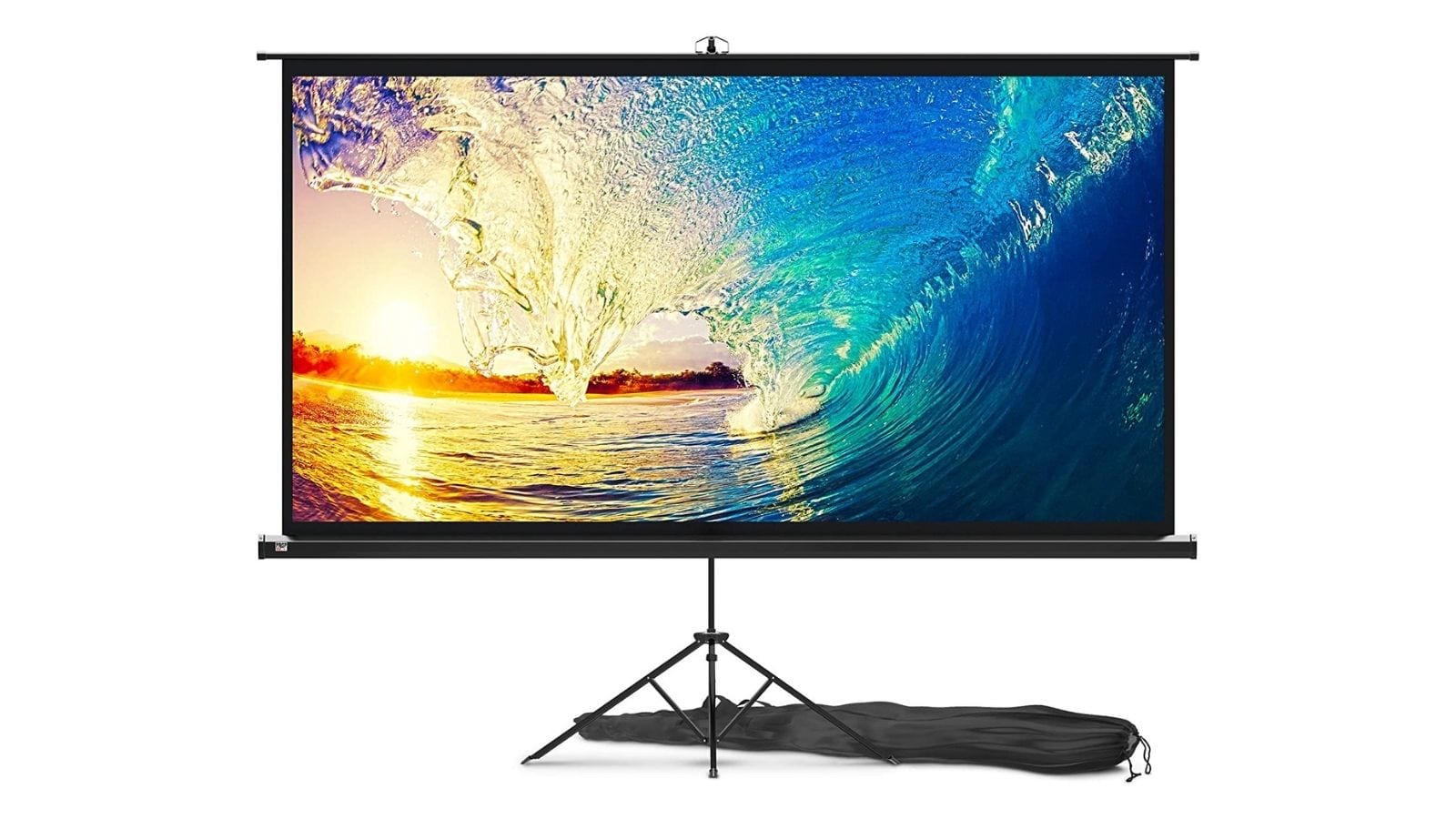 Most outdoor projector screens have a pretty chunky design, especially the inflatable projector screens. But PropVue's screen has a sleek tripod base that's incredibly versatile. You can just as easily use it for a kid's birthday party as for a big presentation at work.
This universal outdoor screen is also great for weddings, family reunions, or any big get-together. It comes in three 16:9 aspect ratio sizes: 60 inches (five feet), 84 inches (seven feet), and 100 inches (8.3 feet); there are also two 4:3 aspect ratio projector screen varieties that come in 100 inches (8.3 feet) and 120 inches (10 feet). No matter which size you select, the picture quality and durability are top notch, and this outdoor projector screen is easy to assemble and very light. However, you may want to add extra weights to the tripod base to keep it secure on blustery nights.
5. SCREENPRO Projection Screen with Adjustable Legs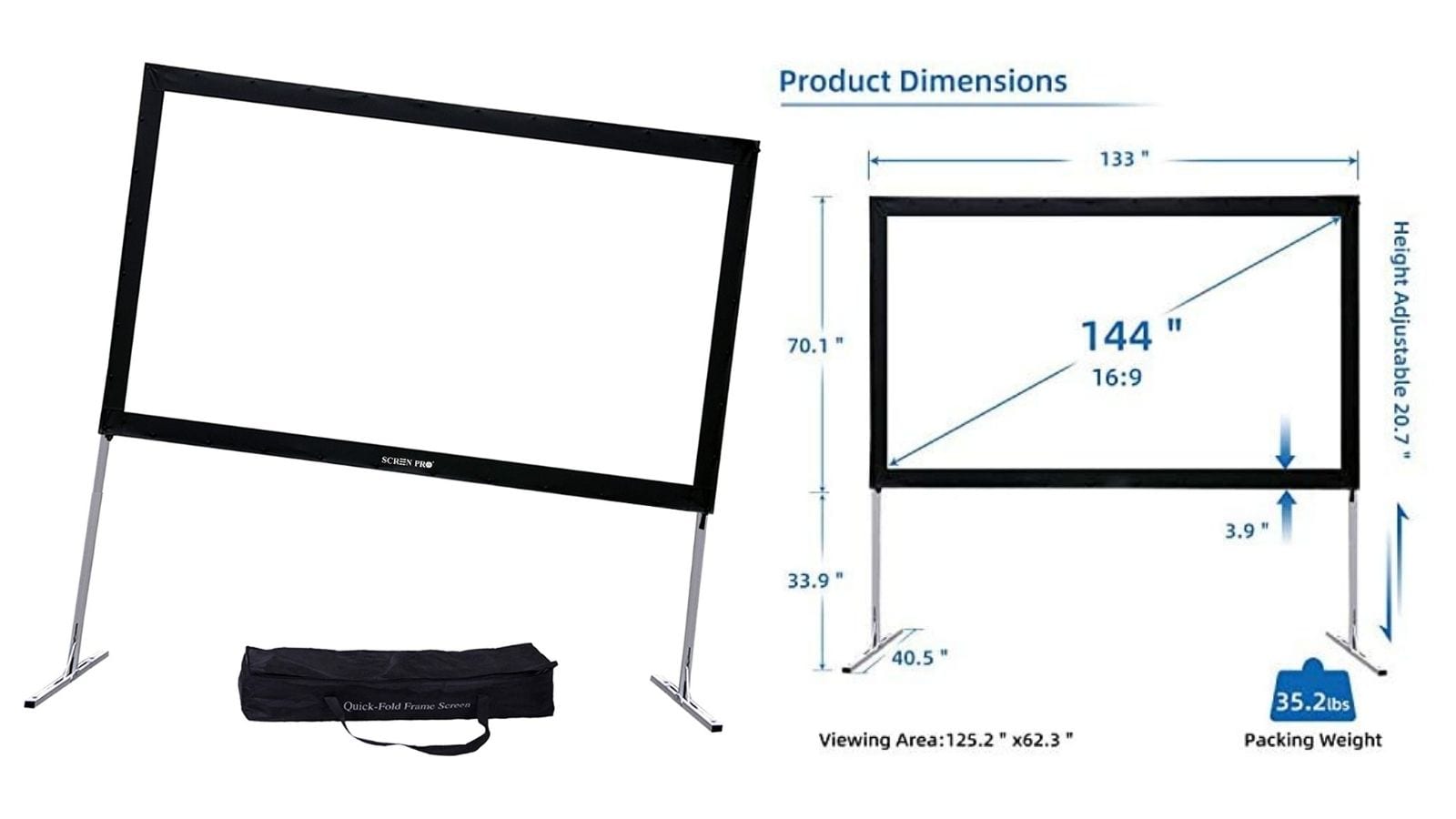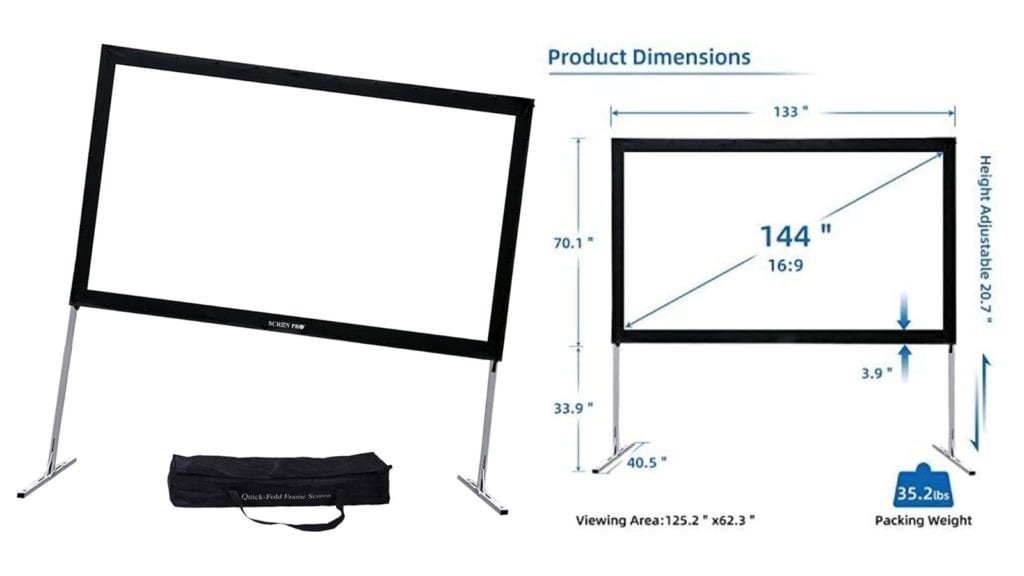 Take your backyard cookout or family picnic to a whole new level of fun with SCREENPRO's fast-folding, adjustable-height outdoor projector screen, which is ultra easy to set up and features a nice bright screen color with good contrast. This is one of the best portable projector screens because it's super lightweight. If you're already pulling a heavy cooler and toting overflowing bags of food, you won't feel that bad giving this lightweight outdoor movie screen to your kids to carry.
6. P-JING Foldable Anti-Crease Projector Screen
This anti-crease projector screen from P-JING an inexpensive option for a foldable and wrinkle-free outdoor movie screen if you have a convenient place to hang a projector screen and don't need a stand. Just hang the screen on the side of your garage or home for an instant outdoor movie night.
If your family loves to hike and backcountry camp, you can also hang the screen from two trees by your campfire for a movie night under the stars. When you're ready to hit the trail, it easily folds into a pouch that's perfect for cramming into a backpack. P-JING makes this foldable outdoor movie screen in 120- and 150-inch 16:9 aspect ratio sizes.
7. Elite Screens Yard Master 2, 100-inch Indoor Outdoor Portable Fast Folding Projector Screen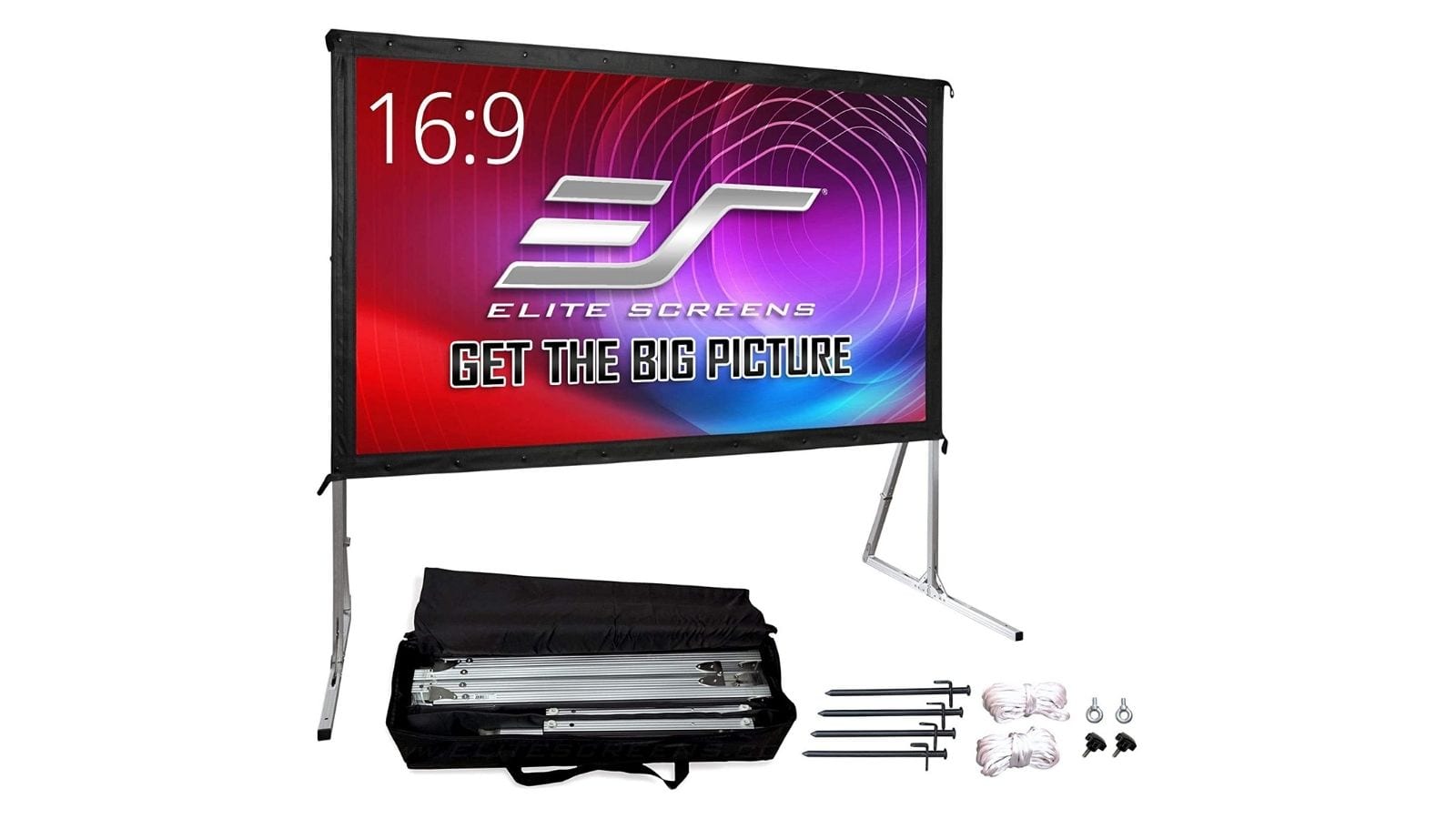 Nothing is cooler than watching a movie while swimming. One of the best themed parties I ever went to was a JAWS pool party with the movie playing on a huge outdoor screen and shark floats in the water. That exact theme probably isn't the best for the little ones, but something aquatic such as Finding Nemo or Moana would be super cute. And if someone decides to do an impromptu cannon ball, it's okay because the Yard Master is made from an outdoors-approved material that is durable 24/7, rain or shine.
8. Elite Screens Pull-Down Manual Projector Screen
If you have a place to hang it against a wall outside, this pull-down projector screen from Elite Screens is a great low-profile choice. A great bang for your buck, this projector screen comes in a variety of sizes and both 4:3 and 16:9 aspects. You can also adjust and lock the screen at a custom height with the auto-lock feature that allows you to control the viewing area of your outdoor movie screen.
9. Pyle 100″ Outdoor Portable Projector Screen with Triangle Stand
If you don't have a big backyard or a dedicated wall outside to project on, this large triangle movie screen from Pyle is a great alternative. The corner design and 16:9 ratio are perfect for a patio or a screened-in porch. It's big enough to impress your outdoor movie night audience, but just the right size for easy storage and out-of-the-way placement in a corner. It holds up well even in wind and is pretty simple to put together.
10. DR. J Professional Outdoor Movie Projector with 100-Inch Projector Screen Bundle
If the world of outdoor movie screens, inflatable projector screens, and movie projectors seems too expensive or just too complicated, it's time to step back and simplify. This super-affordable bundle comes with a basic 100-inch projector screen you can hang anywhere and a pretty good movie projector to show your movies with. It may not be the fanciest state-of-the-art outdoor movie screen experience, but it is a great starter kit with everything you need to host a successful backyard movie night.
11. Pottery Barn Steel Frame with Polyester Outdoor Movie Screen
For a sleek and minimal design, look no further than this portable, full-sized (112″ x 54″) steel frame outdoor movie screen sold by Pottery Barn. The weatherproof polyester screen is easy to set up or take down, meaning movie night can be any night. The steel frame and polyester screen weigh just 26 pounds and come with a zip-top bag for easy storage and portability.
How to Make Your Own Outdoor Movie Screen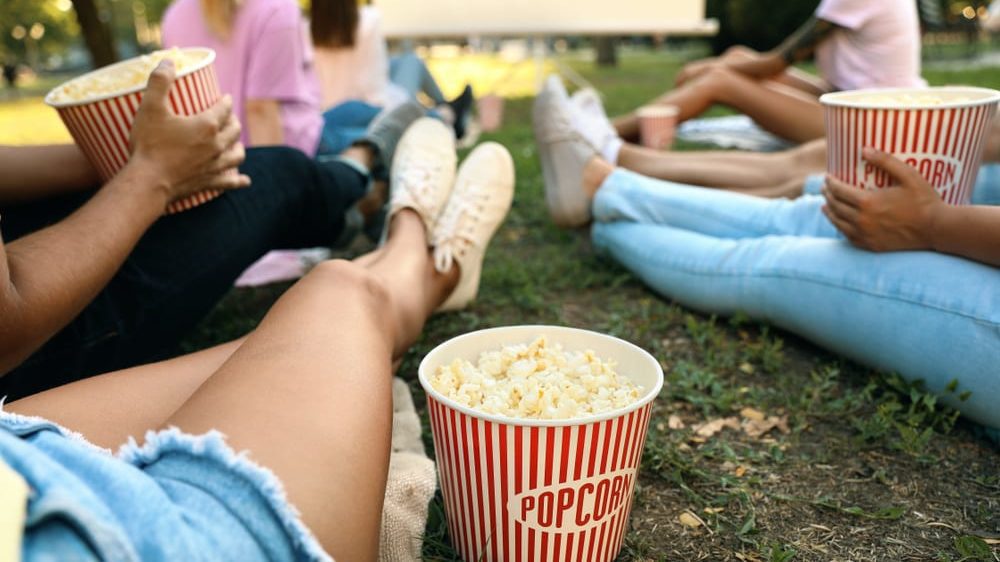 Even after considering the best pre-made projector screens available, you may still want to make a DIY outdoor movie screen. Maybe you have a very specific vision of what it should look like, or you're faced with a unique yard space that requires something a little more customized than the inflatable projector screens you can buy. The good news is that making your own theater-quality outdoor movie screen and frame is not difficult, even for a novice.
Building the big outdoor movie screen where you can project films will be the bulk of the project. First, you'll need to determine how you want the screen to function and how much you want to spend. From there, your DIY outdoor movie screen will start to take shape. Here are a few questions to consider before you begin.
Do you want to build a movie screen you can move easily, or do you want it attached to a wall or garage?
Do you want to use inexpensive wood or spend a bit more on PVC pipe for your frame?
Do you want to use a simple sheet or splurge for authentic movie screen material?
Easy DIY Movie Screen Instructions
The easiest way to build an outdoor movie screen is to stretch a rope between two trees. Attach hooks to the trees and tie one end of the rope to each. Make sure it's taut. Next, throw a white or light-colored sheet or drop cloth over the rope. Secure it at the top with clothespins and at the bottom with weights or stakes. Now all you need is a movie projector, HDMI cable, DVD player or streaming device (like an Amazon Fire stick), and a sound system. A Bluetooth speaker is great for outdoor use. Some projectors even come with wi-fi streaming built in.
Freestanding Outdoor Movie Screen Instructions
If your family movie night calls for a sturdier solution, build a freestanding frame for your outdoor movie theater. The best way to make a frame is either with wood 2x4s or PVC pipes. This project doesn't require specialized lumber, so you can use boards that you have hanging around your shop or garage, or buy inexpensive 2x4s at the hardware store.
Pro tip: Using PVC lets you take the frame apart for easier transport and storage.
Regardless of which material you choose, you'll build a frame and attach it to foot pieces for stability. The goal is to basically make a rectangle with (ideally) a 16×9 ratio, though it makes sense to build your frame to match the dimensions of whatever material you've selected for your outdoor movie screen.
First, you'll need two vertical pieces of wood or PVC. A footer of some sort will allow the frame to stand up on its own. Some ideas include:
A footer made from PVC pipes and PVC connectors
Two planters or buckets filled with concrete or soil
Thin, flat boards affixed to the vertical pieces using corner brackets.
Once you have your vertical pieces secured, run horizontal pieces between the two. If using PVC, secure the assembly with connectors; if you're using wood, screws or nail will work best. Glue won't be strong enough to hold the outdoor screen.
The next step is to step add a screen. You can use many things, such as:
Attaching the material can be as simple as using a staple gun or running bungee cords through grommets on a tarp. If you plan to use projection screen material, you might consider making a slightly smaller wooden frame. Attach the screen material directly to the smaller frame, then hang it from hooks drilled into the larger frame.
The beauty of a freestanding design is it's easy to take down when your family is done watching your favorite films outdoors.
Wall-Mounted Outdoor Screen Instructions
If you have lots of outdoor space, a large screen hung from a wall can be a good option. By having a dedicated place for an outdoor screen, family movie nights will be easier than ever.
It's really simple to create this style of outdoor theater. One way to do it is to simply screw sturdy hooks into an eave (the area that extends out from the house and sits directly behind the gutter). Next, make a screen using a large piece of the canvas by sewing a casing along the top edge of the fabric. Insert a long dowel rod or piece of PVC pipe through the casing, then attach cinch straps to the rod and thread a D-ring through the strap. Hang the D-ring from the hooks you placed in the eave. And voilà! You have a place to watch movies outside!
You could also make a rectangular frame using PVC pipes and connectors, attach your movie screen material to the frame (bungee balls are perfect for this), and then hang your screen from the hooks mentioned above. Now all that's left to do is run an extension cord to a projector and decide if you want to watch a DVD or something on your favorite platform using a streaming stick. Don't forget the popcorn and comfy lounge chairs!
Frequently Asked Questions about Outdoor Movie Screens and Movie Projectors
1) What kind of projector do I need to watch movies outside?
While it's possible to use any projector to watch movies outside, your primary consideration should be the projector's lumens. Lumens are a measure of the brightness of the projector. You'll need a projector that puts out at least 800 and preferably 2,000 or more lumens.
Because you'll need a movie projector that puts out a good deal of light, pocket-sized models and some of the more lightweight portable projectors aren't the best options for showing movies outside. Some projectors can cost thousands of dollars, but models like the GooDee G500 movie projector offer all the right features at a far more affordable price point.
You should also consider how the projector will be powered and connected to your devices. If you want to limit the number of cords required, consider something like the LG PF50KA Portable Full HD LED Smart Home Theater CineBeam Projector that's truly portable.
2) Can all movie projectors be used outside?
Technically, yes. Any movie projector can be used outside during good weather. When the film is over, you'll need to bring the projector inside to protect it from the elements. Even if your screen is weatherproof, it's probably a good idea to bring the screen inside during the winter or severe weather, too.
If you want to create a permanent outdoor movie theater, you'll have to weatherproof your equipment. A professional A/V installer can guide you in this process.
3) How much does an outdoor movie screen cost?
Outdoor movie screens vary in cost depending on the size and material they're made from. A very good inflatable movie screen will cost you under $200. A high-quality flat projector screen with a stand costs around $120. A basic projector screen that you can attach to a wall costs just $30.
4) How big should an outdoor movie screen be?
The most important thing to consider about the size of an outdoor movie screens is where the audience will be sitting. Seating should be within an area that's no more than four times the screen height. Once you know the height, consider the aspect ratio to determine the width.
The aspect ratio is the ratio of the screen's height to its width. Today's most common aspect ratio is 16:9, which means the picture is 16 units wide for every 9 units in height. So, if your screen is 10 feet high, multiply 10 by 16 and divide it by 9 to find the ideal width.
5) What is the best material for an outdoor movie screen?
A sheet, a drop cloth, or even the side of your house or a garage door are all good options for a very basic outdoor movie screen. However, the best material for watching movies outside is a dedicated projector screen like you'd find in a movie theater. That's because projector screens reflect light equally in all directions.
The projector screen's gain, or measure of reflectively, makes the image you're seeing appear brighter for a better viewing experience. A 1.2-gain screen is 20 percent brighter than a 1.0-gain screen and so forth.
6) What can I use if I don't have a projector screen?
It's perfectly okay if you don't use a professional quality movie projector screen! You can make a DIY projector screen or even use the side of your house to project movies. Build a frame using PVC pipe or wood and stretch a piece of canvas or a white bedsheet across the frame. It's really that simple to make your own projector screen that will bring your family and friends hours of entertainment.
7) How many lumens do you need for an outdoor projector?
Even though it's dark outside, it's not pitch black. There's ambient light from other homes, the moon, streetlights, and other sources. That's why you'll need a projector with the power to shine brighter than those other light sources.
For the best quality image, you should look for an outdoor projector with at least 800 lumens. Those with at least 2,000 lumens (more is always better) will provide a high-quality viewing experience.
More from FamilyVacationist: