One of the most exciting yet stressful steps in planning your Disney vacation is deciding which Disney World restaurants to eat at. With hundreds of must-eat Disney World restaurants (and other dining locations around the Orlando theme parks and Disney World hotels), Disney World dining is a far more complicated process than you may initially realize.
While one strategy would be to wing it and decide where to grab breakfast, lunch, and dinner once you're inside the parks, doing so would almost certainly mean missing out on some seriously cool Disney World dining experiences. For many fans, the best restaurants in Disney World are as big a draw as the rides, character experiences, and special theme park perks.
Whether you're looking for a character dining experience or a signature dining experience at one of the best restaurants in Disney World, there's a special sit-down restaurant for you. And with everything from a standard cheeseburger joint to AAA Five Diamond Award-winning dining experiences, Disney World's parks and hotels cater to a wide variety of palates and budgets.
DISNEY WORLD DINING: 11 Best Disney World Foods and Where to Eat Them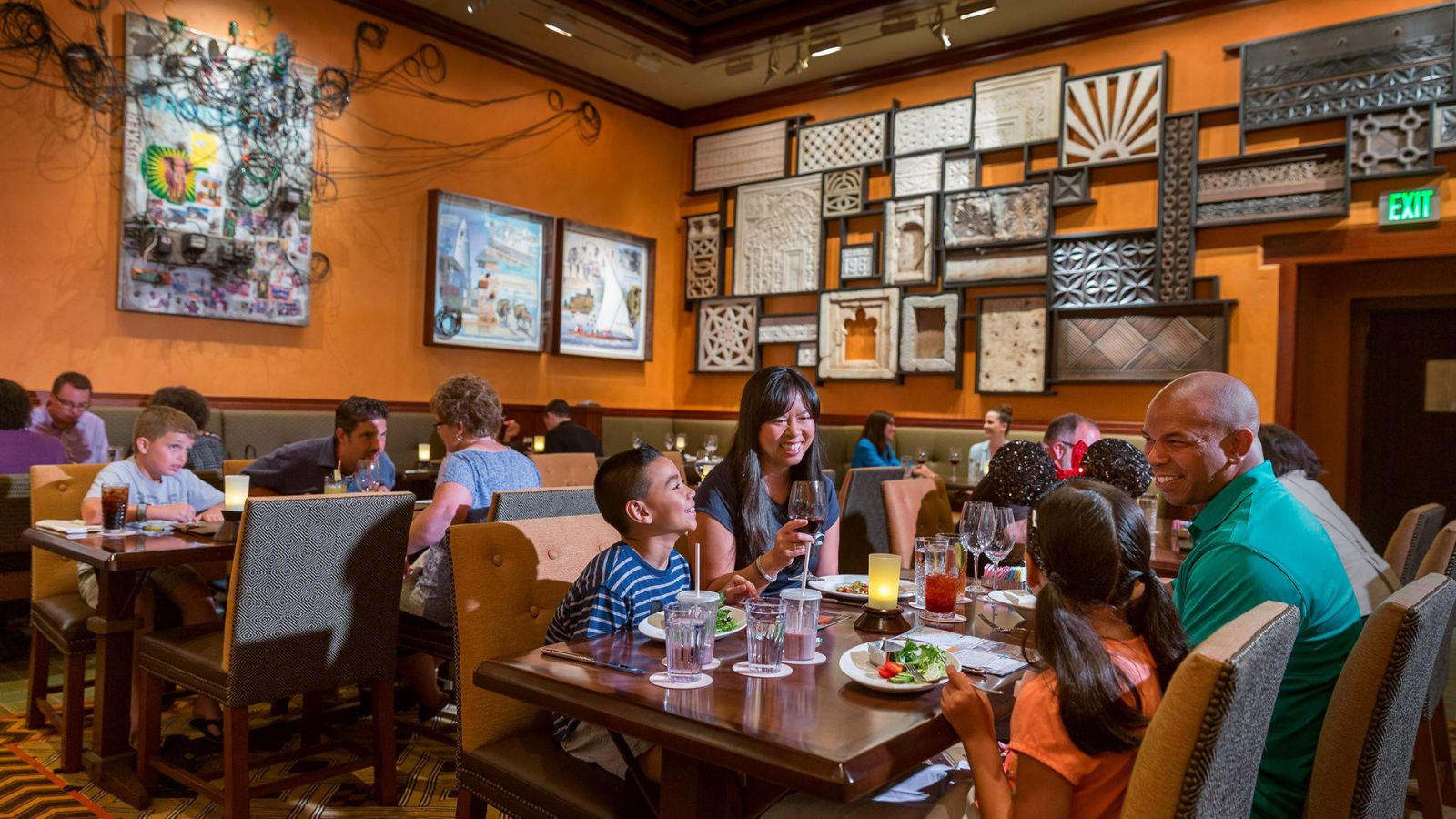 Disney World Dining Guide: Where to Eat and How to Reserve Restaurants at Disney World
If you've decided to include a few of the top Disney World restaurants into your upcoming vacation, the next step is to mark your calendar and set your alarm, because getting restaurant reservations are going to be key in making sure you can actually get Disney World dining experience you're hoping for.
While you may be able to book a reservation at your favorite local restaurant a few days out, the same cannot be said for most Disney World restaurants. Many (in fact, most) are in extremely high-demand throughout the year, so no matter when you choose to visit Disney World, your dining reservations are not something you can leave until the last minute.
At Disney World, you can begin to book your advance dining Reservations 60 days prior to your arrival at the park. When your dining reservation window opens up, you can book restaurants for the entire length of your trip, or up to 10 days, whichever is shorter.
ULTIMATE GUIDE: Everything You Need to Know About Disney Genie and Genie+
Disney World dining reservations can be booked on Disney World's website or through the My Disney Experience app. You can also book reservations over the phone. Reservations at Disney World restaurants open up early each morning, typically right around 6:00 a.m. (though if you want to err on the side of caution, you can start refreshing your page a little before 6:00 a.m.). Setting your alarm for an early wake-up call is going to be necessary if you want reservations for the most hard-to-get Disney World restaurants. For Disney Springs restaurants, you can also check for availability though OpenTable, as many of these locations are run by third parties.
Some Disney World dining reservations are going to be harder to get than others. Typically, character dining, signature dining, and new restaurants are among the most challenging reservations to get at Disney World. But if you're visiting during a busy time of the year, such as during the Christmas vacation period or over spring break, then you may find that all sit-down restaurants inside Disney World are going to be hard to get without booking exactly 60 days in advance.
It's always a good idea to have backup choices ready in case your top Disney World restaurants are not available. Having a backup reservation is better than having no reservation at all, and if a reservation at your preferred Disney World restaurant opens up you can always cancel your original one. (Speaking of reservations popping up, keep checking Disney's website before your trip, because other people's itineraries and plans may change. While they can never be counted on, last-minute reservations at Disney World restaurants are not entirely unheard of, even at some of Disney's most popular dining spots.)
How to Choose the Best Disney World Restaurants for Your Vacation
Before deciding which Disney World restaurants should top your must-eat list, consider the following factors. Do you want a fireworks view? Do you want to dine with characters? What sort of theme would your family enjoy? What budget do you have set aside for food? What kind of dietary restrictions or allergies does your party have?
BUDGET TRAVEL: 9 Cheap Theme Park Hotels in Orlando Near Disney, Universal, and SeaWorld
The answers to these questions can help you narrow down the list of restaurants at Disney World that will be the best fit for your family. Disney World's website also lists the menus for every single sit-down restaurant within the parks. Take a look to see what each restaurant serves and at what price range.
With these factors in mind, here are our picks for the best sit-down restaurants at Disney World, including Magic Kingdom, EPCOT, Disney's Animal Kingdom, Disney's Hollywood Studios, Disney Springs, and even a few of the Disney World hotels around the resort.
The Best Disney World Restaurants at Magic Kingdom
Be Our Guest Restaurant
Disney World's Beauty and the Beast-themed restaurant, Be Our Guest, is a must-eat dining location at Magic Kingdom. The atmosphere is an Imagineering masterpiece with the iconic ballroom from the film brought to life. Be Our Guest is considered a signature dining experience, meaning you'll be shelling out more cash for a prix fixe menu with selections including Center-cut Filet Mignon and Poulet Rouge Chicken. Though it's not technically considered a Disney World character dining experience, the Beast does appear inside the restaurant as he makes his way to a designated meet-and-greet spot exclusive to restaurant guests.
Cinderella's Royal Table
Dining at Cinderella's Royal Table is a must if you have little ones who are big into the Disney princesses. This Disney World restaurant is nestled inside Cinderella's Castle and features a signature prix fixe menu. The big draw here are the princesses, but the food is also pretty decent (albeit on the higher end of the price scale). If you want to save a few bucks, opt for a breakfast reservation over lunch or dinner. You'll still get the same dining experience with all of the same princesses.
Liberty Tree Tavern
Don't feel as though you have to shell out a ton of cash to dine at one of the best restaurants in Magic Kingdom. Lower-priced Liberty Tree Tavern is just as good as some of the more expensive options. This New England-style restaurant, located in Liberty Square, serves up a family-style "Patriot's Platter," which is basically all of the fixings you can expect to find in a traditional Thanksgiving Day dinner. Another bonus of eating here: You're likely to find plentiful dining slots when you're making a reservation.
Jungle Navigation Co. LTD Skipper Canteen
If you're feeling a little more adventurous, consider looking into the mouthful that is Jungle Navigation Co. LTD Skipper Canteen (or Skipper Canteen for short). Located in Adventureland, this Jungle Cruise-themed restaurant comes with all of the usual banter you would expect from the neighboring ride's Skippers, along with a menu that includes unique dishes like Char Siu-marinated Pork, Crispy-fried Chicken with Sweet Chili Glaze, and Curried Vegetable Crew Stew.
The Best Disney World Restaurants at EPCOT
Le Cellier Steakhouse
Picking one "best" restaurant in EPCOT's World Showcase is like choosing the best ice cream flavor. It's impossible—there are too many great options. That said, none are quite as popular or widely beloved as Le Cellier Steakhouse in the Canada Pavilion. Le Cellier has long been a tough dining reservation to grab, but for good reason: Savory cuts of steak are plentiful in this cozy château cellar. If you want to experience the best of the best when it comes to EPCOT dining, Le Cellier is a safe bet.
Other fantastic sit-down dining options around World Showcase include Rose and Crown Dining Room in the U.K. Pavilion, Tutto Italia Ristorante in the Italy Pavilion, and Biergarten in the Germany Pavilion. If you're looking for character dining, you can meet the princesses at Akershus Royal Banquet Hall in the Norway Pavilion.
Space 220
Located right next door to EPCOT's Mission: SPACE attraction, Space 220 is an out-of-this-world Disney World dining experience that brings you 220 miles above EPCOT to the Centauri Space Station. Here you'll order from a space-themed prix fixe menu with items like Blue Moon Cauliflower, Galactic Salmon, and Neptune Tartare.
From a pricing standpoint, Space 220 falls in line with Be Our Guest and Cinderella's Royal Table in that the cost of dining here does not lend itself to multiple visits. But if you're curious to see what eating at a virtual space station would be like, this is a stellar (pun intended) restaurant to dine at (There's also a Space 220 Lounge located near the bar area with its own a la carte menu at much lower price points.)
The Garden Grill Restaurant
Looking to dine with Mickey? Look no further than Garden Grill at EPCOT. You may recognize this as the "spinning" restaurant located in The Land Pavilion, where diners get a balcony view of the park's Living With the Land attraction. The menu at this Disney World restaurant is pretty simple, with a family-style "Harvest Feast" that includes crowd pleasers like chicken, mashed potatoes, and macaroni and cheese. But sometimes simple is best, and this under-the-radar dining experience is one of the best restaurants at Disney World if you're vacationing with toddlers or young kids.
The Best Disney World Restaurants at Disney's Hollywood Studios
Roundup Rodeo BBQ
Pixar fans, this is the Disney World dining experience for you! Located in the Toy Story Land area of Disney's Hollywood Studios, the full-service Roundup Rodeo BBQ features (you guessed it) barbecue-inspired food in a Toy Story-inspired setting. Surrounded by Andy's rodeo, you'll experience life as one of Andy's toys while dining on house-smoked vittles served family style.
Hollywood Brown Derby
The signature Disney World restaurant at Hollywood Studios is The Hollywood Brown Derby. Inspired by the famed Brown Derby in Hollywood, California, this restaurant is home to the famous Cobb Salad. There are other great options here, too, including Filet Mignon, Braised Short Rib, and Duck à l'Orange. There's also an adjoining Brown Derby Lounge with a variety of cocktails as well as a limited selection of entrees, including the aforementioned Cobb Salad.
Sci Fi Dine-In Theater
Hollywood Studios is also home to some truly one-of-a-kind Disney dining experiences, and at the top of that list is the park's Sci Fi Dine-In Theater. Guests are seated in old-fashioned car-shaped booths that are arranged in such a way that you get to dine while watching sci-fi clips on the big screen, just like you're at a drive-in theater. The restaurant gets big points on the environment, and this is definitely the kind of meal where you're there for the experience.
50's Prime Time Café
Kitchy is definitely the best way to describe 50's Prime Time Café, where it feels like you've just stepped into your grandmother's kitchen. The menu is filled with homestyle favorites like Aunt Liz's Golden Fried Chicken, Mom's Old-fashioned Pot Roast, and Cousin Megan's Traditional Meatloaf. And, just like any family dinner, the antics provided from the servers are at an all-time high. Make sure your elbows are off the table!
Hollywood & Vine
If you're looking for character dining at Hollywood Studios, you'll want to book a reservation at Hollywood & Vine. Here, you'll get the chance to say hi to Minnie and her friends during lunch and dinner (the theme of the restaurant and character outfits changes seasonally), or you can meet characters from Disney Junior shows during breakfast. This is one of the Disney World restaurants that offers buffet-style dining for all three meals.
The Best Disney World Restaurants at Disney's Animal Kingdom
Tiffins
If you're in Disney's Animal Kingdom and you're looking for signature dining, your only option is Tiffins. But don't let that lead you into thinking the park is lacking for deluxe dining. Tiffins features a globally inspired menu with dishes like Tamarind-braised Short Rib as well as Surf and Turf, with menu enhancements including Gobi Manchurian and Lobster Mac and Cheese. If you can't get a dining reservation at Tiffins, head next door to Nomad Lounge for some small bites and cocktails.
Yak & Yeti
For pan-Asian cuisine at Disney World, consider Yak & Yeti as your sit-down restaurant choice when you visit Animal Kingdom. It's also a good bet for families with picky eaters, as this Disney World restaurant also offers kid-friendly meals like macaroni and cheese and chicken tenders. Yak & Yeti is owned by Landry's, the company behind Rainforest Cafe. If you happen to be a member of Landry's membership program, you can use your rewards at this location for perks like priority seating and birthday rewards.
Tusker House
Tusker House in Animal Kingdom is a buffet-style character dining experience. Mickey, Donald, and their friends are dressed in fun safari-themed outfits, and the buffet offers a nice variety of food choices from traditional entrees to African-inspired options like Moroccan-spiced Beef and Cape Malay Green Curry Shrimp. Tusker House is also open for breakfast, which also includes character dining but at a slightly lower price point.
The Best Disney World Restaurants at Disney Springs
Morimoto Asia
There are many wonderful sit-down restaurants in Disney Springs, which is Disney World's shopping and dining district. But for signature dining, it's hard to beat Morimoto Asia. Owned by famed Iron Chef Masaharu Morimoto, this Disney Springs restaurant packs a punch with a wide selection of dishes. Morimoto Asia has a different menu for lunch and dinner. For a more budget-friendly option, there's Morimoto Asia Street Food, a counter-service eatery with ramen and other small bites.
Wine Bar George
Chef Art Smith's Homecomin'
If traditional Southern comfort food is your cuisine of choice, then Chef Art Smith's Homecomin' should be one of your Disney World restaurants of choice. You simply can't go wrong with Art's Famous Fried Chicken, Shrimp & Grits, or Fried Catfish. The restaurant also boasts a menu full of different moonshine-based cocktails. And like Wine Bar George, Homecomin' is a great brunch option.
Those in the know will tell you that the best place to grab a bite to eat and a glass of wine in Disney Springs is Wine Bar George. Owned by Master Sommelier George Miliotes, this restaurant has a relatively simple food menu, but it leaves a lasting impression. Choose from small bites like Crispy Mac & Cheese Bites or Burrata, or go all-out with entrees such as Grilled Ribeye or Bell & Evans Chicken Breast. The big draw here is, of course, their large wine selection. There's also brunch service on the weekends.
Raglan Road Irish Pub and Restaurant
For a sit-down restaurant at Disney Springs that's sure to please everyone in your group, look no further than Raglan Road Irish Pub. This energetic pub hosts nightly live music and Irish step dancing, all while you dine on a menu that includes traditional Irish fare like Fish & Chips, Bangers & Mash, and Shepherd's Pie, plus crowd pleasers like burgers, chicken, and salmon dinners.
Honorary Mentions: T-Rex and Rainforest Cafe
If you're traveling with young kids, they'll likely spot the beckoning calls of the erupting volcano outside Rainforest Cafe or the dinosaur bones outside of T-Rex. Both restaurants offer essentially the same experience: loud animatronic animals and food that is nothing to write home about, but gets the job done. Both Disney Springs restaurants also give the little ones plenty to look at, but if you think they'll be satisfied eating elsewhere you may want to use your precious dining reservations at Raglan Road, Homecomin', or other kid-friendly restaurants in Disney Springs like Splitsville or Paradiso 37.
The Best Disney World Restaurants at Walt Disney World Resort Hotels in Orlando
California Grill at Disney's Contemporary Resort
With its location on the fifteenth floor of Disney's Contemporary Resort, you could easily make the argument that California Grill has the best views of any restaurant in Disney World. Floor-to-ceiling windows overlook Magic Kingdom, and an outdoor terrace is available nightly for guests of the restaurant to watch the fireworks. Whether you're visiting Disney World for a honeymoon or anniversary or you just want to cap off your vacation in a truly special way, there are few Disney World restaurants on property that can come close to matching California Grill's views and fine dining.
'Ohana at Disney's Polynesian Village Resort
One of the most highly sought-after Disney World dining reservations is for 'Ohana. Located at Disney's Polynesian Village Resort, this has been a fan favorite for decades. In the morning, you can dine alongside Lilo and Stitch in a family-style character breakfast. In the evening, enjoy a family-style dinner service with deliciously spiced beef, shrimp, and chicken, along with the restaurant's signature noodles. 'Ohana continues to be a tough reservation to grab year after year, so if this is on your must-eat restaurant list, be sure to book it early.
Topolino's Terrace – Flavors of the Riviera at Disney's Riviera Resort
You can have a character dining experience at Topolino's Terrace, which opened at Disney's Riviera Resort in 2019. Enjoy "Breakfast à la Art" with Mickey and friends dressed in outfits you'll only find at Topolino's Terrace. Dinner does not include characters, but does come with a signature menu featuring hand-crafted pastas, along with Mediterranean-inspired meats and seafood. Like California Grill at Disney's Contemporary Resort, Topolino's Terrace offers sweeping views of the surrounding Disney World Resort.
Sanaa at Disney's Animal Kingdom Lodge
Another of the best Disney World restaurants with a view is Sanaa at Disney's Animal Kingdom Lodge, though it might not be the resort view you're expecting. This table service restaurant is nestled within the resort's Sunset Savanna, meaning you'll be able to dine on African- and Indian-inspired cuisine while animals roam by in the distance. It's a great way to see some of the animals that call Disney World home without a park ticket.
The menu might be a little on the adventurous side if you're traveling with picky eaters, but if you're up for trying something new, you might discover your next favorite restaurant in Disney World. Reservation times are also typically easier to come by for Sanaa than at some of the other Disney World sit-down dining locations.
More from FamilyVacationist: