It's easy to think of New Orleans as a place for more adult fun, but a trip to New Orleans with kids gives a new perspective on the Crescent City. With a deep and complicated history of colonialism and resistance, climate change and natural beauty, and art and culture, families will leave New Orleans with a new understanding of the beautiful people and place that persist, despite challenge upon challenge. Here's a New Orleans itinerary for a long weekend that's sure to please kids and adults.
MAKE MEMORIES: 50 Best Family Vacation Ideas for a Trip They'll Never Forget
New Orleans Three-Day Family Itinerary
Day 1
A Guided Tour and Park Time
Start your visit with a half-day guided tour of the city. Great options include All Bout Dat Tours or a private guide like Quay. Taking time on the first day to explore with a local gives you an overview of what will appeal most to you, and you can decide from there where you want to focus your efforts.
FAMILY FUN: 22 Best Family Vacation Spots in the U.S.
After getting a sense of the city, head to City Park for a bit of relaxation. You can rent a bike for one, two, or four in this refuge, or even take a boat ride on Big Lake—Wheel Fun Rentals has it all. The New Orleans Museum of Art, located in the park, hosts exhibitions of both local and international artists and is worth a stop. If you have little ones, the super-toddler-friendly Storyland will keep everyone entertained. To close out your time in the park, treat yourself to the City Park outpost of Cafe du Monde which is every bit as delicious but minus the crowds of the French Quarter location.
Day 2
Whitney Plantation and Bayou Tour
Reserve ahead for a walking tour (or opt for the outstanding audio tour) of the Whitney Plantation, a half-day excursion that will help your family understand the experience of enslaved people over hundreds of years in Louisiana. You'll also learn how their perseverance and generational knowledge led to the blending of cultural traditions and seed the magical artistry, culture, and music of modern New Orleans. A trip to the Whitney Plantation will give context and deeper appreciation for what you have already seen and what you plan to see back in NOLA. 
COUPLES RETREAT: 12 Best Vacation Spots in North America for Couples This Year 
Many visitors (and tour companies) pair an outing to the Whitney Plantation with a trip to the Mississippi Delta/Louisiana Bayou. Doing so allows you to spend a half-day out of town in and around Jean Lafitte National Park; make a stop at the Barataria Preserve Visitors Center on your way to the must-do Swamp AirBoat tour (we loved Captain Matt). You'll learn not only about the local wildlife (including an up close with alligators) but also about how increasingly strong hurricanes are dramatically altering the Louisiana coast.
Day 3
New Orleans Neighborhoods and Sights
Back in New Orleans, use your last day to take in anything you want to learn more about. Families may enjoy a stroll through French Quarter, particularly the shops of Royal Street, where adults and kids can marvel at unexpected delights such as glass chandeliers, extravagant wigs, and marching bands that close the streets. Along the way, Cafe Beignet is not only a place to eat but a destination unto itself.
MORE NOLA FUN: 11 Super Family Friendly Things to Do in New Orleans
To both support local artists and find your kitsch tourist trinkets, enjoy a stroll through the covered French Market, and end your walk with a peek over the banks of the Mississippi River to see how nature and industry tenuously coexist; the Steamboat Natchez is worth an up close look, even if you decide not to take a riverboat ride.
Throughout the Quarter and its surrounding Marigny and Treme neighborhoods, you'll come to learn how African, French, Spanish, and Caribbean cultures and languages impacted every element of the city, from the architecture to the drinks, the music to the laws.
In the nearby Bywater neighborhood, check out Studio Be to learn about local graffiti artist, Brandan "BMike" Odums, and stop in the Backstreet Cultural Museum near Louis Armstrong Square to get a sense of the city's rich history through art.
On the west side of the French Quarter, you'll find Audubon Park and Zoo, Tulane and Loyola Universities, and the must-ride St. Charles Street Car. $1.25 ($.50 for kids) one way will allow you to bounce in an old-time electric street car through the tree-lined streets of several neighborhoods; you can open the windows wide and take in the sights and sounds of residential New Orleans (look up in the trees to find beads scattered throughout town!).
Where to Stay in New Orleans
From quaint, storybook Victorian inns, some boldly advertising their haunted halls to big name hotels, there's a lodging option for every taste and budget in New Orleans. Here are some family-friendly hotels in New Orleans worth a look:
For Music Lovers: If you have truly come for the music, stay near Frenchman Street; even better, settle in at the Royal Frenchman Hotel and Bar which boasts live performances every night, free breakfast, and family-friendly rooms. 
For NOLA Cool: Just for blocks to the west of the French Quarter, the Old No. 77 Hotel and Chandlery has tons of charm and is home to the delicious Compere Lapin (see below); with exposed brick in rooms and an art gallery on the main floor, this well-located spot is ideal for hip families (be sure to ask for a room on the second floor or above). 
For Classic New Orleans: For the consummate New Orleans decor, stay in Uptown just steps from the St. Charles Street Car at the Park View Historic Hotel and Guest House where free breakfast and parking along with wifi, soundproof rooms and suites, and air conditioning will ensure a comfortable stay for all.
PACK WELL: 11 Stylish Luggage Brands Built to Last
Where to Eat in New Orleans with Kids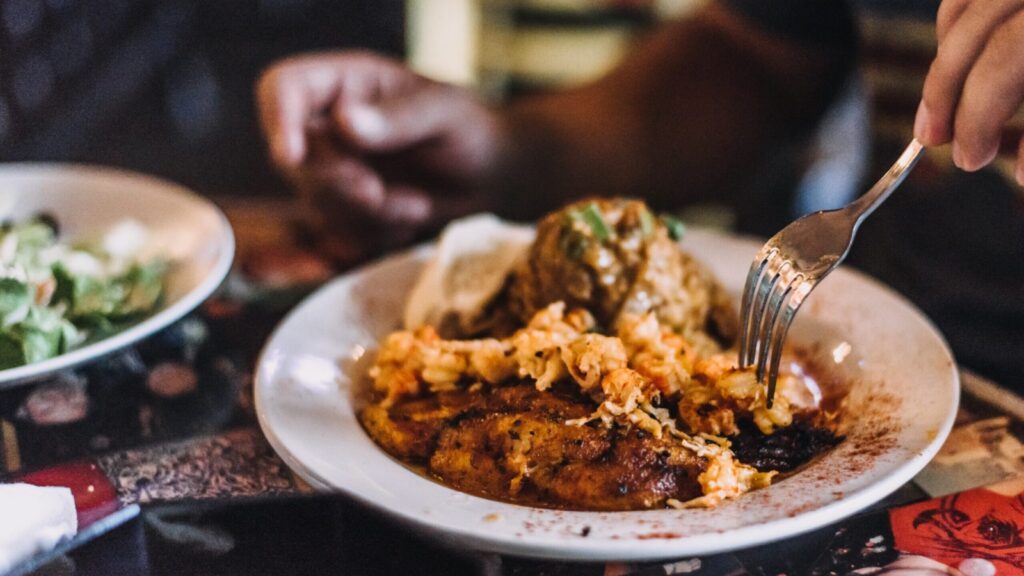 Of course, one of the reasons you are going to New Orleans is to eat like royalty, and the city doesn't disappoint. [If you are vegetarian or vegan, you'll need to do a tiny bit more planning, but you can still enjoy.] So, the question is WHERE?! given the few meals you have there. Here are some great family-friendly spots to choose from:
Getting to and Around New Orleans
Louis Armstrong International Airport is a spacious, welcoming, easy-to-navigate airport located just 25-minute drive from center city New Orleans.
Renting a car is easy, and parking in most parts of the city is no problem (many locals told us there has been no parking enforcement in the residential neighborhoods since Katrina); that said, you definitely do NOT need a car, and it may end up proving more expensive to have one.
New Orleans is a super walkable city because of how flat it is, and when you don't feel like walking, there are many links among the streetcars, readily available bikes to rent around town, a regional transit system, and of course, (reasonably priced compared to other cities) Uber and Lyft.
CRUISE TIPS: Everything You Need to Know About River Cruises in the U.S.
Both Bayou and Whitney Plantation tours often include transport from many city locations, and it doesn't impact the price significantly; in fact, some tour companies will bundle these two together for a full day outing. Whatever your preference and budget, New Orleans is an easy-to-navigate city.
Why Take a Family Trip to New Orleans?
The pairing of such rich and complicated history with the inspiring cultural (and natural) experiences in and around New Orleans made our family trip there one of the most memorable we've ever had. Our encounters with powerful music, exquisite art, painful history, and rare natural beauty led to deeply engaging dinner conversation; kids of all ages will notice the contrast of elegance and opulence with the challenges that both the city and its people have endured. When you dive deep into the intensity of New Orleans, everyone in your family will be rewarded.
More from FamilyVacationist: