From action-packed cities to freshwater beaches and outdoor escapes, the Midwest is bursting with some of the top family vacation spots in the country. And whether you're planning a trip with a little one, traveling with moody teenagers, looking for a multigenerational family vacation with grandparents, the best Midwest vacations offer something for all ages and interests.
The Best Midwest Vacations for Families
What's there to do on Midwest family vacations? How about mind-blowing playgrounds, fireworks, aquariums, water parks, and model trains, just for starters. These trips offer a great way to help the next generation fall in love with the Midwest and create new family memories.
GO WEST: 7 Best West Coast Vacations for Families
1. Chicago, Illinois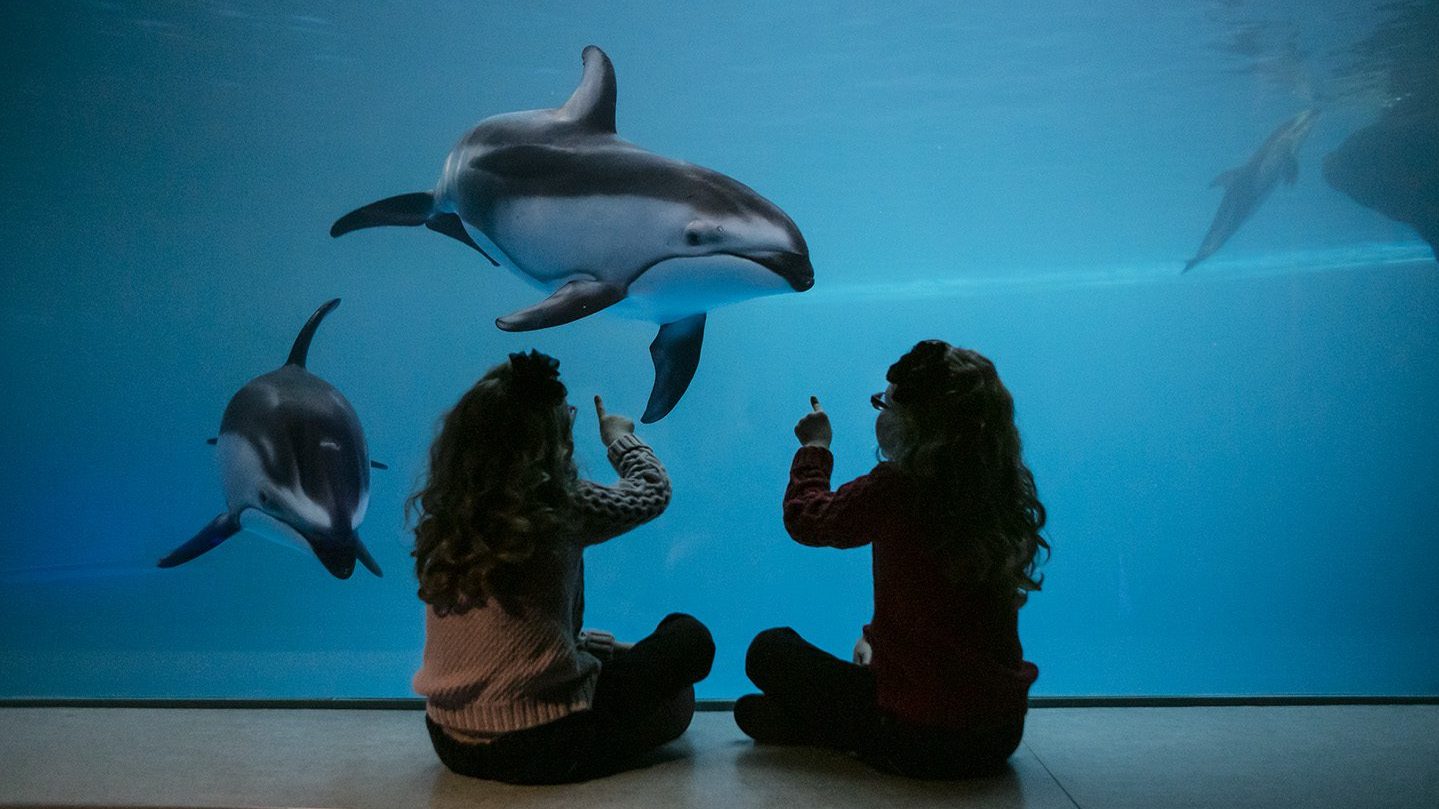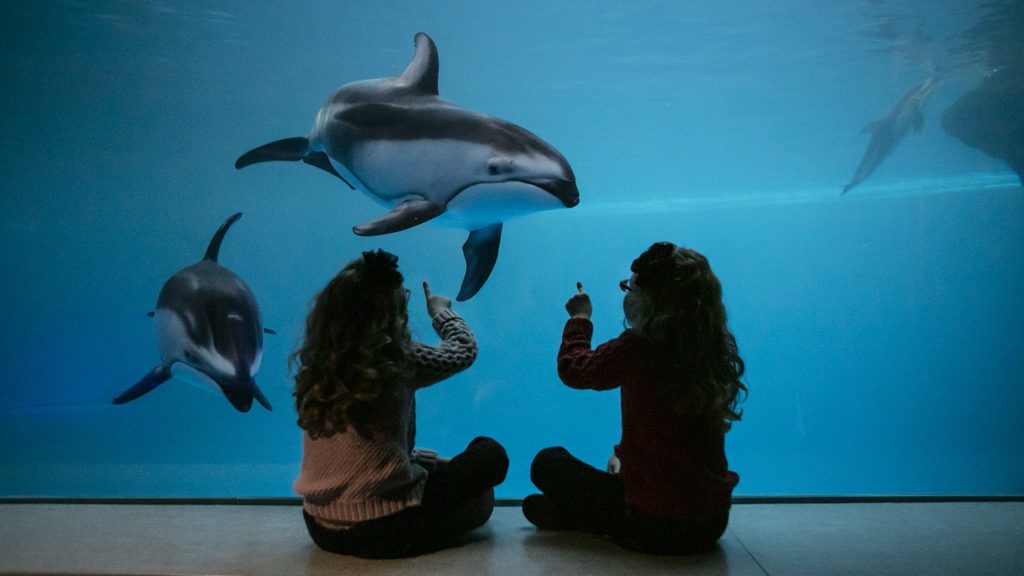 Chicago is widely recognized as one of the best spring break destinations for families, but the truth is it's great any time of year. With numerous diverse neighborhoods, world-class museums, exceptional dining, exquisite architecture, and oodles of things to do, you should never hear your children say they're bored in Chicago.
HIT THE ROAD: The Best Midwest Road Trips for Families
Maggie Daley Park is free and arguably one of the best playgrounds in the U.S., and a place your kids will excitedly run around for hours. With climbing towers, innovative slides, saucer swings, a skating ribbon, and mini golf, this 20-acre park is set amongst the beautiful backdrop of downtown skyscrapers near Lake Michigan. Millennium Park is also close for pictures of your family at The Bean or splashing in the fountain towers, a perfect way to cool off on a hot summer vacation day.
Lincoln Park Zoo is free and perfect for those who go wild for wildlife. Families love Navy Pier. Take a spin on the Centennial Wheel, watch the free fireworks show, go on a boat tour or visit the Chicago Children's Museum. See if you squeal as you lean out over 1,000 feet above the Magnificent Mile on TILT, the unique 360 CHICAGO way of taking in the skyline. The Forge: Lemont Quarries, 22 miles southwest of the city, is an outdoor adventurer's dream with ziplines, climbing towers, biking, ice skating, laser tag and more. Take advantage of snow globe dining if you go for a winter vacation.
From the Shedd Aquarium to the Museum of Science and Industry, there is fun (and learning, shhh) to be experienced all around. Broadway in Chicago offers opportunities to see incredible shows, like Disney's FROZEN. And in winter, I highly recommend a visit to the Christkindlmarket and Lincoln Park Zoo's ZooLights. In summer, you can take Fireboat or architectural boat tours.
Where to Stay in Chicago
For overnights, wow your family with a stay at the exquisite Waldorf Astoria Chicago. Not only will you feel pampered from the moment you enter, but you'll be within walking distance of the Magnificent Mile for shopping and the Gold Coast for great restaurants. Another fun option is the Snowed Inn in-room tent and campfire playset for kids offered by the Loews Hotel Chicago. My daughter loved it so much, she slept in the cozy play tent that night.
2. Lake Geneva, Wisconsin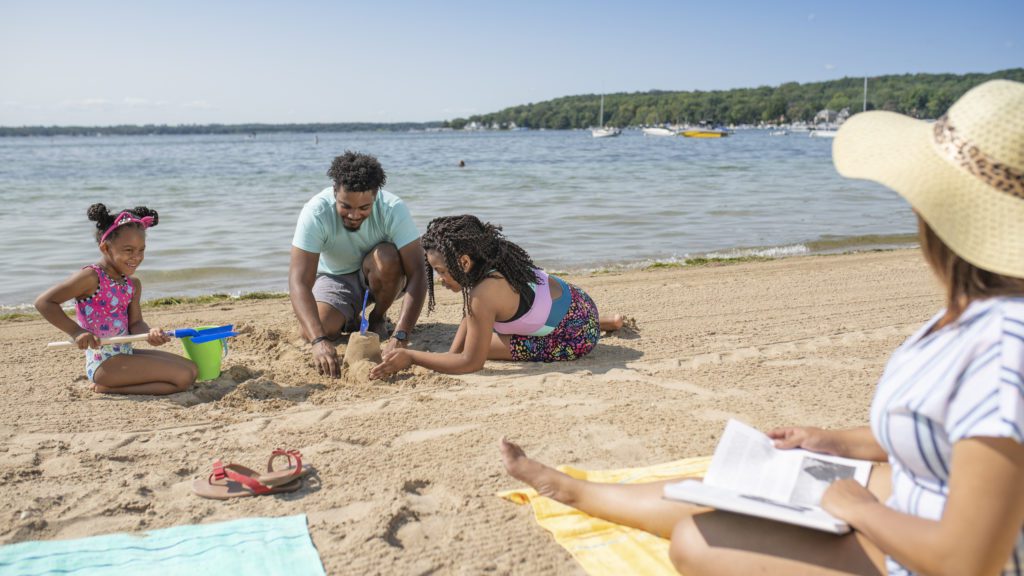 Lakes, historic mansions, and a charming downtown with a shoreline walking path make Lake Geneva, Wisconsin, a fabulous Midwest vacation destination year-round.
MAKE MEMORIES: 50 Family Vacation Ideas for a Trip They'll Never Forget
In summer, Geneva Lake, Lake Como, and Delavan Lake are lovely places to rent a boat, swim, tube, or sun the day away. It's also the perfect time of year to explore nature at Big Foot Beach State Park or Kishwauketoe Nature Conservancy, or get your thrills at Lake Geneva Ziplines, which also offers a heart-pounding high ropes challenge course and mountain biking.
In winter, Ice Castles dazzle visitors with frozen creations bedecked with sparkling lights starting in January. Winterfest means hovercraft rides on a frozen lake and bonfires on the beach the first weekend in February. You'll also find many cozy options for heated igloo dining during winter.
Where to Stay in Lake Geneva
The Grand Geneva Resort and Spa is an exceptional place to stay, with lavish buffets, golf, skiing, and a spa. Adventure Center at Grand Geneva offers archery, disc golf, scooter rentals and more. Timber Ridge Lodge and Waterpark is splash-tastic with a 50,000-square-foot indoor/outdoor water park featuring a lazy river, tube slides and cabanas. And with onsite lodgings, you can rest easily in your suite after a day of water play.
Groups on Midwest vacations might fall in love with indoor glamping ("luxury camping") at the Main Street Loft by Keefe Vacation Rentals. This sweet space is decked out with five "bedroom" tents along with swings and stools for a unique and memorable stay.
3. Madison, Wisconsin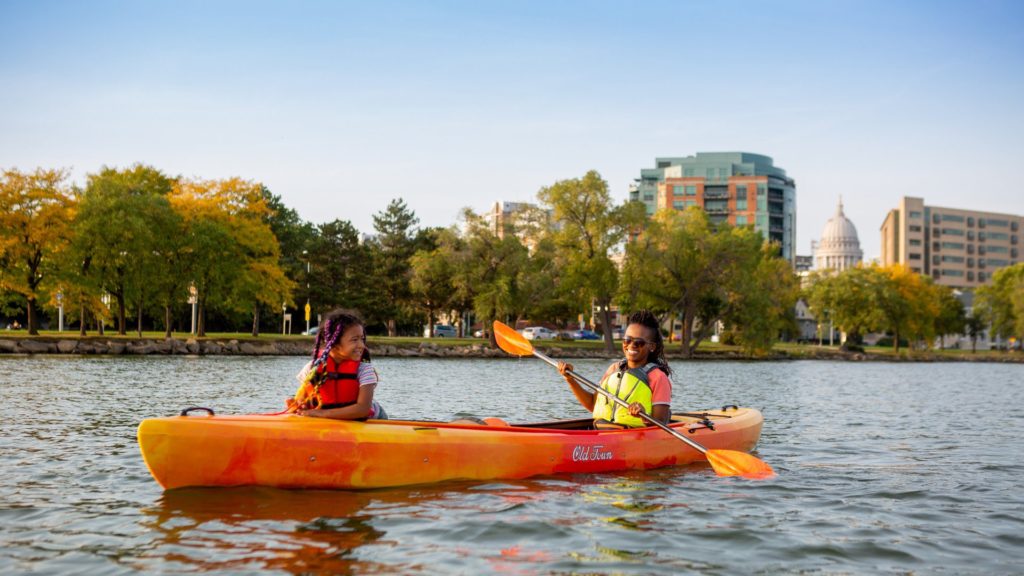 Wisconsin's capital serves up Midwest vacation fun in the form of an interesting downtown, five glistening lakes, a children's museum, and plenty of outdoor activities. Home to the University of Wisconsin, Madison is an active community—and is one of five platinum-level bike cities in the U.S. Find Madison BCycle electric-assist bikes across the city and pedal with ease around town.
No matter the weather, Madison's lakes offer a variety of activities, from water skiing to ice fishing, and even quirkier options like log rolling. See how long you can balance on a spinning, floating log with Madison Log Rolling. My record was five seconds, but the laughs lasted a lot longer.
SHIP SLIP SLIDE: 50 Best Cruise Ship Water Parks for Kids and Tweens
Olbrich Botanic Gardens dazzles with its ornate Thai Pavilion (a gift from the Thai government), tropical Bolz Conservatory, and holiday model trains. Pop over to Garver Feed Mill for Ian's mac 'n cheese pizza, Ledger Coffee Roasters, and Calliope Ice Cream's creative flavors (my favorite was corn—yes, corn ice cream!).
Madison Children's Museum offers three floors of interactive and education exhibits for kids ages 12 and under, plus a café. And the Children's Theater of Madison performs shows geared to kids throughout winter and spring.
Where to Stay in Madison
There are plenty of great family friendly lodging options in Madison, but standouts include the AAA Four Diamond The Edgewater hotel on Lake Mendota, which has its own ice rink and spa; and Hotel Indigo, is a hip hotel housed in a former paint factory that's within walking distance of Capitol Square.
4. Mackinac Island, Michigan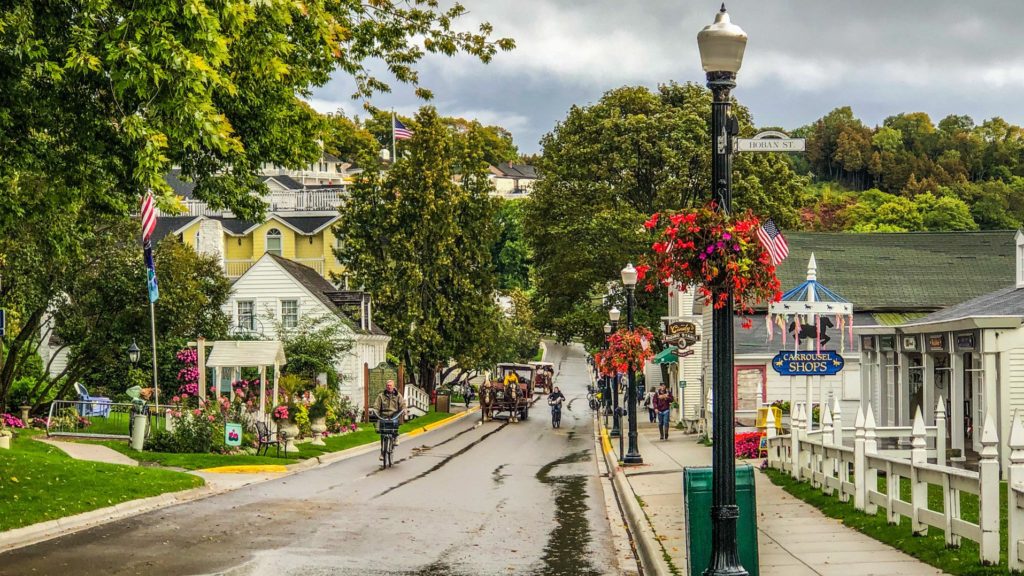 Take a ferry to Mackinac Island and escape to the slower pace of a place where there are no cars (except for emergency vehicles). Horse-drawn carriages and bikes carry blissed-out vacationers around the eight-mile island surrounded by cobalt waters.
BOOK WISELY: 10 Best Hotel Booking Sites for Families and Groups
Kayak or parasail in the surrounding waters. Visit Fort Mackinac for live demonstrations or a butterfly house to be enchanted by fluttering wings. Hike to wonderous spots, such as Arch Rock and Sugar Loaf. Swing for golf or putt-putt. Take a sunset cruise and watch the sun dip into the sky as your worries wash away. And be sure to sample as much Mackinac Island fudge as you can from over a dozen different fudge shops.
Where to Stay on Mackinac Island
One the most kid-friendly family resorts in the entire country, the Grand Hotel features the world's longest porch, perfect for rocking chair views of the Straits of Mackinac and afternoon tea in the parlor (pinkies up!). Mission Point Resort is also great for families, with complimentary kids' activities. Plus kids under age 12 eat free at this stunning Lake Huron retreat.
5. Traverse City, Michigan
The famously beautiful Sleeping Bear Dunes National Lake Shore, beaches, hiking and biking trails lure families to Traverse City, Michigan. Cherries are ripe for the picking in summer, when you can also celebrate the National Cherry Festival (on the first weekend in July) with amusement park rides, turkey legs, and, of course, cherries galore.
PACK WELL: 10 Best Luggage Brands for All Types of Travelers
In Traverse City, nature beckons. Trek to the top of the towering Sleeping Bear sand dunes then race to the bottom. Book a brunch or dinner tall ship cruise. Kayak and paddleboard in the lake's serene waters. Try your luck on a big catch with charter fishing.
Beyond the water, there's plenty to do Midwest vacations in Traverse City. The Great Lakes Children's Museum can help get the kids' energy out a rainy day. Wineries, microbreweries and farm-to-table restaurants please parents as well as kiddos.
Where to Stay in Traverse City
Stay at the Grand Traverse Resort and Spa for golf vacations, spa days, outdoor swimming pools, and an indoor water playground. Or choose Pointes North Beachfront Resort Hotel. Located on East Grand Traverse Bay, it's a place where you can stretch your toes in the sand of the private beach, then stretch out in your room or suite, many that have two-person spas.
6. Hocking Hills, Ohio
Hiking is the name of the game in Hocking Hills, Ohio. A cluster of state parks, forests, and nature preserves are nestled within this scenic area of southeastern Ohio. Even if your crew isn't super outdoorsy, you're sure to swoon over the natural beauty within easy reach. Seven major hiking trails lead you to gushing waterfalls, awe-inspiring sandstone cliffs, grottos, gorges, and curious recess caves.
LEEF PEEPING: 6 Great Fall Foliage Destinations in the Midwest
While you may think that warmer weather is best for outdoor exploration, my family was blown away by the winter beauty of Hocking Hills. Frozen waterfalls and snow-covered hemlocks were well worth layering up for. Our favorite spots included Old Man's Cave, where my kids learned (and will never forget) the story of the hermit who lived there. There's also Ash Cave, a quick hike to a large, horseshoe-shaped cavern with a trickling waterfall and natural sandbox for the kids to play. And Cedar Falls boasts one of the most stunning waterfalls and makes a great place to skip rocks.
Year-round, there's plenty to do in addition to all that hiking. Visit Jack Pine Studio to make a glass heart, pumpkin or paper weight out of molten glass. Learn about butterflies, moths, and other pollinators at Butterfly Ridge. At Lake Logan, rent a pontoon boat or a paddle boat in the shape of a rubber duckie or black swan. If you're looking for more thrills, try zip lining (kids will love the Hocking Hills Canopy Tours Dragonfly course) or a rock challenge with High Rock Adventures. My family squeezed in some great memories crawling, climbing, and crossing boulders with the help and encouragement of a friendly guide.
Where to Stay in Hocking Hills
From cozy cabins to unique glamping options, fun accommodations dot Hocking Hills, making it a great stop on Midwest vacations. Cedar Grove Lodging offers modern cabins with covered outdoor hot tubs perfect for staring up at the stars and front porches with swings meant for sipping morning coffee. Groups will absolutely adore the Lookout Lodge.
Atop a hill and next to a tranquil pond, this large cabin sleeps 12, features two fireplaces, and entertains with a pool table. The Conestoga Wagon at Hilltop Resorts and Campgrounds is an 18-foot covered wagon with a king bed and twin bunks. Talk about a memorable way to stay!
7. Black Hills, South Dakota
Natural wonders, kitschy roadside attractions, historic monuments, abundant wildlife, and impressive parks make the Black Hills of South Dakota a top family road trip destination in the Midwest. And there's so much to do.
LODGE LIFE: 12 Most Iconic National Park Lodges in the U.S.
See the faces of great American presidents carved in granite at Mount Rushmore. Spot bison, elk, and antelope in the rolling plains of Custer State Park. Be wowed by the geological formations of Badlands National Park, where colorful hills rise out of rugged terrain that includes some of the world's richest fossil beds. Budding paleontologists will dig the Mammoth Family Adventure at The Mammoth Site in Hot Springs, home to the largest concentration of mammoth remains in the world. And Wind Cave National Park was the first cave to be designated a national park.
Get a dose of Wild West history in Deadwood, home of Calamity Jane and Wild Bill Hickok. Take a stagecoach ride, tour a gold mine, or visit a saloon. Big and bold spots abound in the Black Hills. Crazy Horse Memorial will be the largest mountain carving in the world when it's complete. You can't miss Wall Drug, a huge roadside attraction with free ice water, 5 cent coffee, and souvenirs.
Where to Stay in Black Hills
Just a five-minute drive from Deadwood, the Town Hall Inn in Lead, South Dakota, earns high marks for its comfortable history-infused suites. This town-hall-turned-boutique-hotel offers daily continental breakfast and a great location that puts the sights of the Black Hills within easy reach. And the Bavarian Inn in Custer stretches over five acres and includes both indoor and outdoor pools, a hot tub, pickleball and basketball courts, and a playground for kids.
8. Minneapolis, Minnesota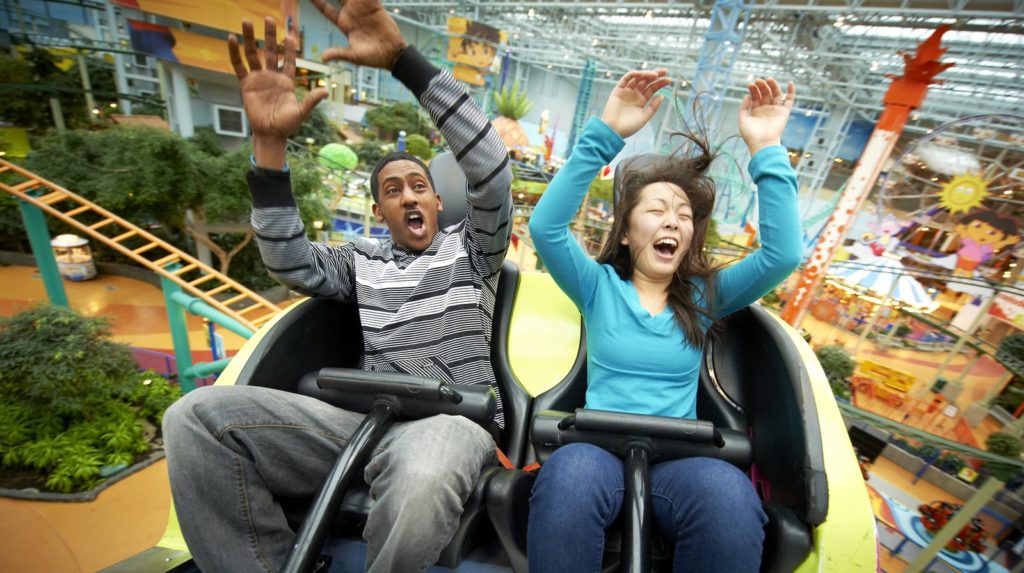 Minneapolis, Minnesota, is home to Mall of America, museums, a riverfront with boating options, and family-friendly restaurants. While some kids might not be intrigued by a mall, Mall of America is so much more than what you would typically imagine. This humongous space (bigger than 9 Yankee Stadiums) houses an amusement park, aquarium, stages for concerts and celebrity appearances, dining, and, of course, stores.
MOVIE MAGIC: 11 Best Projector Screens for an Outdoor Movie Night
There are 55 museums in the Minneapolis metropolitan area. Among them, Bakken, the Bell Museum, Minnesota Children's Museum, Science Museum of Minnesota, Minneapolis Sculpture Garden, and Mill City Museum ("the most explosive museum in the world") offer enriching experiences for all members of the family.
A new park opened on the Minneapolis Riverfront in 2021. Water Works at Mill Ruins Park features a Nature Play Lab, playground, indigenous restaurant, and lawn overlooking St. Anthony Falls. Along the river, boating rules. Vacationers on Midwest vacations rent kayaks, canoes or pedal boats, or take a boat cruise on the Mississippi River. Hiking, biking and Segway tours offer more fun outdoors. Indoors, the Children's Theatre Company entertains with shows like Annie and Diary of a Wimpy Kid the Musical.
Where to Stay in Minneapolis
Hotels in close proximity to the Mall of America include the Radisson Blu, JW Marriott, and The Fairfield Inn and Suites. Or, opt for one of the Midwest's best Great Wolf Lodge locations in Bloomington to add a heaping dose of waterpark fun to your hotel stay.
9. Wisconsin Dells, Wisconsin
Wisconsin Dells is the "Waterpark Capital of the World," which is why so many Midwest vacations start or end here (especially winter family vacations when spending entire days indoors at heated water parks is extra appealing). With the biggest and fastest water slides offered at indoor resorts and outdoor water parks, you'll find numerous ways to splash the day away. Plus, there's family-friendly dining, tons of attractions and outdoor adventures.
WATER WORLDS: 13 Thrilling Outdoor Water Parks Where You Can Beat the Summer Heat
Wilderness Resort is America's largest water park resort, with four indoor water parks, four outdoor water parks, three arcades, golf, and other attractions. Book a free-standing cabin for your crew and have access to all the amenities. African-themed Kalahari Resort boasts Wisconsin's largest indoor water park plus a huge indoor theme park, virtual reality and escape rooms. Wisconsin Dells's Great Wolf Lodge is ideal for young wolf packs (littler kids).
Mt. Olympus offers tons of fun with its water parks and theme parks, batting cases and go-karts. In 2022, Mt. Olympus's indoor water park debuted a $23 million expansion, including America's first rotating water slide called Medusa's Slidewheel.
Moosejaw Pizza and Dells Brewing Co. is a family favorite with fresh-made pizzas, Wisconsin brews, moose antler hats and an arcade. Stop by Goody Goody Gum Drop, the largest candy store in Wisconsin with over 1,000 different treats, to satisfy any sweet tooth.
PARENTS' GUIDE: Traveling with Food Allergies: How to Plan, Pack, and Enjoy Your Vacation
Hike the Ice Age Trail at nearby Devil's Lake State Park. You'll definitely get your steps in climbing up 500-foot quartzite bluffs. The views of the aquamarine lake below are definitely worth it. You can rent kayaks and canoes with Dells Watersports or say "happy trails" on a horseback ride with Woodside Ranch Riding Stables.
Play 90 holes of mini golf at Pirate's Cove Adventure Golf. Zip line or test your balance on the Dells Zipline Adventures aerial park. Knuckleheads Trampoline Park is a great place to bounce kids' energy out. Take a short drive to Christmas Mountain for downhill skiing or snow tubing. There's snow way you won't have a tubular time.
Where to Stay in Wisconsin Dells
Of the Wisconsin Dells water parks, Wilderness Resort, Kalahari, and Great Wolf Lodge offer accommodations onsite so you can unwind between thrill rides.
10. Branson, Missouri
In the Ozark Mountains of Southern Missouri, Branson is brimming with live shows, amusement parks and all sorts of family attractions. The Shepherd of the Hills offers live theater, a historic farm and playland, an aerial ropes course, zipline and mountain coaster. My family's best memories from our trip were gliding down the attraction's Copperhead Mountain Coaster in a fit of giggles.
MAKE THE MOST OF IT: 10 Best Outdoor Activities and Things to Do in Branson
Open mid-March to late-December, Silver Dollar City is an 1880s theme park that's home to world record-breaking rollercoasters, a water park, shows, shopping, dining and American craftsmen demonstrations. Time Traveler is the world's steepest, fastest and tallest spinning roller coaster. PowderKeg, meanwhile, shoots to a start from 0 to 53 miles per hour in mere seconds. Fireman's Landing and the Grand Exposition feature rides for kids 36 inches and up.
Missouri's deepest cave, Marvel Cave, is located at the entrance of Silver Dollar City and tours are included with your ticket price. Silver Dollar City's An Old Time Christmas was voted the #1 Best Theme Park Holiday Event in America by readers of USA Today and 10Best.
Snowflex Tubing at Wolfe Mountain is super fun tubing, just minus the snow. The 400-foot synthetic tubing hill will have your kids jumping up and down with joy as they see how many runs they can make in their allotted hour. Beyond the Lens was one of my tween son's favorite attractions. Arcade games like Skee-Ball and Pac Man provided classic entertainment. We also virtually soared on FlyRide's "Take Flight Across America." Our seats moved and dipped in an immersive theater as we sailed over and around amazing landmarks while wind blew in our hair and the scent of evergreens surrounded us.
RENT OR BUY: Everything You Need to Know about Choosing an RV
The new Aquarium at the Boardwalk will grab your attention with its Submarine Adventure 5D experience, the Jelly Infinity Room with bioluminescent jellyfish, the Kelp Forest kids can climb through, and a water tunnel with sharks swimming overhead. The Branson Ferris Wheel, formerly Chicago's Navy Pier Ferris Wheel, takes you high above the entertainment corridor and offers views of the Ozark Mountains.
The Titanic Museum enamored us even more than expected. With over 400 artifacts in a collection valued at over $4.5 million, this permenant interactive exhibit draws you in with first-hand experiences. From the moment you enter, you are given a boarding pass with the name and information from a real passenger or crew member. Walk the Grand Staircase, touch a real iceberg, try to balance on the sloping deck and see how long you can dip your hand in 28-degree water. See if your passenger survived in the Memorial Room and learn so much more than you could have imagined about the world's most famous luxury liner.
Where to Stay in Branson
Stay at Chateau on the Lake, close to Table Rock Lake, which has a marina and spa plus pet-friendly packages.
11. Door County, Wisconsin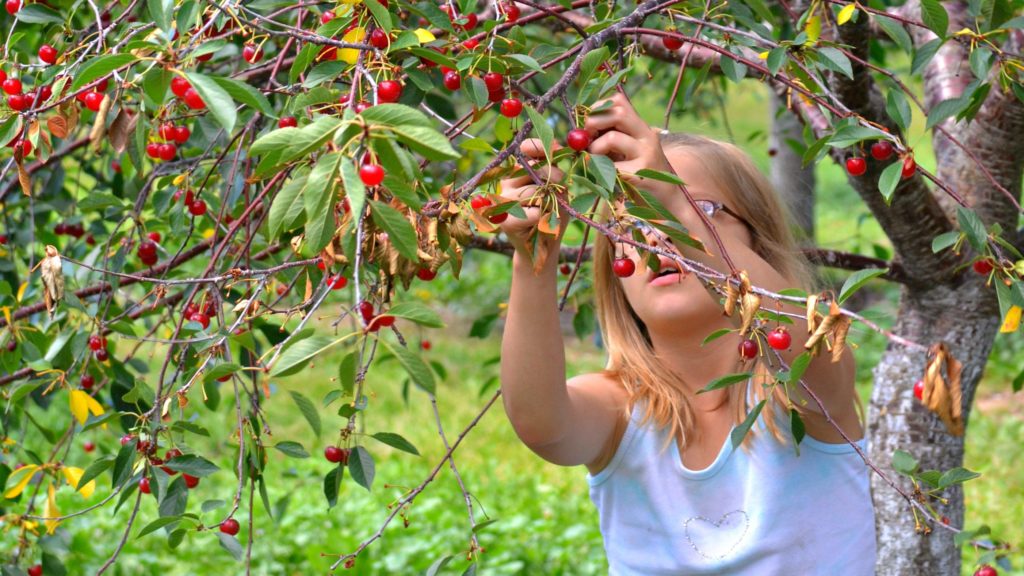 It's easy to see why Door County is a popular Midwest family vacation destination. Located on a peninsula in the "left thumb" of Wisconsin, Door County is made up of more than 19 communities surrounded by Lake Michigan and Green Bay. Explore the ecological wonders, maritime history and tempting flavors of cherries, cheese, whitefish, and Swedish delicacies.
WALLET WISE: How to Make Your Next Vacation More Affordable
Get outside for grand adventures. Kayak into a cave with Peninsula Kayak Company at Cave Point Park. Hike Peninsula State Park—Eagle Tower's accessible canopy walk offers panoramic views of the park and islands. Eleven lighthouses dot the coastline, making this the highest concentration of lighthouses in the country. My crew thoroughly enjoyed walking through the water to tour the Cana Island Lighthouse. You can also access Cana Island Lighthouse via tractor ride. The 97 steps to the top reward you with beautiful views of the serene blue waters.
Take a ferry to Washington Island, where you can visit Schoolhouse Beach and Fragrant Isle lavender farm. One of five beaches in the world with smooth, white stones, Schoolhouse Beach is an otherworldly escape. Visit Fragrant Isle during summer to be enchanted by 20,000 blooming lavender plants. The scene is magical for photos and the shop features lavender toiletries and treats.
The kids will get a kick out of goats grazing on the roof of Al Johnson's Swedish Restaurant & Butik. Take in the spectacle of a Door County fish boil at White Gull Inn. You can't visit Wisconsin without trying cheese curds. Renard's Cheese is handcrafted in Door County and offers free wine and cheese tastings seven days a week. Farms, orchards, beaches, classic hamburger-and-ice-cream joints round out a great family vacation.
Where to Stay in Door County
Stay at Dorr Hotel, which celebrates Door County's Danish, Swedish, and Norwegian heritage. From the bright common areas, balconies with beautiful views and convenient location, it's sure to be a family favorite.
12. Indianapolis, Indiana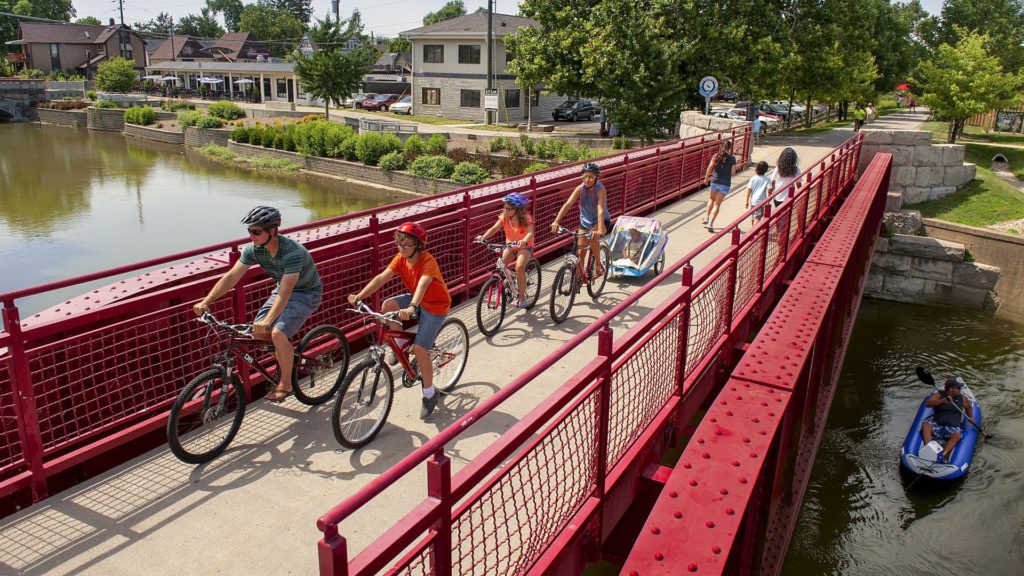 The Circle City makes for an entertaining and educational family vacation. The world's largest children's museum is four floors of inspiration and exploration. From dinosaurs to cars to sports, plus a new exhibit featuring Malala's story, the youngest person ever to win the Nobel Prize, this museum will engage kids for hours.
NO HIDDEN FEES: 17 Best All-Inclusive Resorts in the U.S. for Families
Downtown, you'll find America's only cultural urban state park, White River State Park. This sprawling green space along the river can be explored via boat or bike or by simply strolling. Cultural attractions like the Indianapolis Zoo, the Indiana State Museum, NCAA Hall of Champions, and the IMAX Theater circle the park.
Beyond downtown, find more great things to do. Conner Prairie is an outdoor living history museum that's about a 30-minute drive away, and is a place where kids can voyage a hot-air balloon and feed livestock. The Indianapolis Museum of Art is located on the 152-acre Newfields campus. During the holidays, you can enjoy more than 1.5 million glittering lights of Winterlights in the Newfields gardens.
Where to Stay in Indianapolis
Rest in the cool digs of Bottleworks Hotel. A former Coca-Cola bottling site has been reimagined into a boutique hotel in the fabulous Bottleworks District. When you're hungry, pop over to The Garage Food Hall for all sorts of tasty food and beverage options plus live entertainment.
More from FamilyVacationist: