Located about 90 minutes from Quebec City in the Le Massif de Charlevoix region, Club Med Quebec Charlevoix is a picturesque four-season resort with views overlooking the St. Lawrence River. It opened its doors in late 2021 and is Club Med's first resort in Canada. In the winter, its primary draw is as a family ski resort.
An all-inclusive stay at any Club Med is like a cruise vacation on land. You won't have to worry about a thing because the virtually endless food options, daily activities, and ski-in ski-out access are all included in the price. In the warmer months when skiing isn't an option at Club Med Quebec Charlevoix you can enjoy biking and hiking in the scenic area.
SKI VACATIONS: 11 Family Ski Resorts in the U.S. That Are Perfect for Kids and Beginners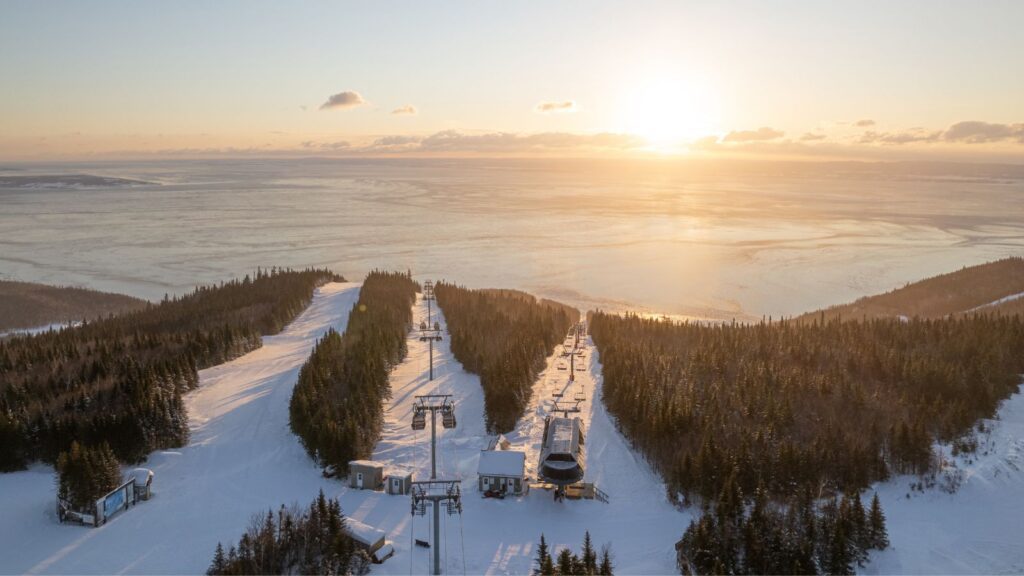 Things to Know about Club Med Quebec Charlevoix
Club Med Quebec Charlevoix is situated about 60 miles from Quebec City. French is the primary language spoken in Quebec, so be prepared to say "bonjour" and "merci," but don't worry if you're far from fluent—English is also widely spoken at the resort.
Club Med offers upscale all-inclusive vacations geared towards active families. You can choose from two-night, three-night, and seven-night vacation packages when you stay at Club Med Quebec Charlevoix.
Guest rooms range from "Superior" and "Deluxe" level (both of which accommodate up to three people, though interconnecting rooms can be booked for larger groups) to "The Exclusive Collection Family Suite" (which offers a separate bedroom for the kids, a separate living room to spread out, and and a private lounge serving snacks and drinks, among other perks).
Although Club Med bills itself as all-inclusive, there are actually some additional costs for certain services. For example, equipment rentals, spa treatments, laundry service, and childcare for children under the age of four are not included in the standard package rates at Club Med Quebec Charlevoix. (Children under age four stay free, but child care charges are extra.) You'll also want to book spa treatments and special meals in advance of your stay. Tips are included, but it's nice to offer additional gratuity for exemplary service.
Beyond skiing, other winter activities at Club Med Quebec Charlevoix include ice skating, luging, and dog sledding. In the warmer mothers, fun activities include downhill biking, whale watches, and guided hikes.
While coordinated evening dress codes are suggested at Club Med Quebec Charlevoix, the dress code is more in the spirit of fun rather than a hard-and-fast rule.
Club Med has a fun, effervescent vibe. Staff members called G.O.s (Gracious Organizers) are friendly and hail from all over the world. Think of the G.O.s like cruise ship directors; they host are variety of activities including water aerobics and sports tournaments.
What Families Need to Know about Club Med Quebec Charlevoix
One of the big benefits of a Club Med vacation for families is the children's activities and included child care for kids ages four and older. The kids programming is broken up by age: Mini Club Med, Baby Club Med, and Petit Club Med.
Mini Club Med is for ages four to 10 and it includes everything from group ski lessons by certified instructors to stage shows where the children can learn to perform; Baby Club Med for those under age two; and Petit Club Med for kiddos ages two to three. Tweens and teens ages 11 to 17 can participate in group ski lessons, sports tournaments, and activities just for their age group as well.
KNOW BEFORE YOU GO: How to Prepare for a Club Med Vacation
At Club Med Quebec Charlevoix, the mountain is the primary draw, so winter activities center around skiing and snowboarding. Lift tickets and group lessons are included. In summer, it's all about downhill biking and hiking. There's a host of other activities included as well—think ping pong and volleyball tournaments and evening entertainment such as shows and dance parties. A heated 75-foot indoor pool with kids splash area provides fun for the little ones. Adults can soak up the good life in hot tubs with views of the surrounding mountains and river. Excursions to Quebec City can be arranged for shopping, exploring, and visiting the ice hotel (in winter).
You won't go hungry at Club Med Quebec Charlevoix. There are three on-site restaurants serving meals as well as scheduled snack times and bars where you can grab a drink. Make sure to pack your passports, sporty and dressier clothing, and some Canadian cash.
Club Med Quebec Charlevoix Reviews
Club Med Quebec Charlevoix scores a 4.0 out of 5 rating on TripAdvisor, based on more than 1,000 reviews. Reviewers praise the quality service and the variety and presentation of the food.
Important Details about Club Med Quebec Charlevoix
Location
Club Med Quebec Charlevoix is about 90 minutes from the Quebec's airport and just under four hours from Montreal by car. To get there, you'll need to arrange an airport transfer or rent a car to drive there on your own. Guest room availability starts at 3:00 p.m., but if you arrive early the resort may be able to serve you lunch for an additional fee. Checkout is at 10:00 a.m. and you must leave the resort by 3:00 p.m. at the latest on your final day.
The Property
The resort is surrounded by the natural beauty of the Charlevoix region, a UNESCO Biosphere Reserve, and the St. Lawrence River. Large picture windows and terraces allow guests to soak in the views from dining areas and hot tubs. Designed like a modern alpine chalet, the minimalistic décor is complemented with chic touches, such as children's stools that look like deer. Crackling fireplaces warm you in winter, and the sun shines in year-round.
SOUTH OF THE BORDER: Here's What You Need to Know about Club Med Cancun
The enormous heated indoor swimming pool is the perfect place to swim or kick back. Little ones can play water games in the shallow pool area, then rest in a lounge chair or teepee beside the pool. Adults cab relax in a hammock and read a book. Large picture windows overlook the natural landscape.
Around the resort, you'll find a volleyball court, fitness center, yoga studio, ping pong tables, and plenty of other games and activities. The mountain is a short walk away. You can rent skis and snowboards in winter and bikes in the warmer months.
Guest Rooms at Club Med Quebec Charlevoix
This four-star resort features 302 rooms and an "Exclusive Collection" five-star space with 25 suites. "Superior" rooms are designed in winter white, twilight blue, and sunny yellow. "Deluxe" rooms feature blond wood floors and barn doors.
NO PASSPORT NEEDED: 19 Best All-Inclusive Resorts in the U.S. for Families
The "Exclusive Collection" is a five-star luxury space featuring 25 suites to spread out with separate bedrooms and bathrooms. It's located at the top of the resort, where the views of the mountains and river will spoil you almost as much as the concierge service, room service continental breakfast, and private lounge available to guests staying in this part of the resort.
Dining at Club Med Quebec Charlevoix
Le Marche is the resort's main buffet-style restaurant, which beautifully displays an abundance of local and international cuisine. Some dishes are cooked to order. Terroir & Co is a family restaurant where kids can decorate cookies or dip foods in fondue. Dinner there is a la carte and by reservation. Le Chalet is the gourmet lounge that serves elegant meals overlooking the St. Lawrence River.
Activities at Club Med Quebec Charlevoix
Le Massif de Charlevoix boasts the greatest vertical drop east of the Rockies. Skiing, mountain biking, and guided hikes are included with your stay at at Club Med Quebec Charlevoix. Group ski lessons and guides are available for guests ages four and up. You can also snow shoe, ice skate, and luge, and there's a 4.6-mile sled run in winter as well. In the warmer months, you can bike and hike. Equipment is available for rental.
FAMILY FUN: 11 All-Inclusive Resorts with Kids Clubs That Go Above and Beyond
The schedule of activities offered each day is highlighted on the Club Med app. Club Med is known for its circus lessons (which include juggling, trapeze, and acrobatics), but adults can also participate in fitness classes including yoga and meditation. The G.O.s host different activities throughout the day, including water aerobics, sports tournaments, and "Big Snacks" out on the lawn with popcorn and cotton candy. Evening entertainment is all about shows, including ones where guest children perform on stage.
Spa at Club Med Quebec Charlevoix
Club Med Spa by Sothys, a French luxury spa brand, is the ideal retreat for parents looking to pamper themselves. Find serenity by booking a la carte treatments such as facials and massages. Tranquility can be found on the large terrace with panoramic views and a bubbling jacuzzi. Hot and cold therapy, including a cold bath and snow fountain, are also available as part of the spa experience at Club Med Quebec Charlevoix.
More from FamilyVacationist: