Packing for any family vacation is stressful enough, and once you throw a baby into the mix, forget it. Between bottles, clothes, toys, and accessories—so many accessories!—there's a lot to remember. And forgetting anything from your baby packing list could lead to what feels like a vacation disaster.
The Essential Baby Packing List
Before you panic about forgetting something important for the plane, beach, or hotel, take a deep breath and relax. Our complete baby travel packing list outlines all the must-have items for traveling with a baby. From diaper-bag necessities to in-flight essential items, we've thought through everything you'll need on your next family vacation. Read on for packing tips, a printable packing list you can customize for each trip, and details about our favorite picks for each category.
Jump to a Section:
Packing Tips: Traveling with a Baby
Traveling with a baby is no easy feat. You need a baby packing list, of course, but it's also important to know the best strategies. Here are five important tips for taking your baby on vacation.
1. Embrace being prepared
This is the only time in your life when overpacking might actually be the right thing to do. While you don't want to go too overboard—you're likely also traveling with bulky items like a car seat and a stroller after all—there's something to be said for simply having the items you know you're going to be using. You still have to haul them, but then you get to focus on just being at your destination rather than turning vacation into errand-running time
2. Consider shipping or delivery
The age of delivery translates well to vacationing with a baby. Yes, you could pack a box of diapers (if that's your approach, see the tip on vacuum compression bags below), but depending on your destination you might also be able to schedule a delivery of necessities to show up at the hotel or vacation rental at the same time you do. Want your own stuff? Consider shipping items ahead so you have everything you need without carrying it with you.
3. Use compression bags
Traveling with a stock of diapers? Don't want to leave the favorite blanket or snuggly sleep sack at home? The best way to increase packing density is by using vacuum compression bags for those bulky items.
4. Practice in advance
All those items, they're all so little, right? But when you put them all together, they can take up more space than you'd expect. Do a quick dry run before you're packing against the clock so that you can make any adjustments when you have time to creatively problem-solve. But first? Make a packing list. You'll likely save both some sanity and money with this approach.
5. If it increases your chance of vacation success, bring it
This is an especially difficult approach to embrace if you're used to traveling light, but sometimes it's worth hauling extra gear if it means you and your family will be able to settle in and enjoy themselves more. Debating whether or not to bring the baby monitor, or the playmat, or a third set of jammies in case of middle-of-the-night leakages? If it could make the difference between 10 minutes more leisure time for you, and a happier baby to boot, it's likely worth it.
Downloadable Baby Packing Checklist
Start by downloading our baby packing list, then keep scrolling to get the scoop on our favorite items.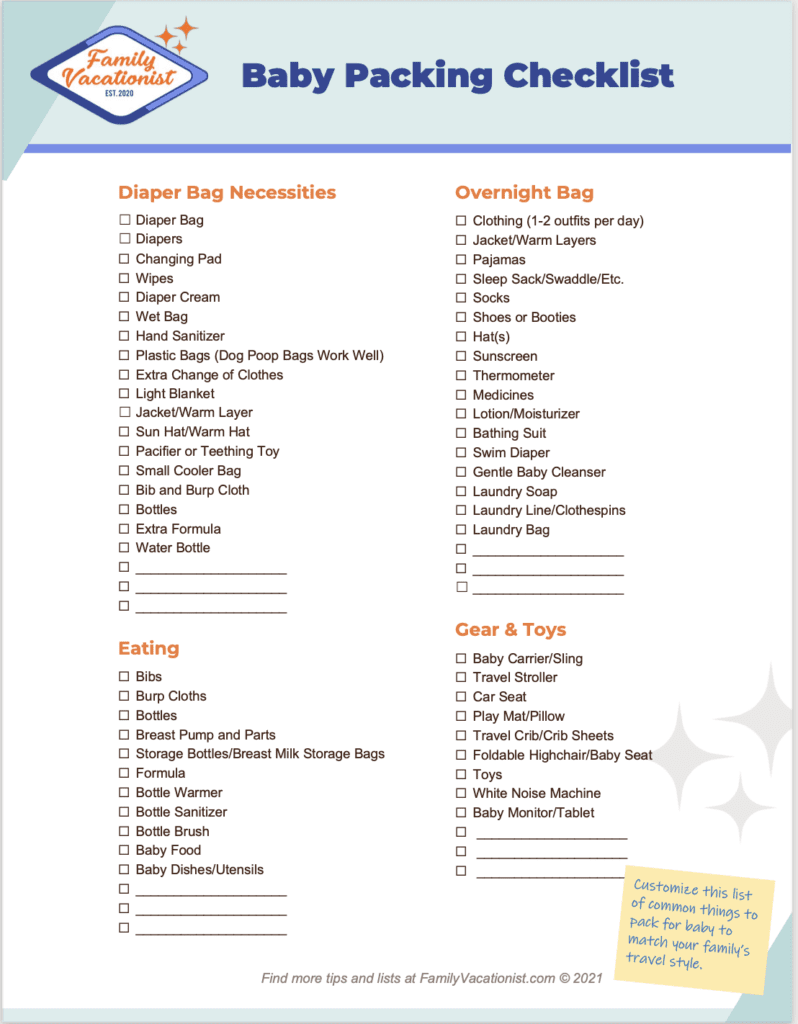 Baby Gear Recommendations
In the world of baby travel necessities, the gear you choose really has to earn its keep. Here are my favorite road-tested baby items, from a sturdy, comfortable, and roomy diaper bag to a portable tub that packs down smaller than your next beach read.
Diaper Bag Necessities
A well-stocked diaper bag will take you far. When you've got the right diaper bag necessities, you're ready for everything on-the-go. Hit the beach, take a drive, or see the sights. Just make sure you've checked these diaper-bag musts off your baby packing list. 
The Perfect Travel Diaper Bag
When traveling with a baby, you're going to want a diaper bag that holds everything you need for a day of sightseeing: one that has enough pockets and compartments to hold your needs, plus the baby's must-haves, too. Look for a diaper bag with at least one insulated pocket for the bottles and food.
My pick: HapTim Multi-function Baby Diaper Bag
Cloth Diapers, Disposable Diapers, and Swim Diapers
Whether you use cloth diapers or disposable diapers, you won't want to leave them off your baby packing list. At home I use cloth diapers, but when traveling I treat myself and pack disposable. (Let's be honest: Is it really a vacation if you're washing cloth diapers every night?) There are plenty of environmentally friendly disposable diaper options out there. Also, If you're going on a beach vacation or somewhere with a , remember to bring a swim diaper, too! No one wants to deal with poop in the pool.
My picks: Bum Genius (cloth diapers), Bambo Nature (disposable diapers), and i. play (swim diapers)
Diaper Cream
Let's be honest, when you're traveling you may get a little lax on diaper changing. Of course, a diaper rash is the last thing you want to get out of hand. Add some diaper cream to your baby packing list so you won't have to spend precious vacation time figuring out where to buy some.
My Pick: Burts Bees Baby Diaper Rash ointment
Cloth Diaper Wet Bag
If you're going with cloth diapers, a wet bag is an absolute must for your baby packing list for vacation. It's also important to have in case of an accident, or to stash wet swimming gear.
My pick: Planet Wise Wet/Dry bag
Baby Wipes
The best part about baby wipes is they are oh-so-multi-functional. Not only will they clean up baby's behind, you can use them for after-meal clean up, to wipe your hands, or wipe a spill. They are the secret weapon of must-have items for traveling with a baby.
My pick: WaterWipes Unscented Baby Wipes, Sensitive and Newborn Skin
Changing Pad
Most diaper bags come with a changing pad, but always make sure you have one on your baby travel checklist. The last thing you want is to have to change your baby and discover that there's no soft, clean spot to do it. You can whip out a changing pad on the train, at a restaurant, on the floor—anywhere, really!—and you've automatically got a clean, sanitary spot to change your baby.
My pick: Comfy Cubs Changing Pad
Hand Sanitizer
Hand sanitizer should be at least 60% alcohol, so always check the back before you buy. For grab-and-go convenience in a diaper bag, consider individual packets of hand sanitizer or travel-size hand sanitizer bottles that can be attached to the outside of the diaper bag.
My pick: Purell Flip-Top Travel-Size Hand Sanitizer with Jelly Wrap Carrier
How to Pack for Baby: Clothes
Babies on vacation, like babies not on vacation, tend to get messy. Sometimes it's from eating, other times an ill-fitting diaper, and fittingly for vacation, sometimes it's because they're sandy or dirty from having so much vacation fun. Here's what to pack for little vacationers and how to choose the right baby clothes for travel.
Extra Clothes
While adults get trapped into the whole "I'll need extra outfits in case something happens" routine, we often forget the need for extra clothes when considering what to pack for a baby. When you're packing for baby, make sure to add extra clothes (for baby and maybe yourself, since babies tend to share) to both your diaper bag and your checked bag if you're flying.
My pick: Carter's
Jacket, Sweater, and/or Sweatshirt
Even if you're going somewhere tropical, such as a Caribbean cruise, it's a good idea to pack extra layers for your baby. If it's summer, or you're heading to a tropical destination, bring something lightweight. But definitely include at least one jacket or other warm layer on your baby packing list.
My pick: Carter's
Hat for Sun Protection or Warmth
Even if no one in your family has ever had a sunburn, your baby needs a sun hat. In cooler weather, be sure to put him or her in a warm hat that covers those tiny ears.
My picks: i. play (sun hat) and this adorable Alepo Winter Beanie Hat for Baby (winter hat)
Bathing Suit
Whether you're taking a beach vacation or traveling in the winter and staying in a hotel with a pool, a swimsuit is an important item to have on your baby travel checklist. Look for a baby bathing suit that's slightly big to accommodate diapers, and so the baby will get the most use out of it.
My pick: Hanna Anderson Baby Rash Guard Suit
Baby Shoes
We all know baby's socks never stay on. You won't want your baby to have bare feet wherever you go, so add baby shoes to your list of must-have items for traveling with a baby. Moccasins are great, as are Velcro booties.
My pick: Hudson Baby Unisex Cozy Fleece Booties
Baby Feeding Items to Pack
Unlike with slightly older kids who can eat a variation on what tweens, teens, and grownups eat, babies and very young toddlers require a BYO approach to eating on vacation. Here are common baby feeding items to pack for vacation. Adapt your own baby travel checklist depending on age and whether you rely on breast milk, formula, or a combination of both. 
Bottles
Pack as many baby bottles as you will need for one day. Yes, you are going to have to wash them every day, but this is one of those instances where luggage space is important.
My pick: The Medela Breastfeeding Gift Set (non-BPA; comes with bottles, nipples, travel caps, breastmilk storage bags and more)
Portable Breast Pump
If you're breastfeeding, you may not need to bring a pump since you'll be with your baby while traveling. However, it might be nice to still have a break every once in a while (or you may be an exclusive pumper). Bring a portable breast pump, or, better yet, a hands-free breast pump!
My pick: Bellababy Double Electric Breastfeeding Pumps with Touch-Panel High-Definition Display
Bottle Warmer
You can always just use a bowl and warm water if you need to save space, but if you want to bring a bottle warmer, there are loads of travel-friendly options worth adding to our baby travel checklist.
My pick: Chicco Digital Bottle Warmer
Bottle Sanitizer
If you're like me, you're paranoid and sanitize your baby bottles daily. Luckily, there are portable bottle sanitizers out there that clean quickly and are effective against 99.9 percent of germs.
My pick: Medela Quick Clean Micro-Steam Bags for Bottles & Breast Pump Parts
Formula
When making your baby packing list for vacation, set aside the amount of formula you're going to need for the trip (plus a little extra), then measure it out and put it in a Ziplock bag so you aren't carting around a giant container of formula. (Or, have it shipped to your hotel ahead of time, along with your other must-have items for traveling with a baby.)
My pick: Earth's Best Organic Dairy Infant Formula
Baby Food
Depending on how old your baby is, packing baby food for vacation may or may not be a concern. However, if he/she is eating solids, you can't forget to pack the food! Pouches are easiest because you can throw them in a bag and they don't take up too much space. A bag of baby oatmeal won't take up too much room, for example, and all you need is water to mix it up. Make sure to have plenty of snacks on hand, too. Cheerios and teething cookies are good, easy-to-pack options.
My pick: Happy Baby Organic Superfood Puffs
Familiar Dishes and Utensils
Bringing the dishes and utensils that your baby is used to is key when on a trip. All you need is one of each, and it won't take up too much room. It's a case where a small addition to your packing list goes a long way toward your baby's adjustment to vacation life.
My pick: Avanchy Bamboo Dishes
Easy-to-Clean Bibs
For several months, I kept my son in a bib at all times because he was drooling so much. Bibs are a must-have item for traveling with a baby. Pack bibs that are easy to fold up and wipe down easily (try to avoid cloth bibs for vacation).
My pick: Bumkins Sleeved Bib
Breast Milk Storage Containers
If you plan to pump while traveling with your baby, make sure to bring proper storage containers. Breast milk storage bags are your best bet because they take up less space and are easier to transport. Don't forget to bring a small cooler so it will keep on your way back to your hotel or vacation rental.
My pick: Medela Breast Milk Storage Bags
Baby Travel Gear
Good news: As kids get bigger, the amount of stuff you will need to pack will shrink. For now, though, having the gear and items to keep baby comfortable and happy increases the chance that you'll also be comfortable and happy. Here are more must-have items for your baby travel checklist.
Some Favorite (Small) Toys
Wondering how to travel with a baby? With toys. Try not to go overboard with this, but toys are important, not just at your destination but for your baby packing list for the plane or car ride, too. A few things to keep your baby entertained (such as a favorite stuffed animal, a few books to read aloud, something you can hang off of the stroller) will go a long way. Keep 'em small, though!
My pick: Playgro My First Bead Buddies Giraffe
Baby Blanket
Even on vacation, you're going to need a baby blanket in case it gets chilly. Bring a blanket the baby is familiar with, so it gives them some comfort away from home.
My pick: LeerKing Ultra Soft Baby Blankets
Baby Carrier/Sling/Wrap
Babies don't want to be in a stroller all day, so some sort of baby carrier is a must for vacation (ideally one that both parents can wear comfortably). Opt for a baby carrier/sling/wrap so that if your baby wants to be held, you'll still have your hands free.
My pick: Bable Baby Carrier
Foldable Stroller
If you plan on having your baby nap while you're out and about, you probably can't get away without a stroller on vacation. For packing purposes, a foldable stroller should be your priority. It will remain useful right through the toddler years.
My pick: GB Pockit Stroller
Car Seat
If you're on a road trip with a baby, you're already using your favorite car seat. If you're flying somewhere, you can use the car seat on the plane and when you arrive. The downside of flying with a car seat is lugging it with you, but there are all sorts of ingenious ways to roll a car seat through the airport.  
My pick: Doona Car Seat/Stroller
Foldable Play Mat
A friend of mine gave me a play mat after I had my baby. I hadn't registered for it, and I had no idea how useful it would be. (We use it all the time.) It lives in my car, so we have it whenever we need it. It's great for outside and inside. Pro tip: Get a play mat that folds up into its own bag. It's as great for daily life as it is when you need to turn a hotel room into a baby playground.
My pick: mloong Baby Play Mat
Travel Crib
Your hotel, resort, or vacation rental (or grandma's house) may provide a travel crib, but if not, you'll need to add one to your baby travel checklist. I was worried my son wouldn't sleep as well in a travel crib, but he had no problems adjusting.
My pick: Graco Pack n' Play Playard
Crib Sheets
Whether you're bringing your own travel crib or using a crib provided by your hotel or resort, don't forget to pack your own crib sheets.

My pick: Cuddly Cubs Pack 'n Play Sheets
Foldable Baby Chair/High Chair
If your baby is old enough to sit up, you'll need a foldable baby chair or high chair on your baby packing list. It may seem like a lot to bring, but you'll be glad you did (and sorry if you don't). Not every restaurant or vacation rental property offers booster seats for babies. And trust me, you don't want to get stuck having your baby on your lap throughout your whole trip.
My pick: Summer Infant Pop 'N Sit Portable Infant Booster Seat
White Noise Machine
No matter where you go when you travel with a baby, it won't sound like home. Bring along a portable white noise machine to drown out any unfamiliar sounds that may interrupt sleep. You can also download white noise apps to a tablet or an old cell phone, or even bring along a small smart device like an Echo Dot that can also provide white noise.
My pick: MyBaby SoundSpa
A Tablet
Speaking of a tablet or an old cell phone, bring one. Not only is it useful for the white noise, there are also several monitor apps you can use, so if you're not staying in the same room you can have a baby monitor without having to bring one separately. Plus, you can use it to play videos for older babies.
My pick: iPad or Fire Tablet
Burp Cloths
My son is a year old now and we still use flannel or muslin cloth burp cloths for everything. Pack a bunch so you have one for every bag, and plenty to spare if one gets, ahem, ruined.
My pick: Gerber Flannel Burp Cloth
Medicine and a Thermometer
You don't want to get stuck without medications on vacation when your baby is not feeling well. Add the basics to your vacation packing list, like Infant Tylenol, as well as any prescriptions your baby may need. A thermometer is also a good idea to have on hand so you don't have to scramble to find one.
My pick: iProven Medical Digital Ear Thermometer with Temporal Forehead Function
Portable Bath Tub
Sure, you can always use a sink, but you never know how big the sink will be. Luckily, there are several portable baby tub options that pack well and aren't too expensive.
My Favorite: Mommy's Helper Inflatable Tub
More from FamilyVacationist: